Verdict from 16 experts and +100 user reviews
5 reasons to buy
Upper: Many users comment on the well-constructed upper that provides Brooks' renowned step-in comfort and great lockdown.
Traction: You can expect plenty of grip when running on wet roads and cornering, according to most reviews.
Durability: The Launch 7 holds up well after 100 miles, multiple experts report.
Transitions: More than a few wearers like how fast the foot turnover is in the shoe.
Weight: It is a fairly light daily trainer, some buyers note.
2 reasons not to buy
Cushioning: The firm midsole is a big letdown for many buyers. They describe the experience as harsh and unforgiving, also adding that the feet feel sore after long runs.
Breathability: The upper doesn't offer the best airflow for hot weather, some users say.
Bottom line
The Brooks Launch 7 is a rather simple, old-schoolish trainer. With its affordable price point, comfy upper, and long life span, it could make a good entry-level option.
However, its firm midsole became a real deal-breaker for avid runners. They don't recommend it for runs over 10K because of the stiff and lackluster ride. Some of them point to Brooks Revel, saying that this is what the Launch should have been.
Tip: see the best running shoes.
Our reviews
This is my first time running in the Brooks Launch after running in the Ghost for almost 1000 miles. I will say that I loved the Ghost: it was a shoe that I recommended to anyone who would listen.
However, that shoe eventually stopped working for me and created some pain in my mid-foot, so I tried a few other things, and Brooks fell to the wayside.
So, when RunRepeat offered their expert users a chance to test this out, I jumped at it. I love running in lightweight neutral shoes like the Kinvara and the Nike Pegasus Turbo, so I thought I would love this shoe.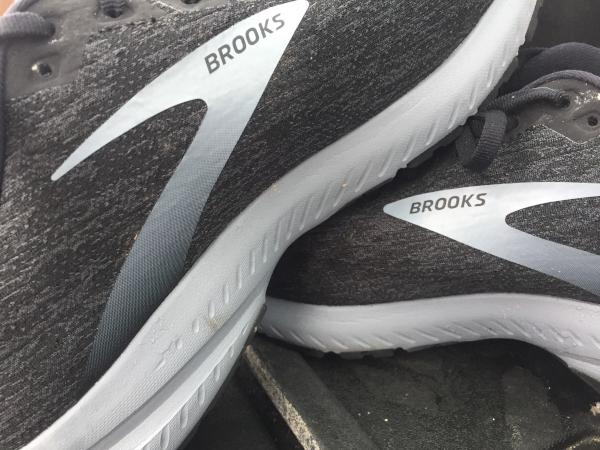 Unfortunately, this is not a shoe that will be remaining in my rotation. Simply, it is too stiff and unresponsive to work as either racer or daily trainer in my current rotation.
I would point you towards other neutral options like the Ghost, Kinvara, or Pegasus Turbo.
The Launch is marketed as a lightweight trainer fast enough for race day. I find the shoe to be a bit too clunky and stiff to be effective in either category.
At $99.99 retail, this shoe is a reasonably priced trainer. Especially when looking at other shoes in this category such as the Nike Pegasus Turbo 2 at $180.00, it's important to remember this is a value buy in comparison.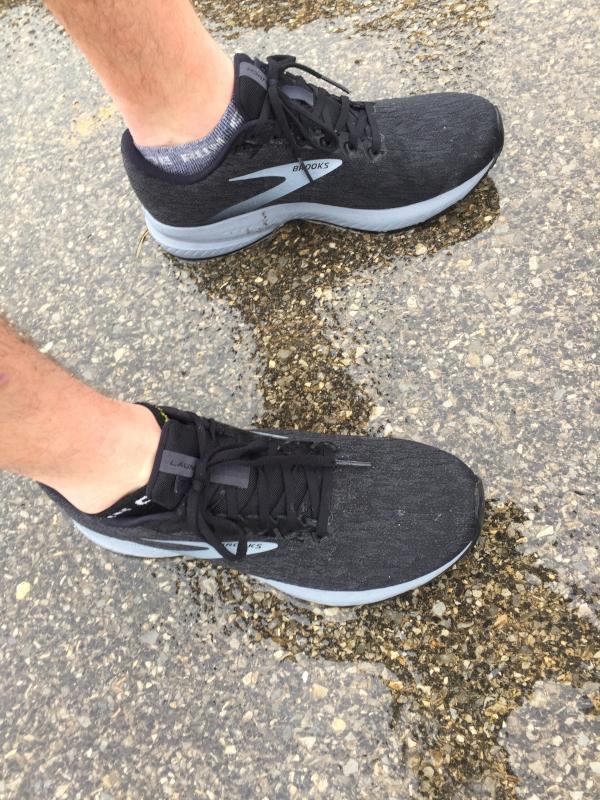 With that said, you get what you pay for. The Launch is not responsive enough through the midfoot to get the energy return you get in the higher-priced shoes.
Ultimately, they feel a bit inadequate and lacking in both cushion and overall responsiveness.
Main points
10 mm heel Drop
Neutral runners with a medium or high-arch
Runners who like firm shoes (like Asics)
Runners who want a lightweight daily trainer
BioMoGo foam in midfoot is not very responsive
Weights around 8 oz. in women's, 9 oz. in men's
Tech specs
The Brooks Launch 7 fits true to size. I wore this in size 11, and it fits as expected for a Brooks trainer. The design concept of the shoe is a stiff midsole to promote fast turnover.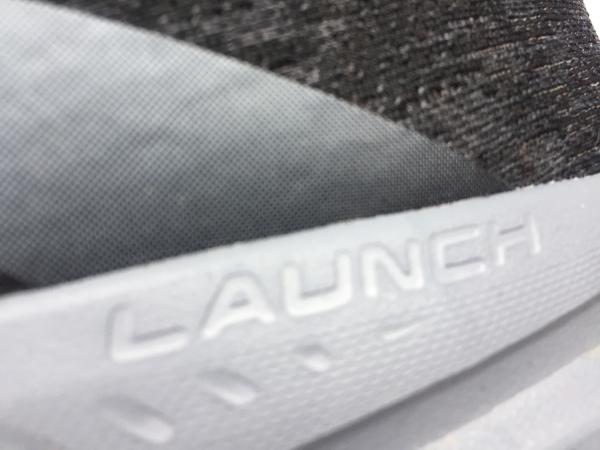 There is a 10mm heel to toe offset and weighs in around 8oz for women, 9oz for men. The shoe handles all kinds of paved surfaces well from asphalt to gravel, and the tread pattern allows for non-technical trail use.
The outsole is made of blown rubber, and the tread is both durable and technical enough to handle multiple surfaces. The shoe responds well to being wet and dries well.
When running slowly, the stiffness of the midfoot can create a pretty uncomfortable ride experience.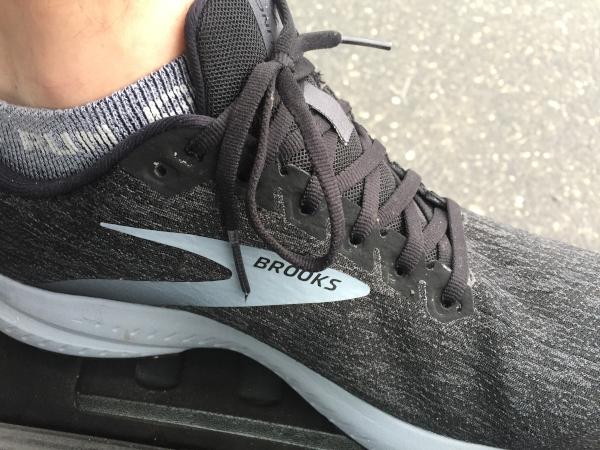 Brooks' proprietary Mid-foot Transition Zone and chevron pattern under the forefoot make for a smooth heel-to-toe transition and help with the turnover transition.
The Launch 7 is designed for workouts and races but also works well for longer tempo runs. Brooks replaced the upper on the Launch with a one-piece breathable mesh.
First thoughts
After my first 5K in these shoes, I was disappointed. I should say this—I have had some trouble with Brooks in the past for a specific area on my foot. The Launch for whatever reason really seemed to aggravate this specific area on the ball of my foot.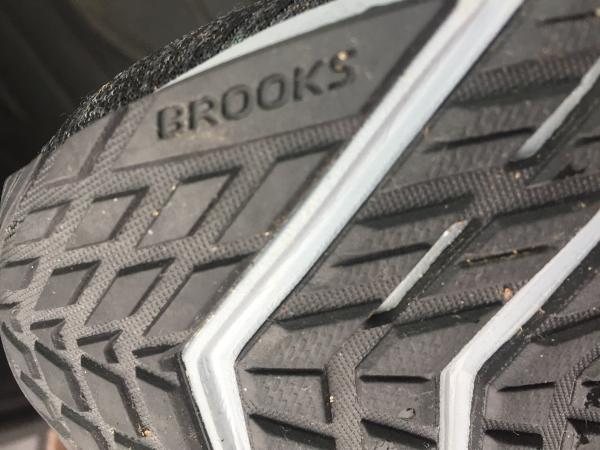 The midfoot is very firm and stiff, and when compared to other shoes, it does not provide nearly the energy return I am used to. The result is that my run felt somewhat clunky, and I couldn't get comfortable.
It felt similar to if I was much farther in a run in a different pair of shoes. I decided to give them a break and took about two weeks before I tried them again.
My next run was another 5K and very much the same experience. The stiffness of the midfoot just does not quite work for me. It reminds me of a few different Asics models I've run in relative to the stiffness through the midfoot.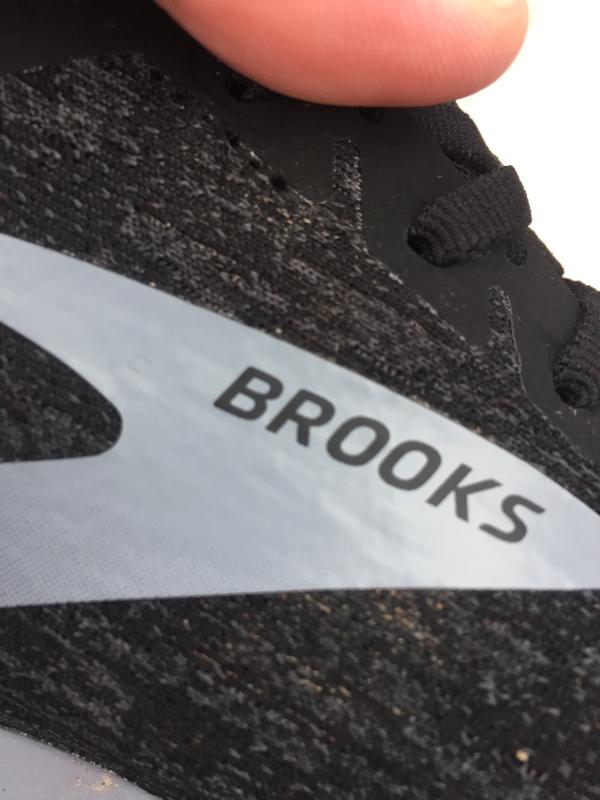 This creates a feeling that the shoe is very unresponsive, especially when moving fast. While the Launch feels great and light when tied on, when moving, the lack of energy return leaves me wanting a different experience.
The BioMoGo DNA midsole foam provides enough cushion but does not provide the energy return or bounce that is needed in a shoe like this.
Ride
The shoe is lightweight and feels light on the foot. It feels nice when laced up and walking around. When moving, the ride is very unresponsive due to the stiffness of the BioMoGo DNA foam.
This makes the shoe feel clunky and heavier than it weighs. There is not much shock impact, so when moving quickly on asphalt, there is not a lot to save the knees/calves.
The shoe does provide a good amount of turnover due to the stiffness of the midsole and overall weight. It's a shoe that I imagine would work well for lighter runners due to these qualities.
For heavier runners, you might want to look elsewhere.
Design features
This is a great looking shoe that I have worn on multiple non-running occasions. I've worn it to the gym and as a casual sneaker where it looks great. The mesh is smooth and sleek, nearly seamless, breathable, and slightly stiff.
Minimal overlays of the Brooks logo are directly adhered to the engineered mesh upper without the use of stitching. The toe-box has adequate room. The heel counter and tongue are both firm but are the same smooth mesh material as the upper.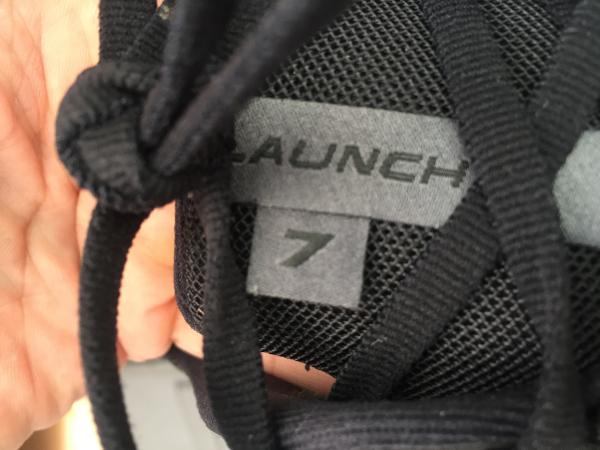 While the shoe does feel somewhat stiff, it feels comfortable to wear, and I never had any rubbing or blisters. The laces are high-quality, lightweight, with plenty of length.
Overall thoughts
My main issue with this shoe is that it falls into a sort of no man's land for running shoes. It is too light to be used daily: not enough cushion, too stiff, and not enough impact absorption.
However, for racing, there is not enough energy return in the shoe to make it worth wearing over other comparable shoes.
The Saucony Kinvara is much more responsive at the same price range, and when looking at shoes in a higher price category like the Nike Turbo 2, the comparison is really night and day.
I can't recommend these shoes for long runs for most runners because they do not provide enough impact support. The shoe works well on the track and for shorter workouts or 5Ks.
For runners that like firm running shoes, the Launch may be a fine option, but for most, I would look at another option.
Even in the Brooks brand, the Ghost is a much better option as a daily trainer as the increased cushion, and overall responsiveness of the shoe makes it a superior experience, in my opinion.
One of the most popular shoe brands is Brooks, and of their line-up, the Launch has been my favorite overall. My last pair was the 5th version of the shoe, and there have been some minor changes since then.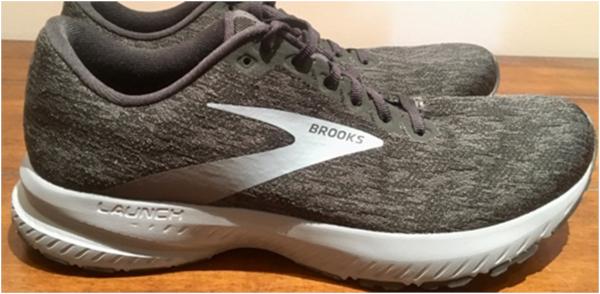 Overall, the launch series still provides a lower drop (meaning less sole in the heal to make it more level with the toe area), a responsive and smooth transition, and comfortable wrap on foot in general.
They are still great right out of the box, but the changes did appear quickly and caused me to adjust a few things. But let's get a bit deeper to see where the changes are and how they affected my runs.
The review - from the ground up…
Tread & midsole
The tread on the Launch series is and has always been, in my opinion, one of the best features of the shoe.
I tested these mostly on sidewalks (concrete and brick) and roads but also ventured into some grassy and light trail areas.
The toe box tread provided grip at all times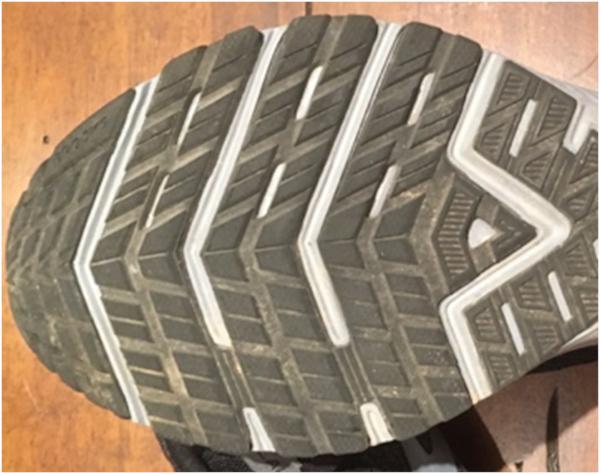 Despite the location, the tread always provided a good grip. My feet never felt like they were slipping from me even in wet conditions.
Though these aren't what I would naturally grab for trail running, they will hold up on manicured areas that don't require a more aggressive tread.
The X pattern design for a smooth transition with DNA emblem in the heel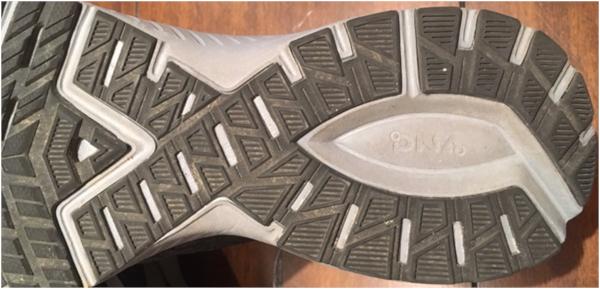 Also, the X pattern that brooks uses to go from the heel to the toe provides a smooth transition for those that naturally strike closer or right on the heel area.
This allows the foot to roll smoothly from back to front. When it works, it is something you don't even notice, and as it is with the Launch 7, your running stride will take on a very natural feel in no time at all.
The angled design helps with shock absorption and stability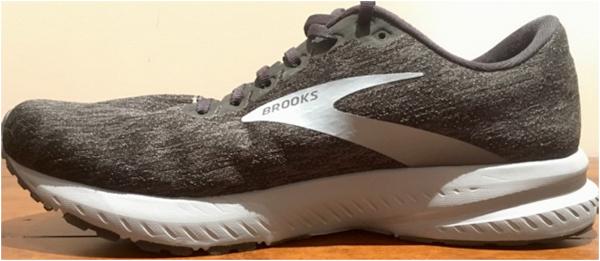 The midsole is still the DNA material that rather quickly forms to the foot, adding even more to that natural feel.
There is a slight amount of cushioning, but not so much that the foot sinks when it lands and not so little that your feet will hurt. I took these on runs up to 11 miles with no issues.
The great part is that the tread and midsole provide a quick response, and I noticed my cadence picked up naturally as did my mile-by-mile average pace. This is also partially due to how I run, and I'm not saying you will win your next race just because of this… but you might!
Upper
The toe box with the 7 seems to be a slightly taller one with a little extra room provided for those people that have bigger feet.
There is enough space side to side in the toe box to allow the toes to splay out naturally, which again results in a more comfortable and natural feel.
Picture of the toe box and upper area

Because of the height on the toe box, I did wind-up tightening the laces down a little tighter to prevent extra unwanted movement.
For the upper, the Launch 7 has a one-piece construction. A 3D print, maybe? This is to get rid of seams and other areas that could cause friction or rubbing.
It does provide a consistent feel throughout the shoe, but I also noticed that the shoes did not breathe as well as past models.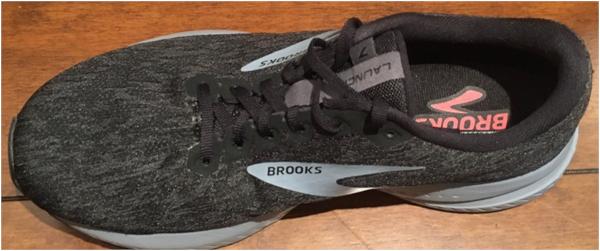 To be fair, my feet get hot quite easily, so airflow is something I pick up on quickly. The upper design does help remove sweat from inside the shoe by wicking it out, but for me, this did not make up for the lack of incoming airflow.
The laces are the standard laces used in previous models and provide a good hold so you won't have to worry about constantly retying your shoe during speed work or long runs.
Heel
It might seem odd to have a section just about the heel. However, for anyone who has had their heel slip up and down while running or had blisters from rubbing, this is an important section.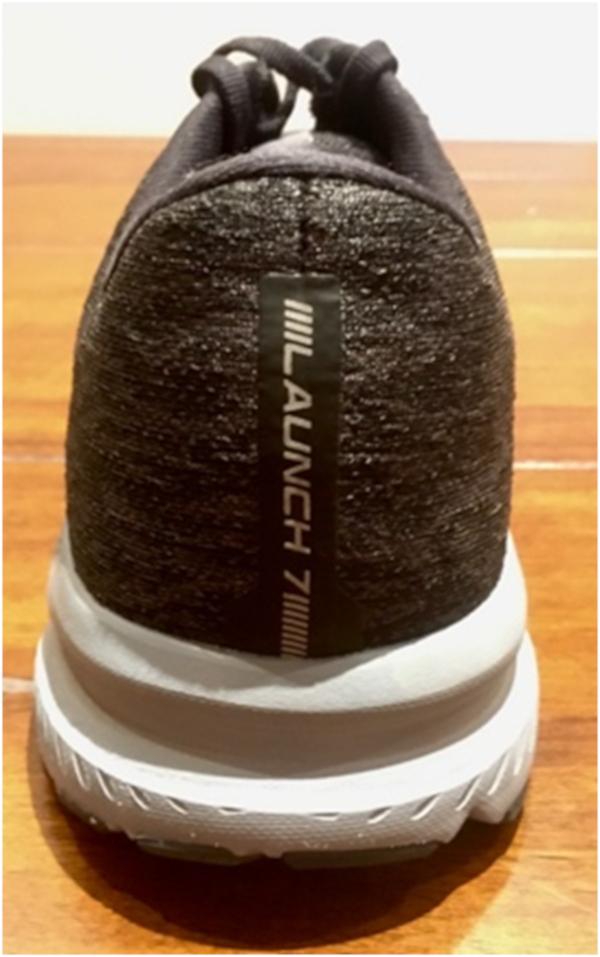 Traditionally, Brooks has designed a solid gripping heel area that holds your foot in place without causing excessive friction. That standard held true on the Launch 7 series.
From the moment I pulled these out of the box to the moment of writing this, I never once had to worry about my heel slipping or rubbing. In fact, until writing this, I never even thought about the heel area because it felt so natural.
There is also no excessive amount of padding that absorbs too much sweat, so my shoes never felt wet after a run or workout.
Heel to toe drop
There is a 10mm drop from heel to toe, which means it is not so much you sink but not so little you feel a hard strike if you hit heel first (as mentioned above).

What it does mean is that if you use these as your main gym shoe, you might want to test them on something like squats with a lighter weight first to ensure your form is still natural.
If you have been using any other type of running shoe (other than a zero drop), then you likely won't notice any difference. If anything, the solid design with a little extra width might provide a better support stance.
This is a very personal area for most people, but for me, these worked just fine for my weight routines.
Pros
Excellent grip
Good cushioned support
Comfortable upper mesh
Good transition from heel to toe
Provide a very natural feel
Cons
They don't breathe as well as previous models
Run big so I had some blistering issues
Had to tighten the shoelaces extra due to the toe box
Overall
The last thing to mention about the Launch 7 is that they run slightly larger than any other version of Brooks that I have tried.
Usually, I wear a 9.5 and these fit like a 10. The extra room caused some blistering for me due to shifting, and to tighten the laces to prevent the back and forth made them feel too tight.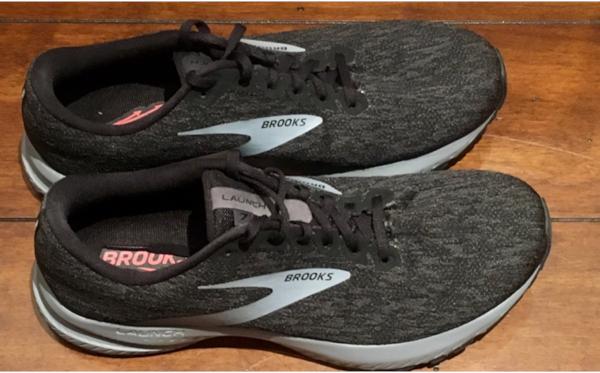 Between this and the lack of airflow as compared to previous models, these were my least favorite in the Brooks line-up so far. Just be sure to have your foot checked inside the shoe from your local running store, and this won't be an issue.
Mine was provided for testing purposes through RunRepeat, so this was not an option. Other than that, these are a good pair of shoes, and I still recommend giving them a go!
Just some background, I've never worn Brooks before. I always wear either New Balance or Saucony. When first receiving the Brooks Launch 7, they looked cool. (much better than NB or Saucony).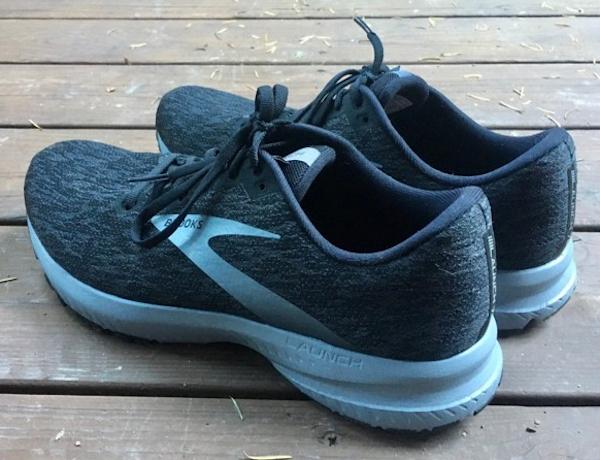 I was pretty excited to wear them for the first time since they look sleek and clean. The packaging was also pretty nice.
Upper (75/100)
The mesh upper holds the shoe together pretty well, and although comfortable to run and walk around in, weren't very breathable at all. My toes would sweat a lot while wearing these shoes, especially on a hot day.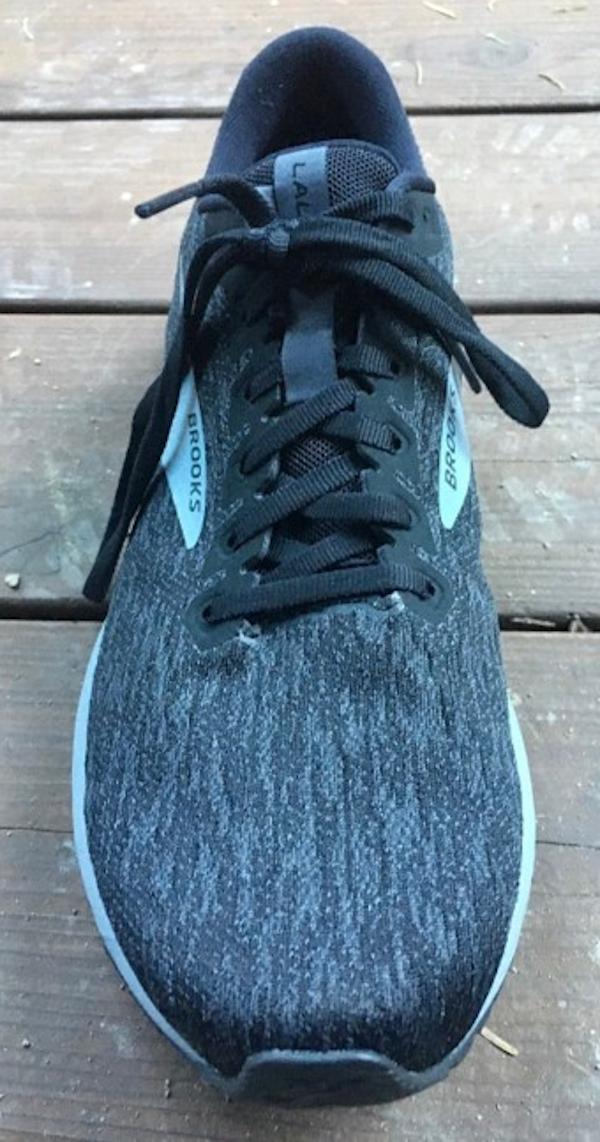 Insole (85/100)
To me, the insole was most of the problem. The arch support was placed in a weird position, almost touching the front of my heels.
On my first three or so runs, I would feel a sharp pain in my right arch and would have to stop constantly to massage my feet. As I gradually broke into the shoe, though, it faded away.
Midsole (85/100)
Although I wasn't used to such a high heel-to-toe drop (10mm), it didn't pose much of a problem, as I could still midfoot strike pretty comfortably.
The midsole offered much more support than I expected from a lightweight shoe. My feet felt very good running down steep hills, and I didn't feel much impact hitting my feet or knees.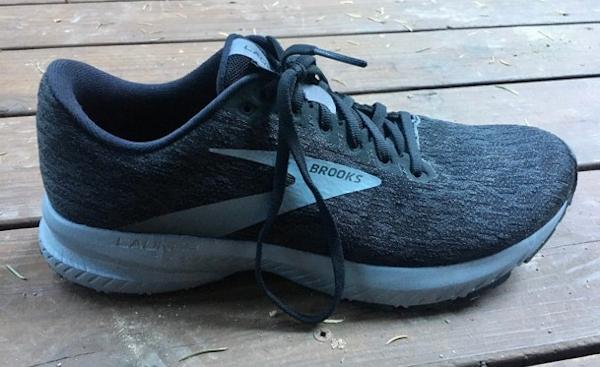 The midsole didn't give me that "bounce" that I was expecting. But, it didn't force my feet to sink in too much either. I can't find anything bad about the midsole, except for the fact that there aren't any prominent features about it.
Lightweight (95/100)
Just 9 oz, these shoes felt very light, considering how bulky they look from the outside, probably due to the light mesh and midsole.
I found that my cadence increased while wearing these shoes, and was able to have quick leg turnover, even while going up steep hills. They made me feel fast, and going slower than about 8:00/mile felt strange.
Outsole (90/100)
I liked the outsole of the Brooks Launch 7. The rubber outsole was very grippy and didn't cause any slipping, even on gravelly trails.
I liked how the outsole pattern covered the entire bottom of the shoe so that people with different foot strikes can all enjoy a good amount of mileage. I'm guessing that it'll last about 350 miles max.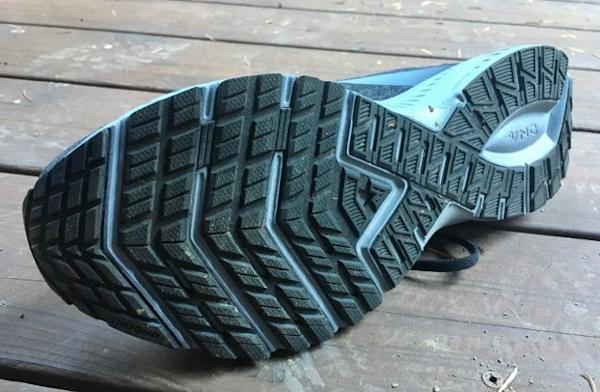 The outsole wasn't very thick, so I'm not expecting the shoe to last a very long time. However, I am impressed by how much grip Brooks incorporated into the shoe, considering how light it is.
Fit (90/100)
I wear a size 9, and the Brooks Launch 7 fits me almost perfectly. The shoes left a good amount of room for my toes to extend.
The heel cup was thin and not very comfortable, but does an excellent job of preventing my heels from slipping. It was effortless to put on and off.
My only complaint is that it was a little too narrow for my liking at the front of the shoes.
Aesthetics (85/100)
The dark gray colorway that I received wasn't the most flashy. However, it does blend in and looks good with almost any outfit.
The mesh upper has a cool almost camouflage pattern to it, and the cuts in the midsole looked clean and sleek.
Summary (86/100)
To summarize, Brooks did a nice job of designing a lightweight shoe that incorporated a grippy outsole, light midsole, and sleek design.
The main issues were its lack of responsiveness, breathability, and innovative technology. It just seems like any other shoe, only lighter.
Regardless, it is perfect for track workouts that aren't supposed to be too fast. It's a very good shoe for $100, and I'd recommend it to runners of any level that are just looking for a lighter daily trainer or a tempo shoe.
With a planned marathon at the end of July just cancelled, my choice of new running shoes became less crucial, but still gave me a few headaches.
My desire to try the Brooks Hyperion Tempo was halted by the lack of a size 9 and also the price point, so I opted for the 'safety' of the popular Launch.
I have had two pairs of the Launch 5, enjoying many trouble-free miles, and had no qualms about going down this route again.
I looked at a few reviews just to make sure I wasn't in for any nasty surprises and whilst the 6 came out relatively unscathed, there was a fair amount of criticism of the 'stiff ride ' and 'firm midsole' on the 7.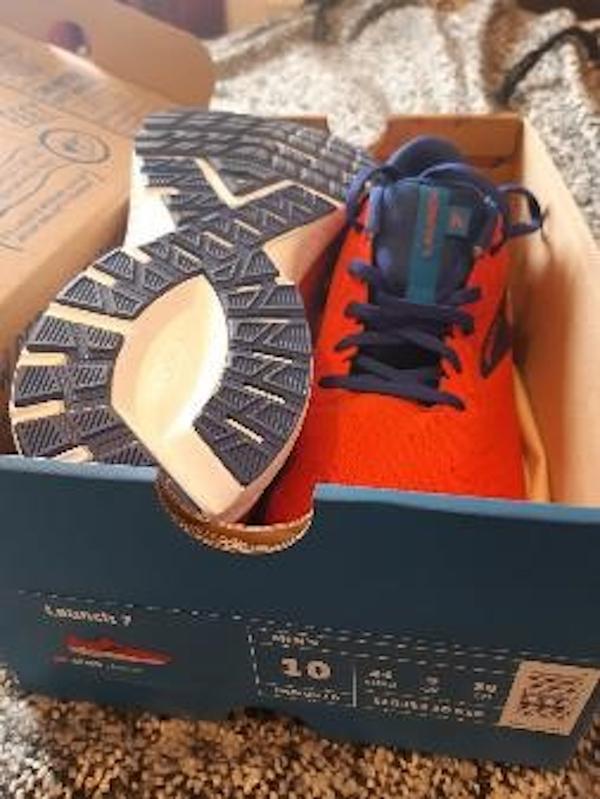 On the basis that I didn't know what that meant, and have never been let down by a Brooks shoe, I went with the latter on the premise that it was a much sleeker looking shoe than its predecessors.
First glance
Upon opening the box, I wasn't disappointed by the look of the Launch 7. It has more the look of a shoe for racing than training but with plenty of rear cushioning to cater for my heavy heel strike.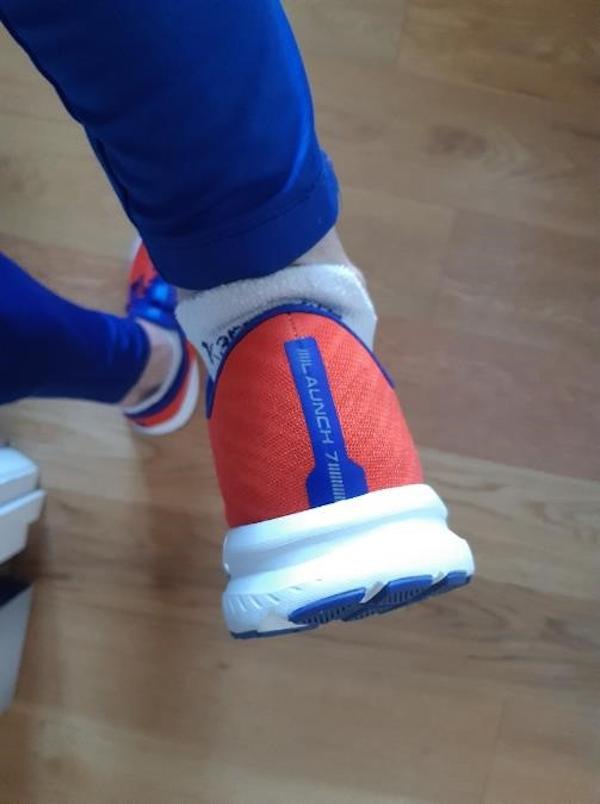 The tread looked robust and gave me confidence that I wouldn't wear through the heel tread too quickly, something I have struggled with all makes of a shoe, and would also have plenty of grip.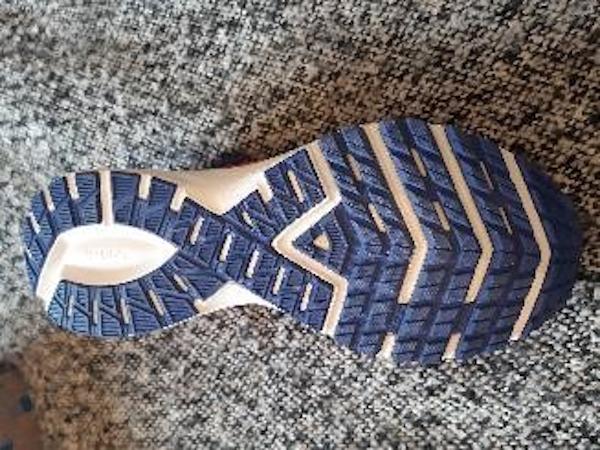 The fit
Being someone who likes to lace his shoes up tight using the bottom of the two to top notches, I was struck by how small and thin the tongue looked compared to previous models.
Concerns have been unfounded thus far with no pain on the top of my foot. If anything, the lack of cushioning on the tongue made lacing up the shoes easier, and I felt secure from the off.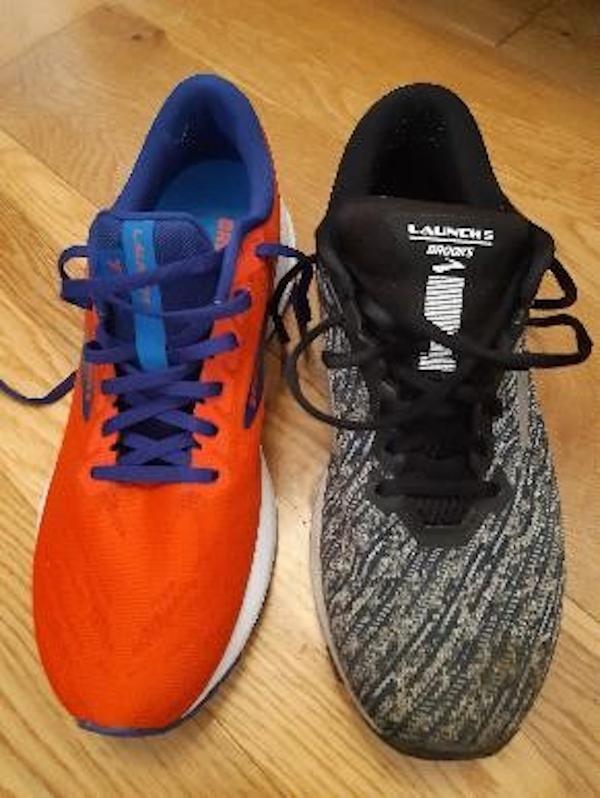 I had bought my usual size 9 and was pleased that the sizing hadn't changed during the redesign. The shoes were tight enough on the heel and around the arch, with plenty of room for my wide feet.
I tried a few cautionary bounces and felt confident in my new purchase. With a touch of vanity, and hoping I hadn't gone for style over substance, I had to admit that the shoes did look good from all angles!
Performance
I had planned on running an easy 10K around 6:30 mile pace to get used to the feel of the shoe, which went to plan for the 1st mile.
I had no movement inside the shoe, with no need any re-lacing which I do generally find with new shoes, and the toe section felt more secure than I was used to, which I definitely saw as a big plus.
There was plenty of cushioning from the heel although I was finding a stiffness in the rest of the shoe, which I was hoping was just due to being worn in (plus I was conscious of not looking for this after the reviews I had read).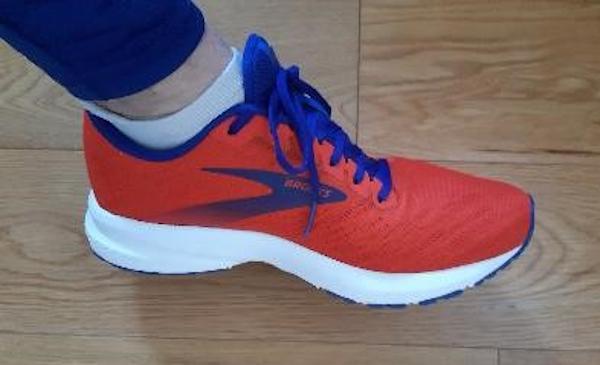 As the run went on, I felt comfortable enough to pick up the pace and put in a couple of 6:00 miles in the middle to see how the shoe responded.
My heel was looked after, but I certainly didn't feel like I was bouncing. Combined with the lightness of the shoe, I had the feeling of wearing a racing shoe.
By the end of the run, I was aware that the cushioning from the heel didn't make its way through the whole shoe, with the ball of my foot taking a bit of a pounding, but decided to keep an open mind over the next few runs.
That being said, I felt no discomfort from the run, other than the usual fatigue from pushing harder than I needed to.
There was no sign of a blister or any sign of rubbing in the heel where I have a pronounced bone in my heel (something which has caused me issues with Saucony and Asics in the past).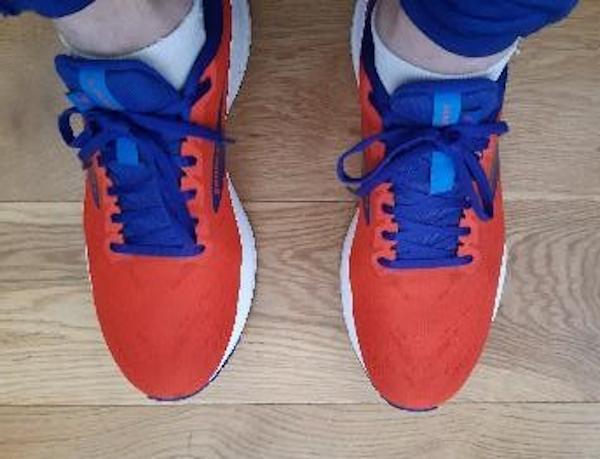 Conclusion
I have since put in a couple of 8-milers, varying my pace throughout between 6:00 and 6:45, and have not experienced anything different to divert me from my first impressions.
Whilst clearly not an out and out racing shoe, the Launch 7 will certainly give the keen amateur like me a lightweight alternative over a variety of distances.
If you are a heel striker like myself, then there is enough cushioning in the heel to take the impact, and I am not expecting any issues with the longer training runs. If you are looking for a repeat of earlier versions, then this is not the shoe for you.
In my mind, this is more of a hybrid between the Launch 5 and the old ST Racer. It may mean I need to source a more traditional training shoe for my longer runs, but I am certainly looking forward to more miles in these.
Good to know
The 7th update to the Launch series doesn't drastically change the overall design of the previous iteration. In fact, the upper unit is the one that holds the bulk of the changes. It features a single-piece engineered mesh that is touted to be lighter than the standard one used in many other shoes. The same midsole and silhouette designs are employed to maintain the essence of the successful version 6.
The rear section of the Brooks Launch 7's outsole unit is made of HPR Plus, a rubber compound that claims to be highly durable. The purpose of this layer is to protect the midsole from the abrasive nature of the surfaces. Its sticky nature permits it to adhere to the ground well, thus ensuring ground control and precise movements while running.
Blown rubber is used in the forefoot section. This element is a spongier version of carbon rubber. The purpose of the unique trait is to add some more oomph to the quality of the cushioning, potentially bettering the potential of springiness when going for the toe-off phase of the gait cycle.
A midfoot transition zone is incorporated into the external pad. This design entails an arrow-shaped rubber pattern that stems from the midfoot part of the platform, as well as a rocker shape that helps the foot to achieve a smooth transition through the gait. The design's focus on the midfoot urges the runner to land using the middle of the sole unit and toe-off naturally afterward. Speedy steps are the goal of such a design.
Underfoot cushioning is a responsibility that is given to the BioMoGo DNA platform. This technology is meant to conform itself to the shape and motion of the foot, giving anatomical support to the wearer of the shoe. It is also worth mentioning that this feature is made using materials that are biodegradable. It won't break down quickly during its normal life of usefulness, though it will surely decompose over time.
An Engage footbed is placed on top of the primary cushioning unit. This add-on has the job of delivering extra support to the underside of the foot. It has a fabric surface that offers a feeling of standing on a luxurious platform. It is also lightweight and flexible. It can even be removed or replaced with a new one if preferred.
The upper unit of the Brooks Launch 7 is made of a single-layer engineered mesh. This cloth-like cover is designed to wrap the foot and keep it secure. A seamless configuration delivers a relaxed hug that doesn't result in hot spots and blistering. Engineered mesh is a trusted part of the Brooks designs, gracing other shoe series such as the revered Brooks Ghost.
Streaks of ventilation sipes line the fabric upper. These elements are meant to heighten the breathability of this running shoe. A cool and dry in-shoe experience is the aim of this scheme.
Printed overlays grace the sides and the eyestays of this product. These thin synthetic prints are tasked with helping the rest of the facade when it comes to securing the foot and preventing in-shoe wobbling.
A traditional lacing system provides the runner with the means of adjusting the tightness or looseness of the wrap. Flat shoelaces snake through discreet eyelets, and they make the in-shoe experience as close to the preference of the runner as possible.
The padded tongue and collar cushion the upper portions of the foot, including the ankles and the heel. They also prevent accidental shoe removals.
How Launch 7 compares
Corescore: 54-57
3 shoes (0.32% of shoes)
Corescore: 58-61
4 shoes (0.43% of shoes)
Corescore: 62-65
16 shoes (2% of shoes)
Corescore: 66-69
18 shoes (2% of shoes)
Corescore: 70-73
53 shoes (6% of shoes)
Corescore: 74-77
101 shoes (11% of shoes)
Corescore: 78-81
245 shoes (26% of shoes)
Corescore: 82-85
240 shoes (26% of shoes)
Corescore: 86-89
197 shoes (21% of shoes)
Corescore: 90-94
60 shoes (6% of shoes)
Price: £40 - £70
114 shoes (12% of shoes)
Price: £70 - £100
270 shoes (29% of shoes)
Price: £100 - £130
272 shoes (29% of shoes)
Price: £130 - £160
170 shoes (18% of shoes)
Price: £160 - £190
60 shoes (6% of shoes)
Price: £190 - £210
37 shoes (4% of shoes)
Price: £220 - £240
10 shoes (1% of shoes)
Price: £240 - £270
1 shoes (0.11% of shoes)
Price: £270 - £300
2 shoes (0.21% of shoes)
Price: £300 - £330
1 shoes (0.11% of shoes)
Weight: 100g - 133g
6 shoes (0.77% of shoes)
Weight: 134g - 166g
16 shoes (2% of shoes)
Weight: 167g - 200g
41 shoes (5% of shoes)
Weight: 201g - 234g
114 shoes (15% of shoes)
Weight: 235g - 268g
197 shoes (25% of shoes)
Weight: 269g - 301g
211 shoes (27% of shoes)
Weight: 302g - 335g
134 shoes (17% of shoes)
Weight: 336g - 369g
47 shoes (6% of shoes)
Weight: 370g - 402g
12 shoes (2% of shoes)
Weight: 403g - 436g
3 shoes (0.38% of shoes)
Weight: 437g - 437g
1 shoes (0.13% of shoes)