Brooks Launch 7 review
I love running in lightweight neutral shoes, so I thought I would love this shoe.
Unfortunately, this is not a shoe that will be remaining in my rotation. Simply, it is too stiff and unresponsive to work as either racer or daily trainer in my current rotation.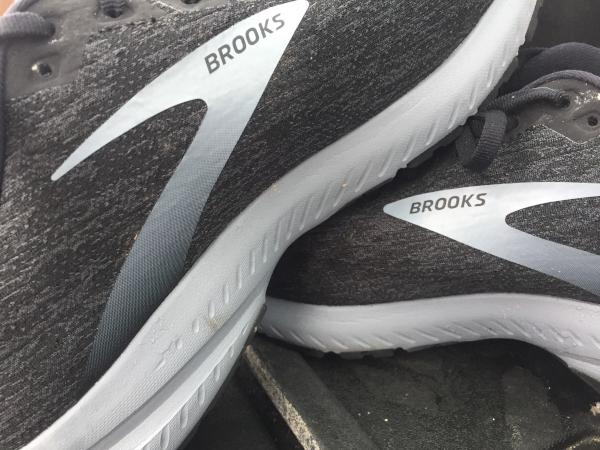 I would point you towards other neutral options like the Ghost, Kinvara, or Pegasus Turbo.
The Launch is marketed as a lightweight trainer fast enough for race day. I find the shoe to be a bit too clunky and stiff to be effective in either category.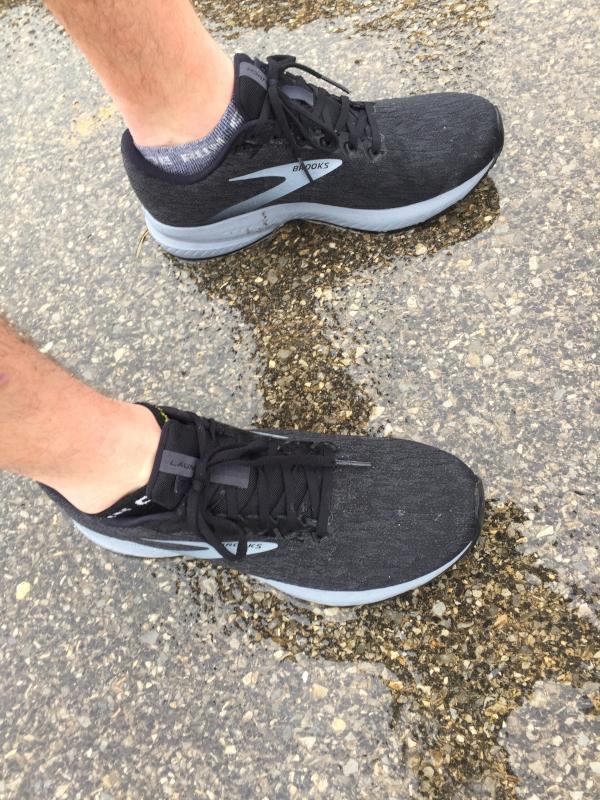 Pros
true-to-size
breathable
good for casual wear
Cons
stiff cushioning
unresponsive ride
clunky
What Brooks Launch 7 is all about
The Brooks Launch 7 fits true to size. I wore this in size 11, and it fits as expected for a Brooks trainer. The design concept of the shoe is a stiff midsole to promote fast turnover.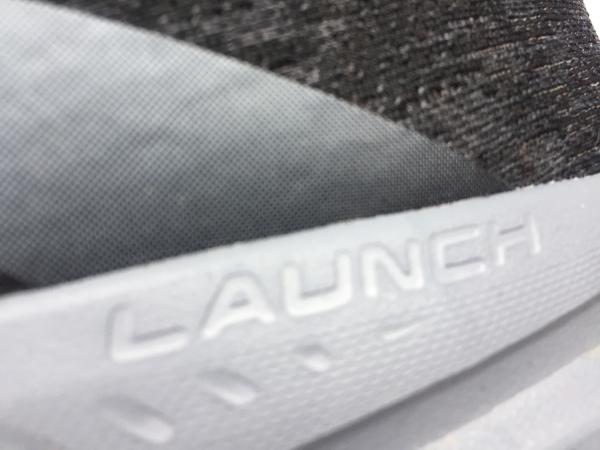 There is a 10mm heel to toe offset and weighs in around 8oz for women, 9oz for men. The shoe handles all kinds of paved surfaces well from asphalt to gravel, and the tread pattern allows for non-technical trail use.
The outsole is made of blown rubber, and the tread is both durable and technical enough to handle multiple surfaces. The shoe responds well to being wet and dries well.
When running slowly, the stiffness of the midfoot can create a pretty uncomfortable ride experience.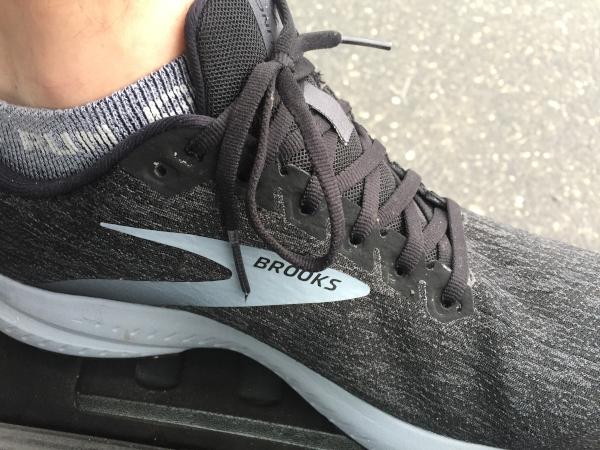 Brooks' proprietary Mid-foot Transition Zone and chevron pattern under the forefoot make for a smooth heel-to-toe transition and help with the turnover transition.
The Launch 7 is designed for workouts and races but also works well for longer tempo runs. Brooks replaced the upper on the Launch with a one-piece breathable mesh.
First thoughts
After my first 5K in these shoes, I was disappointed. I should say this—I have had some trouble with Brooks in the past for a specific area on my foot. The Launch for whatever reason really seemed to aggravate this specific area on the ball of my foot.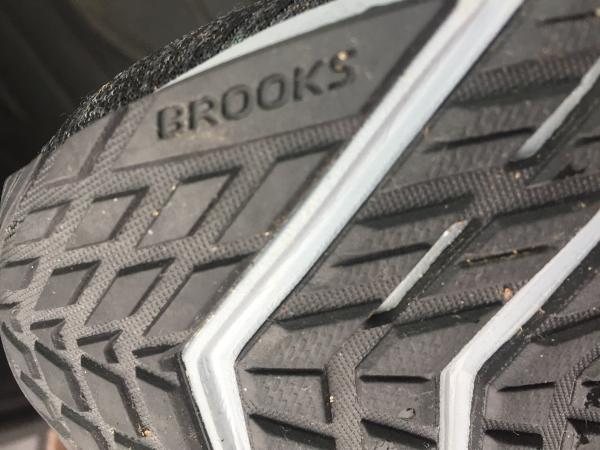 The midfoot is very firm and stiff, and when compared to other shoes, it does not provide nearly the energy return I am used to. The result is that my run felt somewhat clunky, and I couldn't get comfortable.
It felt similar to if I was much farther in a run in a different pair of shoes. I decided to give them a break and took about two weeks before I tried them again.
My next run was another 5K and very much the same experience. The stiffness of the midfoot just does not quite work for me. It reminds me of a few different Asics models I've run in relative to the stiffness through the midfoot.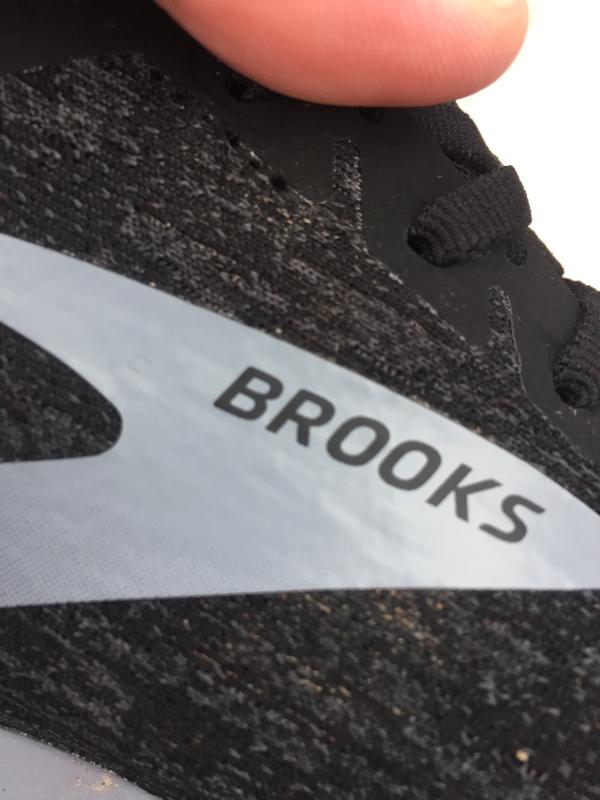 This creates a feeling that the shoe is very unresponsive, especially when moving fast. While the Launch feels great and light when tied on, when moving, the lack of energy return leaves me wanting a different experience.
The BioMoGo DNA midsole foam provides enough cushion but does not provide the energy return or bounce that is needed in a shoe like this.
Ride of the Launch 7
The shoe is lightweight and feels light on the foot. It feels nice when laced up and walking around. When moving, the ride is very unresponsive due to the stiffness of the BioMoGo DNA foam.
This makes the shoe feel clunky and heavier than it weighs. There is not much shock impact, so when moving quickly on asphalt, there is not a lot to save the knees/calves.
The shoe does provide a good amount of turnover due to the stiffness of the midsole and overall weight. It's a shoe that I imagine would work well for lighter runners due to these qualities.
For heavier runners, you might want to look elsewhere.
Design features
This is a great-looking shoe that I have worn on multiple non-running occasions. I've worn it to the gym and as a casual sneaker where it looks great. The mesh is smooth and sleek, nearly seamless, breathable, and slightly stiff.
Minimal overlays of the Brooks logo directly adhere to the engineered mesh upper without the use of stitching. The toe-box has adequate room. The heel counter and tongue are both firm but are the same smooth mesh material as the upper.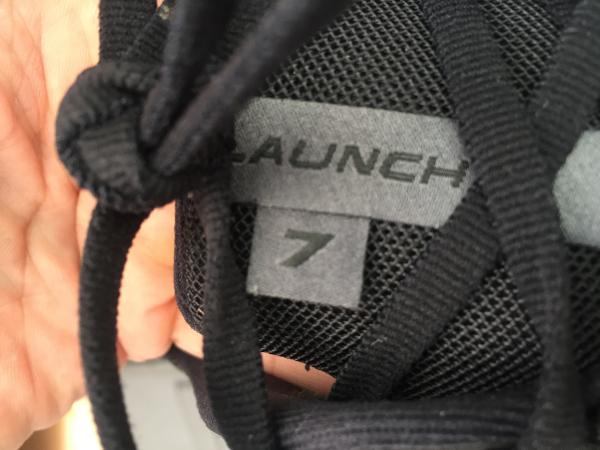 While the shoe does feel somewhat stiff, it feels comfortable to wear, and I never had any rubbing or blisters. The laces are high-quality, lightweight, with plenty of length.
Is it worth the price?
At $99.99 retail, this shoe is a reasonably priced trainer. Especially when looking at other shoes in this category such as the Nike Pegasus Turbo 2 at $180.00, it's important to remember this is a value buy in comparison.
With that said, you get what you pay for. The Launch is not responsive enough through the midfoot to get the energy return you get in the higher-priced shoes.
Ultimately, they feel a bit inadequate and lacking in both cushion and overall responsiveness.
Final thoughts
My main issue with this shoe is that it falls into a sort of no man's land for running shoes. It is too light to be used daily: not enough cushion, too stiff, and not enough impact absorption.
However, for racing, there is not enough energy return in the shoe to make it worth wearing over other comparable shoes.
The Saucony Kinvara is much more responsive at the same price range, and when looking at shoes in a higher price category like the Nike Turbo 2, the comparison is really night and day.
I can't recommend these shoes for long runs for most runners because they do not provide enough impact support. The shoe works well on the track and for shorter workouts or 5Ks.
For runners that like firm running shoes, the Launch may be a fine option, but for most, I would look at another option.
Even in the Brooks brand, the Ghost is a much better option as a daily trainer as the increased cushion, and overall responsiveness of the shoe makes it a superior experience, in my opinion.
Tip: see the best running shoes.
Rankings
How Brooks Launch 7 ranks compared to all other shoes
Popularity
The current trend of Brooks Launch 7.