Overall ranking lists
Brooks categories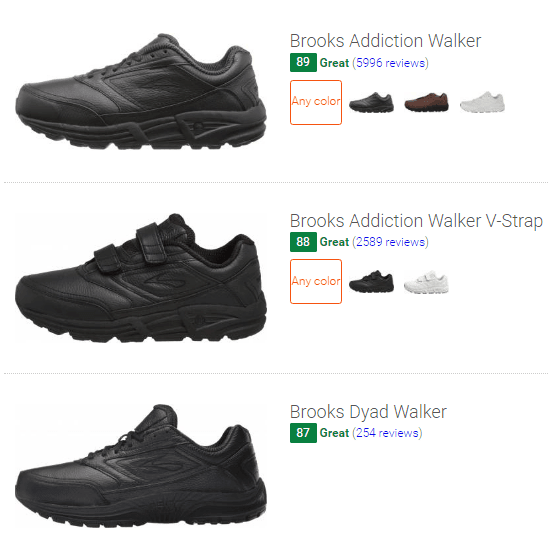 Best Brooks walking shoes - December 2019
For most, walking is a mundane activity, but for some, specialized walking shoes are needed for a pleasurable experience. Brooks may be known for manufacturing running shoes but over the years, it has expanded its line and provided performance walking shoes for consumers.
But what sets Brooks walking shoes apart from the offerings of other brands? Read on to find out.
Proprietary technologies used in Brooks walking shoes
BioMoGo DNA
This cushioning unit is the fusion of the BioMoGo and the DNA technologies. DNA is an adaptive cushioning while BioMoGo is the first-ever biodegradable midsole. By integrating the two technologies, the brand was able to create a full-length adaptive platform that delivers 33% more cushioning than the traditional EVA foam. It is also designed to deliver a higher energy return for a smoother ride. Though it is crafted to be biodegradable, that doesn't mean that it will lose its shock-absorbing properties quickly. It simply means that in the event that your Brooks walking shoes do end up in a landfill, it won't take a thousand years before it gets degraded.
Extended Progressive Diagonal Rollbar (PDRB)
This stability structure is made of three layers of different density foams. The first layer is the base, the softest of the three, covers the whole underfoot. The second layer is in the arch area and is much denser than the first one. And the third layer, the densest one, is the outermost layer that prevents the foot from rolling in. What makes this stability feature different from what other brands offer is that it is presented in a sloped fashion so that the foot is not angled uncomfortably.
Dual Arch Pods
These oval structures are placed under the arch of the outsole. They aim to prevent torsion or twisting to facilitate stability at the midfoot. Though it fortifies this section, it does not impede the natural forward movement of the foot.
Blown rubber
This rubber compound is used on Brooks walking shoes because it has been certified (ASTM F489-96) for slip resistance. This certification means that the rubber passed the traction testing on a special machine.
MC Pod
The MC Pod is a configuration of the outsole and the midsole wherein the outer layer has more segments that promote maximum motion control and flexibility. The midsole positions the foot to feel more balanced for optimum heel-to-toe-off motion.
Full-grain leather
This supple leather is created to be durable, withstanding the abrasions associated with everyday walking. Brooks walking shoes employ leather as it renders a supportive wrap that is also comfortable and does not restrict foot movements.
Highly rated Brooks walking shoes for men and women
Brooks Addiction Walker
Made for men and women, the Brooks Addiction Walker delivers adequate support and comfort for all-day wear. It employs a full-grain leather upper that protects the foot from outside elements. Cushioning the underfoot is the BioMoGo DNA midsole. It attenuates shock while the Extended Progressive Diagonal Rollbar (PDRB) element keeps the foot from rolling inside excessively during the heel-to-toe transition. The outsole is made of an anti-slip rubber compound which is also able to withstand walking on abrasive surfaces.
Brooks Addiction Walker V-Strap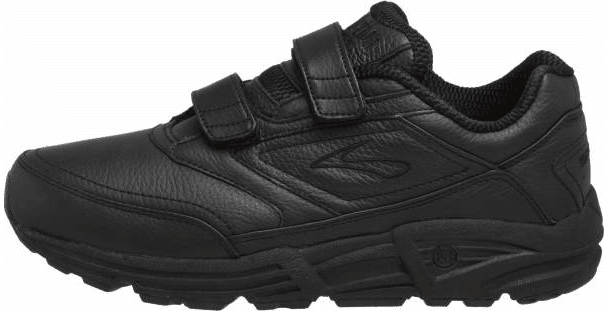 If you're a fan of the Addiction Walker, but wished it was easier to put on, then the Brooks Addiction Walker V-Strap is the option for you. The trainer is equipped with all the same technologies as the original, but instead of a traditional lacing system, it features two midfoot hook-and-loop straps. The dual straps are greatly appreciated by people with mobility issues or those who are advanced in age because they make it easy for the users to put on and take off the footgear.
Brooks Dyad Walker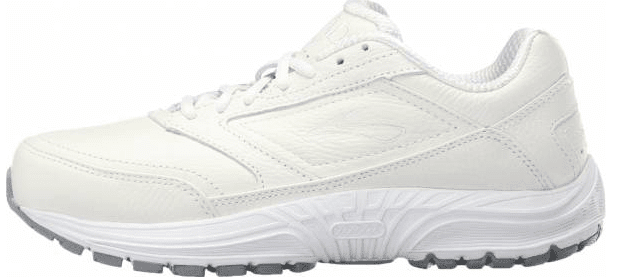 If you need more support in your walking footwear, the Brooks Dyad Walker is what you need. Like other Brooks walking shoes, this trainer employs a full-grain leather upper, the BioMoGo DNA midsole, and an anti-slip rubber outsole. What sets it apart from the other models is the presence of the Dual Arch Pods. They are placed under the midfoot, reinforcing the area to prevent overpronation.
History of the Brooks brand
"Run Happy" - the famous tagline that Brooks Sports, Inc. has lived by since it was introduced in 1999. Simply put, if your feet are comfortable, they are happy; when they're happy, you are able to achieve your running goals.
Brooks did not start as a company that sells running shoes. It started out selling bathing and ballet shoes, then eventually gymnasium shoes before expanding to children's orthopedic footwear and rubber brakes for roller skates.
It wasn't until the 1970s that Brooks focused on manufacturing shoes for running. It has partnered with elite athletes and came up with the first running trainer that uses the ethylene-vinyl acetate (EVA) foam. Over the years, it has expanded its product line and added walking shoes in the late 1990s.
Veering away from running negatively affected the company and in an effort to restructure, it refocused on the running community and streamlined its products by retaining only a few models for the other categories such as its walking shoes. Today, Brooks no longer describes itself as a running shoe manufacturer, but a running community dedicated to keeping marathoners comfortable. It still offers non-running footgear like its walking shoes and lifestyle sneakers.
Frequently asked questions about Brooks walking shoes
Are walking shoes from Brooks available in different width profiles?
Yes, Brooks walking shoes are offered in various width options. Fitness walking enthusiasts can choose from narrow, medium/normal, wide, and extra wide. The availability of different profiles allows the brand to cater to a wide range of customers.
Are Brooks walking shoes customizable?
The Brooks Run Signature is an initiative that centers on the brand helping runners find the right footwear based on their gait analysis. The brand also partnered with HP Inc. to offer personalized running shoes based on fit, biomechanics, and experience. Unfortunately, this service are only available for the running line, not for Brooks walking shoes.
Are these shoes equipped with stability or motion control features?
Yes, Brook walking shoes employ features such as the Dual Arch Pods and the Extended Progressive Diagonal Rollbar (PDRB). The Brooks Addiction Walker uses the PDRB technology to prevent the foot from rolling in excessively. As for the Dual Arch Pods, they are found in the Brooks Dyad and aims to reinforce the midsection to avoid twisting, but still facilitate the natural forward motion of the foot.
Are they breathable?
No, Brooks walking shoes are not breathable because of the full-grain leather upper. There are also no perforations that would allow heat to dissipate. However, the interior of the footgear is lined with mesh fabric to deliver a good in-shoe feel. This type of trainer is suited for cooler climates and for people not fond of walking shoes with a mesh upper.
Can Brooks walking shoes be used for running?
Brooks walking shoes are not designed to be used for running. Their leather upper could easily make the runner's feet feel hot and sweat. Also, these are not as flexible and lightweight as proper running shoes which could throw athletes off their game.
How do you keep them clean?
The simplest way is to brush off dirt. If there is any caked-in dirt on your Brooks walking shoes, then a wipe-down with the use of a damp, clean cloth could do the trick. More stubborn dirt can be removed with a solution of warm water, gentle detergent, brush, and some elbow grease, then wiping the suds off with a damp cloth. To keep the leather supple, a conditioning solution may be applied to prevent it from cracking.
In the event that your pair of Brooks walking shoes gets soaked, be sure to remove the insole and laces, clean them off and leave them to air dry. As for the shoe itself, pack it with crumpled newspaper to soak up excess water, then allow it to air dry for a full day. Do NOT use any heat sources to dry it off as that could damage the leather and the overall construction.
Where can I purchase Brooks walking shoes?
Aside from the Brooks website, many online retailers sell Brooks walking shoes. However, instead of checking multiple sites to see which has the lowest offers, why not try RunRepeat? Using our proprietary algorithm, we present consumers with the best price points for any shoe models on our website. So just click on the Brooks walking shoes of your interest and see a list containing the retailer and their prices. Brooks walking shoes cost about $120, but RunRepeat could help you find a pair with as much as $30 off.
How should Brooks walking shoes fit?
The way any trainer fits is subjective. A snug fit would be deemed perfect by one user, but another could say that it is restrictive and uncomfortable. A wearer should always listen to their feet when it comes to choosing the right size and width. Do not settle with getting tight-fitting footwear in the hopes that with regular use it will loosen up a bit. And don't get trainers that are too loose thinking that your foot would grow or expand in the near future. Getting ill-fitting shoes could result in foot pains, bunions, corns, blisters, and other foot issues. The great thing about Brooks walking shoes is that they are available in varying widths which means even if you have narrow or broad feet, there's a good chance you'd find your perfect fit.
Did you know …
… that the 'Run happy' tagline was aimed at reshaping how people view the sport? Most shoe brands saw running as a competitive sport often depicted as a grueling physical activity. But Brooks believed that runners run because they love the sport; they are happy when they do it. The slogan aimed to advertise their running trainers as something that could mimic this pleasant experience for ordinary people.
… that Brooks shoes used to carry the brand name Bruxshu Gymnasium Shoes? After John Brooks Goldenberg and his brother Michael bought the Quaker Shoe Company, it was renamed to Brooks Shoe Manufacturing Co. and released shoes under the Bruxshu brand. If you think about it, Bruxshu sounds like 'Brooks shoe' but said in a fast manner.
… that Brooks chose to sponsor ordinary athletes instead of celebrities? The campaign began in 2017 when the brand launched the Big Endorsement campaign, which sought to find all types of runners, from beginners to veterans, to highlight in their running blog. The move aims to encourage everyone to get up, run, and share their stories with everyone to inspire and motivate other runners.
… that Brooks was the first to develop a biodegradable midsole? In 2007, Brooks proudly announced the first-ever biodegradable midsole called BioMoGo. It is the enhanced version of the MoGo foam released a year earlier, which boasts of more cushioning and responsiveness than conventional EVA foam. A non-toxic, natural additive is applied to the MoGo material to hasten the breakdown of the material. The substance encourages anaerobic microbes to disintegrate biodegradable nutrients into reusable byproducts. According to Brooks, the BioMoGo platform will deteriorate in approximately 20 years, instead of 1,000 years like the standard EVA foam.
5 best Brooks walking shoes
Brooks Addiction Walker
Brooks Addiction Walker V-Strap
Brooks Dyad Walker
Brooks Addiction Walker 2
Brooks Addiction Walker Suede
This shoe has recently been added to RunRepeat. There are still not enough reviews for us to assign it a
CoreScore
.
CoreScore
A score from 1 to 100 that summarizes opinions from users and experts. The average CoreScore is 78.
More...