The minimal drop trail shoe is a versatile all-rounder for someone who wants that go-anywhere, do-anything shoe. With nice features like a solid outsole and rock plate, the Peregrine 12 is a comfortable, reliable option for tempo work as well as long runs on the trails.
Pros
Fits true to size
Grip is great in good conditions
Great cushioning
Excellent lockdown
Lightweight
Breathable
Chart-topping laces
Vibrant looks
Cons
Need to keep the same insoles for proper cushioning
Some discomfort from overlays
Saucony Peregrine 12 Review and Lab Test
With a promise of flexible comfort, the Saucony Peregrine 12 is a low offset, versatile workhorse of a trail running shoe. There's an excellent outsole, minimalist upper and reliable midsole, there's loads to love about this shoe.
Who should buy the Saucony Peregrine 12
The Peregrine 12 is the perfect option for you if:
You're looking for a one-hit-wonder versatile trail shoe
You want a shoe that can take you over marathon distances
Who should NOT buy them
You may want to look for alternatives if you:
want a more aggressive drop, try the Saucony Canyon TR
Need a waterproof shoe, the Peregrine 12 doesn't have a GTX version (yet) but the super-capable Peregrine 11 GTX has got your back (feet)
The Peregrine 12 fit true to size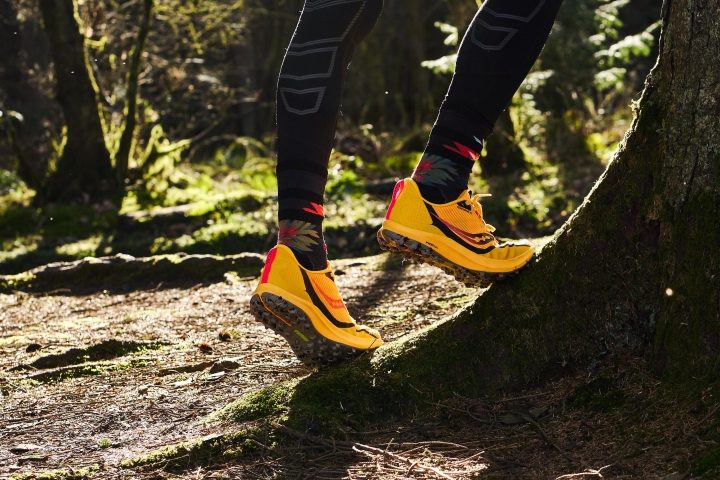 Fitting true to size the Peregrine 12 are a comfy, spacious shoe. With a nice, wide 104.9mm forefoot width in the upper, there's lots of room for feet of all widths.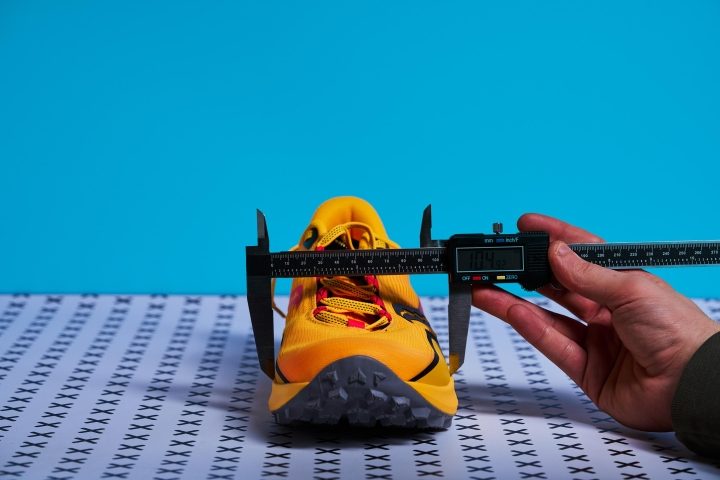 There's a beautiful heel cup too which helps the lacing lock the foot in even if you're on the narrow side. On a side note, the laces that came with the Peregrine 12 are some of the best tested, scoring 47.0N in the slip test (the average is only 23.3N).
A fresh approach to the midsole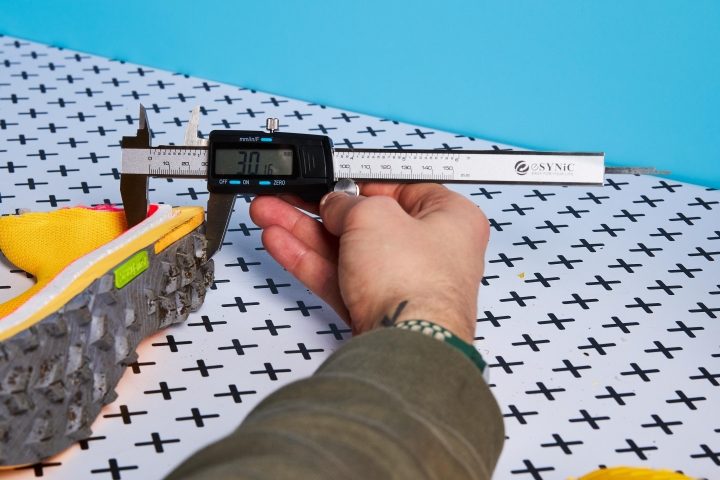 In the past, the Peregrine has come with a 'top sole' sitting beneath the insole and above the midsole. Lots of users found that after a while this extra layer of padding would come apart from the shoe, leading to durability issues.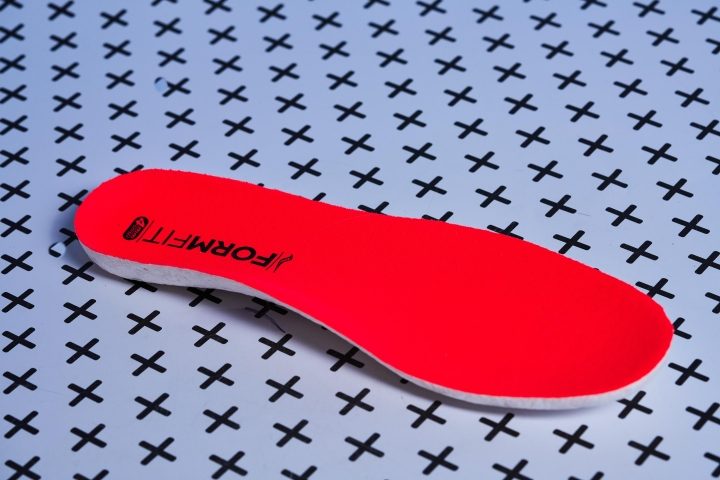 To solve this problem Saucony has replaced this with a super thick 7.2mm insole made of really soft foam.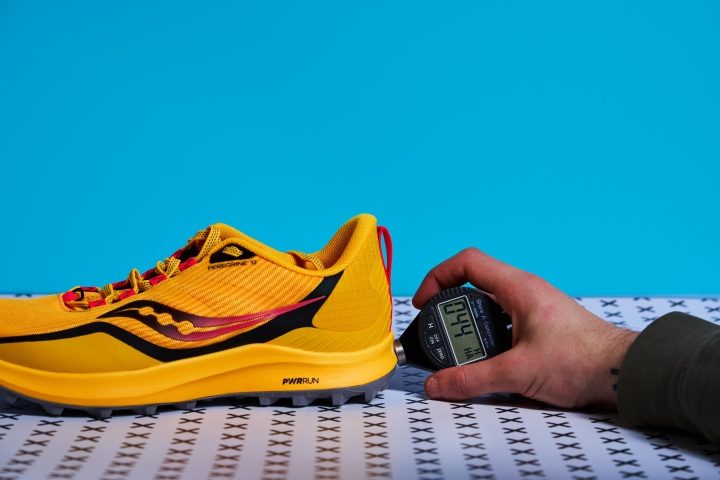 This paired with the 44HA (average 41.4HA) durometer midsole that hasn't changed across versions makes for a really comfy and cushioned trailer runner. I'd feel comfortable taking this on longer runs, maybe even above marathon level.
What I will say though, is that the reliance on a removable insole for cushioning is a bit of a design flaw in my eyes. This leads to an inability to use custom orthotics while getting the same protection which is never ideal
The peregrine 12 offers protection and flexibility
Underneath the midsole is a firm, fiber-weave rockplate that's there to protect your forefoot from the beating of sharp rocks and sticks. Usually, these offer protection at the cost of flexibility, but with a flex score of 38.3N (average 29N), the Peregrine 12 is still form-fitting.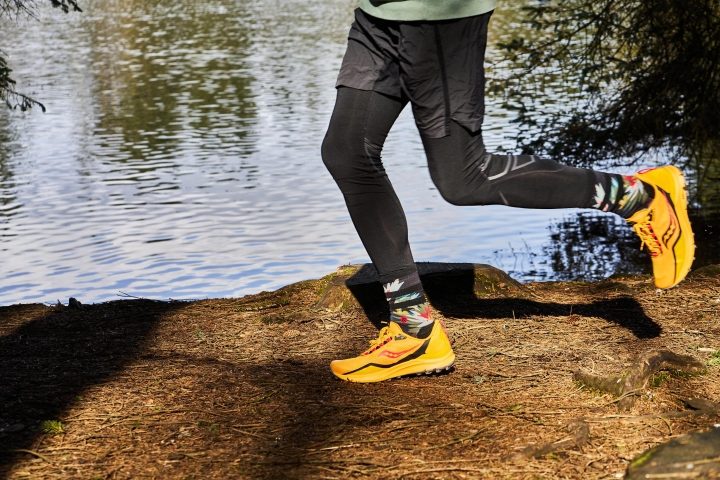 The result is a trail runner that can take on most surfaces, while feeling agile and comfortable all day.
The Saucony peregrine 12 are plenty grippy
The outsole of the Peregrine 12 has well-spaced, chevron lugs sitting at 4.6mm deep. The spacing means it's really good at shedding mud, and can work on softer ground too.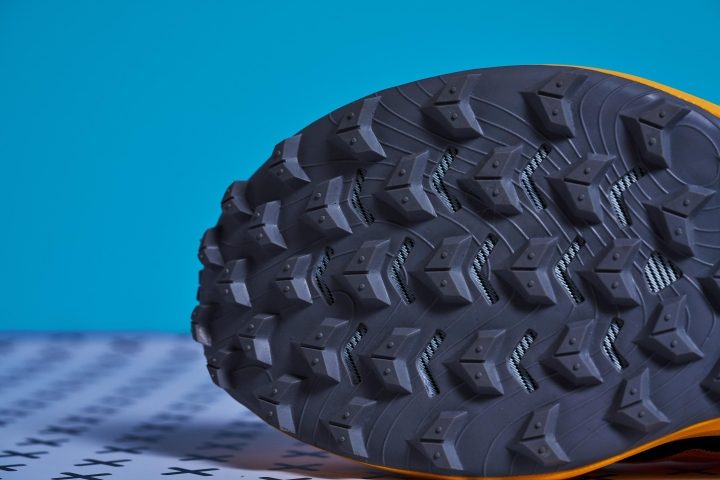 I do think that maybe they've moved towards the softer ground a bit because I felt a bit of slip on some of the harder surfaces.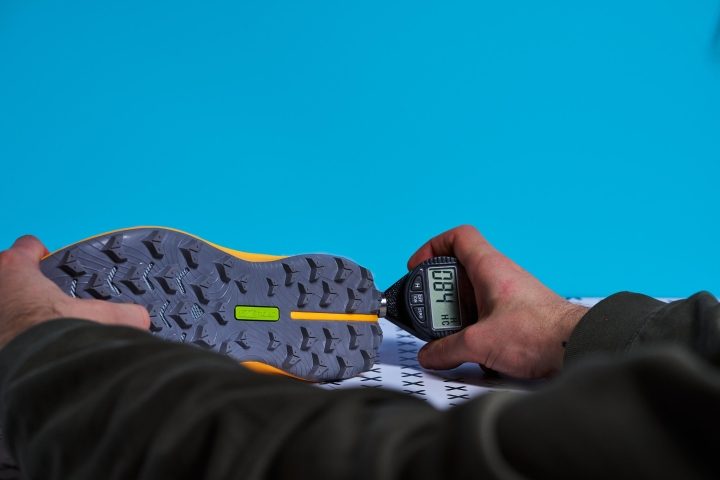 At 84HC durometer on the outsole, it's quite a hard surface, making it particularly unforgiving if you;re taking on pavement for any length of time.
An upper that's shed a load of the unnecessary
The rest of the Peregrine 12 seems like a really minimalist shoe. With a thin, 3.8mm tongue and lightweight overlays the Peregrine 12 comes in at 285g (mens size 10), which is a huge 33g lighter than the Peregrine 11.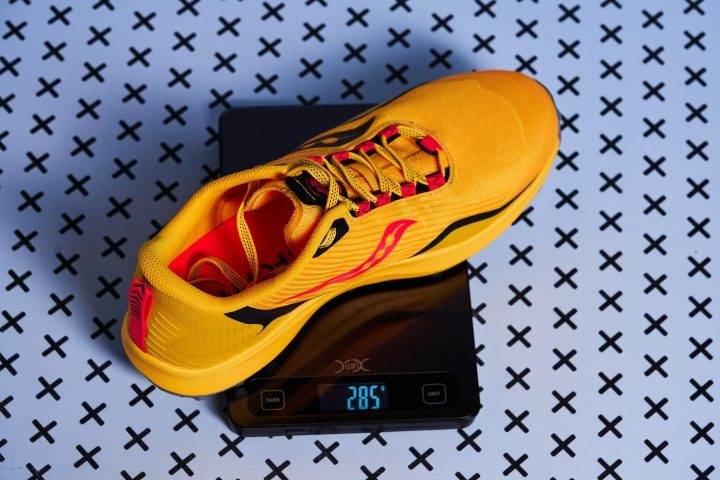 The shoe is breathable and hugs the foot really well. One thing that I did notice over longer distances, however, was the overlay across the toe box for protection would often push against my toenails. Maybe with a bit more breaking in it might improve, but it proved annoying on my runs.
Even a heel tab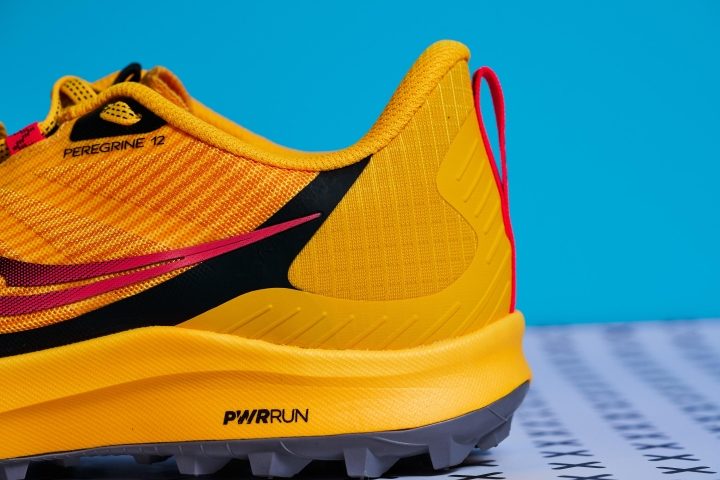 Maybe in a bid to shave more weight, or just a design choice, Saucony changed the heel pull tab to a more classic design. It doesn't bother me too much either way as I just appreciate any trail shoe that has one.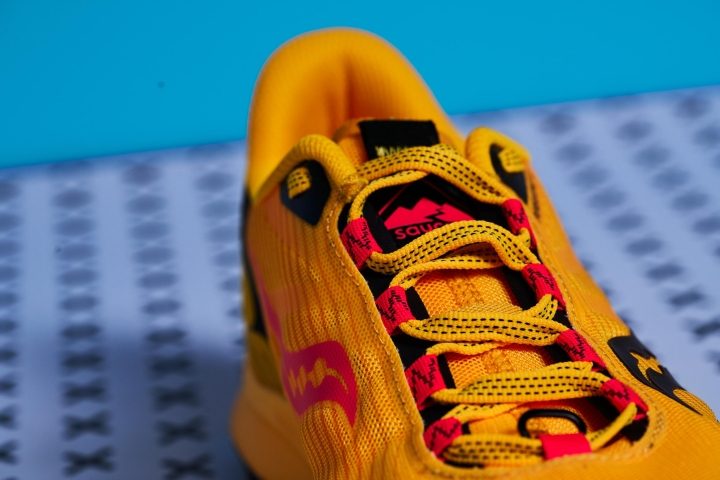 This, along with a clip for gaiters in the forefoot is just one of the nice touches that show Saucony's care for the little things that their runners need.
Conclusion
The Saucony Peregrine 12 is an all-round excellent shoe. With enough changes from the previous version to make it an attractive upgrade, this newly lightweight(ish) trail shoe has lots to offer and very few drawbacks.
Saucony Peregrine 12

Average

Whole shoe

Weight (g)

285

276

Drop (mm)

6.9

8.9

Flexibility of the shoe (N)

38.3

29.0

Flexibility of the shoe (Freezer 20 min) (N)

48.2

37.7

Flexibility of the shoe (% of change)

25.8

31.5

Lace slip test with the knot (N)

47

23.3

Longitudinal flexibility (1-5 scale, 5 being the stiffest)

3.0

3.2

Torsional flexibility (1-5 scale, 5 being the stiffest)

3.0

3.4

Upper

Thickness - Tongue (mm)

3.8

6.4

Width Upper - Forefoot (mm)

104.9

98.6

Width Upper - Heel (mm)

77.3

82.7

Lace Stretch (1-5 scale, 5 being the most stretchy)

3.0

2.7

Flexibility of the heel counter (1-5 scale, 5 being the stiffest)

3.0

3.0

Tongue: gusset type

Full

-

Heel: pull tab

Yes

-

Midsole

Width Midsole - Forefoot (mm)

111.3

112.0

Width Midsole - Heel (mm)

83.2

89.2

Stack - Forefoot with insole (mm)

23.2

23.9

Stack - Heel with insole (mm)

30.2

32.7

Durometer Midsole Heel (Room temperature) (HA)

44

41.4

Outsole

Outsole thickness (Heel) (mm)

5.2

3.7

Lugs Depth (mm)

4.6

3.3

Durometer Outsole Heel (Room temperature) (HC)

84

82.6

Insole

Insole Heel Thickness (mm)

7.2

4.5

Insole: removable

Yes