A stability shoe made for training runs, the Guide 14 from Saucony just gets the job done for us. No frills, no gimmicks, just plain support. While it may be a positive for the shoe, it also renders a negative - it's a dull ride. Whether you're an overpronator or a neutral runner in need of extra arch support, the Saucony Guide is neither obtrusive nor too harsh to not find that sweet spot in your daily running shoe roster.
Pros
Mild stability
Wide toebox
Familiar Saucony fit
Good grip
Perfect midfoot lockdown
Really durable
Cons
Uninspired ride
Heel slipping
A bit heavy
Saucony Guide 14 review and lab test
If you don't love surprises, the Saucony Guide 14 may be perfect for you!
The Guide 14 is an everyday stability trainer that is more utilitarian than flashy. If you've run in the Guide before you won't notice a huge difference, but that's a good thing as this is a solid stability shoe that gets the job done without a lot of fuss or fanfare.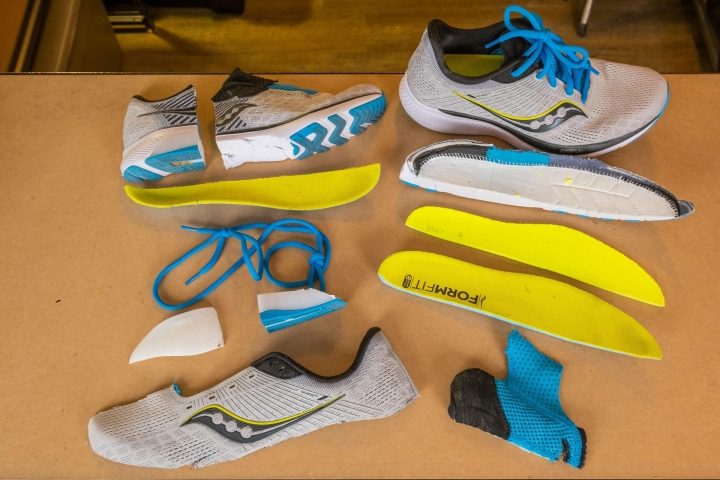 Who the shoe is (not) for
The Guide 14 is ideal for runners:
with mild to severe pronation who are looking for a stability shoe with a modern upper and a competitive weight (10.65oz/302g),
with neutral pronation who appreciate some stability as the TPU (plastic) medial post is not so intrusive.
This shoe is not for you if you are looking for: the latest tech, a race shoe, or an ultralight stability shoe. It's still over 10oz, which is competitive in the stability shoe category, but it's noticeable on your foot, and the use of a plastic medial post seems dated in the day and age of dual-density foam midsoles.
Consider the ASICS Gel Kayano Lite, or the Skechers Forza 4 Hyper for slightly more modern takes on a stability trainer.
Familiar Saucony fit
The Guide 14 fits like a Saucony.
If you've run in the Guide, Ride, or Triumph in the past, and enjoyed the fit, you will enjoy this. Here's why:
The toe box is plenty wide.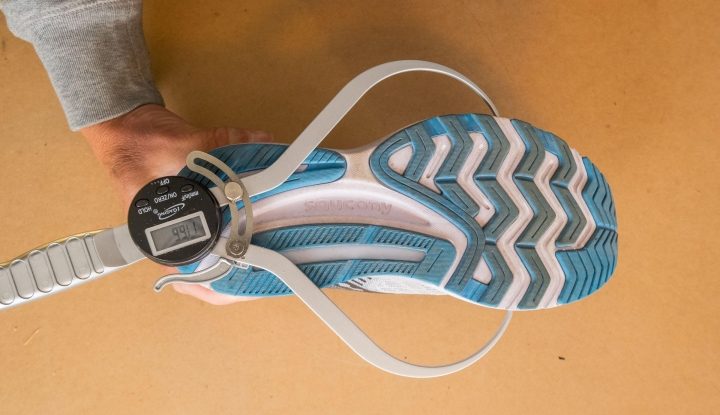 Thanks to the fully gusseted tongue, there's great lockdown over the midfoot.
The gussets are a stretchy mesh which I love to see in running shoes, they hug your feet and flex with them rather than constricting movement.
Heel slips in Saucony Guide 14
I did have some heel slip issues. I blame this mostly on the super stiff heel counter. Saucony designed this shoe with a 2.8mm large plastic heel counter which made the Guide 14's heel 46% stiffer than the average shoe we've tested (91.3N vs 62.3N).
I personally don't like stiff heels, they don't work for my foot, and the result is noticeable heel slipping.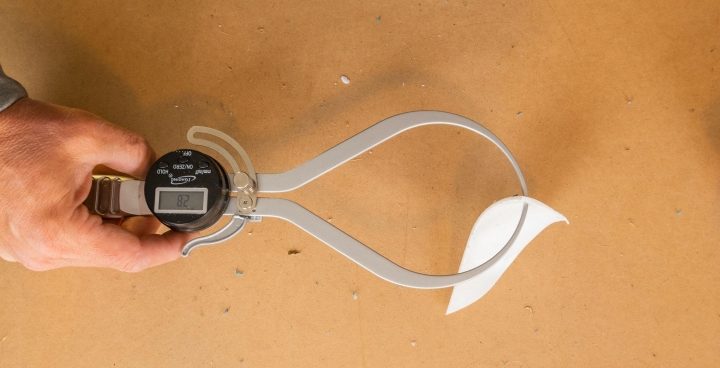 Laces easily untied
I tried using the second eyelet at the top of the lacing pattern to address the heel slipping, but the laces were so stretchy and smooth I struggled to get the lockdown in the heel I wanted.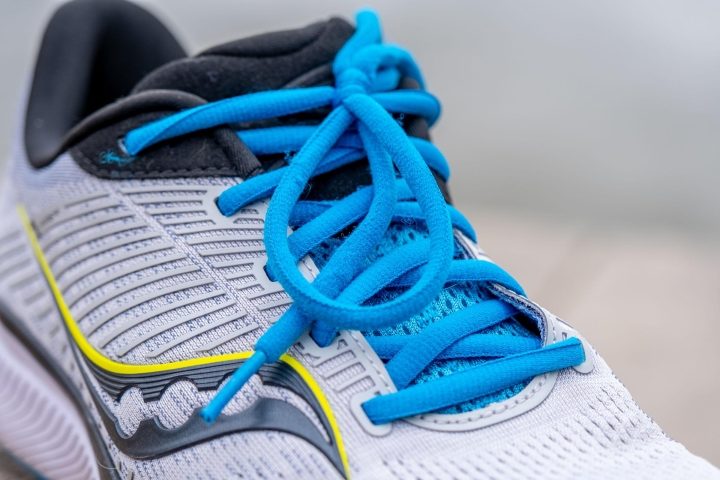 Just a note, these laces feel insanely slippery in your fingers, I actually struggled to double-knot them and had to try a few times just because they kept slipping out of my hands.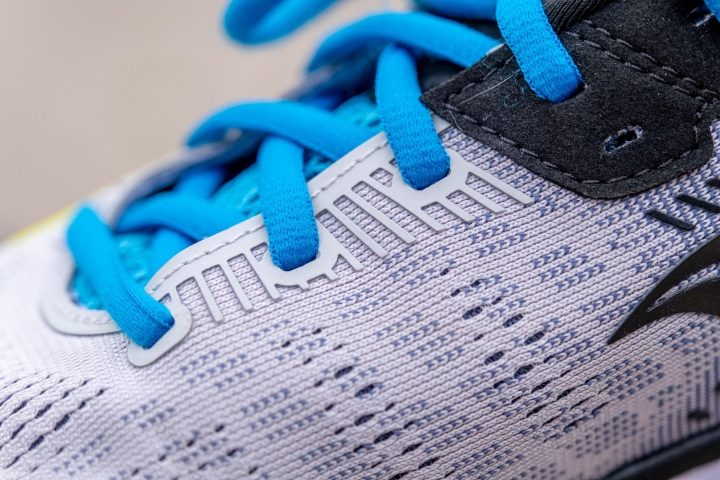 A double knot is required as well, since these rounded laces had the lowest force recorded to untie out of any shoe we've tested. At 8.1N, this is 74% less force required than the average of 31N.
Saucony Guide 14 lacks plush
Stability shoes are not normally super plush, they tend to have hard, plastic medial posts under the arch, or stiff midsole foams, and the Guide 14 is no exception to this.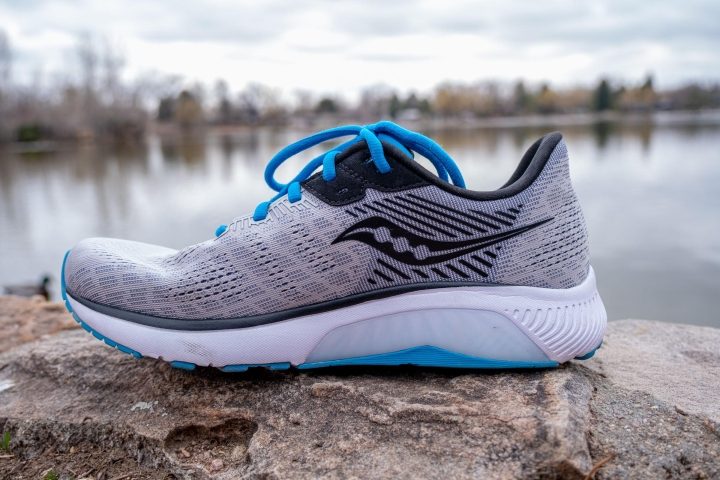 Saucony has made their PWRrun midsole a bit softer in this update but it's still a stiff shoe without a ton of response or pep.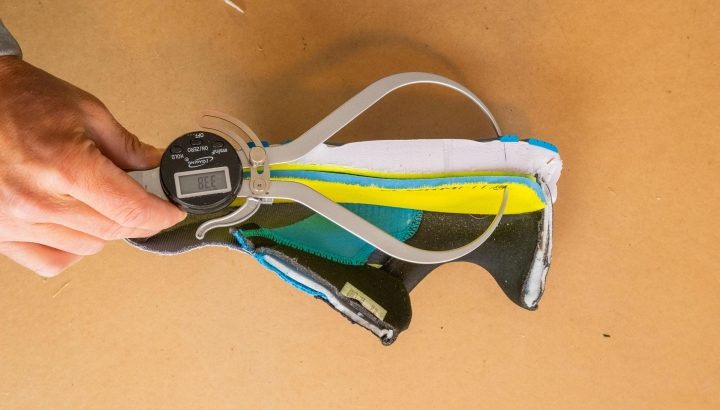 I found the bottoms of my feet going numb from time to time, and although Saucony has a thick 5.1mm insole (9% thicker than average), and the second layer of soft foam atop the midsole, I still found myself wanting a bit more plushness out of the shoe.
It's a dull ride
This dense PWRrun foam led to a somewhat uninspired and dull ride. It was fine, but nothing exciting to report here.
The foam itself measured 33.3HA in the forefoot and slightly softer in the heel at 27.3HA on our durometer, both of which are over the average stiffness compared to other running shoes.
As a stability shoe, this is pretty normal, but personally I would have liked these to have a bit more excitement as I plodded along through my test runs.
Mild stability: friendly even for neutral pronation
One positive I'll mention, as a neutral runner, I was not all that disappointed with the stability control device in the Guide 14s.
I normally can't wear a shoe with a TPU medial post as it really bothers me, but this shoe uses that technology without overdoing the arch support, making it usable for neutral runners or mild pronators should you need a supportive shoe on some of your runs.
Guide 14 could be lighter
At 10.65 ounces (302g) the Guide 14 is not an ultralight, but it is lighter than other shoes in this category like the ASICS Gel Kayano 27.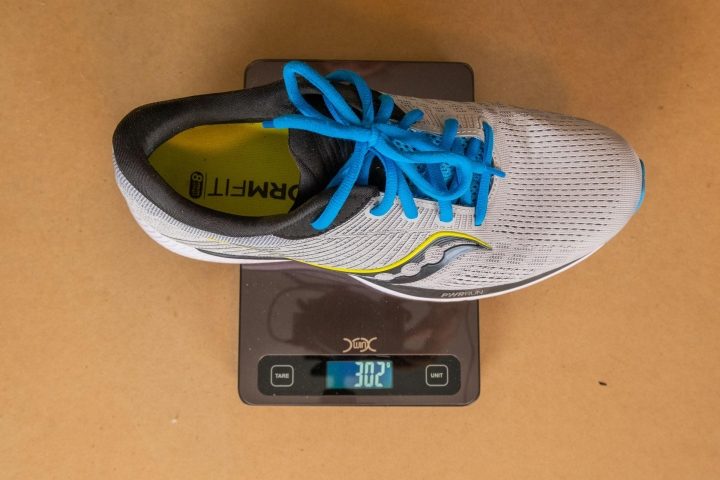 It's not a nimble trainer by any means though, and I think Saucony could lighten this shoe up a bit in future iterations.
There's a lot of upper material, a very thick tongue (8.5mm) and a ton of padding in the ankle collar.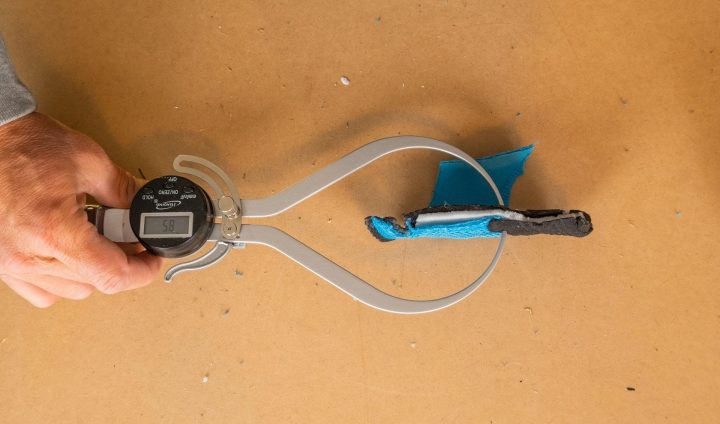 Saucony could easily cut an ounce out of this while making the shoe more breathable and lighter, which would be a win.
Durability: high expectations
I have no doubt the Guide 14 will be a long-lasting running shoe.
The upper is thick and well made, the midsole is dense, and the outsole features a 4mm thick blown rubber that should wear slowly giving this shoe plenty of longevity.
Proper grip
The outsole is a web of blown rubber over the top of the EVA midsole.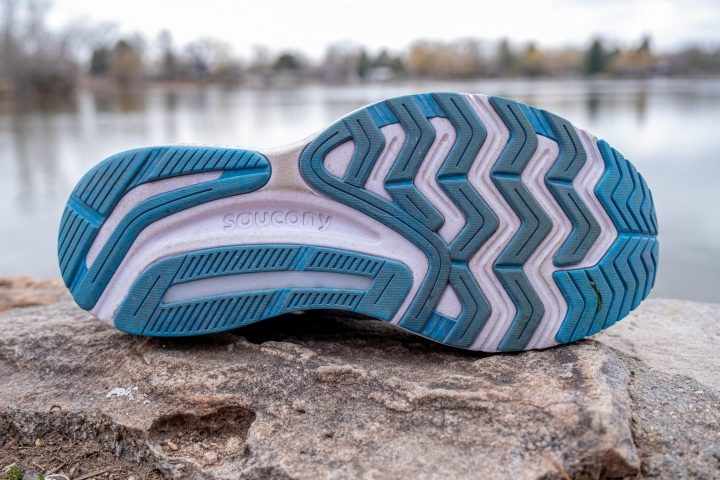 It's not full coverage but it's more than enough. It gripped fine on dry concrete and asphalt and I'd have no real concerns for this on wet, hard surfaces.
Guide 14 runs warm
The upper on the Guide 14 is built from many layers, giving it a warm feel on your foot.
I'd say it's not overly breathable, or at least breathability is not a feature I would specifically call out on this shoe, but it's not a sweatbox either. I think you'd be fine year-round in this shoe, but it's by no means, light and airy.
2 out of 3 for foot lockdown
If you have narrow heels like I do, you'll struggle with heel slip in the Guide 14. There's plenty of lace length to try to tackle this issue with fancy lacing techniques, but the laces stretch a ton (29%) and are slick, so getting the shoe super tight was a struggle for me.
I only had this issue in the heel though, midfoot and forefoot fit well, and I was able to run no problem in the shoe other than the small annoyance of my heel slipping.
Boring looks
I wish Saucony would jazz this shoe up a bit. It's not that exciting to look at with its main design feature just being a juxtaposed lace color… Sure the laces match the outsole, but that's all. Gray on gray, with some colorful laces.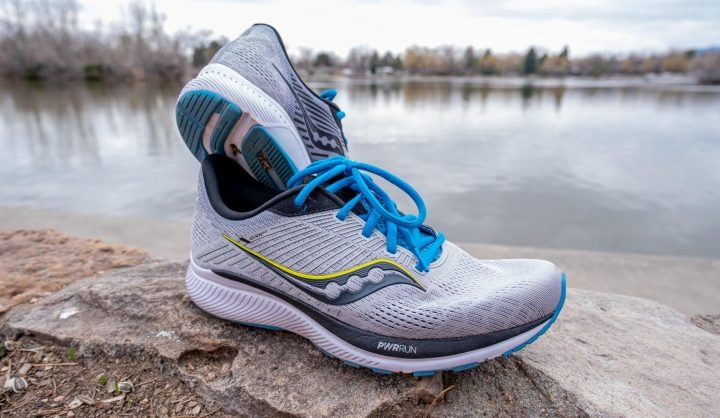 I like bright shoes though, so if you are from 1984, you may love these shoes and even request a pair of gray laces to mellow them out!
Not for night runs
Also, the Guide 14 is not a great shoe for night runs or early morning runs. There's only one reflective element down the back of the shoe making it hard to catch the eyes of drivers unless they're approaching directly from behind.
Conclusion
The Saucony Guide 14 is fine. Nothing really wrong with it, but also there's nothing really to get too excited about. It has a purpose and it does it well, period.
Personally I'd prefer a dual-density foam design over a TUP medial post, but I'm not a stability runner most of the time so the need for rigid support is not at the top of my list.
In the end, I think you'll enjoy this shoe if you've run in past iterations or similar shoes, but there are more exciting products out there.