The Adidas Nike Air Zoom Vomero 16 running shoe is a paradox. On one hand, it looks thick and cushy and the upper is exactly that, yet it can be a little harsh underfoot with its hard airbags. On one hand, it is fast yet it looks like it's too thick to be fast. All of these subjective observations aside, it delivers what it set out to deliver - solid forward propulsion, support without being over-controlling, comfortable uppers and performance over style.
Pros
Rocker propels forward
Super comfortable
Extremely durable
Snug fit
Amazing breathability
Springy ride
Cushioned
Cons
Runs a bit large
Too wide for narrow feet
Pricey
Nike Air Zoom Vomero 16 review
The Nike Air Zoom Vomero 16 is the latest in a long line of successful Vomero models. It's a tried and proven formula that includes a lot of durability and comfort mixed with zoom! These run fast and light but with a super padded tongue that adds lots of comfort.
It is not the least expensive Nike so it's for runners who want a good shoe without it having to be a budget-friendly one. It's very a comfortable shoe and only suffers from the air inside the sole being pumped to a slightly too hard level. I feel like it's a little too firm on longer runs of 30km and up.
Who should buy the Vomero 16
The Nike Air Zoom Vomero 16 is recommended for runners who:
have wide feet
appreciates a secure lace lockup and snug cushioned heel
wants to avoid losing the energy of each push-off to excessive cushioning
Who should NOT buy the Vomero 16
Consider other running shoes if you:
The Vomero 16 fits slightly larger
This is a shoe that requires an in-person fitting until you know your size. I found it to be voluminous in fit and about half a size too big. My 10.5 sized feet seemed like they had size 11 shoes on. In terms of width, I found them almost too wide but was able to tighten the laces to a point where there was no lateral movement.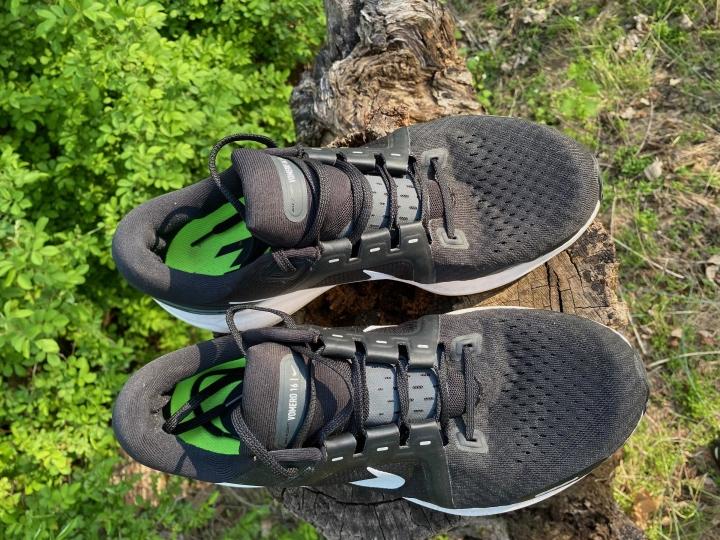 Comfortable with a snug, cushy feel
The Nike Air Zoom Vomero 16 is a really comfortable shoe with lots of room and if fitted right provides a snug cushy surrounding for the foot. On shorter faster runs I felt like they were very fast. On the longer runs, the comfort was a little less because of my midfoot strike and the slightly too firm airbag underfoot. I think I prefer to have a foam section instead of air under the forefoot.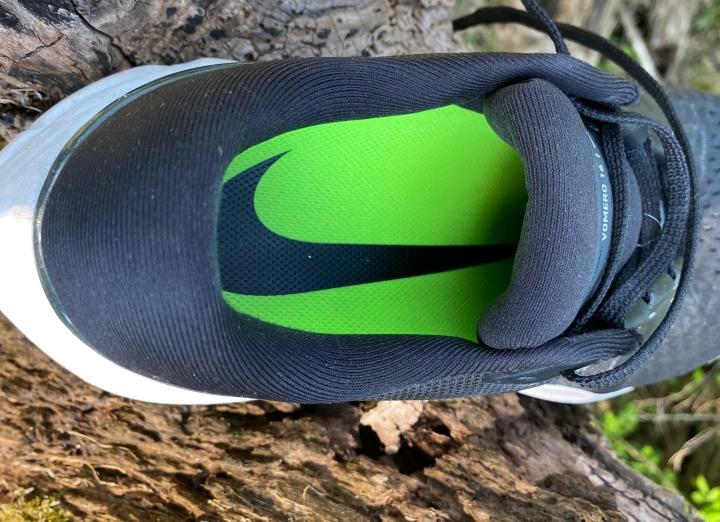 The upper and interior of the shoe feel like some of the most comfortable ones I have tasted in a while. The tongue is really padded and thick so no matter how tight you need to lock the laces down they won't press on any one part of the foot in an uncomfortable way.
Rocker sole design propels forward
The Nike Air Zoom Vomero 16 rides as you would expect a shoe that looks like this to ride. The sole is super thick and narrows dramatically under the middle of the foot compared to the heel and forefoot sections.
It also has a good amount of drop and rocker so propels a runner forward well. I felt like they made me run faster so I tried a back-to-back test over a 4km distance with this show vs Nike Downshifter on the same course. I made a conscious effort to maintain running form and tried to run at the same pace without looking at my watch.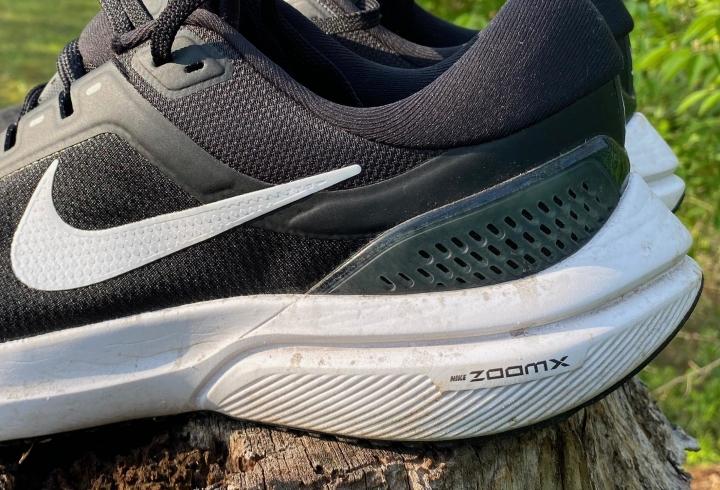 Despite running in the Nike Air Zoom Vomero 16 after the 4km in the Downshifter shoes, I ended up a minute faster! Although the pointy heel like that of the top of the line Nikes worn by top elite marathoners reduces air resistance, I'm quite sure a slower runner like me will not reap any gains.
Later in testing, I found that the shoe improved in terms of comfort and even seemed to help propel me through a marathon I ran.
Familiar Nike feel, fit and ride
I really felt that there was no adaptation to these shoes. If you have run in any other Nike model and are used to Nike shoes in general, they will feel familiar.
Decent grip
For dry road, Nike Air Zoom Vomero 16 provides a perfect grip. On wet pavement, the tread pattern which is reminiscent of rain tires on a LeMans race car seems to channel the water away nicely. This combined with a rubber compound that is not overly hard allows for some degree of grip on slick rainy surfaces.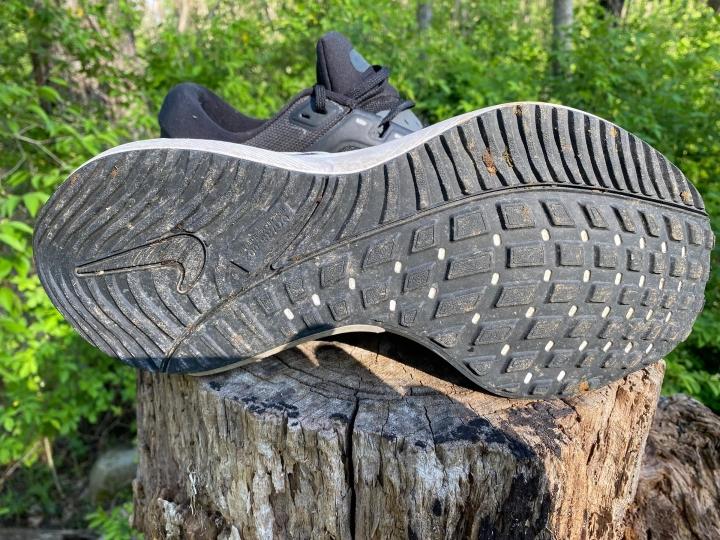 The Vomero 16 keep my stride springy
During my testing, I ran on pavement for 100%. This is a fully dedicated pavement shoe that can also go to a rubberized track as easily. I wouldn't run on gravel or trail with these shoes. They are as competent as a trainer as they are for the average recreational racer.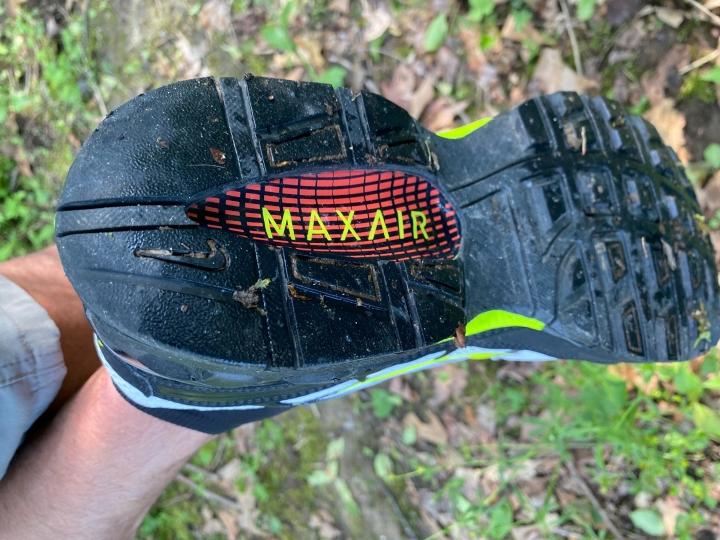 Personally, at first, I didn't think I would run a full marathon in these because of the forefoot not having as much cushioning due to the air chamber being so stiff. However, after I did a few runs in them I decided to use them in the Coast Guard Marathon in Elizabeth City, North Carolina. I ended up winning my age group in that marathon and found that the shoe was not only super comfortable but helped keep my stride springy in the 2nd half of the race.
It is very breathable
The Nike Air Zoom Vomero 16 upper is very breathable. The mesh is quite airy and despite the thick tongue material, it was not sweaty even on the hottest days.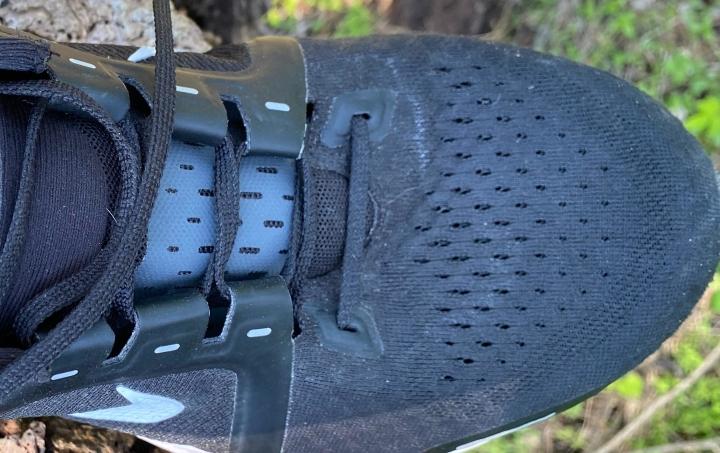 Lockdown provides a snug fit
The Nike Air Zoom Vomero 16 features two alternate top lace holes on the right and left-hand sides of the shoe. This allows for quite a bit of adjustment for various arch heights and prevents hot spots. Combined with the super thick cushy tongue material you can get a snug fit that never causes discomfort to the top of the foot.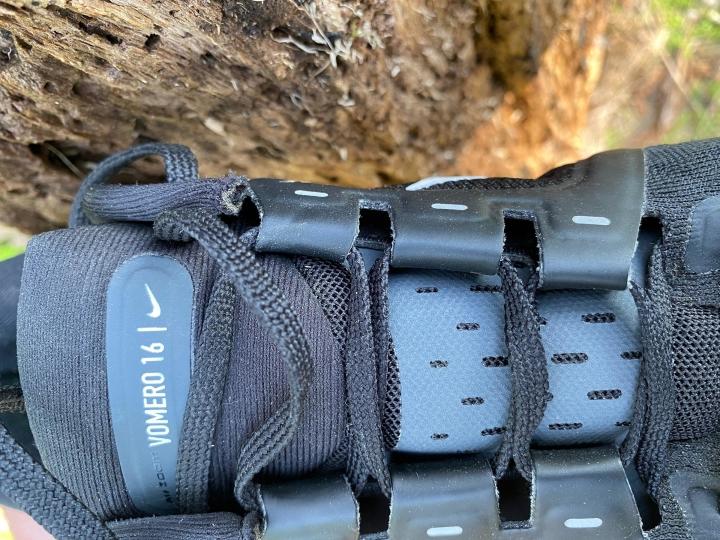 The heel counter is firm but not too stiff or abrasive. As always I recommend good socks to prevent heel abrasion, but these ones are fairly un-abrasive.
A little pricier than others
At $150, the Vomero 16 is a little pricier than other running shoes in this class. Luckily this is countered by an extremely durable sole material. I think I can get 600 to 700 km out of these.
Conclusion
The shoe improves with age! As it breaks in I found the initial harshness underfoot was gone. It was super comfortable and propulsive.
Overall I think it's a good shoe, but for $150 I'm not convinced it's that level of shoe. I think at that price point the insole could be a little sturdier and more shaped. For me if the insole had the same attention to detail as the uppers, and if the airbags were a little softer, this could be great instead of good.