{section_summary}
{section_positive}
{section_negative}
New Balance TRNR review
The New Balance TRNR is a very versatile training shoe that can handle nearly anything that's thrown its way. It's a reasonably-priced model that performs like an expensive shoe, making it an excellent value. It is able to be competitive with other moderately-priced models such as the Nike Varsity Compete TR 2 or Reebok HIIT TR.
Who should buy it
This shoe is very highly recommended for everyday athletes or seasoned gym rats who are looking for a performance trainer that will help incorporate a varied cross-training routine into their fitness regimen. 
Who should NOT buy it
This shoe is not recommended for you if you:
How I tested the New Balance TRNR
Here is a detailed overview of the exercises I performed when testing my pair of New Balance TRNR:
Lower body: Kettlebell squats, bodyweight squats, kettlebell swings, hip raises, weighted or unweighted lunges, wall-sits, jump-squats, and deadlifts.
Upper body: Chest press, shoulder raises/overheads, lat pulls, bicep curls, pull-ups, farmer's carry, kettlebell shoulder raises.
Full body: Jumping jacks, burpees, push-ups, planks, ab-roller, medicine-ball crunches.
Superb support and foothold
The New Balance TRNR offers superb lateral support. The lacing system locks the foot in place for a very secure hold. The shoe tongue is gusseted to prevent slippage during a workout. The outsole is also wider than the upper of the shoe, which provides excellent stability for standing exercises like squats and deadlifts.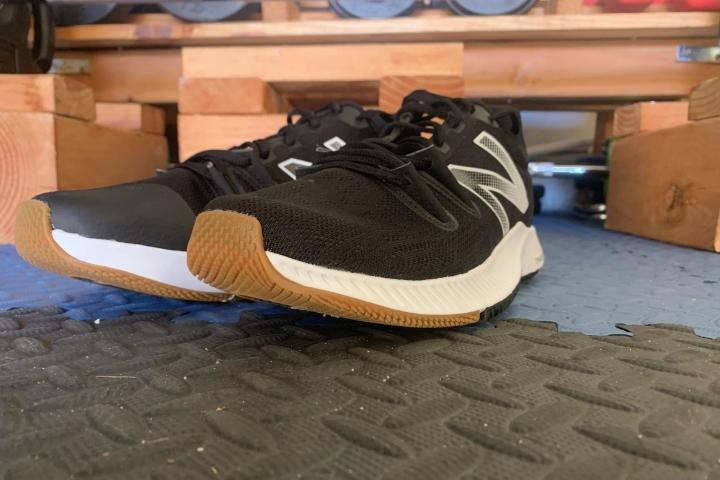 Overall, I have rarely found a shoe at this price point that provides such a high level of support for my workouts.
True-to-size but odd fit at toebox
I found the New Balance TRNR to be true to size. It also provided plenty of room for my somewhat thick feet, with sufficient depth and width to prevent discomfort.
This model does have one odd feature that may not work for those with a wider forefoot. The lace cage over the forefoot of this model is designed with accordion-like folds which appear to help with lace lockdown. These folds are sewn onto the shoe with seams that can be felt over the forefoot during exercise.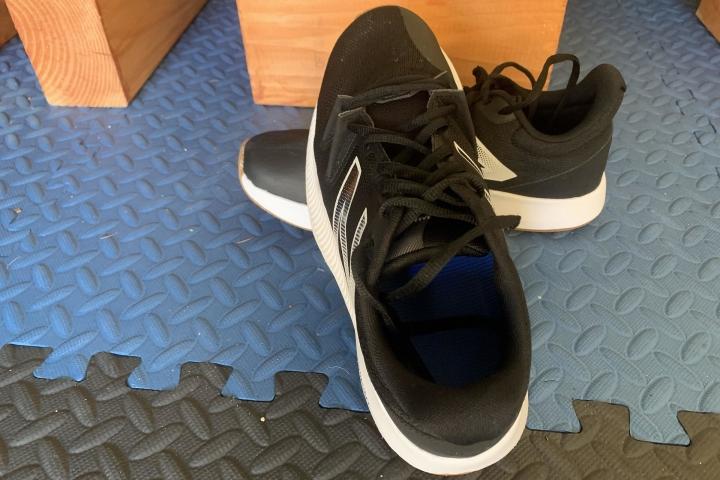 At first, these seams made the shoes feel too tight. After a couple of workouts, they broke in and weren't noticeable anymore. But for those with a larger forefoot, the seams may not be comfortable.
Exceptional cushioning in the New Balance TRNR
The DynaSoft system used in the midsole of the New Balance TRNR provides exceptional cushioning for all types of training routines. This cushioning seems very springy, yet also sufficiently firm to provide great support.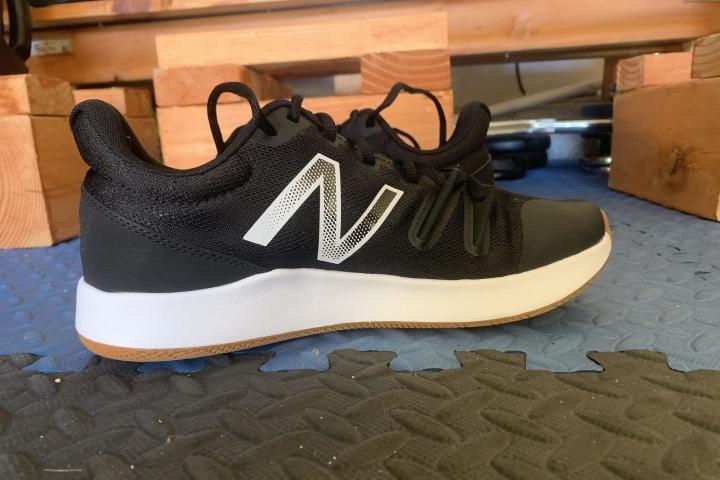 I found that the balance between energy return and underfoot structure seemed just perfect for a variety of activities from standing exercises like squats or kettlebell swings to dynamic moves like jump squats or lunges. These shoes would also do very well on cardio equipment like an elliptical, and they were just fine on the short warmup jog that I do before I lift weights.
Minimal break-in period
The New Balance TRNR became comfortable for regular wear after one workout. The forefoot felt tight at first, as described above, but loosened up nicely after a bit of use. There appeared to be no other areas of chafing or hot spots on the shoes.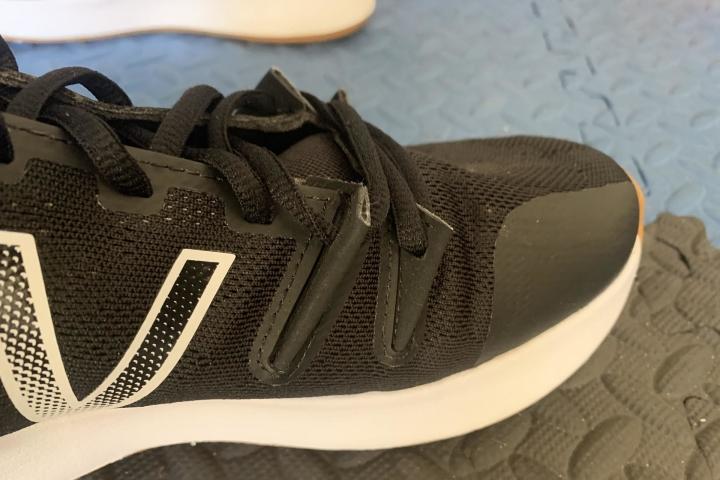 Stable and grippy outsole
The New Balance TRNR boasts a very grippy outsole with great traction for a variety of surfaces. The durable gum rubber is designed in a gridlike pattern to create a feeling of surefootedness on concrete or a gym floor. I never felt like I had to worry about slipping during even the toughest workout.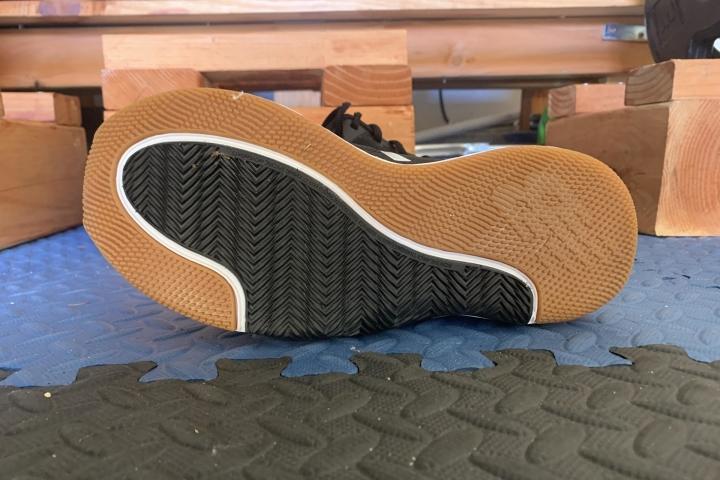 The TRNR has breathable and tough upper
The upper of the New Balance TRNR is one of this shoe's best features. The upper is perforated for breathability, which really kept my feet cool through my most intense workouts. It is also tough and sturdy, designed with durability in mind. I have no concerns about it tearing during exercise.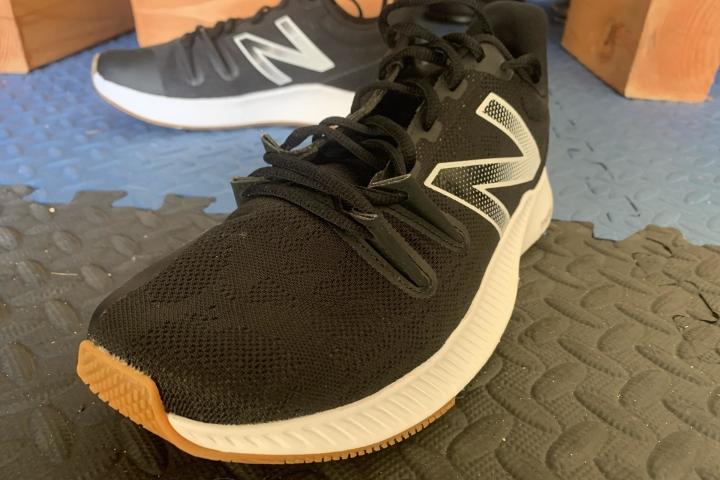 Sturdy heel
The New Balance TRNR boasts a firm, rigid heel cup that locks the foot into place for great support. It is also nicely padded for comfort.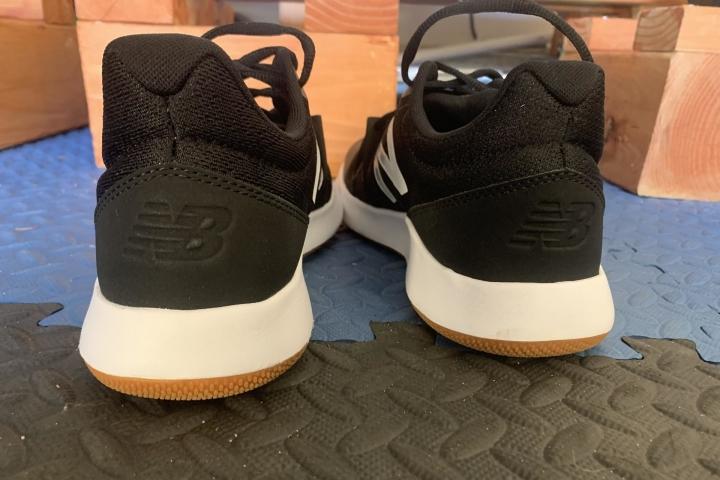 The top of the shoe's heel area extends upwards above the heel to the bottom of the calf. This feature did not really add any extra support but did not detract from the comfort of the shoe. However, wearers may want to consider using a higher sock if they are concerned about chafing.
The lightweight design of the New Balance TRNR
This shoe weighs in at 11 oz (312g), which is very close to the average weight of training shoes (10.1oz/309g). My feet did not feel weighed down during any type of fitness activity, including jumps. The shoe felt feather-light for every activity I performed.
Contemporary style
The New Balance TRNR is contemporary-looking, with a thick midsole and basic, minimal upper. It is clearly a gym shoe but might work for casual wear as well. I have always been partial to New Balance's designs since I started my fitness routine in the 1990s, and this model is no exception. It has a bit of a "dad shoe" look, but with modern features. This is the kind of design I look for in a workout shoe. 
Value price
The New Balance TRNR retails for £110. Given the many great features that this shoe offers, this model is truly a terrific value for the money. It is one of the very best budget trainers I have ever tried (training shoes have an average price of £110) and is competitive with much more expensive models in terms of overall performance.
Conclusion
This model is one of the best cross-training shoes I have ever tried at any price point, and I very enthusiastically recommend it for anyone interested in starting or continuing a fitness routine!