Verdict from 9.4 hours of research from the internet
7 reasons to buy
Breathable: Many users commended the Mizuno Wave Rider 24's upper for providing adequate ventilation.
Flexible: This running shoe easily moves along with the foot and gives a comfortable ride, according to several runners.
Grippy: The outsole has proven its efficacy on various urban surfaces, as observed by a couple of wearers.
Cushioned: The new Enerzy foam is comparable to the Nike React in terms of softness, a reviewer claimed.
Roomy toebox: Various runners have appreciated the generous room of the Wave Rider 24 for the toes.
Lightweight: Some buyers mentioned that it was easy to run in the shoe because of its minimal weight.
Helpful: Numerous runners reported the Wave Rider 24 provided relief for varying discomforts, such as joint pain, shin splints, and knee pain.
3 reasons not to buy
Short laces: The shoelaces are a bit difficult to tie because of their length, a few users noted.
Flimsy: A couple of purchasers have noticed the seams to come apart after only a few uses.
Break-in needed: One reviewer noticed the Wave Rider 24 to be quite firm during the first couple of runs.
Bottom line
The Mizuno Wave Rider 24 enters the market with a bang, as it introduces the new Enerzy foam in the series. This daily running shoe boasts of soft landings and smooth transitions, both of which are important elements of a comfortable ride.
Tip: see the best running shoes.
User reviews:
REI, Jack Rabbit and 16 other shops don't have user reviews
Our reviews
When searching for an adjective to describe the Mizuno Wave Rider 24, "venerable" was the first one that came to mind. I did a bit of research and learned that Mizuno's Wave Rider line has actually been around since 1998. It is a classic neutral running shoe based around a proven concept and has remained popular for its reliability. Other similar models from different brands include the Asics Cumulus and the Nike Pegasus, both of which have been among my favorites over the years.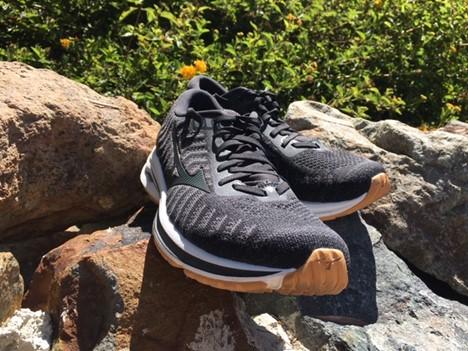 The last time I ran in Miznuos was in 2006, with the Mizuno Wave Rider 8. My pair were closeouts of the previous year's model that I bought at a specialty running store. I was eager to try Mizunos due to the recommendation of a running buddy. I remember noticing that the shoes were very light-weight compared to my typical Nikes and Asics, while still providing excellent support and very springy cushioning. I ran in my pair for over a year.
I was pleased to find that the 24th iteration of the Wave Rider reminded me very much of my experience running in the Wave Rider 8. A lot has happened in the running world since the early 2000s, including the minimalism trend as well as the introduction of ultra-cushioned shoes from brands like Hoka. Yet the Wave Rider feels pretty much like it did almost fifteen years ago. Still very light, very supportive, and solidly springy, without too many gimmicks. Just the way I like my running shoes.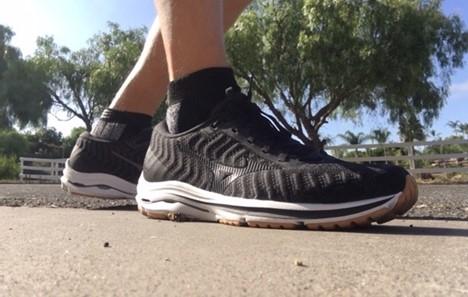 Let me tell you a bit about my testing of these shoes.
I'm a 43-year-old runner, no longer interested in races, marathons, or anything competitive. I run mainly to stay in shape and to keep my sanity while trying to balance parenting and my professional life (this has proven to be especially challenging during the 2020 COVID pandemic). Thanks to the pandemic, which eliminated my access to a treadmill or elliptical, my cardio exercise routine has focused exclusively on road running, trail running, walking, and hiking.
I run at least 3 times per week, and my runs are generally in the 3-5 mile range. Occasionally I get the urge to run a little longer, but I still keep it under 7 miles. I run plenty of steep hills too, as pictured below. My shortest run in the Mizuno Wave Rider 24 during the testing period was 3 miles, and the longest was almost 7. In total, I have run nearly 50 miles in this pair.
I tested these shoes mainly on roads and sidewalks, for which they are designed, but did venture offroad with them a few times too.
Overall, I give this model a 9.5/10 for its performance as a runner, which is superb. The Wave Rider 24 handled everything I threw at it with ease. It had the right balance of cushioning and structural support for my needs. It also proved to be very breathable, which is important when running in the summer months. Little details like the lacing system and carbon rubber outsole really made a difference for me too.
Read on to learn more about why this shoe worked for me.
What do I look for in a running shoe?
I think it's fair to start my review with a bit of a description of what I look for in a pair of running shoes. This will provide clarity as to why the Mizuno Wave Rider 24 worked so well for me.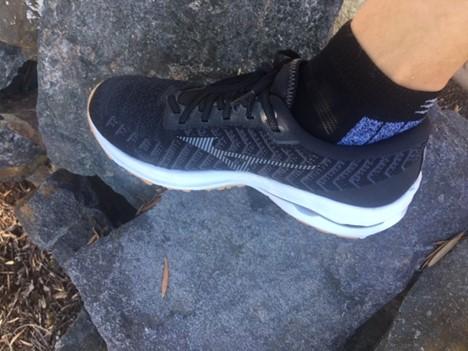 First, I look for a traditional neutral (cushioned) running shoe design that doesn't push my feet too far outwards or inwards while I run. I stay away from stability or motion control shoes, which are designed to compensate for heavy overpronation (feet rolling inwards during a run) by adding built-up semi-rigid material beneath the medial arch. I do pronate slightly on my left side, but an over-the-counter orthotic is sufficient to resolve this issue completely (more on this below). A basic cushioned running shoe that doesn't interfere too much with my natural running gait is my wheelhouse, and has been so for the past 22 years!
Second, I tend to avoid gimmicks. By gimmicks, I mean the various (and sometimes dubious) fitness shoe trends that come and go. When I first started running in the 1990s, running shoes were generally very supportive and with relatively thick, built-up soles. Then, around 2010, the minimalism trend swept the market. Suddenly, everyone was sporting shoes that boasted minimal "drop" (that's the offset from heel-to-toe) and increased flexibility to create a near-barefoot feel. After a few years of this came the rise of ultra-cushioned runners (pretty much the opposite of minimalism!) riding atop huge foam soles.
Like many a runner, I have tried some of these shoe trends out of curiosity. Most of the time I have regretted it. My advice to any runner is to figure out what works for you and stick with it. If it's minimalism or extremely cushioned shoes, that's fine. But for me, a traditional running shoe is what best supports my gait and the kind of running I do.
Third, I look for a few particulars that make a big difference in supporting my feet during a run. Here are the important ones:
A firm heel cup is a must for locking my feet in place so they don't wobble too much. I always end up with pain in my heels or Achilles when the heel of the shoe is too soft.
I look for a firm lace-lock around the midfoot with a wider toe box. My feet are narrowest at the midfoot and widest at the toebox (as are many people's), so I am most interested in a shoe that has the same general shape as my foot.
I only buy running shoes with removable insoles, so I can replace them with aftermarket inserts.
I like shoes with more traction and less exposed midsole on the bottom. This lets me go offroad a bit on days when I want to, without fear of slipping.
Now, let's discuss the specific features of the Mizuno Wave Rider 24 to see why it worked so well for me.
Product Features
Overall Aesthetic: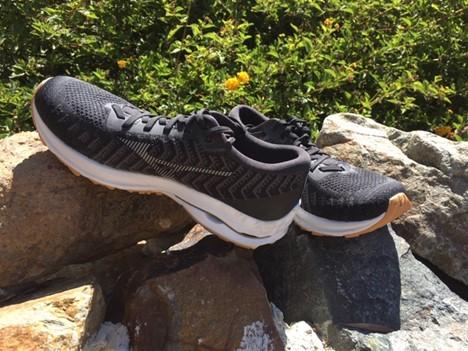 I'll be honest, style is the absolute last thing I care about when choosing a running shoe. So long as the shoe fits well, is comfortable, and doesn't look like something a teenager would wear, I'm good with it. However, most often the running shoes I choose are pretty similar to one another. I tend to select basic colorways (black, dark blue, or gray) with white or black soles. Nothing flashy for this middle-aged runner! This latest iteration of the Mizuno Wave Rider looks very similar to the other shoes I have been using for running over the past few years (the Brooks Launch, Asics Excite, and Asics Cumulus models).
One detail I like is the woven upper design. It has a nice-looking pattern included in the weave, which makes it stand out a bit from other types of running shoes. The pattern is subtle, nothing extreme, which is what I look for. Overall, the shoes look modern while maintaining the classic Mizuno design with the logo sewn into the side of the shoes. I really do like how the Mizuno Wave Rider 24 looks, but honestly, I'd still run in it even if this weren't the case!
Fit: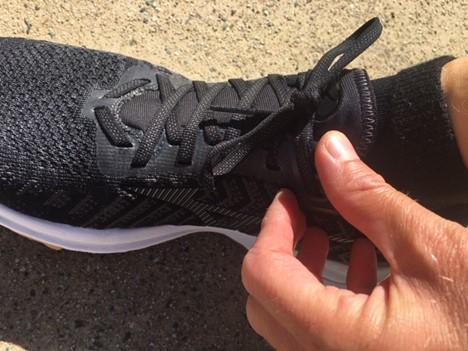 I am a 9.5D on a Brannock device (the ones they use to measure you at the shoe store). I have found over the past decade that running shoes have become less standard in fit. In some styles, I take a 9, in some a 10. But in the Mizuno Wave Rider 24, the fit is pretty spot-on for me in my usual 9.5.
The lace area of the upper seemed snug at this size, but there was still plenty of toe room. I do wish that the mid-foot was a little bit wider. However, the snug laces proved to be very helpful when running downhill. I didn't feel my feet sliding around in my shoes at all, and my toes did not bump at the end of the shoe. Overall, I couldn't ask for a much better fit.
Weight:
These shoes are surprisingly light which makes them perfect for running. The compound that provides cushioning seems to do an excellent job at this weight, which is surprising. The lightness of the shoes is one of the best features of the Mizuno Wave Rider 24.
Drop:
The Mizuno Wave Rider 24 is built on a heel-to-toe offset of 12 millimeters. 10-12 millimeters is a traditional drop for running shoes. This design builds up the heel a bit more to add some extra support. The traditional drop tends to help with tighter calves and promote the forward motion of the foot during the gait cycle. A more minimalistic shoe will feature a lower heel-to-toe drop (8 millimeters at the highest, all the way down to zero in some models!) which some people claim will help achieve a more natural running stance. Selecting a shoe by its drop is purely a matter of preference, and some won't care at all.
I haven't had a lot of success with lower-drop shoes, perhaps because I started my running hobby in the 1990s and became accustomed to the built-up shoes of that era. Personally, I prefer to remain with what has worked for me for many years. Thus, I look for shoes within the 10-12 millimeter offset range.
Upper:
The upper on the Mizuno Wave Rider 24 is an aspect that is being heavily promoted by the brand. The wave knit is designed to breathe well while being tough and durable. The Mizuno website states that the upper is made from a "dual-layered engineered mesh with horizontal laser perforations" to create "elongation and ventilation where runners need it most."
I found that the upper was indeed sufficiently soft and stretchy for running, and the ventilation was certainly suitable for hot summer days in Southern California. I will say that the upper on this shoe didn't strike me as being all that different from the one used on the Asics Gel-Excite, a much lower-priced model that I have used this year. It didn't really stand out on its own as being uniquely functional above and beyond the upper of most other running shoes. Nonetheless, I had no issues with the upper of the Mizuno Wave Rider 24. It has held up well and functioned as advertised.
Heel Cup: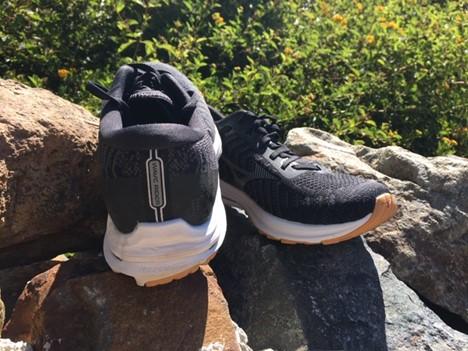 The heel cup on the Mizuno Wave Rider 24 proved to be very rigid, which is important for holding the heel in place during the gait cycle. This feature is a must-have on any running shoe (unless you are into minimalistic running) because it will prevent unwanted side-to-side motion of the foot in the shoe. Too much of this kind of motion leads to blisters and foot conditions like Plantar Fasciitis.
The Wave Rider has one of the best heel cup designs I have experienced. It is rock-solid, yet very cushioned inside to prevent chafing or blisters. It also is nicely padded so it doesn't feel hard or unforgiving against the back of the foot or the Achilles area.
Midsole:
The midsole of the Mizuno Wave Rider 24 is comprised of a new material called Mizuno Energy (Foam), which is designed to maintain softness and resilience. Within the heel area of the midsole, the Wave Rider includes an embedded "Parallel Wave," which is like a little plastic springboard that provides cushioning and extra spring. The Parallel Wave is the defining feature of the Wave Runner series and has been there in some form since the shoe's inception during the 1990s. The shoe's forefoot also contains some cushioning foam, although much less than the heel.
I have just loved experiencing the cushioning that this model offers. The shoes have provided excellent bounce-back, which is important since I tend to be a heel-striker. I found that I could run a little faster in these than I could in my last pair of running shoes (Asics Excite 7's). The wave design proved to be very functional. I rank this cushioning system among the best I have ever experienced.
Insole:
The shoe comes with a soft and nicely contoured stock insole that is easily removable. The stock insole is soft and provides a little cushion. It appears to be designed around a neutral or medium arch. I replaced the stock insole with my over-the-counter orthotics with no issue.
The stock insole was definitely higher quality than the ones which come in many budget shoes, but by itself did not provide enough support for me. For reference, I typically use Powerstep or Superfeet brand orthotics in my running shoes, depending on the volume of the shoe. Both brands were recommended by my podiatrist and again at a specialty running store. My arches are medium height, and I pronate slightly on my left side.
Outsole: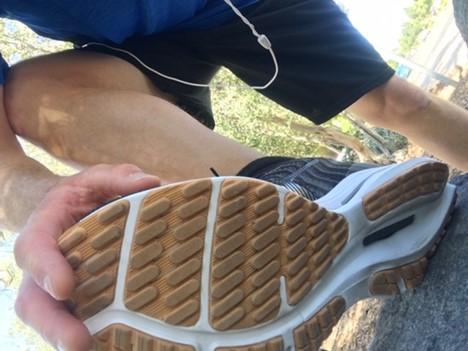 The outsole of the Mizuno Wave Rider 24 is made from a carbon rubber compound designed to promote longer wear. I have found that the outsoles held up well over the roughly 50 miles I have run in these shoes so far. They have a hard rubber design and seemed very grippy. They performed just fine when I went off-road onto a rocky trail. The outsole of the Wave Rider 24 certainly helped me maintain sure footing no matter the terrain or the distance.
Overall Pros and Cons
Pros
The best features of the Mizuno Wave Rider 24 include its excellent cushioning system, lightweight, and durable, grippy outsole. I enjoyed the laser-engineered upper, which did provide sufficient ventilation for running in hotter temperatures. The traditional drop of these shoes worked for my running style, and I liked the aesthetic design of the shoes as well. I am very glad I had the opportunity to try this model and maybe a repeat customer in the future.
Cons
The most challenging aspect of the shoe for me to accept was its price. At $130/pair, this is certainly not the most expensive shoe on the market. But, there are certainly cheaper shoes that are solid performers as well. For example, the Saucony Cohesion series (also a "venerable" and time-tested model) is a great shoe for lower-mileage runners such as myself. It can be found for as low as $40. While not as well-cushioned as the Mizuno Wave Riders, the Saucony Cohesion series will likely work for a lot of runners in the neutral category who don't need as much bounce-back.
It all comes down to how much you run, and the specific needs of your body. I do find that, as I get older, I do sometimes prefer a bit more support and cushion when running. Keep in mind that you don't need to spend $130 to find a very good running shoe!
The Bottom Line
The Mizuno Wave Rider 24 is a truly superb neutral running shoe, one of the best I have used. I was very impressed with how the shoe performed over 50 miles of running, on runs varying in distance from 3 to 7 miles. True to its origins, this is a traditional shoe that uses modern technologies to the wearer's advantage. My feet felt securely locked-in and well-supported from mile one onwards.
While good lower-priced options do exist for the budget-conscious runner, the Mizuno Wave Rider 24 does give excellent value for its somewhat high price tag. In short, I very highly recommend the Mizuno Wave Rider 24 for runners of all skill levels who are seeking a traditional running shoe.

INITIAL IMPRESSION
The knit version of the Mizuno Wave Rider 24 stands as the most comfortable shoe I have put on in the past few years. In fact, the shoe's only rival would be its predecessor, the Wave Rider Waveknit 23.
With the restrictions of COVID-19, I have worked to increase my mileage base. As my runs got longer, I craved a plush shoe to soak up the heaviness in my legs. In fact, I regretfully wished I had not donated a worn pair of the Wave Rider 23s; I wanted to step back into their perfect fit, cozy knit upper, and soft, yet mildly springy underfoot feel.
Fortunately for me, I was offered a chance to test the newly released Wave Rider 24. The new model has not disappointed. I've been grateful for the plush ride, pinch and hotspot-free fit, and premium comfort over the past 50 miles. The Mizuno Wave Rider 24 continues where the previous model left off, and despite my minor annoyance with the bulkiness of the heel, the shoe provides an uber comfortable ride that should satisfy the needs of many runners.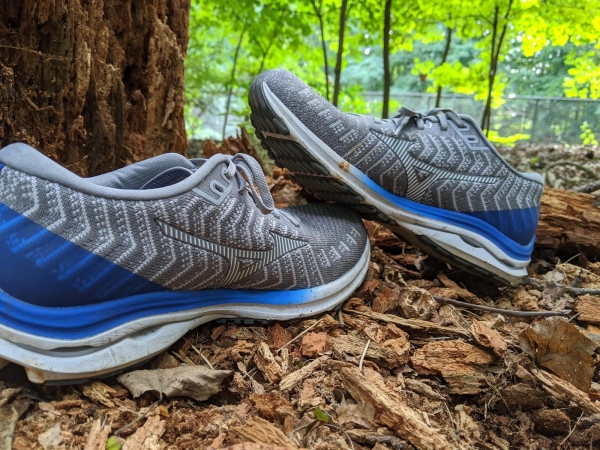 COMFORT AND QUALITY WITHOUT CRITICISM
The quality, fit, and ride of the knitted Wave Rider 24, make this one the most well-refined and successful shoes I have tried in the past several years. True to size, they hug my feet snugly but offer the perfect amount of wiggle room for my toes to splay.
The knit feels relatively thick and durable to the touch without being too hot; ample rubber covers the U4ic and Mizuno Enerzy foam midsole; and strong overlays reinforce the lace holes and heel counter. After 50 plus miles, the shoes show zero indication of premature breakdown.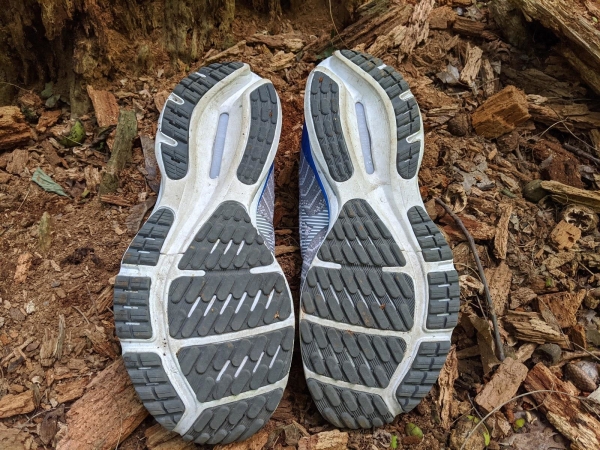 On runs, my feet were locked in and were free of irritation. The tongue and heel collar felt soft and cozy without being too bulky, and the cushion feels as though you are stepping on a broken-in Tempurpedic mattress that was given an injection of resilient, spring-infused serum.
I have tried to come up with flaws for the Wave Rider 24s, but it's proved to be a futile attempt. Simply put, my feet are happier in these running shoes than out of them, which never happens to me, except when I wear slippers.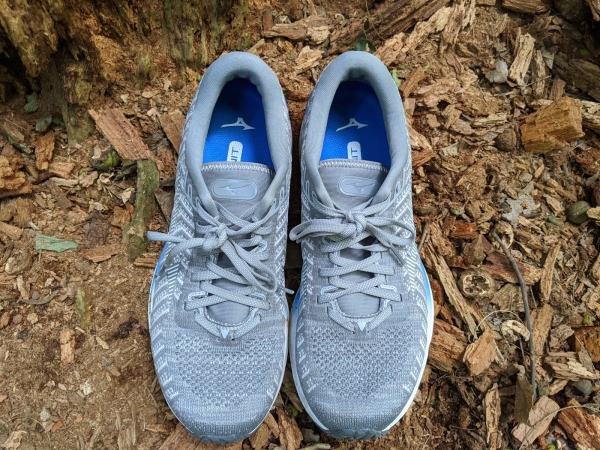 A HEEL TOO HIGH
Despite their ability to give my feet the sensation of a loving snuggle, these may not work for everyone or match everyone's preferences. Mizuno has not adopted the modern trend of lower heel-toe offset shoes. Typically, I prefer a 4-8 millimeter difference from the heel to toe; the Mizuno Wave Rider 24 features a 12-millimeter offset, which tended to occasionally interrupt my natural stride. For instance, the chunky heel sometimes caught the pavement a split second before I felt it should have. Moreover, on the trails, I rolled my ankle a couple of times going downhill, which I think happened due to the stiffness of the Waveplate and height of the heel. Apart from this minor hindrance, the shoes largely disappeared on my feet.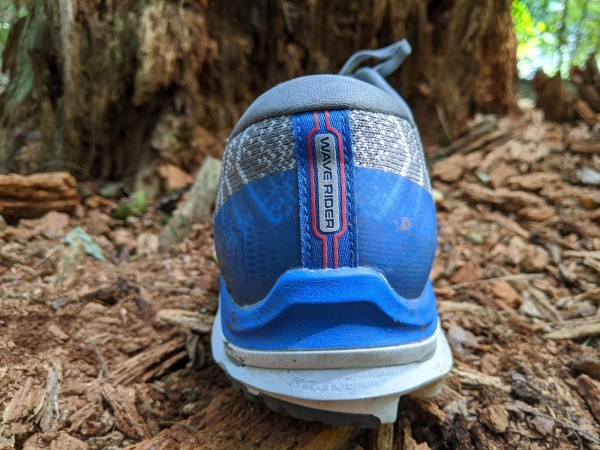 FINAL THOUGHTS
They may not work for some, because the current trend seems to have pointed the market to lightweight, highly cushioned shoes with minimal offsets, or ultra-fast racers that spring the foot forward.
The Mizuno Wave Rider 24 does not offer speed, much ground feel, or a hyper-efficient ride, but they do offer functionality and practicality for the majority of runners. Marketed as a daily trainer, built to eat up miles, they perform admirably and offer unmatched comfort. Personally, I'll continue to wear the Wave Rider 24s on my longer runs and when speed doesn't count for much, which usually doesn't as I focus on building up my mileage base.
I have been running in the Mizuno Wave Rider 24 for about 4 weeks now. I have logged just over 80 miles of running in them, and in that time, I have done a variety of distances and tempos. I have found there to be plenty of things to like, but there is also room for improvement. So, are these the right shoes for you? Read on to find out!
Looks
I think the fit and the function of running shoes are the most important aspects, but looks certainly shouldn't be disregarded.
I tend to be pretty harsh when it comes to the look of running shoes. I like getting comments on my shoes so I believe they should be stylish and have a bit of flare. I am sure some people prefer a more subtle shoe, but I am not one of those people.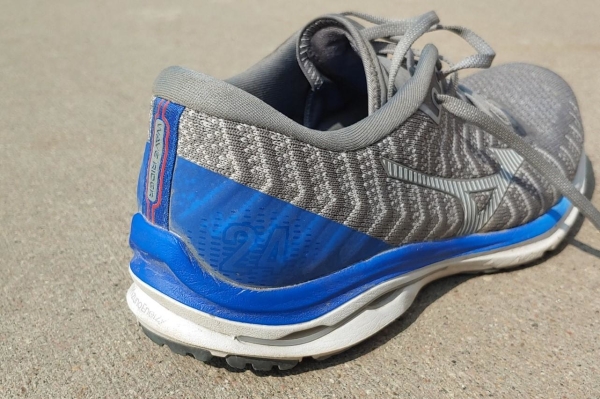 What I like are the pops of blue. The heel almost looks as if it was dipped into the blue paint and the upper part of the midsole has a pretty blue fade to the forefoot. The WaveKnit upper provides a nice textured look that reminds me of an old comfy couch.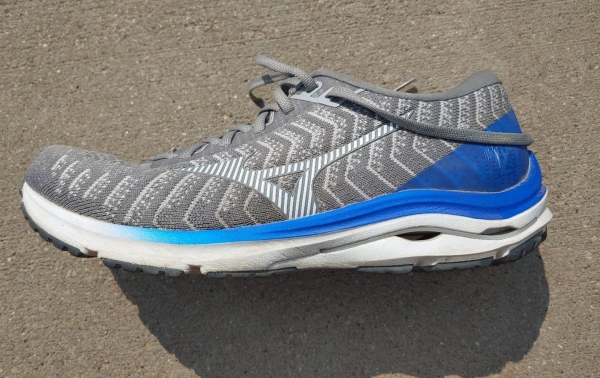 The abundance of gray is what I dislike most. The whole forefoot of the shoe is just gray on gray with more gray. I would have liked to have seen a bit of blue weaved into the upper to really tie everything together.
Or even just using blue laces could have helped. Either way, I think the looks are fine, just nothing special. Definitely room for improvement.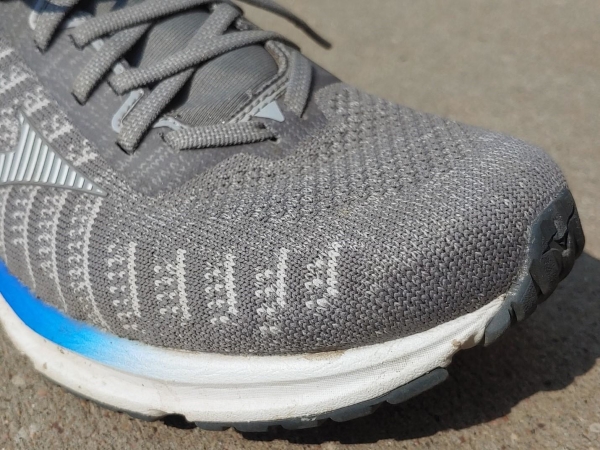 Fit and Feel
I usually wear a size 10 in running shoes and these are no different. I found the sizing to be pretty close to spot on. Maybe a touch small, but only by about 1/10 of a size.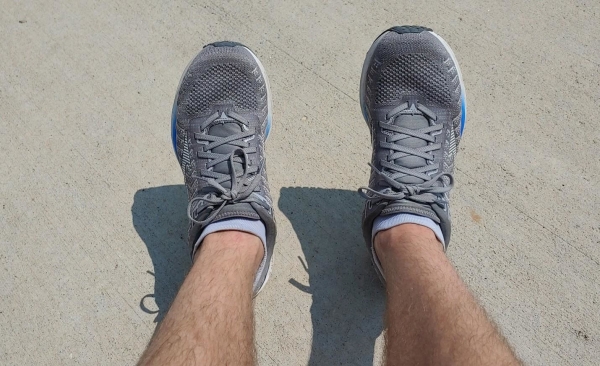 The first thing I noticed when I put these shoes on was the tongue. It is not too thin, nor too thick. It also wraps completely around your foot which I absolutely love. I feel this style of the tongue provides the best support and it also helps it to stay in place.
I hate when the tongue shifts during a run and bunches to one side. With these shoes that is never a problem. I seriously think every shoe should have a tongue like this.
The heel cup and ankle collar have a decent amount of padding, but Mizuno doesn't overdo it. Some shoe companies stuff the heel and ankle collar with an overabundance of padding. They do it as a way to add comfort, but it almost always affects the fit and heel lockdown of the shoe for the worse. Not so with this shoe. I think they used an appropriate amount so the fit is spot on.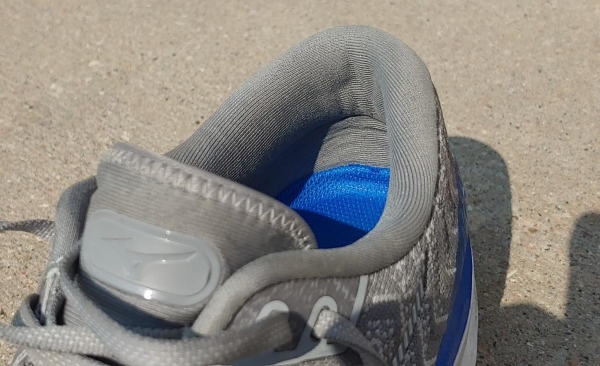 I am a bit of a stickler for laces on running shoes as so many running shoe companies try to get cute with the laces. I really can't stand overly long, stretchy, thin, and/or smooth laces that are either difficult to get tightened properly, or they start to loosen after a couple of miles.
I am happy to report that this is not the case with these shoes. The laces aren't too long or too short. They do have a tiny bit of stretch, but the texture on them really helps to ensure that they aren't going anywhere once they are tied.
Overall, I really don't have any problem with the fit of these shoes, but I do have a slight problem with the feel. More specifically the weight and the heel-to-toe drop.
Weight: These are pretty heavy shoes. I weighed my size 10s and they came in at 11.22 ounces. I generally prefer lighter shoes, but I do like having slightly beefier shoes for marathon prep where I log lots of miles and do weekend long runs up around 20 miles. These are just a bit too beefy for my liking. They do work really well as a daily trainer and long-run shoe as I will discuss in later sections, but as a personal preference, I would have liked for them to be in the 10-ounce range.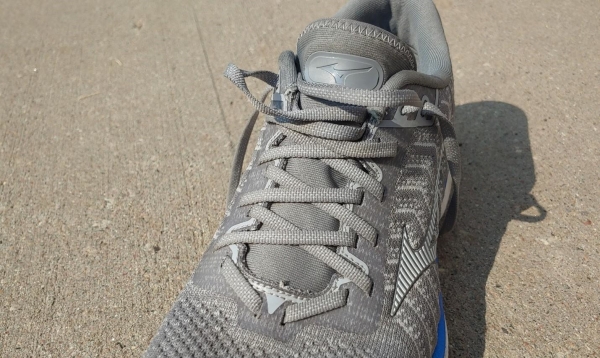 Heel-to-toe drop: I have worn tons of running shoes all with varying degrees of drops. The 12mm drop of these shoes is the biggest drop out of all of my shoes, and I could tell the second I put them on. A slightly lower drop is a personal preference, and the 12mm drop doesn't really affect my running as I generally land on my midfoot/forefoot.
However, I did notice it quite a bit while walking around. I usually wear minimal or zero drop shoes to walk around in so that huge heel stack and 12mm drop actually caused me some knee pain while walking. I am just not used to having such a big heel so it changes my natural walking motion.
Again, I don't have any issues as long as I use these only for running, but I thought it was still worth mentioning. Overall, I wish Mizuno would have shaved a few mm off of the heel to lower the drop and also lower the weight. That would have been a win-win in my book.
Performance
I mentioned above that the weight of these shoes is on the heavy side. I was expecting the weight to play a big role in the performance of the shoes and make them slow and sluggish to run in. I was preparing to just use them on easy runs or long, slow runs. However, my very first run, an 8 miler, threw that hypothesis out the window.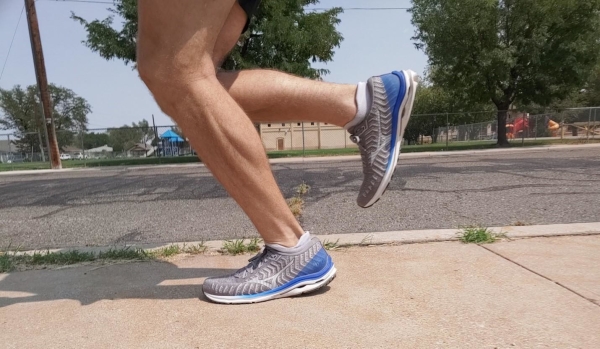 I was pleasantly surprised just how easy it was to run in these shoes. Thanks to the rather dense foam midsole and the waveplate, maintaining an up-tempo pace for an extended period of time wasn't hard at all.
They felt so springy and lively and in no way cumbersome or bulky. I felt like a car on the highway on cruise control. I didn't have to think about pushing to maintain the pace, I could just run without thinking.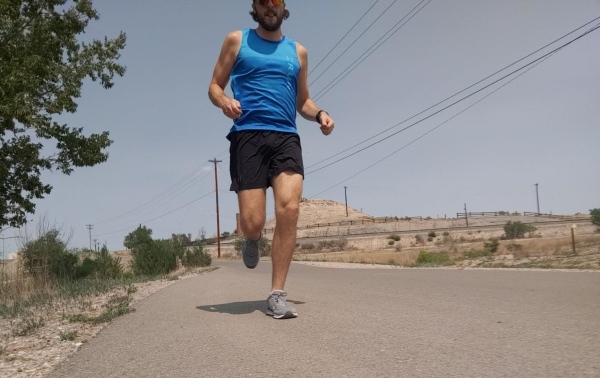 Mile after mile I was still hitting my target pace with little effort. After long runs, my legs felt less fatigue when compared to some of my other lighter shoes. This is exactly how a daily trainer should be, but keep in mind these are fast for a daily trainer.
There comes a point where the pace is just too fast for these shoes and you start to experience diminishing returns, and the amount of effort to hit faster paces gets too difficult.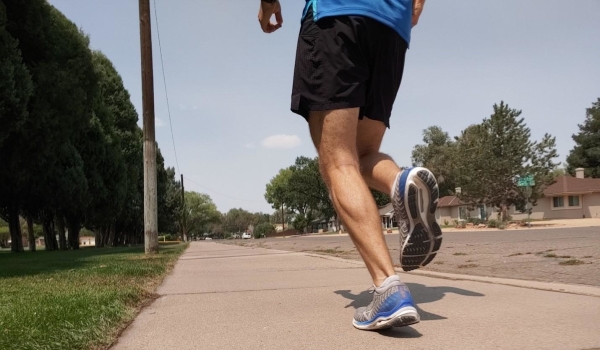 For comparison, I ran a 6:30 mile in a pair of New Balance Zante Pursuits and then tried to do it in the Wave Riders. That same pace in the Zantes felt so much easier compared to the Wave Riders. Bear in mind the Zantes are roughly 4 ounces lighter per shoe, so that result really shouldn't come as that much of a surprise. And honestly, short fast runs aren't the purpose of a daily trainer, so just use them appropriately and maybe use other lighter shoes for races.
The WaveKnit upper is breathable and that wonderful tongue helps with lateral mobility. The outsole has lots of rubber and I never encountered any issue with stability or traction. However, the split outsole at the heel does have a tendency to pick up rocks which can be a nuisance during a run. Not a huge issue as it only happened once to me, but if you run in rocky areas be ready to have to stop and remove rocks from time to time.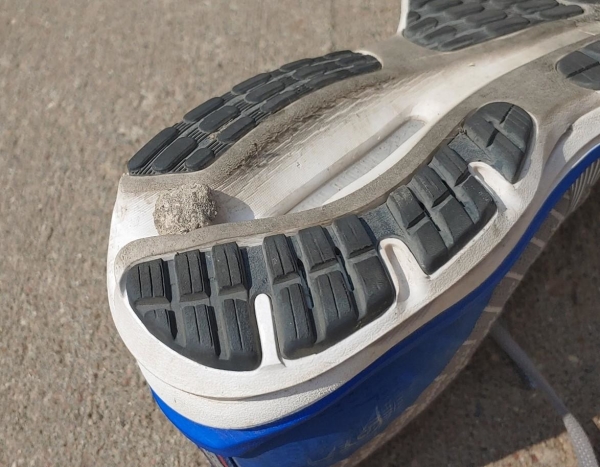 Durability and value
I've talked a lot about the weight of these shoes already, but I have to mention it again. The main reason for the weight is because Mizuno beefed up certain aspects of the shoe to make it more durable, which means more miles and better value.
The outsole has probably the most rubber of any road running shoe I've worn to date. I can see myself getting at least 100-200 more miles compared to my other shoes. The WaveKnit upper is also a bit heavier compared to other uppers, but it too is designed to be more durable. The Waveplate and denser foam midsole should help keep the shoe from compressing over time, which often makes shoes feel dead and can drastically shorten a shoe's lifespan.
All of these things add up to make the Wave Rider 24 one of the most durable shoes I have ever worn. Retailing at $130 is a tad high, but you get so much shoe for that price, and with it being designed for durability I think the value is actually quite good.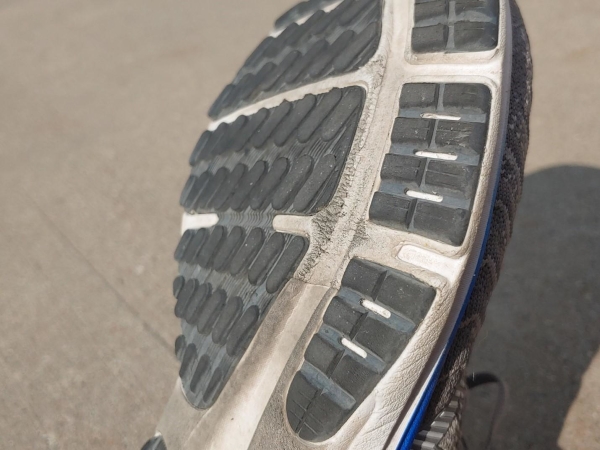 Conclusion
Overall, I really like these shoes as a daily trainer. I would steer clear of racing in them as that is not what they are designed for, but if you need to up the tempo from time-to-time then these can fit the bill.
The WaveKnit upper is breathable and comfortable and the tongue hugs your foot to provide an excellent fit. The Waveplate and midsole provide excellent energy-return, which allows for maintaining a decent tempo. The outsole has plenty of rubber for good traction as well as excellent durability.
The shoes are heavy, but that weight comes with the purpose of adding durability and longevity. I would personally prefer a slightly lower heel-to-toe drop, and I think removing a few mm from the heel would also have the added benefit of shaving off a tiny bit of weight. Even still, I would absolutely recommend the Mizuno Wave Rider 24 to anyone looking for a solid daily trainer that can log lots and lots of miles.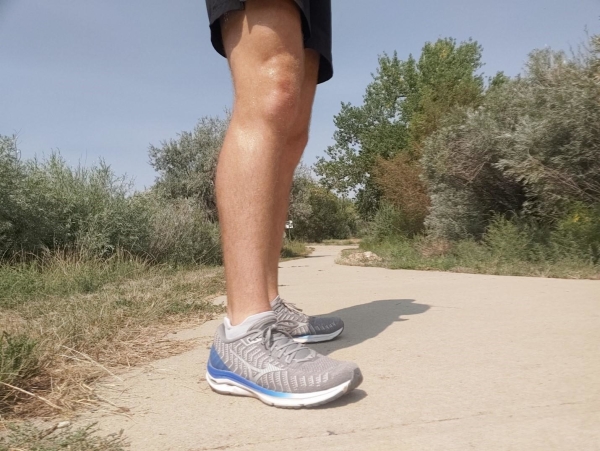 Pros:
Durability is excellent
Comfortable for long runs
The tongue is pretty much perfect
Easy to run-in
Pretty fast for a daily trainer
Neutral:
Cons:
A bit heavy
12mm heel-to-toe drop is too much for me personally
Mizuno Wave Rider 24: High-level performance, redefined
The 24th iteration of Mizuno's Wave Rider meets the runner's expectation of a smooth ride, brought by an upgraded midsole that's more cushioned and more durable than before. The shoe's improved responsiveness is noticeable both in visuals and in performance.
Mizuno Wave Rider 24 vs. 23: The key differences
Fans of Mizuno running shoes would certainly be familiar with the Wave Rider series. But is the 24th version worth looking forward to? Here are the updates in the Mizuno Wave Rider 24:
Mizuno Enerzy: The 24th version of the Wave Rider introduces Mizuno's all-new Enerzy foam. This midsole tech provides a 15% increase in rebound and a 17% increase in softness compared to the conventional foam.
One-unit upper: The simple appearance of the Wave Rider 24 is made possible by the single piece that forms the entire upper of the shoe. This could be the ideal design for those who prefer a clean look.
Flattened the curve: The Parallel Wave Plate, which is built for impact absorption, has been revamped in the Wave Rider 24 from deep to shallower waves. This allows for more ground contact.
Leveled-up: The Mizuno Wave Rider 24 Waveknit
A special release of the Mizuno Wave Rider 24 is also available for purchase. It has the same technologies as the original version, with the only difference being the Waveknit upper. What makes the Waveknit unique?
Unlike other knitted uppers, the Waveknit material is inspired by Mizuno's own Wave technology. The weave of the fabric is done in a wave pattern, which aims for a more natural fit.
The Waveknit of the Wave Rider 24 has been refined through a seamless construction. This makes it more breathable and supportive compared to its earlier conceptions.
Size and fit
True to size
based on 38 user votes
How Wave Rider 24 compares
Corescore: 58-61
3 shoes (0.33% of shoes)
Corescore: 62-65
7 shoes (0.76% of shoes)
Corescore: 66-69
11 shoes (1% of shoes)
Corescore: 70-73
38 shoes (4% of shoes)
Corescore: 74-78
75 shoes (8% of shoes)
Corescore: 79-82
94 shoes (10% of shoes)
Corescore: 83-86
184 shoes (20% of shoes)
Corescore: 87-90
262 shoes (28% of shoes)
Corescore: 91-94
220 shoes (24% of shoes)
Corescore: 95-98
28 shoes (3% of shoes)
Corescore: 99-99
0 shoes (0% of shoes)
Price: £40 - £70
112 shoes (12% of shoes)
Price: £70 - £100
265 shoes (29% of shoes)
Price: £110 - £130
270 shoes (29% of shoes)
Price: £140 - £160
166 shoes (18% of shoes)
Price: £170 - £200
62 shoes (7% of shoes)
Price: £200 - £230
34 shoes (4% of shoes)
Price: £230 - £260
9 shoes (0.98% of shoes)
Price: £260 - £290
1 shoes (0.11% of shoes)
Price: £290 - £320
2 shoes (0.22% of shoes)
Price: £320 - £350
1 shoes (0.11% of shoes)
Weight: 100g - 135g
6 shoes (0.78% of shoes)
Weight: 136g - 171g
24 shoes (3% of shoes)
Weight: 172g - 207g
46 shoes (6% of shoes)
Weight: 208g - 243g
137 shoes (18% of shoes)
Weight: 244g - 279g
208 shoes (27% of shoes)
Weight: 280g - 315g
234 shoes (30% of shoes)
Weight: 316g - 351g
86 shoes (11% of shoes)
Weight: 352g - 387g
24 shoes (3% of shoes)
Weight: 388g - 423g
6 shoes (0.78% of shoes)
Weight: 424g - 460g
3 shoes (0.39% of shoes)