3 Best Reebok Crossfit Shoes in 2023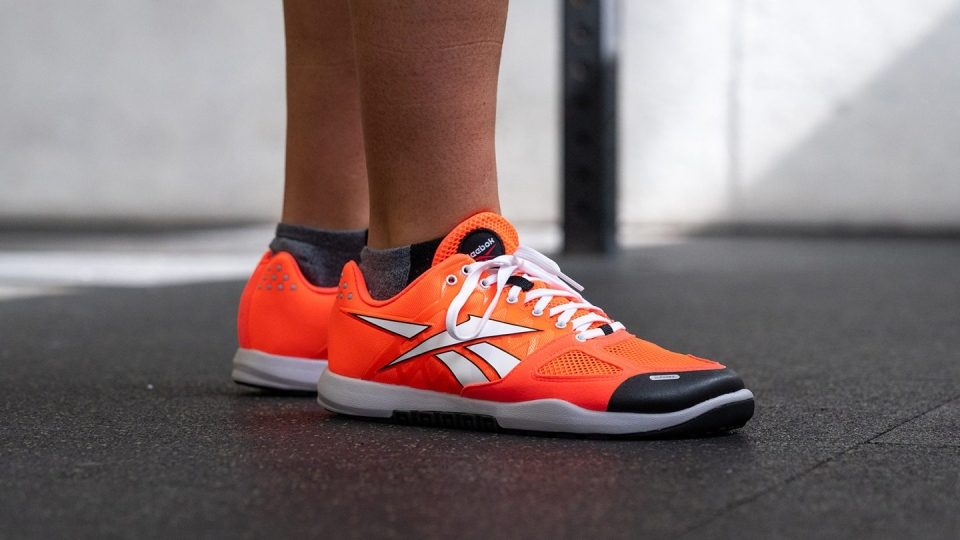 We earn affiliate commissions at no extra cost to you when you buy through us. Why trust us
When CrossFit, one of the biggest, if not the biggest and most exciting, fitness movements of our time, announced its 10-year partnership with Reebok in 2010, it marked a remarkable revolution in the fitness industry. It also gave birth to the now iconic CrossFit Nano lineup.
Although the partnership was not renewed 10 years later, Reebok especially the CrossFit Nano shoe line and other CrossFit variations from the same brand have already made an indelible impact on the branded elite fitness community.
With so many high-rated CrossFit kicks from Reebok, picking the perfect pair for your fitness needs can be mind-boggling. To help you save the hassle, we've purchased and reviewed Reebok CrossFit shoes. We carried out different sets of tests, both on-foot (wear) and at hand (lab) to judge each pair's good and bad sides. We give you our top picks in this article.
Best Reebok Crossfit shoes overall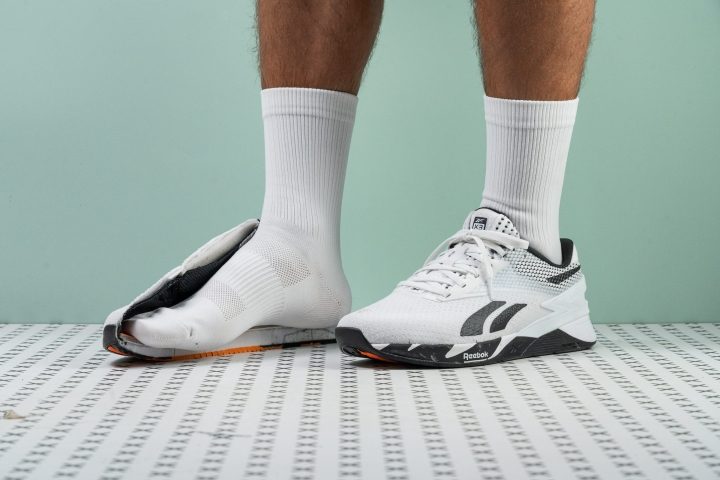 What makes it the best?
The Reebok Nano X3 allowed us to enjoy immense breathability, plush cushioning, and an effectively supportive heel. These benefits ensured comfort and focus during our workouts, and they are more than enough to crown this shoe as the best among all CrossFit shoes from Reebok.
We did a smoke test in the lab to see how breathable the Nano X3 is. After pumping smoke into the shoe, we saw that more smoke easily and quickly passed through the upper compared to other shoes we tested. We were impressed by this, so we gave this shoe a 4 out of 5, with 5 as the most breathable.
The cushioning in the heel is both thicker and softer than the average. Using a caliper, we discovered that the heel height is 27 mm, making it 2.4 mm thicker than the typical trainer. In a test for hardness, the HA durometer showed that the heel has a softness score of 20.5, which is significantly lower than the 27.0 average. These figures translated to protection from heel strikes and harsh landings when doing exercises like sprints and box jumps.
To test the firmness (or support capacity) of this shoe's heel, we manually pushed and squeezed it in the lab. It got a 4 out of 5 in terms of firmness. In the gym, this finding translated to a truly secure heel hold.
Even with all those amazing benefits, this shoe might still be too heavy for some. At 12.4 oz or 352g, the Nano X3 is significantly heavier than the average (11.2 oz or 317g). Hence, we do not recommend this shoe to those who want to feel light on their feet.
Pros
Awesome fit
Extremely comfortable upper
Cloud-like cushioning
Good stability for moderate lifting
Nice bounce for jumps
Great for rope climbing
Scene-stealing appearance
Cons
Break-in needed
Heavier than average
Not for heavier weightlifting
Full review of Reebok Nano X3
Reebok Crossfit shoes with the best value





































What makes it the best?
Not much can be said about the £130 price (average is £130) of the Reebok Nano 2.0, but performance-wise it is a beast. We could really say that we got more than we originally hoped for. Aside from its perfect breathability, this shoe also boasted a pretty grounded feel. We were also impressed by how light it felt on our feet.
We pumped smoke into this shoe in one of our lab tests, and we were in awe at how easily the smoke passed through the upper. In the gym, there was not a time when we felt damp while wearing this shoe. Given these experiences, this shoe deserves a perfect 5 for breathability.
We could say that the Reebok Nano 2.0 is among the most grounded shoes we've ever assessed. Compared to the average, the tooling for this shoe is thinner by a staggering 6.5 mm at the heel and 3.0 mm at the forefoot. Instability simply didn't have a chance, even when we were lifting quite heavy loads.
The weighing scale simply confirmed the lightness that we had been enjoying during our workouts. The Nano 2.0 weighs only 10.1 ounces or 286.0 grams, making it lighter than the average trainer, which weighs 11.2 ounces or 317 grams.
The tongue was a bit of a nuisance because it slipped to the sides quite a lot. We blame its non-attached or non-gusseted design for this experience.
Pros
Pleasantly lightweight
Low-profile and minimal
Grounded platform
Highly breathable
Very flexible
Solid grip
Spacious toebox
Cons
Lacks cushioning for jumps and runs
Upper is not durable
Tongue slips
Full review of Reebok Nano 2.0
Best Reebok Crossfit shoes for outdoors
























What makes it the best?
Among all the CrossFit shoes that we tried, it was the Reebok Nano X2 TR Adventure that fared the best outdoors because of its impressively firm and durable build, amazingly springy midsole, and effectively twist-resistant base.
Durometer measurements of both the outsole and midsole indicated that they are on the firmer side. The outsole has a rating of 85.5 HC (ave 84.4) while the midsole has a rating of 32.0 HA (ave 27.0). The firmness of thes two layers protected us from feeling the brunt of pebbles and other debris that we stepped on while outdoors. It's the upper that brought in much durability. Even high-pressure Dremel drilling in the lab couldn't get through it.
Aside from protecting our feet, the firm midsole also delivered the springiness that we needed for our sprints and some agility exercises.
The uneven surfaces of the outdoors made foot twists highly probable. Fortunately, we did not have to worry so much about twisting out feet because we felt protected by the firmness of the base. We gave it a 3 out of 5 for torsion resistance when the average is only 2.3.
The heat that we felt when wearing this shoe was a significant turnoff. After conducting a smoke breathability test on the Nano X2 TR Adventure, we could only give it a score of 2 out of 5.
Pros
Extremely durable for the outdoors
Dependable outdoor traction
Comfortable upper
Reliably protective
Functional versatility
Great support
True-to-size fit
Has reflective components
Cons
Not for niche exercises
Clunky and heavy
Full review of Reebok Nano X2 TR Adventure
Comparison of the 3 best Reebok crossfit shoes
| | | | | |
| --- | --- | --- | --- | --- |
| Best | | | | |
| CoreScore | | | | |
| Users rating | | | | |
| Experts | | | | |
| Best price | | | | |
| Ranking | | | | |
| Popularity | | | | |
| # of colorways | | | | |
A buyer's guide on Reebok CrossFit shoes
Reebok has been a major player in the CrossFit shoe market for many years. The company used to be a sponsor of the CrossFit Games and worked closely with CrossFit athletes to design shoes that are specifically targeted to the demands of CrossFit workouts.
Reebok's first dedicated CrossFit shoe was the Reebok CrossFit Nano, which was released in 2010 and quickly became one of the most popular CrossFit shoes on the market. The Reebok CrossFit Nano was designed with input from CrossFit athletes and was specifically built to meet the needs of CrossFit athletes.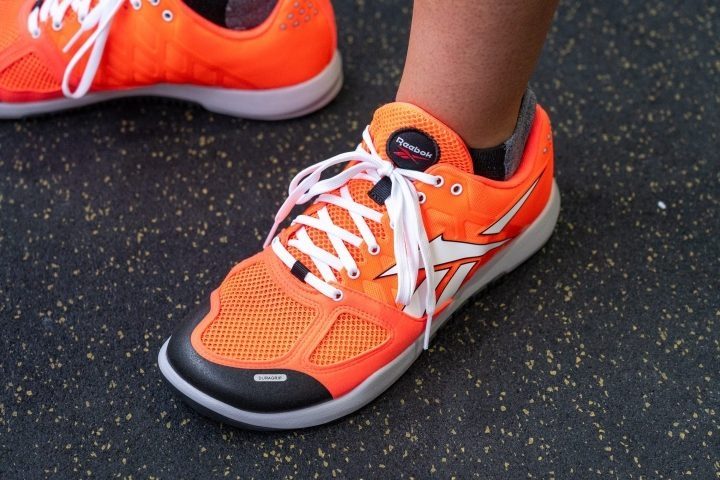 On popular demand, the brand reintroduced Reebok Nano 2.0 a decade after its first release.
More than a dozen of Nano iterations have seen the world since 2010. How to know which one is best for you? Let's take a deeper look.
Choosing the best Reebok Nano shoe for you
The Nano series has evolved along with the demands of Crossfit athletes. The shoe went from a more minimal, firm, and lightweight platform to a more cushioned and comfortable trainer.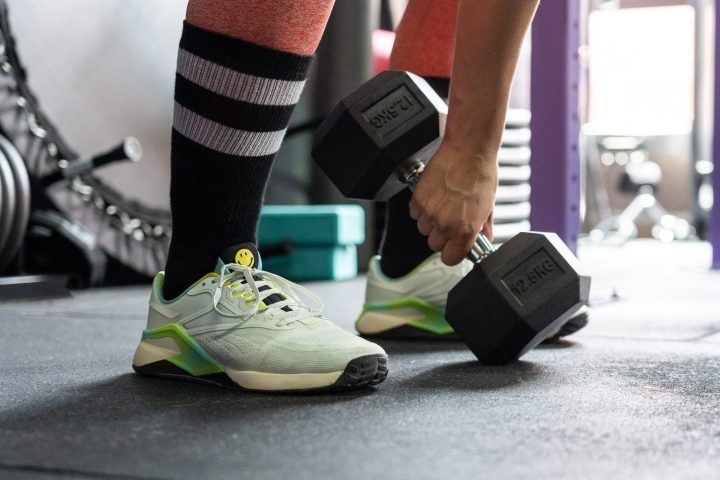 Here is a brief overview of the Nano editions:
Iteration
Released in
Description
Nano 2.0
2012

Highlight: old-school/retro design, classic Crossfit shoe

Drop: 4 mm

Very lightweight: ~10 oz (280g)

Price: £130-130

Nano 3.0
2013
Nano 4.0
2014
Nano 5.0
2015
Nano 6.0
2016
Nano 7.0
2017

Highlight: Flexweave upper (lightweight and durable)

Drop: 4 mm

Very lightweight: ~10 oz (280g)

Price: £140

Nano 8.0
2018
Nano 9.0
2019
Nano X
2020

Highlight: major redesign, back to the Delta logo

Drop: 4 mm

Heavy: 14 oz (400g)!

Price: £140

Nano X1
2021

Highlight: new design, less Crossfit more versatility

Drop: 7 mm

Average weight: ~12 oz (340g)

Price: £140-140

Nano X2
2022
Nano X3
2023
We have tested multiple editions of the Reebok Nano in our lab. We have cut the shoes in half, used callipers to measure width and thickness, employed a durometer to measure softness, and even turned to a Dremel to test durability.
These findings allow us to illustrate how much the Nano has changed over the years. Let's compare the Nano 2.0 (released in 2012) and the Nano X3 (released in 2023):
Reebok Nano 2.0 vs. Reebok Nano X3: changes over a decade
 
Nano 2.0
Nano X3
Difference
Weight
10.1 oz (286.0g)
12.4 oz (352.0g)
23% heavier
Drop
4 mm
7 mm
3 mm increase
Heel stack
18 mm
27.0 mm
9 mm taller
Cushioning
31.0 HA
20.5 HA
51% softer
Flexibility
11.3N
22.8N
102% stiffer 
Torsional rigidity
1/5
3/5
3x stiffer torsionally
Upper durability
1/5
5/5
5x more durable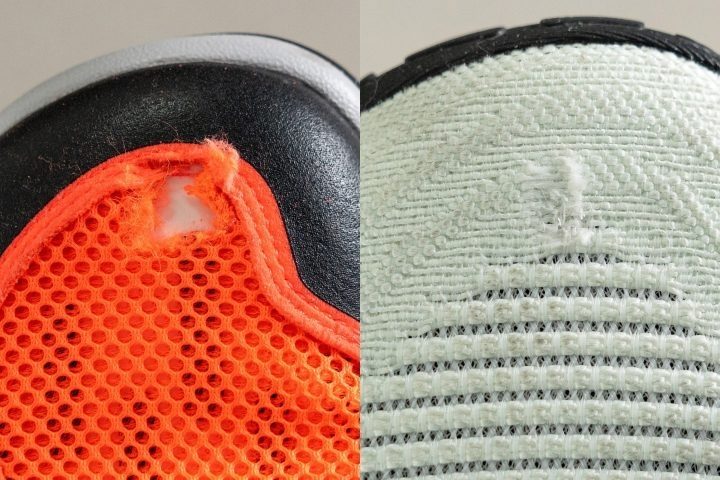 Given that nearly all Nano iterations are currently available online, you have the freedom to choose which type of Nano works best for your needs.
Other editions of the Reebok Nano
As the series continues to evolve and meet the emerging needs of the Crossfit community, the brand comes up with new releases.
Reebok Nano TR Adventure
The Nano X2 was also released in an outdoor-ready edition called the Reebok Nano X2 TR Adventure to accommodate workouts outside the gym venue. It features a heavy-duty lugged outsole for untamed grounds as well as sturdier materials overall.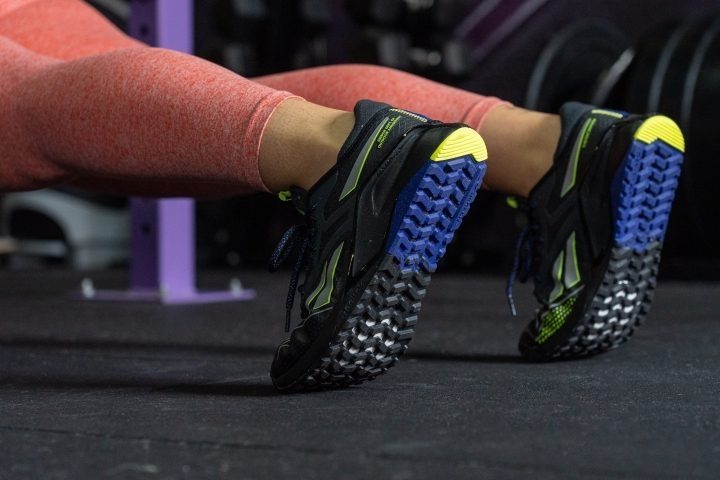 FAQs about Reebok Crossfit shoes
Are Crossfit shoes good for running?
Yes, but for short runs only (2-3 miles).
However, starting from the Nano X2, Reebok began to introduce its Floatride Energy Foam in an attempt to make the series more "runnable." This type of cushioning comes from the brand's running shoes. It provides a super bouncy, but not too soft, responsive midfoot support.
Are Reebok Crossfit shoes good for rope climbing?
Yes, but not all models. The Nano X and Nano X2 had durability issues which made then less suitable for this exercise.
But for the most part, the Reebok Nanos perform very well on the rope thanks to their RopePro technology. Located at the base of the shoe on both sides, this feature bites the rope on the ascent and prevents abrasion on the descent.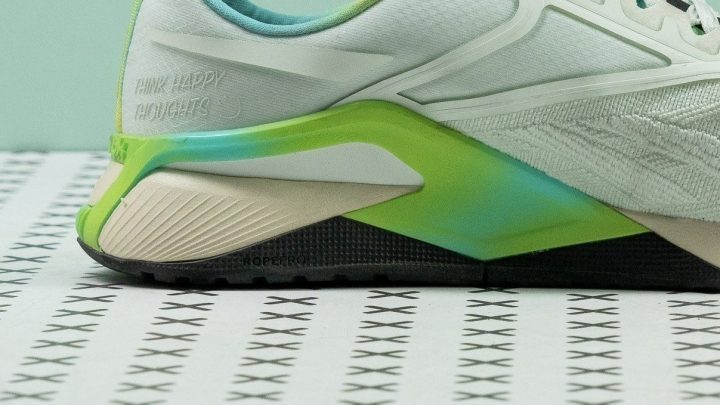 Is Reebok still partnering with Crossfit?
No.
In 2010 Reebok signed a 10-year deal to be the exclusive supplier of CrossFit apparel and footwear as well as the title sponsor of the CrossFit Games. The negotiations to renew the contract were scheduled to take place following the 2020 CrossFit Games. 
But then George Floyd was killed and the Black Lives Matter movement exploded around the world. You might think that would have nothing to do with negotiations over the renewal of a sports shoe company's sponsorship deal, but we're living in strange times.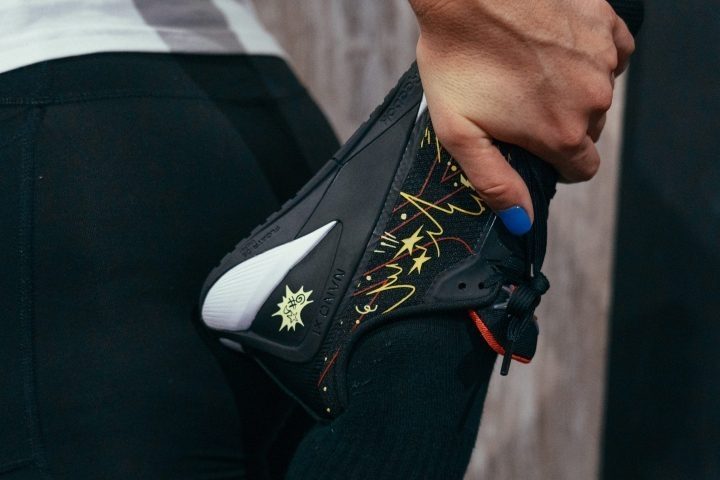 It turns out that CrossFit co-founder Greg Glassman made a Twitter comment that wasn't politically correct - and that was the end of it. Reebok announced that they would be ending their association with CrossFit. So did other sponsors such as Rogue and FitAid.
Glassman duly performed the obligatory mea culpa, but to no avail. Reebok's association with CrossFit was officially over. In March 2021, CrossFit announced a deal with Boston-based sportswear brand NOBULL to become the title sponsor and official apparel supplier of the CrossFit Games.
How we test crossfit shoes
Before giving our favourite picks, we put all the CrossFit shoes from Reebok through our rigorous testing process. That means each pair is subjected to the usual high-intensity interval training, and the daily grind of gym workout regimens, which include lifting weights, squatting, pushups, and other strength and conditioning exercises.
Here's how we do it:
We buy the Reebok CrossFit shoes for our test sessions. We invest our own money for this to remove any taint of brand influence or bias.
We use the shoes in various CrossFit workout routines. We determine the shoes' actual fit, cushioning, stability, durability, traction, and many more. We put in at least 10-20 hours of performance tests in the gym doing actual workouts and training exercises.
We also take into consideration the numbers behind the features of the shoes by performing tests in our lab. We acquire their measurements from the inside out and top to bottom. Plus, we determine the other parameters of the shoes and how they affect the on-foot performance and feel. The clincher is we anatomize the shoes so we can grasp all of their components.