6 Best Outdoor Basketball Shoes in 2023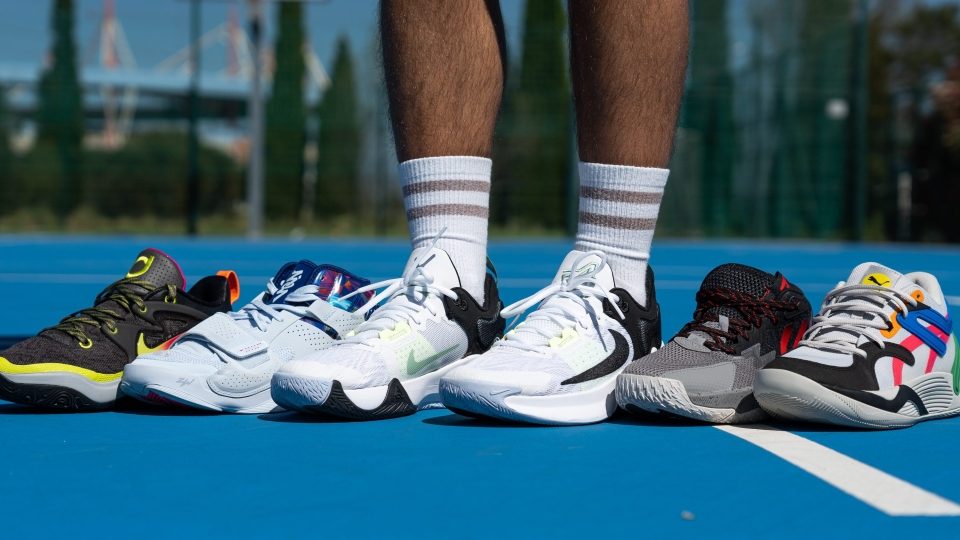 We earn affiliate commissions at no extra cost to you when you buy through us. Why trust us
Basketball is largely an indoor sport. Officially, it is played on well-maintained hardwood courts. Because of this, brands like Nike, Under Armour, and Adidas often produce basketball shoes that are designed for indoor action.
With that, we consider it already a huge plus when we find out that a shoe is actually good for outdoor use. This only means that the manufacturer went out of their way to add more durability to the shoe.
In this article, we present the shoes that are most suitable for the harsher conditions of the outdoors. We are able to pick them up after testing a little more than 400 basketball shoes from various brands and signature labels.
How we test basketball shoes
To keep our opinions as objective as possible, we do the following:
Steer clear from sponsorships
While freebies are nice to have, we're afraid that they may color our judgments. We see it fit to purchase the outdoor basketball shoes that we were to test using our own cash.
Test the shoes in realistic outdoor courts
Just because we played in it outside doesn't really mean that a basketball shoe is already fit for outdoor use. They must still be played on surfaces that's typical of outdoor courts: rough, dusty, and made of solid concrete with asphalt on top.
In addition to our qualitative descriptions, we also give a CoreScore for each outdoor basketball shoe. This numerical rating is an aggregate of all the scores given by expert reviewers and regular hoopers all over the web, not just here at RunRepeat.
Comparison of the 6 best outdoor basketball shoes
| | | | | | | | |
| --- | --- | --- | --- | --- | --- | --- | --- |
| Best | | | | | | | |
| CoreScore | | | | | | | |
| Users rating | | | | | | | |
| Experts | | | | | | | |
| Best price | | | | | | | |
| Ranking | | | | | | | |
| Popularity | | | | | | | |
| # of colorways | | | | | | | |
Choosing outdoor basketball shoes
As an experienced basketball player who has spent thousands of hours playing outdoors, I've learned the importance of choosing the right basketball shoes. In this guide, I'll share some tips that you'll want to consider before investing in your next pair of basketball shoes for outdoor play.
Qualities of the ideal outdoor basketball shoe
Thick Durable outsole featuring a dense rubber material
Indented Tread Pattern
Sufficient amount of cushioning
Supportive and durable upper construction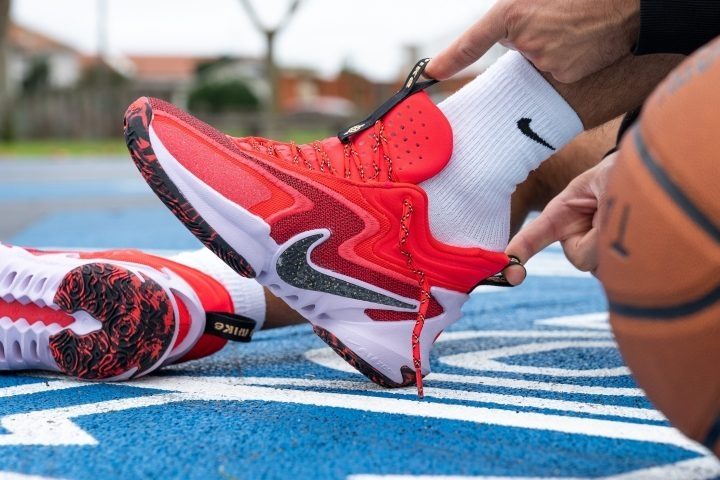 How outdoor court surfaces affect your shoe
Outdoor court surfaces will almost always put more miles on your shoes but different outdoor court surfaces can have varying effects on your basketball shoes. Here's a breakdown:
Concrete Courts
Harsh and abrasive surface
Choose shoes with durable rubber outsoles
Look for thick and dense rubber for longevity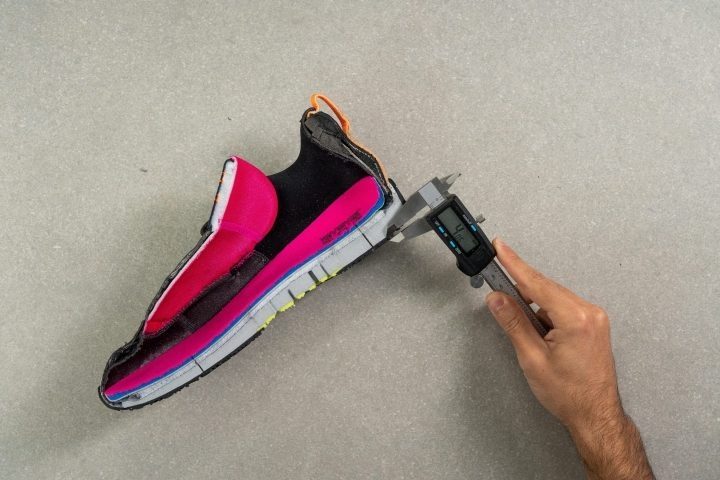 Asphalt surfaces
Relatively smooth and softer than concrete but still abrasive
Opt for shoes with durable outsole materials like XDR
Consider reinforced Side Walls for protection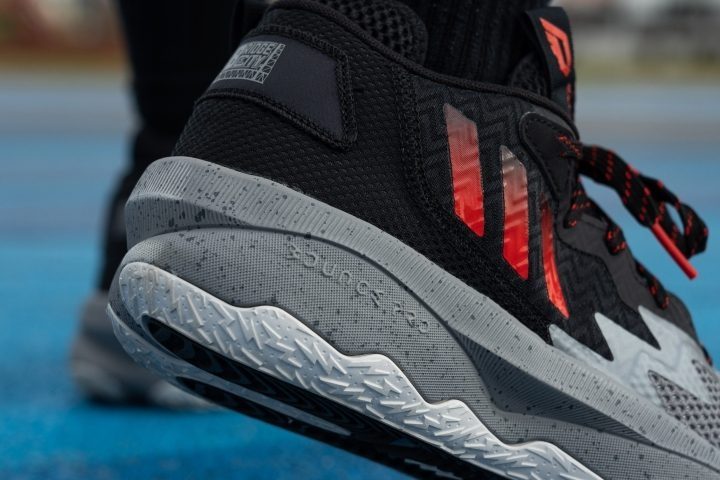 Rubberized Courts
Offer good traction and a forgiving surface.
Shoes with slightly softer rubber outsoles work well.
Look for versatility in outsole design.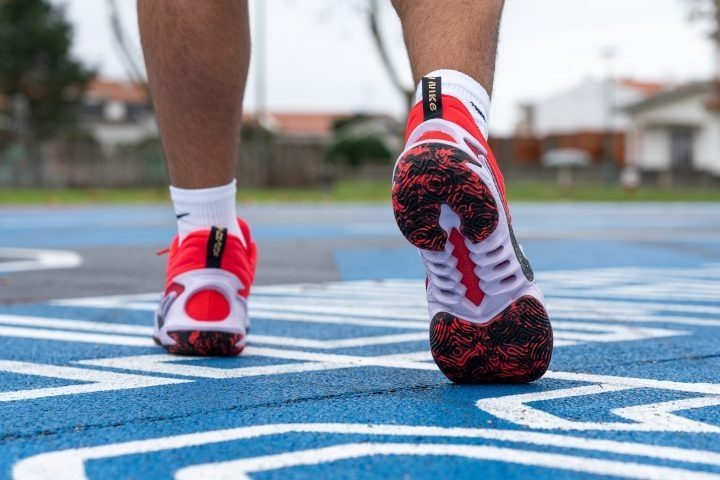 Artificial Turf Courts
Much less common in basketball courts but are rising in popularity recently due to easier maintenance
Shoes with multidirectional traction patterns.
Durability: Sole Vs. Surface
When it comes to outdoor basketball shoes, the type of rubber used in the outsole is a critical consideration. The ideal rubber should be hard and durable, with a high abrasion resistance to withstand the harsh conditions of outdoor play.
In our lab, we measure how hard the rubber outsole is on each tested basketball shoe. We rely on these durometer results to determine whether a shoe is hard-wearing enough for outdoor use.
Shoes with a softer rubber outsole tend to wear out quickly and lose their grip on the court, compromising both the shoe's longevity and the player's performance.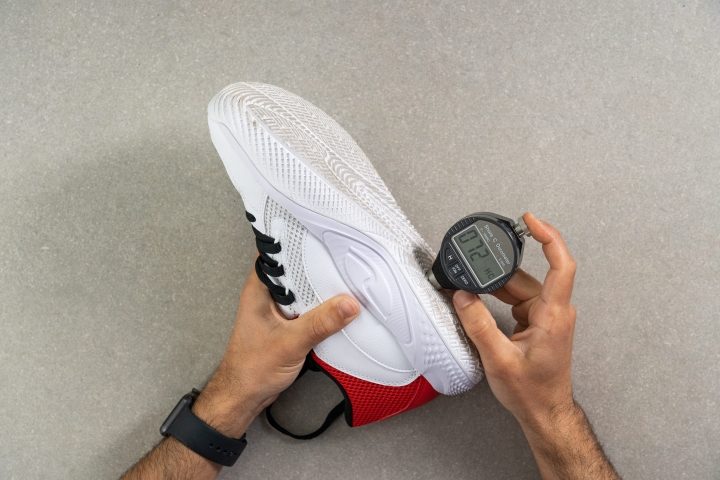 Example of softer rubber (PUMA Court Rider)
Shoes with a harder rubber outsole, such as those made with XDR (Extra Durable Rubber), offer better durability and grip on concrete and other outdoor surfaces. However, hard rubber can affect the shoe's cushioning and comfort, making it crucial to find a balance between durability and comfort when choosing basketball shoes for outdoor play.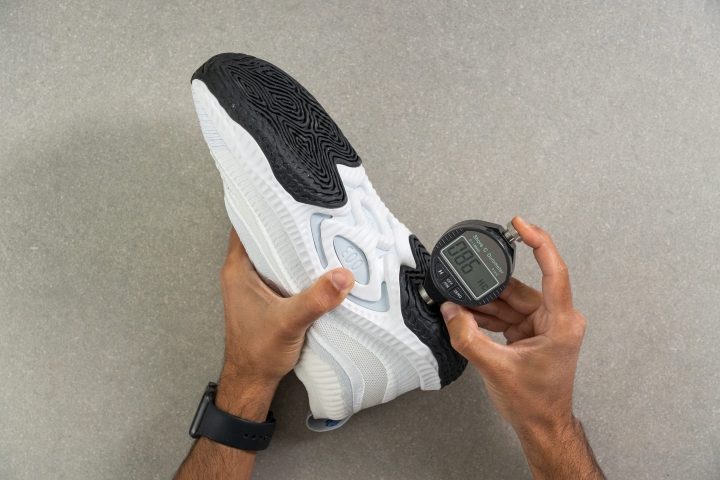 Example of harder rubber (Nike Cosmic Unity 3)
Tread Pattern matters
A good grip on the court means better control over your movements and the ability to jump higher. This is why the tread, traction, and grip of your basketball shoes are crucial.
But here's the thing: outdoor and indoor basketball shoes have different needs in this regard:
Outdoor basketball shoes, for instance, typically come with larger thread patterns that provide good lateral stability and grip on all types of surfaces.
Indoor basketball shoes often feature circular flat spots on the sole that allow for a suction-like grip on smooth and flat surfaces. But take them outside and you may find them slipping and sliding all over asphalt, especially if the surface is not smooth.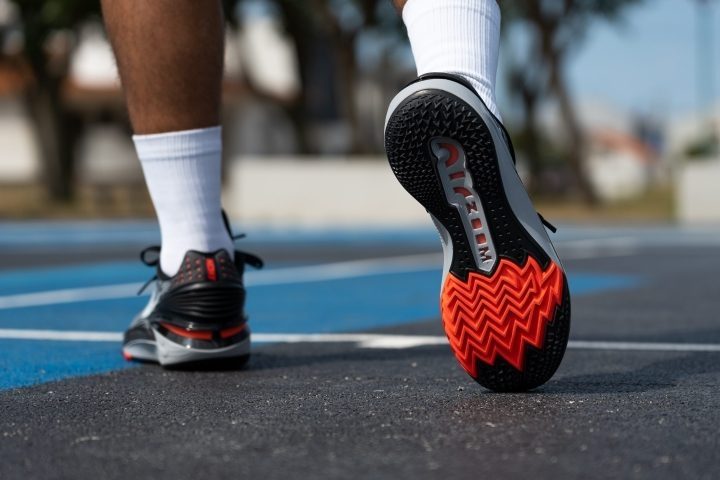 A firm rubber outsole with a deeply set traction pattern for outdoor play.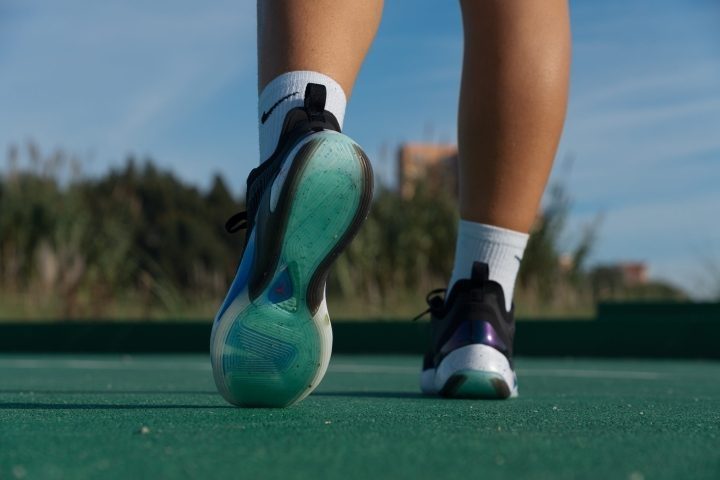 Soft translucent rubber outsole with shallow treading is best for indoor courts.
In an outdoor shoe, you'll want to look for a tread pattern that features the grooves as deeply set as possible. This way, you can ensure even wear on the sole.
DIY outsole durability test
When trying a shoe on foot, test the outsole by firmly pressing down against the floor.
Try to slowly rock your foot back and forth. With most soft and translucent outsoles you will feel the rubber grooves warping and bending. You don't want that outdoors.
I find that this is the best way to compare the firmness of the rubber and find the more durable options out of a huge range.
Most stores have carpet or smooth flooring to avoid additional wear and tear on their shoes, this allows you to test the shoe before taking it to the abrasive blacktop.
Sufficient cushioning is important
Concrete courts are much less reactive than wood or PVC courts, so if you're aiming to play as hard as you would indoors you should invest in a pair of well-cushioned shoes to protect from overloading injuries in the ankles and knees.
The findings of Zhou et al., 2023 suggest that players who habitually strike the ground with their rear foot may be at a higher risk of developing overuse injuries when running on hard surfaces such as concrete.
In basketball, most explosive movements involve a rear-foot strike. These can occur while boxing out, jump shots, cutting, and finishing off two feet.
We always measure stack height and cushioning softness in our lab tests.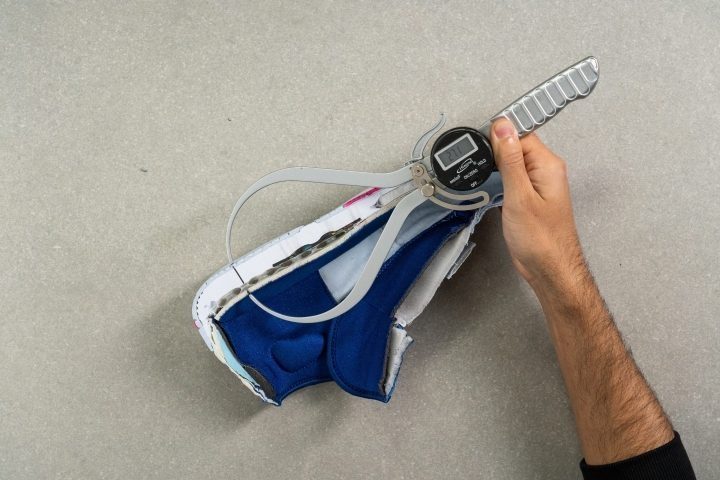 Ultimately, the choice of cushioning type will depend on the player's individual needs, position, and playing style.
A highly popular cushioning unit seen in Nike basketball shoes is the Air Zoom. Known for its responsiveness, as it provides a high level of energy return that can enhance performance.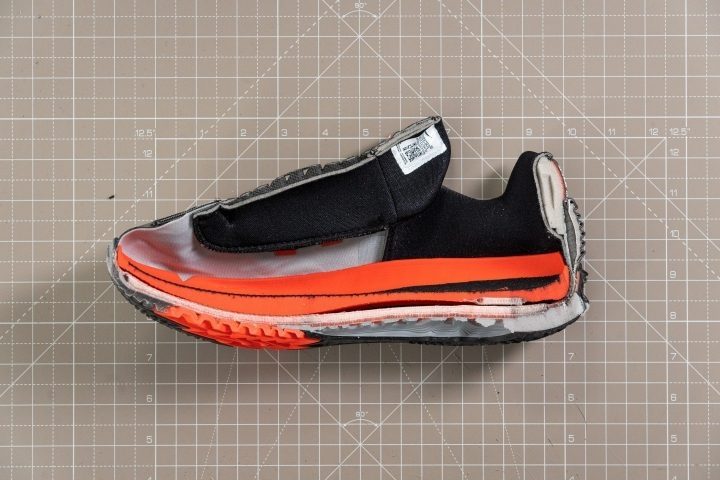 Example of a full-length Zoom Air unit in the G.T. Cut 2
Upper materials used in outdoor basketball shoes
Playing basketball outdoors WILL deteriorate your kicks faster than playing indoors. This is an important cost factor to keep in mind when considering the upper construction of your shoes.
Knit uppers
Knit uppers are becoming more and more popular in basketball shoes due to the breathability, lightness, and instant form-fitting comfort they provide.
Breathability is more pronounced on the knit shoe (left) than on the synthetic one (right)
However, knit uppers are not as durable as other materials when it comes to outdoor basketball. The abrasive surfaces in outdoor courts can cause the knit to tear or fray, compromising the structural integrity of the shoe.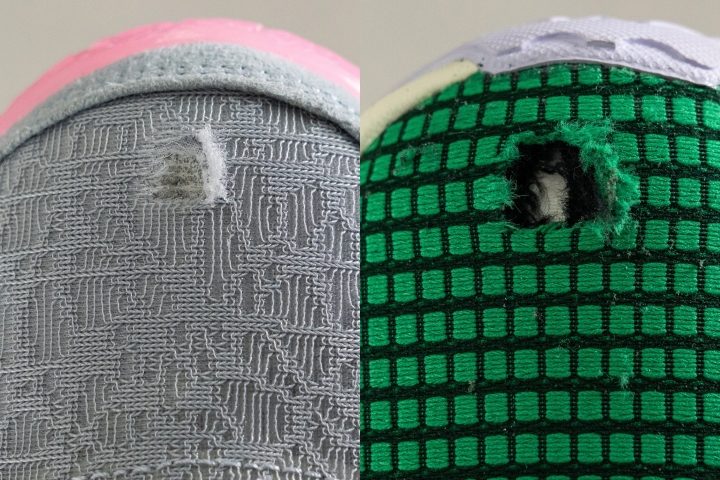 Here is a comparison of those same shoes after they've been exposed to a Dremel durability test.
Synthetic layered textiles
Made up of a combination of different synthetic materials that offer a durable and supportive fit. These materials are typically more abrasion-resistant than knit or mesh uppers, making them ideal for outdoor basketball.
The layers provide additional support and structure to the foot, helping to prevent injuries and improve performance. Additionally, this type of upper construction is generally cheaper than knit and leather uppers.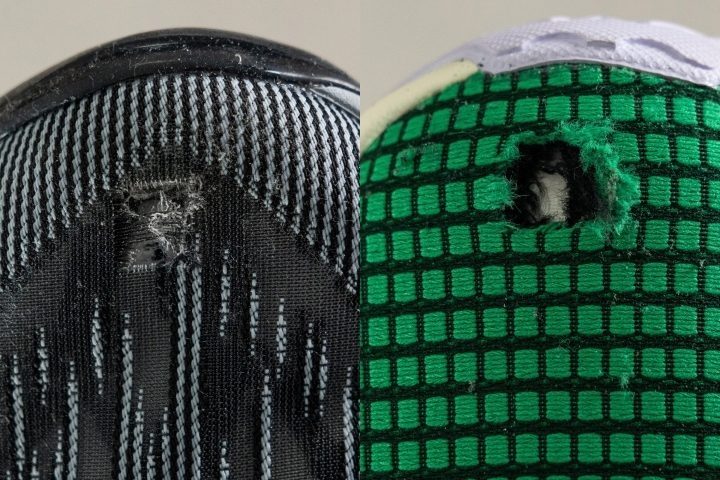 Another example of a synthetic textile being superior in durability to the knit one
Synthetic textiles are often more water-resistant than other materials, which is always a plus when playing outdoors.
Overall, synthetic layered textile uppers are a great option for outdoor basketball shoes due to their durability, support, and water-resistant properties.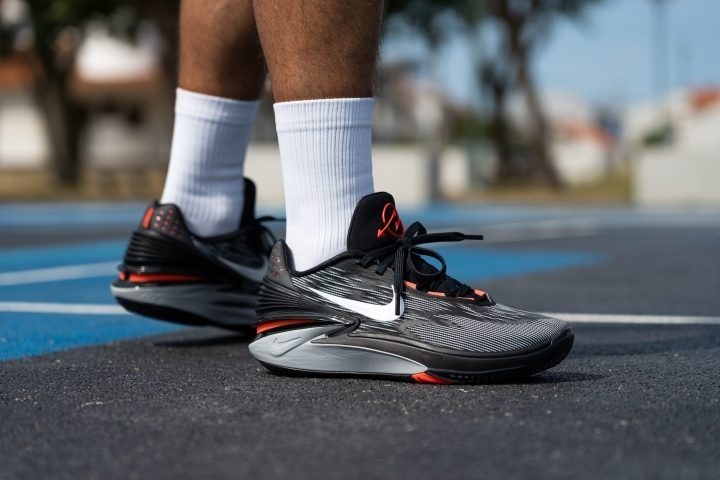 Leather uppers (genuine and synthetic)
Genuine leather is a premium material that can withstand rough use and provides excellent support and stability, but it can be quite expensive.
On the other hand, synthetic leather uppers offer a more affordable option that still provides excellent durability and protection against outdoor conditions.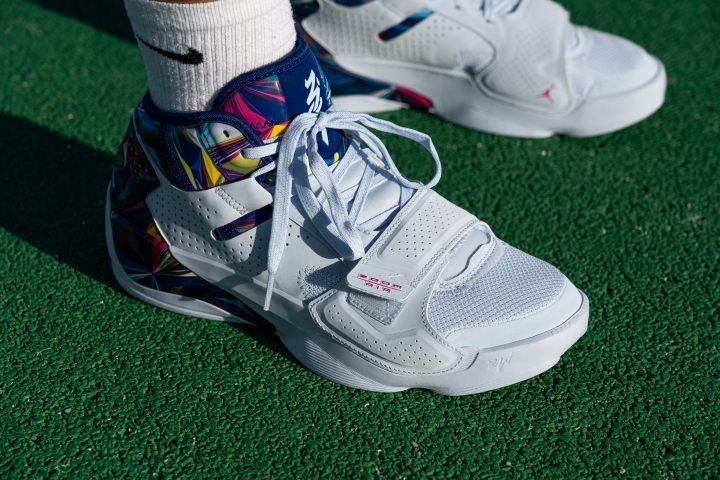 These materials can resist water and abrasions, making them a popular choice for outdoor basketball players who want to avoid premature wear and tear on their shoes.
Ankle support and stability features
Look for shoes that provide adequate ankle support to prevent injuries. Features like external overlays, firm TPU heel counters, and ankle collar padding can wrap around your ankle and heel, providing a secure and comfortable fit.
Features like sock-like constructions and secure lacing systems contribute to stability and comfort during play.
Choosing outdoor basketball shoes based on your needs
When it comes to choosing the right basketball shoes for a specific position or play type, there are some additional factors to consider.
Center or Power Forward
May benefit from a shoe with more support and cushioning, as they often engage in more physical play under the basket. These are the types of rear-foot strike movements that demand sufficient responsiveness.
When playing in Front Court positions (PF/C), regardless of outdoor or indoor your shoes are subject to additional wear and tear. As a player positioned in the paint during a basketball game, the constant need to box out and secure rebounds puts you at a higher risk of encountering moving feet and potential impacts, and setting picks will have smaller guards regularly colliding with you.
If what I've just described is your bread and butter on the court, it's recommended that you look for a stiff upper construction with plenty of added ankle support to:
Protect your feet
Have your outdoor basketball shoes last a reasonable amount of time.
Guard and Small Forward
May benefit from a shoe with a lighter weight and more flexibility for faster movement and agility on the court.
You'll want to look for low-profile cushioning to keep the shoe light and your movements liquid. It's recommended to look for a more snug-fitting upper with additional features like a mid-foot strap or structured lacing systems so that you're not worried about the foot moving inside the shoe.
FAQs about outdoor basketball shoes
How much break-in time should I give my outdoor basketball shoes?
It really depends on the materials used in the shoe and how often you play in them. I try to give new basketball shoes at least 6 hours of light activity before playing a game in them.
This way you can get used to the shoe's cushioning and response as well.
How much wear should I get out of outdoor basketball shoes?
Again, it depends a lot on game intensity, how much you drag your feet, and the conditions of the court you play on. Generally, you should get about 70 hours of playtime in with a solid outdoor pair.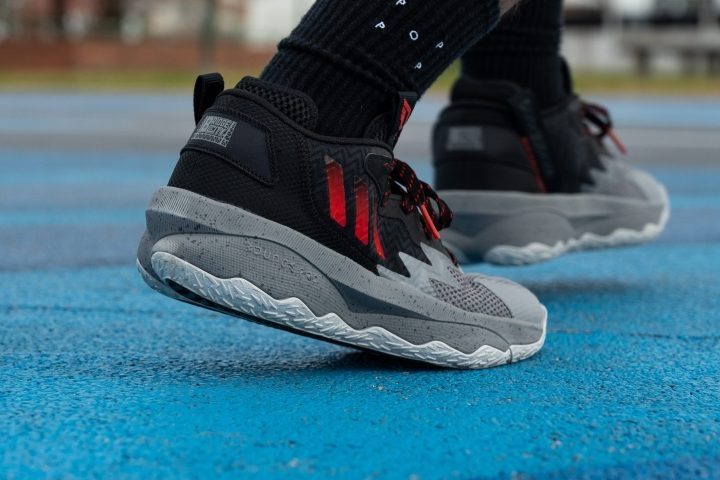 References:
Zhou, W. et al. (2023) "Surface effects on kinematics, kinetics and stiffness of habitual rearfoot strikers during running," PLOS ONE, 18(3). Available at: https://doi.org/10.1371/journal.pone.0283323.