7 Best Basketball Shoes For Ankle Support in 2023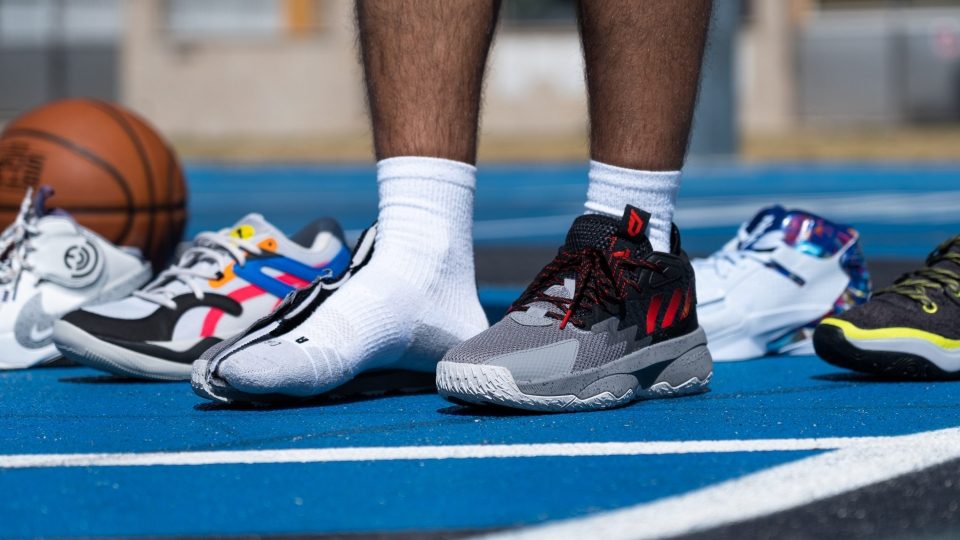 We earn affiliate commissions at no extra cost to you when you buy through us. Why trust us
Support is an important part of every basketball shoe. When a lockdown isn't so secure, sprints become wobbly, shots are unstable, and the whole game just crumbles. Hence, sports shoemakers like Nike and Adidas equip their products with several support features. On this page, we present the basketball shoes that offer the most dependable support to the ankle.
Even though science has already shown us that collar height doesn't really have that much impact on the amount of support that a shoe gives, mid- and high-tops are still preferred by the players for that additional wrap around the ankle.
With that, we came up with the ultimate list of supportive basketball shoes through all-around testing. From research and actually acquiring the shoes to testing them inside and outside our lab, these shoes went through a lot before they ended up here!
Comparison of the 7 best basketball shoes for ankle support
| | | | | | | | | |
| --- | --- | --- | --- | --- | --- | --- | --- | --- |
| Best | | | | | | | | |
| CoreScore | | | | | | | | |
| Users rating | | | | | | | | |
| Experts | | | | | | | | |
| Best price | | | | | | | | |
| Ranking | | | | | | | | |
| Popularity | | | | | | | | |
| # of colorways | | | | | | | | |
Why you need ankle support in a good basketball shoe
Basketball is a dynamic sport that demands quick movements, sharp cuts, and explosive jumps.
With such high-intensity actions, the risk of ankle injuries is ever-present. However, by choosing basketball shoes that provide adequate ankle support, players can minimize the likelihood of sprains, strains, and other ankle-related issues.
This comprehensive guide will walk you through the essential factors to consider when selecting basketball shoes that prioritize ankle support, helping you make an informed decision for optimal performance and injury prevention.
Understanding ankle anatomy and Injuries
A brief overview of ankle anatomy
To appreciate the significance of ankle support in basketball shoes, it is essential to understand the anatomy of the ankle and the common injuries associated with the sport.
The ankle is a complex joint that consists of 3 bones, 3 main ligaments, and 3 tendons working together to facilitate movement.
Common ankle injuries in basketball
| | |
| --- | --- |
| Injury | Mechanism |
| Lateral Low ankle sprain | Inversion of the ankle joint which creates stress on the ligaments |
| Medial ankle sprain | Excessive eversion and dorsiflexion of the ankle creating stress on Deltoid joint |
| High ankle sprain | Forceful external rotation of the foot and ankle while the leg is in a planted position, creating a strain on the syndesmosis when the talus generates a separating pressure in the lower tibia and fibula. |
| Stress fracture | Overuse of the foot and ankle by engaging in frequent, repetitive motions that cause inflammation and microscopic trauma that progresses to a small fracture over time. |
| Jones fracture | Significant adduction of the foot with a simultaneously lifted heel |
| Achilles joint rupture | Forced dorsiflexion of the ankle with simultaneous contraction of the gastrocnemius-soleus complex |
Moore, M. L., Haglin, J. M., Hassebrock, J. D., Anastasi, M. B., & Chhabra, A. (2021). Management of ankle injuries in professional basketball players: Prevalence and rehabilitation. Orthopedic Reviews, 13(1). https://doi.org/10.4081/or.2021.9108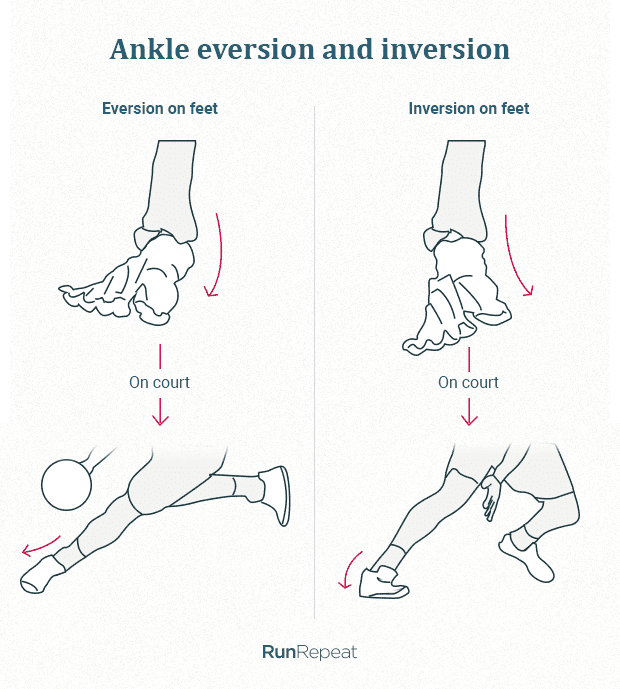 In basketball, ankle injuries such as sprains, strains, and fractures are prevalent due to the sudden changes in direction, quick stops, and jumps involved. These movements can put immense stress on the ankle joints potentially leading to ligament tears or other damage.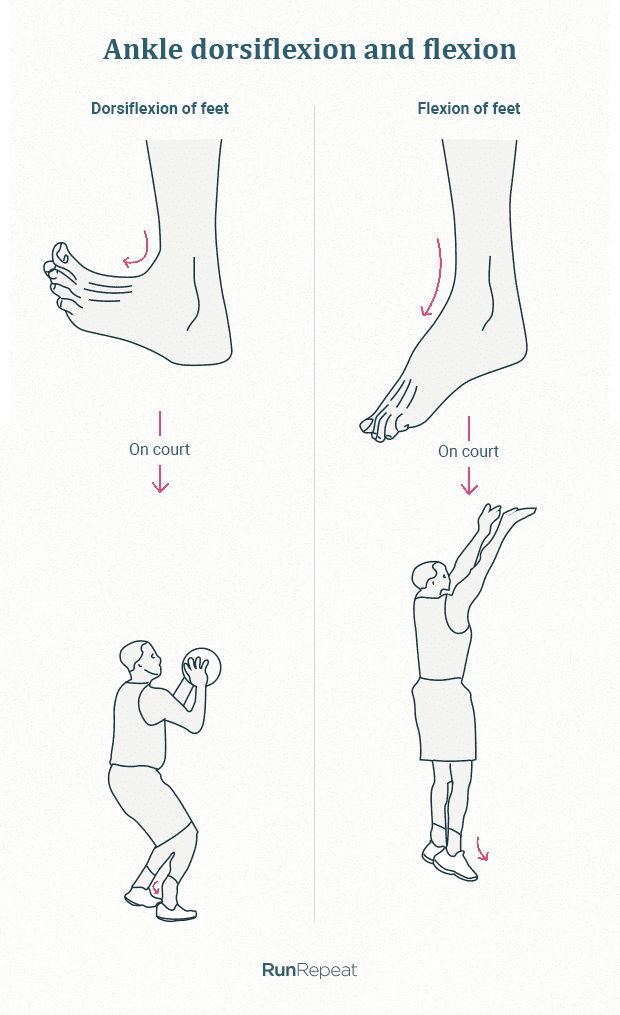 How the ankle collar affects performance
Basketball shoes come in various upper designs, and each type offers a different level of ankle support. In this section, we explore the three primary types of basketball shoes: high-top, mid-top, and low-top.
High top
High-top basketball shoes tower with extended collars, delivering unparalleled ankle support and stability. High-tops have decreased in popularity in recent years, due to the game evolving and players leaning toward maximum mobility.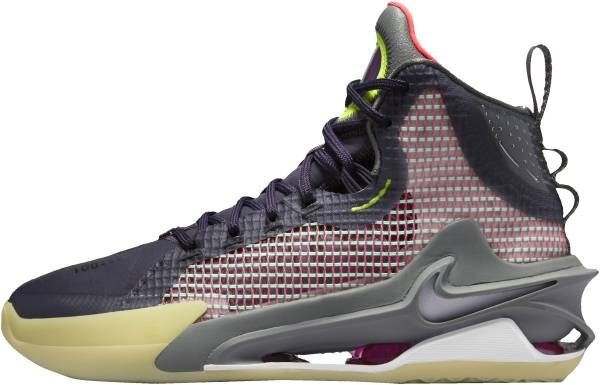 Pros
Cons

Restrict excessive eversion and dorsiflexion of the ankle
Better energy absorption in the knees
Great for players with a history of injury
Better impact protection on the ankles

More material means more weight
Restrict mobility in movement
Bulky compared to mid and low tops
See all high-top basketball shoes
Mid top
Mid-top basketball shoes offer a balance between ankle support and mobility, making them suitable for players who desire both aspects.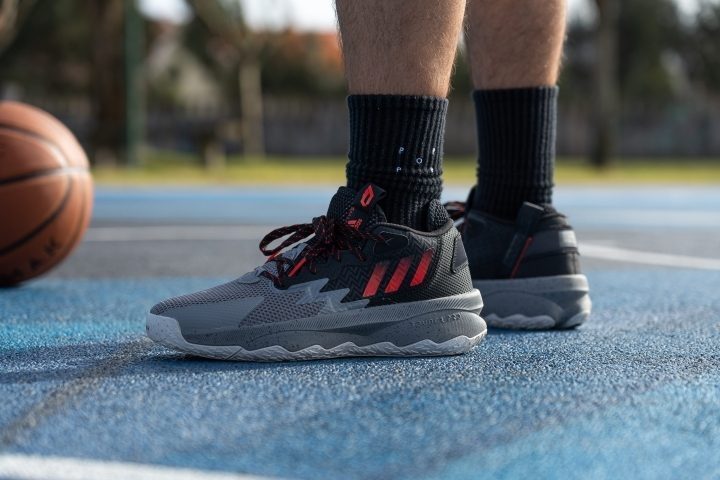 Pros
Cons

Enhanced mobility of the ankle
Moderate ankle support
Super versatile and can offer the perfect combination of support and mobility based on playing style and position.

Potential for limited impact protection
Reduced ankle support compared to a high-top
See all mid-top basketball shoes
Low top
Low-top basketball shoes have a lower cut, prioritizing freedom of movement over ankle support.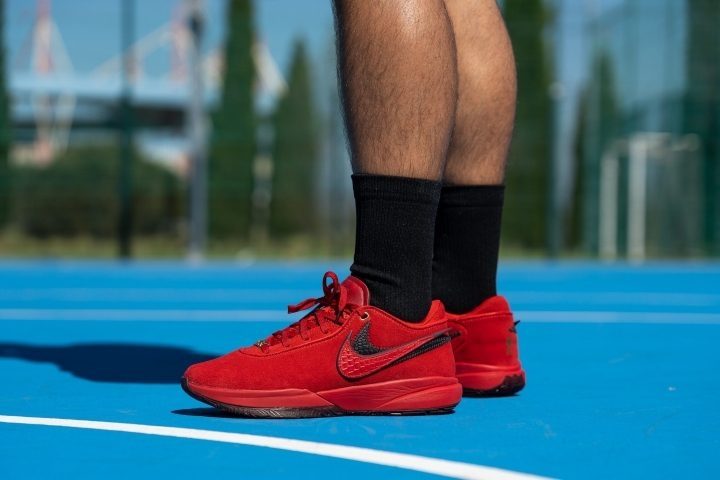 Pros
Cons

Allows maximum ankle rotation
Lighter and more flexible
Suited to players who rely on sharp cuts, speed, and agility

No aid to foot alignment upon landing
Minimal ankle support
Minimal ankle protection
See all low-top basketball shoes
5 components of ankle support in basketball shoes
Heel counter stiffness and collar padding
A sufficiently stiff and well-padded collar not only enhances comfort but also ensures a secure fit around the ankle, minimizing slippage and promoting stability during dynamic movements.
We rate heel counter stiffness on a 1-5 scale, where 5 is the stiffest. The average rating for basketball shoes hovers around 4.
Example of a very stiff heel counter (5/5)
Example of a flexible heel counter (2/5)
Lateral support and containment mechanisms
The lockdown system in basketball shoes plays a crucial role in providing ankle support. It encompasses various features and mechanisms that secure the foot within the shoe, ensuring a snug and stable fit.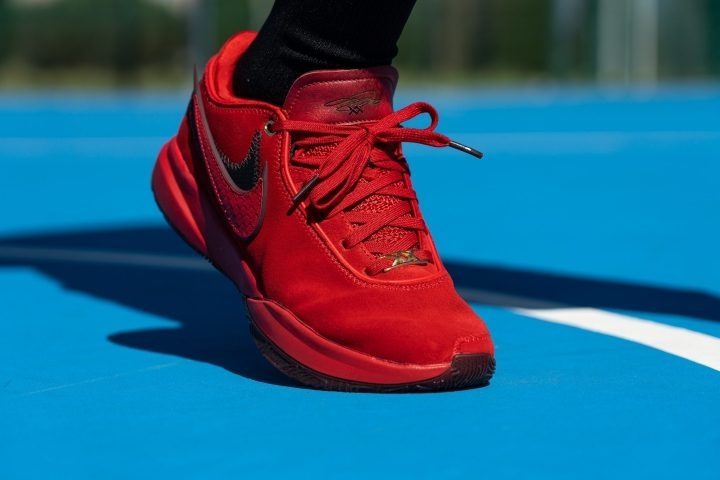 An effective lockdown system helps minimize unnecessary foot and ankle movements, reducing the risk of ankle injuries during gameplay.
Most modern basketball shoes feature sidewalls or overlays made of TPU or other composite material to ensure your foot stays in the shoe. These often work in tandem with a stiff heel counter and supportive straps.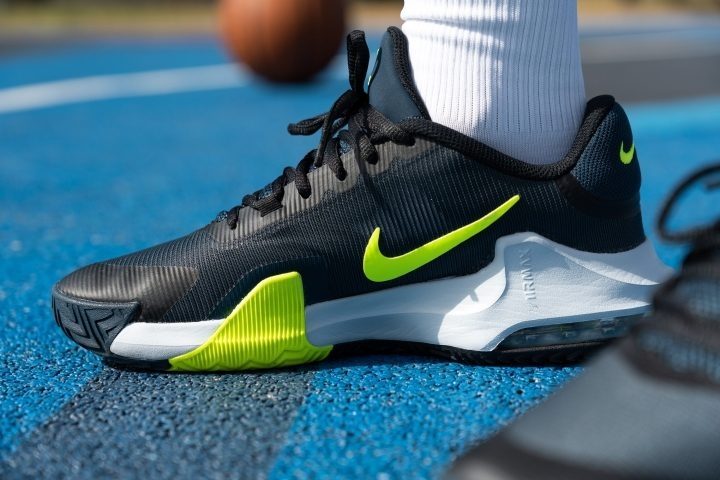 When trying on basketball shoes, pay attention to how well the external overlays, TPU heel counter, and ankle collar padding wrap around your ankle and heel.
They should provide a secure and comfortable fit, keeping your ankle stable without causing discomfort.
Additional supportive features (Velcro straps)
Many shoes aid lateral support with the addition of midfoot, forefoot, and ankle straps. Strap systems can be a great option if you don't want to compromise flexibility in the midsole and want a balance between support and mobility.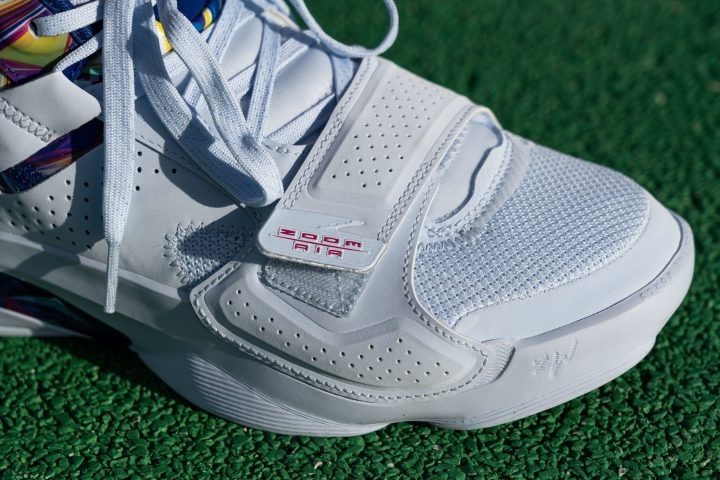 See our selection of basketball shoes with straps.
Lacing system
A key component in the lockdown system for any court shoe. Look for a basketball shoe with a secure and adjustable lacing system. This allows you to customize the fit according to your foot shape and preferences.
A good lacing system should also have multiple eyelets, especially those extending higher on the upper, this provides greater adjustability to your foot shape.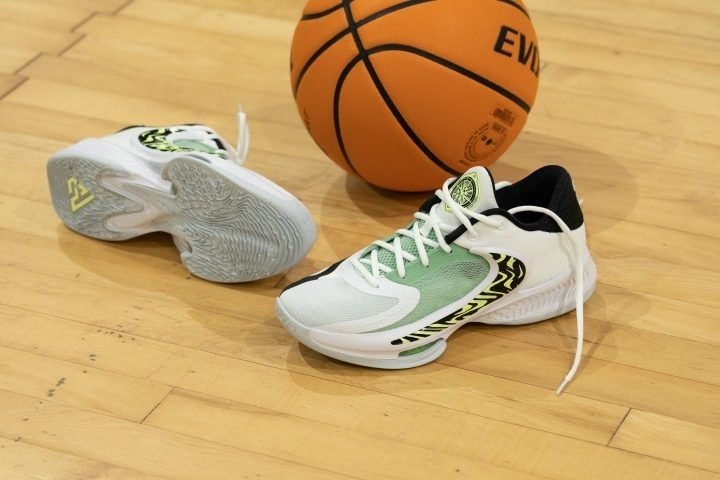 By properly tightening the laces, you can achieve a snug fit that minimizes ankle slippage and lateral movement, promoting stability and support.
Reinforcement for ankle and heel
Assuming you've found the perfect basketball shoe based on these considerations.
But you're still seeking more ankle support to boost your confidence on the court, there are options available.
Ankle braces
Useful for players with a history of ankle injuries, chronic instability, or those who seek additional reinforcement. Can be uncomfortable to play in at first.
Ankle wraps and tape
Offer a more customized fitment and are more comfortable to play in. Depending on where you want the support, they may not provide as much rigidity as an ankle brace would.
If you're a player with a history of injury, it can be difficult to step on the court and give it your all if you feel like your ankles are exposed. These external accessories are a great option to explore.
Why ankle support is subjective
Ankle support in basketball shoes is subjective because each shoe is designed for specific needs.
These factors include:
Your playing style
It's important to recognize that your style of play may not always align perfectly with the typical expectations for your position on the court.
For instance, many players in guard positions like to drive, take contact and post up. So they'd look for more cushioning and a more sturdy, extended ankle collar.
Whereas shoes like the Kyrie range are designed for responsiveness and not impact reduction.
Your history of injury
This one is pretty obvious. Players who have had ankle injuries or joint pain in the past should opt for better ankle support. Again, this is totally dependent on the severity of your injury.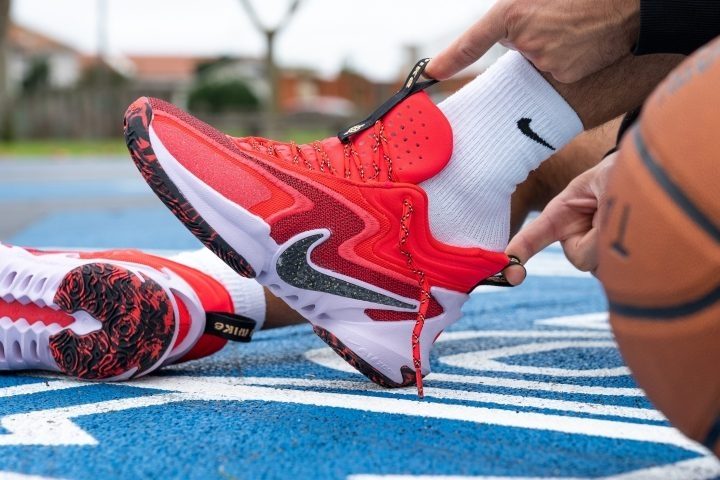 Comfort and preferences
Some players prefer soft and plush cushioning while others like a more responsive feel. Some find high ankle collars too restrictive.
Other important things to consider
Yes, ankle support is important for basketball. But you could have the most supportive collar design and the risk of injury could still be present if these factors aren't carefully considered.
Size and fit
The ideal basketball shoe must be comfortably tight. Enough so that the foot is restricted from moving around in the shoe, but not so much as to restrict circulation. A well-fitting basketball shoe can help maintain proper foot alignment when running and landing to minimize the risk of injury.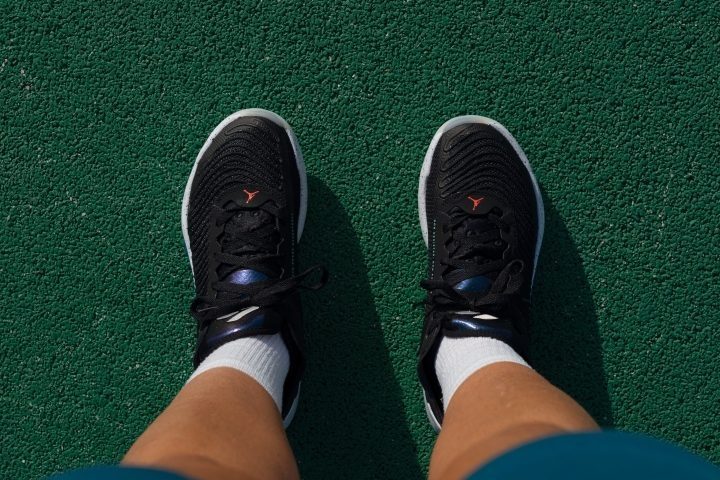 On the flip side, if a shoe is too narrow for your feet, you'll find that you start to compromise stability in your movements.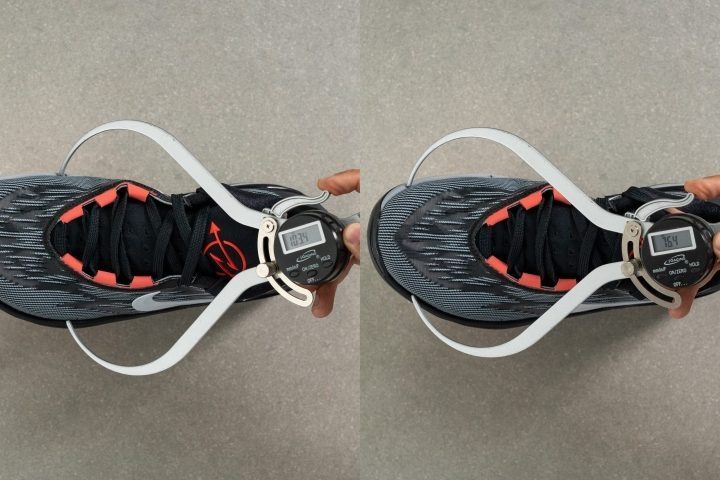 In our lab, we measure the toebox width of every basketball shoe to let you know what type of foot it is most suitable for. We also keep a catalog of basketball shoes available in 2E Wide and 4E Extra-Wide.
Types of cushioning and impact protection
Adequate cushioning in the heel area contributes to both comfort and ankle support. Quality cushioning materials, such as foam or gel, absorb impact forces, reducing strain on the ankles.
There are many different iterations of similar cushioning technologies used in today's basketball shoes. But here is an outline of the main ones.
Nike Zoom Air
Nike incorporates its renowned Zoom Air technology to deliver responsive and low-profile cushioning. By strategically placing pressurized air units in the forefoot, heel, or both areas.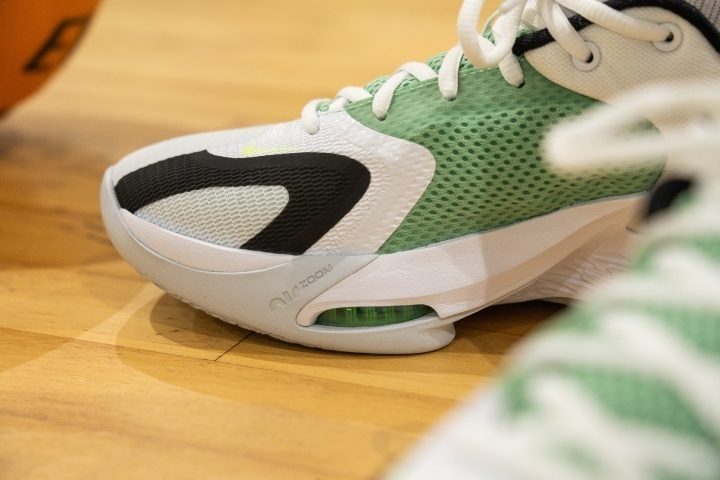 Nike has put out many different iterations of Zoom Air technology like the zoom air turbo in the Kyrie series. And while there are plenty of shoes boasting super comfortable Zoom cushioning, you should always try your shoes on to assess the cushioning.
Traction
If you've played a game of basketball, you'll know the pain of playing in a shoe that doesn't have compatible traction with your style of play and court surface.
If you predominantly play on indoor courts, you'll want to look for a softer outsole with a more aggressive traction pattern with a hard bite to combat the dusty and smooth indoor surfaces.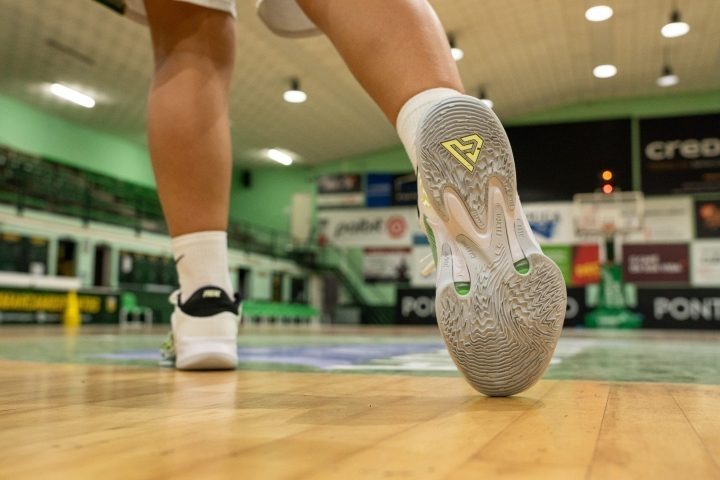 On the other hand, when choosing shoes for the blacktop (outdoor courts), you'll want to avoid soft and translucent outsoles as they will wear much faster on the more abrasive surface.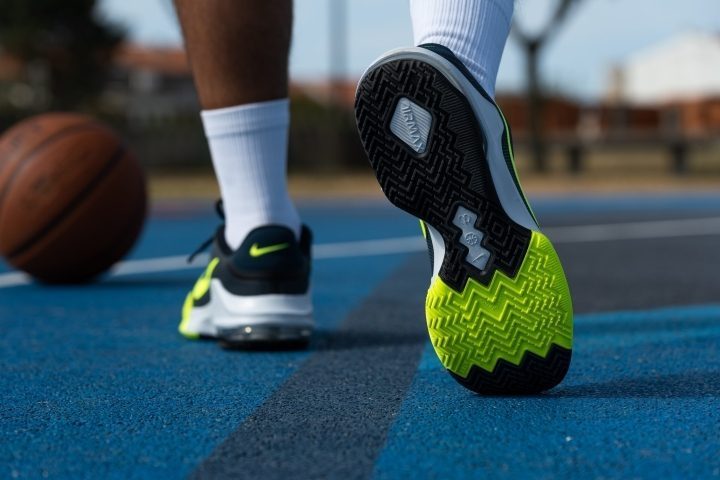 We measure both thickness and hardness of each shoe's outsole rubber to better understand its capacity for outdoor use.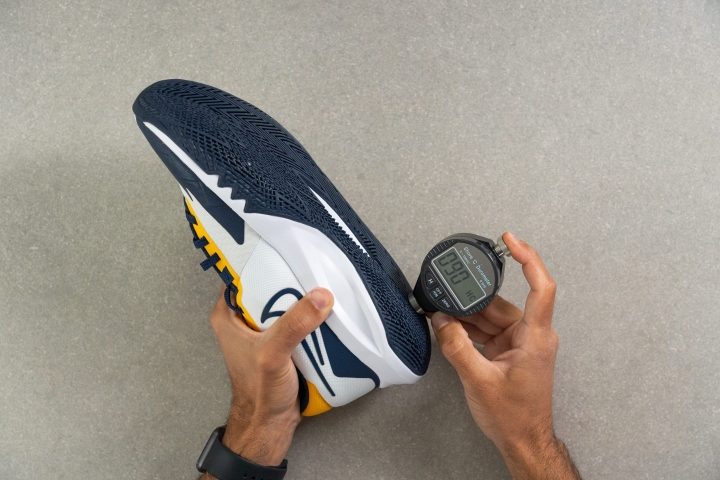 Herringbone traction patterns are traditionally known to provide the best grip on the court and most main manufacturers use their iteration of this traction pattern in most of their shoes.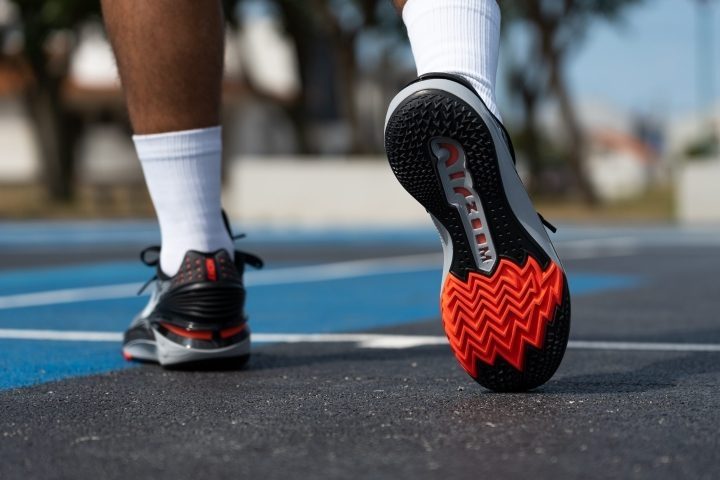 FAQs about ankle support in basketball shoes
Can wearing basketball shoes with ankle support improve my performance on the court?
Basketball shoes with ankle support do not necessarily improve performance. There is anecdotal evidence that suggests the risk of overuse injuries is lower in shoes with ankle support. And many players find it easier to play at max intensity when wearing a shoe with good ankle support.
Can I wear ankle braces or other external ankle support with basketball shoes?
Yes, Ankle braces are designed to fit inside Basketball shoes. Still, we recommend testing shoes with your brace to ensure comfort.
Note: Some braces may take some time to break in.
How we test basketball shoes
To ensure the validity of our claims and eventual assessments, no review was written without us playing in the shoe first. Our experience on the court served as the major determinant of the basketball shoe's fate in our rankings. In addition to this, we include the following:
Don't get us wrong, free shoes are nice and we will always be grateful for them. However, the sponsorship arrangement may cloud our judgment. As reviewers, we feel it's best if we keep sponsors at bay.
The results and data we collect in our lab testing.
Before we finalize our reviews and our picks, we make it a point to cut the shoes into pieces and test them closely. We find that the values for different parameters that we gather in our lab help us conclude what're shoes best for various categories.