3 Best Adidas Tennis Shoes in 2023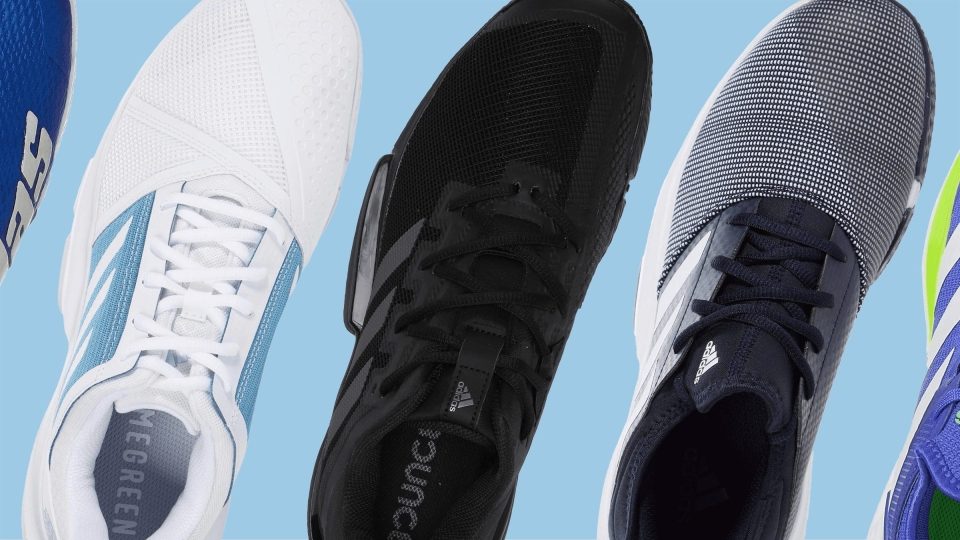 We earn affiliate commissions at no extra cost to you when you buy through us. Why trust us
We wear-tested over 10 pairs of Adidas tennis shoes to extract the top-tiered ones worth adding to your tennis shoe racks. We spent over a week scrutinising the performance value of every pair of recently released Three Stripes tennis shoes. We played in them on both clay and hard court and observed where they were more suitable. Besides that, we also took note of the other factors that affect or tick the shoes. In the end, we picked the ones that shine in different categories, making them our top recommendations!
Best Adidas tennis shoes overall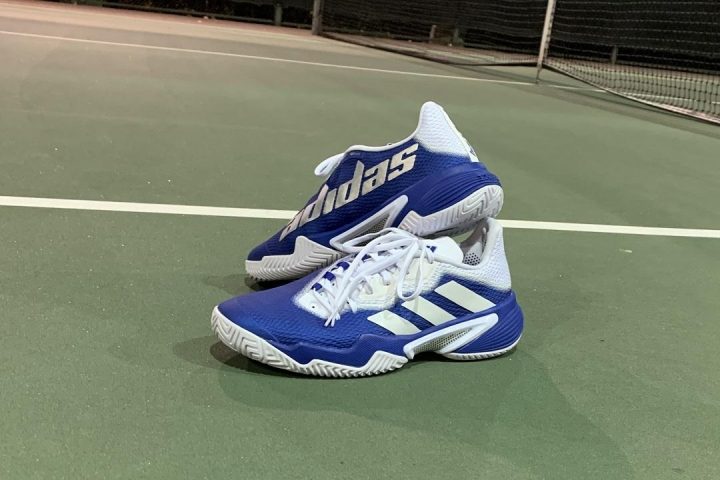 What makes it the best?
The Adidas tennis shoe that dominates courts with its excellence and performance is the Adidas Barricade. We found that it not only leads the Adidas pack but it also redefines the game with its staggering reliability in quality, stability, and immense comfort.
Adidas Barricade gave us a sense of exceptional lightness and agility and we are obsessed! We moved on the court with graceful and effortless coordination because of its airy construction. However, we discovered that another reason for this is the overall supportiveness of the shoe which promoted our precise and steady footwork. Our feet also remained adhered to the shoes through vigorous court plays.
We also discovered that the Adidas Barricade is the supreme choice for enduring quality. We played on this shoe multiple times and it sustained no damage, from the outsole up to the upper. However, we observed that the shoe required some time before it conformed to our foot shape and became totally comfortable. We actually experienced heel scraping in the first few sessions. Therefore, if you found zero break-in periods essential, we recommend checking out other tennis pairs that are great right off the bat.
Pros
Great lockdown
Good stability and support
Lightweight
Durable
Breathable
Responsive feel
Good fit
Cons
Longer break-in period
Aggressive back will dig into heel
Expensive
Full review of Adidas Barricade
Adidas tennis shoes with the best durability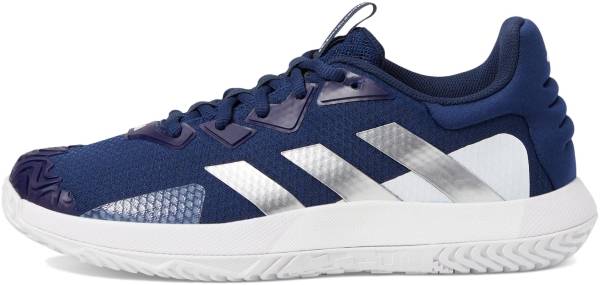 What makes it the best?
High-impact motions, nimble rotations, and sudden stops – none of our power-driven play on the court affected the integrity of the Adidas Solematch Control, which is why it is our number one durable Adidas tennis shoe.
The upper of this tennis shoe is wrapped with reinforcements, which affords our feet a snug fit. On the other hand, we do not fear that the shoe will let us down during games because the reinforcements also serve as an extra layer of a barrier from abrasions caused by frequent shoe dragging.
Despite the upper overlays, we found that the breathability of the Solematch Control isn't compromised. Instead, we confirmed that it offers fantastic foot ventilation that keeps our toes fresh and dry.
The downside is that we realized that its fit is too restrictive for players with medium to wide-width feet. Due to this, if you have broad feet, we suggest picking up the Solematch Control in a half-size larger than your usual. Or better yet, look for other tennis shoes with wide options.
Pros
Responsive insole
Comfortably flexible
Well-padded overall
Ankle supportive
Provides extreme toe protection
Incredibly grippy
Breathable
Cons
Needs a break-in
Doesn't have a shank
Full review of Adidas Solematch Control
Best Adidas tennis shoes for clay court
Comparison of the 3 best Adidas tennis shoes
| | | | | |
| --- | --- | --- | --- | --- |
| Best | | | | |
| CoreScore | | | | |
| Users rating | | | | |
| Experts | | | | |
| Best price | | | | |
| Ranking | | | | |
| Popularity | | | | |
| # of colorways | | | | |
For generations, Adidas has been serving up tennis shoes designed to appeal to players of all levels, from beginners right through to ATP professionals.
Synonymous with both performance and aesthetics, Adidas offers a broad range of tennis shoes that incorporate some cutting-edge technology plus the classic designs for which they are known.
The ultimate what, why, and how guide
In this 'what, why and how' guide we'll take a deep look at each of the above seven factors and features to consider when searching for the ideal pair of Adidas tennis shoes. So get ready to step up your game and enjoy learning about:
What really makes the best Adidas tennis shoes, and
Why that's important to your game, and
How Adidas does it, including the technologies they use.
Let's start by first knowing exactly what it is we're looking at…
7 key factors in tennis shoe selection
Technology: Good shoes means good tech, something Adidas continues to innovate and improve upon.
Surface adaptability: Tennis shoes aren't just a one-purpose-fits-all. Clay courts, for example, require clay court-specific shoes.
Cushioning: If you're going to spend a fair bit of time on the court, it's only reasonable that you're comfortable when doing so.
Support: Tennis can be hard on the body. Good shoes solve that problem.
Right fit: Getting the correct size shoes that fit you nicely is critical to enjoying your tennis play time.
Durability: It's disappointing to find a fantastic pair of tennis shoes only to find out later that they don't last very long. Adidas has specific manufacturing techniques to ensure this doesn't happen to you. 
Aesthetically pleasing: Regardless of abilities, every tennis player wants to look good on the court - something Adidas figured out decades ago. That trend continues to this day.
The Adidas appeal
The iconic Adidas brand is easily identified with its famous three stripes which are typically located on the sides of each shoe, and complemented with the Adidas logo - often on the outside of the tongue. Due to its simplicity and popularity, many brands have attempted to copy the Adidas designs, yet none have been too successful. 
Adidas tennis shoe technologies
For many decades Adidas has been at the forefront of tennis footwear, and their modern technology is a testament to a brand that knows how to consistently innovate and improve, all in the name of assisting the people who wear their shoes. Let's take a closer look at some of the tech Adidas uses in their tennis shoe range:
Adidas AdiPRENE
Introduced in 1996, Adidas' AdiPRENE technology is located in the shoe's heel and serves as a reliable safeguard against the rigours of intense training and matches. Its primary function is to absorb shock effectively, offering dual benefits: protecting your heels from excessive stress and preserving your joints. This specialised material is engineered to endure all court surfaces, ensuring optimal playability and comfort throughout your game.
Adidas AdiPRENE+
Tennis often involves fast movements and quick acceleration, especially during serves and net approaches. Adidas' AdiPRENE+ is commonly positioned beneath the toe section of the shoe, although it can also extend across the entire front portion of the foot (full forefoot AdiPRENE+). This innovative technology plays a pivotal role in enhancing your tennis performance by facilitating a smoother take-off with each step. It also provides a responsive and springy feel, which is a nice addition to a game of speed and agility.
Adidas AdiTUFF
AdiTUFF technology by Adidas is specifically tailored to meet the demands of sports such as tennis and handball. It incorporates a resilient, abrasion-resistant material that significantly enhances the longevity of the shoe's outsole. This durability factor is of utmost importance in sports characterised by frequent lateral movements.
Adidas AdiWEAR
AdiWEAR technology by Adidas is found on the outsoles and is designed to extend the lifespan of your shoes. The material is inherently wear-resistant and is known for its durability, even under continuous strain.
Blown Rubber
Adidas' Blown Rubber sets itself apart from its solid rubber counterpart by undergoing a unique process where the rubber is expanded, or "blown up" if you prefer. This results in a lighter-weight material that offers superior traction compared to conventional rubber.
Boost
Adidas' Boost technology is tailored for the demands of tennis, seamlessly merging comfort with superior bounce-back capabilities, ultimately delivering a surge of energy with every step on the court. Unlike traditional EVA cushioning, Boost cushioning is noticeably softer, yet remarkably efficient at returning energy. In the past, comfort often meant sacrificing speed, and vice versa – cushioning was associated with softness, while energy return leaned towards firmness. Boost technology disrupts this trade-off. It strikes the perfect balance, offering both comfort and speed, making it the ideal choice for tennis players. Lightweight, breathable, and contoured to the natural shape of your foot, Boost technology ensures a more personalised and comfortable fit during your tennis matches.
Bounce
Adidas' Bounce technology creates a tennis-specific midsole that optimises energy transfer and delivers a natural bounce-back with every move on the court. The inclusion of anti-collision protectors within this design is tailored for tennis performance. This unique configuration translates into heightened performance and comfort, regardless of whether you're playing in hot or cool conditions.
ClimaCool
Adidas' ClimaCool technology is designed to offer the ultimate in tennis footwear ventilation. Tennis shoes equipped with this technology often feature strategically placed perforations in the midsole, complemented by a vamp crafted from breathable "pearl canvas" textile. This design is tailored to keep tennis players cool and comfortable on the court, ensuring optimal breathability for top-notch performance.
Torsion System
Adidas' Torsion System technology incorporates a lightweight arch support mechanism that facilitates independent movement of the forefoot and rearfoot. The outcome is superior surface adaptability and enhanced stability. Extensive development and refinement efforts have led to Torsion System variants tailored for specific sports. In the case of adidas tennis shoes, this translates into notably improved lateral movement, a key advantage for tennis players.
Different shoes for different surfaces
Most Adidas tennis shoes are made for 'all court' surfaces, meaning they are suitable for all players across each of the different playing surfaces. However, for more advanced players shoes that are specific to a certain surface type are more appropriate. Let's take a look at what that means, and how the folks at Adidas have dealt with it.
Hard courts
For hard courts, which are known for their durability and speed, you'll want tennis shoes that provide excellent traction and stability. Adidas has models equipped with durable outsoles and superior grip, ensuring you can move confidently and make quick lateral movements without slipping.
Clay courts
Clay courts require tennis shoes that offer excellent grip on the loose surface which can handle sliding across the court. Adidas tennis shoes designed for clay courts will feature clay-court-specific outsoles to provide the necessary traction.
Grass courts
Grass courts are considered the awkward 'in between', one which requires a balance of both grip and slip, allowing for smooth movements and changes in direction. As this surface is relatively unpopular, Adidas does not make tennis shoe options designed specifically for grass courts. If you play mostly on grass courts you have two options:
Choose from Adidas' all court series, or,
Choose another brand like Asics, who make some great tennis shoes for grass.
Cushioning for comfort
Adidas understands the importance of cushioning in their tennis shoes. Designed primarily to provide shock absorption during play, well cushioned shoes will make your time on the court more comfortable with less stress and impact on your feet and joints.
Look for models which use Adidas' proprietary Boost or AdiPRENE technologies.
Support for stability
Adidas tennis shoes are designed to offer support during the rapid lateral movements, sharp turns and quick pivots that tennis is famous for. With lightweight arch support you can adjust your rearfoot and forefoot independently, which in turn allows you to confidently run around the court without fear of losing control or rolling an ankle.
Look for models which use the Torsion System technology in the shoes.
Getting the right fit
The perfect pair of tennis shoes should fit like a glove and offer a snug and comfortable fit. Finding the right balance is essential; they shouldn't feel overly tight or excessively loose. These shoes should facilitate effortless movement while ensuring ample cushioning on the inner sole for maximum comfort. Unlike the process of breaking in leather shoes, tennis shoes are designed to deliver instant comfort and performance right from the start.
Adidas tennis shoes run true to size. Use our online Adidas sizing tool to find your perfect size.
Going long with Adidas
Hang around at tennis clubs long enough and conversation will invariably end up at how long tennis shoes last. Manufacturers could arguably benefit from shoes that don't last very long (therefore forcing you to purchase another pair shortly after, and then another pair… etc), but many manufacturers like Adidas have worked in the opposite direction as they attempt to produce shoes that last. Here's what they're working on behind the scenes:
Durable materials: Adidas places a strong emphasis on using high-quality materials, with strong outsoles and extra reinforcement.
Toe protection: One of the areas you'll notably find this extra reinforcement is in the toe area of the shoes. For tennis players, this helps guard against abrasions especially during frontward forceful actions such as serves and volleys.
Outsole strength: Adidas has a tendency to seek out or create technologies to avoid excessive wear on surfaces such as tennis courts. One such piece of tech is in their AdiWEAR outsoles, which are designed for long lasting performance.
Create a regular maintenance routine
It's not all down to the manufacturer, there are a few things you can do to ensure you get maximum use out of your Adidas tennis shoes. Specifically, regular, proper care and maintenance can extend the lifespan of your Adidas tennis shoes. Over time, the cushioning and support can degrade so making an effort to keep these in tip-top shape is a good start.
Replacement strategy
Don't string your shoes along, even the most comfortable, trust-wrothy, lucky pair of tennis shoes need to be replaced. As a general guideline most amateur players replace them every six to twelve months, depending on how much they play. 
If you have important tournaments or events in your calendar, consider these as well when you consider your shoe replacement strategy. Some players will want to wear a brand new pair of fresh kicks for important matches, and others will prefer their 'old faithfuls'. Make your decision early, and take actions accordingly.
3 stripes for design, 5 stars for style
Adidas is one of the original manufacturers to make footwear specific for tennis players. To this day they offer tennis shoe models that range from modern and bold to timeless classics, with players of all ability levels catered for.
Colour options are predominantly white but if you want to add some flair to your time on the court there are many colourful options available, allowing you to show off your individual personality and style.
Whatever your preference is aesthetically, Adidas know how to create a captive audience - their trademarked three stripes might be simple but their tennis shoe styles are famously popular, it's hard to go wrong with a pair of shoes designed by Adidas.
Frequently asked questions
How long should my Adidas tennis shoes last?
As a general rule, tennis shoes usually last about 45-60 hours of use before wearing out. So, if you play once a week for an hour, you should be replacing your shoes at least once a year.
While the number of hours may provide a good benchmark, it's best practice to monitor how the shoe feels over time. Unlike running shoes where you can gauge how much mileage you've logged, tennis shoes are a bit trickier. The duration of use, style of play, type of court, shoe construction, and player type can all significantly influence the lifespan of a court shoe.
What's the difference between AdiPRENE vs AdiPRENE+?
While both AdiPRENE and AdiPRENE+ technologies offer cushioning, AdiPRENE focuses on heel protection and impact absorption, while AdiPRENE+ is more geared towards enhancing the responsiveness and take-off phase of your foot's movement, contributing to smoother and more efficient performance. Both are pieces of intellectual property developed by and for Adidas.
How we test tennis shoes
No tennis shoe release goes overlooked by our team of tennis experts. 
We acquire the shoes that we will test and personally pay for them. This is to prevent us from feeling obliged to produce positive reviews.
We inspect each new release closely and playtest them while considering stability, durability, traction, fit, and comfort. We take them to hard and clay courts and spend a considerable amount of time playing in them regularly to fully gauge and observe their limits in different aspects.
We go back to our lab and perform more testing that includes anatomizing the shoes, measuring and weighing their components and parameters, and calculating the percent change difference of each value to the averages.