The Adidas Supernova+ is a less cushioned shoe with neutral support. Made of durable recycled materials, it's ecologically conscious as well as functional. It can be recommended to anyone of average-to-light weight as a training shoe for a road race. It may not suit heavy strikers who typically wish for more cushioning and motion control. But this is also an excellent shoe for beginners up to intermediate runners and makes an excellent daily trainer with a lot of style.
Pros
Excellent energy return
Very lightweight
Durable
Secure lockdown
Reasonably-priced
Reflective elements
Eco-friendly materials
Stylish
Cons
Not for wet roads
Not for hot weather
Fits narrow
Adidas Supernova+ review
Adidas is a brand with a long history of making running shoes that have such good style that people sometimes buy them for that reason only. In the case of Supernova+, I have found that performance is every bit as good as the style. High energy return is a key feature of this shoe. It definitely propels a runner forward. The ride is like a sports car, firm yet responsive.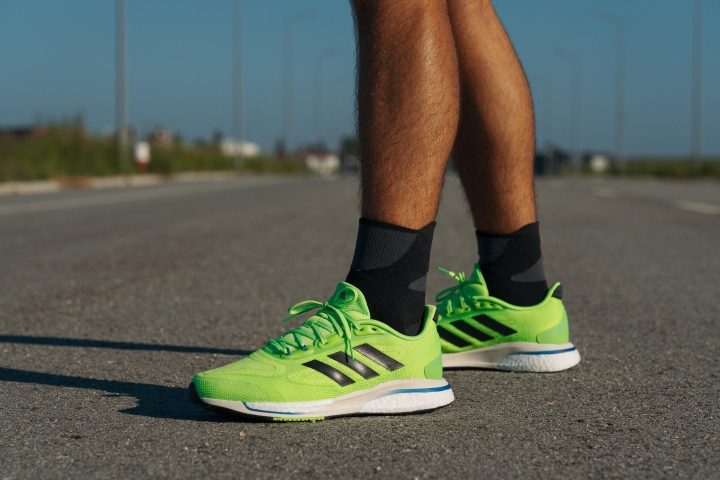 Who should buy the Supernova+
The Adidas Supernova+ is recommended for runners who:
want a shoe that can perform in 5K, 10K, and half marathon races
need a daily trainer that can easily pick up the pace
are heel strikers and appreciate the wide and well-cushioned heel
like a shoe that's equally at home wearing around with jeans when not running.
Who should NOT buy it
Consider other shoes if you:
need a lot of cushion (in this case, try the Adidas Alphabounce+)
have a need for motion control and enhanced stability (the Solar Glide ST has effective stability features)
have wider feet (the Adidas Ultraboost 21 has a stretchy upper that is suitable for wider feet)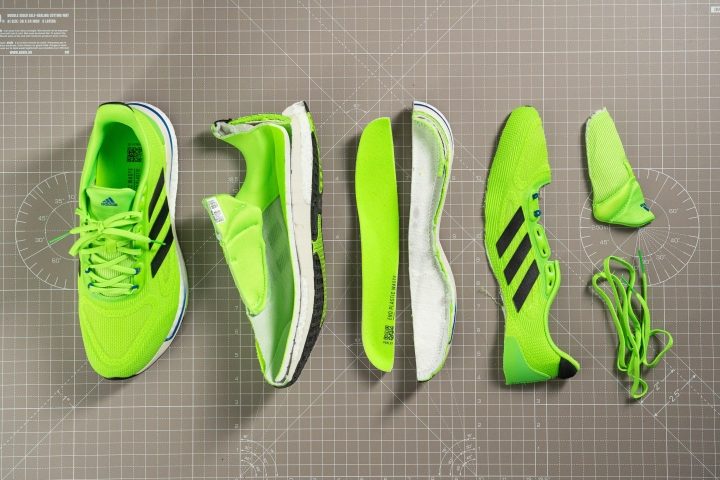 Average breathability but keeps feet warm in winter
The Supernova+ appears to be a little below average in terms of breathability compared to other shoes in its category. I can say that it will keep your feet warm in winter but it is definitely not the best choice for the hottest months of summer.
A sports-car-like ride in the Supernova+
The Adidas Supernova+ is a firm shoe that provides a sports car-like ride. It's not super cushy, but the tradeoff is the way it feels after each foot strike. You feel light and full of energy because it seems to bounce right up off the pavement.
I do think that a heavier runner might not enjoy the run as much because they might want more cushioning. It's always a tradeoff between comfort and ride, but these shoes definitely tend towards less cushion and more bounce and forward propulsion.
Fact check
Don't think of it as lacking in cushioning though. Having measured the heel stack, it is 30.7 mm. Just a couple of millimeters less than the average (32.7).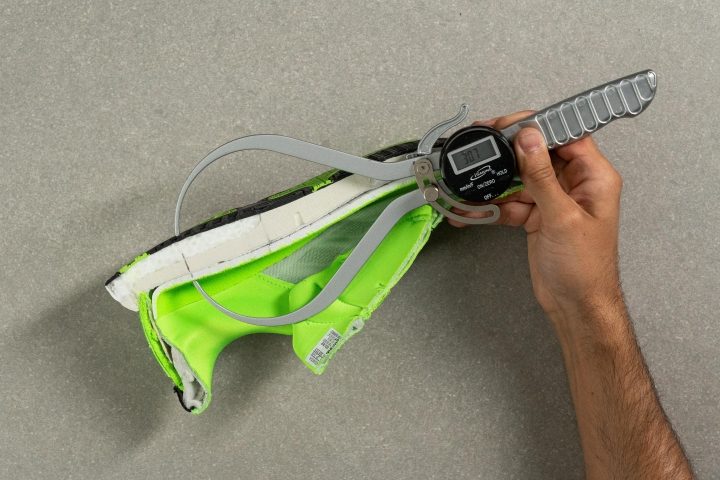 After 100 km of testing so far, these shoes still retain their firmness. There is no tendency to break down, and in fact, they still feel new.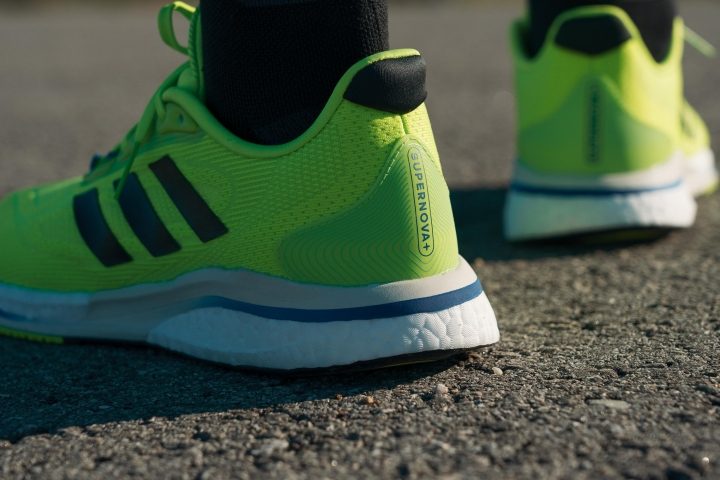 Ideal for the forefoot striker
If you like a firm no-nonsense ride with less cushioning there will be little adaptation to these shoes. I found that despite the great energy return there is not much rocker to the shape and they tend to be flatter on the bottom. This is great if you are a forefoot striker and not as ideal if you are a heel striker, yet heel striking is well provided for by the large heel surface as seen from behind.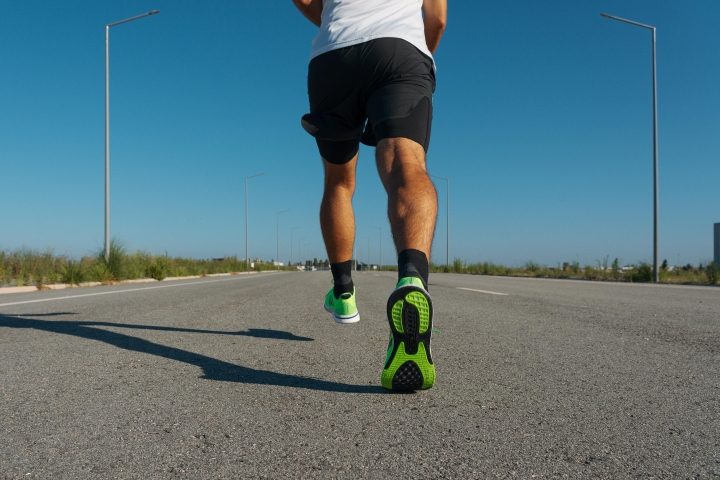 Fact check
This is odd given that the heel-to-toe drop in this Adidas shoe is 10 mm (according to the brand) and 9.3 mm based on our lab measurements. Daily trainers with this drop normally feel more cushioned in the heel.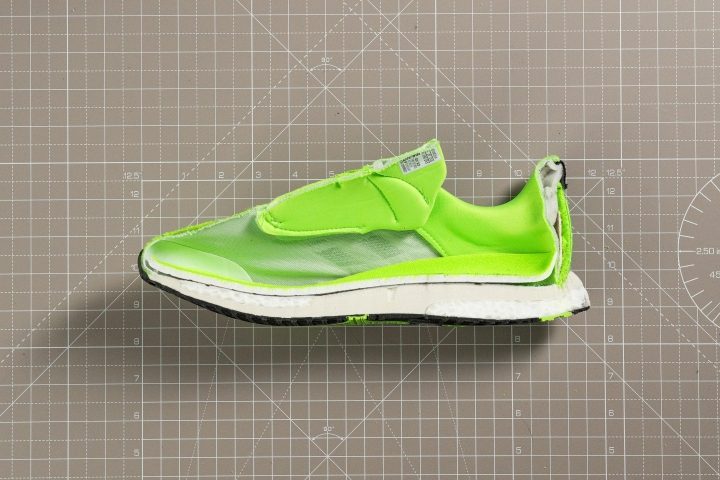 The Supernova+ felt solid on faster interval training
During my 100 km test, I ran on pavement for approximately 80%, and track for 20%. The shortest run was 5K and the longest was 21K. The pace varied from 4:30 to 6 minutes per kilometer. The Adidas Supernova+ felt solid, particularly on the faster interval work on the track which had a rubberized all-weather surface. It is in fact one of the best training shoes for the track I've tested.
Tendency to slip a little on wet pavement
For dry roads, there is no question that the contact patch of the Adidas Supernova+ provides lots of surface area to grip the road. During a couple of runs on wet pavement, however, they had a tendency to slip a little particularly on hills or around corners. An added degree of caution would be good for rainy days on pavement.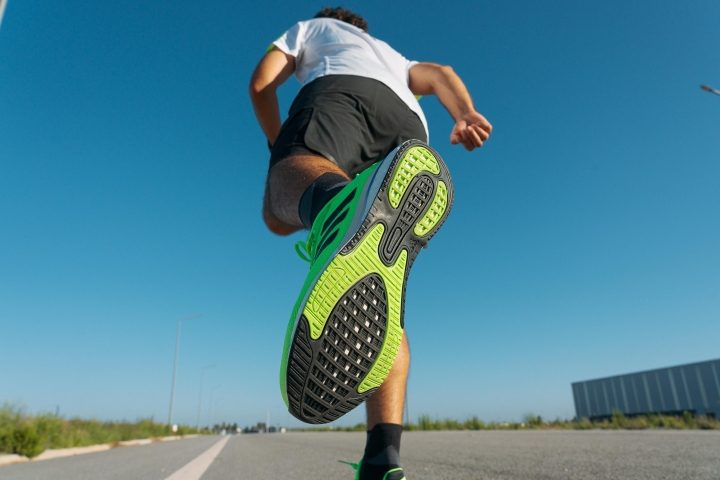 Fits snug: might need to go a half size up
The upper and interior of the shoe can feel a little tight on the foot, so it may be prudent to order up a half size in this shoe. In testing, they were not so tight as to cause issues with my feet, however, in a long run like a marathon, the snug fit could cause hotspots or even blisters. Fit correctly, the shoe is super comfortable.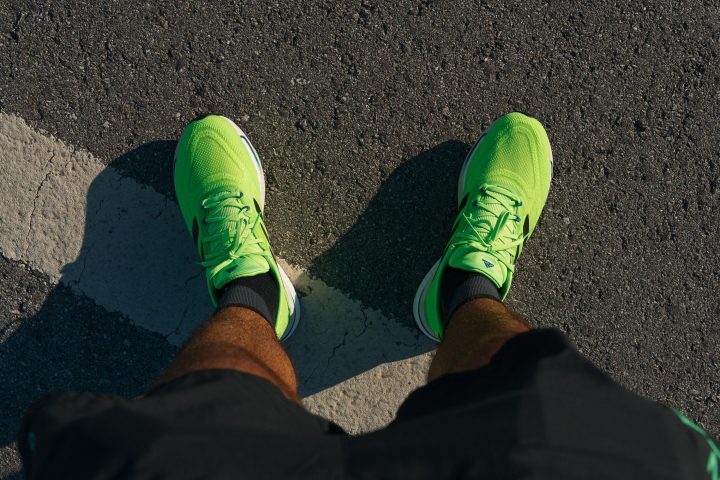 Additionally, you can try alternative lacing options to adjust the tightness where the pressure points fall for you.
Not wide feet friendly
In terms of width, it is best for a narrow to average foot. Wider feet will be more comfortable in a wider shoe.
Fact check
Unfortunately, being wider than average near the ball of the foot (100.4 mm over 98.6 mm) doesn't save the day for the Supermova+. The forefoot gets noticeably narrower towards the toes and the compressive nature of the knit material doesn't make it better.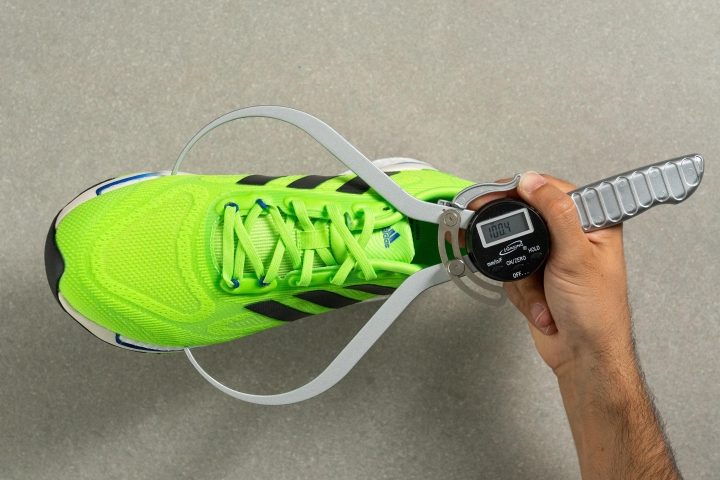 No lockdown issues
The Adidas Supernova+ doesn't have alternate lacing options via extra holes, but there is the option to skip the top two holes and tie from the second set of holes at the top. This will make people with high arches happy because it allows for more height and no tying the arch down uncomfortably. The other option is to simply tie the top most lacing less tightly while still using those eyelets.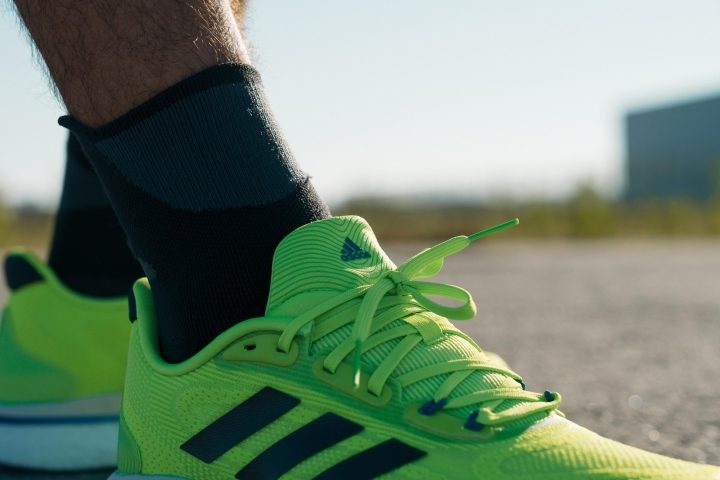 Visible at night
The large overlays on the heel light up in the dark when you hit them with light. I found this feature very helpful coming back late from my runs.
The insole is well-padded, removable, and doesn't slide
The insoles are really well made without the tendency to curl up after a few hundred kilometers. It also adds a good amount of underfoot padding, being 4.4 mm thick in the heel part. For comparison, the average insole thickness across running shoes is 4.6 mm.
The Adidas Supernova+ is really attractive
To me, the design of Supernova+ is really attractive. I think it's a really nice-looking shoe in its various color combinations. They are striking and can be worn with jeans as easily as used for running.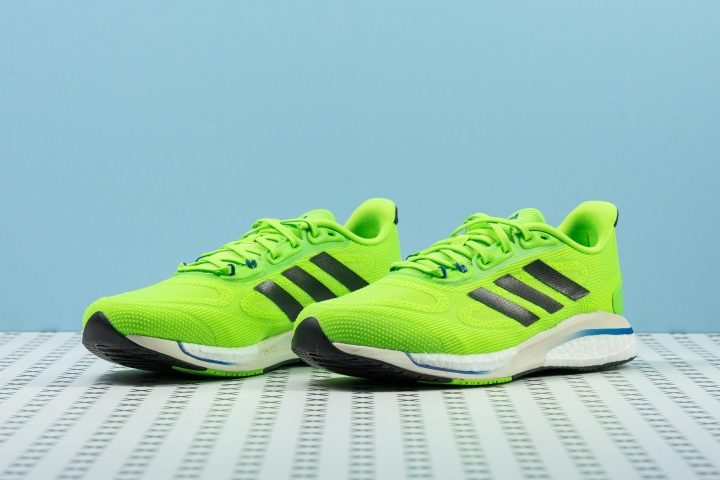 Reasonably priced
With the suggested list price of $120, the Supernova+ is right at the average of daily running shoes from various brands ($119). For the price, it is a solid, durable shoe with all the right features for road running.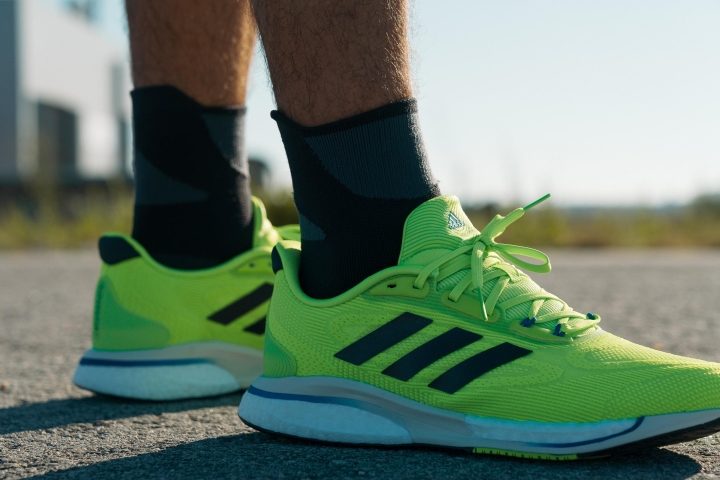 Adidas Supernova+
Average
Whole shoe

Weight (g)
315

275

Drop (mm)
9.3
8.9
Flexibility of the shoe (N)
28.2
30.2
Flexibility of the shoe (Freezer 20 min) (N)
39.7

40.0

Flexibility of the shoe (% of change)

40.9

32.9

Longitudinal flexibility (1-5 scale, 5 being the stiffest)
3

3.4

Torsional flexibility (1-5 scale, 5 being the stiffest)
3

3.6

Upper

Thickness - Tongue (mm)
4.1

6.1

Width Upper - Forefoot (mm)
100.4

98.7

Width Upper - Heel (mm)
73.9

76.4

Lace Stretch (1-5 scale, 5 being the most stretchy)
2
2.6
Flexibility of the heel counter (1-5 scale, 5 being the stiffest)
3
3.1
Tongue: gusset type
-

-

Heel: pull tab
-

-

Midsole

Width Midsole - Forefoot (mm)
100.3

111.9

Width Midsole - Heel (mm)
88.9

89.0

Stack - Forefoot with insole (mm)
21.4
24.1
Stack - Heel with insole (mm)
30.7

32.8

Durometer Midsole Heel (Room temperature) (HA)
25.6

29.8

Outsole

Outsole thickness (Heel) (mm)
3.0

3.6

Lugs Depth (mm)
-

3.4

Durometer Outsole Heel (Room temperature) (HC)
76.5

81.2

Insole
Insole Heel Thickness (mm)
4.4

4.7

Insole: removable
yes
-