Verdict from 5.7 hours of research from the internet
5 reasons to buy
The New Balance Fresh Foam More gave a relaxed fit, some reviewers said.
A few users agreed that the shoe promoted fast paces.
Many wearers noted the comfort provided by the Fresh Foam midsole. Some mentioned that it felt nice on the foot even when worn for long periods of time, while others described it as "walking on clouds."
Several customers liked that the Fresh Foam More was lightweight.
Some runners noted the shoe was more flexible compared to other New Balance models.
3 reasons not to buy
The mesh quickly frayed within just one week of use, according to a couple of customers.
Some users noted that the outsole had worn out easily. One, in particular, said their shoe showed signs of wear after just 150 miles.
The heel cup rubbed against the skin, which felt uncomfortable, a number of wearers reported.
Bottom line
For a new model, the New Balance Fresh Foam More proved to be a fantastic running shoe, as many users were pleased with its performance. Runners were quick to praise the shoe's comfort level brought about by exceptional materials and lightweight structure. However, some customers were not convinced of its durability. The overall reception for the Fresh Foam More is at the average, with the majority of consumers satisfied with their purchase.
Tip: see the best running shoes.
Our reviews
New Balance Fresh Foam More is the new neutral road running shoe in New Balance line up. Fresh Foam More is launched in June 2019 and is the brand's first maximalist shoe.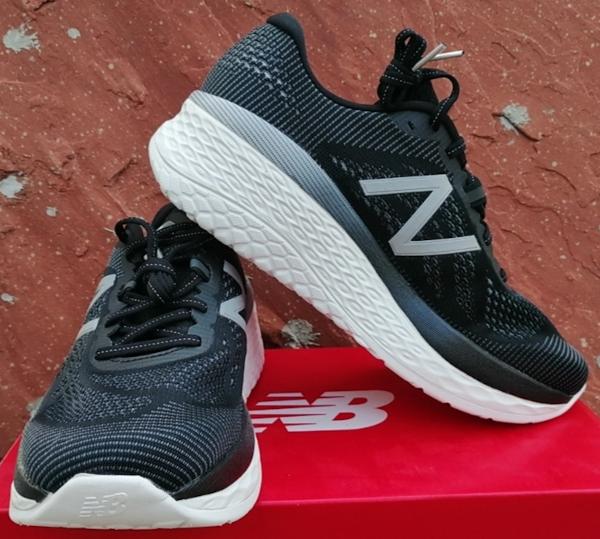 The shoe has limited colourways, which are black, blue and grey. By the looks of the Fresh Foam More, it seems very soft and plush shoe. Let us find out what this shoe has to offer.
Technology used
Fresh Foam Midsole
Engineered mesh upper
Laser-engraved midsole
Specifications
Pronation: Neutral
Offset: 4mm
Weight: 292gm (US10 or UK9)
Cushion: Soft
Closure Lace-up
Terrain: Road
Best used: Long easy runs
Upper
New Balance Fresh Foam More features an engineered mesh upper. According to New Balance, this upper creates a precision fit, providing support where needed.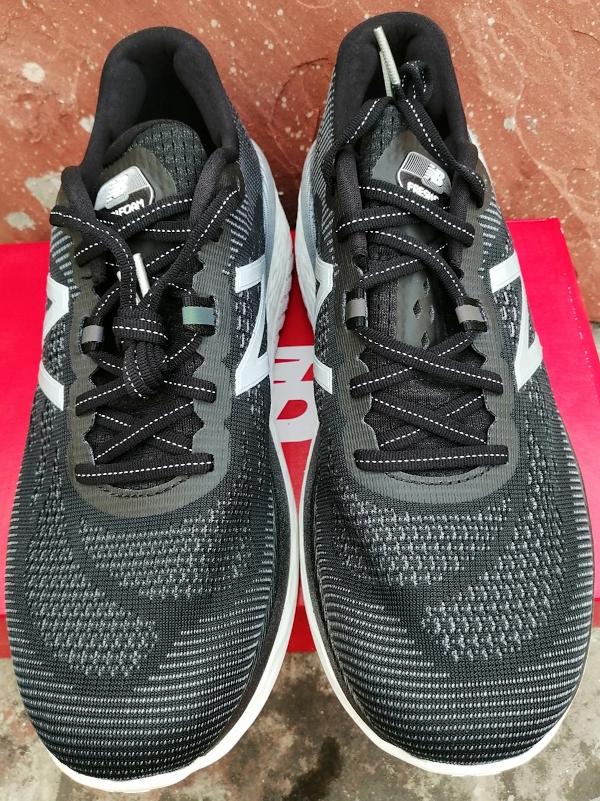 The upper has semi-circular-like patterns and laser-cut holes for breathability. Each lateral side has the 'N' branding that reflects in the dark.
I like the way the upper hugs the foot and provides excellent support. It is also very breathable and will be comfortable to use in hot weather.
Tongue
The tongue is made up of mesh and has just the right amount of padding at the right places.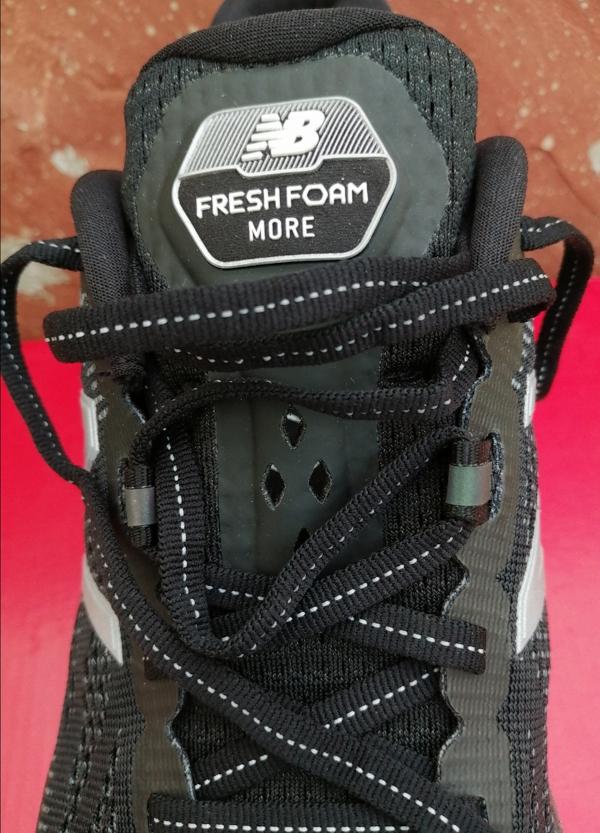 A 3-D label of Fresh Foam More is also pasted on the tongue. There are also diamond-shaped holes for breathability.
Toe box
I found the width of the toe box on the narrower side. Runners with average toe width will be fine with it.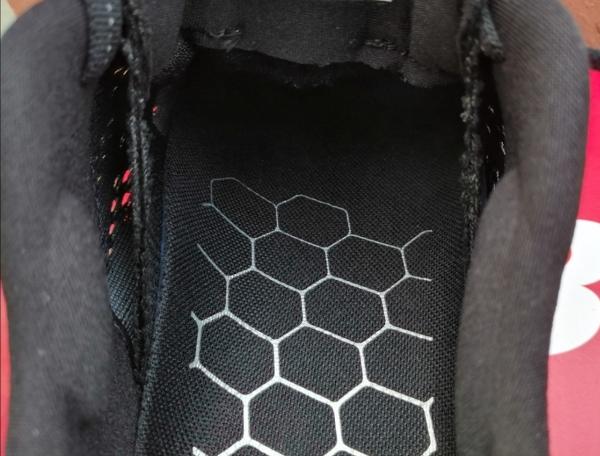 But, someone who prefers extra space for toes to expand on longer runs will have to go for a 2E width option. However, runners with wider feet will have to go with the 2E width option.
Heel counter
Fresh Foam More has very low heel height. It has an internal heel cup, which is very stiff and supports the heel while running on uneven surfaces and changing directions swiftly.
New Balance has also provided proper heel pods of foam in the heel for better heel lockdown. But, these foam pods might not be everyone's cup of tea.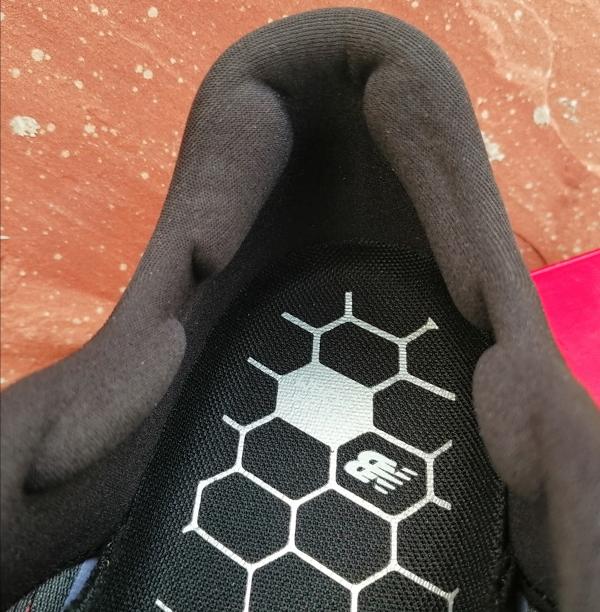 It took a few runs to get accustomed to it. These caused chafing in the heel so I would suggest wearing long socks for protection. Regardless, these heel pods kept the heel in place and locked down while running.
Midsole
Just by looking at it, one might think this shoe will be very heavy. But, with only 292 grams, it is very light as compared to a high cushioned shoe.
The whole stack is made up of Fresh Foam. The midsole also has laser-etched holes in it to keep the shoe's weight to the minimum.
When I started walking, the midsole felt very awkward to me. I found the midsole in the forefoot area much softer than the heel and cushioning in the heel, which feels firm.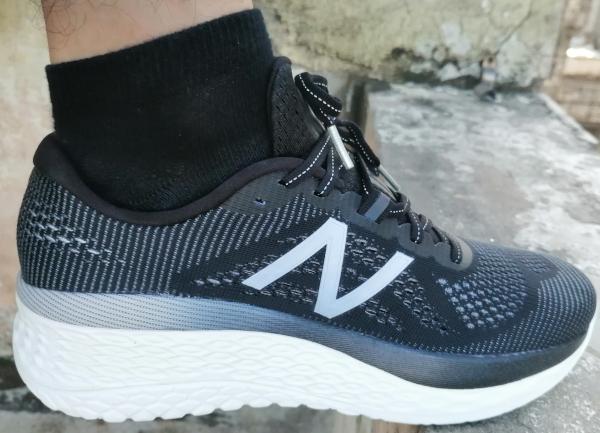 Regardless, it is responsive and provides sufficient bounce back. But, the stack of the midsole felt very stiff while running and caused pain in my calves.
When I took my first run, the shoe felt very unstable because of improper distribution of weight in the heel and forefoot.
It can also be attributed to the difference in density of the Fresh Foam in the forefoot to that in the heel. I did 10 miles in them in 3 runs and found the midsole as very clunky.
EVA railings are also provided along the midfoot for enhancing the stability and ride of the shoe. However, despite providing EVA railings, the ride felt clunky and unstable.
Outsole
Even the outsole of the Fresh Foam More is made up of foam and has no rubber at all. The main motive behind providing no rubber on the outsole is to keep weight to its minimum.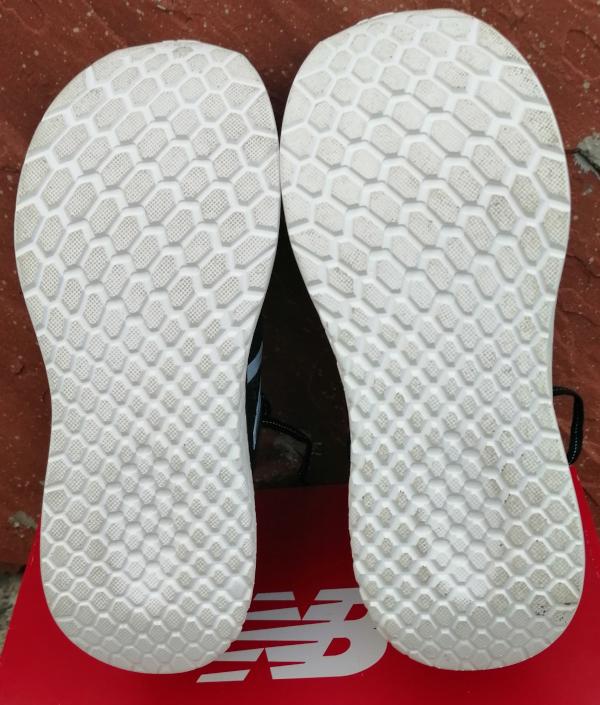 The outsole is made up of ground contact EVA, which has a honeycomb-like pattern that adds to the shoe flexibility. The ground contact EVA outsole did fine on dry surfaces.
But, when I tried them on a wet road, it felt slippery, and EVA outsole was not able to hold the ground properly.
Similarly, when I tried them on dry grass, they felt slippery. And, on wet grass, these failed to provide traction, and it felt like friction coefficient has become zero.
Even the durability of the outsole is not good. After putting 10 miles in them, the outsole has started showing signs of wearing.
In some areas, treads are completely worn out. The quality of the outsole is a big question mark on the shoe's durability for its cost.
Support
The midfoot is narrow, which provides a locked-in feel. As mentioned, Fresh Foam More also has a gusseted tongue, which wraps around the midfoot and provides a secured fit.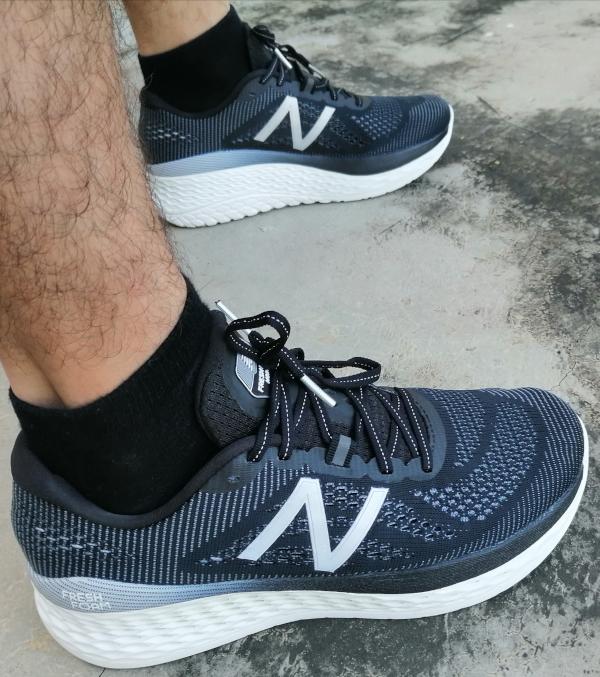 I did not find any problem while changing directions or running on unpaved roads. The jacquard mesh upper also provides a supportive and stable fit.
I must say that this year, New Balance has produced some great uppers. All in all, this shoe offers more than enough amount of support.
Ride and performance
Fresh Foam More has very high stack height, but still, it is a fairly lightweight shoe. New Balance markets Fresh Foam More as the most cushioned and soft shoe.
However, they are not as soft as they are advertised. They feel firmer as compared to other high cushioned shoe like Asics Nimbus or Brooks Glycerin.
Despite the 4mm drop, Fresh Foam More feels unstable, and the ground feel is significantly low. When I tried to pick up the pace in them, they felt more unstable.
The midsole is responsive enough to pick up the pace. However, its responsiveness is a total waste as I can't run at a higher pace because of the stability issue.
Now, I have started using Fresh Foam More as a walking shoe instead of a running shoe.
Fit
New Balance designed Fresh Foam More with the motive of providing a supportive and soft ride on long runs. The jacquard mesh upper managed to keep the foot in place while taking sharp turns and did not cause sliding.
The heel cup also managed to keep the heel secure and locked down without doing any changes in the lacing system.
As mentioned, I found the width of the toe box roomy enough and has enough room for toes to expand on longer runs. But, runners with wide feet have to go with the 2E width option.
Style
The syle of the shoe is below average, nothing too crazy. In 2019, when running shoes are becoming more and more good in looks, I think the Fresh Foam More will not be able to find its place.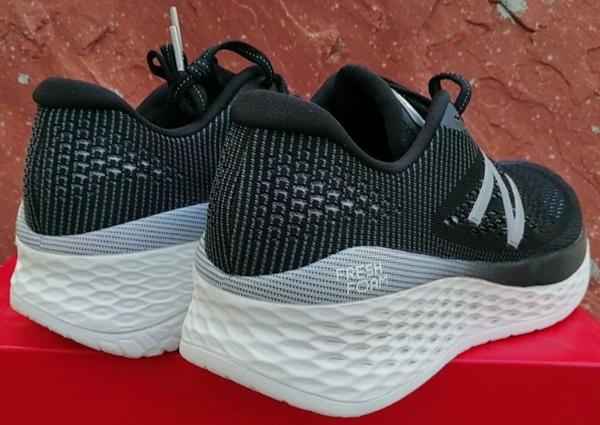 Hoka's, which are maximalist shoes too, look much better than the Fresh Foam More.
Pros
Great upper
Reflective material at lateral sides for safety
Cons
Clunky ride
Durability
Stiff structure of the shoe
Overpriced
Bottom line
Fresh Foam More is made to provide a soft and supportive ride, which it provides. But, due to the stack height of the midsole, it felt clunky and unstable.
I loved the jacquard mesh upper, which kept the foot in place and provided secure fit and support required on long runs.
I really wanted to like this shoe because of its highly functional upper. However, the ride of the midsole and durability of outsole let me down.
Another thing that I don't like about this shoe is its price. I think $160 is too much given the durability of the outsole.
If anyone is looking for a maximalist shoe, go with other options like Hoka One One or Skechers GORun Ultra, which are less in price yet offer much better performance.
And, if anyone is just looking for a cushioned shoe, go with the New Balance 1080 v9, Adidas Solar Boost 19, Asics Nimbus 21, or Brooks Glycerin 17. They all perform much better than Fresh Foam More.
The New Balance Fresh Foam More is a running shoe designed to cruise in. It has a unique style that you won't find in any other shoe in the New Balance range or many other ranges.
It has a thick, lightweight Fresh Foam midsole with a 'rocker toe' that curves upward away from the ground designed to facilitate forward propulsion. It also has the additional feature of limiting the amount of extension the forefoot experiences during the gait cycle.
Upper
The lightweight engineered mesh is cleverly reinforced in key areas to reduce excessive wear around the toe-box, and the functional logo offers support to the midfoot saddle.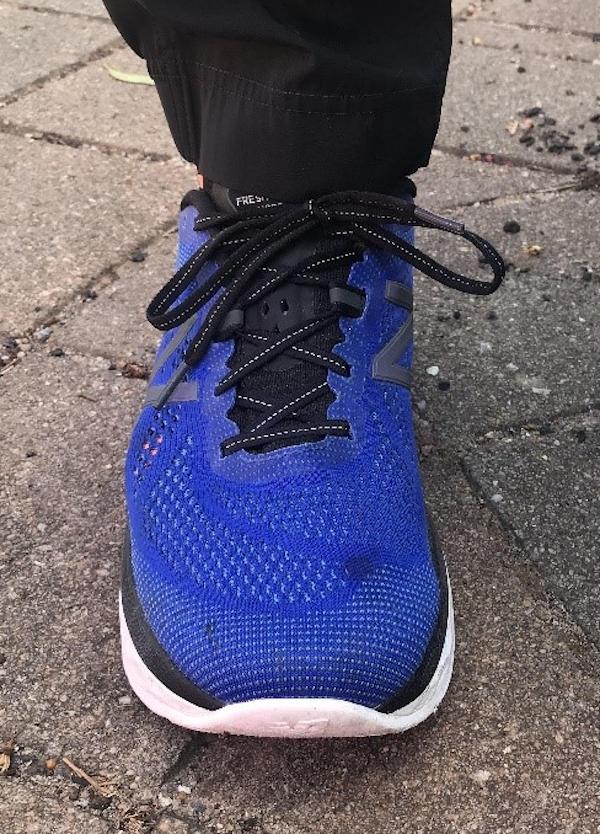 The heel collar used in this shoe is in line with the new style seen in a variety of other recent iterations of New Balance shoes.
Rather than having a cushioned ring around the heel, it has strategically placed moulded pads that help to fix the heel in place. Designers have saved on weight by keeping the additional cushioning to a minimum.
There are no uncomfortable stitch lines or pressure spots that affected the comfort and the fit in the inner lining. The semi gusset tongue allows for high instep feet to slide in and doesn't compress the topside of the foot.
The volume of this upper is generous enough to fit an orthotic in for those of us who need to add one for stability. The heel counter is a semi-rigid style that New Balance has been moving towards in some of the more recent iterations of their shoes.
Though it is considerably easier to compress inwards with your fingers and thumb than their traditional heel counter, it still does an excellent job of holding the foot firmly in place over the Fresh Foam midsole.
I found it to be overall generous and comfortable throughout with a high level of support.
Midsole
The thick Fresh Foam midsole is where the More changes things up. It looks very different from almost any other shoe and is certainly unique in the New Balance range.
It sports only a 4mm hell pitch. It means that unlike many other runners, it doesn't tip you forward and shorten the calf as you run.
The high stack height essentially doubles the amount of cushioning. This is perfect for heavier runners like myself. I'd recommend this shoe to a runner of any weight, no upper or lower limit.
It has a full ground contact throughout the heel to toe transitions. This is perfect for anyone who has any balance or stability issues.
The midsole is designed to be stiff, resisting forefoot extension where traditional shoes have grooves to facilitate such movement. This stiffness doesn't restrict the runners' propulsion because it is designed with a rocker toe that curves away from the ground and facilitates midfoot to toe-off motion smoothly.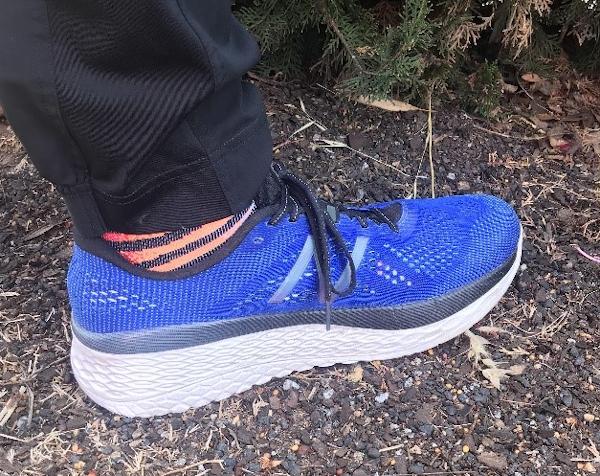 I feel that the midfoot to forefoot transition is snappy and accentuates propulsion. This style of the midsole is perfect for runners' who have forefoot pathologies such as Morton's neuromas, joint issues, or stress fractures.
Keeping the forefoot fairly immobile and still allowing a natural flow to the gait cycle, this midsole gives a unique running experience. It almost feels like your foot is propelled forward but held firmly in the transverse plane facilitating only sagittal movement.
The thick layer of Fresh Foam remains exceptionally light and offers a huge amount of cushioning. As far as shock absorption goes, this is one of the best running shoes I have worn.
Even running hard downhill, there is enough resistance in the foam to keep from any jarring impact affecting my ankle and knee joints.
Outsole
Interestingly enough, the outsole is not made of rubber. Instead, it is made of a high-density EVA with a hex pattern tread. This contributes to the cushioning and saves weight as rubber is actually very heavy.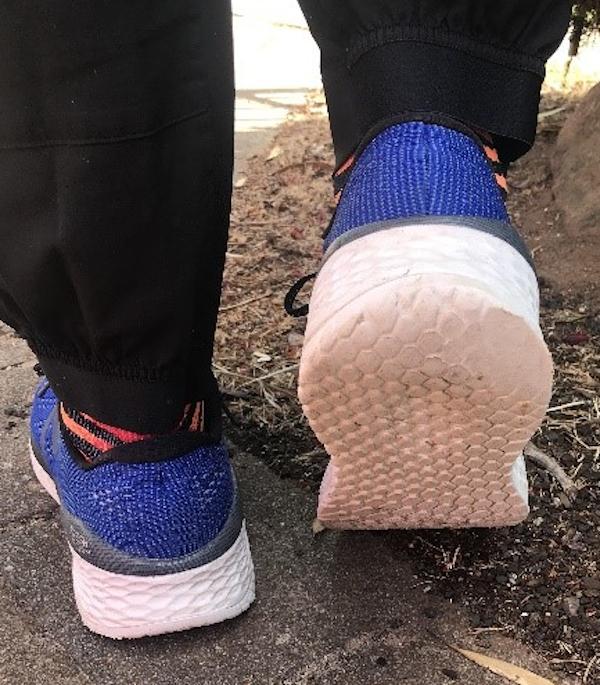 I found it to be suitable for road, pavement, grass, and light gravel—no issues with slipping or wear.
Over 100km, I noticed only slight wear at the lateral heel where I make initial ground contact in these shoes. Though a flat spot has developed, the outsole material is quite thick and still has a good 4-5mm before it wears through to the midsole.
Overall
New Balance has aimed to provide a lightweight and highly cushioned cruising shoe for any distance. They have catered for runners who may have complications with their forefoot or stability issues with the 4mm heel pitch and rocker toe.
At only 350g, for my whopping size 13, the Fresh Foam has cushioning for days and stacks of durability. After 100km of 5-10km runs, the shoes are still as good as new and provide comfort and support from start to finish.
If you are looking for a light, stable, cushioned runner that provides full ground contact and motion control of the forefoot, look no further: the New Balance Fresh Foam More has got you covered.
I love running, and in the last five years, I run 3–4 times around 50–60 km a week. All these exercises are getting me ready for my next trail running, which I enjoy the most.
Once a month, I participate in an Ultra Marathon. Majority of my weekly runs are on paved roads in the city. From time to time, I join half marathons as a part of my training.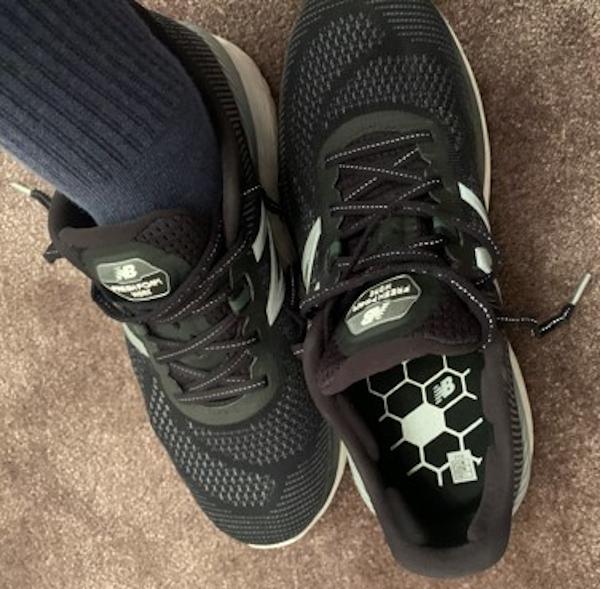 I tried this shoe on paved road, average 13km per run with an average pace 5' 31"/km. New Balance introduced Fresh Foam More as light, smooth, and highly cushioned. I should admit, yes, it is. But, does it offer anything more to the runners? Here are my notes:
For a runner, a shoe is a gadget. So, the color, design, and how it looks should be in the second order when you choose your running gear. But, I can easily say that this is a very good-looking shoe for daily use.
First of all, it is a neutral, true to size shoe. The upper is breathable and very comfortable for long runs as it reduces sweat and dries the foot when running. I think this part engineered very well.
There is plenty of room at the forefoot. This is again an advantage for long-distance runners. The lacing system, tongue, and heel cup give a secure fit.
The support around the ankle works very well. Some runners complained about the heel cup, but I did not find anything wrong.
The heel cup and the ankle protection give good control during turnings even on this maximalist and soft shoe. Similar cushions can be seen in Adidas Ultra Boost.
Cushions wrap the ankle very well. I found this very useful.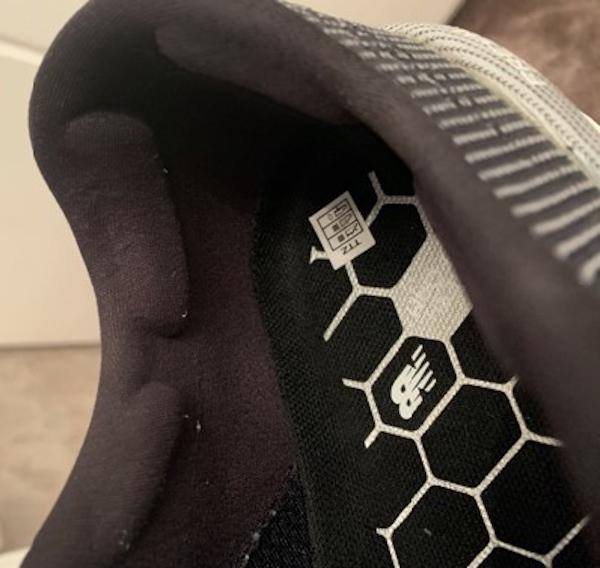 It is light, and from the first moment you put this shoe on, you feel the cushioning. Similar to 1080, but it is like a firm template underneath the soft 1080 outsole.
I believe this aims to give support for long and fast running but can't say it achieves this goal.
New Balance Fresh Foam More is featured with EVA ground contact. New Balance uses this technology to earn more support for pace. You can check a couple of competition shoes to get a better understanding of this feature.
This is a daily road running shoe. So, expecting a competition performance is not fair. But, if your pace is more than 10 km/hr, this shoe will not be insufficient. It is definitely not designed for pace.
You run against your shoes, unfortunately, not with the help of it. I could not feel any support when I tried to speed up a bit. Then, I decided to keep the average pace and tested distance.
I believe 10 km is the limit that you can handle with this shoe. My average is 13 km, and I could go up to 15 km but it can cause some leg pain after that.
It is like burning more calories for the same distance, so you get tired faster. In short, I am not impressed with the overall performance of the shoe.
The EVA outsole is not enough to get this shoe close to be a real running gear. New Balance RevLite outsole works better compared to this combination of soft and stiff outsole.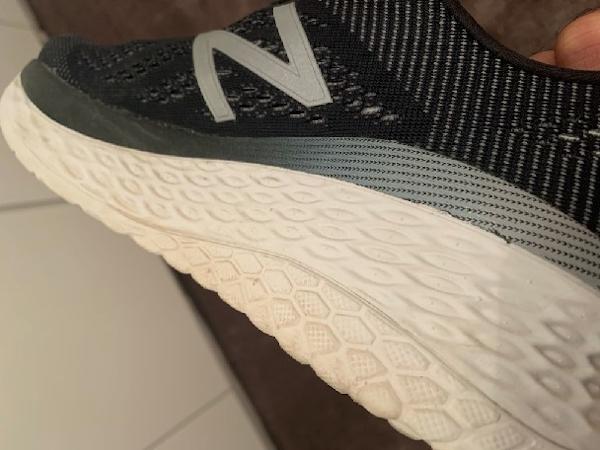 One last note, I tried the shoe on a flat dirt road when the ground was dry. It compensated the rough ground very well.
I did not feel any difference with running on a paved road. So, short distance low pace runners should consider this point especially if they like to run on dirt roads in forested areas.
Conclusion
New Balance Fresh Foam More is a lightweight, breathable shoe with a very good level of cushioning. But, even though it is classified as running shoes, I believe it can not earn this title.
It may be suitable for short-distance walking-running mix type exercises. It is a very comfortable walking shoe, and this is how I use NB Fresh Foam More now.
From the running point of view, I can't give a high grade to this shoe.
- In this newly-released running shoe, New Balance goes the literal route and names it More, which intends to bring exactly what it implies—more material, more benefits, and, therefore, more performance. The shoe presents the most amount of Fresh Foam material ever in a midsole, resulting in a maximalist feel but without the bulk.
- The shoe's comfortable mesh upper provides ample coverage, as well as enough room to enable the runner to move smoothly and naturally. It features a simple and clean-cut design that does not stray far from the signature look of many New Balance running shoes.
- The sole unit is fully made of Fresh Foam material, which is formed with a high stack height yet a lightweight structure. It has a firm quality to it that provides just the right amount of energy return. The midsole is not overly soft in an aim to produce a snappy ride. Meanwhile, the Fresh Foam outsole gives consistent performance in terms of durability and flexibility.
The New Balance Fresh Foam More is a running shoe that is true-to-size; runners should expect an accurate fit with their usual preference, but it is still best to wear a sample in store to confirm the sizing. The shoe features moderate dimensions overall, including the heel width and toe box height. Wearers of all foot volumes could be accommodated by the Fresh Foam More, as it is available in width options of Medium, Wide, and Extra Wide for both the men's and women's versions.
A ground contact Fresh Foam material makes up the outsole of the New Balance Fresh Foam More. While the conventional running shoe uses some type of rubber compound to form the outsole, the Fresh Foam More employs the same material in the midsole. The outsole's Fresh Foam is packed more densely to equip the shoe with the necessary grip and durability to handle the roads.
The outsole also features laser-engraved flex grooves that help with relieving the impact of footstrike. It also lends the shoe a little bit of give, preventing it from being too firm. The flex grooves also ensure a smooth heel-to-toe transition.
The Fresh Foam midsole of the New Balance Fresh Foam More equips the shoe with a plush cushioning. Made from injection-molded ethylene-vinyl acetate (EVA), the Fresh Foam material naturally provides underfoot protection and support. It also aids in softer landings. The Fresh Foam Zante v4 also has these functionalities, as it uses the same material.
A beveled heel forms part of the midsole of the Fresh Foam More. Aside from shock absorption, this detail is also designed for maintaining a good running position, as well as long-lasting comfort.
A double jacquard mesh is the main component of the Fresh Foam More's upper. The material provides a soft, knit-like feel to the foot, while also being durable enough as a reliable coverage. It is assisted by a partial cleatie construction that enables a snug wrap and hold on the midfoot.
In addition, the upper includes a partially attached tongue that cradles the foot and keeps it securely in its place.
How Fresh Foam More compares
Corescore: 53-57
1 shoes (0.11% of shoes)
Corescore: 58-61
2 shoes (0.21% of shoes)
Corescore: 62-66
9 shoes (0.96% of shoes)
Corescore: 67-70
11 shoes (1% of shoes)
Corescore: 71-75
52 shoes (6% of shoes)
Corescore: 76-79
76 shoes (8% of shoes)
Corescore: 80-84
153 shoes (16% of shoes)
Corescore: 85-88
217 shoes (23% of shoes)
Corescore: 89-93
345 shoes (37% of shoes)
Corescore: 94-98
70 shoes (7% of shoes)
Price: £40 - £70
113 shoes (12% of shoes)
Price: £70 - £100
268 shoes (29% of shoes)
Price: £100 - £130
271 shoes (29% of shoes)
Price: £130 - £160
171 shoes (18% of shoes)
Price: £160 - £190
62 shoes (7% of shoes)
Price: £190 - £220
37 shoes (4% of shoes)
Price: £220 - £250
10 shoes (1% of shoes)
Price: £250 - £280
1 shoes (0.11% of shoes)
Price: £280 - £310
2 shoes (0.21% of shoes)
Price: £310 - £340
1 shoes (0.11% of shoes)
Weight: 100g - 135g
6 shoes (0.77% of shoes)
Weight: 136g - 171g
24 shoes (3% of shoes)
Weight: 172g - 207g
49 shoes (6% of shoes)
Weight: 208g - 243g
136 shoes (17% of shoes)
Weight: 244g - 279g
214 shoes (27% of shoes)
Weight: 280g - 315g
235 shoes (30% of shoes)
Weight: 316g - 351g
85 shoes (11% of shoes)
Weight: 352g - 387g
25 shoes (3% of shoes)
Weight: 388g - 423g
6 shoes (0.77% of shoes)
Weight: 424g - 460g
3 shoes (0.38% of shoes)