The Adidas Puremotion is an affordable running-inspired sneaker that promises all-day comfort for most activities. Its comfort and sleek looks were praised the most. This is also a great beginner running shoe that comes in a really lightweight package. Good bye, tired feet!
Pros
Fits true to size
Comfy for leisurewear
Modern looking upper
Great grip
Lots of lacing options
Super flexible
Good lockdown
Cons
Durability issues
Midsole is really firm
No energy return
Adidas Puremotion review and lab test
The Adidas Puremotion running-inspired sneaker is a budget-friendly offering that fits closer to the athleisure market than those looking for a technical running shoe, even with some actually calling it a running shoe. Regardless, the shoe features a surprisingly good grip, a responsive midsole, and a comfy upper.
Who should buy the Puremotion
The Adidas Puremotion is a low-priced running shoe perfect for people wanting to have a trainer for daily use and maybe a bit of running. With a neutral foot profile, these are a decent option for those shorter, 5k distances.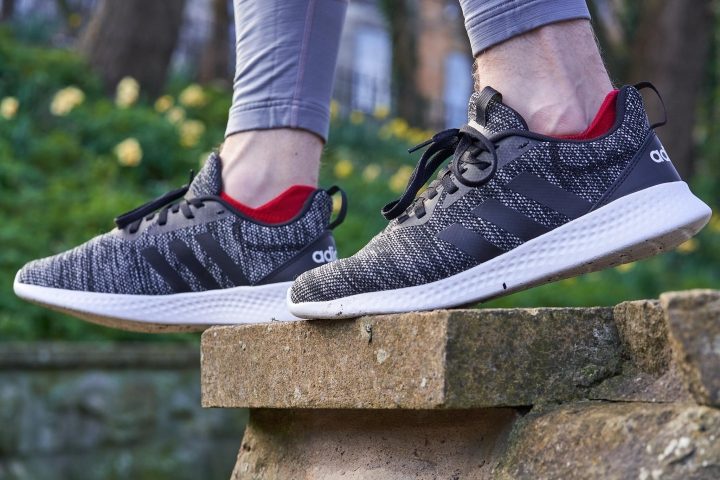 Who should NOT buy the shoe
The Adidas Puremotion might not be your best bet if:
You need support with overpronation, the Adidas Adistar CS has some stability support and a lot of cushioning.
You're looking for a bit more durability and comfort. Then go for the Ultraboost 22
A simple design in the upper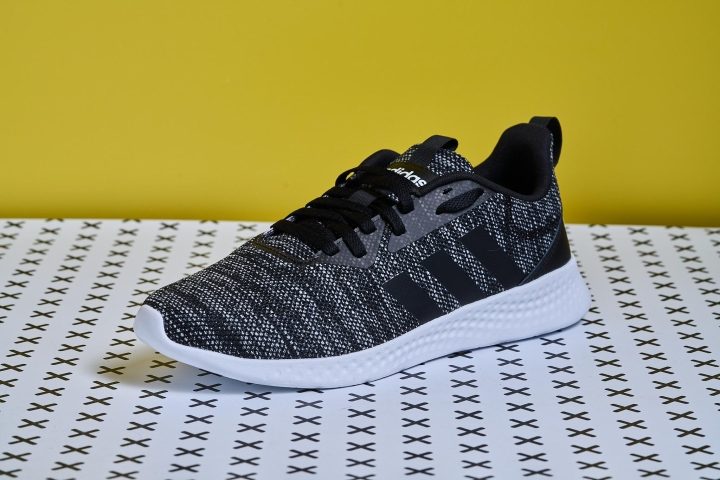 Made from almost a single piece of knit weave the Adidas Puremotion stays superlight at 9oz (256g). The knit is relatively thick when compared to the more modern shoes on the market at the moment.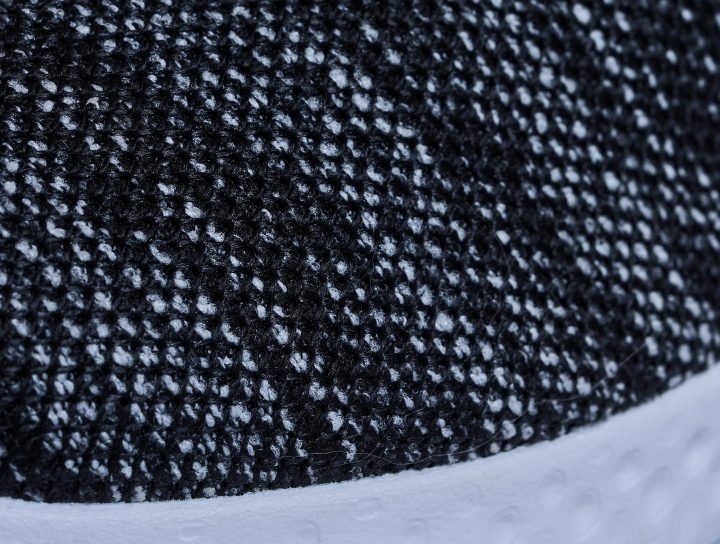 This means the shoe runs a little warm, but that's not too much of an issue for its use case.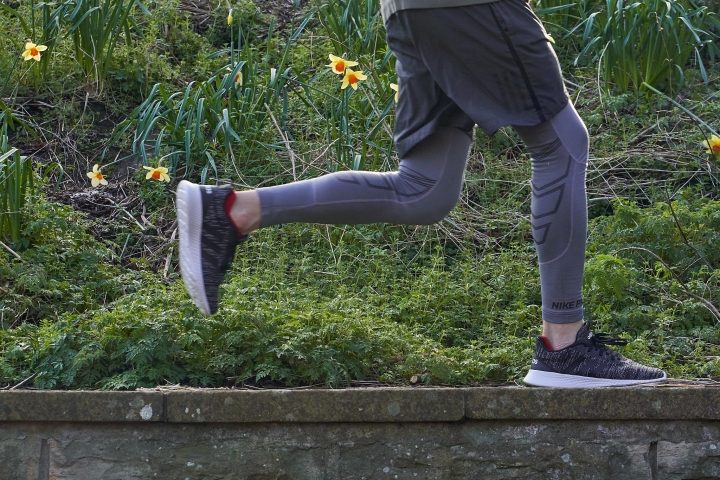 The Adidas Puremotion fits true to size, which is always nice to see from Adidas, but with a toe box width of just 95.6mm it may not be ideal for people with wider feet.
A secure fit in the Adidas Puremotion
The lacing system in the Adidas Puremotion is a pretty classic affair, with a few options for extra eyelets if you want to make sure you get a good heel lock.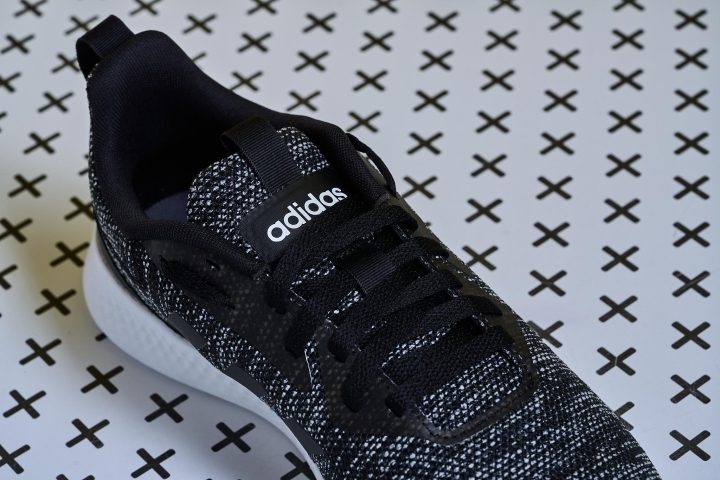 The laces aren't particularly slip-resistant, scoring 28N in our lace slip test. It kind of bothered me how much lacing that Adidas actually gave, although it makes it always possible to get a good double knot if need be.
The midsole lacks comfort and bounce
I'm never a huge fan of single piece midsole/outsoles on sneakers and running shoes, as there's going to be a compromise between durability and comfort. The midsole on the Adidas Puremotion comes in with a firm durometer of 49.5HA. Which feels really firm underfoot.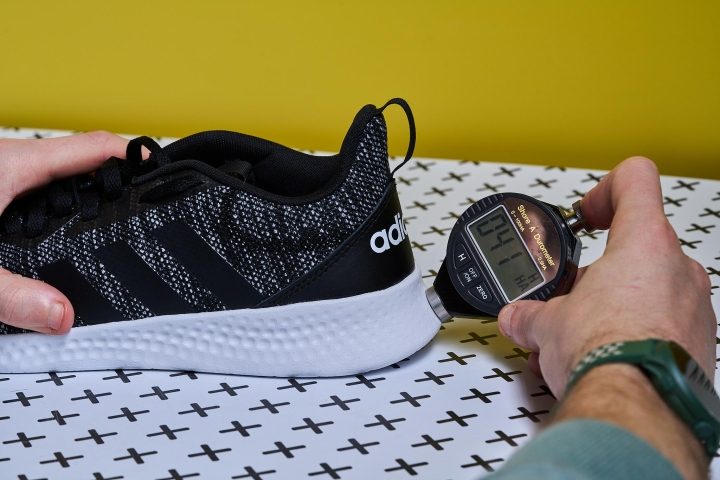 It's probably not helped that the stack height is pretty minimal, with 23.7mm under the heel (average 32.7mm) and only 15.2mm in the forefoot (average 23.9mm). On my training runs, I felt a lot of the ground underneath, which many people like, but after a few miles I started getting pain throughout the ball of my foot where there's very little protection at all.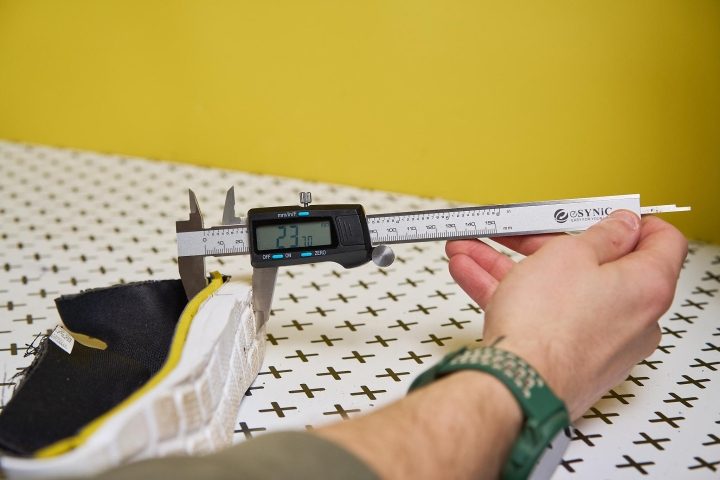 Pretty flexible, in most weather
The Adidas Puremotion has a flexibility score of 19.5N at room temperature (20°C), the average is 29.0N. That's super flexible and can be really useful for packing a shoe in a bag, and for getting that form-fitted feeling to the shoe. This suggests to me that Adidas has really leaned into the leisure shoe usage for the Puremotion.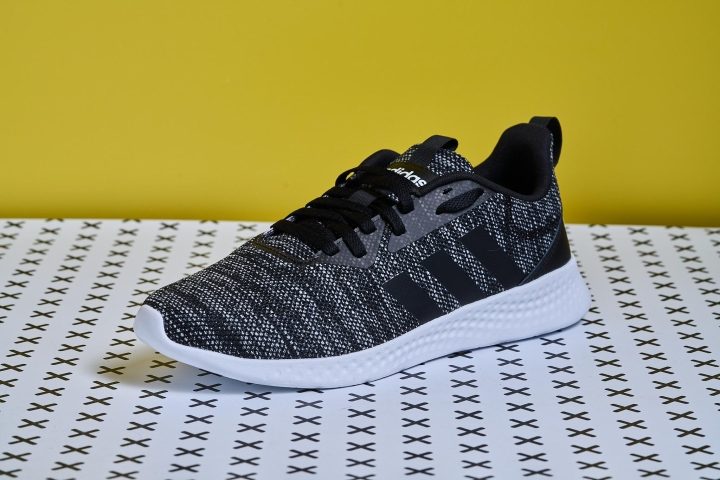 The Adidas Puremotion have a surprising amount of grip
Looking at the outsole of the Adidas Puremotion, I really didn't expect to get a lot of traction from the outsole. With no rubber, just foam, and very little in the form of targeted grip I was worried.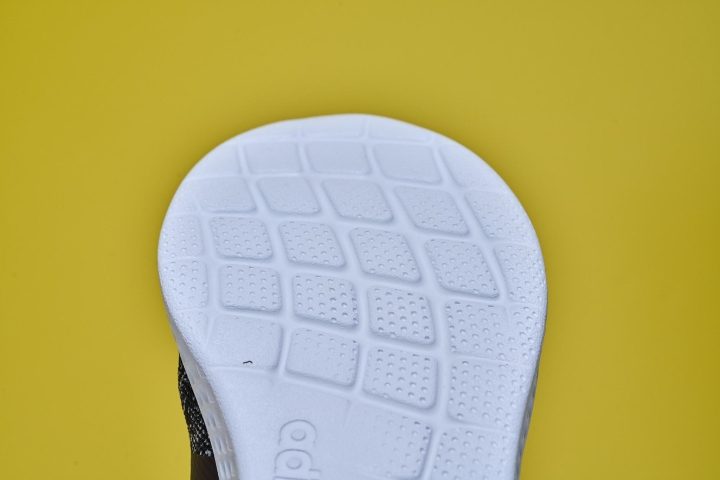 But, because of the softer foam slab, there's a whole load of surface area for the Adidas Puremotion to grab onto roads and tarmac. So in good conditions, these are super grippy. I'm a huge fan of shoes that have great grip, just because it doesn't make my runs as risky.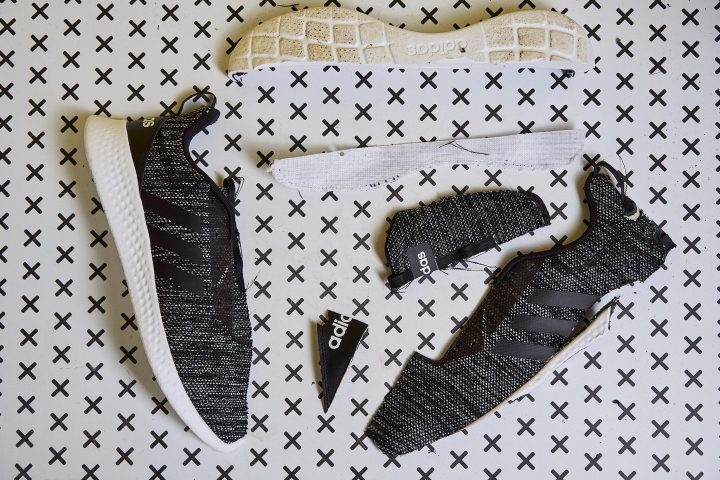 I do worry about the foam wearing down quickly though, with no harder rubber to stop stones, twigs and just simple friction destroying that midsole, I doubt these will hold up for long.
Conclusion
The Adidas Puremotion are a good option if you just want to dip a toe into running, with the knowledge that you'll probably be replacing them soon. If economics is your priority over ecology then on paper it's probably not a bad idea. They fit well, look decent and have great grip.
Adidas Puremotion
Average
Whole shoe

Weight (g)

256

276

Drop (mm)

8.5

8.9
Flexibility of the shoe (N)

19.5

29.0
Flexibility of the shoe (Freezer 20 min) (N)
24.3

37.7

Flexibility of the shoe (% of change)

24.9

31.5

Lace slip test with the knot (N)
28

23.3

Longitudinal flexibility (1-5 scale, 5 being the stiffest)

2.0

3.2

Torsional flexibility (1-5 scale, 5 being the stiffest)

2.0

3.4

Upper

Thickness - Tongue (mm)
4.6

6.4

Width Upper - Forefoot (mm)

95.6

98.6

Width Upper - Heel (mm)

82.3

82.7

Lace Stretch (1-5 scale, 5 being the most stretchy)
3.0
2.7
Flexibility of the heel counter (1-5 scale, 5 being the stiffest)
4.0
3.0
Tongue: gusset type
None

-

Heel: pull tab
No

-

Midsole

Width Midsole - Forefoot (mm)
107.1

112.0

Width Midsole - Heel (mm)

89.4

89.2

Stack - Forefoot with insole (mm)

15.2

23.9
Stack - Heel with insole (mm)

23.7

32.7

Durometer Midsole Heel (Room temperature) (HA)

49.5

41.4

Outsole

Outsole thickness (Heel) (mm)
NA

3.7

Lugs Depth (mm)

NA

3.3

Durometer Outsole Heel (Room temperature) (HC)
NA

82.6

Insole
Insole Heel Thickness (mm)

4.8

4.5

Insole: removable
No