The North Face Flight Trinity
Enthusiasts of off-road treks and soirees are given a chance to rejoice because of The North Face Flight Trinity. While the positive feedback for this trail companion is truly commendable, the negative points have prevented it from becoming one of the go-to classics for adventures on the unpredictable outdoor paths. The lightweight construction, the traction-ready outsole, and the breathability became highlights, but the flimsiness of the gripping lugs and the quick-to-rip upper unit overshadowed them. Neutral pronators and trail voyagers are the intended market of The North Face Flight Trinity.
---
Verdict from 7 experts and 29 user reviews
5 reasons to buy
The majority of those who have tested The North Face Flight Trinity like the grip capacity of the outsole unit, stating that the rubber is reliable and efficient.
A handful of runners welcome the breathable upper unit of this running shoe, claiming that the ventilation is relaxing.
Some consumers have lauded the lightweight structure of this product, believing that they could handle many obstacles because of the unrestrictive weight.
The bright and welcoming façade has received positive remarks from trail enthusiasts.
The versatility of the construction is praised; people claim that they can effortlessly use the shoe for multiple activities.
2 reasons not to buy
Several people have lamented the quickly wearing gripping lugs of the outsole unit.
The upper unit has developed tears after only a few uses, according to a surprising amount of testers.
Bottom line
Enthusiasts of off-road treks and soirees are given a chance to rejoice because of The North Face Flight Trinity. While the positive feedback for this trail companion is truly commendable, the negative points have prevented it from becoming one of the go-to classics for adventures on the unpredictable outdoor paths. The lightweight construction, the traction-ready outsole, and the breathability became highlights, but the flimsiness of the gripping lugs and the quick-to-rip upper unit overshadowed them. Neutral pronators and trail voyagers are the intended market of The North Face Flight Trinity.
Best price from 30 shops
We earn affiliate commissions at no extra cost to you when you buy through us.
61% say it's true to size.

Our reviews
Before I sat down to write this review, I decided I needed to take the Flight Trinity for one more run. I waited for a nasty rainstorm to muddy up my local trails. I was looking to give these shoes one final test run on some technical, sloppy, and muddy trails. The Flight Trinity did not disappoint.
True to their name the Flight Trinity from The North Face truly does take flight on the trails. This is a lightweight trails runner that allows you to push your pace to its limit over tough terrain. Although, capable, light and fast the Flight Trinity was not without its flaws.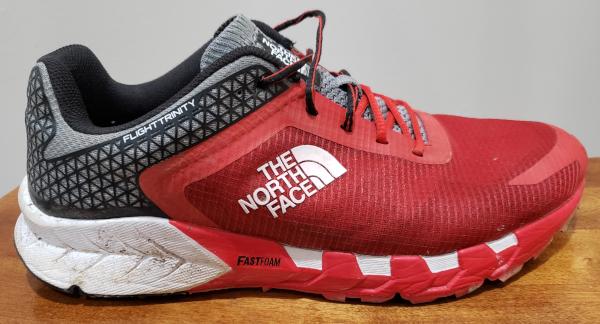 Why?
Performance
To keep it simple this shoe flies. It feels fast and runs fast. That is something that can't be said for all trail shoes.
Over a multitude of terrain, I was able to keep a quick pace without worrying about a clunky heavy shoe or struggling for traction. These shoes natural under foot and are easy to turn over at a high cadence.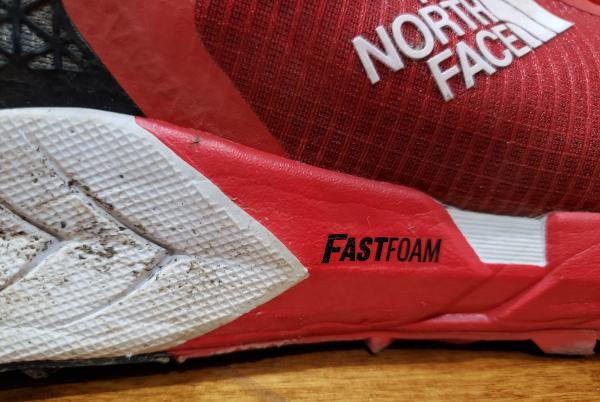 The North Face markets their midsole as FastFoam and it does live up to its name. The midsole is cushioned and responsive. My first run in these shoes was a trail half marathon.
The trail was wet, rooted, creek filled, and include a couple of miles of pavement near the finish. The Flight Trinity conquered all, they gripped in the wet and mud. They drained well after creek crossings. They felt just fine running at 10k pace on the road.
Lightweight
The North Face lists this shoe at 9.5 oz for a size 9. This is quite good for a trail shoe with capabilities of the Flight Trinity. Many trail shoes weight in at 12 oz. or more but not the Flight Trinity. Not only does the scale says it's light, but the shoes also feel light and nimble.
Fit
The Flight Trinity fits true to size. My size 11.5 was spot on. The fit feels average throughout. They weren't any areas overly tight or loose.
This shoe fits and is shaped pretty standard. That works just fine for me. I'm not a big fan of oversized toe boxes or some of the other latest trends. Just give me a standard fit.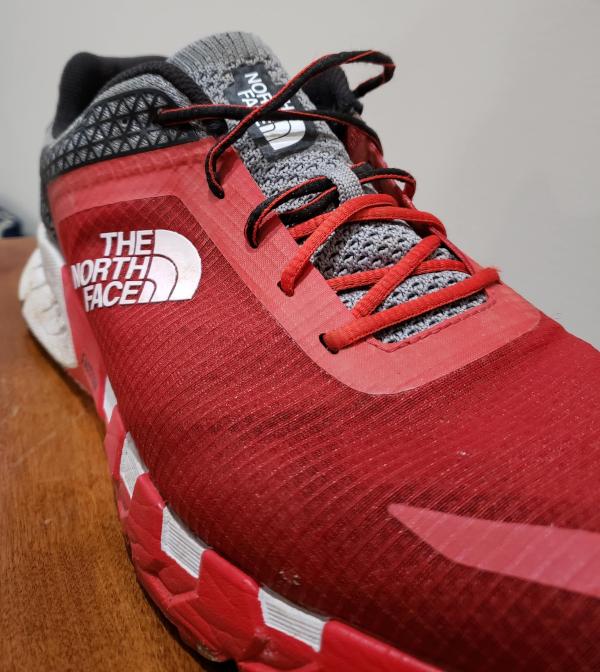 Outsole
As stated earlier this shoe performs well on a variety of terrain.
Rocks, roots, wet, dry, dirt, mud. This shoe did great. The lugs are spaced far enough apart to provide plenty of traction, but still not get clogged up with mud.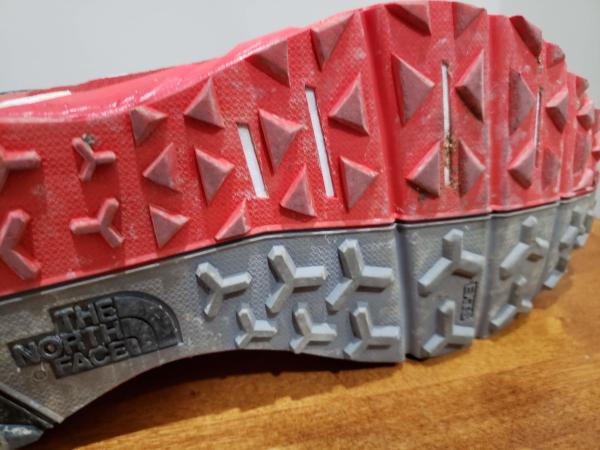 Some shoes provide great traction until you reach a sticky muddy section.
Then they are clogged with mud and heavy, that was no problem with the Flight Trinity. The shape of the lugs if a little odd. Don't let that fool you, they really grab the trail.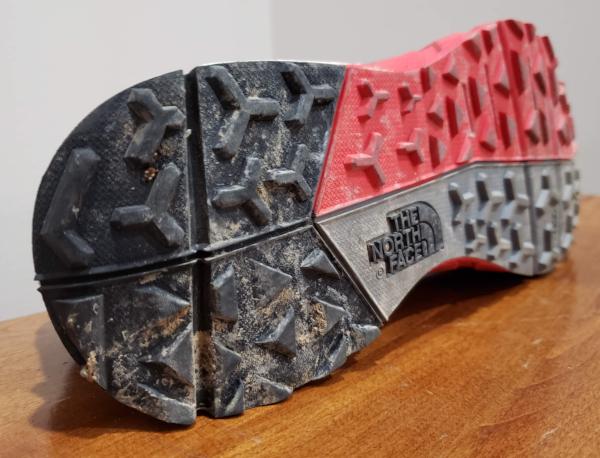 Why not?
Laces
This may seem a little picky but the laces are just too short. I like to double knot my shoes and these laces don't leave much to spare. A couple of more inches would have been great. I also prefer flat laces to the rounded laces of the Flight Trinity.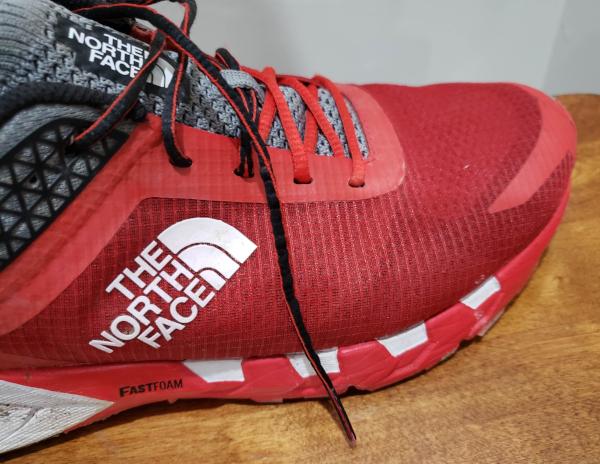 Lack of rock plateThis is not a deal breaker for me. Many of the trails I run are not rocky enough to require shoes with a rock plate. However, if you do run frequently on rocky trails these might not be the shoe for you. The Flight Trinity is a light and fast shoe if you're looking for protection, look elsewhere.
Upper durability
The upper is constructed of thin plastic like mesh outer layer with an inner bootie. The bootie provides plenty of comfort and support. The mesh outer layer is my biggest concern.
My pair is still holding up fine at 60 miles but I can't see them lasting to 200 or 300 miles. If The North Face was looking to save weight they should have done it somewhere else and beefed up this mesh layer with some overlays or thicker material.
Price
At $140 these are not cheap shoes, but if your willing to spend the money you'll get the performance to match the price tag.
Final thought
The Flight Trinity is a darn good shoe. I was hesitant to like them (other shoes from The North Face have been a mixed bag) but they really won me over. The overall performance was just too good and outweighs the negatives. They are fast and comfortable over varied terrain.
They are a shoe which I can truly count on and almost forget they are on my feet. The Flight Trinity handled every condition they encounter. Any shoe that inspires confidence in a runner is a winner. The North Face Flight Trinity is a winner.
The North Face Flight Trinity is a combination of a beast trail shoe able to tackle anything, and a fast-paced trail racer. The Flight Trinity is packed with protective features to keep your feet happy on rugged trails, yet it has the responsive ride and lightweight build of a trail racer.
Exceeding in the areas of speed, protection, and durability, the shoe is a trinity to keep your feet in flight.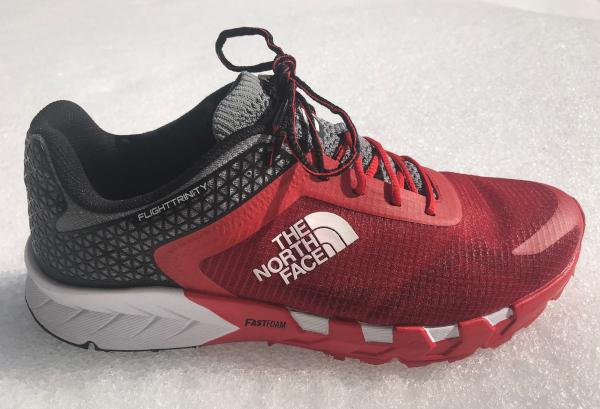 Comfort
The Flight Trinity is a decently comfortable shoe but is in no way plush. The upper is sufficiently padded in the heel cup area and tongue, but the rest of the upper is made of a stiff, harsh mesh. I always run with socks in this shoe because the mesh is slightly abrasive otherwise.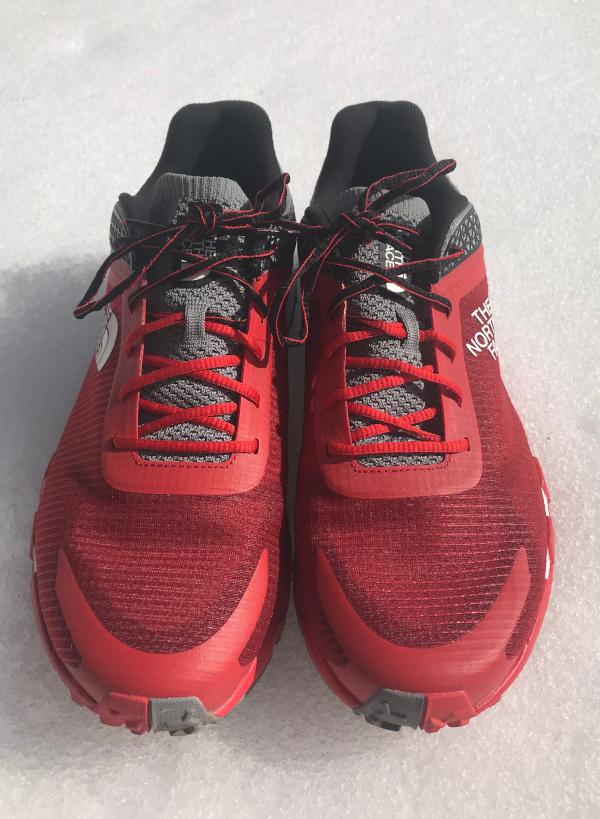 The tongue area is made of a very thin socklike mesh which feels comfortable against the foot and dampens the pressure from the laces. The stiffness of the mesh makes this shoe only comfortable for running. When standing around, my toes feel constricted.
The midsole is made of two firm midsole components: one a standard firm Eva in the heel, and the other a softer foam which the North Face calls Fast Foam. The midsole is not so comfortable for daily training because it doesn't absorb enough impact from the trail, but feels very good running at speed.
Fit
The Trinity Flight has a standard fit in the midsole and the heel but has a narrow fit in the toe box. Lengthwise, I should be running in a half size smaller, but because of the narrow toe box, I am more comfortable in the half size up.
If running true to size, the narrow toe box will not allow for a powerful toe splay and will bend your big toe inwards, into a less powerful position. In my half size up, my toes are comfortable and powerful.
If you need a wider toe box, this is not the shoe for you, but if your feet are used to standard width shoes, size up, and these will work well.
Breathability
The Flight Trinity is exceptionally breathable. My feet never heated up too much in these shoes, which is incredible because the holes in the mesh are so fine that they do not let any debris in. Breathability is essential in a speed shoe because feet heat up a lot during a speed session or race.
Ride
The Flight Trinity has a very fast, snappy ride. The midsole has a low drop, firm, stiff ride. The firm midsole foam gives the shoe great energy return at speed. Similarly, when the stiff midsole flexes at toe-off, the midsole pops back into its original position providing a little boost.
At slower speeds, the shoe feels slow and hard. This shoe also can double as a trail hiking shoe. The firm midsole and sturdy construction are very suitable for a lightweight hiking shoe.
Traction
The Flight Trinity excels with regards to its traction. The North Face uses a thick slab of a durable sticky rubber compound with multidirectional lugs as the outsole.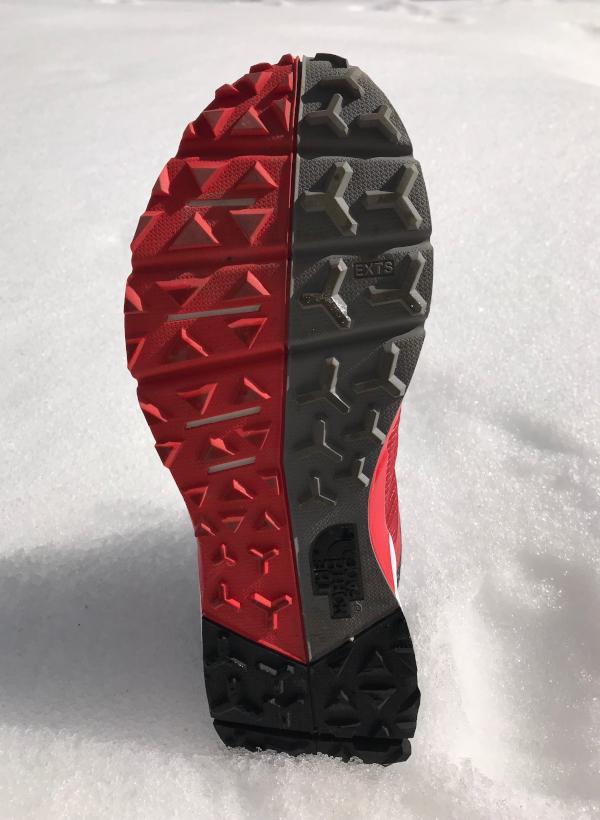 The Flight Trinity sticks to almost anything. It even worked well in snowy and icy conditions. The outsole lugs are not too deep, so the shoe struggled in very sloppy mud conditions, but apart from that condition, the traction is excellent.
Durability
For a Speed shoe, the Trinity Flight is extremely durable. I foresee this shoe lasting 400-500 miles. The upper, midsole and outsole are all very heavy duty. If you run on roads with the Flight Trinity, the outsole will wear out more rapidly.
Protection
The Flight Trinity is a very protective shoe, which is amazing considering it weighs in at 9.5oz. There does not seem to be a rock plate, but the firm outsole and midsole can absorb any sharp rocks adequately.
The Flight Trinity uses an extension of the outsole as a toe bumper. You can kick rocks very hard with this rock guard and keep running, as long as you size half a size up; otherwise, rocks will hurt your toes.
The one downfall this shoe has is that it has no real mudguard or water guard. Your feet will easily become wet, but they also dry quickly afterward.
Best uses
The Flight Trinity works best as an uptempo trail running shoe, especially on more rugged terrain. It can work well for anything above the daily training pace. This shoe handles repeats, steady states, tempo runs or any race distance well.
The Flight Trinity can be used for daily training, but there are better options. The Flight Trinity also works decently well as a lightweight hiking shoe.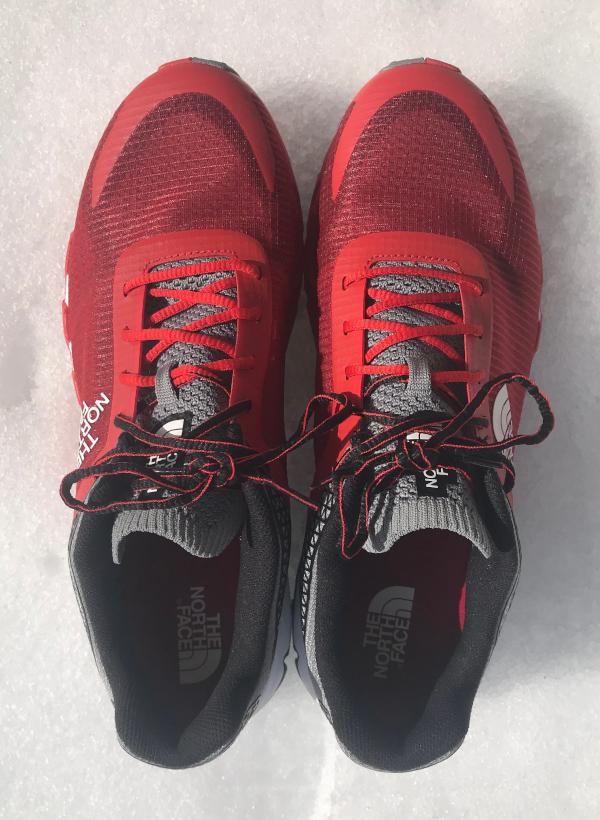 Conclusion
In Conclusion, the North Face Flight Trinity is a very strong trail running shoe. No other single shoe is a better choice in every situation, which means this shoe is worth having around, and I can give this shoe a high score for its durability, protection, and snappy ride.
The Trinity could improve in terms of comfort, but it is still a strong choice for anyone looking for a lightweight trail shoe.
The North Face Trinity. Will it hold up to my expectations set last year after calling The North Face "yuppie shoes" to only have eaten my words with how impressed I was with their shoes?
I didn't think any "real" runner would ever consider running in a pair of their shoes, but a poser might. Well, I'm here to say that The North Face should be a huge threat to any running shoe company.
After last years review, I had a few of my friends tell me that they purchased The North Face One Trail, because of my review and had been equally impressed.
My initial impression
Wow! This shoe is stunning to look at and I'm not ever impressed with the aesthetics. The brilliant red with the grey-white and black colors make one beautiful shoe.
The shoe is light for a trail runner and the upper is a thin ripstop fabric to hopefully breathe well.
The laces are colored to help with keeping the ends even.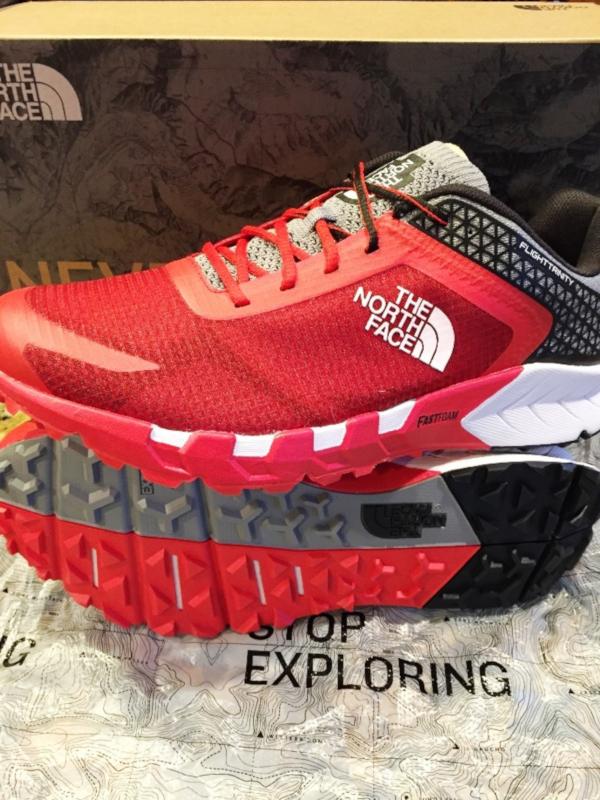 If you look at the red and where they turn from red to black simply keep the laces going through the eyelets on both sides at the same time. This helps someone like me who hates to have uneven laces.
The laces are oval-shaped, meaning no problems with twisted laces either. The tongue is sewn in helping to give arch and mid-foot support.
This might be a shoe that you can run in without socks, I am not brave enough to run trails without socks though.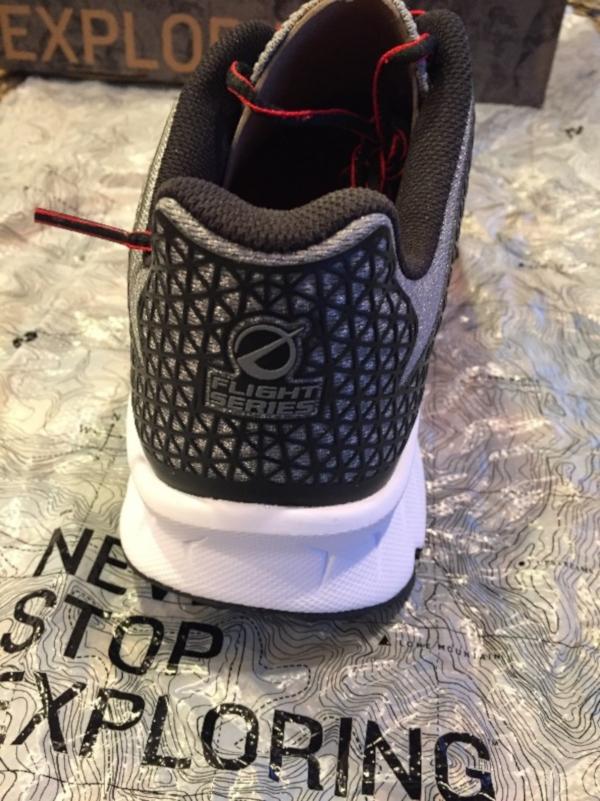 Although I have run many thousands of miles in my life my feet are still baby soft. Toenails now that's a different story.
Speaking of support, it's easy to see on the outside the black latticework (3D printed) around the heel but it doesn't stop here.
The upper is made of a fabric with a tight weave and has molded-in supports. All the components together will hopefully make for a stable trail shoe.
The sole doesn't have big lugs which don't give me great hope in the heavy mud or snow.
However, the shoe has plenty of flex in the forefoot which I hope will make for a comfortable ride.
First run
The shoe offers initial hopes of good cushioning. I could feel rocks and gravel under the sole, but it wasn't uncomfortable.
I found that the support was adequate and allowed for a quick feel.
What I liked the most, these shoes are very flexible allowing my feet to adjust to every step.
After 70+ miles
These shoes have held up well so far and have mostly trail running with two runs on pavement. I can see any wear on the lugs on the soles and expect that if kept on the trail that uppers or support will fail before soles.
I have noticed some abrasion to the sides of the soles where the red coloring has been rubbed off from rocks.
This leads me to the toe guard, there isn't much of a toe guard at all. I might be getting old, but I seem to drag my toes on rocks a good bit and miss having protection on the toe.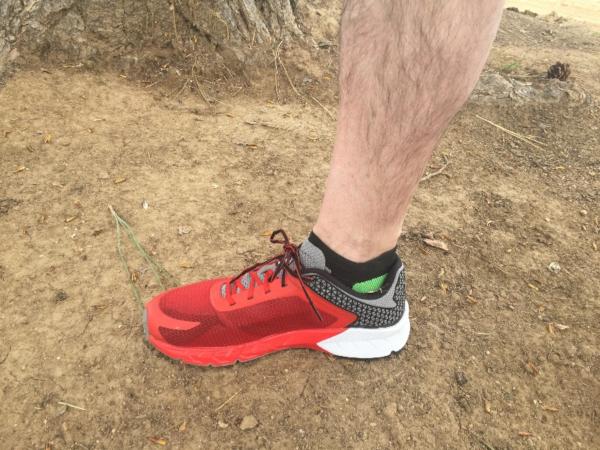 Traction is good on dry trails with little to no mud and on small rocks.
On large rocks to boulders the -shoes hold but not if moisture is present. In loose mud forget about traction, it's non-existent.
When it's wet out I found that wet grass was enough to soak through the upper and get my socks wet.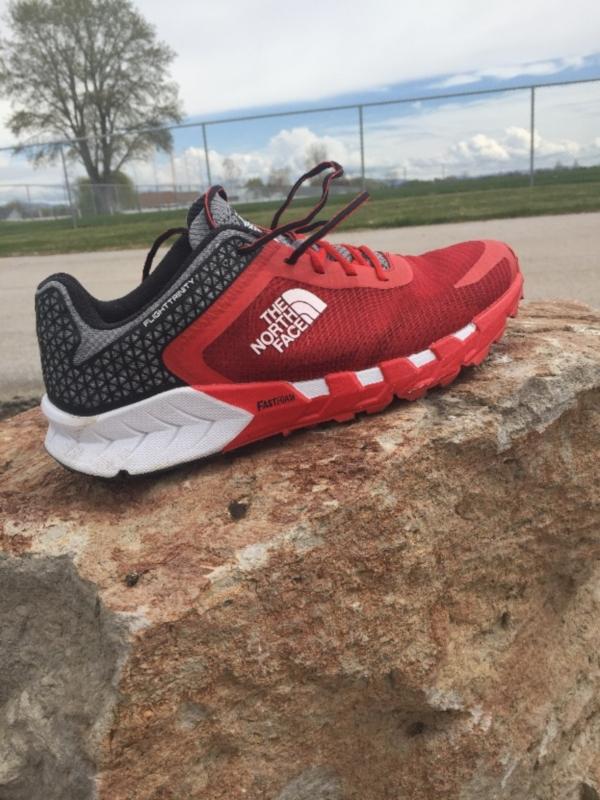 As easily as the water gets in it goes out as well, but my feet were left wet for the remainder of my run.
Creek crossings would flood the shoe immediately and so I don't recommend crossing water if you want your feet to stay dry.
The shoes do collect a great deal of mud around the sole especially in the heel area where they are indented.
Function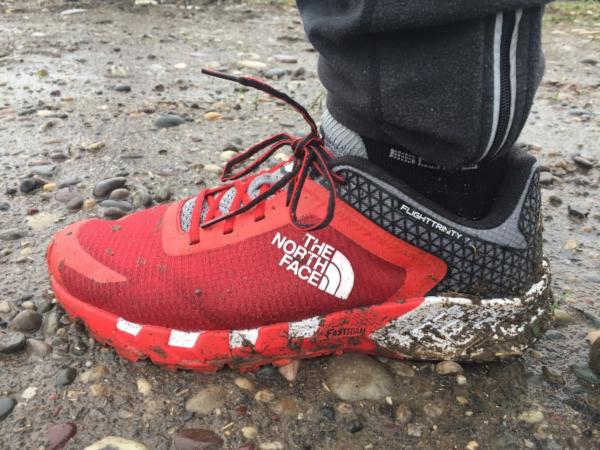 The midsole
The North Face Fast Flow midsole is soft but still offers enough spring that they feel fast and light.
I really enjoyed the cushioning it made for enjoyable miles however, on rocky trails or gravel roads my feet would be sore the next day.
The upper
Outside of being beautiful, I did notice that the ripstop fabric abraded easily on rocks. Water easily passed through the material both in and out.
The uppers breath well which I like because my feet are always warm when I run, and this helped to keep my feet dry and blister free.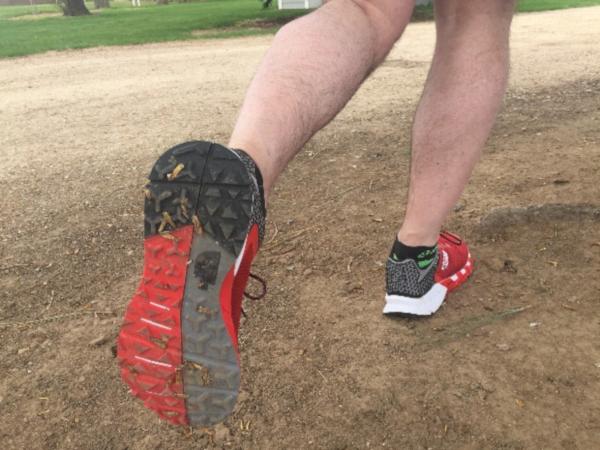 The fit
I found that The North Face shoes have all fit true to size and fit my feet extremely well. The toe box is a medium with not too big and not too small.
The shoes have a medium height arch support giving your foot proper support.
If I have one complaint it would be that the heel cup is wider than my foot and I could feel slipping when the shoe pulled on by mud or stuck between rocks.
The outsole
Lacks enough lugs to be a hardcore trail mud shoe and enough traction to be used on very technical trails.
I did find that the rubber used is sticky enough to trap weeds.
Pros
Looks great
Very comfortable
Flexible forefoot
Great fit
Breaths great
Cons
Lack of toe protection
Collects mud in midsole indention
Allows water into easily
Conclusion
I enjoyed every run that I took in these shoes and would consider them for light trail runs. I don't feel that they had enough protection or traction for hardcore technical trails.
The shoe is beautiful to look at and maybe the first pair of running shoes that I have ever owned that I didn't want to immediately jump in some mud to make them look used.
I do recommend owning a pair of these especially if you doubt that The North Face makes a good running shoe.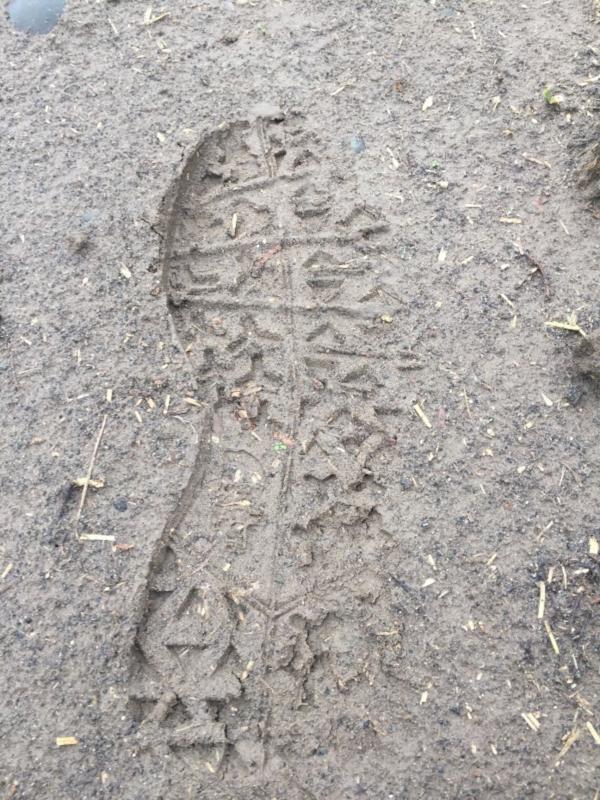 Rating
On a scale of 1-10 with 1 being horrible and 10 being the best shoe ever I score this shoe:
Aesthetics: 10
Comfort: 8
Cushion: 7
Stability: 5
Durability: 5
Overall: 7
At first glance, I was anticipating an over-hyped cushy shoe that'd likely fall short of expectations and become a back-of-the-closet relic I'd sport on occasion...boy, was I wrong!
The North Face Flight Trinity has become the unarguable shoe of choice when I hit the trails—my subconscious default whenever I'm getting dressed to head out the door—and for good reason.
This lightweight gem doesn't pretend to be anything it's not. It's simple, reliable, comfy, and, dare I say, downright sexy. Sorry, Hoka One One, nothing personal, but my wife seems to be less embarrassed to go on hikes with me when I don the TNF Flight Trinity.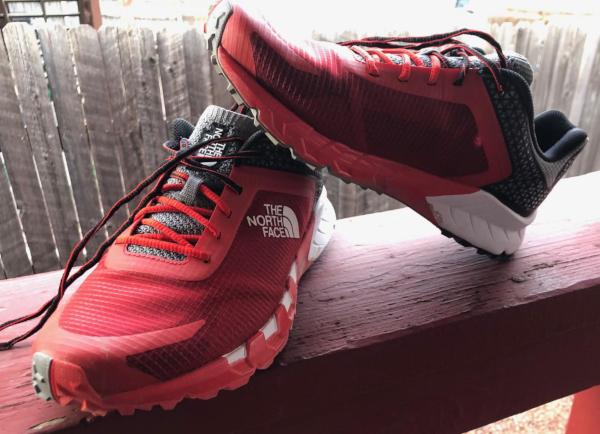 Quality/durability
This is The North Face we're talking about, so you'd expect high-quality on every aspect, and the TNF Flight Trinity doesn't disappoint. After miles and miles on Colorado trails, these shoes are holding up better than most shoes I've tried here.
No, wear or tear in the upper, and the outsole has retained its grip and tread nicely. I've used this shoe in some snowy, icy, and muddy conditions, and I've found none of the elements too nasty for the Flight Trinity to handle.
One concern I had on my first day with the shoe was that it was actually too grippy. I usually will give a shoe a test drive in the gym to break it in a bit and make sure the size feels right before getting it dirty and worn on the trails.
Some of the rubber actually started peeling a little bit off the tread after burpees on a rubber-like floor, and I started to worry the outsole wasn't going to be able to handle much. But after that experience, no more rubber has peeled off and I haven't experienced any further flaws or unwarranted damage to the shoe. I expect these shoes to hold up quite well for hundreds of miles.
Specifications
The flexible upper delivers snug support that has helped rebuild my confidence on the trails. I have recently recovered from some foot pain and ankle issues, and my coach and physical therapist noticed I was overcompensating on my uninjured foot.
I was struggling to physically, and mentally, overcome this issue until I started trying the Flight Trinity. The laces size and system just feel right—not to tight on the top of the feet or the sides. Surprisingly, the malleable tongue is one of my favorite features.
It hugs the top of the foot nicely, keeping out debris without putting on too much pressure. The shoe has an overall comfy, cushy feel while still maintaining great responsiveness. It weighs just 9.5 oz., which contributes to a lighter ride.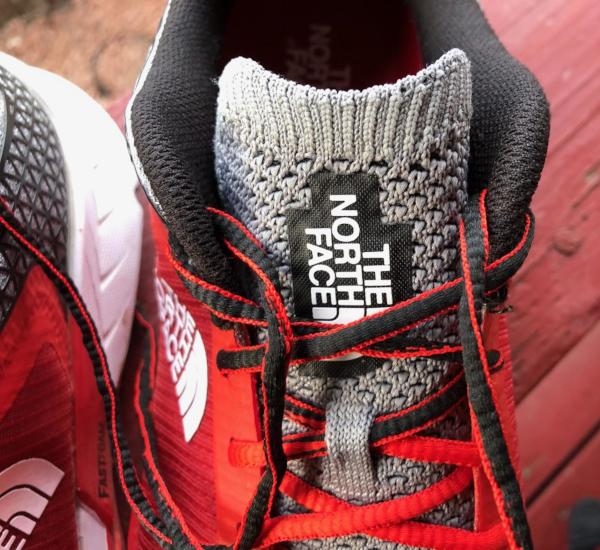 I'm a forefoot to midfoot runner and tend to lean more towards zero drop to 4mm heel-to-toe drop for my trail running shoes. The North Face Flight Trinity comes in at 8mm offset with 20mm in the heel and 12mm in the forefoot.
It's a bit out of my desired range, but I've really enjoyed the slightly different running experience. Actually, this shoe has me questioning if I'd like more drop in more of my future running shoes.
Also, super appreciative of the front toe guard. I know it's not a necessary feature, but thank goodness for when you hit a rock (which happens more often than not in the Rocky Mountains).
Looks
Can't complain about the aesthetics of the design at all. In my opinion, it looked a bit bulky at first, but it definitely doesn't feel bulky. I'm not in love with super vibrant colors, so love this splash of color without it going too far.
Price
Prices right now range between $130-140, which is a bit steep for me. Most new shoes generally fall in a similar price range, so it's not an expensive shoe by any means. Well worth the cost for the quality I've experienced so far, and since there's little to no wear, I'm confident this shoe will last me a good while!
Pros
Lightweight while still delivering adequate cushioning
Sleek design
Fantastic grip
High-quality, durable
Comfy, comfy, comfy
Cons
Tread didn't do too well in a gym (it is a trail shoe...but still)
Little pricey
Notable elements of The North Face Flight Trinity
- The Flight Trinity from The North Face is an addition to the global roster of running shoes that are meant for the trails. It features a sporty and almost road-optimized design, employing an eye-catching and seamless upper configuration mostly prevalent in options that are for the asphalt. But the exterior textile is resistant to tears while the gusseted tongue unit is meant to avert the infiltration of off-road debris.
- FastFoam™ is a full-length cushioning system that is created to mitigate the landing impacts and transition the foot towards a pleasant takeoff. The Exploration Trax System (EXTS) is a proprietary outsole configuration that's made of grippy rubber and several nodes that are meant to heighten the grip over the unpredictable outdoor topography.
Size and fit
The standard approaches for sizing are used for The North Face Flight Trinity. Runners are welcome to get a pair using their common choice of shoe-size. It would be a boon to try on the shoe first to attain a pleasant in-shoe hug.
When it comes to width, the available variants are D – Medium and B – Medium for men and women, respectively. Those who have low to medium foot volumes are the ones who are most likely to enjoy a snug yet compliant wrap.
The lasting board of this North Face running shoe has a semi-curved shape which follows the natural outline of the human foot.
Outsole
EXTS or Exploration Trax System is a trail-optimized outsole configuration. A rubber compound covers the entire sole unit, acting as a shield against the harsh nature of the off-road. A sturdy construction permits this layer to last long while a grippy characteristic makes it naturally adherent to the various surface qualities.
A bevy of gripping lugs pockmarks the external pad. These nodes have different shapes that offer unique traction capacities: Triangles are for upward and downward traversals while three-pointed stars handle uneven paths and sideward movements.
Shallow trenches line the forefoot and heel, and they allow the underfoot platform to bend in conjunction with the foot as it goes through the heel-to-toe transitions.
Midsole
FastFoam™ is used for the midsole unit of The North Face Flight Trinity. This technology is composed of a flexible and springy forefoot, as well as a heel part that is firm and ready to absorb impact shock. Both these qualities help the runner in achieving smooth and energized steps.
A foodbed from the company OrthoLite® is placed right above the main cushioning system. The purpose of this add-on is to provide a feeling of consistent underfoot softness. The insoles of the OrthoLite® brand are treated with antimicrobial and anti-moisture capacities to protect against odor-causing bacteria and retention of sweat.
Upper
The upper unit of The North Face Flight Trinity features a ripstop textile, a lightweight and flexible material that resembles regular mesh. But this item differentiates itself from its contemporaries by being resistant to abrasion. Furthermore, it has plenty of breathing holes which permit the flow of air into and through the interior chamber.
The inner sleeve of this neutral running shoe is made up of a knitted fabric. The softness of this wall has the goal of evoking a perception of being wrapped by a sock. Flexibility and natural movement can be appreciated as it doesn't have a restrictive weave. Moreover, the breathable purpose of the upper unit isn't hindered because the knitted interior is also friendly to airflow.
The padded collar has the job of cushioning the Achilles tendon and the ankles. It is also meant to lock the foot in place and prevent it from getting out of the interior chamber unexpectedly.
A 3D-printed overlay is fused to the heel part of the upper unit. This grid-like layer is tasked with assisting the silhouette when it comes to clutching the heel and keeping it in place.
Thin, synthetic prints adorn the sides and the toe box. These thin films bolster the silhouette, allowing it to stay upright, even after many uses. They also reinforce the tear-resistance of the upper unit.
A fabric tongue unit covers the bridge of the foot like a blanket, protecting the skin from any hot spots that may arise from adjusting the crisscrossing shoelaces. This accoutrement has a gusseted design to prevent it from deviating from its original position and to stave off any trail debris from attempting to enter from the shoe's opening.
A traditional lacing system is placed on the Flight Trinity. Semi-flat shoelaces snake through discreet eyelets on the instep, encompassing the middle part of the foot's bridge. Adjusting the cords causes the cover system to tighten or loosen, depending on the fit preferences of the wearer.
A tongue anchor is a tab on the shoe-tongue which is made to link the shoelaces to the instep. Such a mechanism prevents the crinkling of the fabric, an event that is usually associated with chafing.
Popularity
The current trend of The North Face Flight Trinity.