Our reviews
I am a 42-year-old runner, about 170 pounds and 6' 1" tall. I race all distances, from 5ks to Marathons, and spend at least half of my year training for an upcoming marathon.
At first glance
The TerraFlex is billed as a high performance, true minimalist trail running shoe. At first glance, it looks like an ordinary trail shoe – good grip, lots of rubber and cushioning around the ankles – but upon closer inspection, it becomes apparent that this is a minimalist shoe. Very flexible, wide toe-box, zero drop, and only 3 millimeters separate your feet from the ground when the insole is removed.
Xero Shoes has done an impeccable job of adding the comforts of maximal trail shoes but maintaining the integrity of a true minimalist shoe.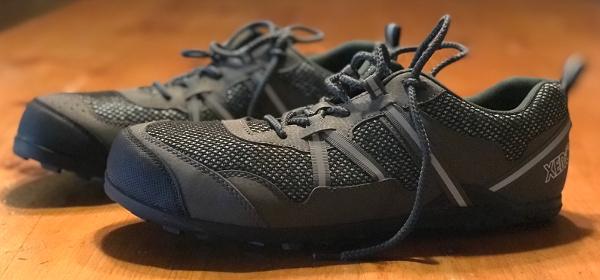 Shoe Length
The Xero Shoes website advises purchasers to select a half-size larger than they usually wear since their shoes typically run a little small.
I am a size 12 and since they did not have 12 ½ available, I just went with my normal size 12. While my toes do come near the end of the shoes, by using a heel-locking shoe-lace knot, I can keep my feet from pounding the toes.
In addition, the very purpose of training in minimalist shoes is to re-train your feet to land correctly, which should ease the pressure on the toes and force more of a foot-strike in which the body weight is directly above the feet. So, shoe length is not a problem for me.
Laces
The shoe laces seem to by typical hiking shoe round laces. Nothing too fancy about them.
The shoes do have instep, upside-down "V" straps that are not stitched down to the sides of the shoes. This allows the laces to cinch down the mid-foot a little tighter.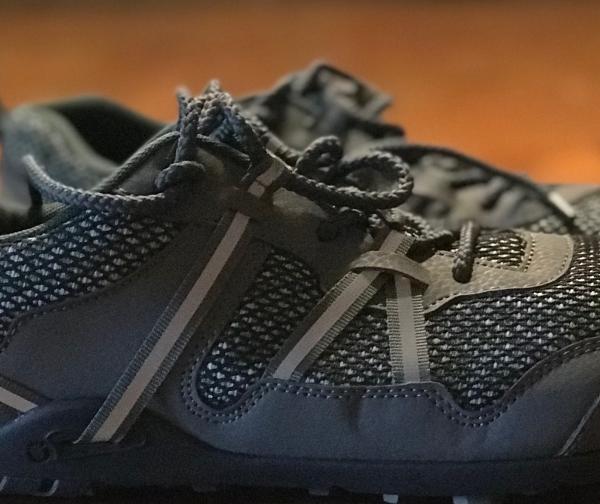 Also, I am thankful for the additional eyelet at the top which allows a heel-locking tie, as well as making sure the laces do not rise above the tongue of the shoes.
Toe Box
The toe-box is extra-wide, resembling an Altra shoe toe box. Toes are able to flex and splay as needed, which ultimately allows the feet to strengthen.
Arch Support
As most minimalist shoes do, the Terra Flex does not provide much in the way of arch support.
This may seem backward, but if our arches are to be strengthened and take the shape they were originally created to take, they need to learn how to function without a lot of support. Again, this absence of support will ultimately strengthen the arches.
Heel Support
The heel of the shoes is very plush and comfortable. In addition, true to the inspiration of the Huarache design, Xero Shoes has added a strap that connects from the top of the laces all the way around the back of the heels, for support. Both the heel strap and inverted "V" instep straps are highly reflective for safety.
Upper
The upper part of the shoe is very soft and plush. Most of the upper is made of breathable mesh.
Midsole/outsole
The key word here is "flexibility." As a true minimalist shoe, the Terra Flex is extremely flexible, while providing some outer lugs for traction. The midsole is particularly minimal, with a removable 2mm cushioned insole for an even more barefoot-like feel.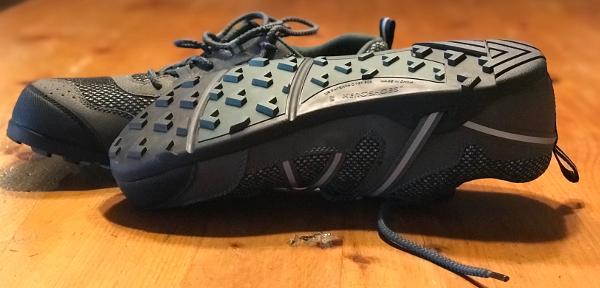 For these miles, I entered the Terra Flex shoes into a marathon training week. I had to travel, so a few runs were on the treadmill, but the other runs included recovery runs on trails, hill repeats on a combination of trails and streets, and covered every other kind of off-road terrain, including mud, water, dirt, grass.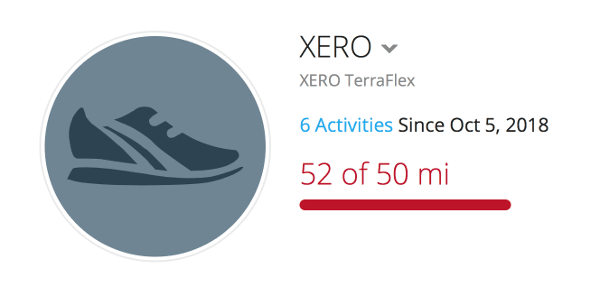 I want to share a few general observations before I get into the performance details:
Xero Shoes has figured out the precise way to provide a thin, very flexible outsole that provides protection from rocks, acorns, and twigs.
This flexible outsole allows my feet to contour with the terrain, which prevents ankle and knee twisting on uneven surfaces.
Going sock-less is surprisingly doable with these shoes if that suits you.
The upper part of the shoes is robust. The mesh, combined with leather and rubber on the outer portions of the shoes means your feet are protected from whatever you may encounter on the trails.
The thickness of the upper has a downside. While the shoes evacuate water relatively quickly during the run, the thickness of the upper mesh requires some extra time for the shoes to dry out completely.
Lastly, the Terra Flex seems to have larger lugs on the front part of the outsole than the rear portion, which almost seems to place the shoes in a heel-to-toe rise. My heels seem to sit closer to the ground than my toes do. This isn't necessarily a bad thing, but something to take into consideration.
Performance
The Xero Shoes Terra Flex running shoes are adaptable to every terrain, including extreme mud and water. The breathable upper mesh allows for the clearance of any water that might find its way into the shoes. Any mud or debris that may stick to the bottom of the shoes typically sloughs off after several meters.
The outsole lugs combined with the flexible sole provide extreme traction on every surface. This traction and flexibility allow the shoes to be used for every workout, including 400-meter hill repeats at 10k pace.
Since I ran in these shoes for speedwork, slow recovery trail runs, and a 15-mile run, I can confidently say that these shoes provide a versatile choice for every kind of workout.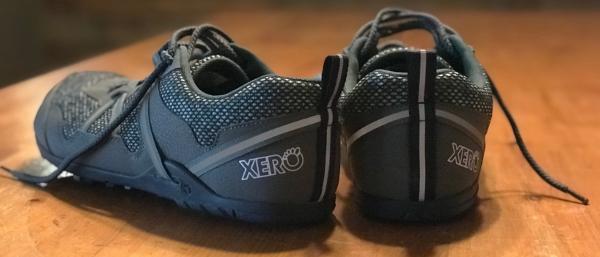 Expected lifespan
As with all Xero Shoes, the Terra Flex come with a 5,000-mile sole warranty. I will let you know when I reach that! After 50 miles, I see no reason to think these won't last a very long time.
Pros
Maximum comfort, minimal shoes
Great foot protection from sole and upper
Flexible but firm
Cons
Take too long to dry out
Heel-to-Toe rise
Final thoughts
If you are looking for a versatile minimal running shoe with a barefoot-like feel on every terrain, this shoe is for you.
Unlike other minimal shoes, you can actually throw the Terra Flex into speed workouts and expect hit your pace marks. These shoes are extremely comfortable, flexible, and provide protection for your feet while allowing them to fully flex and maintain strength throughout the run.
The TerraFlex from Xero Shoes initially presents itself as an unassuming trail shoe. However, the TerraFlex is packed with features that make it deserving of a closer look for those considering a minimalist running shoe that can handle a variety of terrain.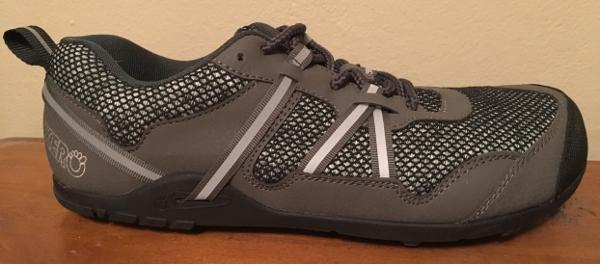 When the minimalist running shoe movement took off it just made sense. Our feet have been anatomically sculpted through thousands of years of evolution to move and run unencumbered by stiff, clunky footwear. However, those of us who lack the true grit of the barefoot purist need a little something extra between our feet and the world.
Stats
Weight: 9.6 oz
Drop: 0 mm
Stack: 4-6mm
Category: Trail Running/Hiking Shoe
First Impression
When I tried on the Xero TerraFlex I was initially pleased with the roomy toe box. The shoe offers the toes ample room to splay out and connect with the ground, but not too much to feel sloppy.
These shoes feel very natural and light. With a limited number of brands offering true zero-drop shoes, or in this case, Xero-drop, the low to the ground feel is very welcomed. These shoes were comfortable right out of the box.
You could say that the Xero brand needed zero break-in time. My first 5 miles in these shoes were a complete joy. The zero drop and minimalist style of the sole encourage the running form to return to its natural state of forefoot striking. This might take some getting used to for heel strikers.
Fit
The TerraFlex has a very comfortable ergonomic fit that cradles the foot nicely. As mentioned the toe box has a more liberal fit with lots of space to do what your toes need to do.
With a trail shoe, I feel that this is important. Rather than plodding along the trail, your feet are allowed to build connections and relationships with the trail surface.
The ankle collar is amply padded. This offers needed protection in an area where your foot is very exposed to rocks and other debris. The inverted V strap feature is a unique innovation on Xero shoes. It's adjustable and helps you to snug up the heel counter very nicely.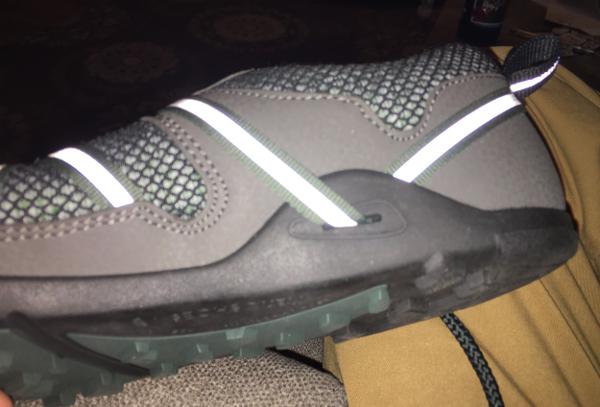 My foot felt very secure in the shoe. The tongue is very soft and works well with the lace cage to hold your foot firmly while not putting unwanted pressure on the top of your foot.
Performance
The FeelTrue sole of the TerraFlex is very thin and when you remove the 2mm insole you get closer to a barefoot feel. The shoe is designed to feel comfortable without the insole and even when worn without a sock it feels good. I tested this shoe in some colder weather.
The cushioning of the upper provides some warmth which is nice compared to the extreme minimalist shoes l have run in like the Vibram Fivefingers. The TerraFlex FeelTrue® rubber stays nice and supple. One of the worries that I had was that the thin layer of rubber would get too rigid in cold weather but this was not my experience.
The shoes weigh in at 9.6 oz and that is light but not as light as some other minimalist shoes on the market. With that said the shoes do offer more protection on the uppers and the sole than some other brands do, and a little more weight is the tradeoff. Either way, 9.6 oz is a really light shoe, and you can feel this as you ease down the trail.
The reflective logo and stripe on the bands of the shoe are nice added safety features. I end up doing a lot of my running at night or in the early morning out of necessity, and any edge that I can gain over being struck by a car is a welcomed advantage.
My biggest concern with the Xero TerraFlex was the tread. I was hoping for a slightly more aggressive tread pattern.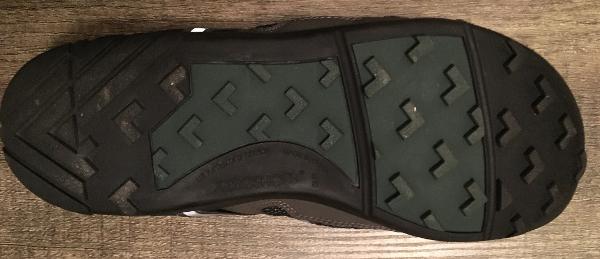 The shoes had good traction on most surfaces but once things got really technical I found that the shoes needed a little more bite than they had. I should qualify that by saying that by technical I mean very steep, loose and rocky trails in western Montana.
On moderate single track and rolling terrain, these shoes performed super well and had amazing grip on wet surfaces. My most recent run was on snow-dusted pedestrian paths and the grip of the Xero shoe was superlative.
One other thing that bothered me, which is minor, was the laces. The Xero shoes come with a standard braided lace. I had difficulty with these slipping and becoming untied and as a result, I had to double knot them. A minor concern but there are so many techy laces out there these days and these shoes could stand for an upgrade.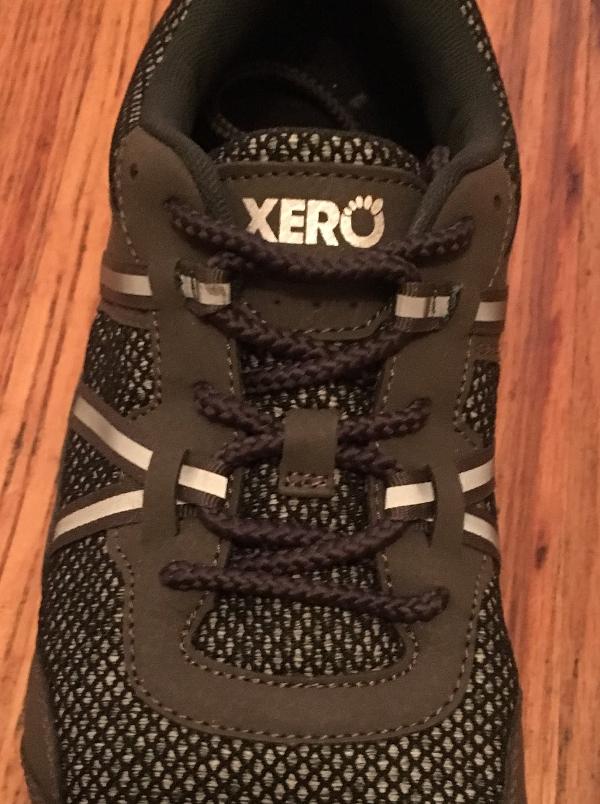 Durability
Xero boasts an incredible 5000-mile warranty on their proprietary FeelTrue Rubber sole. This got my attention since conventional wisdom retires the average running shoe at 500-700 miles. The Xero warranty policy is stated below.
¨If you wear your FeelTrue® outsoles (or FeelTrue® section of Z-Trail) down to less than 1mm thick at the ball or heel of the foot (not an edge), we'll replace them with the same product for the following price: 60% off MSRP (full, non-sale, listed, retail price) for the product, plus shipping.¨ https://xeroshoes.com/shop/terraflex/terraflex-men/
The insanely flexible nature of the shoe made me concerned that fractures at stress points might develop over time, but with 123 miles on these shoes, I have yet to notice any sign of unusual cracking or stress marks. It is unusual and impressive to be able to squeeze this much of a shoe between two fingers.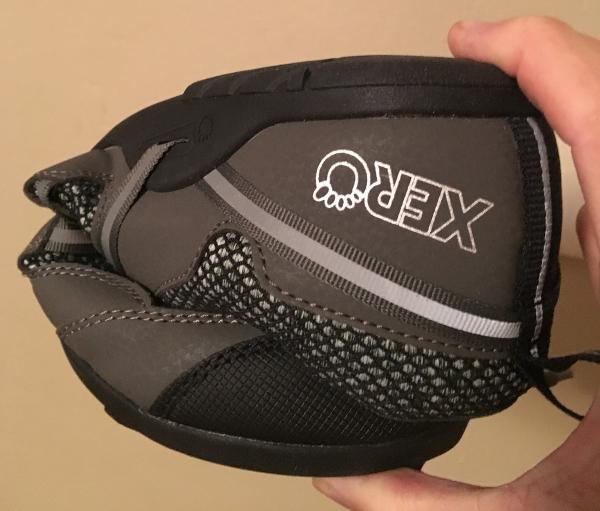 The upper fabric of the shoe is durable and pliable. The thickness adds a lot of plush comfort but unfortunately holds onto water longer than I liked.
The reinforcement that is stitched around the toe area is a nice touch compared to other shoe brands that glue on the reinforcement and should add extra life to that area of the shoe.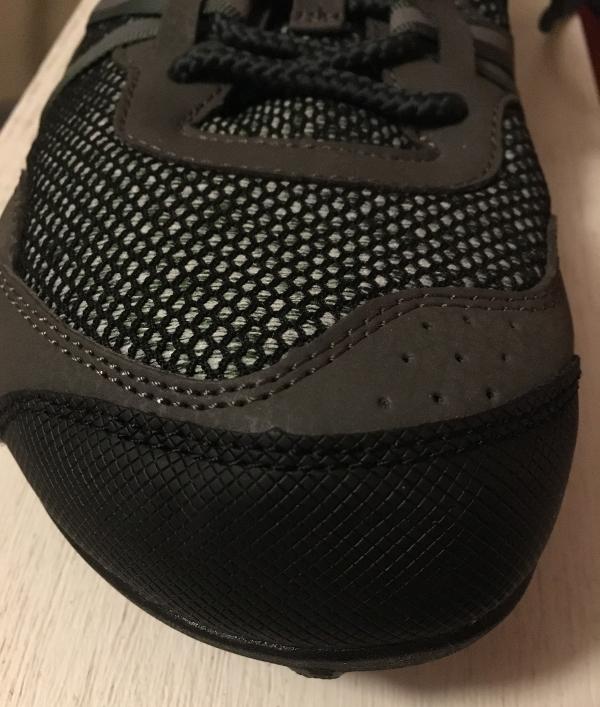 Pros
Light and responsive
Vegan-friendly materials
Good foot protection
5000-mile warranty
Cons
Less than aggressive tread
Standard laces
Takes too long to dry out
Overall
Ultimately, I was pleasantly surprised by the Xero TerraFlex. This light, minimalist shoe is a well-rounded balance between a barefoot slipper-style shoe and a dedicated trail running shoe.
A zero-drop platform with a low stack height makes it a very natural and responsive running shoe. The TerraFlex achieves a happy medium of responsivity on the trail, natural fit, and lightweight performance.
If you are someone who's looking for a minimal trail shoe but are not quite ready for the full-on barefoot shoe, the Xero TerraFlex is definitely worth checking out. At an MSRP of $100.00, it is well worth the money.
I am a self-confessed fan of Xero shoes' shoes (say that 20 times really fast!). I've had my eye on the Terraflex since it first appeared so I almost literally jumped at the opportunity to test a pair out.
Having done a lot of miles of both running and walking in the Xero Shoes Prio I was very interested to see how the grippy little brother of the Prio held up, especially in the mud.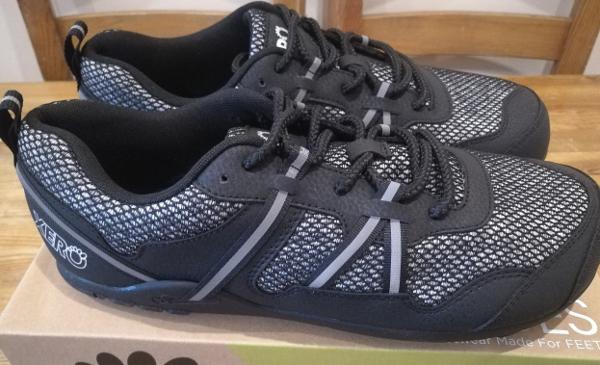 On the top and side of the box is the familiar message from Xero Shoes, Feel the Freedom, Feel the Fun, Feel the World! Let's find out if these live up to the reputation I've grown to love, shall we?
A little note on the inside of the box: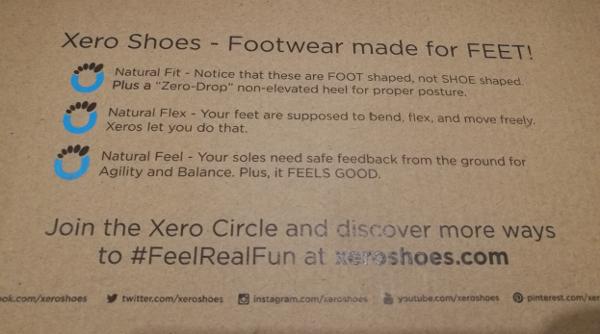 Tech Specs
Natural FIT — A wide toe box lets your toes spread and relax. Plus the "XERO-drop" sole (non-elevated heel and low-to-the-ground) allows for proper posture, balance, and agility.
Natural MOTION — The TerraFlex is flexible enough to let your feet bend, move, and flex the way, well, that feet are supposed to.
Lightweight - Plus, they're so lightweight, you'll barely know you have them on. A men's 9 (US) is only 9.6 ounces (272 g) each. My size 13 (US) weighed in at 336g (11.9 oz).
Natural FEEL — The TerraFlex uses our FeelTrue® rubber with a removable 2mm insole, to let you Feel The World®.
Vegan-friendly materials — No animal products in the TerraFlex.
Huarache-inspired design — The heel strap is not only eye-catching but functional.
Adjustable instep strap — The "inverted V" straps aren't sewn down, so you can use them to lock in your instep while keeping your toes free to move.
Reflective straps — That middle section of the heel and instep straps are highly reflective for evenings and night.
Removable 2mm insole — For a more barefoot feeling, you can remove the optional 2mm insole.
Barefoot friendly — Wear the TerraFlex with or without socks.
5,000-mile sole warranty — Like all our FeelTrue® soles, the TerraFlex is backed by our 5,000-mile sole warranty.
Overview
On the face of it, the Terraflex is almost identical to the Prio. Looks can be deceiving however as there is more going on here than a simple sole swap.
I really like the style of the upper, the pair I tested were the black ones however the 'forest' coloured ones look even better. They look and feel like a lightweight hiking shoe more than a running shoe, they feel robust which is great. I get the impression these will be fantastic multi-purpose shoes.
They feel light on my feet and very comfortable, with just enough padding for hard ground and rocks. I certainly feel secure in them and there are no worries of my feet being injured in them, unlike other minimal shoes I've worn.
Upper
The upper feels quite thick and padded yet is very flexible. There's also no issue with breathability with it however it doesn't drain particularly well when saturated which can make them feel a tad on the heavy side when they're really wet.
It feels well made and the sandal strap design that secures the shoe to your foot works really well. I was a fan of it on the Prio and it's the same brilliant design on the Terraflex.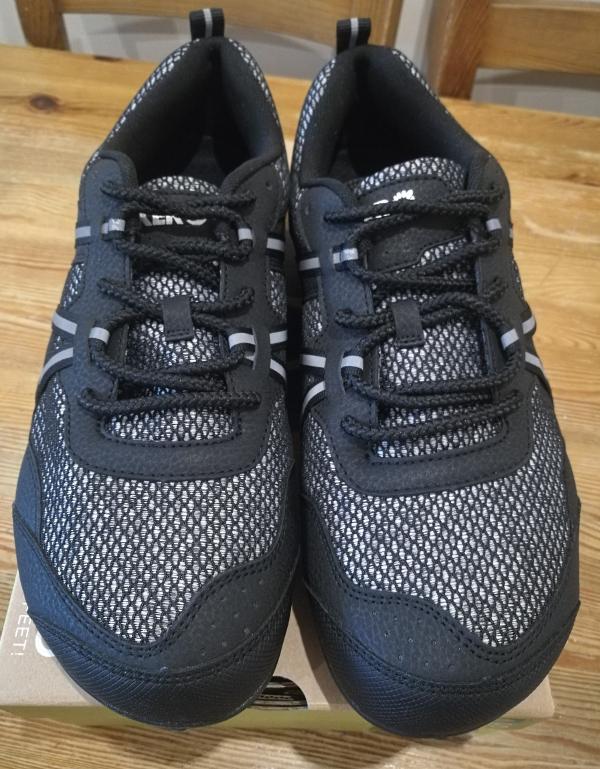 Laces
I love the laces on the Terraflex! They're thick and grippy yet soft. So there's all of the function without causing any pressure points or pain. They feel like good quality which is a nice touch, too many manufacturers scrimp on laces or treat them as an afterthought. But they're one of the most important aspects of any running shoe!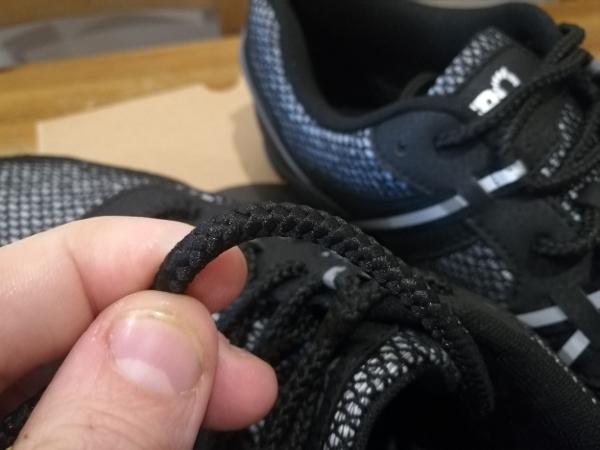 Heel Counter
There's no heel counter, but there is a heel strap. Tied in with the rest of the shoe strapping, it can be adjusted to suit. It provides good support and holds my foot in place perfectly. It also adds minimal weight to the shoe, unlike traditional plastic heel inserts.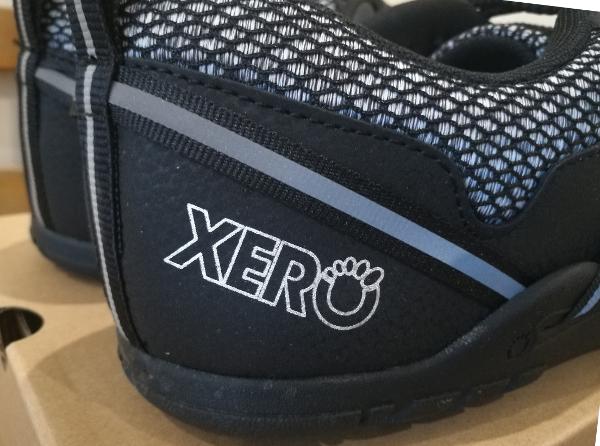 Collar
The collar is quite heavily padded on the Terraflex.
I'm not a huge fan of lots of padding and I don't really think it's necessary for this shoe either. It is comfortable and I didn't notice it with the shoes on however had it been omitted the shoe would have been even lighter.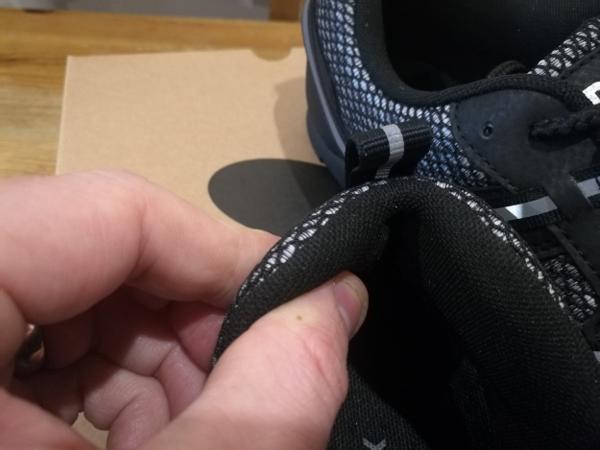 Tongue
The Terraflex has a fairly padded tongue. It's pretty basic but does what it needs to do. I didn't notice any debris getting in past it and it is certainly very comfortable.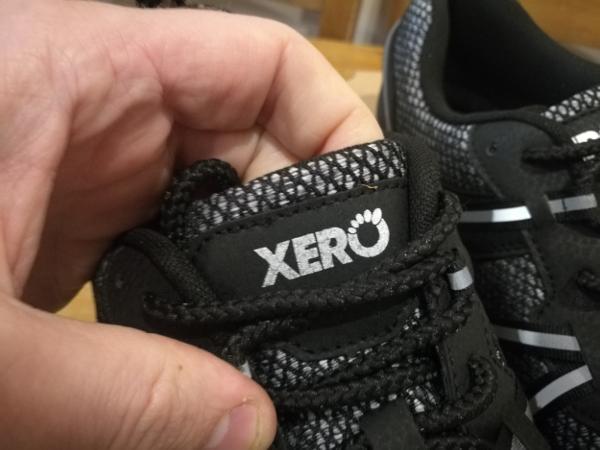 Safety
The toe has a couple of extra layers around the toe called a 'durable Tough Tek toe bumper' to add some extra toe stub protection. It works reasonably well however I've been lucky enough not to kick anything too hard whilst running in these trail shoes.
It does feel quite soft compared to toe-bumpers on other trail shoes I've tested, like the Primus Trail FG or Parkclaw 275 GTX, so I'm not sure how well it would work if a big rock came out of nowhere and hit my foot.
There are reflective strips sewn into the straps the go around the shoe. I'm not a fan of reflective strips, I've never really seen the point in them. But if you want your shoes to stand out in the dark you won't be disappointed with the Terraflex!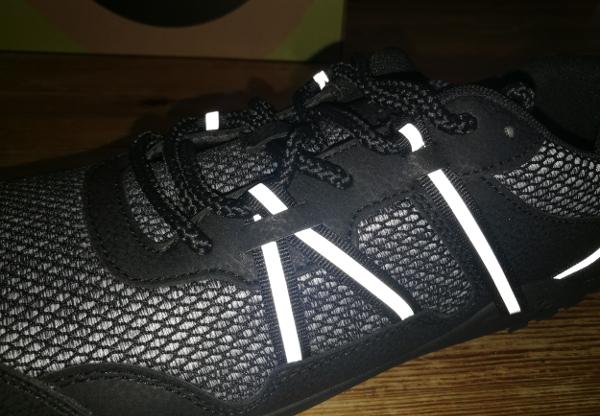 Sole
The sole on these off-road beasts is something else! It's thin enough that I can feel the ground through it, which helped me to find the best routes to run that gripped the best. The grip didn't let me down either and is aggressive enough that I didn't once feel unsure of what would happen with them on, on any surface!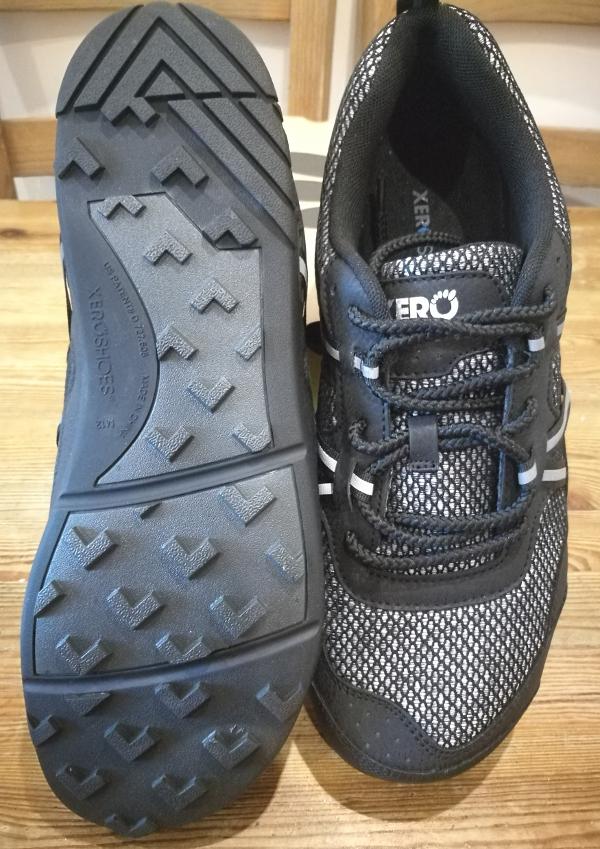 It feels very similar to the sole on the Prio, but instead of a tread that's cut into the sole, the Terraflex has a far more aggressive, chevron-shaped, lug design.
There's also an embedded 3mm of Barefoam™ inside the sole for extra protection and comfort. It really adds that extra bit of comfort when landing on sharper rocks. The inner sole is stitched into place neatly.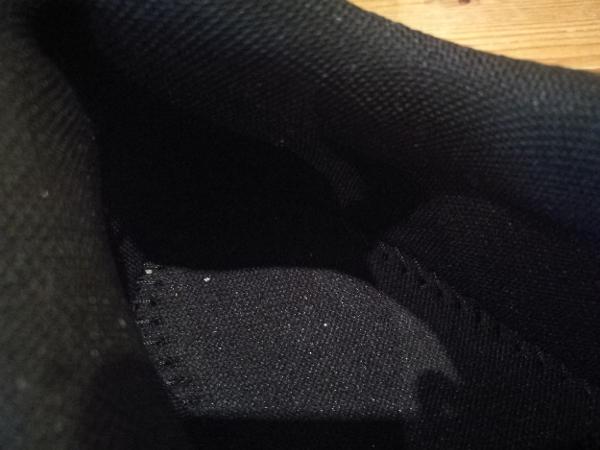 There's a removable insole that offers a nice bit of extra cushioning. I found it worked really nicely, especially for running on the harder ground when I was running from road to trail.
I love running with insoles out in my barefoot shoes usually, however with these I'd probably say it's better to keep them in there for more versatility.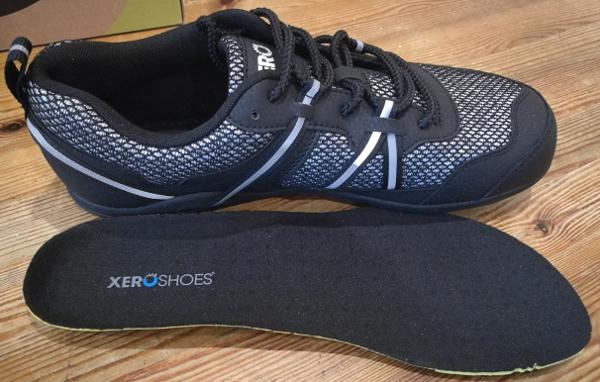 Support
The sole offers the best form of support, none! It allows your feet to feel the ground and enables you to really control what you're doing with your feet. Meaning less chance of injury!
Flexibility
As you can see the sole on these trail demons is incredibly flexible. It's much softer than that of the Vivobarefoot Primus FG and even the New Balance Minimus Trail. I haven't run in a more flexible trail shoe to date!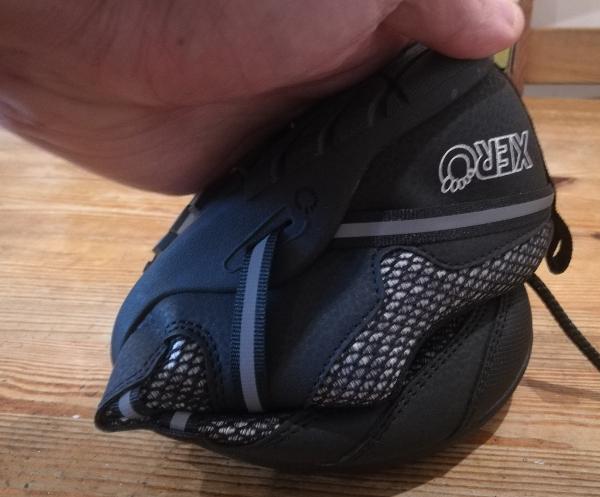 Tread
The tread is very aggressive. Not as much as on my Inov-8 X-Talons, but it's not far off. It's a different design to the usual mud spike and it works fantastically well. It's also more comfortable over hard ground than many other mud runners.
The chevrons on the heel change direction to help with downhill breaking in the mud and there's a small section of non-chevron rubber. Though I have to admit I have no idea why that isn't just the same as the rest of the heel. I can only assume it's for aesthetics.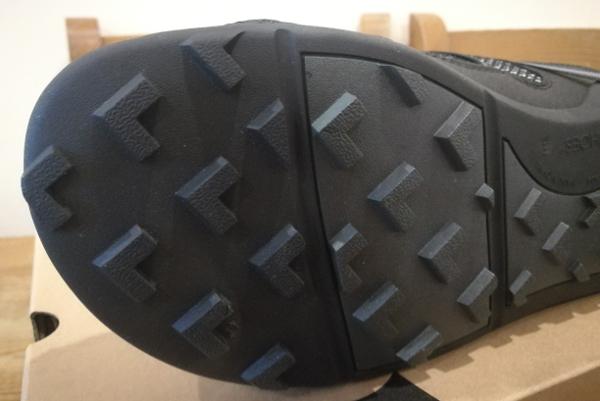 Grip
The Terraflex have a grip to spare! I've tested them on almost every type of ground, not sopping wet mud yet due to the weather still being too dry. But they're great on mud, great on rocks, great on sand, great in the wet and even pretty decent on the road (though I wouldn't recommend it for long).
Fit & Comfort
As with their older brother the Prio, the Terraflex are brilliantly comfortable. With their sandal like strap design, you're able to adjust the fit until the shoes fit perfectly. I ran 3.4 miles in my first outing in these and didn't once feel any sore spots or discomfort.
I'd actually go as far to say that these trail shoes are more comfortable than the Prio and probably my second most comfortable pair of running shoes after my Vibram KSO Evo's.
Toe box
The toe box is like a cavern! There's enough room for my feet with socks on and a small family of trolls complete with bunk beds!!
Needless to say, my toes do not feel constricted and my feet are able to play properly with each and every footstrike.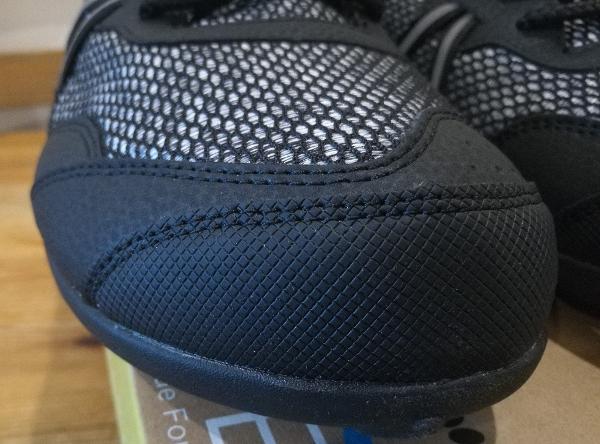 Heel
The heel is a highlight for me. As I mentioned in the heel counter section, the Terraflex uses a strap to hold your foot in place and it works brilliantly. Not only that, it's so much more comfortable than a standard heel counter. I really cannot rate it highly enough!
Performance
The performance impressed me overall. No, they're not the perfect all-rounder but then they never claimed to be. They fit a very specific hole in my shoe collection, but boy do they fit it well!!
On road
Not the best, but definitely not the worst. The Terraflex perform admirably on tarmac and are comfortable enough for a bit amount of road to trail action.
Off road
In their element. These shoes do not disappoint off the road. Even on harder ground! They grip and grip and then grip some more and are lightweight and comfortable at the same time… Just as long as they're not too wet….
For speed
Not fantastic. I would almost certainly reach for my X-Talons first if I wanted a fast pair of aggressive off-roaders, but the Terraflex aren't slow by any means.
For distance
Brilliant! I'd say that's probably what they shine at. Long runs on soft ground are a dream in these!
The Good
Flexible
Great sole with amazing grip
Brilliant for trail walking
Brilliant for hiking/hike running
Very Comfortable
Huge toe box
The Bad
Lots of padding
Heavy once saturated
Have to tighten the straps a lot for less wide feet
Not ideal for lots of road to trail running
Dear Xero Shoes…
I'm still waiting out for that lightweight racing style shoe and a trail version would also be a welcome addition. Something with a bit more of a minimal upper and stripped out feeling and that would probably be the perfect running shoe right there!
The Terraflex is great, I wish I could do more road miles with it. But on the whole I'm very impressed, thank you!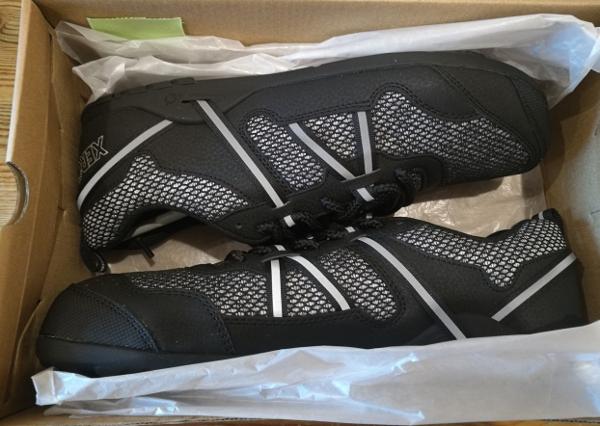 Updates to Xero Shoes TerraFlex
The Xero Shoes TerraFlex is a vegan-friendly footgear designed for off-road excursions. Its interior is barefoot friendly, which means it can be donned with or without socks on.
Fabric straps are engineered at the shoe's heel and instep. The ones at the heel grant additional support, while those covering the instep provide a more secure fit around the midfoot zone.
Size and fit
The TerraFlex is a low-cut running shoe for men and women. It is listed in half and whole sizes in standard width. Its lace-up closure with adjustable instep straps enables wearers to get a customized lockdown. For natural toe spreading, the footwear is built with a wide toe box. This running gear, according to Xero Shoes, runs small. Purchasers are advised to size up to get the most accurate fit in it.
Outsole
This running gear uses a company-exclusive rubber outsole called FeelTrue to help prevent users from slipping and sliding off tricky surfaces. It is also used in the Xero Shoes Prio and its grip effectiveness is primarily linked to its many V-shaped lugs. It comes embedded with Barefoam—a 3 mm thick layer that doubles down on underfoot protection and comfort.
Midsole
A removable insole with a thickness of 2 millimeters is nestled right on top of the TerraFlex's rubberized outsole. It offers extra cushioning and additional underfoot support. It also grants breathability thanks to its perforated underside.
Upper
Breathable mesh and stitched-on overlays form the Xero Shoes TerraFlex's below-the-ankle upper. Its front tip is built with a durable toe bumper called Tough Tek for extra forefoot protection. Its midfoot and heel regions are engineered with straps that reflect light in the dark.
The shoe's classic lacing system is made up of round laces and combination eyelets. The second and fourth pairs of eyelets are seamlessly integrated with the footwear's reflective straps.
Compare popularity
Interactive
Compare the popularity of another shoe to Xero Shoes TerraFlex:
Xero Shoes TerraFlex video reviews