If you are new to Xero Shoes and think this is the shoe for you, buy it, and you won't be disappointed. It's very unforgiving for heel striking so be careful even when you're walking or hiking about in this shoe. Half a point deduction for missing the reflective elements and another half for a slightly muted feel when doing speed work. Other than that, it's a perfect shoe for a great price point, especially considering how well these shoes should last.
Pros
Sturdy laces
Durable outsole
Adjustable straps
Lightweight
Protective
Breathable
Wide toebox
Comfy
Cons
Not for narrow feet
Missing reflective materials
Xero Shoes Mesa Trail review
An appreciable blend of comfort and functionality delivered in a featherweight package. Love the Trail Glove but want something a little more responsive?
Continue for more insight into a new offer from Xero in Denver!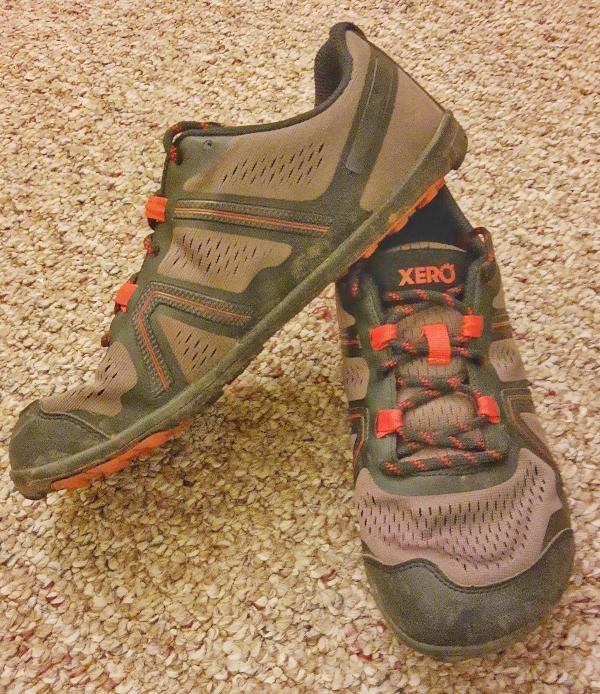 With all the marketing and technology going around the shoe industry, the value of a sturdy and dependable trail shoe can be hard to define. And, then came the Trail Mesa from Xero Shoes.
While it's minimalist tendencies may not suit every runner, the design and execution of this shoe offers hard-wearing traction, sleek cushioning and a dependable upper,
Great traction
The best part of Xero Shoes is the FeelTrue rubber outsoles and the traction they provide. Their proprietary compound and design offer a no-frills and consistent ride.
While the rubber may not be as grippy as Megagrip or downright hard wearing as the TC5+ offered by Vibram, it is an excellent balance between traction and durability.
Simple, elegant and long-lasting design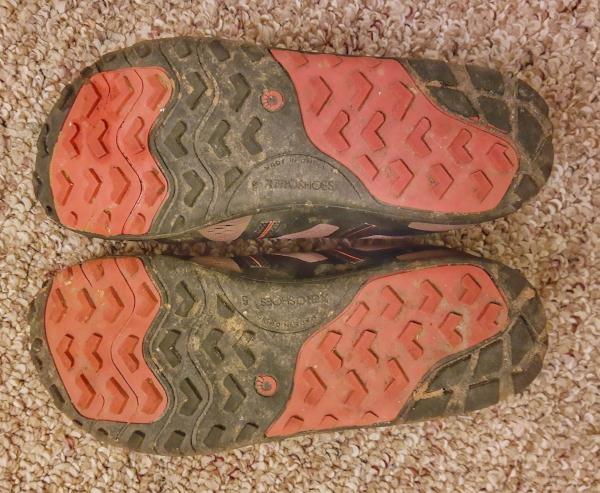 The lugged, dual chevron tread has great spacing and sheds mud easily for the 3.5mm lug height, though it's not going to handle a muddy uphill as swift as an Altra, Topo or Inov-8.
The 5mm outsole offers commendable protection against roots and sharp rocks for a minimalist shoe. While some of the finer feel underfoot is missing, the slight stiffness offers responsiveness beyond other shoes of its class.
Comfortable underfoot cushioning
Xero has "hidden" 3mm TrailFoam™ in a cutout on the top of the outsole, and it does a fantastic job of smoothing out noise from the trail without affecting proprioception.
The additional force absorption comes at the cost of ultimate flexibility of the sole. The reduced stack height from the design results in an unrivalled barefoot feel with a respectable amount of protection.
Removable insole is lightweight and adds comfort but slightly reduces flexibility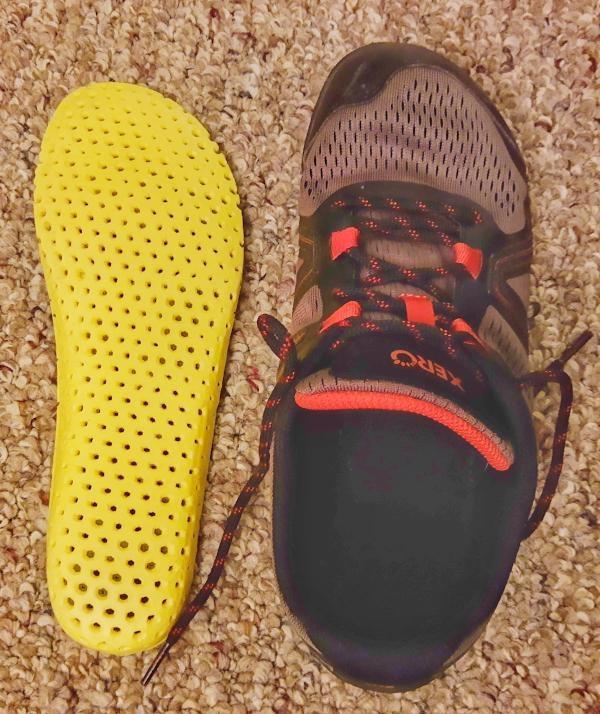 Breathable upper pf the Xeroo Mesa Trail
The Mesa Trail sports a breathable, mesh upper with a wide toe box. The moisture-wicking and cooling lining is made with 37.5 technology, utilized by a number of different outdoor brands.
Active particles from volcanic sand are scientifically whipped up into a lining that does an exceptional job at managing moisture and excess heat. Although it's not a waterproof shoe, it sheds water quickly and dries out very fast.
Great design, though the protection comes at a cost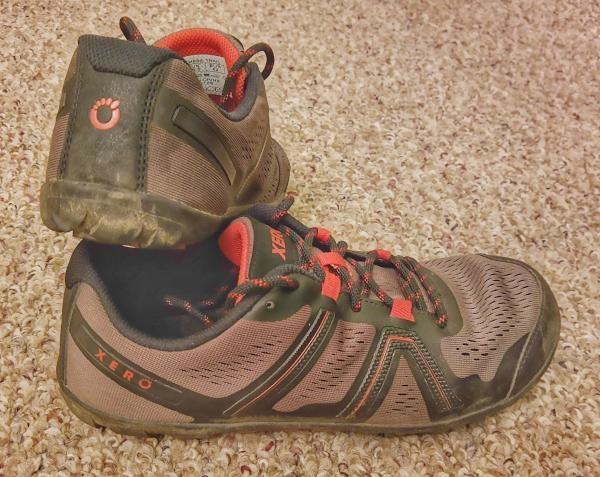 Adjustable heel strap
Outside, there are welded protective coverings of the adjustable midfoot and heel straps that are Xero's hallmarks. The added durability was apparent in hard use conditions, preventing the straps from getting snagged on low lying thorns or branches.
However, the covering does limit the travel of the straps, hindering the flexibility offered by design, and lacks a reflective element for low light conditions.
Comfy right out of the box
One of the great things about Xero Shoes is they offer virtually no break-in period for those adapted to minimally cushioned, zero-drop shoes.
The strap design offers a snug yet supportive fit that can be fine-tuned for each run by tightening or loosening the tension in the laces. The forefoot and midfoot have plenty of room to flex without excess space.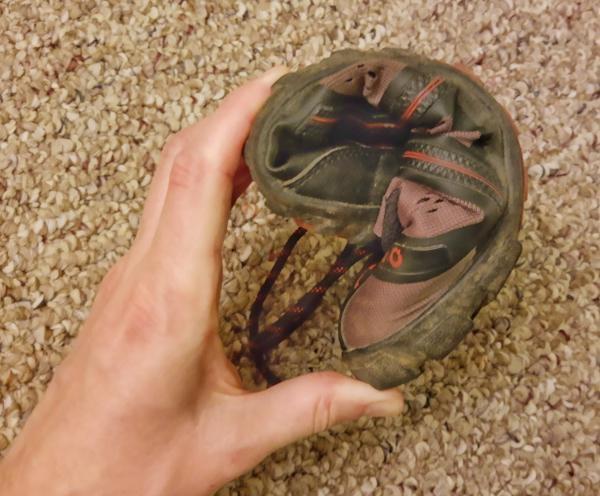 Streamlined design
A streamlined design begs to let your gait flow as nature intended.
Like the rest of the Xero Shoes lineup, it does a bewitching job of being simultaneously barefoot during mid-stance but offering enough of a responsive spring from the rubber to keep the zip in your step during push-off and landing.
The lugs on this shoe are unobtrusive and provide a great balance of grip and ground feel, unlike the more cushioned trail shoes.
The shoe cuts well for quick movement on the trails, with your ankles expected to provide most of the support needed. You will need the ankle strength to stretch this workload out over a longer run.
Increasing mileage slowly and listening to your body are paramount when pushing distance in this shoe, especially if you're new to the zero drop minimalist category.
Multisurface performance
After over 50 miles on road, grass, sandy forest and rocky trail, I've yet to find a surface where this shoe doesn't work.
It's perfect for trails, taking off where the Speed Force is limited, and its extra lug height, thicker outsole and additional upper reinforcements are very welcome for off-road running.
The trade-off is a muted response for speed work or road running so stick with Speed Force if you're only hitting light trails (and only want to buy one!).
Comparisons
If you need a more substantial shoe option, there are the TerraFlex from Xero and the Trek Ascent from Vibram.
Planning on a rocky ultra race? Check out the Inov-8 TerraUltra G 260 for some leverage against truly punishing terrain.
However, day to day, the Mesa Trail is hard to beat with an endearing design.