If you are looking for near barefoot running experience in normal conditions (paved road, dry, warm weather) the Xero Shoes Genesis at the $40 to $50 are good! In extreme conditions (wet, steep ascents and descents, or speed work) you may have some of the issues as I have written about.
Pros
True to size
Easy to put on
Good ground feel
Durable
Lightweight
Flexible
Nice fit
Secure lockdown
Cons
Simple looks
Not comfy
Lacks traction for wet surfaces
Xero Shoes Genesis review
An increasing number of people want to run barefoot or go minimal. If you have been running with heavily cushioned shoes, these barefoot sandals will demand from you a will to adjust your running form and sacrifice pace and comfort in the short term.
In the long term, you can regain your pace. You will run better and have fewer injuries. If you are going to start running from scratch, these sandals offer a good 'grounding'. You get a good ground connection and your get grounding in good running economy.
I received a pair of Xero Shoes Genesis when I returned by Amuri Venture sandals for outsole warranty replacement. Xero Shoes had replaced Venture by Genesis in their product program.
The Genesis look utterly simple
Just a thin footbed above 5mm outsole and laces for holding them on your feet.
They are zero drop and have zero cushioning. You learn to use your God-given cushioned feet. So you won't be able to pound the pavement unless you are willing to say 'ouch' every step.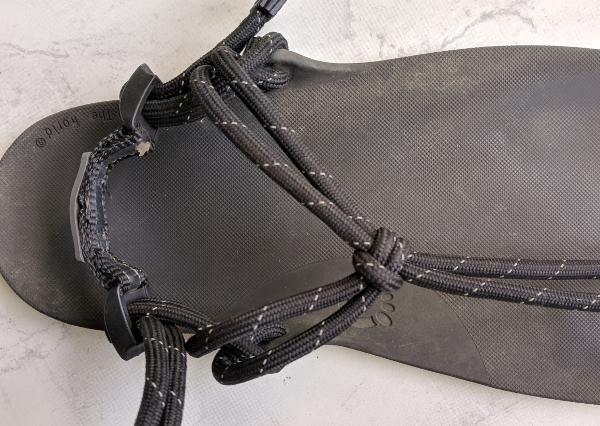 Genesis differs from Venture sandals in two main aspects.
The heel cups are no more and the laces a bit more elastic. The toe posts are easy on toes and unless you are in for a more than 3 hour run in wet conditions, you don't need much extra care.
How do you feel them?
The Genesis is easy to put on. Slide your foot in and pull heel strap on your heels. To remove them, pull the heel straps and pull out your feet. That's all.
When you wear them for the first time they do feel strange. When you walk, your feet make a slapping sound. A reminder that you are walking! When you run and if your form is good the sandal makes themselves mostly inaudible.
You get good ground feel – a must for anything that promotes barefoot experience minus the risks of cuts or blisters. Small stones and sharp protrusions from road or rubble do make their presence felt.
The sandals themselves hold up well even in rains. They don't slip. However, if you haven't tightened the laces well enough your foot may slip in them. If you are prone to blisters you need some protection like applying petroleum jelly at friction spots (like toe posts and ankle hole area) or on tape areas on your soles like the big toes.
The toe end of the footbed is prone to flop under your feet. The toe post or lace loop at toe post can get snapped due to this. This happens when you are not careful about lifting your ankles. This can happen when you are sluggish or tired.
Until you get used to running with a good form, the Xero Genesis won't be high on the comfort scale. But believe me, once you go there, you won't like to go back to shoes.
How they wear out
If you run light on your feet, the soles will last long. In any case, the soles have 5000 miles warranty from Xero! The company will give 60% off in case your sandal soles are quite worn out.
Check out mine below after 200 km of road running.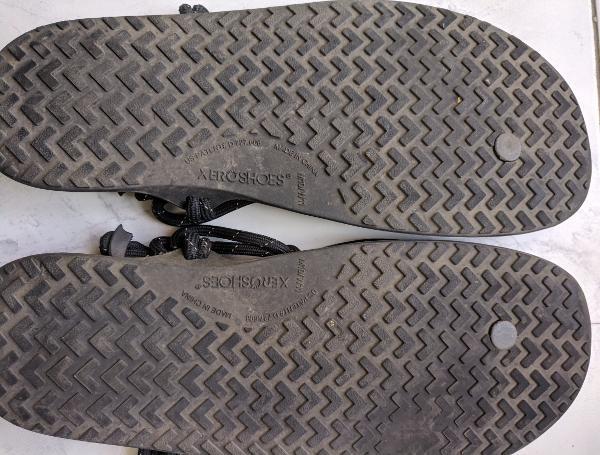 Performance of the Xero Shoes Genesis
On paved roads, the sandals allow you to do your long slow runs once you get used to them. I have been doing 30+ km runs in them regularly. They are very light, have zero heel to toe drop, and are flexible.
However, if you run up and down steep ascents and descents like I run on a winding road with 900 meters ascent in just 8.5 km (and same descent) to a mountain fort, you won't be very sure that your foot won't slip inside your sandals. This gets worse in rains!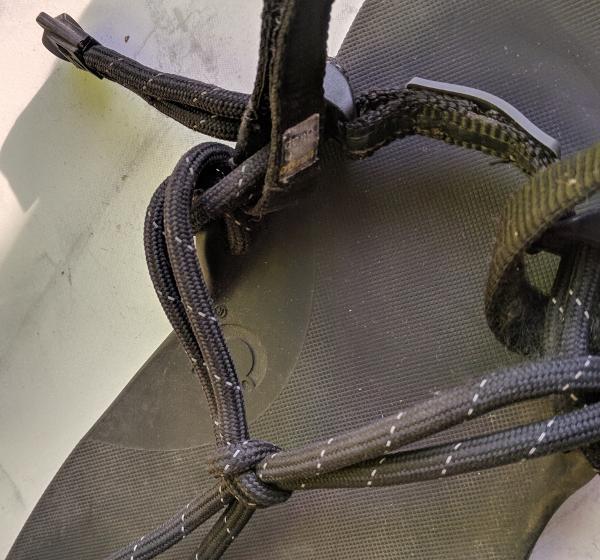 The elastic laces are not adequate in these conditions. I had to improvise and add velcro straps around the lace near ankles and going over the top of the foot to ensure that foot stays firmly in place.
I need these straps for tempo and intervals too. In effect, I use extra velcro straps all the time with my pair of Genesis.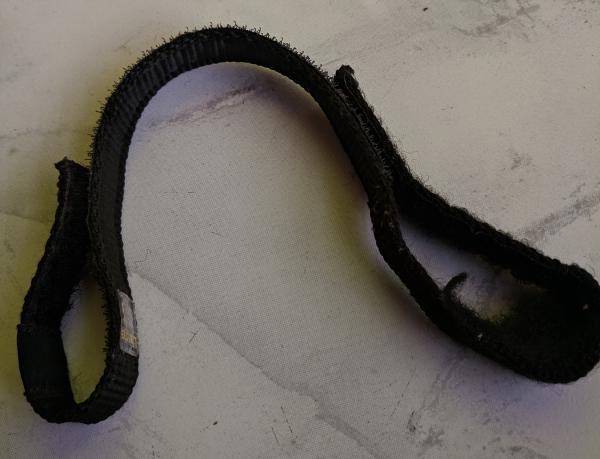 I have used these sandals on trails with some hard rock and small stones! I had to mind where my foot falls. You do that on trails anyway.
But in the case of these sandals, you have less protection so you need more attentive landing. What I have found, however, that the laces do snap as a result of extreme pulls on them on trails. It is a good idea to stock on spare laces, toe posts, and heel straps etc. I could repair mine using these accessories.
In wet conditions, the sandals give good grip on roads. Your foot may slip inside them, as I wrote above and you will need extra protection. In cold weather, I use toe socks (normal or winter wear type) to prevent feet from getting numb.
It is true to size
Genesis is true to size in length, but I would prefer them to be wider at toes. If your feet slip on footbed, you risk getting your little toe over the edge of the outsole and get cut. I would order 1/2 size up.