Verdict from 28 experts and 100+ user reviews
9 reasons to buy
The versatility of the Xero Shoes DayLite Hiker received commendation from innumerable delighted owners.
Loads of day hikers were thrilled with its right-out-of-the-box comfort.
The roomy toe box was appreciated by a lot of wearers.
Many vloggers were satisfied with the performance of the DayLite Hiker in various grounds.
The lightness of this hiking boot was exhilarating, based on numerous user reviews.
Scores of brand loyalists were stoked with the boot's barefoot feel.
A good deal of experts acknowledged its flexibility.
Most users highly recommended this minimalist hiking boot from Xero Shoes.
The boot laced up tightly, as observed by a reasonable number of buyers.
3 reasons not to buy
A gear tester was displeased with the quick deterioration of the sole material under his heel.
The inconsistent sizing of the DayLite Hiker from Xero Shoes dismayed most online purchasers. The majority indicated that it runs small.
A product reviewer felt like the padding around the heel was insufficient. He added that he felt pain after walking on hard surfaces.
Bottom line
The convincing performance of the DayLite Hiker on and off trails earned praises from the outdoor community. Its minimalist style did not compromise comfort and versatility. However, there were a couple of setbacks. Overall, considering its reconcilable sizing mishap, the Xero Shoes DayLite Hiker proved that it is among the excellent hiking boots in the minimalist category.
Tip: see the best hiking boots.
Our reviews
I'll be honest. I had not heard of a footwear company called Xero prior to being offered an opportunity to test and review the DayLite Hiker by RunRepeat. But when I received an email directly from Steven Sashen, the Founder and CEO of Xero Shoes inquiring about my size and preferred colorway, I quickly realized that not too many others would have known about this relatively small start-up based in Bloomfield, Colorado, near Boulder, founded in 2009.
Born to run
Interestingly, Steven and his wife, co-Founder and CFO Lena Phoenix were also inspired by the Christopher McDougall book Born to Run which discusses, among various topics running related, benefits of barefoot running. Luna Sandals, started by "Barefoot" Ted who features in the book, is, of course, the other offshoot extolling the virtues of minimal footwear.
But whereas Luna concerns itself mostly with huarache-inspired sandals, Xero's product portfolio runs the gamut of footwear for running, casual wear, and of course hiking. Staying close to roots, however, Xero also offers a range of sandals in addition to, fascinatingly, DIY huarache kits.
Why Daylite Hiker?
Having previously experimented with minimal (and interchangeably, barefoot/zero drop) running shoes, including New Balance Minimus and Vivo Barefoot Trail Freak, I had come to conclude that, as far as running was concerned, my preference was for more cushioning, even if possibly at zero drop, as in say, Altra's range of running shoes.
But the idea of a minimal hiking shoe was intriguing since the range of motion, gait cycle, and foot/joint impact was bound to be different when walking versus running. I was keen to find out for myself if DayLite Hiker would allow me to "Feel the World" as stated in Xero's tagline, during my non-running outdoor activities.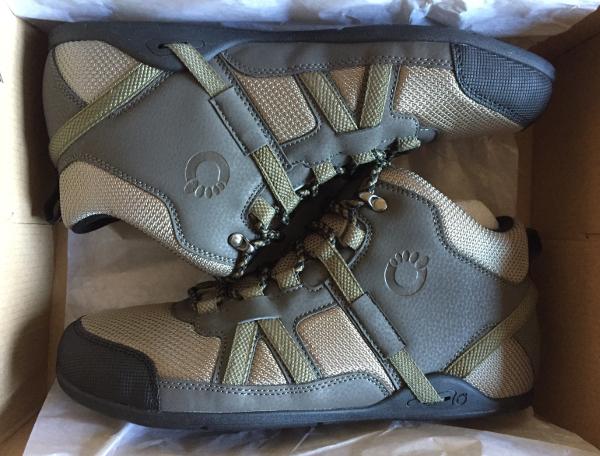 Personal touch
I mentioned earlier receiving email directly from Steven the CEO himself. The personal touch extended into the package itself once I received it, with an enclosed note from the Xero Founders.
I liked the fact that the company was small enough to be able to affect such personal touches but was also aware of fact that with youth (in terms of corporate timeline) comes growing pains. But I liked the Founders' passion and single-minded objective of putting the health of feet first in all they do.
Indeed, the reverse side of enclosed note is chockful of information on how to get the most out of Xero shoes (and by extension, your time and money invested in search of what's best for yourself and your feet).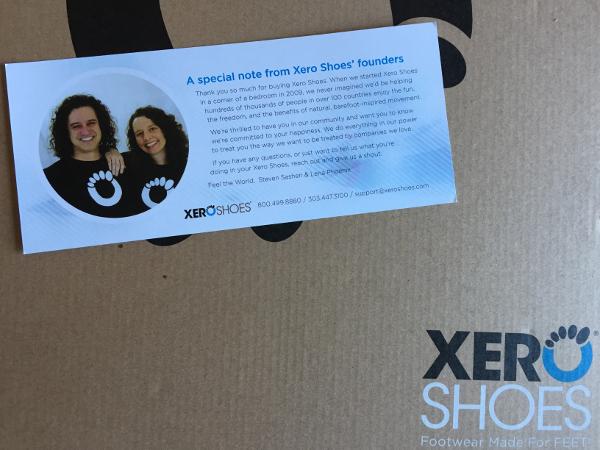 The shoe
Unboxing the shoes, one is surprised initially at their lightness, but at seemingly no cost to their robustness. My size US 11 weighs in at just 322 grams per shoe, which is lighter than most cushioned running shoes.
Light...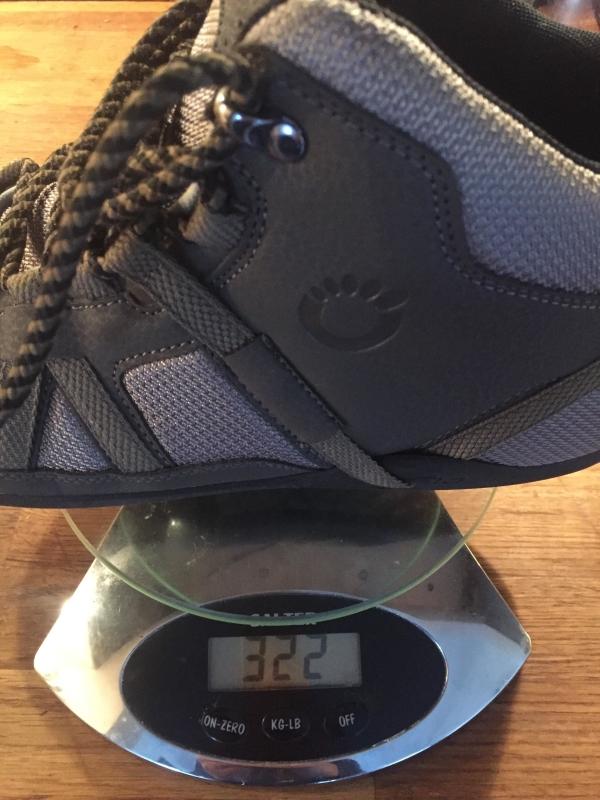 On closer inspection, one can discern the features common to most if not all minimal shoes, namely wide foot-shaped (not shoe shaped!) toe-box, zero-drop, and barely-there cushioning. After all, the point is to get as close as possible to the barefoot experience as possible while providing some critical protection as necessary.
In the case of DayLite Hikers, the extra protection comes in the form of toe-cap, sole, and ankle support. Remarkably, even at such light weight, the shoes come with removable insoles which can, of course, be removed for even more barefoot feel.
...and minimal
The upper consists of what Xero calls "ballistic mesh" and Tough Tech toe bumper. An unusual feature is the "V" shaped strap which connects the heel to the midfoot and can be tightened via the laces which the company calls "huarache inspired heel strap."
This is complemented by an "A" shaped strap in the instep area, the purpose for which is adjustable tension across the top of the foot. Clearly, a lot of thought has gone into creating the upper for a natural fit.
Heel and instep straps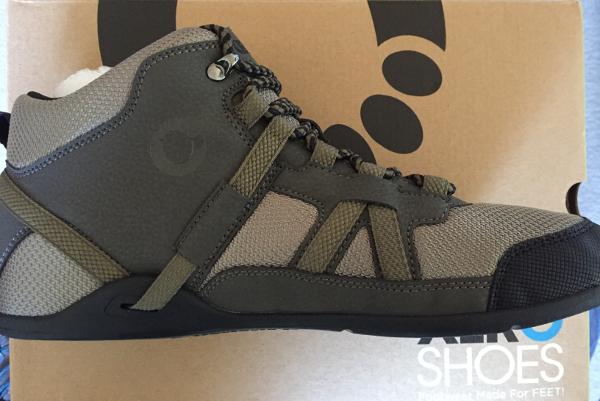 The Outsole
There is technology in the outsole too, in the form of the thin 6mm and flexible FeelTrue sole. The sole features dual-chevron tread for "great grip" in addition to a couple of flex grooves to further enhance an already very flexible shoe.
Oh – and there is no midsole, so the 6mm outsole and the thin insole is all you get between your foot and the ground. Make no mistake Altra fans, we are in seriously minimal territory here.
To be honest, when I first saw the outsole, I had my doubts. With very little in the way of lugs, I saw myself slipping and sliding over wet and boggy ground. Made of non-marking rubber, the kind often seen on boat shoes, the outsole looked better suited for, well, boat decks than on the trail.
But I could also understand why the designers had opted for less aggressive tread since bigger lugs would mean compromising on the barefoot feel. As often the case, the proof was to be in the pudding.
Casual tread on hikers
In terms of styling and aesthetics, I found the shoe a little bit "stubby" as is to be expected given the extra room in forefoot to accommodate natural toe splay. However, my wife found the shoe quite stylish, and she of the better taste says so, I'm not going to argue!
The Fit
A point Steven mentioned in the initial email was that the DayLite Hiker ran a little small and that I should size up (by one full size, according to website). I'm normally a US 10.5 in most running shoes and opted to size up by ½ to US 11 after cross-referencing UK and EUR sizing (10.5 and 45, respectively, both also ½ size up from my usual).
The resulting shoe is a good fit but at the same time I could comfortably have gone up another ½ size, particularly if my preference would have been for thicker hiking socks. Given my intended use of shorter walks on non-technical terrain, however, thicker hiking-specific socks would not be necessary.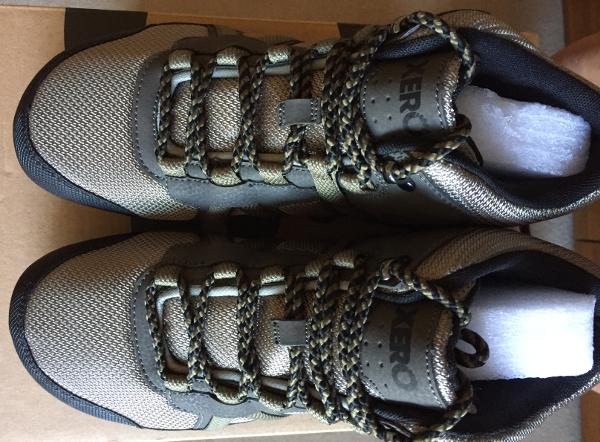 Getting the right size in other Xero shoes could be potentially troublesome since it appears some Xero models size up smaller than others (ref growing pains for start-ups) but the company appears aware of this and make clear its free exchange policy.
On foot, the DayLite Hiker felt comfortable, with plenty of width in toe space and good foot-hold in midfoot and feel, along with secure ankle support.
One observation. The laces are too thick for the eyelets, including the top ones, making it slightly cumbersome to loosen the opening of the shoe for putting on and taking off.
I believe this can be addressed by one or both possible solutions: a) makes the laces slightly thinner (enhancing aesthetics in the process), b) instead of having closed metal eyelets at the top, substitute them for semi-open ones, as often seen on hiking shoes.
Enough indoor observations, it was now time to take them outside.
Feedback from the hike (and the walk, and the cycle)
I have used Daylite Hiker 3-4 times a week for past 2 months or so. No, I didn't go on 3-4 hikes a week. Instead, I wore them pretty much for every outdoor activity, including walking to the shops, cycling to the park and, of course, going on short hikes.
I emphasize "short" because I doubt I would want to use DayLite Hiker for walks longer than 10 miles. I also would use them for more gentle and moderate terrain than rocky and technical mountain terrain.
These may sound like limitations but I tend to think they are not. Instead, I believe that kind of moderate "everyday" use is what DayLite Hiker was designed for. One would not ideally use a 3-inch pen knife to slice a watermelon!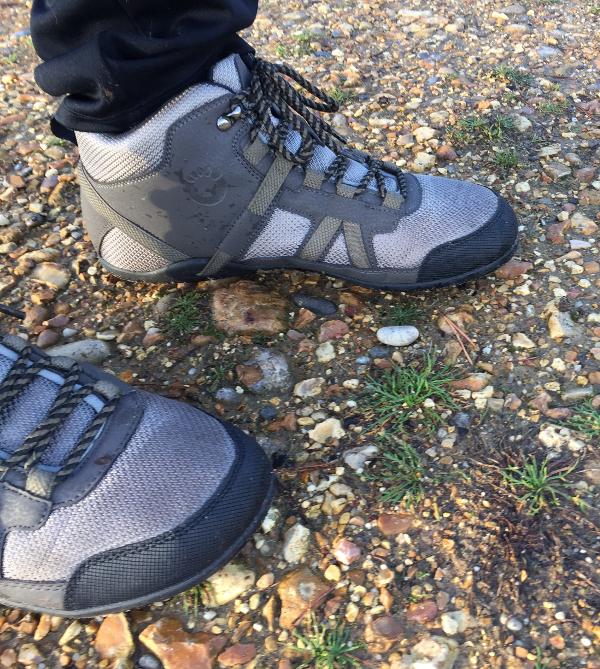 To some extent, this is corroborated by Xero on their website as well, describing the shoe as "perfect for day hikes and casual wear," "non-technical trails" and for "just walking around."
What Daylite Hiker does have above and beyond simple casual shoes, however, is the reinforced toe cap, ankle support, and tough ballistic mesh upper, so this shoe would be the one to choose for the trail. I would also add that the higher mid-top also means warmer feet during these colder months.
I enjoyed walking in the Daylite Hiker. The sensory feedback from the bottoms of your feet is unusual but pleasant. Grip and traction is actually better than I had anticipated. I suspect part of this may have to with the shoe's flexibility and suppleness, as the shoe "molds" itself to the ground's contours as opposed to simply sliding over it.
The upper tends to wet out quickly in long grass and in wet weather, but I would say the upper is as water resistant as most other outdoor shoes, save for those with membranes, of course.
A pleasure in moderate terrain.
Likes
Lightweight
Heel and instep straps
Outsole
Looks (per wife)
Corporate philosophy
Dislikes
Laces/Top lace rings
Sizing inconsistencies across models
Looks (per husband)
Conclusion
In conclusion, I believe DayLite Hiker is a good outdoor activity shoe for the everyday and casual to shorter hikes on moderate terrain.
It is just that bit more protective and supportive than a simple casual/leisure shoe while retaining its core qualities of zero drop, wide toe-box, and barefoot feel. Despite its minimal nature, the shoe is surprisingly robust and appears built to go the distance, in the metaphoric sense.
As both an avid hiker and a runner who loves barefoot shoes, I was very excited to see something like the Xeroshoes Daylite Hiker in the market.
The concept itself has a lot of merits and I thought the idea of taking barefoot style boots to the hiking trails without losing out on traction and ankle support was very enticing. That said, while the concept remains laudable, the Daylite Hiker has a lot of potential for improvements, and to this end, I respect the brand and continue to root for it.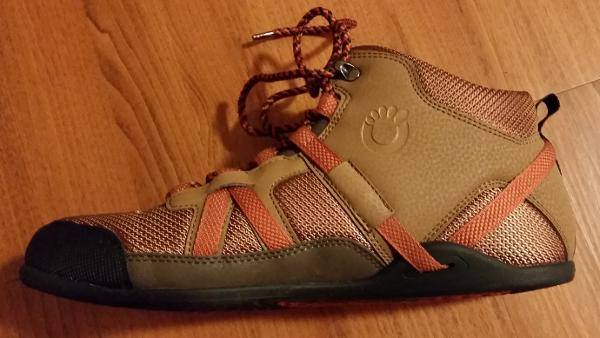 Comfort/Wearability
As soon as I slipped on the Daylite Hikers, I immediately understood why they are considered barefoot. I immediately had an intimate feel of the ground beneath my feet, which is one aspect of barefoot shoes that I love—being able to have an acute awareness for what I was stepping on.
As for the material on the inside of the boots, the cloth is actually a little bit on the rough side compared to the inside of other athletic/active shoes' insides. Because of this, the Daylite Hikers actually chafed my feet at the ankles and just a teensy bit above the toes.
Thus, the Daylite Hikers actually fell a bit short of being able to achieve the title of a true barefoot shoe (in my book) because I realized I had to wear socks in them (not a big deal). However, as someone with wider feet, I was very pleased with the spacious toe box of the Daylite Hikers, as my toes had plenty of room to splay.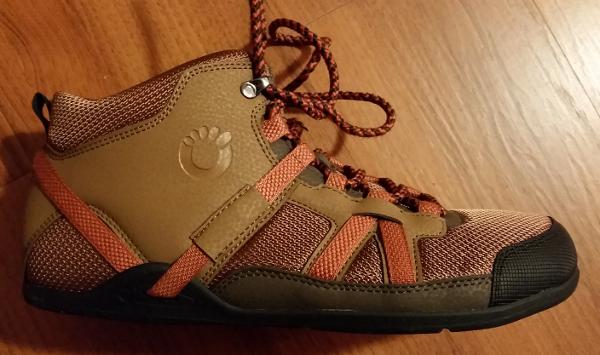 Another issue I had with the Daylite Hikers is that the heels were not padded enough to be a fully effective hiking boot. The proper and most efficient form for walking is heel-to-toe (as opposed to running, in which this is not necessarily the case), and so as a hiking boot, I felt that the Daylite Hiker's outsole around the heel did not provide enough padding, especially for the rocky and mountainous terrains of many trails.
My heel would feel a dull ache after walking a bit on hard surfaces. My suggestion would be to add a bit more padding to the heel area while still maintaining the overall barefoot nature of the rest of the outsole. Even with shoe models such as Vibram's FiveFingers, I find that the heels specifically have additional padding to accommodate for walking, and I think it works really well.
Functionality as Hiking Boots
In this section, I want to go more in-depth in how the Daylite Hikers perform overall as not just hiking boots but as footwear in general. One area where I could definitely see improvements being made is the shoelaces.
In my opinion, the boots' laces are stiff and too rough, which makes them difficult to tie. To elaborate, because the laces were not smooth material, they did not slide well through the eyelets of the boots. Because of this I always felt I had to do a lot of heavy tugging on the laces in order to tie the boots tightly enough.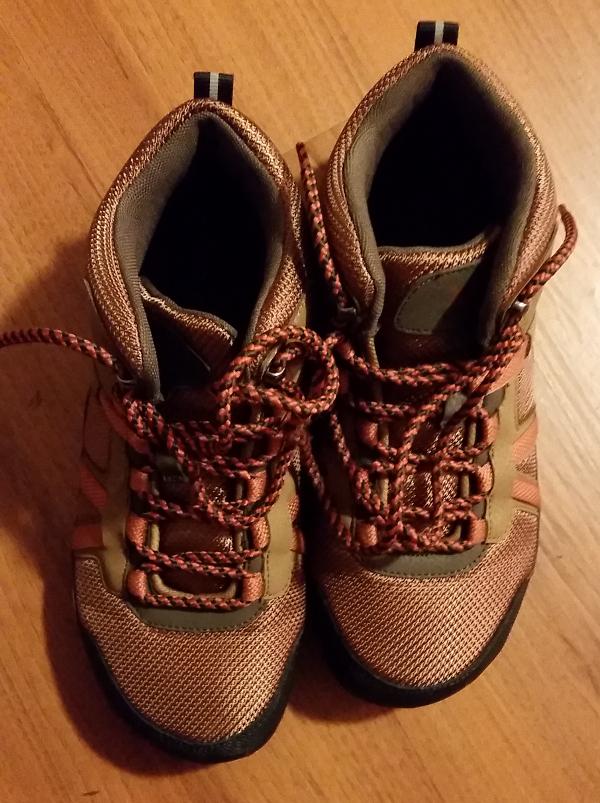 My recommendation would be to use polyester laces, which are softer, smoother, more flexible, and easier on the fingers when tying. To go a step further, I might even venture to say that the idea of laces on barefoot shoes is outdated.
Many barefoot shoes today avoid conventional laces entirely and instead use lock-lace mechanisms that are lighter, more convenient and are easier to adjust.
A positive about the Daylite Hiker that I would keep in future models is the reflective strip on the back. I am a strong advocate for having reflective functionality on all athletic footwear, and this was a feature I found worked really well on the boots.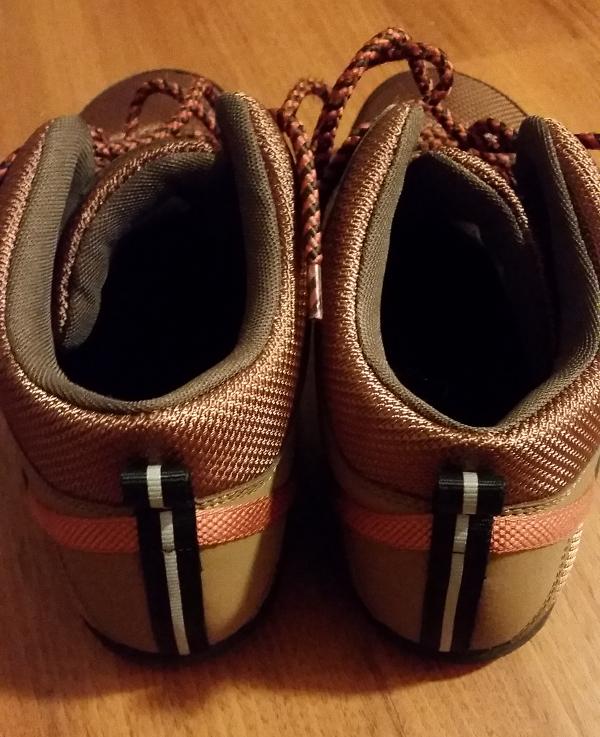 The boots also exhibited good traction even in wet and muddy conditions.
The water-resistant nature of the Daylite Hikers allowed the boots to hold up well and keep my feet dry in areas with a lot of puddles. If Xeroshoes can develop a fully-waterproof barefoot hiking boot, that would definitely take its line of hiking boots to the next level.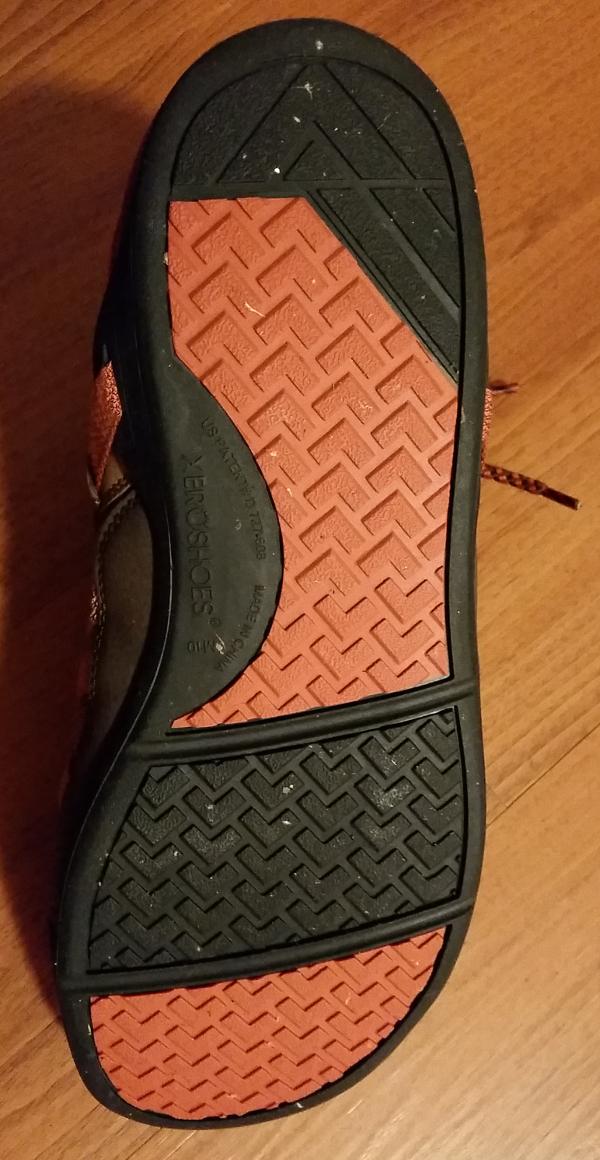 My last qualm is that the material or design of the Daylite Hikers could be more breathable. While wearing them, my feet often got very sweaty and warm without much mechanism for relief (this might be because I was forced to wear socks in them).
While I am not a material sciences expert, my suggestion might be to try using more mesh-like material for the inside of the boots. Mesh cloth is smoother on the feet and is also more breathable, and I have found that such material has performed very well inside running shoes.
Appearance
Despite the lightweight nature of the boots, the Daylite Hikers come off as a little bit clunky and puffy in terms of appearance, especially around the toes. That said, I still think that the boots do not look bad, and I like the color scheme of my pair (as shown in the photos) too.
Nonetheless, in developing future models, Xeroshoes may want to consider ways to slim down the overall silhouette of its hiking boots for a leaner look. Of course, this is the least important of all the factors for the boots.
Added Bonus
Although the main purpose of this review is to focus on the Daylite Hikers as shoes themselves, I still wanted to take the chance in this review to applaud the customer service of the Xeroshoes Team. They showed that they were very accommodating and really wanted to help me figure out the best fit in terms of sizing. As with any product, whether shoes or kitchen spatulas, I am a strong believer in commitment to customer service, and Xeroshoes did not disappoint in that regard.
Conclusion
The Xeroshoes Daylite Hikers are a nifty pair of boots that are fun to wear to due to their lightweight and barefoot nature. They perform effectively in wet conditions but are not fully waterproof.
The boots could use a number of modifications in order to be considered an elite hiking boot: including better heel cushioning, more expedient laces, and more breathable material.
As the Daylite Hikers are currently $100+ per pair, many hikers will find that they can find more effective boots at lower prices from other brands. However, if Xeroshoes can deliver on the suggested changes above, its line of hiking boots could become popular soon.
As I opened the box I was filled with intrepid curiosity. The shoes looked very interesting sporting a copper upper, truly minimal midsole and a nice Xero Shoes logo stamped on the side.
The pamphlet inside described the concept of the shoes and how the intention is that they provide an absolutely accurate ground-feel and are shaped naturally like the foot. As I put the Daylite Hiker on, I was impressed as they were comfortable, padded around the ankle, light and I absolutely agree the ground-feel is unmistakably pure.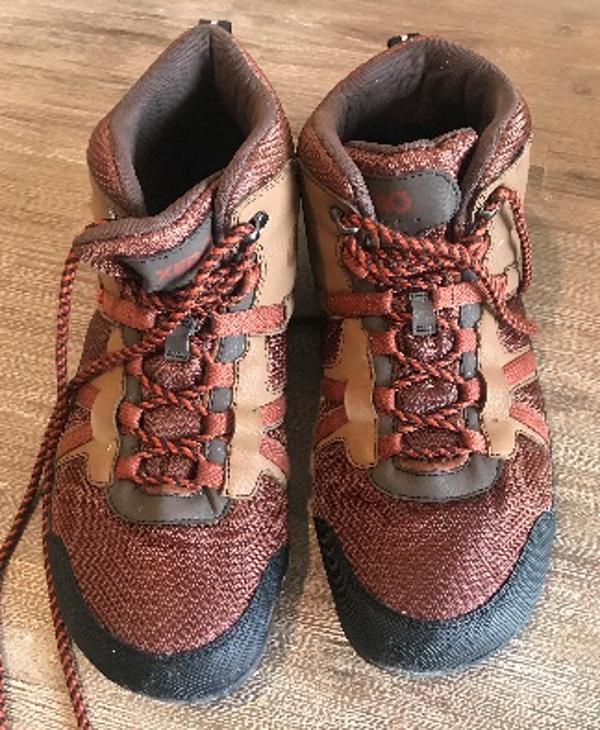 The upper of this shoe does look a little odd as explained it is the shape of the foot, not the shape of what you expect a shoe to be. The first time I walked in these (5km) I got myself a blister on the top of my middle toe as the flex point was pinching too far forward and pressing the knuckle.
The next time I walked in them I tried lacing them up much more tightly. This worked a treat, the shoe felt more fitted around my forefoot and ankle and the flex point seemed to stop cinching up around the top of my foot and there were no more blisters.
The top of the upper is beautifully padded, snug around the ankle and feels very supportive. The forefoot is broad and allows for plenty of room for a wider square shaped forefoot. The material of the upper is tough and durable even off road in bracken and shrubs. It is a combination of what looks like leather and a tight weave mesh.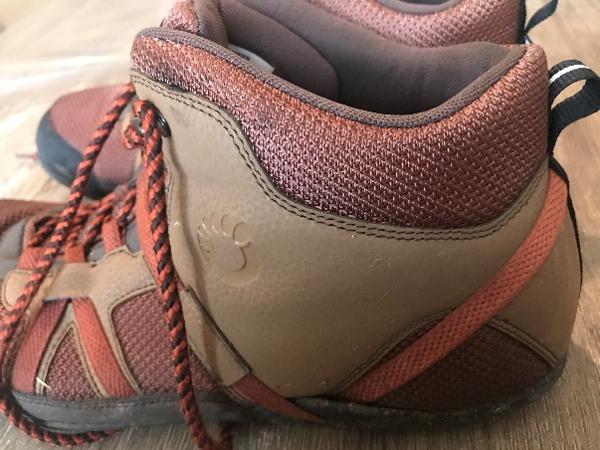 Over 10km on a variety of inclines and terrain types and in rain this upper felt comfortable and supportive, even when I slipped the ankle support held true. There is enough space to accommodate for an orthotic should you desire to use one with these shoes however it would entirely defeat the purpose of a minimalist shoe.
Midsole
There is no midsole to speak of in this shoe as per the concept of the shoe and the title of this review. The concept being a minimalist hiking shoe that allows 100% ground-feel with no thick midsole to add weight to the shoe and create a barrier between your foot and the earth.
They have delivered this in spades, there is no heel to toe drop, this shoe is perfectly flat so walking in them does not interfere with your biomechanics. This adds to the flexibility of the sole of the shoe, it is extremely flexible and indeed allows the foot to flex almost as if it were bare.
This all being said I must make it very clear that as this is the case I can feel every nuance underfoot, walking on gravel with rocks over 20mm in diameter can be painful if your foot is not accustomed to it, additionally the sharper the rocks the sharper the edges I can feel.
Even walking over larger rocks with jagged edges would be painful to someone who is not accustomed to barefoot walking or minimalist hiking shoes and running shoes.
Make no mistake to use these shoes on rugged terrain you will need to have experience and tough feet. I would not recommend them for steep downhill walking if you were timing yourself or competing in an event because even experienced hikers would need to pick their way around rocks and tread carefully to avoid jarring their knees and back.
In good conscience I must say that if you have any of the following medical conditions I would not recommend these shoes for any terrain more rugged than a light gravel path and no steep hills:
Osteoporosis
Morton's neuroma
Diabetes
Overweight or obesity
Arthritis of the feet, hips, knees or spine
Reduced fat pad under foot due to age
Stress fractures of the feet
Tight calf muscles
Heavy pronation
Any disease affecting the integrity of your ligaments
Peripheral neuropathy
Achilles tendinopathy
This shoe is intended to fill a niche in the market for a very specific customer so unless you are prepared buyer beware.
Below are some pictures of the terrain and each has some info on how I fared in these shoes: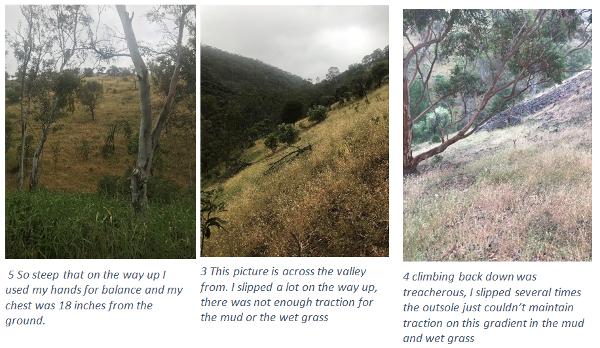 Outsole
The outsole of this shoe has been designed to be as flexible as possible and to remain thin so that there is no loss of ground-feel. As with the midsole, Xero Shoes has achieved this goal. As described above I can feel every element of the ground beneath my feet, sadly however to the shoes' detriment over rugged terrain.
The main purpose of an outsole in a hiking shoe should be to maintain traction over various types of terrain, as you can see pictured here there is about 2mm of texture, this as I found on steep grassy, muddy and rocky slopes does not offer any traction.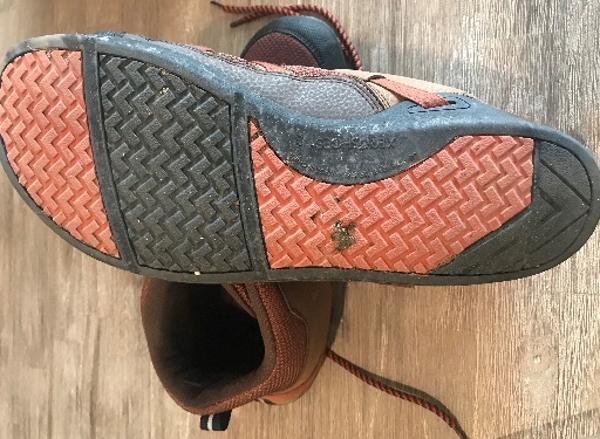 When the hills were of a mild to moderate gradient they were fine but as soon as the terrain became serious the traction was not there. I slipped and fell on the wet grass several times, I had to work very hard to stay vertical on the way up and down the pictures below. I wish I could be more complimentary but to be honest I must say for almost anyone to take these shoes on serious hikes its borderline dangerous.
I have many years of experience in navigating mud, mountains, and jungle, as well as the Aussie outback and this, is one of the only pairs of shoes that has made me feel unsafe. No matter who you are, you need traction, physics dictates that if you reduce friction and increase shear force you're going to slip, period.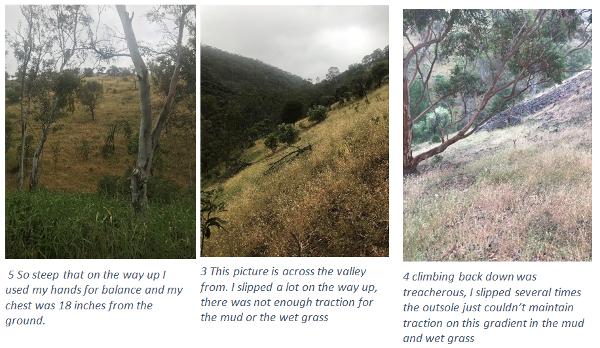 Overall
If you have the grace of a mountain lion and the sure feet of a mountain goat with the soles of your feet so tough you can brave a carpet of LEGO brick without so much as a flinch, these shoes are for you, take them anywhere.
If you are any other kind of human, I can only recommend them for a short stroll with your dog on a suburban gravel path to the nearest café where you can buy an organic fair-trade coconut milk chai latte and tell your friends how close to the Earth you feel in your new favourite minimalist hiking shoes.
Just kidding, all jokes aside these shoes are a niche product aimed at people who have the credentials to hike in almost bare feet, they're definitely not for everyone and even still I would apply caution on difficult terrain.
Good to know
Xero Shoes designed the DayLite Hiker to accompany wearers on their outdoor adventures—whether hiking, trekking or just going around town. Its protective upper is primarily made of ballistic mesh with a Tough Tech toe guard.
This minimalist hiker has a zero heel-to-toe drop, promoting natural posture. Additionally, its grippy and flexible FeelTrue sole allows the foot to move and flex naturally.
The DayLite Hiker from Xero Shoes caters to male and female outdoor lovers. It is offered in standard width and regular sizes. According to the brand, this pair runs small. Hence, they recommend getting a whole size up than the wearer's usual size. The men's version is a tad wider across the toe and heel area while the women's variant has a narrower heel zone and less roomy toe box.
The Huarache-inspired heel strap is connected to the boot's lacing system to hold the foot firmly and prevent heel slippage. Also, the instep straps are adjustable to allow users to customize the tension and volume in the forefoot area.
The Xero Shoes DayLite Hiker employs a 6 mm FeelTrue outsole. This flexible material protects the foot while allowing it to have a natural feel of the ground. Its low-to-the-ground design balances and stabilizes each stride even on bumpy grounds. The chevron lugs allow it to bite on various types of terrain.
Atop the sole unit is an insole for cushioning. It is removable so that users can feel more connected to the ground.
The upper of the DayLite Hiker features a water-resistant ballistic mesh. It has a Tough Tech toe bumper which helps protect the foot against accidental knocks on the trail. Its front closure includes synthetic laces, webbing eyelets and a metal loop at the top.
This boot uses vegan-friendly materials.
Xero Shoes offers a 5000-mile sole warranty for this boot where they replace the worn out FeelTrue outsole for a cost.
Rankings
How Xero Shoes DayLite Hiker ranks compared to all other shoes
Popularity
The current trend of Xero Shoes DayLite Hiker.