Verdict from 19 experts and 100+ user reviews
10 reasons to buy
Based on many customer reviews, the Vivobarefoot Tracker FG is instantly comfortable out of the box.
The removable thermal insole of this surprisingly warm hiking boot receives praise from a lot of wearers and gear reviewers.
Most owners declare that it is one of the best lightweight hiking boot they owned.
The roomy toe box of the Tracker FG delights numerous users.
According to a handful of experts, the flexibility of this Vivobarefoot product allows them to maneuver safely and freely.
This waterproof boot for hiking earns compliments from several users with its ability to prevent water intrusion.
Some hikers mention that it is able to handle diverse terrain effectively.
Umpteen wearers appreciate the ankle support of the Tracker FG from Vivobarefoot.
Hordes of online buyers and product testers commend the stylish look of this boot for hiking.
The majority testifies that it fits as expected.
2 reasons not to buy
A gear critic is a tad unhappy with the closure system of the Tracker FG. He says that it is a bit of a pain to re-lace and remove the boot because of the lacing hooks.
A couple of professional bloggers state that it does not grip well on icy surfaces.
Bottom line
The Tracker FG from Vivobarefoot pleases both experts and neophytes on the trail. Its abundance of good qualities is enough to gain people's approval. Its surprisingly comfy confines, supportive design, and attractive look all add up to its good reputation.
However, its lacing system and performance over icy grounds were causes of concern. By and large, the Vivobarefoot Tracker FG can still deliver well on most terrain types. Using it on icy surfaces may appear to be a gamble though.
Tip: see the best hiking boots.
Our reviews
I cannot advocate Vivobarefoot enough; I have other pairs of their shoes, and I absolutely love them. They are incredibly comfortable and made of sustainable materials.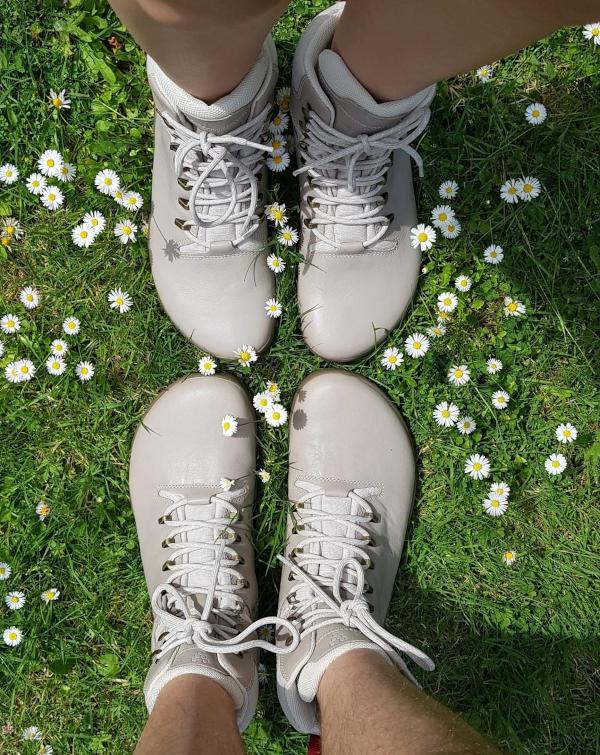 Most importantly, Vivobarefoot does extensive research into the science of their shoes, so you know you are getting a good quality product.
I needed a new pair of hiking boots. And, as I am trying to move all my shoes over to barefoot, it made complete sense to get a new pair of hiking boots through Vivobarefoot.
My partner also got a pair, as you can see from the photo!
Tech specs
Terrain: multi
Arch support: none (barefoot)
Use: Day hiking
Weight: (369g)
Width: normal
First impressions
They look super smart and stylish, but also look extremely comfortable too!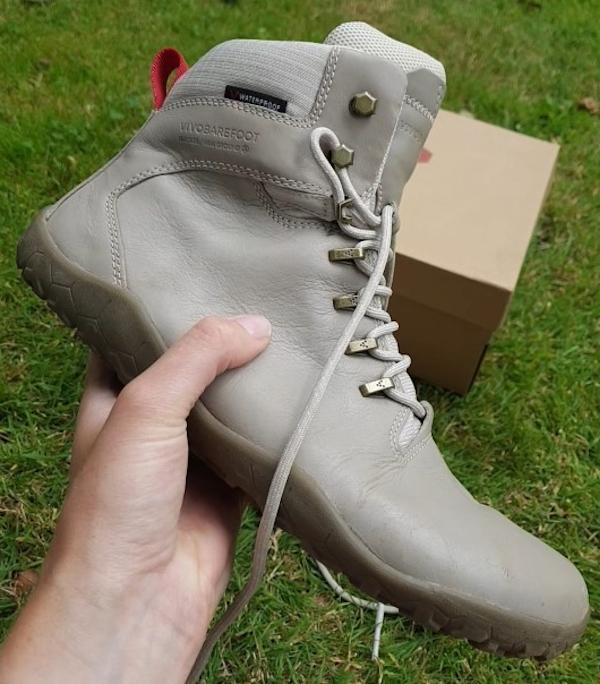 They come in 'cement' and 'dark brown' so not a massive range of colours. But to be honest, when you are hiking you don't want ultra wacky designs and bright colours.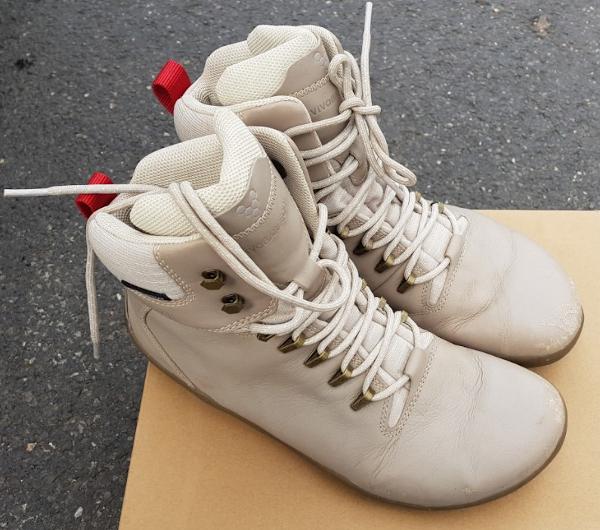 I think they are very fitting with the activity you will be undertaking. I was excited to test these out!
Upper and comfortability
When I first put these on, I couldn't believe how comfortable they felt, especially compared to my previous hiking boots. They feel like you have put your foot into a really comfy, but supportive hiking sock!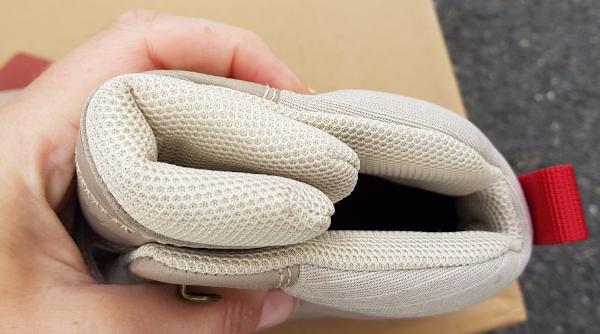 The most significant comparison for me was the ankle area. The back is supportive and stiff, and the sides and the tongue are thick and cushioned. But, the whole area moves flexibly, which means your ankle doesn't feel restricted and still feels supported.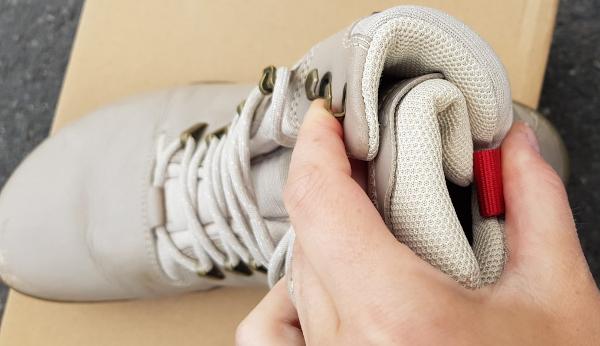 The upper material is made of leather and contains a waterproof inner membrane. As I got these in the spring, I haven't done a lot of wet hikes in these. Thus, I cannot vouch for whether they do keep your feet waterproof.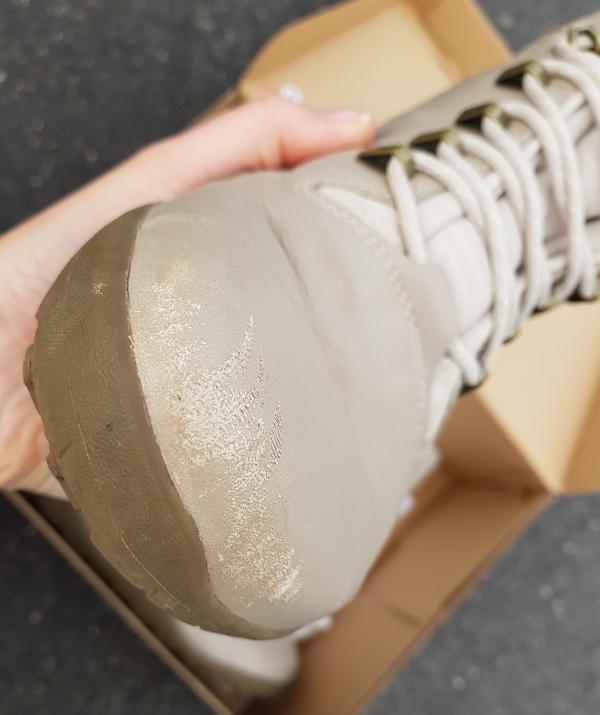 There is a big con for me though with the upper leather, and that is how much they have been marked. I have taken these on many hikes, and do expect some marks, but the leather has been scuffed quite badly on my FG's, which I have been disappointed with.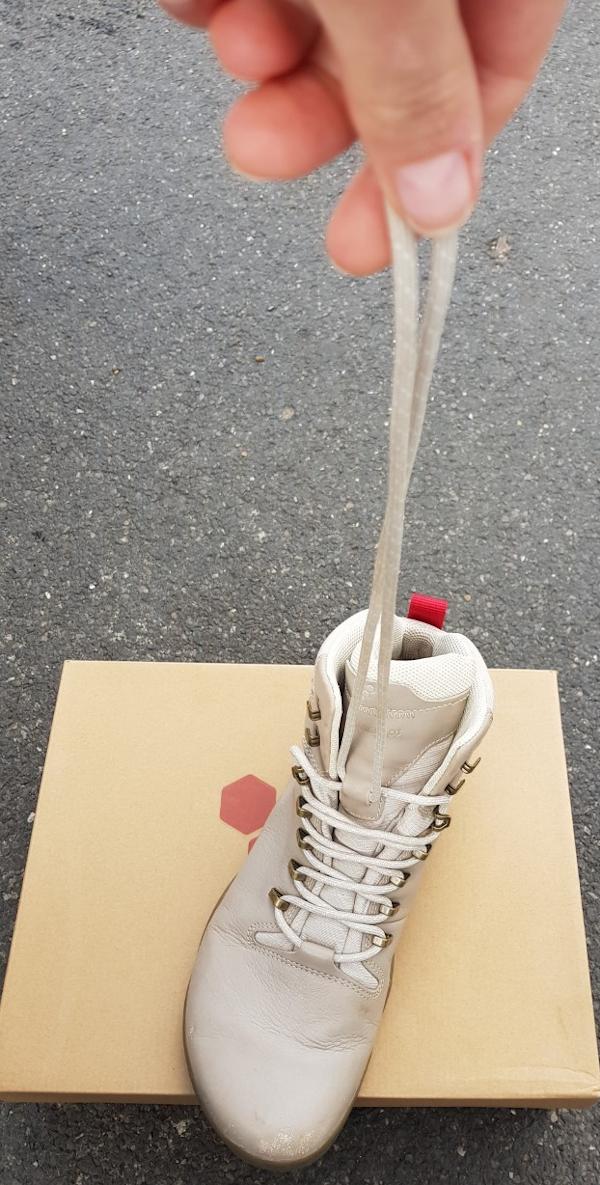 They have mountain laces, which are thicker and more durable. The laces are quite long, which could be a pain. However, if you choose to tie the laces to the highest point on the shoe, they don't dangle too much.
Midsole and cushioning
As with any Vivobarefoot, the idea is for minimalism and to allow your feet to do their own thing and move in their own way. The boots are not rigid and therefore, don't feel clumpy when you move around.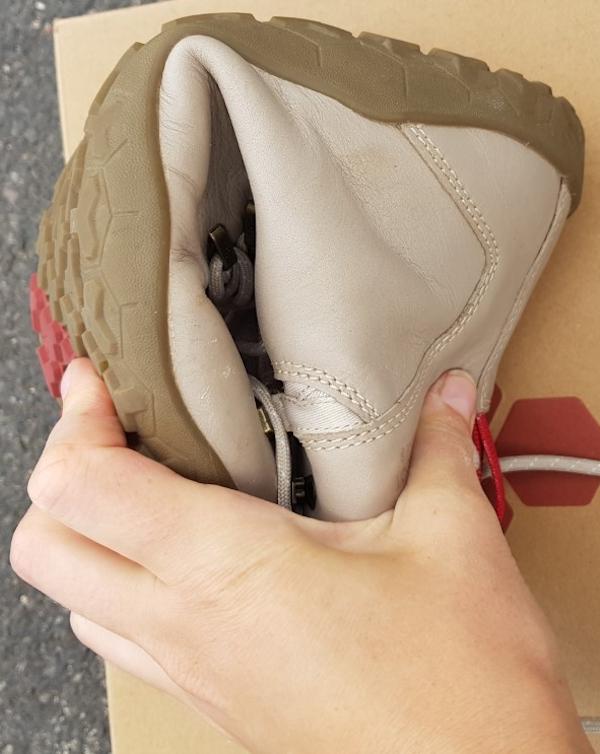 As always, the toe box has more room than other hiking boots, which allow your toes to splay out. I love this because it means that your feet are free and not squeezed into a shoe, which, especially when hiking, could mean fewer injuries.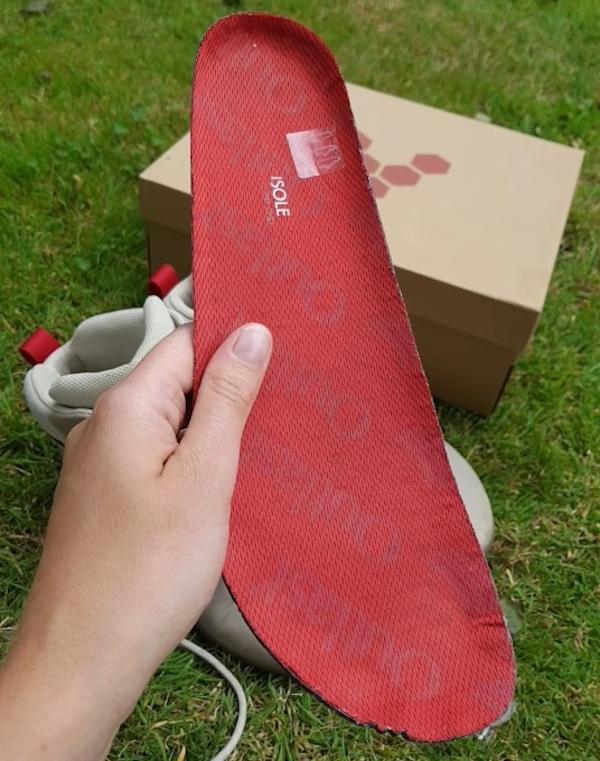 The midsole has a removable thermal insole. I have been hiking in these during spring and summer months and not found that my foot has been too warm. But, I hope that these provide much-needed warmth in the autumn/winter months.
Heel and outsole
The heel has 3mm lugs, which help with grip when walking on various terrains. Yet again, Vivobarefoot has shown they have done their research and been able to provide a shoe with a thin sole that is still punctured resistant.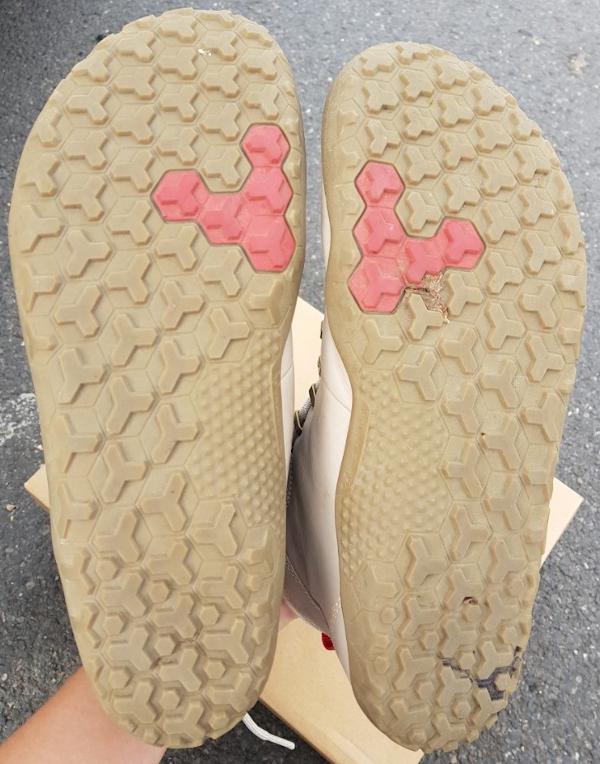 Your feet can feel more of the ground than they normally would, and I love this! Especially during a hike, you want to feel the ground beneath you.
I am yet to take these out in icy conditions though, so cannot comment on their functionality here.
Price
The price is pretty hefty at £190, and Vivobarefoot used to have a loyalty scheme, but they are stopping this now.
However, although they are pricey, they are the most comfortable hiking boot I have ever had, and I love being able to hike almost barefoot. They are worth the money in my eyes.
Summary
In summary, I am really glad I have purchased the Tracker FG's. I have taken these boots hiking around the Dorset coast, in the UK, and also in Canada. They have held up really well.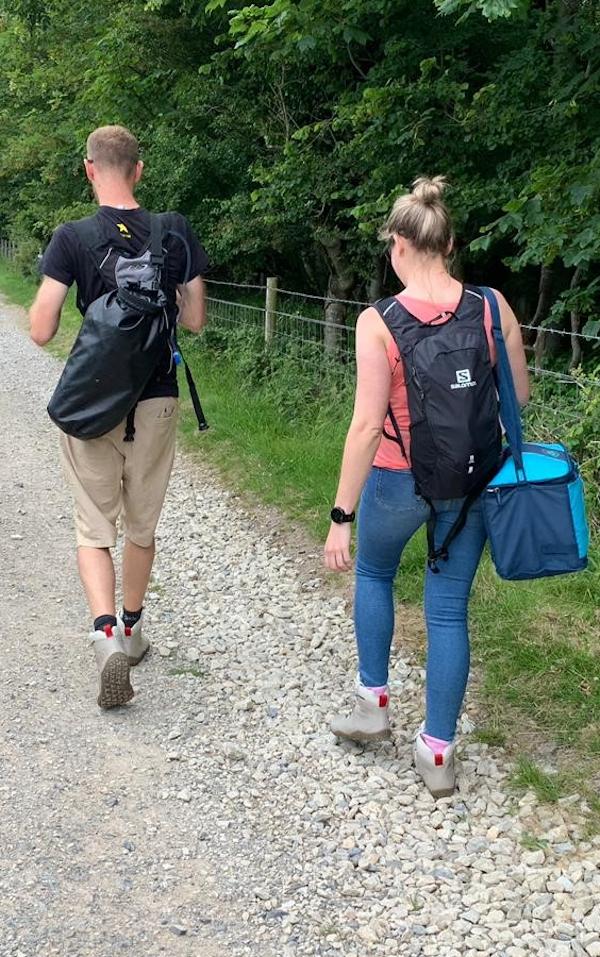 Although I haven't been able to take these out in the autumn/winter months yet, I am sure they will continue to provide a great hiking experience then too.
Yes, they are expensive, but with Vivobarefoot I do feel that you pay for what you get. I know that fellow customers have had great responses from them if they have had any issues.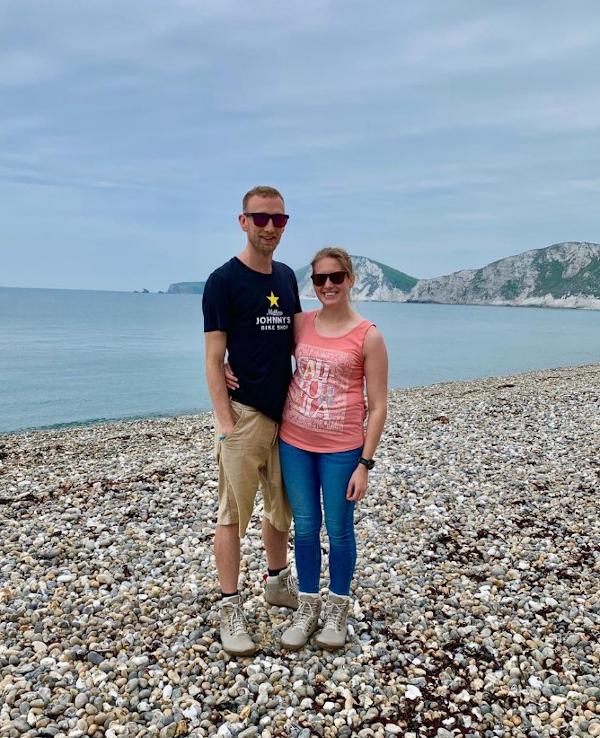 Their products are designed to last, and I am sure my Tracker FGs will provide me with great hiking experiences for years to come!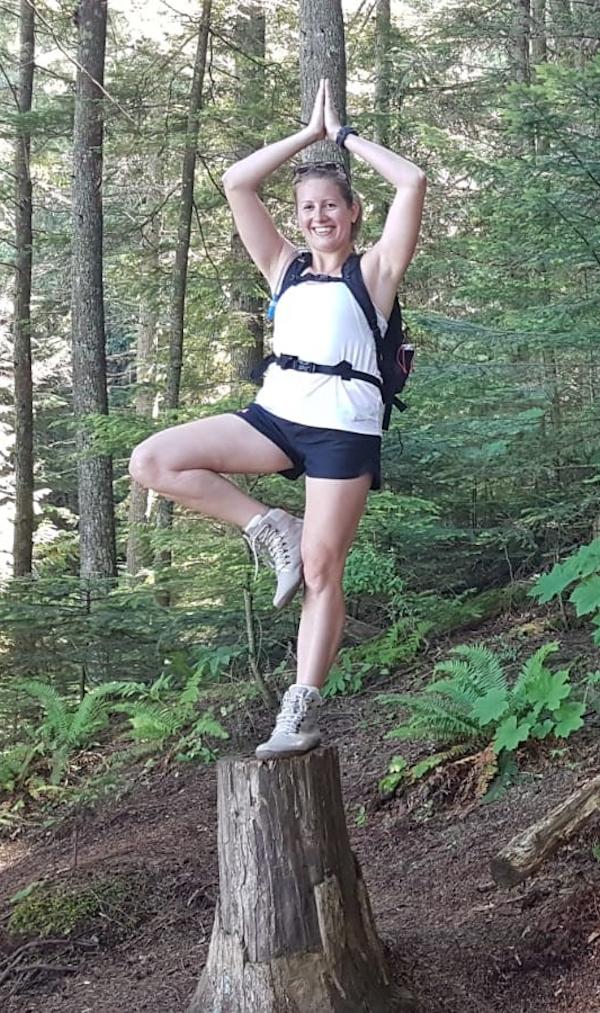 The only true negative is that they mark easily, and so I am looking at getting the protection kit that Vivobarefoot sell. I hope this helps the future look of my stylish hiking boots.
Pros
Very comfortable
Stylish
Provides more of an enjoyable hiking experience
Less clumpy than other hiking boots
More room for your feet to move
Less likely to be injured
Cons
Expensive
Not sure if they are waterproof/able to deal with winter conditions
Marks really easily
Good to know
Designed to overcome wild and tough terrains, the Tracker FG from Vivobarefoot comes with a premium leather upper. It has a hydrophobic inner bootie (crafted using non-absorbent materials) that offers 360-degree waterproofing and breathability.
Its midsole works with a removable thermal insole to provide cushioning and comfort. It combines three elements—Outlast thermal regulator, reflective foil and insulating foam—to yield extra warmth when the weather drops.
For ground adherence, the Vivobarefoot engineers use the Firm Ground Sole in the Tracker FG. It is designed with low-profile and multidirectional lugs that bite into most ground surfaces. The Pro5, a patented, ultra-thin layer makes it puncture-resistant.
The Vivobarefoot Tracker FG is a relatively true to size day hiking boot that caters to men and women. It is manufactured in standard width and regular sizes. The lace-up type closure of the boot allows owners to fine-tune the fit.
This hiking boot with a leather upper comes with a Firm Ground Sole. This sticky rubber material has 3 mm lugs that maintain grip on wet and dry surfaces, including rocky grounds. It includes a patented, ultra-thin layer that is puncture-resistant yielding an enhanced performance.
Vivobarefoot's Tracker FG has a cushioned midsole and a removable thermal insole. The latter is a 3.5 mm material that offers four-season protection. It combines Outlast (a thermal regulator), a reflective foil, and insulating foam. These three components provide users optimal thermal protection.
The Premium Action Leather used in this barefoot hiking boot makes it able to overcome technical and rough terrain. Its lightweight build does not compromise its outdoor performance, thanks to the incorporation of Hydroguard, a 360-degree waterproof and breathable membrane. Its weather-proof upper also renders a decent amount of thermal insulation.
The Tracker FG's closure system employs the Mountain Lace for non-slip adherence. A heel pull tab assists owners in a more convenient donning and doffing.
Rankings
How Vivobarefoot Tracker FG ranks compared to all other shoes
Popularity
The current trend of Vivobarefoot Tracker FG.