I have thoroughly enjoyed wearing my Vivobarefoot Stealth II.
I've put them through their paces on everything from road to mud and even the beach! I've run about 45 miles in these shoes and walked about 15.
They have become my go-to shoe for almost every situation and I can't see anything taking their place anytime soon. When I have them on, all I want to do is bounce about the place.
They've also been an awesome shoe to transition to barefoot/minimalist running in, so much so that I almost wish I could rewind and do it all again!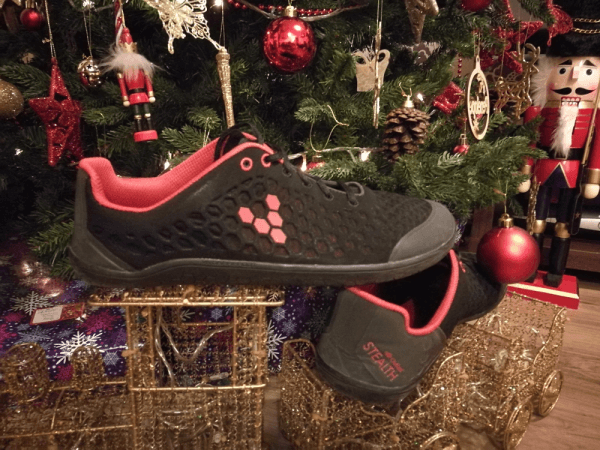 Tech Specs
Weight - Size 45 EU weighing in at 225g per shoe (without insole in… I weighed them myself!)
Sole - PRO5
Patented, ultra-thin (3mm), puncture resistant layer. 5x more puncture resistant than a standard sole of the same thickness.
Vegan - Produced using animal free products and processes.
Upper -Breathable Mesh
Synthetic multiply materials, to deliver optimum lightweight breathability and comfort.
V-MESH
Multi-layer honeycomb constructed upper, engineered with foam and mesh.
V-WEB
Heat fused together for lightweight structure and stitchless durability.
TPU COMPOUND
Super thin, lightweight and incredibly durable for maximum underfoot sensory clarity.
INNER
Outlast® technology, originally developed for NASA, utilizes phase change materials (PCM) that absorb, store and release heat for optimal thermal comfort.
Design
I've not only used the Stealth II for running in but also as my everyday toe-house and they've certainly turned a few heads… but mostly not in a good way.
They definitely look quite odd and if you're the kind of person who cares about how you look or how other people view you then these probably aren't for you. I'm not saying that I hate how they look but these minimalist beasts definitely weren't designed with looks as the primary concern.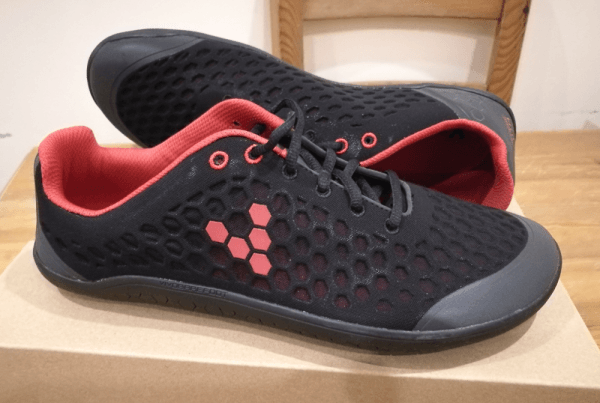 Safety
The reflective and protective toe, heel and tongue parts are great for adding to night-time visibility as well as offering that little bit of extra safety and foot security.
The heel cup especially helps to keep your foot locked in, which is great! But in the daytime they make the shoes look more like plimsolls than I'd like them to, I've also had a few comments to that effect.
The honeycomb pattern in the upper although fantastically functional also adds to the strangeness in appearance. Most people that have seen me wearing them just aren't sure what to make of them.
But you know what… I couldn't care less!
These shoes are brilliantly comfortable! I'd go as far to say that (only just) behind the Vibram FiveFinger KSO's they are the most comfortable footwear I have ever worn!
Flexibility
The 3mm sole is flexible yet resistant and it offers more than adequate protection from the road whilst running. It also doesn't feel too hard on your feet, even without the insole in. (And I'm only just transitioning to barefoot/minimalist at the moment).
The heat fused, multi-layer upper offers great flexibility and breathability.
On cold days (down to -1°C) my feet don't feel cold despite how thin the upper is. The high-tech Outlast inner really is fantastic and does what it says it should.
I can't wait to see how these shoes perform in the summer to disperse the heat on those heat-wave run days.
Fit
I wish I had gone a size up with these.
I went for my usual size 45EU with these shoes and although I have decent room for my toes I think a size up would have given that little bit more for these shoes to feel even better.
One big plus point with these is that I didn't have to break them in at all. They haven't once given me a blister and they're as comfortable now as they were the first day I stuck them on.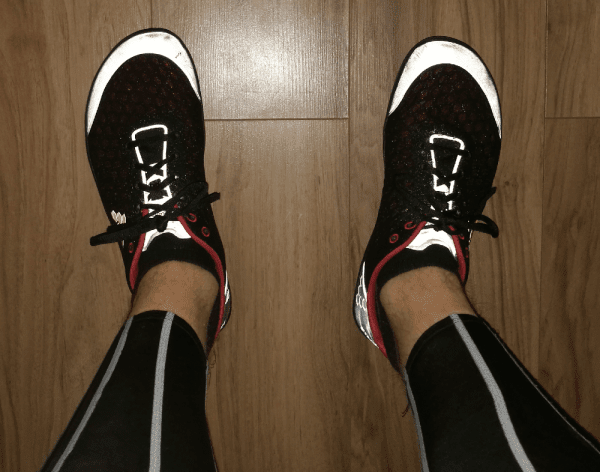 My toes occasionally hit the end on downhills which is a bit annoying. That could have to do with my downhill technique more than the shoes being too small. (I'm trying to learn how to run downhill like a child but it's hard letting go).
I think these probably fit as expected but if you're the kind of person (like me) that's sometimes a bigger size then I would definitely suggest going bigger.
My one slight critique of the design in terms of fit goes is that I don't understand the weird flappy bits that surround the tongue. It's almost like they forgot to cut off half a centimeter of excess material from the thing, only it's definitely meant to be there.
It doesn't cause any discomfort but it bugs me a bit that it is there, especially when I'm putting them on.
Maybe it has a function I don't know about but what that could be I have no idea! The tongue also feels like it's slightly too short, maybe just a few millimeters extra on there and it'd be absolutely banging on for me.
Grip
Just looking at the soles on the Stealths you'd think that they would only be any good on nice smooth, dry pavements (there must only be about half a mm of tread grip on them after all).
But you'd be wrong all day long! I still can't quite get my head around how well these things grip the road.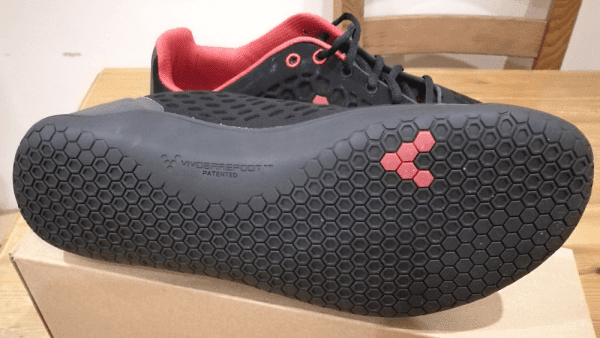 I've run on wet, dry and icy roads, groomed trails, the beach (both wet and dry sand) and even on wet, muddy grass.
The only times I felt as though I wasn't in control was on the muddy grass and it was a little hairy on the ice (hah!) but the shoe really impressed me in every other instance.
Obviously, you're not going to get a super grip in a lot of places with these but they are pretty amazing.
Support
As I've mentioned before the heel cup on these shoes offers decent support for your feet. The lacing system is simple yet effective and your feet snug and locked in place when all done up.
For the most part, these shoes just allow your feet to act for themselves and don't really need to offer a load of support. They let your feet work things out for themselves and I'm quickly getting used to how great that feels. Not just with the Vivobarefoot's but barefoot in general.
Performance
Where the Stealth II really shines is when you take the insoles out! They're really responsive.
I've found that when I hit that point in a run where usually my legs would be tired and feeling heavy that isn't the case when I'm wearing these.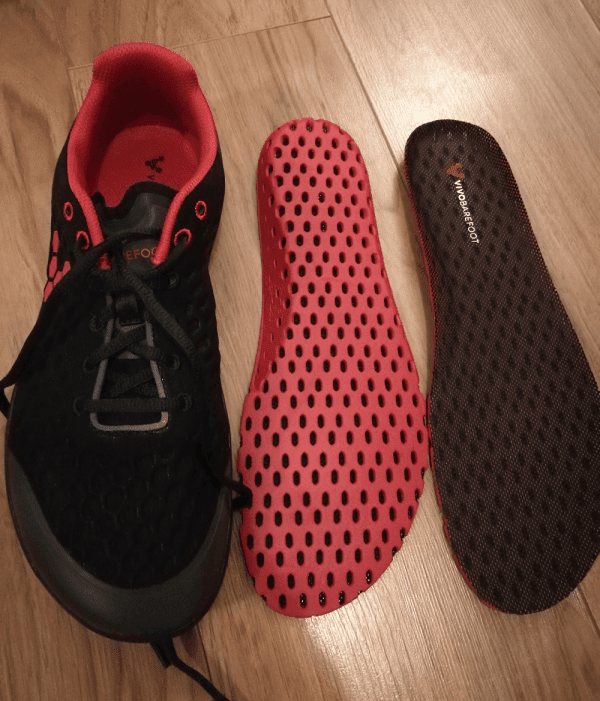 I've still feel light on my feet and my legs although tired don't feel drained. I've also found that my running pace is way more consistent in these. I can only put it down to how these shoes have altered my running form, from heel striking to forefoot running.
On top of how responsive they are the Stealth 2's support is great. As I mentioned above in regards to support they essentially teach your feet how to look after themselves.
For years I've had a problem where my left foot has overpronated and early this year I started suffering from really bad shin splints. Since wearing these shoes I haven't felt any shin pain at all. It's incredible!
I do have to say that a couple of times I have slightly over-done it and my feet, or more the tendons on the tops of my feet have really hurt for a couple of days after running but perseverance has been the key.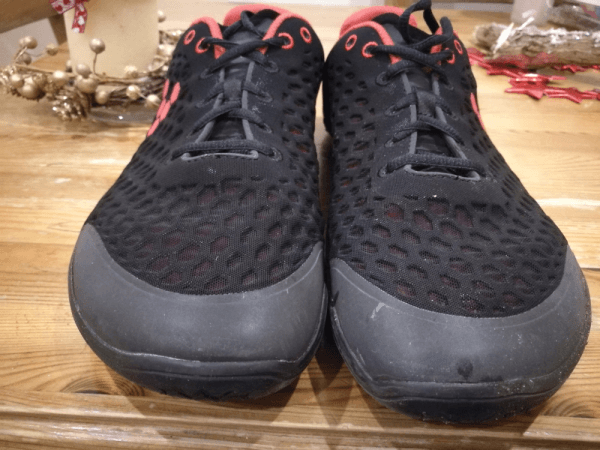 Bottomline
I really cannot rate these highly enough.
No, the Vivobarefoot Stealth II is not perfect but they come closer to perfection than any other shoe I've worn before.