Verdict from 4 experts and 100+ user reviews
6 reasons to buy
The outsole unit offered sufficient traction over the surfaces, most runners noted.
The water-resistant upper kept the foot dry and cozy, according to several testers.
Some people lauded the agreeably light profile of the Vivobarefoot Primus Trail Swimrun.
This running shoe's toe box gave enough space for the spreading of the toes, a couple of reviewers noted.
The flexible nature of the product received positive feedback.
A person was able to use this shoe for many types of terrain, including deserts and thick According to him, it remained durable and functional.
1 reason not to buy
A couple of users claimed they get blisters on their heels when they lace the shoe too tightly.
Bottom line
The Vivobarefoot Primus Trail Swimrun gained mostly positive responses from the running community. People appreciated this neutral trail shoe's capacity to function well in a variety of terrains and conditions. It apparently offered an overall comfortable in-shoe experience. The sizing scheme seemed to be off, based on a few testers' reviews.
Tip: see the best trail running shoes.
Our reviews
I'm a tall, medium build, fore/midfoot striker and I train mostly in barefoot/minimal shoes. But I'll try anything once!
I was thrilled to be getting the chance to try out the Swimrun boot. I have admired them from afar for some time now with their classic Vivobarefoot stylings, funky colours, and feature-packed design specs.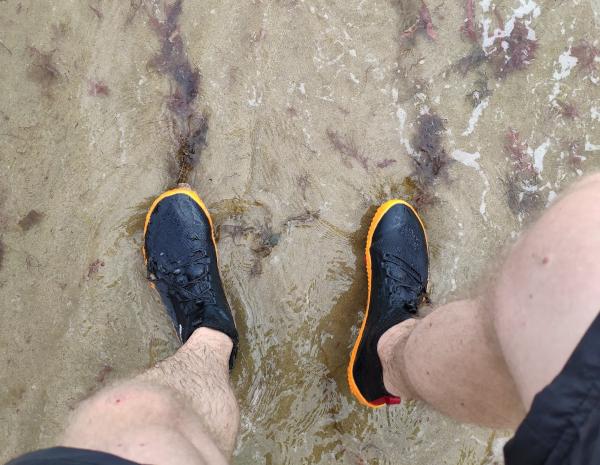 Vivobarefoot says:
"The Swimrun collection was developed in collaboration with ÖtillÖ, founders of the Swimrun World Championship. Seamlessly transition between wet and dry while keeping out grit and silt -- perfect for triathlons or any extra-sloppy trail runs.
Wear your Sustainability Statement with the Primus Swimrun Boot. Using approximately 17 recycled plastic bottles to create a breathable mesh, paired with quick-drain zones to minimize water weight. The over-ankle, neoprene collar keeps the foot firmly in place, while the extra-sticky Soft Ground Sole features high-profile lugs for loose and muddy terrains."
These shoes have a lot to live up to. Let's see if they managed it.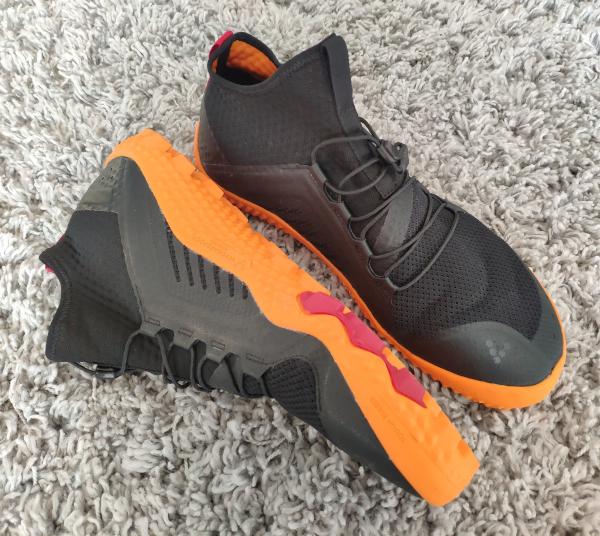 Tech specs
Zero heel to toe drop
Weight: 346g with the insole in, 327g without insole (EU46)
Foot-Shaped Construction for unrestricted foot freedom
Neoprene Ankle Sock gives full ankle mobility in and out of water
Water Repellent Recycled PET Mesh for minimal wet weight
Quick Drain Zones, pump water out with each foot stride
Orange Rubber for visibility in the water
Upper: Breathable 3M Eco Mesh
Patented offroad soles with 3mm base and 5mm lugs
Pro 5: 5x puncture-resistant sole technology
100% vegan
What's in the box
You get a pair of Vivobarefoot Swimrun SG Boots, some classic Vivobarefoot optional insoles and an alternative set of laces.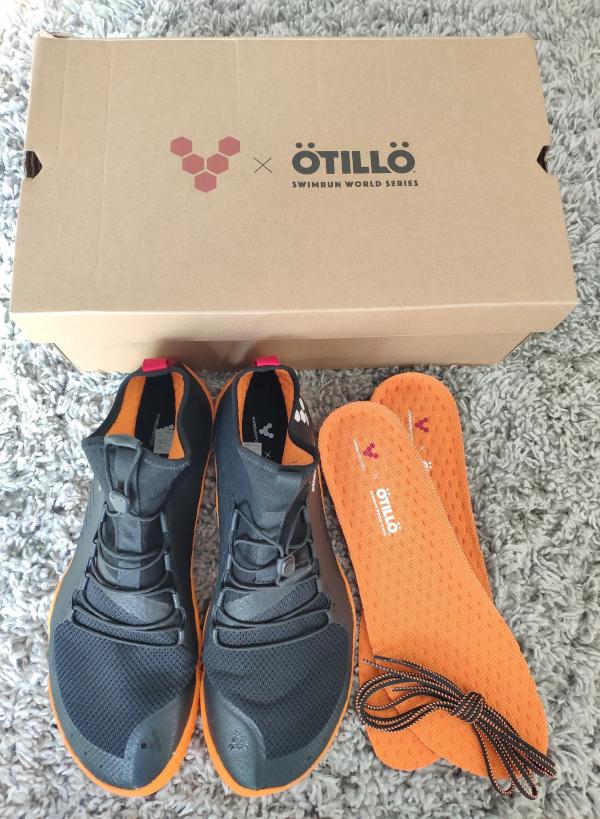 Design overview
On first look, the Swimrun Boot looks like a combination of a classic Vivobarefoot styled shoe combined with wacky coloured wetsuit boots, and I have to admit I can't help but like them.
There's a few nice rubberised overlays, a wetsuit boot-like collar, a mesh upper, and a bright orange rugged-looking sole. All in all, the shoe looks great, and I find them to be very pleasing to look at.
I've even worn them just as a daily shoe on and off because I like them so much. That being said, I don't think they'll be for everybody.
Upper
The Swimrun boot upper is probably the part that Vivobarefoot have highlighted the most as a selling point with these multi-purpose shoes. And, even though my initial view was positive, I have to say after wearing these for a while, they didn't live up to my expectations.
There are two main negatives to the upper.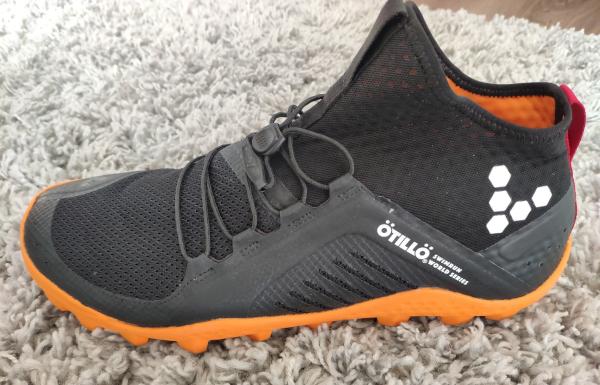 To begin with, the upper seemed well-designed. It's very lightweight and breathable, which I thought would mean that it would drain well when full of water.
But unfortunately, the sole is designed in such a way that there is a lip around the edge, which means that some water is always trapped in the shoe.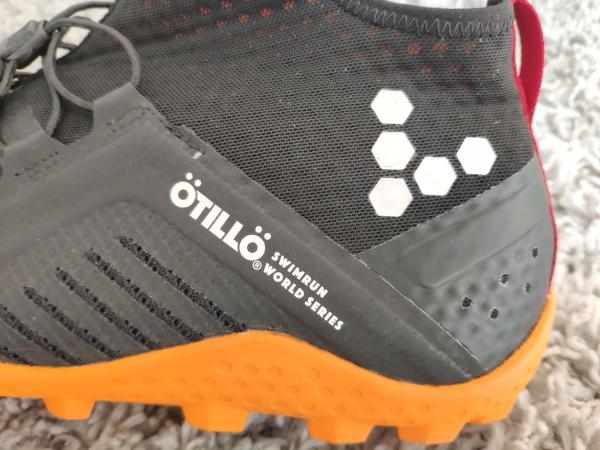 Vivobarefoot claim that the upper keeps out silt and grit. But, after going for a swim in the sea with the Swimrun boot on followed by a run along the beach, nothing was kept out of these shoes.
I found it really disappointing. I could not bring myself to wear these 'swimrun' shoes again for their intended purpose.
Now, with my gripes out of the way here are the good points.
The upper has a very innovative design. It's made from recycled plastic bottles, which I am all for! On top of that, it looks pretty unusual and funky yet somehow still great!
The Swimrun Boot upper is very flexible and gives the ideal amount of wiggle room and stretch for toes to splay adequately.
Laces
There's a couple of options in the way of laces with these off-road shoes. The default setup as they come out of the box is a quick lace system which works really well. They're fast and easy, which is ideal for the Swimrun Boots intended use.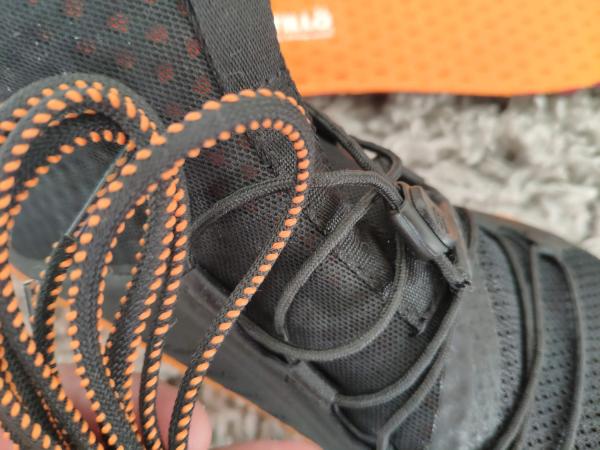 You have to be careful not to tighten the laces too much with the standard laces however as they can pinch a bit.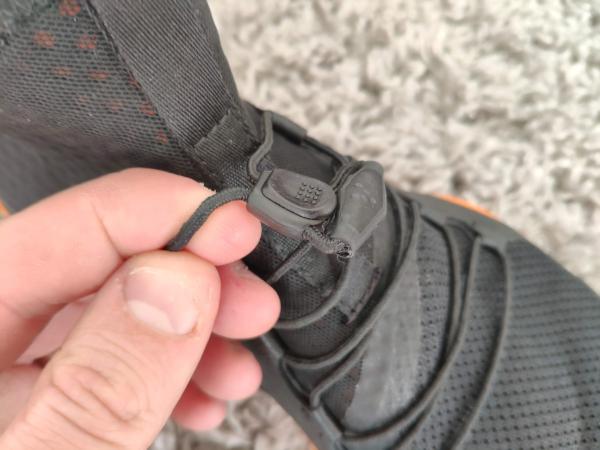 There is another option when it comes to laces, though. The alternative laces that come with the shoes (in the box) are much softer, and although they're not as quick to tie up, they shouldn't give the comfort issues that the standard ones do.
Heel counter
There isn't a heel counter as such. What you have instead is some stiffening in the way of a rubberised overlay. It works great! It gives all the support required whilst feeling totally secure and no hard plastic in sight!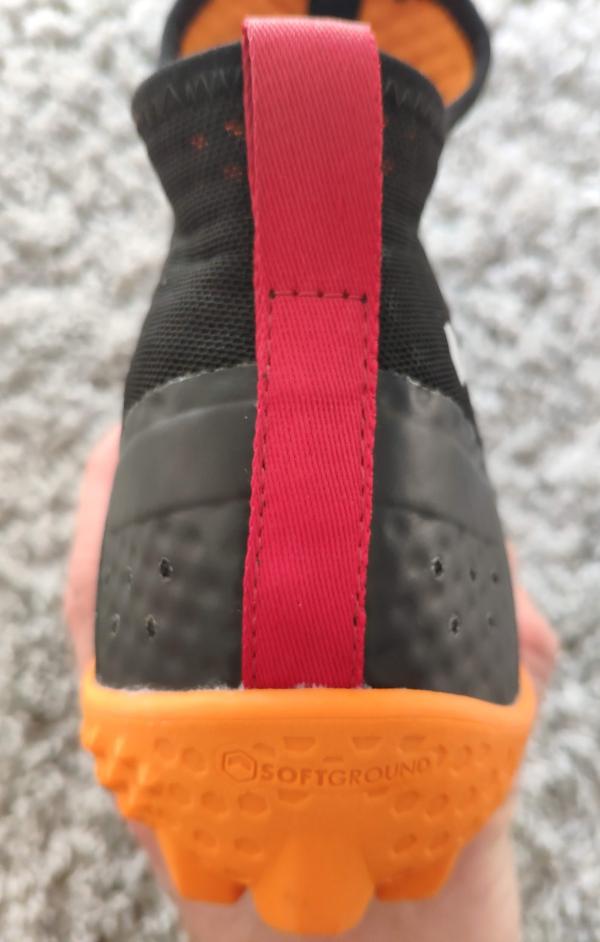 Collar
The Swimrun boot also has a very comfortable, neoprene ankle collar, which I found to be simply amazing for support and comfort. Honestly, I wish I had this on all of my shoes.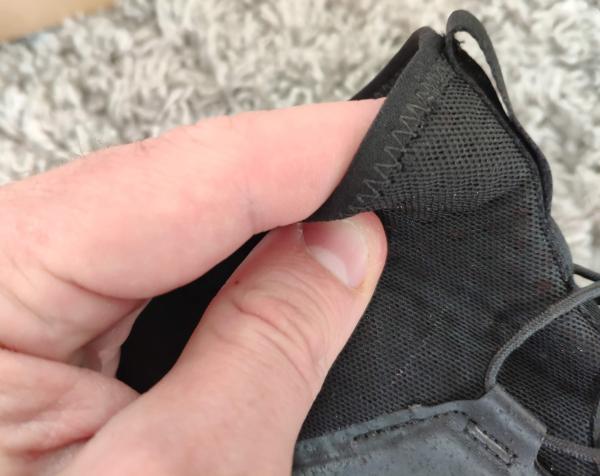 I have been able to wear the Swimrun for casual trail walks without even doing the laces up because of how secure the collar makes these feel on my feet.
Tongue
The Swimrun has no need for things such as tongues. It is constructed similar to a wetsuit boot with an equally flexible design, so it is easy enough to get your feet in and out of these without the need for a tongue.
Safety
There's a little bit of a doubler over the toes but not a great deal in the way of safety on the upper—not that I think anything is required. I'm usually just happy to have anything covering my foot in case of a rogue bramble attack.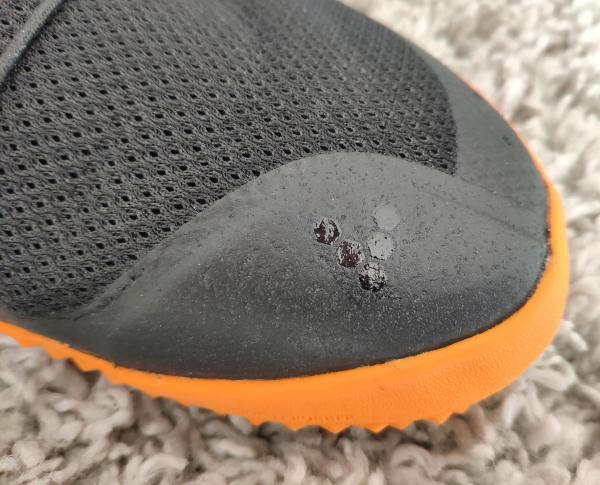 Sole
Where the upper had a couple of flaws, the sole is a whole other ball game. I haven't reviewed any of Vivobarefoot's other soft ground (SG) soled shoes before, so I have no idea if they are all the same. I hope they are because I think this sole could be the best of any I have tested from Vivobarefoot.
I even found it to be more comfortable over some harder ground than the Primus Trail FG I tested a while back. I think this could be due to the use of what feels like a softer rubber compound.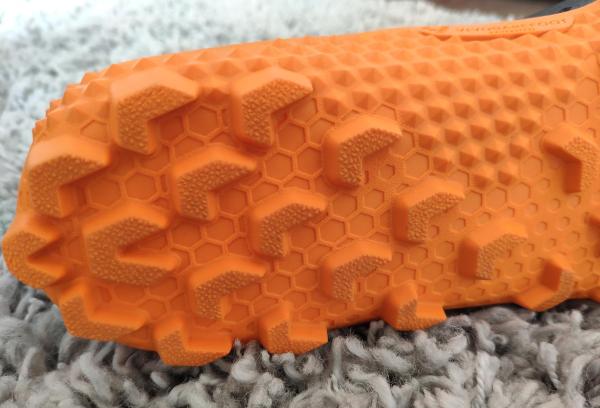 The Swimrun also has a 'safety feature' included in its design. That is its bright orange sole, which is intended to improve visibility of the boot when in the water.
I'm not totally convinced that this is the real reason for the colour choice. I have a hunch that it's more of a design feature to help these stand out amongst the competition. But, maybe I'm just being cynical.
The real thing to write home about here is the five times more puncture-resistant rubber. I ran over a lot of different terrains with literally no issues whatsoever from anything sharp underfoot.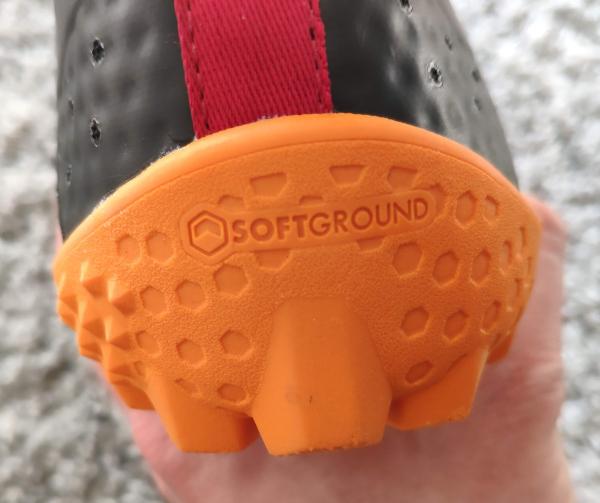 Support
As with all good barefoot shoes, there's little to no support—for any barefoot runner is just what we want! Strong feet support themselves!
Flexibility
Just like the above section. As with all good barefoot shoes, the Swimrun is brilliantly flexible. See for yourself!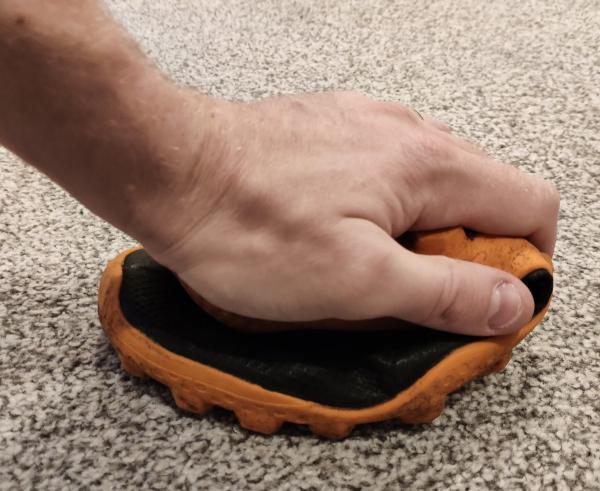 Tread
The Swimrun SG have Vivobarefoot's "Soft Ground" tread. It's the classic chevron style with all Vivobarefoot shoes, and it works brilliantly.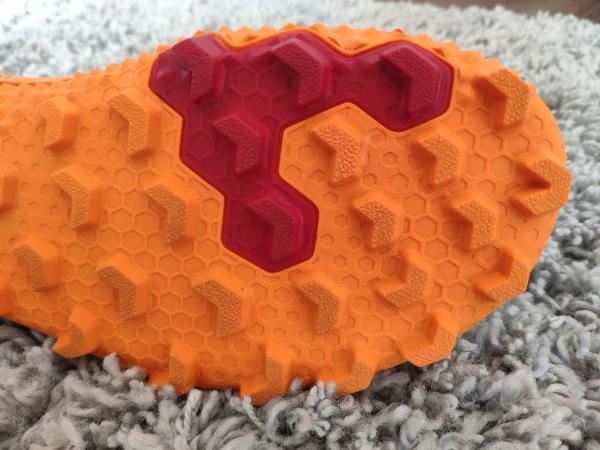 There are no pressure points on any part of the foot, yet the lugs are spread far enough apart that dirt doesn't get clumped or stuck between them.
Grip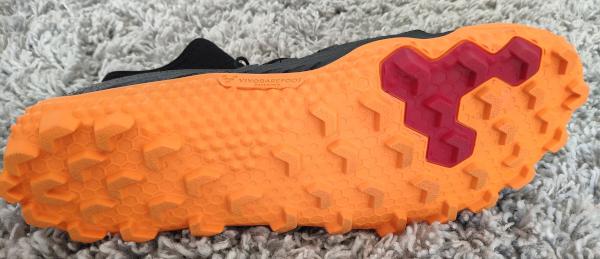 On wet sand, the SG grip works really well, but it doesn't end there. They are brilliant on light trails, muddy trails, and they even grip pretty well on the road.
The soft lugs seem to hold up pretty well and have barely worn at all. I guess that's mostly because they don't see too much hard ground. But still, I'm impressed!
Fit & comfort
I find that there are a few companies that seem to struggle to get shoe sizing right. Vivobarefoot is not one of those companies. It may seem like a minor point, but I think it's a good one. True to form, the Swimrun SG Boot is true to size and fit very comfortably.
Toe box
I feel like a bit of a broken record here, but I'll say it again: As with any good barefoot shoe, these grippy beasts give plenty of room for toes to splay out during runs.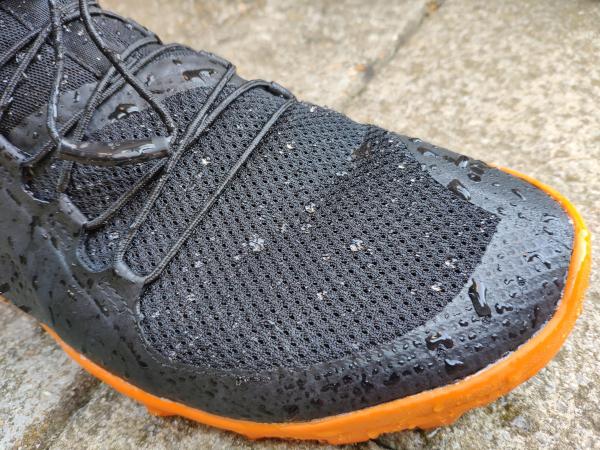 I don't have really wide feet, though they're not narrow either, and I have a ton of room for my toes. But, it's not too much, so it doesn't feel like you have flippers on your feet. Nobody wants to run in flippers!
Heel
As I've already mentioned, the heel is very comfortable and holds my foot in really well. Inside, there's a suede-like layer that I assume is designed to minimize heel slippage.
I can only assume that it works because once my feet are inside these shoes, they're in!
Performance
The Swimrun performed well in some areas but not in others. Unfortunately, in the area that I'd thought they would be brilliant and the one I was really excited to try them in, they flopped pretty massively.
There's just no way I could come out the sea and complete a run of any distance without at least emptying the masses of sand, grit, or whatever else had found its way into these shoes first.
Even then, it probably wouldn't be enough to stop some serious chaffing, which would not be much fun.
On the flip side of that as general beach shoes, I loved these, and on the trail, they are frankly, fantastic! Mile upon mile of grip regardless of the terrain. What's not to love!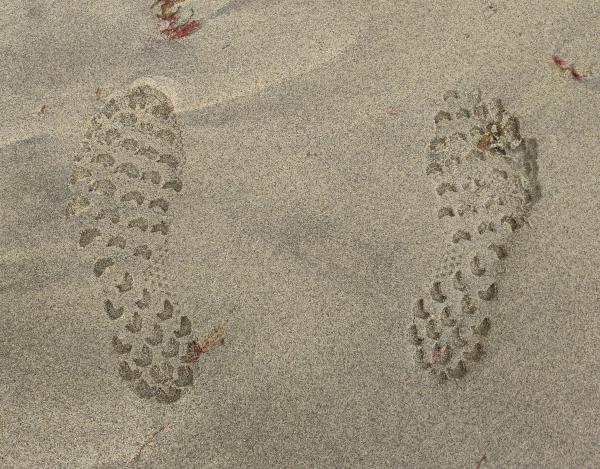 On-road
As I have already stated, even though these are clearly not designed for the road they perform admirably on it. I was happily surprised at how well they gripped and how comfortably they were on the hard ground.
Off-road
Though the Swimrun doesn't perform quite as well as my Inov8 X-Talon 200's. They're not far off, and they're definitely more versatile.
I'd say they are probably on par with the Xero Shoes Terraflex. They grip really well on basically any trail terrain and do a decent job of staying light even when wet.
For speed
Being lightweight and responsive, the Swimrun are ideal for speedy runs. They feel snappy, and because they're barefoot shoes they're as springy as your legs make them! Brilliant!
For distance
I didn't run anything further than 6 miles in these shoes thanks to a bit of an injury niggle. But, I think, at full fitness, I'd happily hammer out a 10+ mile run in them. That is, as long as nothing wound up inside them, giving me blisters of course.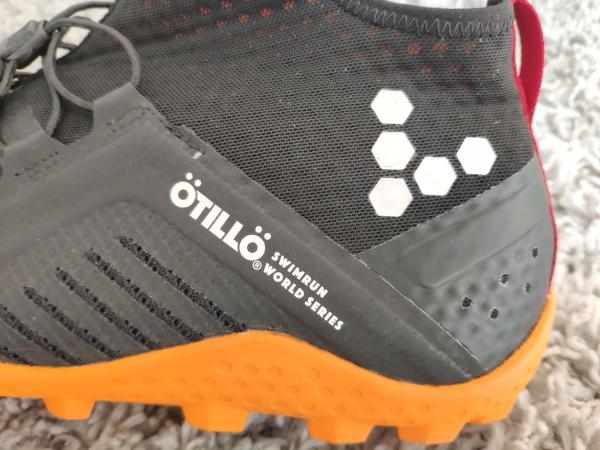 The good
Endless grip
Lightweight
Flexible
Amazingly comfortable sock-like design
The collar!
Choice of laces (I love me some laces!)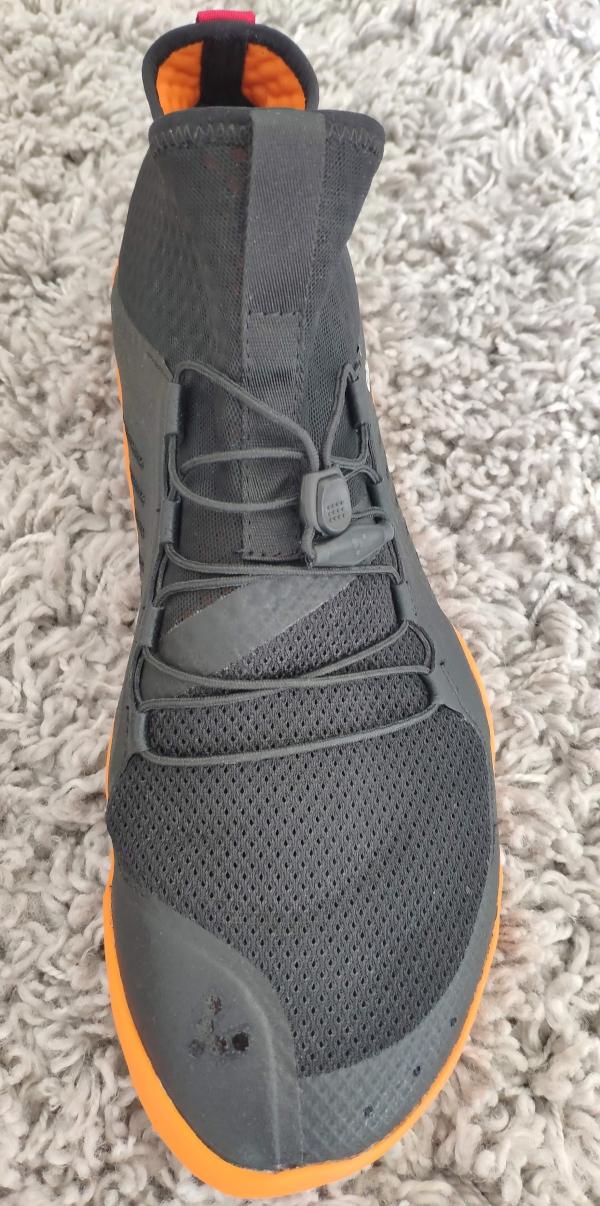 The bad
They don't keep anything out
Don't fully drain
Standard laces can pinch a bit
Dear Vivobarefoot
These are so close to being incredible. I really wish they did keep everything out because if they did, they'd be just about the most versatile shoe on the planet!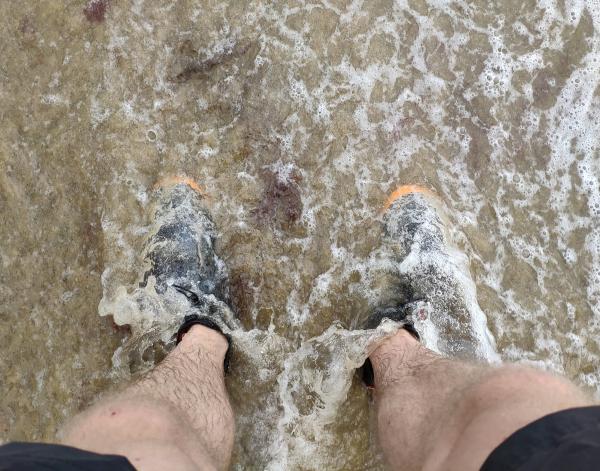 Ratings
Appearance: 8/10
Build Quality: 9/10
Comfort: 8/10
Sole: 9/10
Run Score: 7/10
Overall Score: 8.2/10
Bottom line
I really like the Swimrun SG Boot, but only as a trail shoe. There's a lot to enjoy about both the design and performance.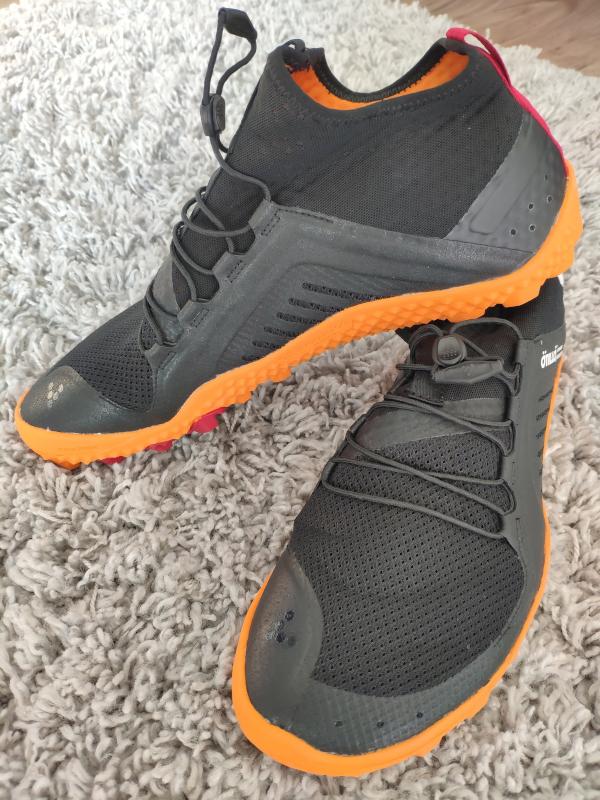 If you're looking for a lightweight, super-flexible trail shoe that's perfect in the mud. Look no further.
Good to know
The Vivobarefoot Primus Trail Swimrun is a running shoe that's created for those who have neutral pronation. It makes use of a foot-shaped construction which allows the wearer to move freely. A sock-like collar design evokes a next-to-skin coverage that's unrestricted. Moreover, a water-repellent mesh keeps the foot cool and dry throughout the running session.
A trail-optimized outsole offers traction and protection against impact. It's thin, but it's designed to resist punctures and abrasion. An orange hue makes the sole unit more visible during swim-run sessions. A 3mm removable insole adds a thin layer of cushioning for those who need it.
The Vivobarefoot Primus Trail Swimrun is true to size. It accommodates the general preferences of runners when it comes to length. The available width for the men's version is D – Medium; for the women's version, it's B –Medium. It has a foot-shaped construction, which means that it mimics the natural curve of the human foot.
A sticky rubber compound is utilized for the outsole of this Vivobarefoot shoe. It delivers traction for the runner, ensuring surface control during the run. It has an orange color, which makes the shoe more visible when swimming.
Low-profile gripping lugs help in clamping onto various surfaces. These multidirectional nubs heighten grip on dry and wet paths.
The Pro 5 is an ultra-thin layer that protects the foot from punctures and other potential hazards. It's advertised to be 5x more puncture-resistant than standard foam units that are as thick as this one. It doesn't compromise the flexibility of the platform.
A 3 mm insole is used for the cushioning system of the Vivobarefoot Primus Trail Swimrun. It's created using animal-free elements and methods. It can be removed or replaced with custom inserts.
A water-repellent mesh is used for the façade of the Vivobarefoot Primus Trail Swimrun. Its purpose is to deliver lightweight coverage in a breathable yet splash-resistant package. It is capable of staving off mild water infiltration.
The V-Web overlay system is heat-fused to the mesh upper. It aims to provide a durable structure to the shoe, as well as lightweight security to the foot. Moreover, it's designed to stay intact, even when exposed to water.
Elastic laces are used for this product. They're designed to complement a single-pull fit-adjustment system. They don't need to be tied. A cord-pull fastener secures these strings while also maintaining the wearer's desired tightness or looseness.
Rankings
How Vivobarefoot Primus Trail Swimrun ranks compared to all other shoes
Popularity
The current trend of Vivobarefoot Primus Trail Swimrun.