Verdict from 16 experts and 100+ user reviews
5 reasons to buy
Most users mentioned in their reviews that the Vivobarefoot Primus Trail FG was highly comfortable.
Several customers said that this footwear had a good quality.
A few users said that the shoe's drainage properties were excellent; they wore it confidently, even in the most challenging conditions.
Some runners pointed out that the footwear had an efficient lacing system.
A purchaser liked the overall look and design of the shoe.
2 reasons not to buy
A few runners had issues with the sizing of the Vivobarefoot Primus Trail FG.
An individual mentioned that there wasn't enough flexibility to allow for smooth transitioning from heel to toe.
Bottom line
The Vivibarefoot Primus Trail, a minimalist shoe, has gained a competitive edge in the market owing to its high comfortability, better adaptive properties, and stylish looks. The shoe also offers a very efficient drainage system. Though the shoe has a few minor issues, overall, the shoe is still recommended to neutral runners.
Tip: see the best trail running shoes.
Our reviews
I tested these along with two other pairs of trail shoes, switching between each pair run after run.
The three shoes in question are the Trailtalon 290 and Parkclaw 275 GTX both from Primus Trail FG from Vivobarefoot.
I smashed a lot of miles in all three shoes on hard & soft muddy tracks, gravel paths, wet & dry sand and on the road. Here's how the Trail FG stacked up.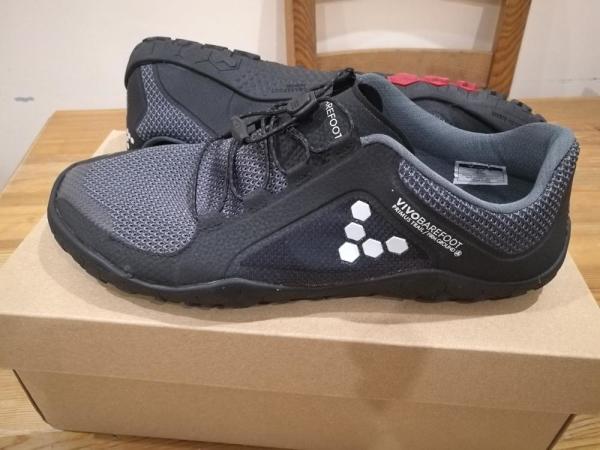 When these crazy looking beasts arrived, I thought that I'd like them the most out of the two Vivobarefoot shoes I was due to test (the other being the Stealth II).
This was mostly because I'd already been transitioning to barefoot for a while in the Vibram KSO EVO so having a barefoot trail shoe to try out was going to be great!
I was so excited to get them on and get out in them that I hit the trail the same evening after I unpacked them.
Tech Specs
Weight - Size 45 EU weighing in at 270g per shoe (without insole in… I weighed them myself!)
PRO5 Sole - Patented, ultra-thin, puncture resistant layer. 5x more puncture resistant than a standard sole of the same thickness.
Vegan - Produced using animal free products and processes.
Removable Performance Insole - 3mm vegan insole. Take it out to feel the ground. Leave it in for a little extra warmth.
Breathable Mesh - Synthetic multi-ply materials to deliver optimum lightweight breathability and comfort.
V-Web - Heat fused together for lightweight structure and stitchless durability.
Tough Rubber Compound - Strong, non-marking rubber compound for sticky grip and high abrasion when you need it most.
Design
On my first run, I had in my mind that these are specifically for firm ground and Vivobarefoot stated on their website that they're perfect for any rural or urban terrain. Straight away I noticed how hard the sole was (I ran without the optional insole).
They definitely didn't feel too great on the road en route to the trail and once I'd hit the trail which was very firm mud with rocks I thought, "Ha! This should be great!"... But it just wasn't. The Trail FG is so hard.
They didn't feel much better on gravel or groomed trail and then they didn't grip at all well on the mud at the end of the trail, I was left wondering what these shoes were good for. I was gutted.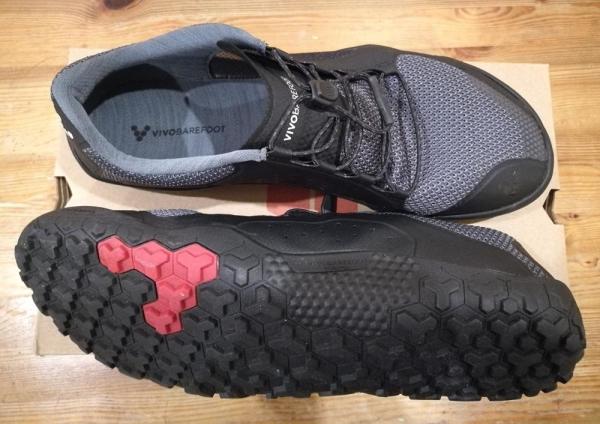 I persevered with them though and once I'd run about 20 miles, the soles softened slightly and I finally found the perfect ground to run these on.
Not exactly firm ground but over dry muddy ground scattered with tree debris and full of roots, they were great! Though it is a bit disappointing that you need to run on such specific ground for these trail shoes to fully reach their potential.
I have to wonder why Vivobarefoot took the step of splitting their trail shoe into two for their new range.
Safety
There is a tough rubber bumper that comes up around the toe that is very rugged. It does well to protect against stubbed toes on rocks and roots.
I certainly didn't come away with any injuries after hitting rugged terrain. The sole albeit very firm is fantastic as stopping anything sharp from stabbing through the soles of your feet.
Flexibility
The Trail FG isn't anywhere near as inflexible as the Inov-8 Parkclaw 275 GTX but they're not that much better than the Trailtalon 290 which is surprising seeing that the Trail sole is only 5mm thick.
It should be incredible but it really does feel very stiff when on.
Fit
I went for my usual size 45EU in these trail shoes but they came up pretty small. I really wish I went at least a size up with these because I felt as though that put an instant downer on my experience with them.
There are some positives in the design however and as much as I still don't think these shoes are for me, I can't really fault the design (too much).
The mesh upper is super light and flexible. It gives plenty of wiggle room for toes! The rubber bumper works well, but because I could have done with going a size up this was less comfortable than a soft toe would have been.
The heel cup is much more firm than that of the Stealth II. It hugs the back of my feet snugly and provides good support in that area.
The quick lacing system works quite well, however, I found that after I'd taken the Trail FG off after a run, the next time I put them on again the laces were incredibly tight around my foot.
This isn't a massive issue but because the laces are so slippy they did do this every time. I swapped the quick laces out with the spare set of standard laces the shoes came with and it helped to stop this a bit though not completely.
It's not the end of the world but it's frustrating having to find the perfect lace tension every single time I put them on rather than just slipping them on and doing them up.
Grip
Grip wise they did OK. They're not bad on the road and dry muddy ground.
They also do pretty well on the beach. But on slippy grass, mud or slimy rocks and/or pavements they're a bit scary!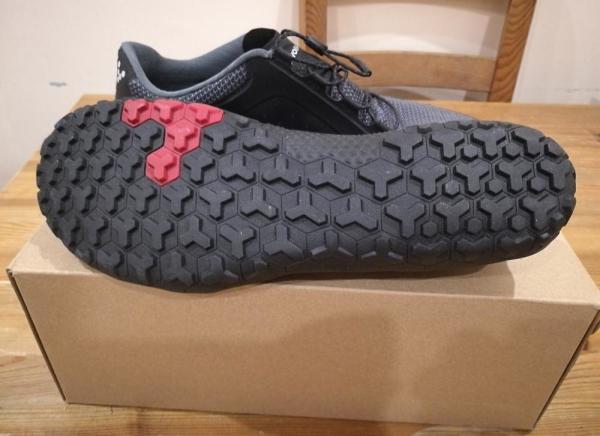 They really shone on soft-ish, dry muddy ground. The sort you get beneath a treeline in the spring.
They ate it up and the runs I took the Trail FG on with this terrain were some of the most enjoyable I've been on in recent months. I just really wish all of my runs in them could have been the same.
Support
As I mentioned above, the heel cup on these shoes offers good support for my feet. When laced in I felt locked in!
But as with the Stealth II, these shoes plan to allow your feet to act for themselves and don't really offer a load of support.
They don't do it as well as their super comfortable road brother but they do try to let your feet work things out for themselves which for me is the best sort of support available!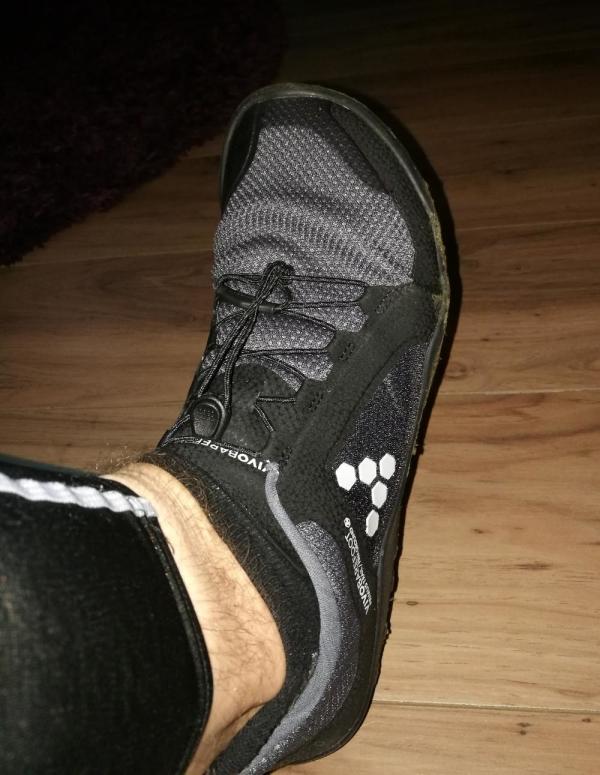 Performance
It may seem as though I dislike the Primus Trail FG but it's not at all bad. It doesn't suffer from the momentum killing factor that the Inov-8 Trailtalon 290 does and e not as restrictive as the Parkclaw 275 GTX.
It's very light and has decent responsiveness on the road & trail due to their minimalist nature. When they get water in them it drains out quickly and they didn't once feel too heavy on my feet.
They didn't grip amazingly on all terrains but they did pretty well and the sole is sure to last a long time before it becomes useless. In fact, it will probably get better and better the more worn out it gets because it'll be more flexible and less firm.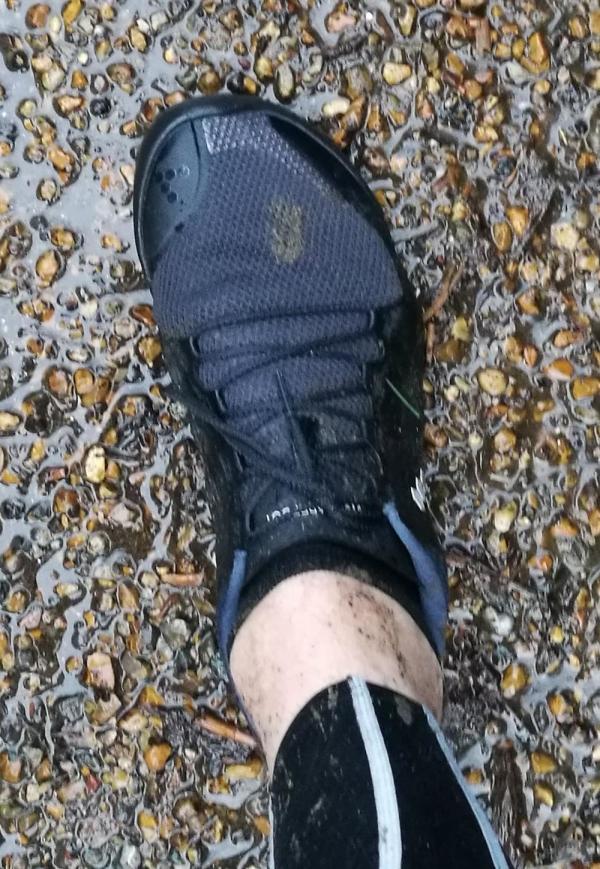 Bottomline
These firm ground trail shoes are a good offering from Vivobarefoot but I feel as though they lack depth in terms of use.
Compared to the Parkclaw 275 GTX from Inov-8 which were pretty great on any terrain they just cannot compete.
But if you're looking for a lightweight, minimal trail shoe for the dry summer months then these are a good shout, though they won't be for everybody.
Vivobarefoot's Primus Trail FG trail running shoe is an overall excellent shoe for those who are interested in minimalist trail running. While this was one of my pricier running shoe purchases, the quality of these shoes is very impressive.
This is a super minimalistic, barefoot-style shoe that is lightweight and has no extra bulk, yet is amazingly strong and durable. This shoe wears down much less quickly than more substantial and bulkier trail running shoes in both the sole tread and the top of the shoe.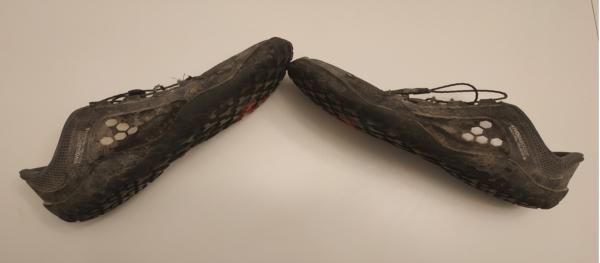 Barefoot trail running
As minimalist shoe lovers are aware, the benefit of going minimal is the incredible feeling of running barefoot, or rather barefoot but with enhanced grip and foot protection.
This is an incredible sensation, and with the Primus trail shoe, you can certainly feel this sense of running with light feet and without the bulkiness of regular shoes as you fly along the trails.
The barefoot style is advantageous for working on running form by forcing proper technique and running on the balls of the feet, which will naturally provide a tremendous leg workout, so don't forget to stretch well after your run!
A unique shoe
So what separates the Primus from the rest of the field? This is a very comfortable shoe that has a wide toe box to allow for comfort and toe splay.
This shoe can be worn comfortably for a longer duration than other types of minimalist shoes as the toe box allows for natural toe separation but does not pull the toes apart, which can get uncomfortable after a while.
This Vivobarefoot model has better ventilation than many barefoot shoe models, which is important for odor control and comfort while running.
The mesh that goes along most of the sides and top of the shoe allows for airflow and is a very strong mesh that does not rip like the mesh on many types of running shoes.
The Primus is a very tough shoe in general. In addition to the impressively strong mesh, the thin sole has great traction and does not wear down easily, as this is a Vivo patented tough rubber and puncture-free sole design.
The shoe is both extremely flexible as with most minimal shoes, but also envelopes your foot in a shell that is strong, will not rip easily, and gives some extra foot protection against the elements of the trails.
This shell-like feel provides better foot stability than other types of minimalistic shoes and the lacing system of a pull cord enhances the stability and they don't come untied. They handle water nicely, and you can comfortably keep running after running through water or mud.
For a very minimalistic shoe, this model handles low and medium levels of rugged terrain nicely and allows you to run fast. Usually, minimalist shoes and trails don't go together, but this shoe has an impressively strong sole that grips well onto dirt and different trail terrain.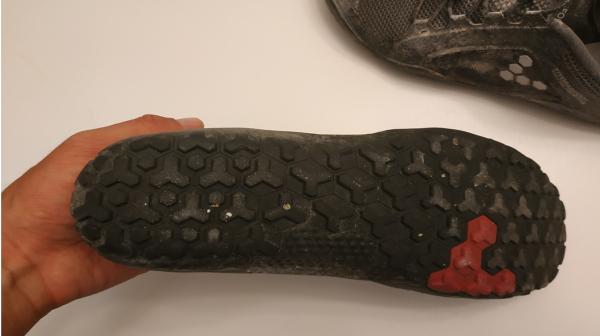 The shoe has a low cut, however, due to the tight seal against the foot. It is rarely an issue that rocks and other debris fall inside the shoe during a run.
Things to be aware of
As minimalist trail runners can attest to, it takes extra focus and precision to safely and comfortably run trails in minimal shoes.
Although the sole of the Vivos is quite impressive, be prepared to still feel the rocks on rockier terrain, even with the use of the extra insole included with the shoe.
On more rocky trails, I would go with a thicker soled shoe that lessens the painful "feel" of the rocks, although some might argue that this naturally strengthens the foot.
Despite ventilation improvements, these shoes can also start to smell, especially if worn without socks or even the minimalist toe socks that they are recommended with the shoe, so airing them out and spraying them can be helpful.
Due to the very thin sole which is even thin for a minimalist shoe, I like to run with them up until about 10 kilometers, but further, than that, I would prefer a bit of a thicker sole with more cushion.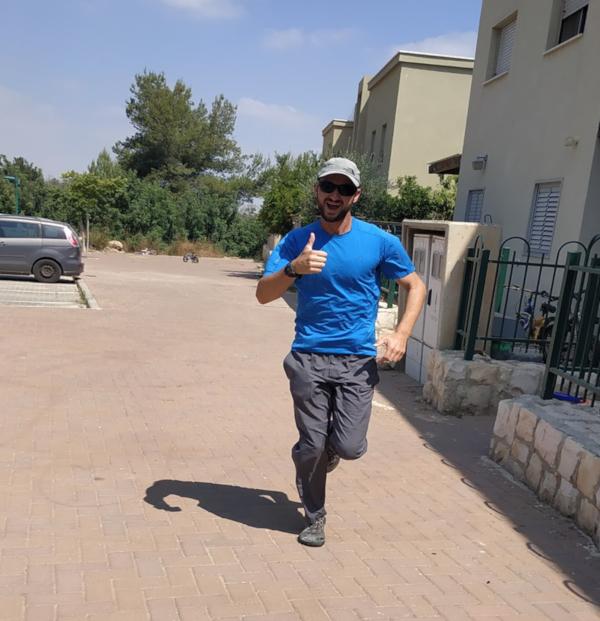 Bottom line
Despite being a trail shoe, they run nicely on the roads and they are also great for sprint training as they almost feel like track spikes, but with a wider toe box and they can handle tougher terrain.
They can be a little bit stiff at first, but as they loosen up a little, they start to feel very comfortable. This is a unique shoe and I have logged in some great trail runs and interval training in them and to emphasize again, I am very impressed by their super minimalist design, comfort while running, and their durability.
Like many runners, I read about barefoot running and all the benefits it provides and decided to give it a try.
My first attempt was a cold December day in Utah in a grassy park, and I quickly lost feeling in my toes. Fail.
My next attempt was a warmer day on asphalt, but I kept getting rocks lodged in the bottom of my foot. Fail again.
Determined not to miss out on the barefoot running hype, I looked into a quality pair of minimalist trail running shoes. The Vivobarefoot Primus Trail FG is my first experience with a minimalist trail running shoe, and I have to say that I'm impressed.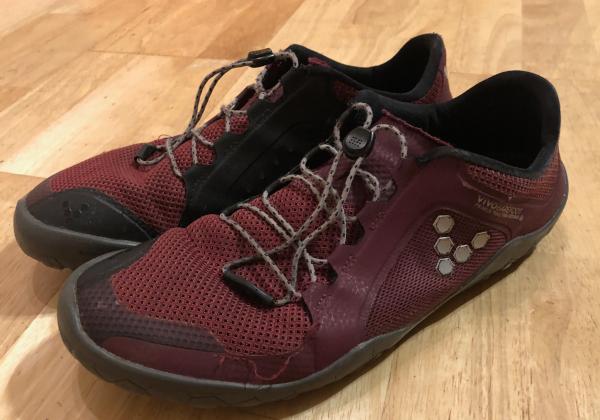 I'm writing this review after logging 100+ miles over 5 months in the Vivobarefoot Primus Trail FG. These miles were accumulated over short trail runs and a number of hikes in the Rocky Mountains.
I also wear these shoes almost every day to work, in the gym, and on walks around the neighborhood.
Seriously, this might not be my go-to trail running shoe (I try to only do 1 minimalist run a week, max), but it's my go-to shoe for everything else.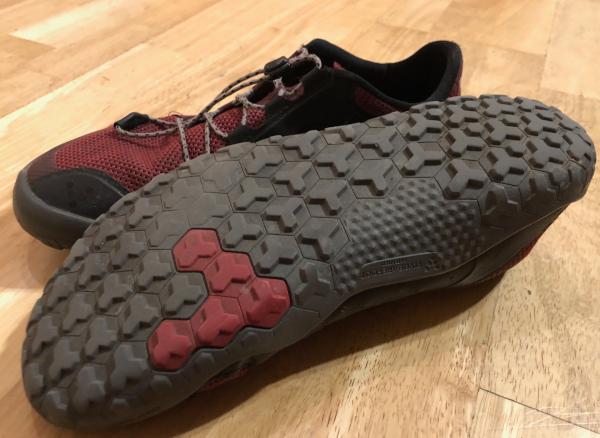 Specifications
I'm a forefoot to a midfoot runner and lean towards zero to 4mm heel-to-toe drop for my trail running shoes, so this being a minimalist shoe with 0mm of drop fits perfectly in my preferences.
The weight comes in at a surprising 7oz, which I would never have guessed not looking at the specs. The shoe honestly makes me feel barefoot, and I hardly notice them on my feet. I would have thought they weighed less than 7oz, but the rubber outsole for foot protection is probably where most of the weight lies.
Looks
I love the look of the Primus Trail FG. Honestly, I like the look of all the Vivobarefoot shoes. I've gotten a lot of compliments on them at work and people asking what's the brand/where can they find them.
It is great for work, hiking, or the gym. It really goes with any outfit (at least for the way I tend to dress). I've seen them in black and cordovan, and I think both colors look great.
Price
The price is the biggest bummer for me. I got these shoes at a hefty $145. I don't understand why a minimalist shoe with fewer materials would be so expensive, but it is what it is…kind of like how men's tank tops cost more than t-shirts.
Fortunately, I anticipate the shoe lasting a while, thereby validating the purchase, but it's hard for me to fork over that much money for a shoe that likely won't withstand the test of the Rocky Mountains more than a larger trail shoe.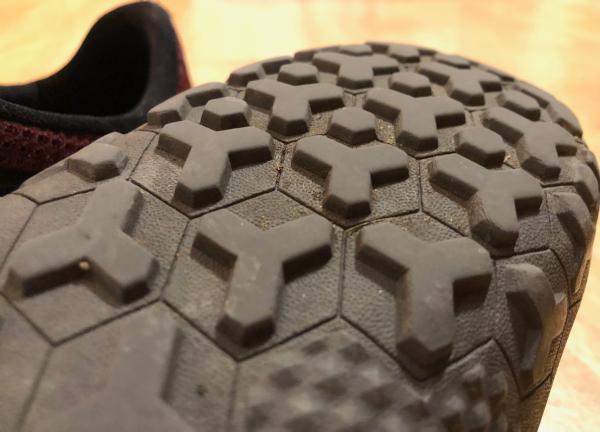 Quality & Durability
For the minimal build of the shoe, I was expecting it to quickly deteriorate, but I've been pleasantly surprised.
The shoe has held up great with all the conditions I've thrown at it. Mud, water crossings, technical terrain, treadmills, asphalt, and more. No tears to the upper and the bottom are looking good, too. Some minor stitching has come undone on the upper, but it hasn't affected fit or performance.
Cushioning & Sole
Cushioning is non-existent (the way it's supposed to be for a minimalist shoe), so I haven't really noticed any change in performance over time.
The rubber sole is great for gripping rocks and most trail terrain, but it doesn't perform so well in wet conditions.
I've been slipping pretty badly on light snowfall in these shoes. So it's definitely not a winter running shoe. You can notice the heavier wear on the middle-to-outside of the bottom, and this is due to slight supination I have.
The rest of the sole is holding up great and the small lugs still have great grip.
Pros
Foot protection while still embracing the minimalist running concept
High-quality and very durable
Multi-functional shoe
Looks great
Cons
Very expensive
Sizing is tricky
Conclusion
All in all, I really like the Vivobarefoot Primus Trail FG. It's hard for me to recommend the purchase given the price, but I can honestly see myself grabbing another pair in 3-4 years to put back in the rotation.
The VivoBarefoot Primus FG is a trail shoe that is a minimal shoe in every regard. It completely releases the feet to move naturally while providing protection against the abrasion and potential hazards that may be encountered.
This shoe is called "FG" which implies firm ground use, and I can concur with that statement because the tread on the bottom is also minimal.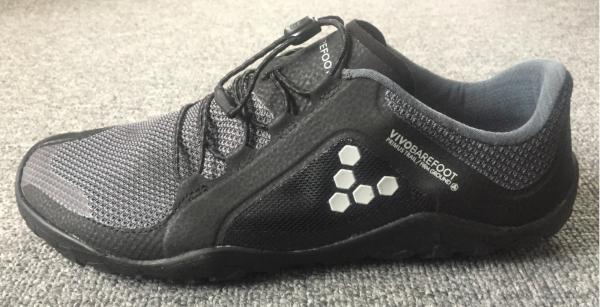 You really would not be able to use this shoe on super muddy or slick trails or even on trails that have really craggy volcanic rock. The dry, firm fairly non-technical trail is the place for these shoes where they would supply a true barefoot ride with traction and protection.
The insole system provides a vented cushioning that prevents the feet from sweating excessively. This is a great way to prevent any sort of blistering on the bottoms of the feet.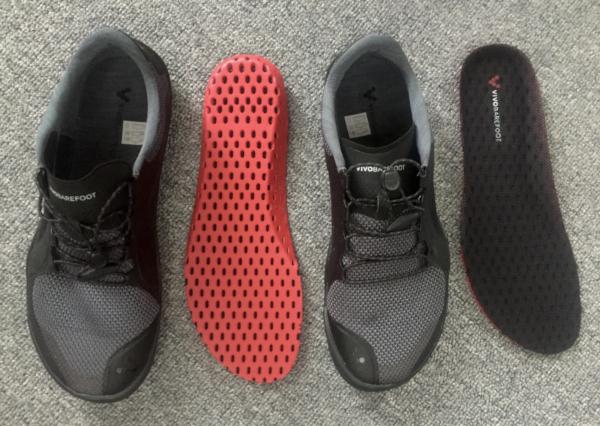 The shoes fit really well. Like the Trail SG, I tested these fit exactly as advertised, so my 10.5 (US/Canada scale) was indeed 10.5 exactly and fit well. The width was also quite good for my average width feet, which are neither narrow or wide. Very comfortable overall.
My initial impression of the shape of the shoe was that it raised concern of the high heel counter. I'd had shoes before that made my lower Achilles bleed from chafing so I was curious how these would be.
Compared to the SG, the FG felt lighter. The answer lies in the fact that the sole is thinner with a less aggressive tread.
Cosmetically, they look great, and the build quality feels solid. Also thanks so much for the sturdy toggle lacing system! No coming undone on long runs.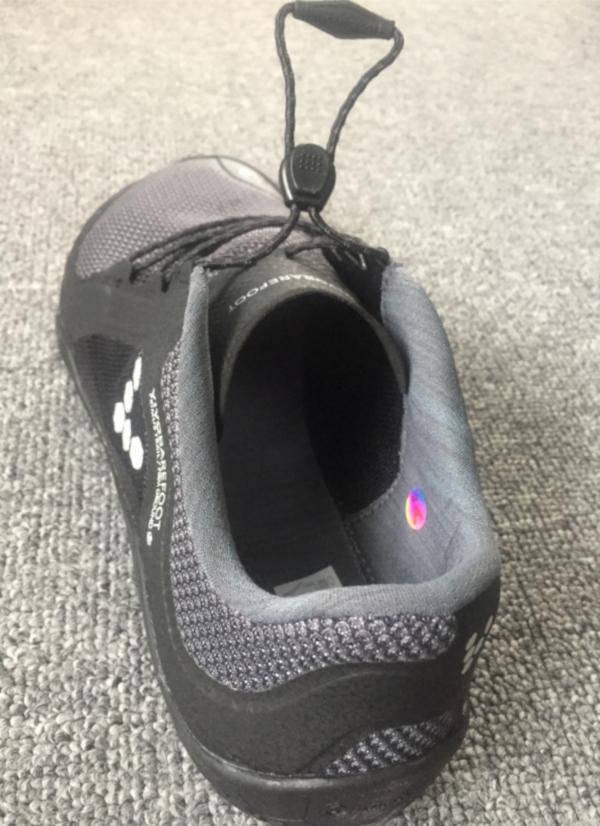 The initial runs
The spring weather in southern Ontario, Canada is always a challenge for running with the cold temperatures and trails remaining frozen over right up to April.
Changeable weather patterns provide variable conditions, including ice, snow, mud, and rock. This means that these shoes are basically impractical to use until the trails dry out in late May.
I ran a variety of routes beginning in May including swampy lowland trails and some drier high trails on our local ski hill.
What I found is that this shoe is not the ideal choice for my trail running requirements. If there is the slightest bit of slick mud, they are slippery like being actually barefoot.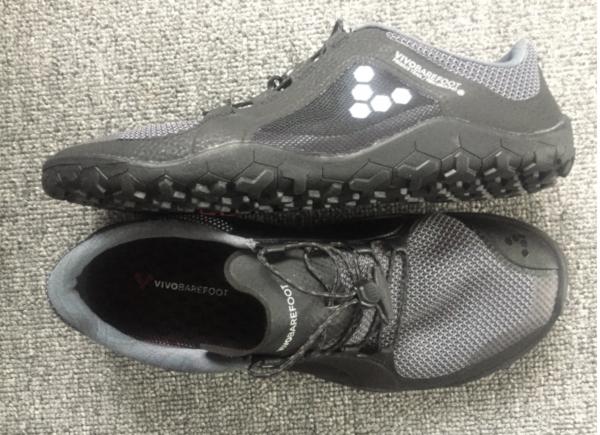 On steep climbs up the ski hill trails, they were fine unless it had rained or began raining during the run. The resulting surface mud made them slip all over.
I felt like I was fatigued just with the extra work staying upright. The trail SG model suffered none of these issues by comparison with the deep tread lugs. The saving grace for me personally during wet runs was that they dried out very quickly exactly as the SG model did.
On dry trails which are a little less technical and firm, the shoe performs well. It's light, provides enough protection, and the grip was good.
I actually discovered to my surprise that they make an excellent gym shoe for strength sessions and to run the treadmill during the worst days of the Canadian winter when it was just dangerous to run outside.
Later observations
I was surprised to find that above 200km with the shoe; the wear was as minimal as the design.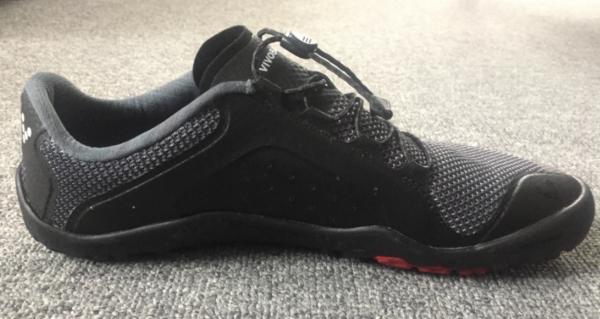 It had none of the separations of fabric and rubber toe bumper of the SG model. Durability is a strong point, and I think they have an excellent tread rubber compound here.
The shoe definitely feels like a second skin after several months of wear. They are even more comfortable now than when I first put them on.
Pros
A minimal design brings barefoot benefits
Very sturdy construction
Toggle lacing system
Fits true to size
Long wearing treads
OK foot protection for a minimal trail shoe
Water drains right out
Uses recycled materials
Cons
A little pricey
Traction is poor on slick muddy trails even if they are firm but wet
Conclusion
The Primus Trail FG is perfect for runners who are light on their feet, non-heel strikers. It is also great for dry non-technical trail, country roads, grass, etc., but not technical or wet trails which are better left to their SG model.
Vivobarefoot has created a shoe that, for me, is a fair weather firm ground running shoe. I can feel the terrain underfoot really well. If you run grassy surfaces, it's amazing!
Dry packed clay or gravel surfaces are also good. These were great gym and treadmill shoes as well!
This shoe is called "FG," which implies firm ground use, and I can concur with that statement because the tread on the bottom is also minimal. You really would not be able to use this shoe on super muddy or slick trails or even on trails that have really craggy volcanic rock.
The dry, firm fairly non-technical trail is the place for these shoes where they would supply a true barefoot ride with traction and protection.
Running without shoes supposedly strengthens your foot, but is hard in the current industrial environment.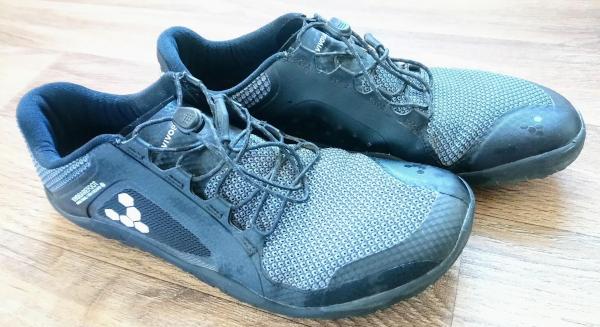 Barefoot shoes should, therefore, deliver the feeling of the ground, protect your feet from dirt and sharp stones, and be flexible enough not to restrict the movement of the foot.
Design
Vivobarefoot designed this model with trail running in mind and delivered lightweight, vegan, eco-friendly shoes to help you reconnect with the more natural style of movement.
The upper material is made out of recycled plastics. It is breathable and reinforced in some places to protect the foot and support a little bit around the arches. It is easy to clean just with a damp cloth.
The removable insole is 3.5 mm thick and acts as a light cushioning for the landing. And for colder days, it also creates a thermal barrier (take it out though if you want even more feel for the ground).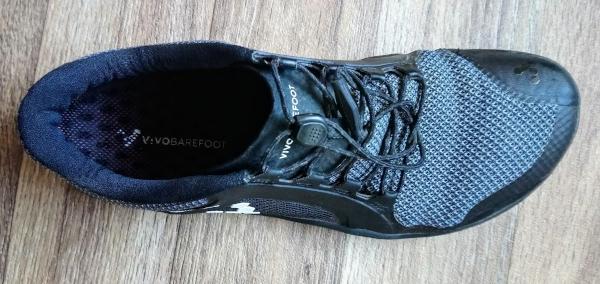 Shoes come with two sets of laces. The first pair is already put in and can be tightened with a quick-secure Mountain Lace. They have a non-slip coating and therefore do not move much during your run.
As a downside of this system, when tightening them, one should take a bit more time to ensure the perfect fit and tightness all through the eyelid chain.
The second ones are regular shoelaces. But to exchange them, one needs to cut the first pair, so I have yet to find the courage to do this.
They look stylish enough that they can be used as a daily trainer. The choice of colour combinations is decent, and all of them are quite nice.
Grip
As primarily trail running shoes, they have a good grip on rocks and grass. The outsole performs well even in rain and wet conditions.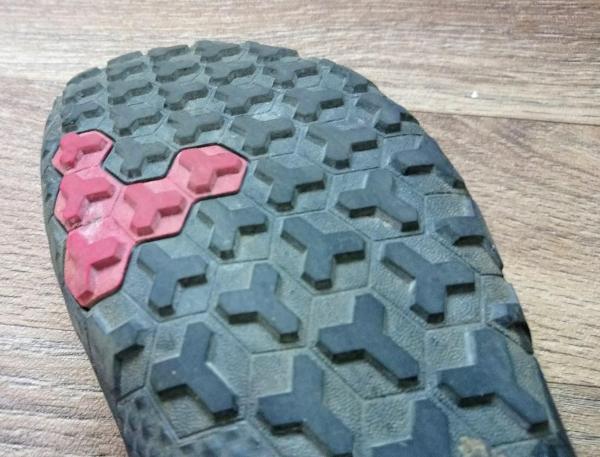 But, do not expect it to hold in deep mud. It is designed in a way that is efficient and does not trap any stones in the pattern.
Comfort
Primus Trail shoes are not as flexible as other barefoot models, probably due to slightly more pronounced outsole and stiffer parts of the upper. Straight out of the box, even the upper fabric felt a bit stiff and took some time to break in.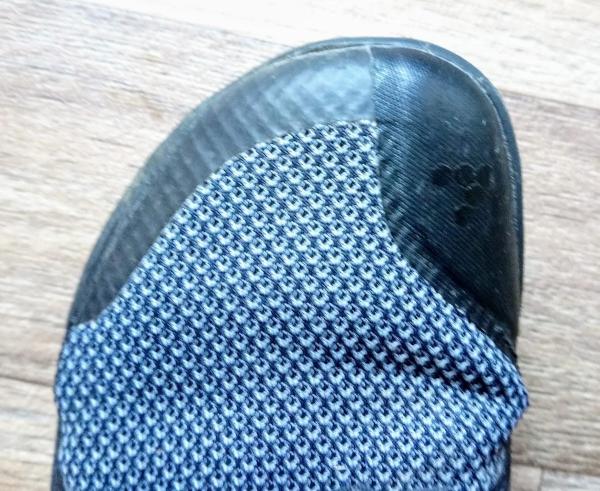 Their collar is quite small, especially the tongue, could dig a bit into the skin (gets better with time and can be partially prevented by socks or bandaids).
The toebox is spacious, so your toes can spread but not too much so that you won't feel the lockdown in the shoe. The heel area is not too wide, so there is a bit of support for the landing.
Thanks to the laces, the foot is secured in the shoe without any restrictions.
Durability
After 100k, they do not show much wear and tear. The material seems to be well crafted and does not scrunch around the laces or where the toes bend. The outsole still has a great grip, and the tread pattern is still nicely pronounced.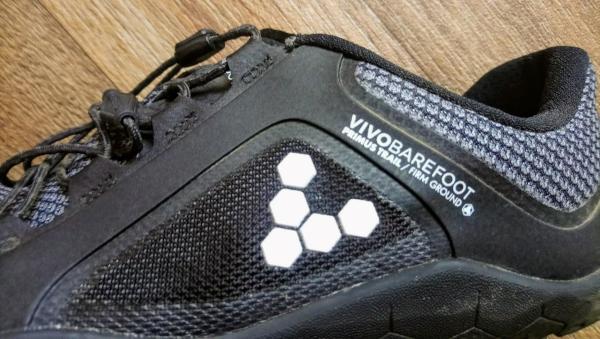 Sizing
Generally speaking, these shoes are true to size. However, if your foot shape is more of a 'Roman-style' (toes are about the same length), I would consider sizing up a bit to ensure the comfort as Vivobarefoot tends to enhance.
This is different from, for example, Merrel Trail Glove shoes, which are more rounded and offer more space for the little finger.
Verdict
Overall, these lightweight shoes are great trail running shoes and can even serve as an introduction to barefoot shoes as they absorb the shock from each step slightly more than other models.
They can be used in various terrains or on the road. The shape is just right, and once broken in, they are comfortable. Even though the price range is a little higher, the shoes are durable and environmentally friendly, I would say it is justifiable.
Although barefoot running is not everyone's cup of tea, if you are thinking about making the transition, these are a good choice for trails.
The Vivobarefoot Primus Trail FG has been around for quite some time. We have seen some color updates, but the basic shoe has stayed the same since its introduction to the market in 2016.
After successfully destroying my beloved Vivobarefoot Trail Freaks, I immediately bought a pair of Primus Trail FGs and based on the hype I thought that I would step into Nirvana.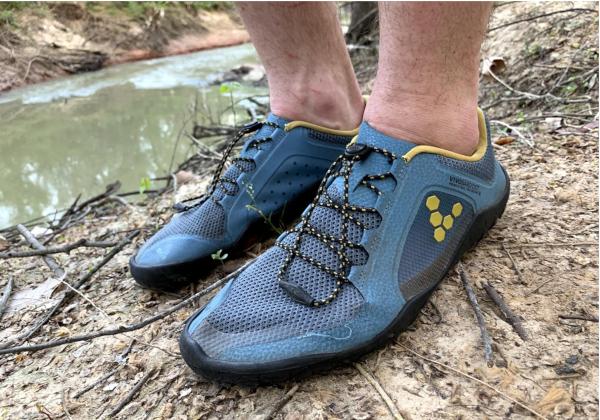 However, after my first run, I was left disappointed. The soles were too hard, the shape was strange, and it felt like running on ice every time I descended our driveway in the rain. I kept on grabbing my other pairs of trail runners until they all disintegrated.
This left me no choice but to embrace the hype and give the Primus Trail FG one more chance. What follows is my account of how a stormy start developed into a dependable friendship.
First impressions
The problem with so many reviews that I read these days is that they are based on first impressions. How often do you read stuff like "after unboxing I took my new -insert anything in here- through its paces"?
Too often, first Impressions are always biased (nice word to say they are wrong). Don't believe them. With running shoes, this is especially true. Why? Because the properties of all the materials in your running shoes change with age.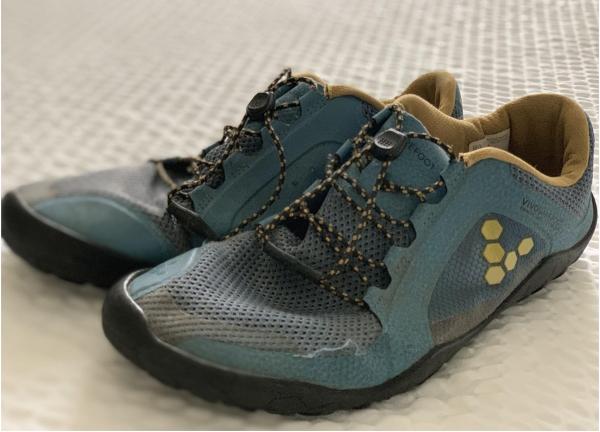 Each passing mile changes your shoes. You won't notice it since the changes are so incremental. But after you have sufficiently manhandled them, you will notice a considerable difference from the first day you wore them. Some shoes get better and most shoes fall apart.
For this reason, I am not going to mention anything further about the initial fit, durability, grip or happiness factor for the rest of this review.
Fit
I wear a UK size 8 street shoe, and this is no different to what I run in. Yep, no upsizing here. My toes are maybe 2mm from the front of the toe box.
These shoes fit like a glove. I never notice them. This is probably due to the size of the toe box combined with the way the lacing system is designed.
Whatever it is, the guys and girls at Vivo really figured out how to make a shoe fit like a sock. Of course, the fact that I don't wear socks or use insoles probably further contributes to this sock-like sensation.
There is one instance though when I feel my toes hit the front of the toe box: when I run through a deep puddle of water or a river and the shoes are drenched all the way through. This is only a temporary issue though since these shoes leak water like a sieve and are dry in no time.
Durability
These shoes are built to last. Even after putting hundreds of miles on them through rain, snow, heat and even washing machine and tumble dryer cycles, they are still going like a boeing.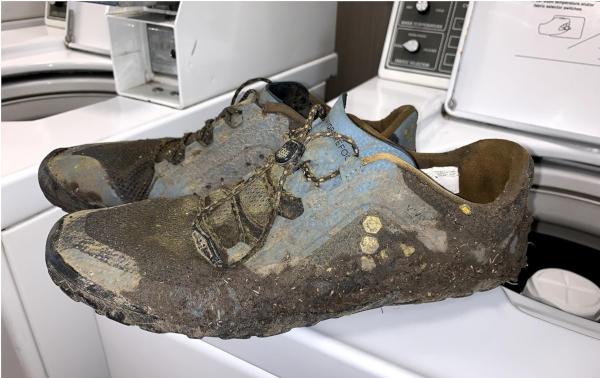 Not even McEnroe's pee can kill these guys. The one thing I would caution against is taking these onto the tarmac.
Not that I abide by this rule myself, I spent the last two weeks in Houston and not having any road shoes with me. I noticed dramatic wear on the sole due to the cement paths they have here.
Grip
Finally, we get to it Vivo's firm ground rubber. This is probably the biggest sticking point for some people (excuse the pun). The problem is already evident in the name - Firm Ground.
"Firm" is defined by Google as having a solid, almost unyielding surface or structure. Wet rock is unyielding, and mud is not considered solid. Everything else is firm.
The rubber on these shoes, therefore, have a very, very hard job. They have to balance stickiness and durability over a vast array of hardness and texture.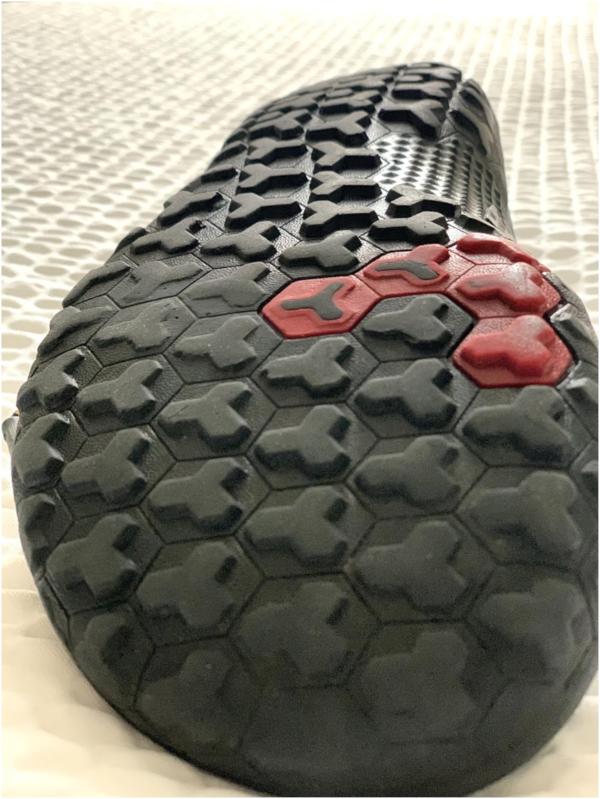 They can therefore not really compete with soft ground shoes when it comes to stickiness, but they are well designed for what they claim to be made for firm ground.
Has that ever stopped me from running on non-firm surfaces? Never. In fact, with age, the traction has been improving significantly. This is probably due to the increased contact surface and changes in the hardness of the aging rubber.
Happiness factor
This is probably the most important consideration when choosing gear. Will they contribute to your happiness factor? It depends.
If it makes you happy to run fast, light and free, unbound by the yoke of mattresses under your feet and in-step with your senses then these shoes will improve your happiness factor dramatically.
At first you might be a bit unsure of where this relationship will take you, but in the long run, you are bound to be rewarded. Enjoy the run, take the path least run on.
Good to know
The Vivobarefoot Primus Trail FG is a minimalist shoe that has the Firm Ground Outsole for maximum grip and enhanced resistance to abrasion.
Its mesh upper is highly breathable in nature, which keeps the runner's foot healthy and cool during the runs. Another interesting feature is the Quick Drain Zones which keep water from pooling in the foot-chamber. These zones also wick away moisture and perspiration.
This running shoe from Vivobarefoot has the standard running length and the standard medium width of D and B for men and women, respectively. The footwear is most suitable for users with medium sized feet in terms of width. Also, its semi-curved shape enables the shoe to adapt itself to the shape of the foot and its changing movements.
The Firm Ground outsole is known for its excellent abrasion-resistant properties and enhanced grip on various terrains. The sticky rubber provides the needed traction while running and prevents slippage on wet or slanting surfaces.
Because the sole unit has an extremely low-profile construction, flexibility is easy to attain.
The Primus Trail FG doesn't have a traditional midsole construction. The inner portion of the rubber outsole serves as the main underfoot platform. It's designed to deliver an experience that is as close to the ground as possible. It caters to minimalist runners and people who have a neutral gait.
The Vivobarefoot Primus Trail FG features a breathable mesh material for a healthy inflow and outflow of air through the foot-chamber. The mesh assists in maintaining a properly ventilated environment inside the shoe. This mechanism keeps the user's foot cool and dry throughout the running session.
The shoe houses the Quick Drain Zones which further improve the drainage system. These prominent pores prevent pooling when the runner is tackling wet surfaces and conditions.
For a seamless feel against the skin, the shoe utilizes the Fused Upper Material. The minimal construction enhances the experience of comfort for the user.
The Cable Lace and Toggle allows for quick and efficient lacing. Also, it effectively maintains the snug fit throughout the run, thereby preventing uncomfortable sliding of the foot inside the shoe while also providing a glove-like fit.
Rankings
How Vivobarefoot Primus Trail FG ranks compared to all other shoes
Popularity
The current trend of Vivobarefoot Primus Trail FG.