Verdict from 8.2 hours of research from the internet
75
Decent!
75 users: 3.6 / 5
4 experts: 80 / 100
8 reasons to buy
A majority of owners declare that they loved the fit and feel of the Vivobarefoot Magna Trail.
Its versatility receives praise from a lot of hikers.
The quality materials used in the Magna Trail impressed a huge chunk of wearers.
It was a supportive hiking shoe, according to more than a handful.
Umpteen users testify to the comfy confines of the Magna Trail from Vivobarefoot.
It was easy to put on and take off, as said by a considerable number of owners.
Its grippy outsole earns high ratings from heaps of users.
Based on numerous customer reviews, the neoprene sleeve of the Vivobarefoot Magna Trail was successful in keeping sand and snow out.
2 reasons not to buy
A very few have discovered that the sole of the Magna Trail was too stiff for them.
It being expensive was not pleasing to some.
Bottom line
Vivobarefoot's Magna Trail has impressed the hiking community with its set of excellent features. Its satisfying comfort, reliable grip, and protective upper (thanks to its neoprene sleeve) are just a few of the many reasons why it has earned an exceptional rating.
It, however, comes in a costly package. Overall, it can be said that the Magna Trail's performance on the trail is equivalent to its price. Those who would like a pair must save up and be ready to reap its benefits afterward.
Tip: see the best hiking shoes.
User reviews:
REI, Jack Rabbit and 19 other shops don't have user reviews
Our reviews
The Magna trail shoe is a lightweight alternative to the traditional, clumsy, heavy, hiking boot. They are a versatile substitute for the hiking enthusiast to consider when selecting hiking shoes.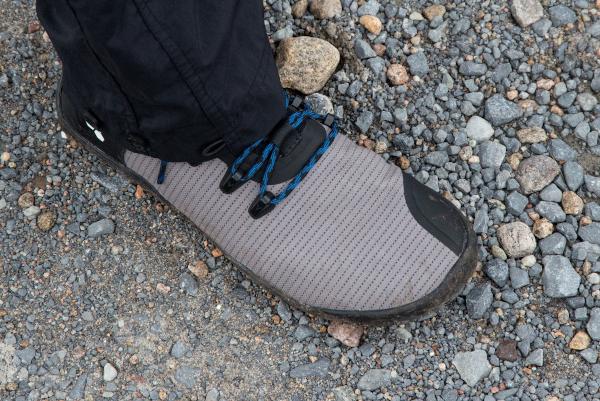 Also, I found them to be an excellent option for those who encounter blisters or sore feet and a good introduction to barefoot adventures.
The Magna is vegan-friendly and has numerous features. These include a no-sew construction, water resistance, and a removable thermal insole.
Fit
The toe box is large with extra space on the top of the foot and is very wide. Had I been aware of just how much room the toe box area provided, I would have selected a size smaller as opposed to ordering my regular size.
I take extra care when lacing up the shoes to attain a better fit. Despite wearing thicker socks on one challenging hike, I found the amount of movement my foot had was concerning at times as I attempted to balance in some restricted sections of the trail.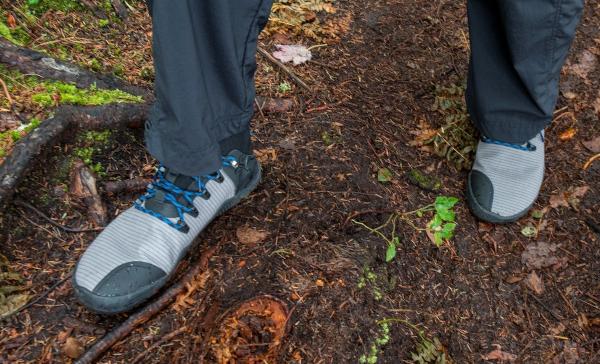 The ankle area with the neoprene socks makes for a very comfortable fit, eliminates rubbing and has good support. I especially liked the heel cup as opposed to the typically hiking boot that is rigid and does not provide flexibility on steep inclines and descents.
A pleasant surprise was how effective the ankle height sock is in keeping out sand, dirt, and small rocks, which can be very disturbing and annoying during a hike.
Design, comfort
The outsole
Although thin, it has a puncture-resistant layer with multi-directional lugs. The patented sole also claims to be 5x more puncture-resistant than a standard sole of the same thickness.
I found the thickness provided plenty of comfort, and the lugs offered a good grip on dry, rocky terrains. However, they are a disappointment on wet surfaces, especially roots, for they are slippery, and I did not feel I had adequate traction.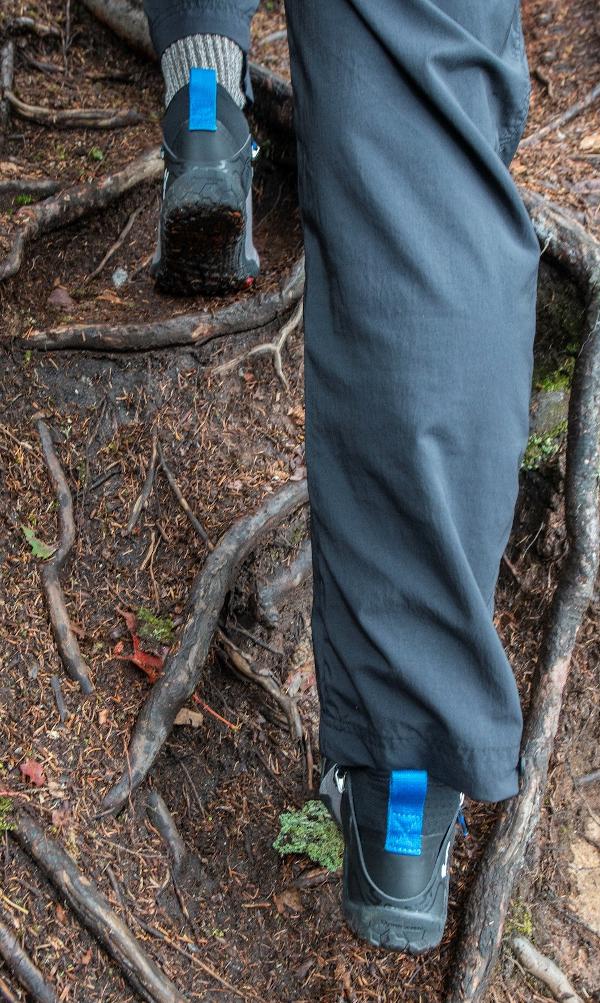 The insole
The 3.5 removal insole claims four-season protection and adapts to thermal changes reducing overheating, chilling, and perspiration. I experienced great comfort in a variety of temperatures.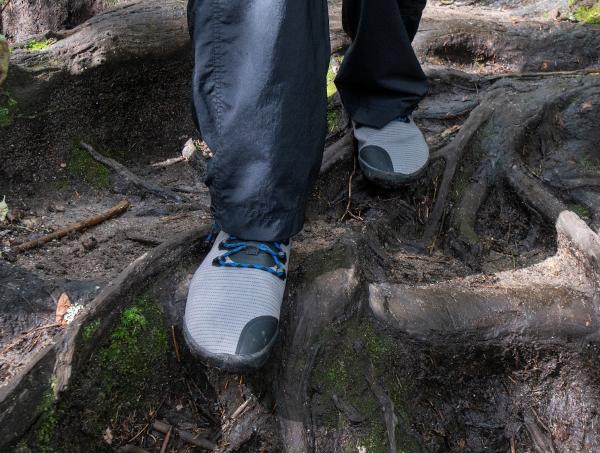 I wore the shoes (40 to 90-degree temperature spans), and my feet never overheated, thus never needed to remove the insole. However, I have not yet tested them in winter conditions.
The toe box
The nylon toe tox is made of recycled plastic (PET) and is highly water-resistant. I did find my feet stayed remarkably dry through various hikes on wet passages, through puddles, and in the rain.
There is an addition of a rubber toe protector on the outside of the shoe. The nylon has demonstrated good durability exhibiting no slashes or punctures from the rocks and branches traversed during my hikes.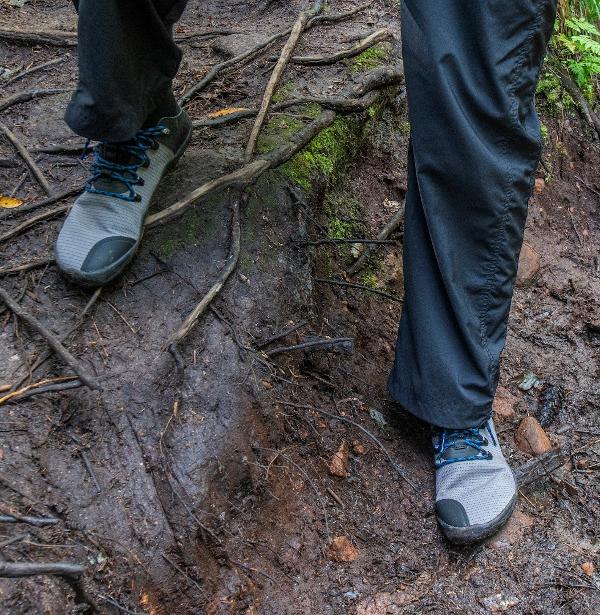 Because of the vast size of the toe box, the fabric across the top where the foot bends has a crease. It does not appear to possess any additional wear. However, it does not give a streamlined appearance.
Unfortunately, I did encounter that it also makes a rather floppy noise at times, which I found to be annoying.
The Laces
The lacing system is designed with a combination of tough plastic and metal eyelets at the ankle.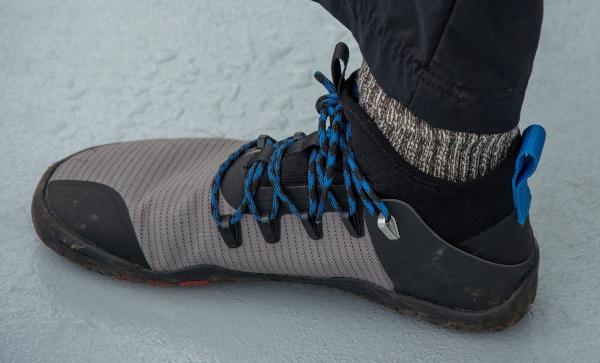 The laces are round tight weave adjusting easy and allowing for a secure fit. I encountered no problems with the lacing becoming loose or untied.
Conclusion
Vivobarefoot positions the Magna Trail as a high-performance, lightweight, off-road hiking shoe ready for barefoot adventures in any weather and on the toughest of terrains.
Although I agree with the majority of their description, I would not recommend the shoes for a challenging hike and on wet surfaces. They are an excellent introduction to barefoot footwear for those who are interested in trying an alternative shoe for hiking.
Despite not being very stylish, I do enjoy wearing the shoes on casual walks and on easy trails for they provide freedom and comfort of natural barefoot movement.
They recycle PET, thus repurposing plastic waste and making it vegan-friendly makes the Magna Trail unique among hiking boots.
Currently, they are available in three colors for women: Black, Indian Teal, and Grey. Men have two color options of Black and Indian Teal.
In the middle of summer, June to be exact, I was coming off a 50 miler and headed straight to recovery time.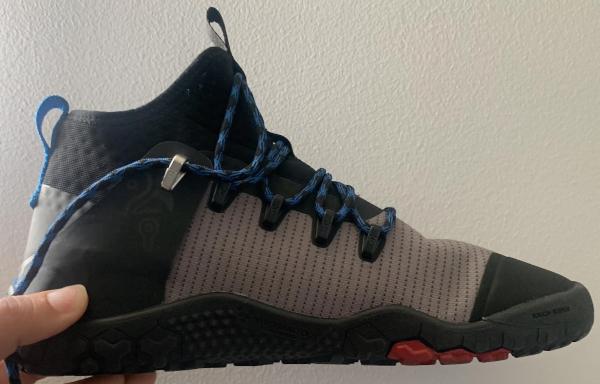 That meant hiking countless miles in Yosemite—covering various trails, and of course, visiting several of their amazing waterfalls. The timing just synced to bring along a new pair of the Magna Trail hiking boots.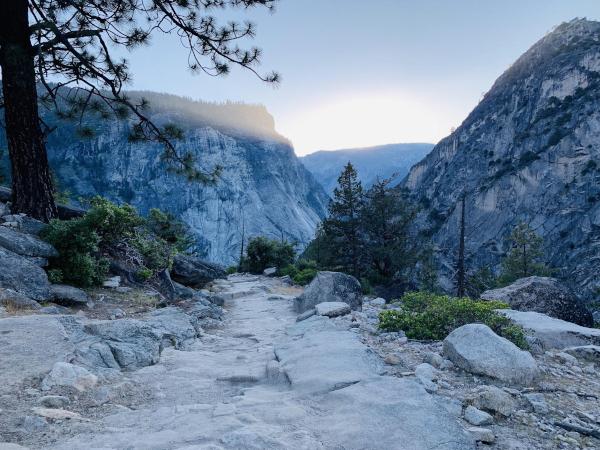 Unboxing and first look
I have never owned hiking boots, so I was excited to pick apart this boot. I already researched the shoe before it landed on my doorstep.
I was excited about the several material details that the shoe carries. Here are a few pros and cons based on what I first felt.
First, the material of the shoes is water repellent nylon, and it has a no-sew construction. This style of shoe also is a minimalist style and very lightweight.
Pros
The no-sew construction did keep debris coming in. From the first look, the only gap between the whole shoe construction is for lacing, but that portion is on the heel and does not have any entrance to the shoe.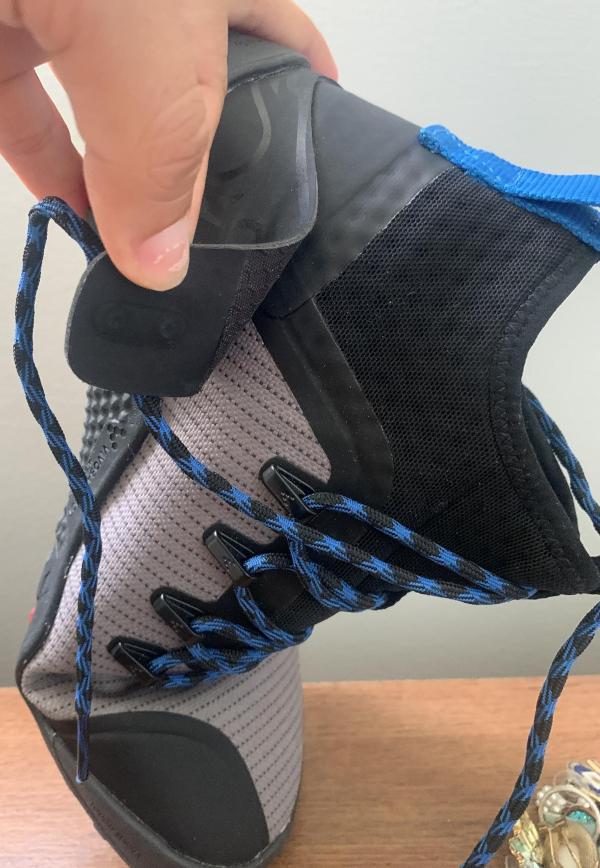 The material is still very light even with it being waterproof. I also liked the big toe rubber portion. The shoe does fold like a sandwich, so a lot of flexibility.
Cons
This was just a personal side note on first look. I did not want to judge it without the trial miles. I was concerned about the snug upper ankle portion and the loose feel in the overall boots.
Test miles/terrain type
I knew I was coming to California when I accepted the shoe to test. My favorite part of recovery is hiking but not like hiking small little trails here in Michigan.
Overall, in the four days of being there, we hiked close to 60 Miles.
We covered Bridalveil Creek, the upper and lower Yosemite Falls, Glacier Point, Tunnel View, several spots off trail only the local knows about, and so much more.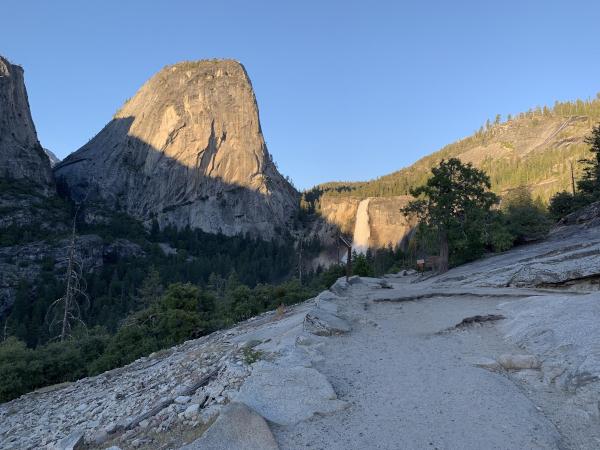 This was interesting too because the terrain changed. The terrain goes from soft meadows to paved trails, to climbing straight up to the falls, and to slick rock from the mist of the falls to the ledge of the mountains.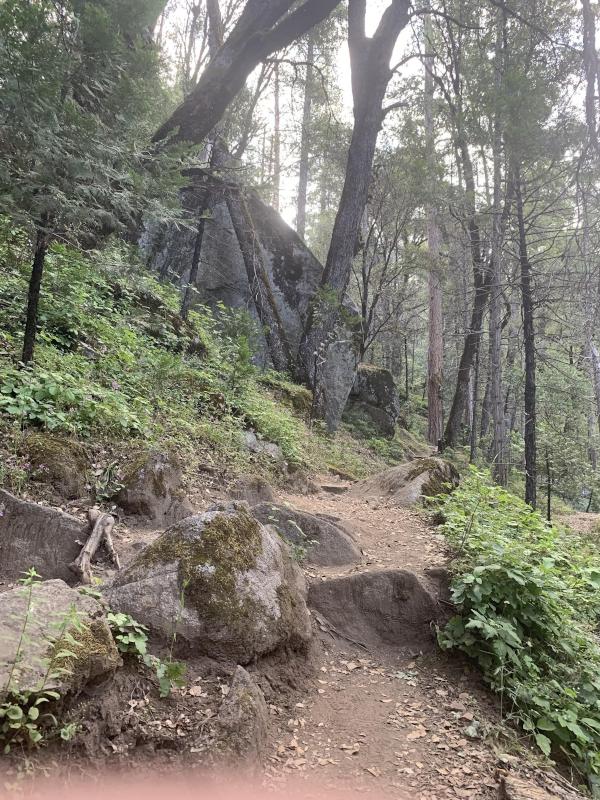 So, you can see I was relying on an excellent boot not to mess my day up. The shoes' overall design helped with the overall experience.
Here are some brief promoted details that make the shoe along with its pros, cons, and a few of my thoughts.
Thermal Insole
Pros
My socks were never soaked in sweat, and no slipping from sweat. Also, my foot never got cold when we got wet near the falls.
Outsole
The Vivobarefoot Magna Trail uses the brand-owned Firm Ground rubber outsole that is optimized for off-road performance. The rubber compound is to benefit traction on wet/dry surfaces. It also has a 3mm base and lugs.
Pros
I was comfortable with the outsole. I felt that the rubber on the sole and just the right amount of the lugs helped with the various changes in the terrain.


Even when just hiking in soft wooded terrains, I did not feel like I was lugging around a heavy boot. The rubber sole was flexible. I need flexibility because, at various times, we did a little bit of climbing.
Cons
I really had no complaints on the outsole.
Upper
The upper part of the Magna Trail is made of water-repellent nylon. The no-sew construction kept the durability of a truly minimalist style.
It has thermal insulation throughout the upper, providing a good temperature throughout day changes.
The ankle is wrapped in a neoprene material, which still allows the foot to move freely. However, in my opinion, this was a con for me. I did not like the movement.
Pros
Its lace-up closure includes speed hooks and wing lace lock for quick fit adjustment. To facilitate a smooth on and off, it comes with pull tabs at the tongue and back of the shoe, which I like. The ankle portion of the boot still throws it off.
Cost and size
The cost of the shoe is $210.00, which may be on the higher end. However, the material is excellent, and it is also a vegan boot which recycles plastic waste.
I believable it will last a long time and give you countless miles if you can get past the ankle portion.
I wear a size 8 and used the conversion chart to order. I truly think I need a size smaller, but if I went a size down for the loose shoe fit, I wonder if the ankle portion would be even tighter. One should keep these in mind when ordering.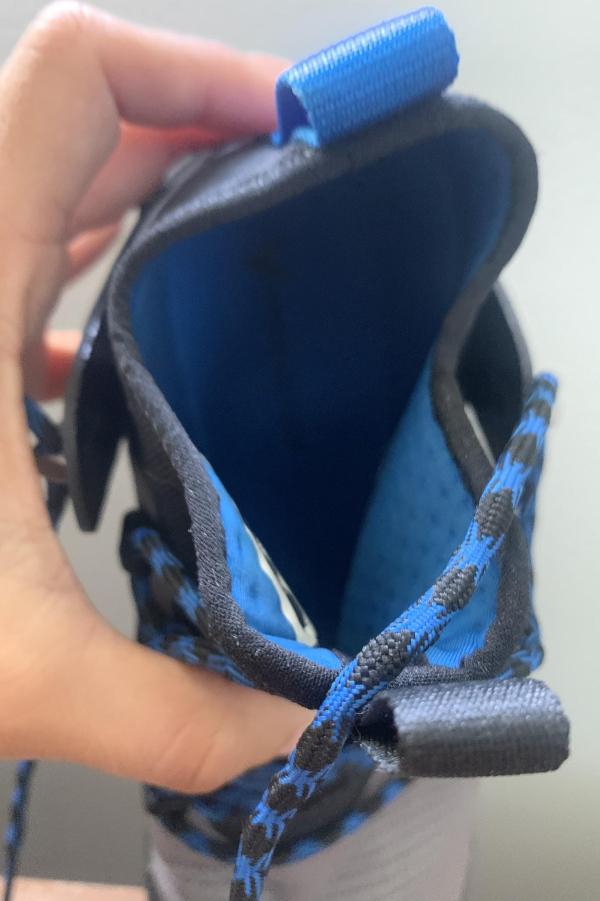 Final thoughts
The movement in the shoe is going to take some to get used to it. I loved the 4-season aspect of the shoe.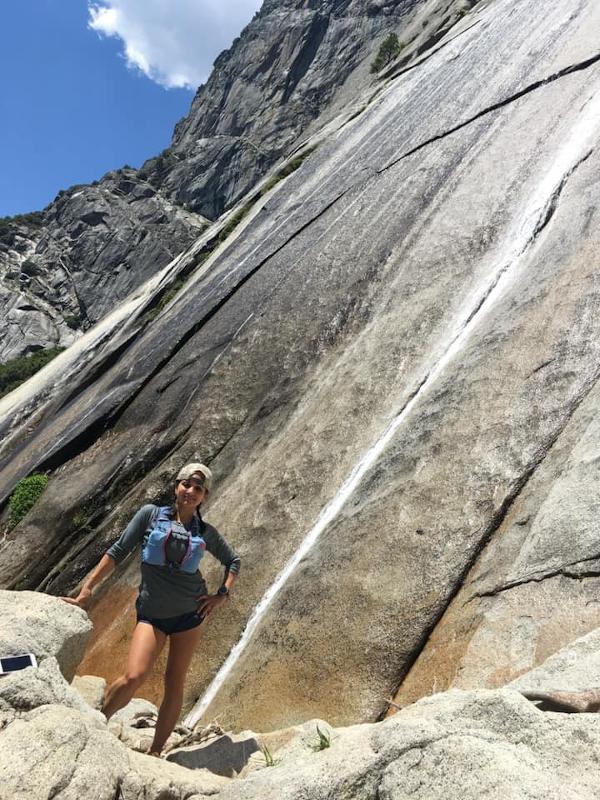 Especially in trail hiking, you can experience a variety of terrain, including those with water. Having a waterproof sole and mix of thermal material are big benefits in a hiking boot.
This lightweight hiking shoe from Vivobarefoot, the Magna Trail, is designed to accompany hikers in their outdoor adventures. It bears a minimalist style, thanks to the no-sew construction of its nylon upper.
It has a Thermal Insole which helps keep the foot cozy and warm without restricting its movement. Its sticky rubber outsole grips on most types of terrain.
The Vivobarefoot Magna Trail is a reasonably true-to-size minimalist hiking shoe for men and women. Lengthwise, it is primarily offered in whole sizes. Both versions come in standard width. Its quick-to-adjust lacing system allows users to fine-tune the tension and overall volume.
The Vivobarefoot Magna Trail uses the brand-owned Firm Ground rubber outsole that is optimized for off-road performance. Using the Tough Rubber compound, the said component delivers traction on wet and dry surfaces. It keeps a low-profile with the 3 mm base and lugs. A patented puncture-resistant layer is present to amplify its defenses against the rockiest terrain.
Sitting atop the midsole of this shoe for hiking is a 3.5 mm Thermal Insole. This element uses the Outlast thermal regulator, a reflective foil and an insulating foam. These materials are responsible for keeping the feet warm even under very low temperatures.
The upper of the Magna Trail is made of water-repellent nylon. It is crafted using a no-sew construction technique which optimizes its durability yet keeping a minimalist style. It also maintains a warm, cozy feel, thanks to its thermal insulation.
The ankle is wrapped in a neoprene material which allows the foot to move freely. The reinforcement at the back of the shoe helps keep the heel in place and adds structure.
Its lace-up closure includes speed hooks and wing lace lock for quick fit adjustment. To facilitate a smooth on and off, it comes with pull tabs at the tongue and back of the shoe.
Size and fit
Too small
based on 3 user votes
How Magna Trail compares
Corescore: 58-61
2 shoes (0.69% of shoes)
Corescore: 62-65
4 shoes (1% of shoes)
Corescore: 66-69
6 shoes (2% of shoes)
Corescore: 70-73
11 shoes (4% of shoes)
Corescore: 74-78
25 shoes (9% of shoes)
Corescore: 79-82
37 shoes (13% of shoes)
Corescore: 83-86
59 shoes (20% of shoes)
Corescore: 87-90
87 shoes (30% of shoes)
Corescore: 91-94
46 shoes (16% of shoes)
Corescore: 95-98
11 shoes (4% of shoes)
Corescore: 99-99
1 shoes (0.35% of shoes)
Price: $45 - $65
3 shoes (1% of shoes)
Price: $66 - $85
18 shoes (6% of shoes)
Price: $86 - $106
55 shoes (19% of shoes)
Price: $107 - $126
71 shoes (25% of shoes)
Price: $127 - $147
62 shoes (21% of shoes)
Price: $148 - $167
34 shoes (12% of shoes)
Price: $168 - $188
17 shoes (6% of shoes)
Price: $189 - $208
20 shoes (7% of shoes)
Price: $209 - $229
5 shoes (2% of shoes)
Price: $230 - $250
4 shoes (1% of shoes)
All shoes average:
13.9oz
Weight: 6.5oz - 8.1oz
5 shoes (2% of shoes)
Weight: 8.2oz - 9.8oz
5 shoes (2% of shoes)
Weight: 9.9oz - 11.4oz
29 shoes (12% of shoes)
Weight: 11.5oz - 13.1oz
61 shoes (25% of shoes)
Weight: 13.2oz - 14.8oz
66 shoes (27% of shoes)
Weight: 14.9oz - 16.5oz
49 shoes (20% of shoes)
Weight: 16.6oz - 18.2oz
21 shoes (8% of shoes)
Weight: 18.3oz - 19.8oz
6 shoes (2% of shoes)
Weight: 19.9oz - 21.5oz
3 shoes (1% of shoes)
Weight: 21.6oz - 23.3oz
3 shoes (1% of shoes)