Verdict from 5 experts and 100+ user reviews
4 reasons to buy
Most users stated that the shoe sole was thin enough to provide a sensitive ground feel yet had the right amount of thickness to protect the foot.
A significant number of reviewers complimented the shoe's comfortable fit; they liked the way it contoured their foot shape.
People who took the shoe out for hiking adored its great traction, even on smooth and wet surfaces.
A few wearers were delighted that the footwear helped them increase their foot strength and mobility as well as improve physical form in general.
4 reasons not to buy
Several customers did not find the look and color of the product to be aesthetically pleasing.
A handful of people reported that the shoe has to be washed regularly as it quickly develops an unpleasant smell.
Wearing the trainer without decent preparation for barefoot training can result in injuries, noted one reviewer.
Another user was frustrated that the outsole separated from the upper in the heel area one day after the return window ended.
Bottom line
Overall, the Vibram FiveFingers V-Alpha was deemed a comfortable and decent minimalist shoe. It had all the right characteristics to provide the wearers with a barefoot-like experience. On the other hand, not everyone appreciated the shoe's design and color options. But if natural foot strength and performance are what you are looking for, then the V-Alpha is a good option to help you with that.
Tip: see the best workout training shoes.
Our reviews
Shoes are shoes, right? There's upper, midsole, outsole, laces, fingers? Wait... fingers?
Ok, I get it, Vibram Fivefingers have been around for a long time, and ever since I started looking into a low drop and minimal shoes, these oddities always intrigued me.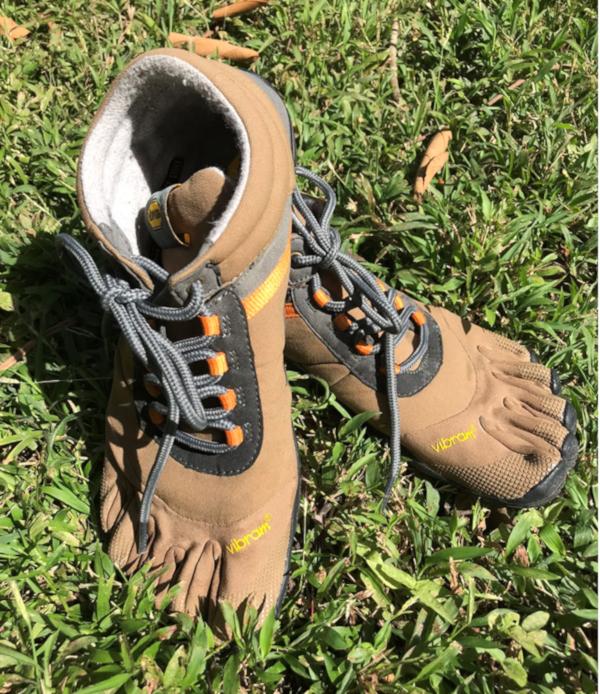 Yes, I thought they were a gimmick, an odd differentiator in a sea of options. I am sure you might feel the same way but bear with me, you might be mistaken. Before I continue, if you wish to try them on at the shop or just bought them, I urge you to read the instructions.
Yes, I know what you're thinking, shoes with instructions, really? But trust me, following these instructions will enable you to enjoy these shoes. Don't follow them and you'll have a rushed an impaired judgment, and you might hate them.
Instructions are quite simple. This is going to be the longest break-in of any shoe you ever tried; I say this in a good way.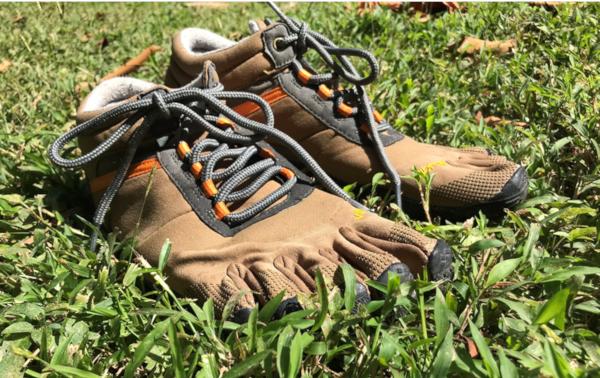 Fit & feel
The fit and feel on these shoes is unlike anything you've ever tried, so your toes that have been a prisoner to narrow toe-boxes or high heels smashing your toes together will now have to get used to a little freedom.
You'd think this separation would be equal to a group of high school friends going away to different colleges, but no, this is more like getting your own room after your older siblings marry and move out. It is a bit liberating.
Some people can't even wiggle their toes one at a time because walking on standard shoes fuses them useless. This is where the story begins.
So, back to what Vibram calls "Transition Plan" is a general guideline that recommends that you increase the span of use gradually from random use around the house to going out, to your big trek.
And believe me, if this is your first pair of Fives, you might wanna break them inconsistently. Like in every relationship, after you go through the awkward phase, things start to feel a lot more comfortable.
In my experience as a runner working out 6 times a week, I need to take proactive care of my feet, so I took this very seriously, and I swear by it now.
The big unknown
Think of it this way, your hands are used to feeling textures of everything you touch, you become familiar with fabrics, woods, metals and all of that relays information that complements other senses in making sense of the world.
Feet should be doing the same, but we enclose them in socks and put a stiff sole under them, so there is a lot of the world we fail to feel, like the uneven nature of asphalt or rocks and grass.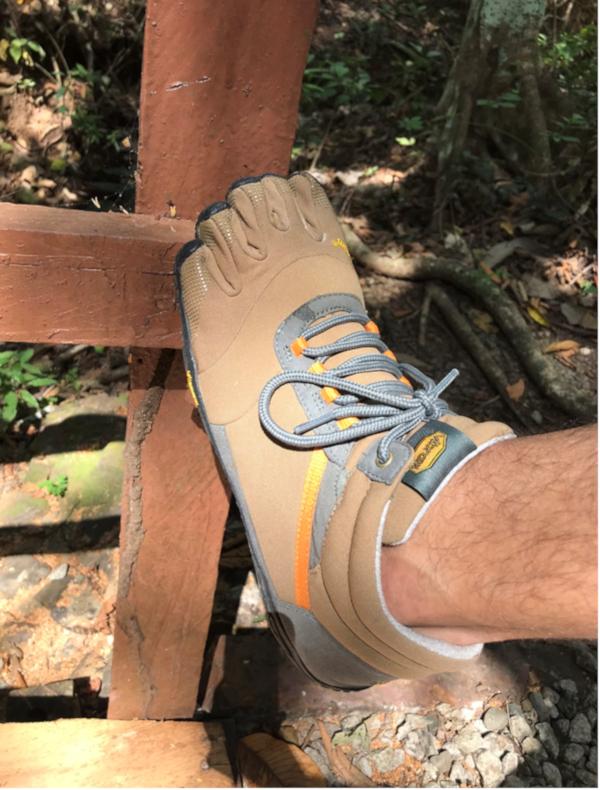 Many surfaces we fail to feel because they are hot, or cold or can cause harm to our feet. But wearing the Fives, you begin taking notice of carpets or grass, and it adds to your experience of a place, especially on a trek without the risk of harm.
What do they feel like on a trek?
I took my Fives to a trek along the trails of the Metropolitan Natural Park of Panama. It is a jungle reserve in the middle of Panama City, Panama. It has around 5 kilometers of jungle trails, small rivers and lakes and most roads have considerable elevation shifts.
The first thing you notice is just how nice it is to walk on the grass. The ability to wiggle your toes in the grass without fear of something biting or scraping your feet is superb.
Flat short grass works best for running in them. The grip on to rocks and slippery water streams is superior, unlike anything I've seen before.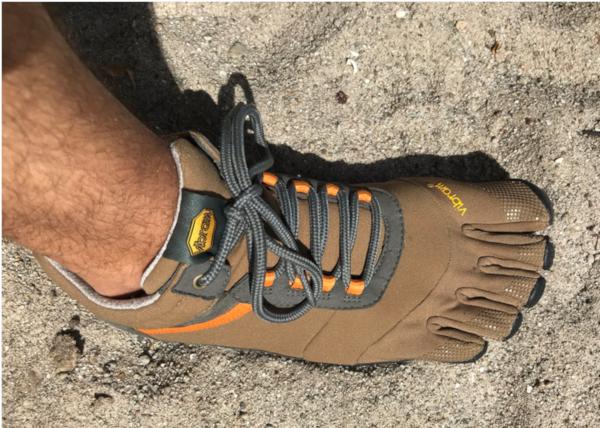 What do they feel like on beach sand?
Forget about scorching your feet in the hot sand; you will feel fresh in spite of the burning sand around you.
The only downfall would be to walk on loose deep sand because the sand you lift might get inside the shoe from the heel counter and that is not pleasant, ideal for running in compacted wet sand. Your feet will stay dry!
What do they feel like on hard surfaces?
Well, walking on hard concrete floors is not ideal but bearable. The inside of the shoe is surprisingly comfortable considering how thin the sole is. I did come across glass shards once, and they did absolutely no harm to the sole or my feet.
How about running?
Well, I prefer my running shoes springy and firm. I really haven't got the gist of running in my Fives, at least not on hard surfaces, running on grass is fun, but I have not used them for long distances yet.
Driving?
I did a two-hour trip driving, and it felt great (because I like driving barefoot, but it is unsafe).
Are they waterproof?
I'd say they are splash-proof. But if you put your feet inside a pond, they'll get all wet. The water will enter from the laces and from the padding inside the toes, but they remain mostly dry on splashing and dry quickly.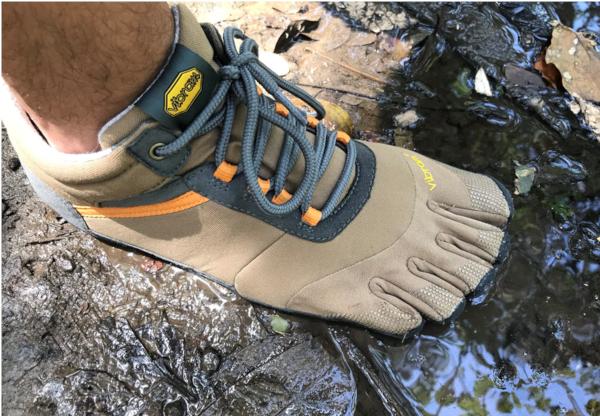 The good
Serves as a therapeutic tool to give your feet a proper use, I use them alternating with regular running shoes, and they have helped to avoid injuries.
My balance has improved as the toes now sit further apart from each other even when wearing regular shoes.
The insulation and grip are superb.
They dry fast and hardly get any odor from wearing sockless.
The bad
I haven't been able to do some serious run in them, but they serve well as recovery walkers.
The breaking-in process might be slow to some first-time users.
Although breathable, they might sit on the warmer side on tropical weather.
As a runner who enjoys the feel of the run beneath my feet and one that over the years have sought to improve their form through various techniques and training through POSE method, I have been no stranger to the Vibram FiveFingers series. My first pair was the KMD sport several years ago.
Since then, I have also tried on and worn the Bikila, V-run, most recently the V-Aqua, and now the V-Alpha - a new take on the trail offerings for VFF to bolster those who had been fans of the old KSO.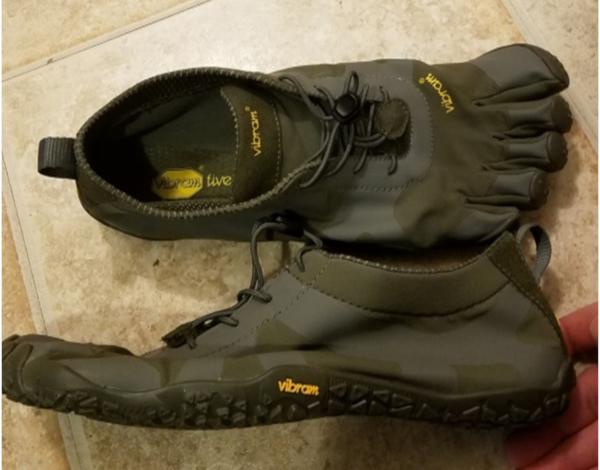 While most of my runs take place on tamer surfaces especially during the rough Iowa winters, this shoe got a taste of the great outdoors for short jaunts on varied surfaces as I worked my way back from a stress fracture this offseason, which necessitated finding some (relatively) softer ground to pound for a while.
This took a bit more time than usual, consequently, to rack up some miles on this rugged outdoor trainer. But, it was nice to savor the time in a comfortable and worthy model with just a few minor bumps along the way not uncommon to a brand new model of shoe.
Upper & fit
As mentioned in my previous review of the Vibram V-Aqua, the VFF's have always been a peculiar fit for me. However, unlike the V-Aqua, the V-Alpha actually fit quite like a glove (at size 44 between a 10.5 and 11 in standard sizing). I measure on a 43 but have found in most models that this size feels too restricting on my big toe.
Since I live in the middle of the current deep freeze gripping the midwest, I primarily wore the V-Alpha with a pair of Injinji running socks (usually of the merino wool variety) to shield myself further from the harsh cold. While the fit was a bit snug with a midweight version, the light, ultralight, and liner socks all fit perfectly.
The upper is well built on a hybrid woven base with 50% merino wool infused to aid with moisture management as well as the well-known odor-fighting principle so vital to a shoe designed to be worn in bare feet. To ensure a secure fit, the V-Alpha features synthetic overlays at the midfoot and heel for a more locked in feel to complement the performance lacing through the top of the traditional lacing setup.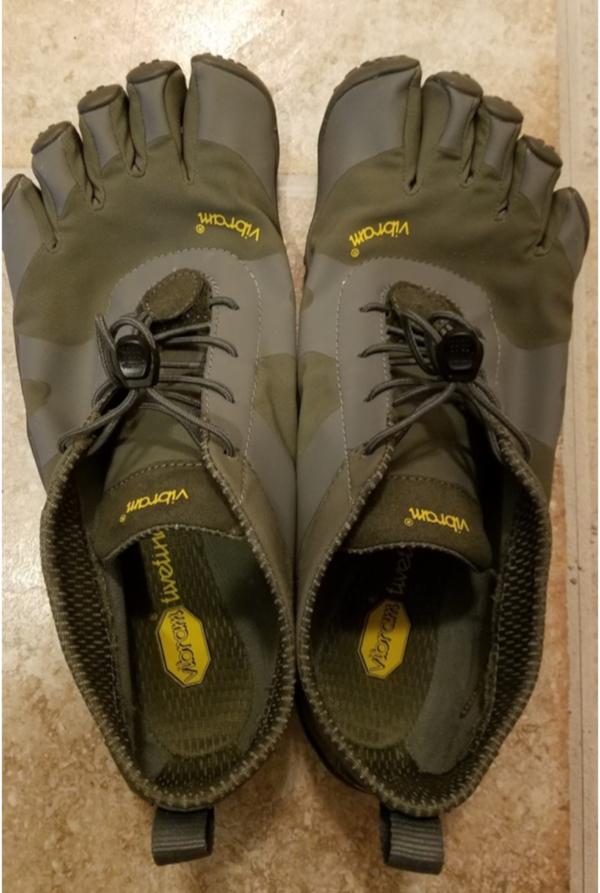 In the past, this setup has been problematic. The lacing can become lax and overstretched, limiting the ability to provide even pressure compared to the double strap of other Vibram models such as the KSO and KMD Sport, or even traditional lace-up versions such as the Trek Ascent and V-Trek.
With a more firm lace and a stay-put velcro lock at the base of the lacing system, I did not notice this issue as much, even in the cold, wet and snow of a Midwestern winter. That being said, I have only managed to log 51 miles of total training outdoors, and on the treadmill, so the sample size is limited in this arena.
In terms of feel, the upper does an excellent job of allowing for freedom of movement vital to a shoe grounded (pun intended) in proprioceptive feel and ability to re-train foot mechanics. The mesh surrounding the heel collar and ankle ring are plush and do not irritate even when soaked by snow or sweat during usage for my cross training at the gym.
In addition, the smell of the shoe (or lack thereof) might be the upper's greatest achievement. For a gentleman that sweats as much as I do for a 4-mile run, a 30-minute gym routine, or hours on the trail at the local disc golf course, my footwear often develops a certain distasteful stench.
Even when placing safe washer shoes through a cycle or two, it can at times exacerbate rather than solve the issue. With the V-Alpha, I'm proud to say that the shoe smells the same as it did right out of the box, and it retains its shape and fit even after two washes thus far.
On the other hand, though the V-Alpha shines at the gym and is above average at moisture management, one flaw actually kept me from adding extra mileage to its test cycle. Suffering from a mild form of Reynaud's Phenomena, my feet and hands are easily irritated and sensitive to cold (ironic for my Midwest and Nordic heritage).
Therefore, when I would go to shovel snow, run through the trails, and walk for appreciable distances outdoors in the V-Alpha, even with midweight wool socks, I was unable to stay out for greater than about 30 minutes without needing to get back indoors due to the lack of sufficient insulation.
This makes sense as the V-alpha is on the lower end of the trail models in terms of the level of warmth provided by the upper, with beefier models available in the Trek Ascent and V-Trek.
Overall, for the vast majority of usage, and in normal weather conditions, the upper of the V-Alpha is not only solid but very smooth, breathable and free of malodorous smell that can haunt those desiring the truly near-bare feel in their shoes.
Insole cushioning system
I found myself in a paradox when assessing the insole of the V-Alpha. At one moment, the 2mm insole with a soft foam base feels confidence-inspiring that one can feel the ground underfoot, yet have a modicum of protection from rocks and debris found out on the road, track and trail.
Nonetheless, in a shoe designed to provide proprioceptive input at a premium, the purist will say that the insole on this model dampens this sensory input due to the relatively supple nature of its cushioning. For my own use, the insole provided the level of protection I needed for my HIT training and workouts.

It also can perform balance activities in the clinic as a PTA with a limited compromise to proprioception compared to my normal in-clinic footwear choices such as LEMS, XeroShoes, and Altra (on the far end of the cushioning spectrum).
One area for improvement that I noted was that the fabric on the top of the insole could use some re-tooling. While the mesh setup did help with moisture management, it seemed to cause a great deal more friction under the ball of the foot when worn sockless compared with other models that feature different footbed designs, leading me to wonder if there might be a better alternative.
Outsole & durability
The V-Alpha is built on the newer Megagrip Vibram platform, designed to give maximum traction over wet, dry, and icy conditions. Being new to the outsole, I was initially cautious on my first few trials outdoors on the icy streets and even stepping gingerly for the first few times shoveling snow in the driveway.
After time though, I gained confidence in the V-Alpha as I have not had one slip on the ice or fall on the trails yet this winter in this shoe. It grips the road well, and while it can occasionally make a mildly annoying squeaking sound on parquet at the gym during agility drills, it otherwise has given me no issues on a vast variety of surfaces.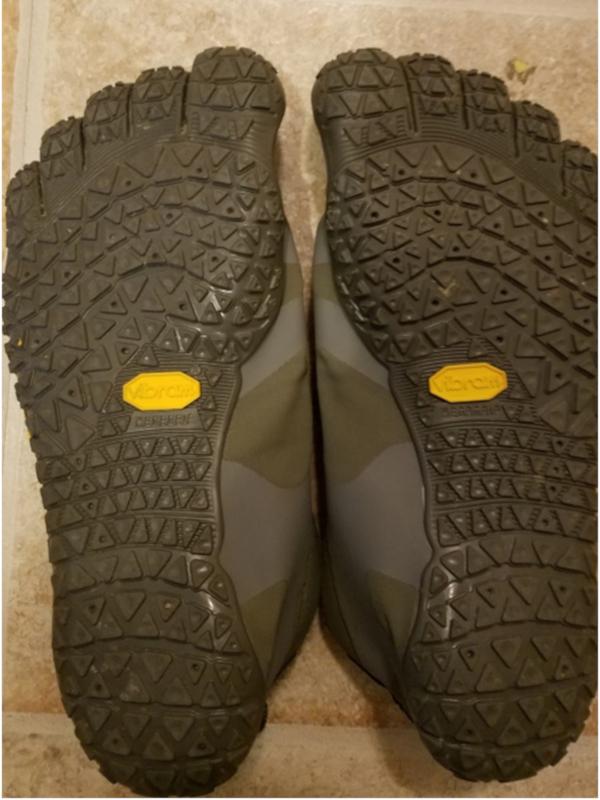 In terms of durability, this shoe has held up admirably given the variety of activities it has endured. Unlike its cousin the V-Aqua, there have been no loose seams or imperfections resultant from usage during plyometric training, runs over snow and wet conditions.
This is also the case with elliptical and spinning workouts as I gradually worked my way back into normal mileage on the roads. As mentioned earlier, even after two rounds through the wash, the shoe looks brand new.
Style
Being a physical therapist assistant, I am rather partial to the ergonomic value that the VFFs have to offer. I love the fact that my toes not only can move more freely and independently but they are more spaced out at rest than in a traditional shoe, allowing the great toe to stabilize the foot and make better use of the fine muscle movements in the foot and ankle.
However, always a limiting factor is the versatility of the shoe when it comes to the working world. On message boards from LinkedIn to Facebook, I have seen multiple reports of workplaces that do not consider the VFFs to be a, "closed toed shoe" or that they look, "unprofessional" in the workplace.
As a former shoe fitter, this came up often as VFFs would occasionally be returned for this reason. This particular model does its best to reverse this perception.
The V-Alpha offers a range of very neutral colorways that helps to keep it look young on the road. It is, after all, a shoe for the mud, muck and otherwise murky miles. Colors like black, military/olive green and fatigue brown are all neutral enough to go with just about any wardrobe combination you could find.
Also, the V-Alpha lacks the openness of the V-run in terms of its mesh upper. It does not have the flash and dash of the SeeYa and other models featuring neon highlights.
In fact, the only highlighted feature on this understated model is the traditional hexagonal Vibram logo on the back, next to a very practical and durable pull strap to aid in donning and doffing the shoe with relative ease.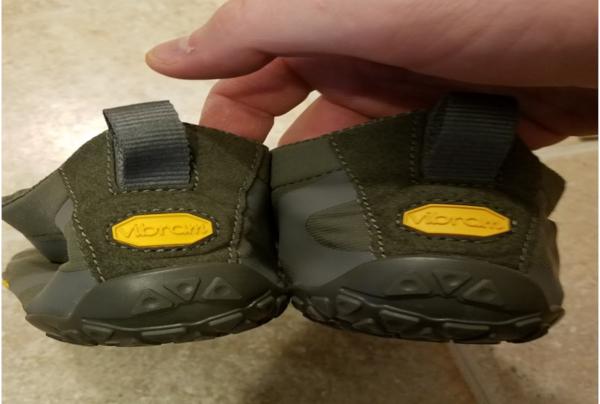 Overall, while I love the style and think that this particular model has great versatility and potential, it is definitely a tough sell at times for the working world and other semi-formal settings.
Pros
Articulated toe box makes for an anatomically correct and efficient position for proper foot/ankle mechanics through stance and take-off
Above average ground feel despite soft foam insole
Vegan-friendly materials and a strong, but relaxed overall feel for ease of body and mind
At 4.8 oz. a shoe, it is tough to beat for feather-light performance
Merino wool blend kept the smell of the shoe from becoming an issue
Cons
Insole top layer of mesh irritating when worn barefoot during speed and cross training activities
At MSRP $110 it is a bit pricey for such a minimal shoe
Lack of versatility in the cold and for your day job may make it a lesser used shoe in the quiver
Lack of insulation for extreme cold conditions limited duration of outdoor usage
Overall take
For the maiden voyage of a shoe designed to step in the place of a legend, the V-Alpha fits the bill for an out-of-the-box trainer and cross-country sole mate in need of just a few minor adjustments to bring the bare feel-seeking runner bliss.
Disclosure
For the purpose of review, I'd like to thank Vibram for providing me with a pair of V-Alpha shoes. No additional compensation was provided and the review process objective over the course of a normal life cycle of my daily training shoes.
In addition, as noted in previous reviews of minimal footwear, I have spent the past 3 years transitioning to intermittent use of minimal footwear with very low stack heights.
If you have a history of stress fractures, peroneal or posterior tibialis discomfort, it is wise to consult with your coach, physiotherapist or a trained shoe fitting professional prior to extended use of this footwear. While it has documented benefits, it is best done gradually and with care to running technique and proper gradual increase in mileage.
Vibram scores big points with the new V-Alpha on a number of levels, but I am most impressed with its ability to deliver big with such simplicity.
With only 6mm between you and the ground and less than 5oz/150g added to your weight, this shoe really gives you a feeling of freedom.
Outsole
Vibram's Megagrip compound is arrayed in an intricate pattern of triangles that allow for unparalleled flexibility while maintaining the ability to grip a wide range of surfaces and still deliver traction.
Offering the closest experience to actually barefoot, meaning that you will have to pay attention to where and how you are landing on your foot because you will feel everything. Remember that "you are the technology" and be prepared to adapt to your path because this shoe will not do it for you!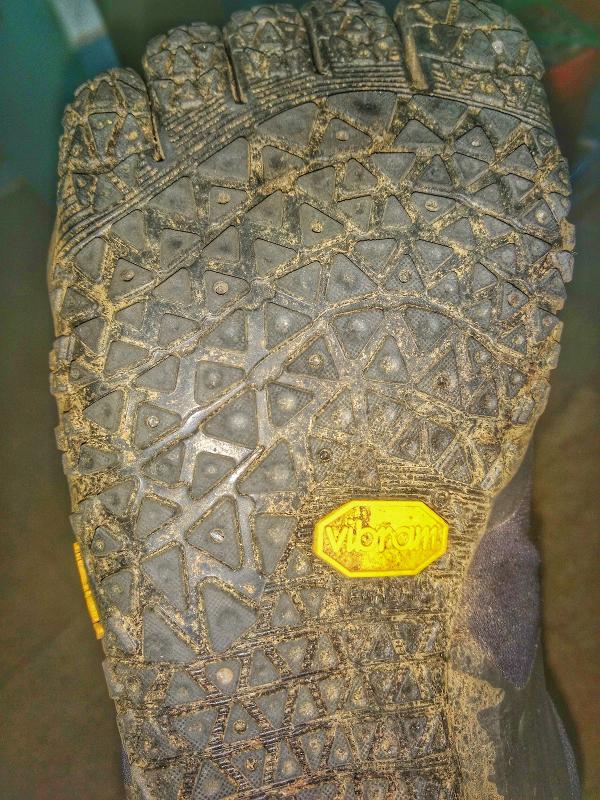 Midsole
A lightweight EVA insole is the only thing on top of the outsole. Offering a minimum amount of cushioning, I believe this serves mostly as a courtesy to not have you standing on the outsole.
The antimicrobial properties seem to be doing their job, as this pair is definitely lower on the stink scale compared to other models. It does the job it's supposed to and doesn't get in the way, which is what I appreciate in a midsole.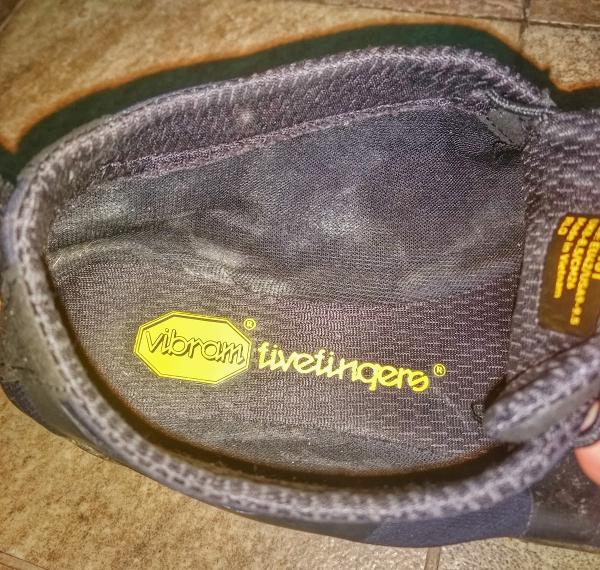 Upper
The standard for the Five Fingers Series is a separate pocket for each toe, with the outsole rising up to meet the top of your toe to provide a little extra grip and protection.
The upper material is impressively breathable while still providing a pleasingly snug, glove-like fit. No holes for extra ventilation like in the V-Run and that keeps out the mud and sand you will find on the trails.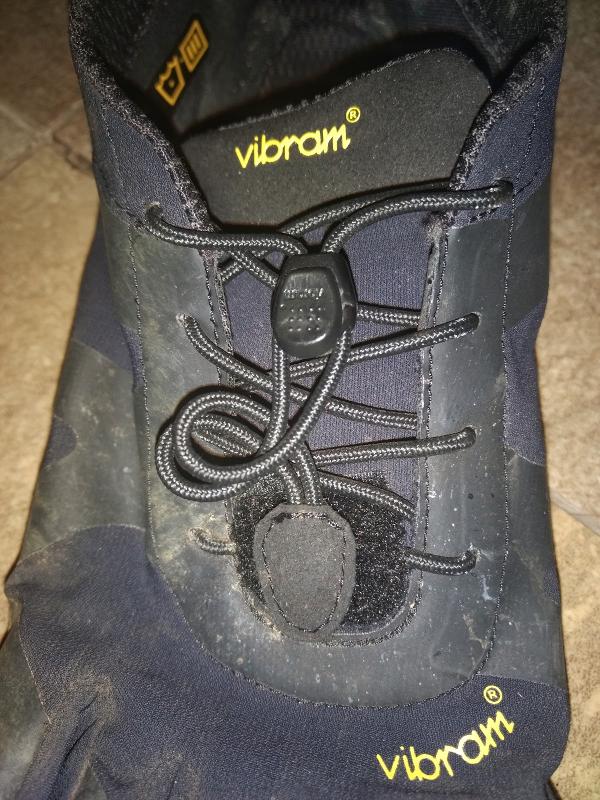 Similar to the V-Run it has sturdy laces with a sliding clip that keeps the level of tension as you adjust the shoe and a velcro tab at the end.
The pad where you attach it near your toes is much bigger than the V-Run, but I haven't figured out why. A nice trick I did see to prevent the laces from sticking up like a cowlick was to twist the laces once and then strap them down to keep them laying flat.
The collar around the heel feels a bit stiff but hasn't been noticeable other than when I put the shoes on. The eyelets seem to be reinforced in a similar manner and did not bother at all. I did get a little hotspot at first on one of my toes from the stitching on the top of the toes, but a little petroleum jelly on that toe before the run for a few days fixed the problem. These two things are the only reason that this shoe is not rated 100.
Uses
Alpha is a winner for trail running, though it performed just as well on slick city surfaces. The shoe requires extensive strength and form over long distances or harder surfaces. It has the right amount of rubber in the right places for the trails and I suspect the road might wear it down faster.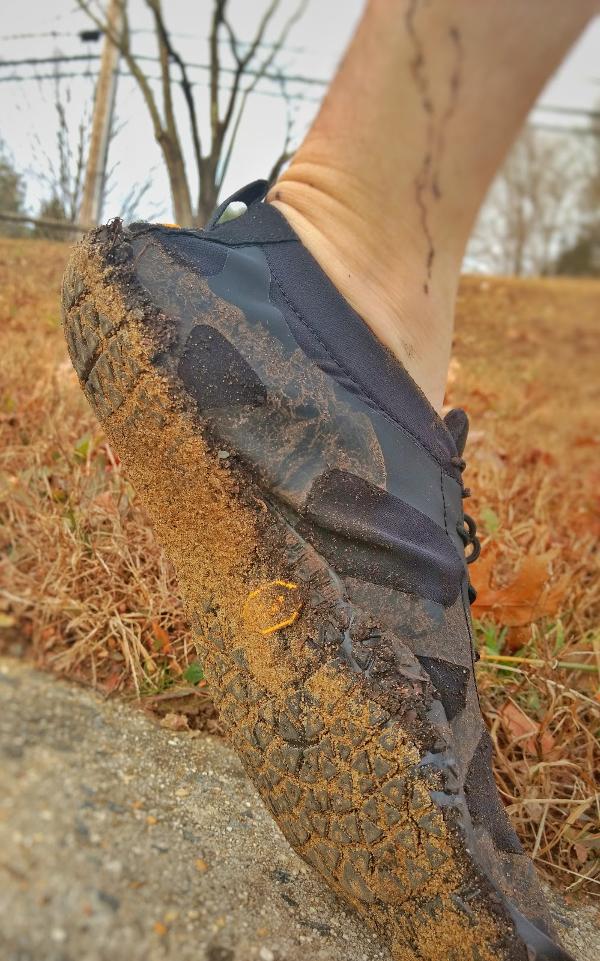 Traction is exquisite on all type of light trails (I tested on sandy paths, cinder tracks, and forest trails). A few times I encountered a fair bit of mud and the shoe handled well. The minimalist sole keeps you feeling what underneath (including rocks so be careful) but has more than enough protection from the minor irritations of going without shoes.
You will be able to detect subtle changes underfoot and there is good grip with toes on technical patches. The minimal design makes proper barefoot form essential and you should be prepared to take the time to adapt conservatively before upping the mileage.
Take a look at the Merrell Trail Glove 4 if you want a bit more support and cushion. Also, check out this meta-analysis on arch support to read in-depth about the real benefits of arch support. And remember that your shoes are only tools and you're body can absorb much of the shock from running... if you have good form and don't skip recovery activities!
If you are looking for a more substantial trainer still in the minimalist category check out the V-Train. They are better options for CrossFit or gym activities. This shoe would hold up if you are careful and cautious, but I wouldn't recommend it.
Pros
Excellent ground feel
Superior grip
True glove-like fit upper
Good foot coverage
Very lightweight and flexible
Cons
Initial hotspot on top of toe seam
Requires adaptation period
The collar around the ankle can be stiff
The sacrifice of protection for comfort and feel
May not hold up over long distances if your form breaks down
Notes/Thoughts for Transitioning to Minimalist Shoes
Getting started with these shoes is a lot of fun and it is too easy to overdo it at the beginning. Be careful not to over tighten laces and to make sure each toe is in its pocket before starting. Remember, run-walk is your friend when getting started. Sometimes just a small break is enough to help you reset your form
It is very important to assess your form when transitioning to barefoot (no drop, minimal stack/cushioning) shoes. Leg and core strength are critical. In my humble opinion, too much debate centers around the shoe and not enough focus is on the form.
A major breakthrough for me came when I detected poor hip/glute strength through my evolving gym routines and I can't recommend enough doing some mobility and core strength tests before using these shoes.
Make sure you have the experience in higher mileage running and your legs and core are already adapted to the stresses of long distances. I've gotten different niggles that needed working through with the recovery techniques like foam rollers and other trigger point activation.
Taking out the cushioning you're accustomed to having under your feet will change your mechanics considerably and in my experience cause muscle imbalances in the beginning (think when in the gym you do too many quads and not enough hamstrings).
Final thoughts
From my own experience with Vibrams, if you are looking for a great all-around barefoot trainer to help with proprioception look no further. Excellent durability for trail running, hiking and parkour and really keeps your form honed. If you do more road than trail checks out the V-Run. If you spend less time running and more time in lifting weights or in CrossFit classes, look at the V-Train.
If you are still not ready to go, full minimalist, you might try the low drop but still cushioned brands like Altra or Topo or check out some of the lighter offerings by Saucony. I have to admit they are nice to have around if my feet are sore. They will not make you totally ready for the transition and you will need to become even more efficient when you make the drop down to a minimalist like Vibram.
Good to know
The Vibram V-Alpha is a training shoe that is meant to be used outdoors. In keeping with the brand's style, it has a separate section for each toe and a very thin sole unit. The upper is made of a combination of wool and synthetic materials that allow air to circulate throughout the foot chamber, reducing unwanted odor.
A lightly padded EVA insole cushions the underfoot. It has antimicrobial properties that prevent odor caused by microbes and bacteria.
The outsole uses the Megagrip technology. It is a durable material designed to provide traction during both dry and wet conditions. It is also supportive yet flexible enough to adapt to the varied activities of cross-training.
The Vibram V-Alpha has two versions specifically created for men and women. The shoe generally follows the standard trainer sizing scheme with US sizes ranging from 7.5 to 14 for men and 6.5 to 10 for women. The brand recommends that the shoe should fit like a glove with the heel fitting snugly and the toes just lightly grazing the front ends of the footwear. The available width options are D - Medium and B - Medium for men and women respectively.
The shoe employs the proprietary Vibram rubber outsole for durable protection against punctures. The Megagrip compound is added to exhibit a strong grip on both wet and dry terrain while enduring rigorous wear and tear. It also affords the wearer a balance of both support and flexibility to keep up with different fitness activities.
Since the Vibram V-Alpha is a minimalist trainer, it has no dedicated midsole. This is to enhance one's sense of proprioception. Instead, it utilizes a low-profile EVA foam insole that serves as underfoot cushioning. It also helps to maintain a healthy interior for the foot by preventing odor and bacteria from building up.
A 50/50 blend of wool and synthetic materials make up the upper of this Vibram FiveFingers shoe. This combination keeps the interiors ventilated to avoid unwanted odors. The interior is lined with soft textile for in-shoe comfort.
The brand is popular for the barefoot-like style of its shoes. The toes have their own separate pockets to allow the foot to move naturally and sense the ground.
It employs a lace-up closure that is secured by a cord stopper to bar the shoelaces from getting untied in the midst of a strenuous fitness activity. The sides are reinforced as the shoelaces are tightened, therefore boosting lateral support.
Due to the snug fit of the footgear, a heel pull has been attached. It makes for an easy wear-on and -off experience.
Rankings
How Vibram FiveFingers V-Alpha ranks compared to all other shoes
Popularity
The current trend of Vibram FiveFingers V-Alpha.