Verdict from 5 experts and 100+ user reviews
10 reasons to buy
A significant number of runners were very comfortable in the Spyridon MR Elite.
Runners were able to appreciate this shoe's performance when it comes to running, as well as walking, hiking and other off-road adventures.
The water-repellent upper received positive feedback from people who wanted to stave off water while running in wet conditions.
The outsole's traction capability impressed many of those who have tried it.
Some runners valued the excellent ground feel and the variable protection against sharp objects or rocks.
Testers found it easy to wash this shoe.
The quick-drying upper prevented odor-causing moisture, stated several purchasers.
A handful of runners noted that it does not smell so bad like some of the shoes produced by Vibram.
A few runners have also used this on slightly gravelled paths without any issues.
Many reported that the Cocoon 3D protective platform effectively shielded the foot against rocks.
5 reasons not to buy
More than a handful complained that the Vibram Spyridon MR Elite is so tough to put on.
Many were not able to get the right fit and sizing.
The mid-rise top is useless in keeping mud and small rocks out, according to a few reviewers.
Some runners experienced chafing near the heels or ankles because of the mid-rise top.
The price was a bit expensive for some consumers.
Bottom line
Vibram goes all-in when it comes to OCR and mud-running in particular with the release of the Spyridon MR Elite. This mud runner is basically a twist off of the popular regular model, which is designed for the usual trail running. It has one of the thickest (only 5mm), but softest soles in Vibram's range and offers just enough support that barefoot runners should feel at home running in. The mid-rise top is designed to keep off mud and rocks, which should really matter only when the runner or OCR enthusiast is not ankle-deep in mud. Barefoot running advocates, especially mud runners will love the ample protection, comfort, durability, and grip at a reasonably steep price.
Tip: see the best trail running shoes.
Our reviews
For those who have never tried running in Vibram Five Finger shoes, I definitely recommend trying a pair of them and experiencing the feeling of running barefoot but with the addition of extra foot protection and great traction.
I was initially turned off by their strange look, but after taking my friend's pair out for a spin almost ten years ago, I got hooked. "Barefoot" running forces proper technique through running on the balls of the feet and giving the leg muscles an excellent workout.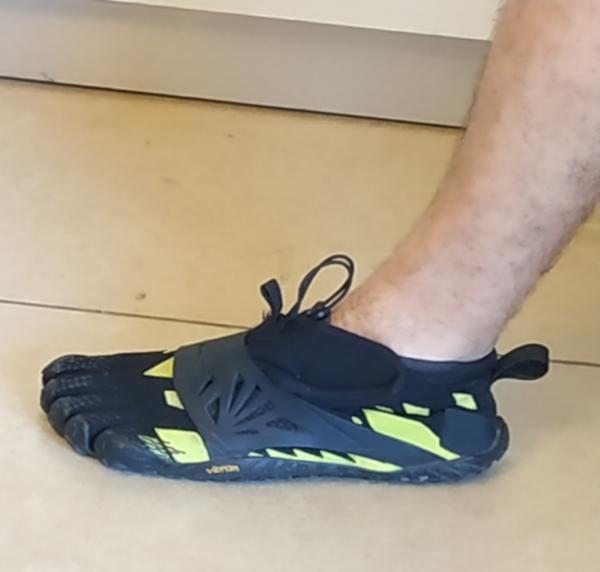 For anyone looking to improve their speed and running form while strengthening their legs, I strongly suggest incorporating Vibrams into their training. I enjoy them for short and middle distance running as well as sprinting and interval training and workouts.
Vibrams add an important element of form and strength building to my overall training.
The outsole
This particular model is unique in that it has a sole that is meant for off-road running. It has a typical Vibram patented sole that is durable, extremely flexible, and with a tread that does not wear down easily.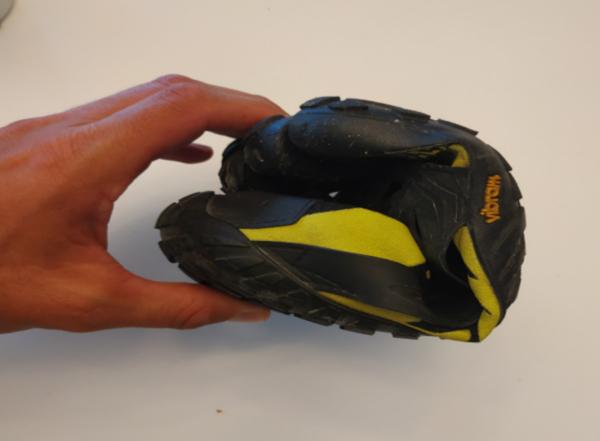 This model has added lugs on the tread to provide more traction on the trails. The toes are reinforced with rubber treading to prevent stubbed toes and to provide additional traction.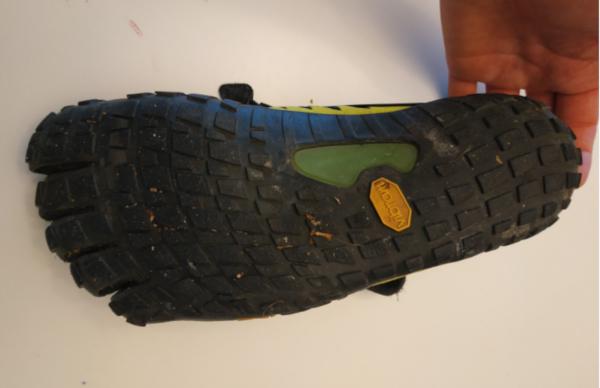 Weight
As expected, they are super light minimalist shoes that feel featherweight on the feet (5.49-oz to 7.45-oz depending on the size).
Runners who are already accustomed to minimal shoes may feel that they are slightly heavier, which is because they have extra material that goes up to the ankle to make them high-tops, and a thicker sole to handle more rugged terrain. Even so, they are light as can be and fun shoes that still give you the barefoot experience.
High top
A big difference in this model is that it is a high top shoe. Many FiveFingers can be very low cut, and this is a high top that velcros just above the ankle.
This high top is not a super ankle stabilizer, but it does give a bit of extra ankle support and acts as a gator to effectively stop debris from entering into the shoe. There is also a rubber piece going across the top of the shoe that keeps your foot in place and does a pretty good job of providing stability.
The cord lacing, like with most FiveFinger models, does not come untied and it tightens the shoe nicely around the foot. There is also a pull tab on the heel of the shoe that is useful for slipping this tight-fitting shoe on and off.
Important to know
This is a shoe that has some of the important defense mechanisms of a trail shoe, like the thicker and grippier sole and the high top gator.
However, I have found that this shoe is limited to less intense terrain. Even small rocks can be felt through the sole, and they are more effective on softer terrain, rather than the rocky terrain, which I often run on.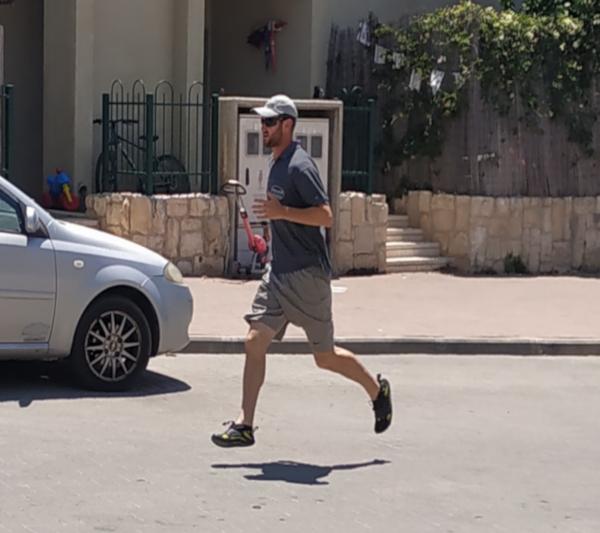 The ventilation can be an issue with FiveFingers, in my opinion. They start to heat up, and they can start to smell.
This model even more so (since it has a high top) whereas other low models naturally let in more air through the sides. This shoe seals nicely to the foot, but the foot can sweat and not get enough airflow. Air them out well and spray them after using them!!
Overall
Once you successfully put on a pair of Vibram Five Fingers (don't worry, you get faster at it after a few tries), the shoes provide an excellent barefoot feel that straightens your posture, improves toe splay, makes you focus on running form, and provides great enjoyment from a barefoot running experience.
With this high top model, it is a cool feeling putting them on, as they are a combination of a barefoot and a high top shoe - a minimalist shoe meets a trail shoe. I really like to sprint train with them and do studio workouts with them, even though I bought them as a minimalist trail running shoe.
They have lasted me a long time, but partially because I take them on less rugged terrain than I originally anticipated. They are unique shoes, and although I prefer other types of minimalist trail shoes over them, I do view them as an important part of my speed training, strength training, and form training, and there are many uses for this shoe.
Good to know
One clear difference between the regular Spyridon MR and the Spyridon MR Elite version is the presence of the mid-rise top found in the latter. As it is purposely-built for the mud runner, the elevated top should help keep off mud and rocks. The design should effectively work unless the user has to wade in ankle-deep mud.
Another update in the Spyridon MR Elite is the "instep brace" or what is technically a rubber strap covering the whole midfoot from the lateral to the medial side. This added support is to prevent the shoe from slipping off when running in mud.
This shoe-slipping protection is further enhanced by a hoop and loop high-cuff. This serves as more reinforcement in keeping the foot in the runner's shoe for the duration of his or her mud runs.
Lastly, the water-resistant upper is another difference in the version designed for mud runners. The water-repellent feature is for those who want to use the shoe during inclement weather. This feature also helps keep mud off of the upper.
Vibram's fit and sizing is quite tricky as the company has its own kind of measurement. Fans of the FiveFingers should be more familiar with how the fit goes. In the MR Elite version of the Vibram Sypridon, runners will find a really snug fit with enough room in the forefoot while the toe slots can easily accommodate the toes. Heel grip and midfoot hold are superb, so there is no chance of the shoe slipping off of the foot. It generally runs true to size.
360° of traction is ably provided by the countless lugs in the outsole of the Vibram FiveFingers Spyridon MR Elite. Vibram's own Megagrip Compound covers the entire outsole and is responsible for the sticky grip on different types of surfaces. It measures only 5mm, which should be enough protection for barefoot mud runners. The outsole, right beneath the arch, also has a very sturdy, but flexible 3D Cocoon protection.
The non-existent midsole takes the form of a 2mm EVA sockliner with Dri-Lex anti-microbial properties. This also adds a little more cushioning and underfoot protection in this shoe.
The upper is largely made of polyester with water-resistant features. Despite the water-resistance, it is still sufficiently breathable. The huge rubber strap around the midfoot helps keep the foot in place. This is also the function of the hook and loop cuff around the ankle. For convenient cinching, speed laces are provided by Vibram. Pull loops are located in the heel and the front to help runners with shoe entry or exit. Almost the entire section of the interior has very soft lining for a plush feel.
Rankings
How Vibram FiveFingers Spyridon MR Elite ranks compared to all other shoes
Popularity
The current trend of Vibram FiveFingers Spyridon MR Elite.