So after getting back into running after several years of nothingness I just went for some "whatever" running shoes. I didn't really think too much about it. Went through one pair and then bought another different pair of "whatever".
However after about 300 miles in them, I started to ramp up my training ready for a marathon I was planning on doing in October this year, and boom! Shin splints... I tried to run through them and it has resulted in me needing to get an x-ray on my leg for a suspected stress fracture... Bad times!
(Worth pointing out that it was definitely a combination of too much too quickly, poor form and, I think, bad shoe choice that caused my injury.)
I've taken this 'opportunity' to take a look at my running. I decided that I need to sort my form out and following a lot of research I've decided to try out barefoot-style running.
I'll need to start slowly anyway because of my injury so it's the perfect time to start a transition to barefoot running.
Enter the Vibram FiveFingers KSO EVO... Excuse the pumpkin, I couldn't help myself!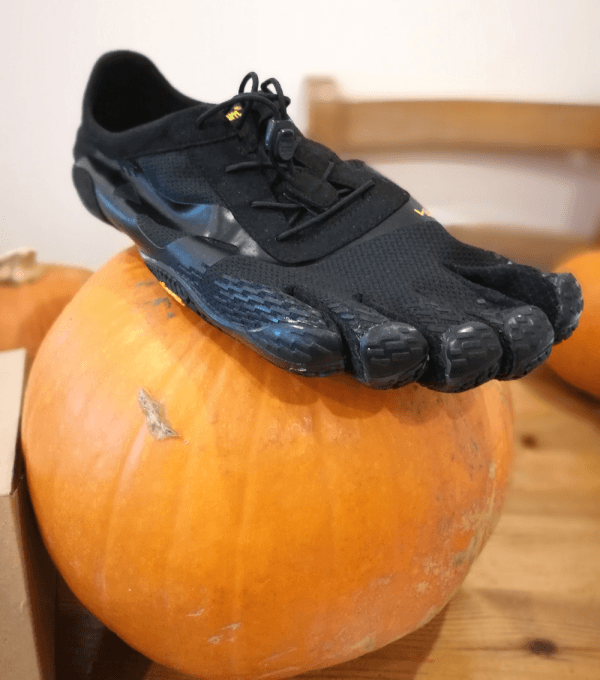 Design
These things look crazy! But in some slightly insane way, I also think they look really cool, especially once they're on your feet!
Everything about these shoes feels as though it was well thought out.
You get a real sense that the guys at Vibram really wanted to create something great for feet everywhere. They are so light that you could almost forget you have anything on your feet when wearing them. They're very comfortable and are meant to last for miles upon miles.
Fit
They really do fit like gloves for my feet.
The padded tongue adds a lot towards comfort in these shoes which is surprising considering how slight it is.
The quick lace-up system is genius, probably my favourite feature of the shoes because it makes life so much easier as well as adding a lot of security.
The amazingly comfortable fabric that encases your feet when you have these on and the fantastic sole come in close behind the laces.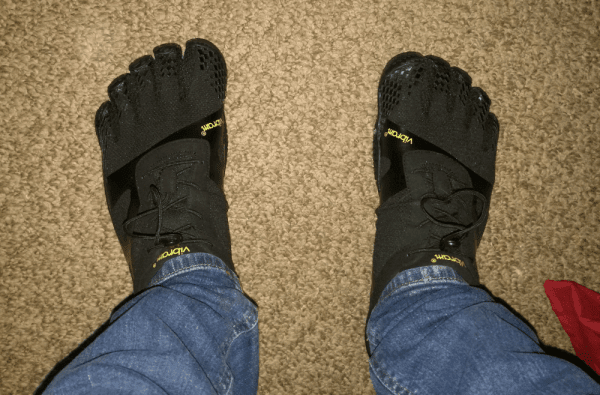 Grip
I already know I'm going to get more grip out of these shoes than from my old conventional trainers. They stick like glue to my wooden flooring at home at least. Everyone knows that Vibram makes brilliant soles for shoes but these uber thin ones are incredible.
They really have hit the mark with the design here. It's responsive and flexible but feels like it'll offer enough grip and protection for all of the road and light trail running that I do.
Support
The insole (the one that's barely there...) somehow feels more comfortable than my old running shoes even though it's mega thin! I guess that must come down to its quality.
It feels soft, firm and supportive all at the same time somehow. Time will tell how well this will last but so far so good.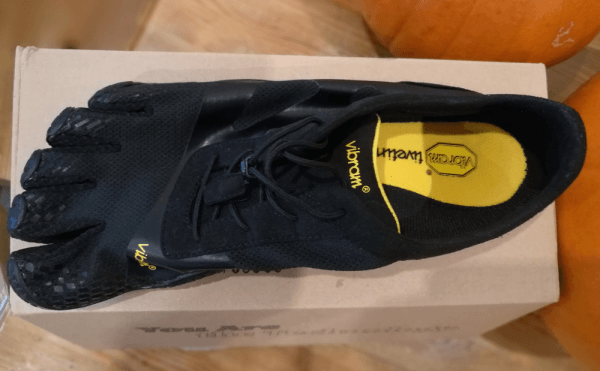 Putting these shoes on for the first time feels a bit odd but I'm already getting more used to it. With the lacing system tightened, my feet feel snug in them.
It almost feels like I could just run and climb a tree without even worrying about it. I keep finding myself wanting to jump around randomly because they feel so good.
First impressions wise I really like these shoes. They feel very well made and I'm excited to take them for a proper spin. I couldn't resist for long!
Performance
After wearing the Vibram FiveFingers KSO EVO all day long, they got more and more comfortable. They were just moulding to my feet perfectly.
The feeling is actually really hard to describe.
By the end of the day, it felt as though they had been sprayed on to my feet! So I just went for it, a quick 2 mile run around the block. Really easy of course! (Slow and steady post injury and beginning barefoot running).
You can really feel the ground through the soles of these shoes, especially the rough bits. It's going to take some getting used to, especially where I run primarily on pavements and hard trails.
Having said that there was something sort of thrilling about it too. The feeling of the ground and the control you have over your body with these on is something else.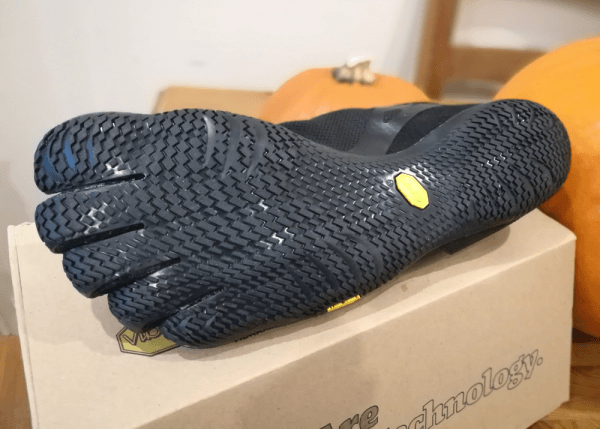 The grip was very good. It didn't get tested to any extremes so I cannot say how it'll do over time but so far it feels better than my last pair of conventional trainers.
I think it's not even just the sole that helps in this area though.
As I mentioned before the extra control you have in these shoes is amazing and I think that definitely helps when it comes to grip. You're able to easily make adjustments as you run to maximize traction.
My running form changed pretty much immediately after setting off for my run as well. A combination of these shoes and being very conscious of my leg I'm sure, but it felt so much easier on the rest of my body.
My feet are aching but my shin is not and that is something I've not felt for some time now. You're forced to run on your forefoot in these shoes and that, in turn, increases your step count, or at least that's what happened to me. Both of these things are ideal for form and reducing injury too which is great news!
Here's an image of the shoes post run. They still look brand new! Just brilliant!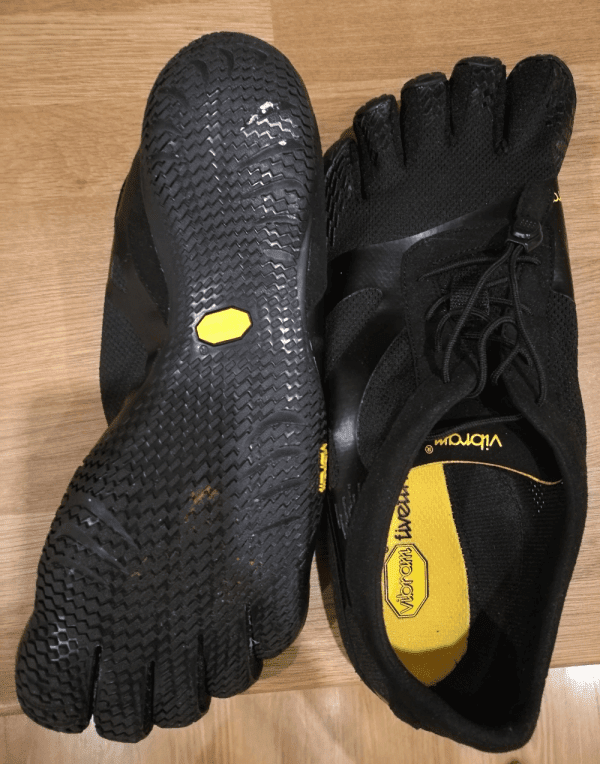 Bottom Line
I am so happy with these shoes, I can't even take them off now!
I would recommend them to anyone who's having shin splint or stress fractures woes! You won't regret it!