Vibram FiveFingers Bikila
Few other shoes truly embody the real minimalist kind of running the way the Vibram Five Fingers Bikila does. Obviously, it does not have any kind of arch support as it is extremely light and flexible. It naturally shines where natural running and barefoot experiences are involved. It is simply one of the best minimalist shoes a runner can ever find.
---
Verdict from 10 experts and 100+ user reviews
7 reasons to buy
The traction is just superb, according to the same experts.
Sufficient protection is available for the truly minimalist runner.
It is extremely lightweight.
The Five Fingers Bikila literally fits like a sock.
It is unbelievably flexible.
Minimalist runners will find it incredibly comfortable.
Good price.
2 reasons not to buy
Not ideal for other types of runners.
Some runners preferred better cushioning in this shoe.
Bottom line
Few other shoes truly embody the real minimalist kind of running the way the Vibram Five Fingers Bikila does. Obviously, it does not have any kind of arch support as it is extremely light and flexible. It naturally shines where natural running and barefoot experiences are involved. It is simply one of the best minimalist shoes a runner can ever find.
Best price from 49 shops
We earn affiliate commissions at no extra cost to you when you buy through us.
78% say it's true to size.

Our reviews
From an anatomical perspective, human beings are designed to be the ultimate distance runners. Yet, we weren't born with shoes on our feet.
Over time, brands have developed more substantially cushioned running shoes in response to the varying (and often hard) surfaces of the roads that we run on. While this in and of itself is not bad or misguided (paved roads—which didn't really exist when humans first came to be), it has also made it easier for individuals to disregard proper running form, believing the shoe can do all of the work.
In the end, this has resulted in inefficiencies and increased injuries usually rooted in overextension and heavy foot landings.
The Shoe
The makers of Fivefingers wanted to bring attention back to the idea and benefits of running barefoot. Having tried the Bikila EVOs myself, I have to say it's an invigorating experience.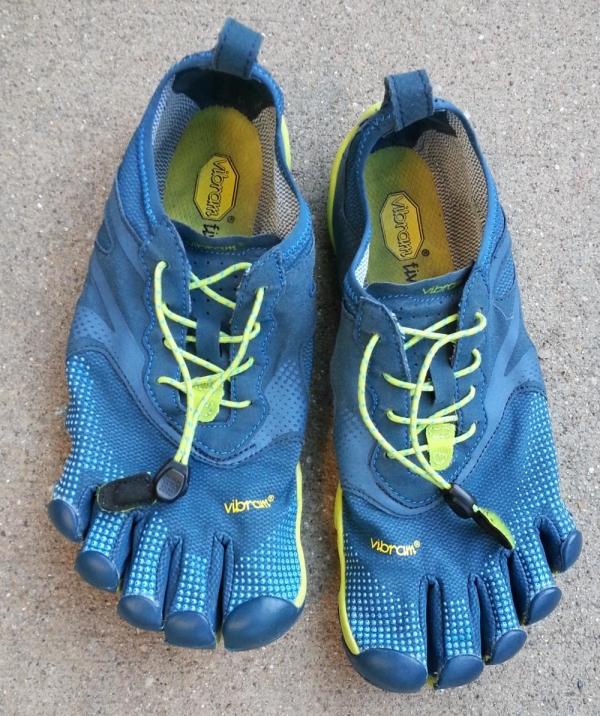 Named after the barefoot marathon runner Abebe Bikila, the Bikila EVO is a top-performing, race-ready barefoot shoe that, once accustomed to, allows wearers to glide through roads with the sensation that they are hardly wearing anything on their feet at all.
Fit & Comfort
The EVO is a comfortable and lightweight shoe. A driving concept behind Fivefinger shoes is to mimic the foot to allow access to the feeling of running barefoot while providing a layer of traction and protection from objects such as rocks or twigs.
The shoe's mesh material is breathable and flexible and the Velcro- based lock-lacing makes it easy to adjust the shoe to the perfect fit. Underneath these laces is a thin but plush tongue that has tiny holes for ventilation.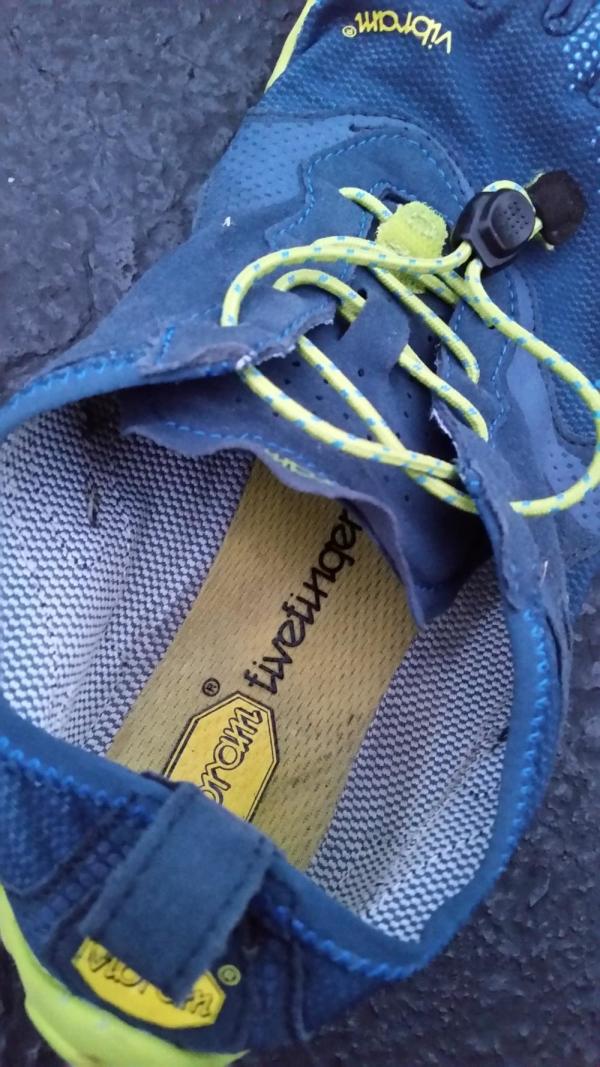 Even as a wide-footed runner, the EVOs provided me with no issues in terms of fit. Runners toes also have the complete freedom to splay as openly as they could want.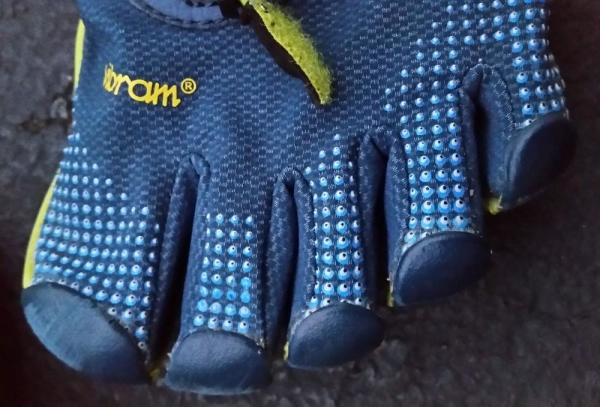 The only potentially tricky thing is that the EVOs are offered only in European sizes, so if this is not what you're used to then I would recommend accessing a sizing chart that will help you convert your shoe size measurement to European.
Outsole & Midsole
Given the barefoot nature of the EVOs, there's much less of a distinction between the midsole and outsole of the shoe. In any case, the rubber sole is a product of Vibram, which specializes in developing lightweight rubber soles that provide traction for most if not all outdoor surfaces.
While thin, the sole will protect your feet from any rough surfaces of the road so that you can experience running barefoot with peace of mind. That said, the downside is that the sole isn't thick enough to fully protect against rocky (gravel) paths or even larger sticks or other objects.
For instance, one time while I was running a road race there was a segment of the road that was covered entirely with acorns—and while I did my best to step around them, every time one got under my foot it did hurt.
Acclimation
For those less-accustomed to running barefoot, running in any VVFFs will be a new experience that requires getting used to. Running in the EVOs forced me to rely on forefoot landings combined with short and quick strides (all of which are great things, truly).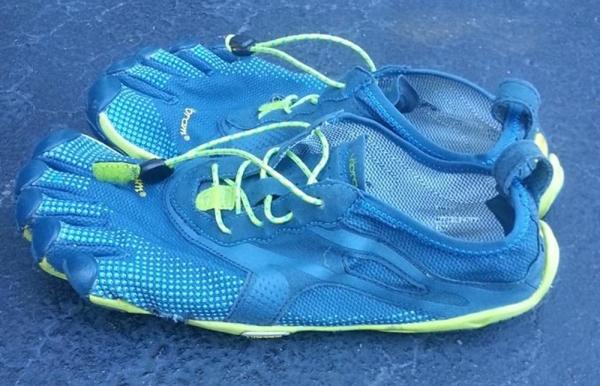 Following my first couple of runs in the EVOs, my feet and calves came out extremely sore (also a good thing!) and it took a couple weeks until I could bring the volume of my weekly mileage back up.
After acclimating to the EVOs, however, my feet and calf muscles felt much stronger and my economy of movement while running had dramatically improved.
Durability
Up to this point, I've mostly had positive things to say about the EVOs. An area where the EVOs were lacking was durability.
Although it wouldn't be fair to expect the same level of durability from a barefoot shoe made of thin mesh, they began breaking down on the outsides of the foot near the pinky toe (as shown) after only ~50 miles—sooner than I expected.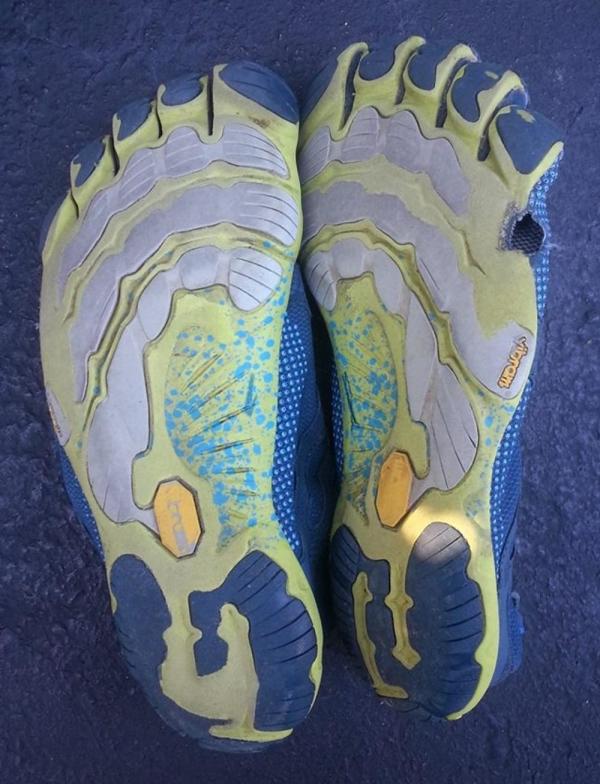 Once the hole initially formed, it only got bigger and bigger and eventually, the outsides of my feet were scraping the pavement with each step. The holes also made it easy for tiny pebbles to sneak inside the shoe every now and then as well (ouch!).
However, I would not let this discourage you, as even after the holes started forming, I was still able to get dozens of more miles out of the shoes. Holes of the size that you see in the photos are the result of 200+ miles ran 3 in the pair.
That said, if I were to make a suggestion to Vibram, it would be to add more or harder rubber to this region to increase the durability of the shoe.
Otherwise, the rest of the shoe held up surprisingly well. Because the shoes promote forefoot running, you might notice from the photo that the heels of the sole have hardly any wear at all.
Versatility
The EVOs are most appropriate for paved road races of shorter distances (up to 10K), and in fact, I would argue that the EVOs do extremely well under these conditions. The lightweight and low-stack, the zero-offset design is perfect for bringing up the speed.
While wearing the EVOs, I was able to PR in the 5K. However, the EVOs are not as suitable or durable enough to handle other, rougher terrains (such as mountain trails and gravel paths like I mentioned above).
Furthermore, because the mesh of the shoe is so thin and permeable and the design of the shoe already places your foot so close to the ground, the EVO is not an ideal shoe to wear on muddy or wet terrains, as the moisture will easily work into the shoe.
Concerning the EVO's versatility for longer distances, I did run a 10-mile road race in the EVOs, but based on this experience I would actually not recommend taking the EVOs on longer runs for the sake of your knees and feet.
Final Comments
I cannot recommend having a pair of EVOs enough to serious runners looking to improve their form; the experience of running barefoot works wonders for one's efficiency and control—thereby helping to save energy and reduce the risk of injuries.
The lock-lace Velcro combination is innovative and makes lacing up both quick and easy. The shoes are not very durable (somewhat understandably) and I went through two pairs easily. That said, these are truly spectacular shoes for training and shorter road races.
Updates to Vibram FiveFingers Bikila
The Vibram FiveFingers Bikila features the Vibram outer sole that is specifically designed to deliver right amount of traction while running on the road. At the same time, it gives enough underfoot protection while maintaining a closer ground contact for an effective barefoot running.
The upper construction of this Vibram FiveFingers shoe is also a notable feature. It is designed to deliver a combination of comfort, breathability, protection and support. It is made of quick-drying mesh that is breathable and has anti-debris properties.
Size and fit
When it comes to sizing, the Bikila is true to its size. It is ideal for narrow footed runners. However, those with standard foot measurements could also find a great fit in this shoe if they choose the right size. The shoe is available in standard running shoe width.
Outsole
The outsole of the Bikila uses the Vibram outsole element. It features the 4mm thick contoured pods that deliver enough traction while running. It is designed anatomically contoured, following the contour of the foot. The TC1 non-marking rubber is specifically designed to deliver a combination of traction, durability and protection.
Midsole
For a maximum barefoot running experience, this shoe was no specific cushioning system for a greater ground contact. The rubber outsole gives the underfoot protection while running. This shoe is not ideal for those who are looking for cushioning.
Upper
The upper of the Vibram FiveFingers Bikila uses a quick drying mesh material that delivers a breathable coverage while running. It comes in thin layer yet it is very durable and gives enough protection against stone bruising. It is also designed to prevent debris from entering the shoe.
The interior of the shoe features the AEGIS Microbe Shield that is designed for antibacterial treatment. There is also enough padding on the collar and 3M reflective system, giving added visibility while running on low light.
Popularity
The current trend of Vibram FiveFingers Bikila.