The HOVR Sonic 3 is a legit daily trainer from Under Armour that comes at a reasonable price tag. It can take you from a recovery run to a marathon thanks to its well-cushioned ride. There is nothing exceptional about this shoe but it performs its function well. And if you are a fan of tracking your runs, you will appreciate the embedded tech.
Pros
Great lockdown
Light for the number of tech in it
True to size
Grips even on wet roads
Solid heel hold
Breathable, dries quickly
Embedded tracking technology
Under Armour HOVR Sonic 3 review
I can honestly say I was not expecting this to be such a good shoe. So many design features that exist in a premium running shoe and yet, these can now be bought online in the £60-70 price bracket.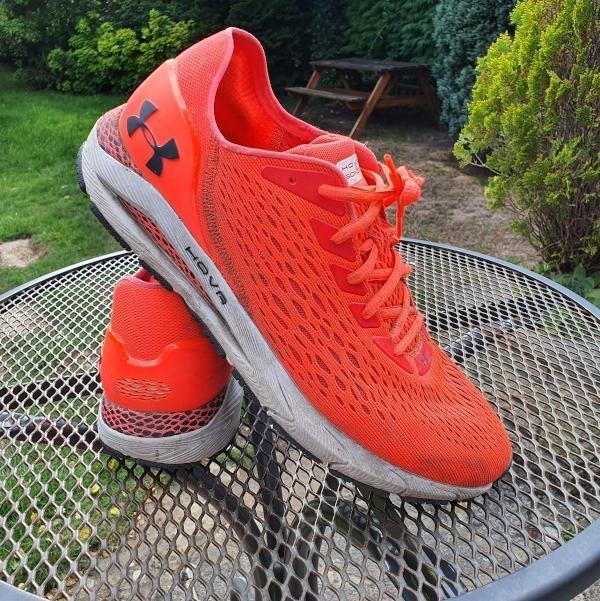 Overall, I wouldn't hesitate to recommend this shoe or buy another when the soles wear out.
You'll be surprised with UA HOVR Sonic 3
Let's start with a bit of honesty. As runners, we're all a bit of a brand snob. We don't normally look to diversify from the beaten track unless we've had a recommendation that blows our minds.
Lots of people recommend Hoka for their padding. Lots of people recommend Nike for their range. On, ASICS, Brooks and Saucony are not an unfamiliar sight at a race either. I've been aware for a while that Under Armour started making trainers – but at no point did I consider them a competitor.
This review has enabled me to not only experience the shoe but also tell all my friends about it. Maybe I've been living under a rock, but I can say that this is the first UA story I've heard.
But this is the best bit; in addition to it being a great trainer, the connected tech is, as far as I can tell, market-leading. Yes, foot pods exist, and you usually have to pay circa £20 for this tech alone. To have this inside the shoe by design is even better.
Dependable sole
The sole is split into two components. First are the durable rubber overmould and the main foam section. The main foam is UA's HOVR technology.
This is a lightweight, durable foam, and it really is as good as the rest. It enables the shoe to be lightweight, springy underfoot, well-cushioned, and so far, durable.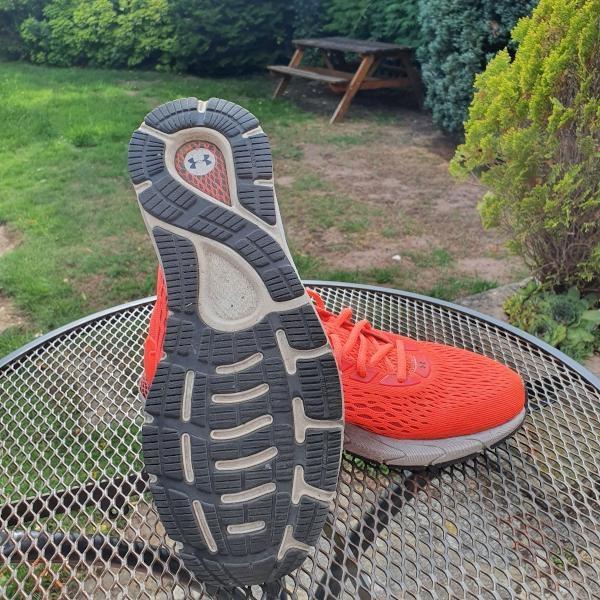 There's no additional technology used, but my experience of the sole has been positive. They're a delight to run in, and you feel like your energy is reacted well, keeping you pushing.
In addition to the foam layer is the grippy, sticky overmoulded rubber. This black compound stops you slipping on low friction surfaces, and I never suffered as a result.
Traction was good on the roads, canal paths, and off-road both in wet and dry. For good measure, they also threw in a cool UA logo.
Heel hold
So, this for me, is one of the best heel designs I've come across. Firstly, moulded in support systems is something I've only really seen on On shoes so far—I know it exists elsewhere, but I would call it rare as a feature.
I have found these both comfortable and offer excellent heel retention. I've not suffered any rubbing of any kind or any heel lift, which is a massive plus point in my mind. I believe the heel on the right shoe is also where the foot pod is located—more on this later.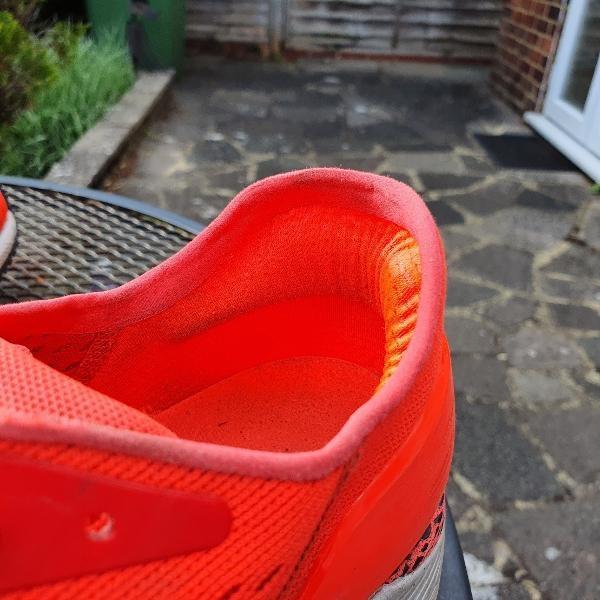 In addition to the insert, the whole of the heel system has a very stiff plastic piece surrounding it. It starts around the start of the heel and wraps around the back of the shoe. It's the first time I've seen the use of hard plastic rather than simply reinforcing the area with extra padding.
I think it enables UA to have a thinner, more breathable fabric across the rest of the shoe as a result. Overall, I'm really pleased with this design. It's very supportive, and once your foot is in, it feels very secure.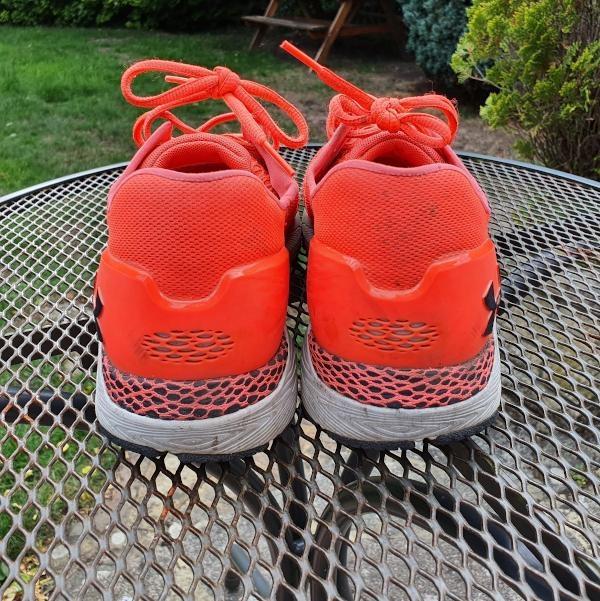 Also, what is great to see here is the reflective material built into the rear of both shoes. This is useful for late-night running during those winter months as, sometimes, it's the difference between being seen and not.
UA has also added a funky pattern as part of the design and added a UA logo onto the outside of each shoe.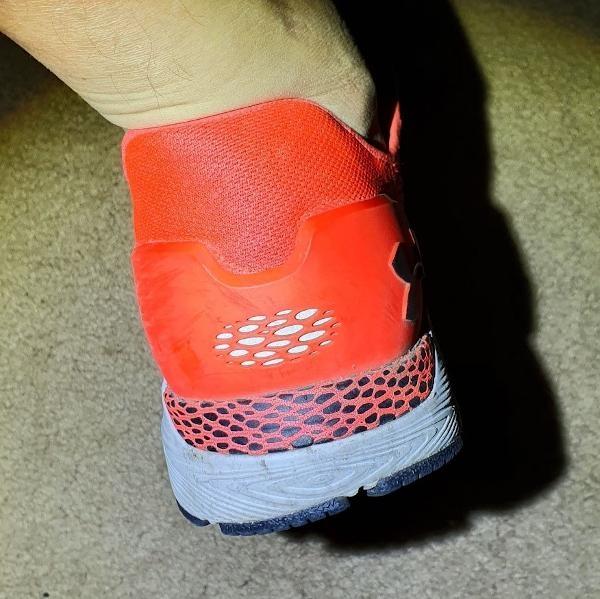 Upper does the job
As mentioned earlier, the use of hard plastic to support the heel means the rest of the shoe can have quite a thin and breathable fabric. They're very cool to run in, and I suffered no over-heating.
In addition, the number of holes also mean that if your foot gets wet, the fabric drys quickly. There's a big stitch line up the side of the shoe, but I've literally only just noticed that now looking at the photos.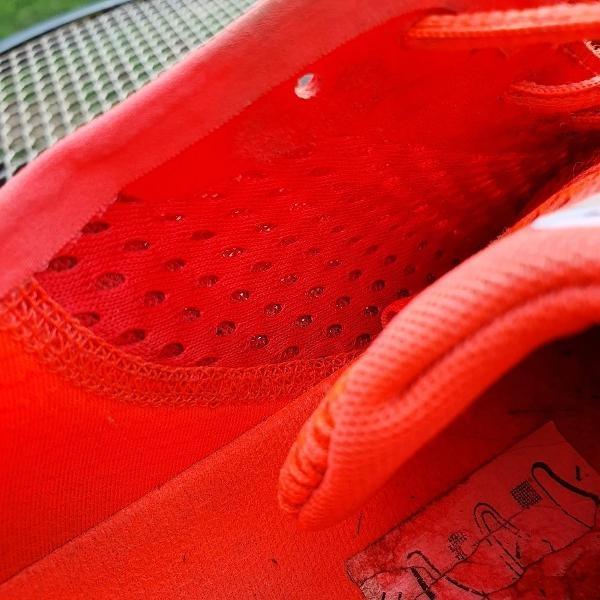 As the meshing runs to the front of the shoe, where the toe box support normally is, the breathable design is reduced slightly to help stiffen up. The over moulded toe from the sole goes a good job of adding support too.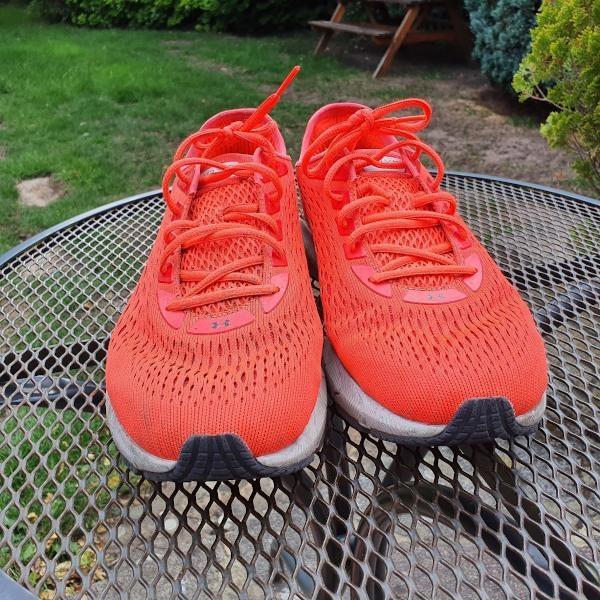 Tongue and laces
Now, this is another example of a great design feature. One way to prevent any foot slip and to prevent any tongue movement is to connect the tongue to the base with a stretchy fabric. This helps your foot feel planted, and I love to see in a shoe.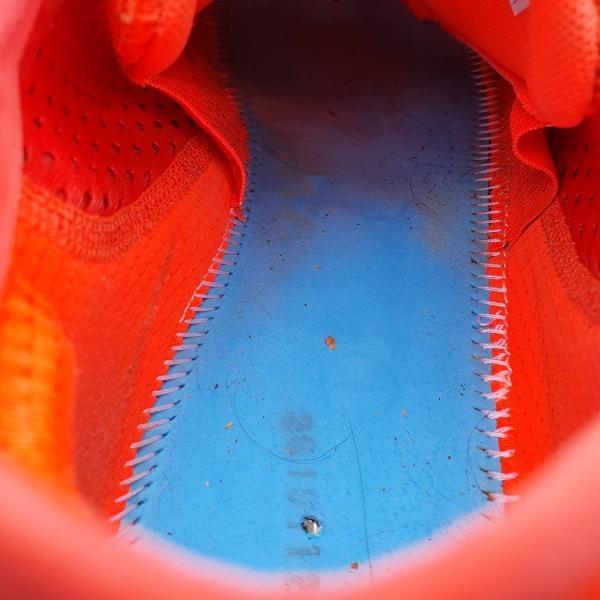 In addition to the excellent tongue design, we also have the standard loop for laces. The tongue shares the breathability design as the main mesh but is softer to the touch, which just makes sure that the preloaded tongue is comfortable on the top of your foot.
Each of the eyelets is reinforced to prevent any additional wear, and overall, the system works great. It's supportive, comfortable without being overbearing. We also have included a UA logo at the foot of the lacing system, and at the top, you can see the Sonic reference.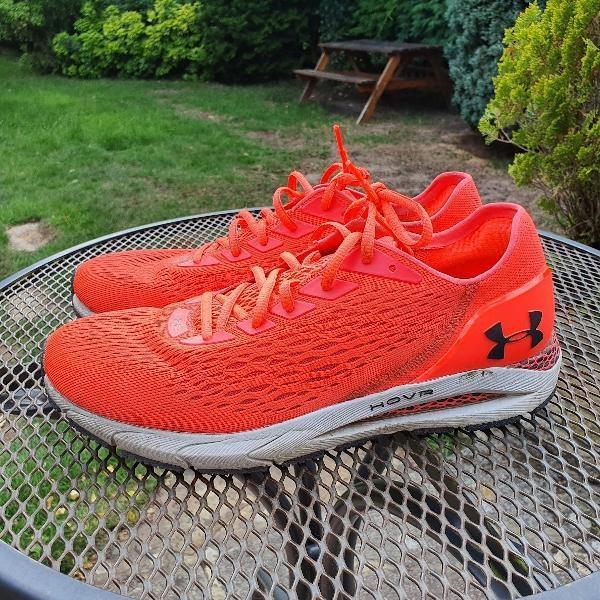 Laces are a good length and are also soft to the touch. I'm one of those runners who doesn't like to tie, and re-tie laces and this stretchy/soft tongue lace combination works great for me.
Removable insole
Not to be under-appreciated, a removable insole enables you to fit your own if you desire, but it is also a simple insole as the rest of the shoe is doing the rest of the work. No qualms here.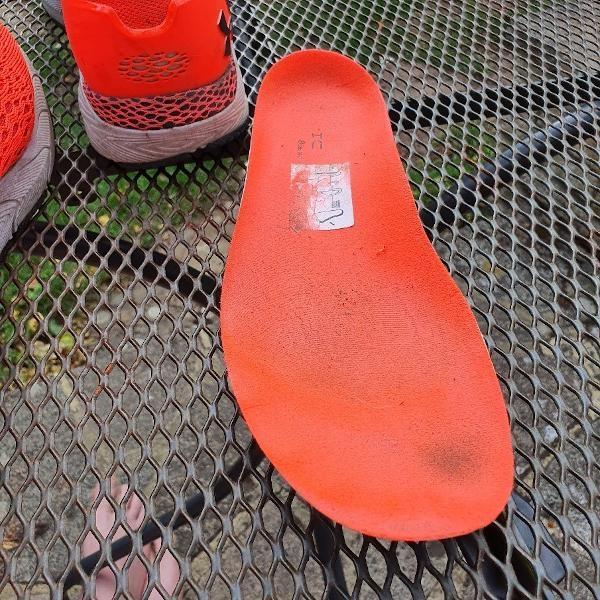 HOVR Sonic 3 is light for what it offers
As mentioned earlier, with the additional foot pod, I expected these shoes to come out quite heavy. I was pleasantly surprised—these are borderline tempo shoe, and with the level of cushioning you get I found they feel lighter than they actually are.
The only negative I see here is that there is a minor 14 g difference left to right. It is certainly something that I didn't notice on my runs, but if someone is sensitive to a right/left balance, they may detect this.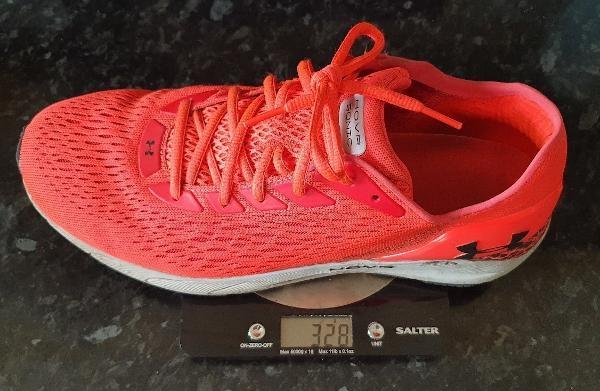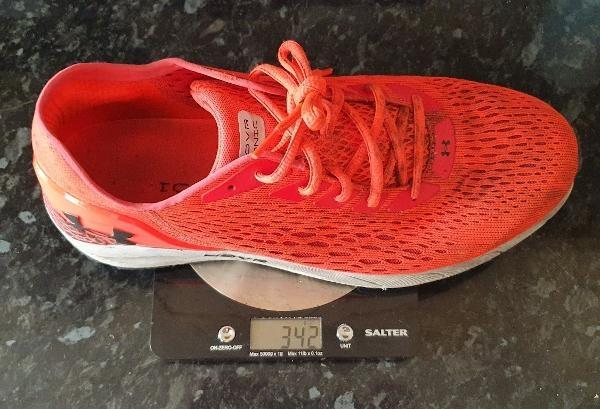 Either way, I feel the weight is competitive and, for me, is a great weight for long runs too. In my opinion, they're light enough for tempo work whilst being cushioned enough to go marathon distance. The SONIC's are a great all-around shoe.
Sizing of the UA HOVR Sonic 3
I'm a 10.5 in almost all shoes. I run this size in ASICS, Nike, Hoka, On and more so these are true to size and are correct for me.
Design could be better
In my very personal opinion, this is the only place the shoe is lacking. I got a pair of 'Red' shoes. The colour is a very bright red/pink colour, which is emphasised by the hard-plastic heel and this colour is combined with a white sole along with black rubber and other UA black accents.
I do like the pattern on the heel, and the way it runs through the sole on the sides of the shoe is cool. I'm also pleased to see the UA rectangular cut out on the side is now gone—the new design flows much better.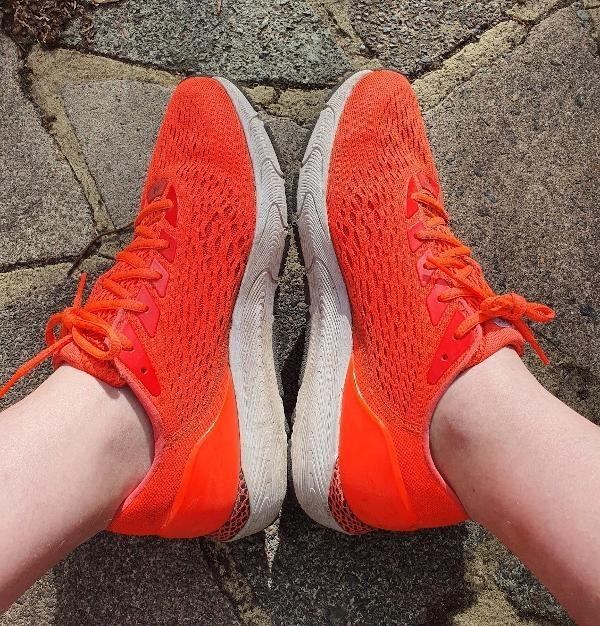 However, overall, I'm underwhelmed with the available colour choices, colour combinations, and the use of black on trainers nowadays seems a little outdated. The black and blue pairs of Sonic 3's are more pleasant on the eye, but the rest is a bit dull.
Maybe the Sonic 4 will overcome this hurdle to make the shoe really stand out. This is obviously less important but can make a difference in the market nowadays.
Connected tech
Obviously, no review of this shoe is complete without an insight into the foot pod's purpose and what functionality a user can expect to get from this smart shoe. I found a few actual reviews online, so here is my experience.
Firstly, my Fenix 3 HR could not recognise the foot pod—annoying. As the pod is Bluetooth, only most watches cannot connect to the shoe directly. Only the latest Garmin devices are capable of connecting to Bluetooth sensors.
However, you can connect with your phone. You need to download the 'Map My Run' app from the app store and then pace around in the shoe to wake up the sensor.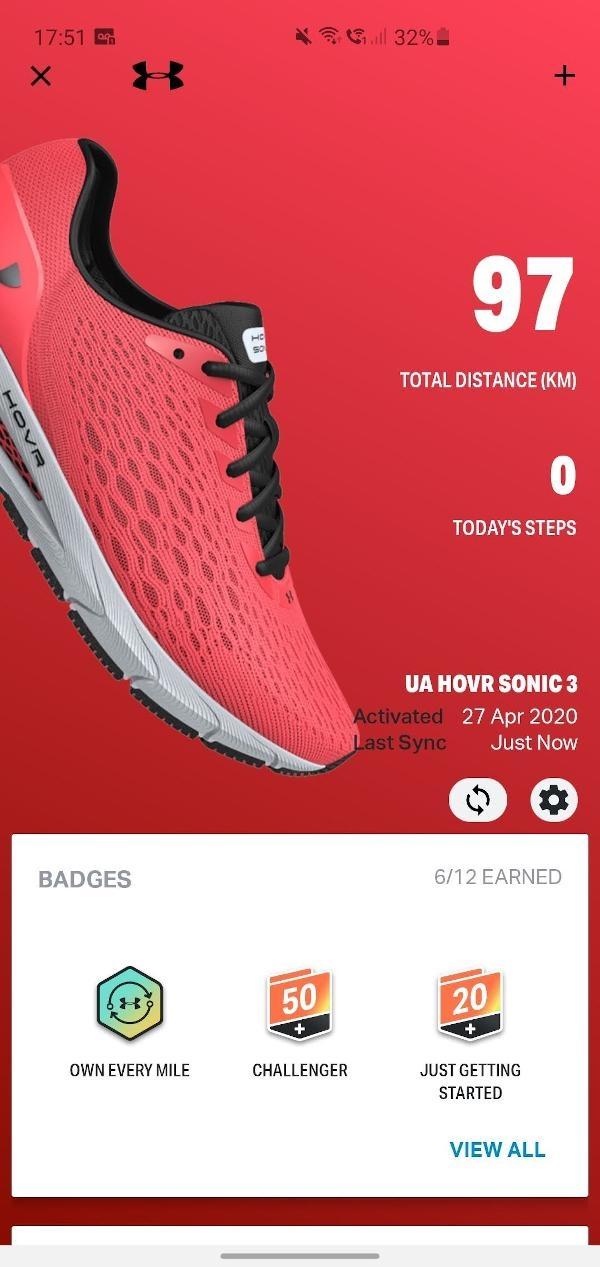 Once the shoe was linked, you create an account, and then off you go. Running with the app also enables updates mid-run, and you also get coaching feedback. The best bit I found was that the shoe was able to track a run without your phone.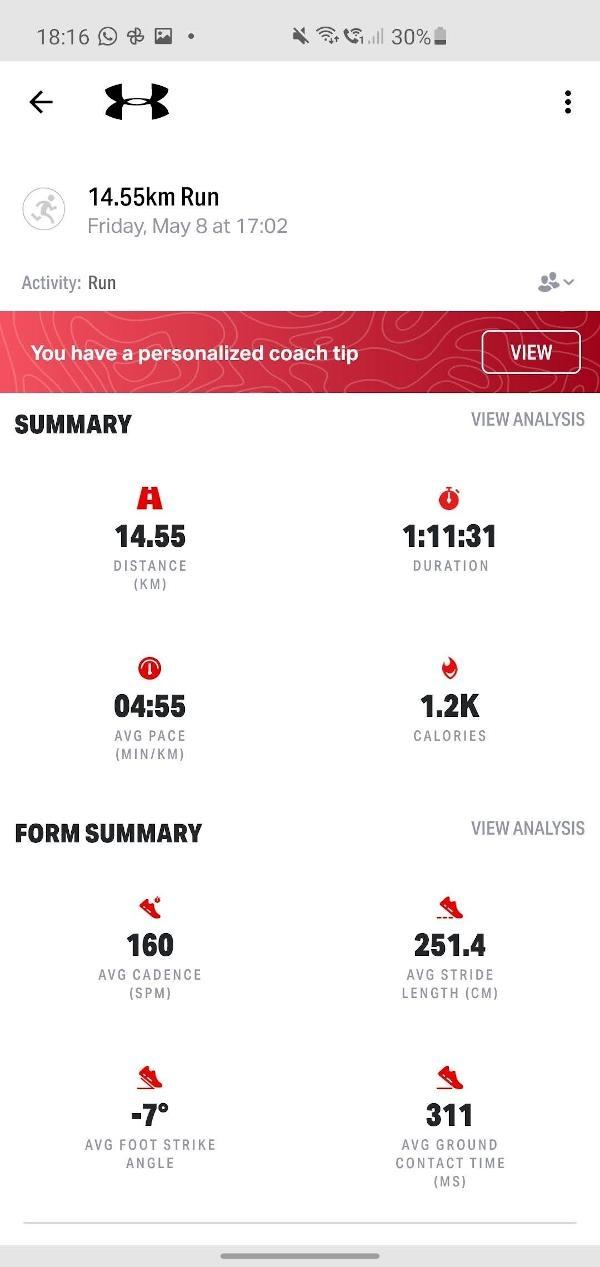 You don't get the GPS information as you would expect, but the shoes still log distance, pace and all the advanced data you'd expect with a foot pod. This was unexpected – I assumed you needed a device connected at all times.
I was impressed with the data collected and its repeatability. I did find that splits were slightly different to my Garmin using actual GPS data. I went for a 1:10 run and, according to the Garmin I covered 13km with an average pace of 5:25min/km.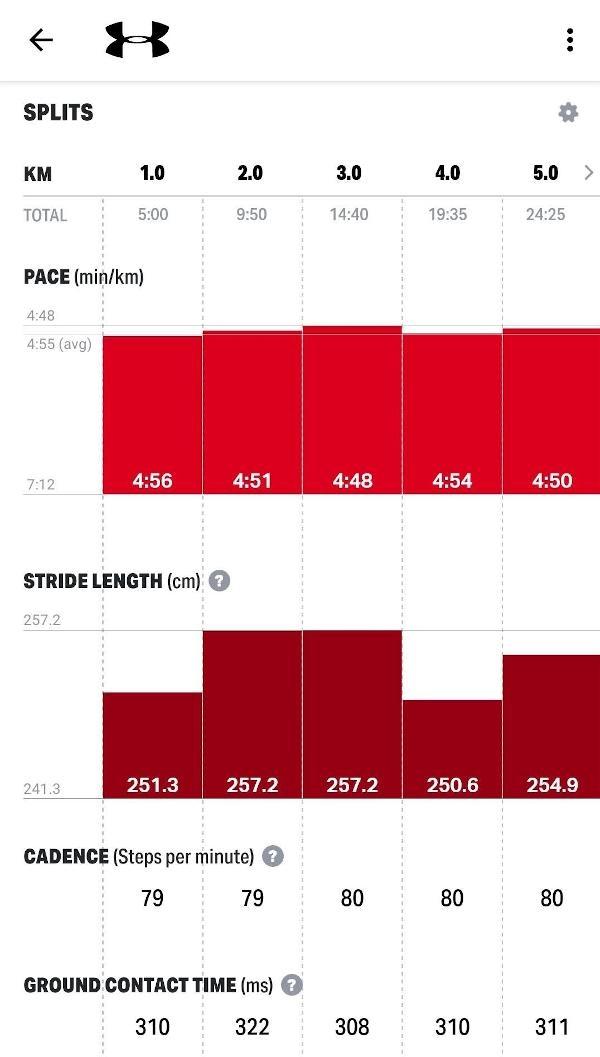 The HOVR shoes for the same run gave me a 14.55km distance with a 4:55min/km average pace. This is quite a significant difference. When I ran with my phone and GPS active, the accuracy was definitely better, but the Sonic's seemed to consistently over-predict pace and distance.
If you used these shoes with a compatible watch, which had stride length linked, I imagine the result would be accurate data and a much better experience. Unfortunately, I still cannot find anywhere in the app to input stride length. I believe this would also make the shoes independently more accurate.
In the same run, Garmin predicted my average stride length as 1.14m, which is OK for a Z2 run. In the UA app, it predicts my average stride length was 251.4cm, which just seems way off.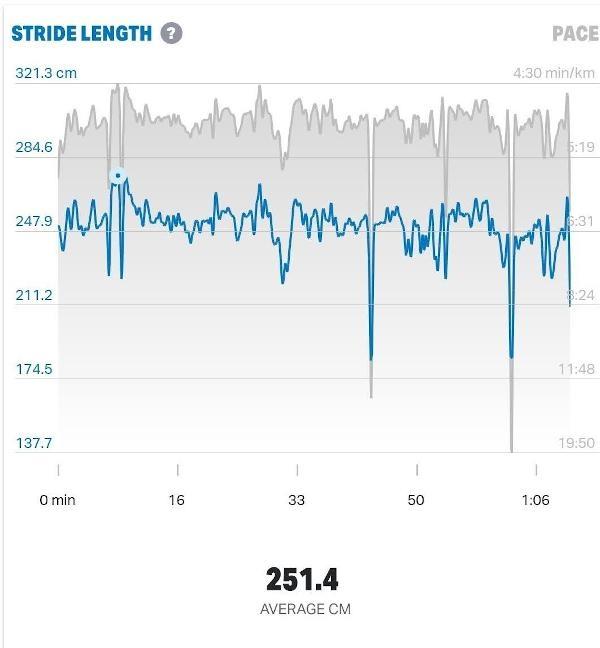 My only other gripe with the app links to the coach. I have had gait analysis and coaches compliment my running form and cadence. OK, I'm not perfect, but during runs with the phone, the coach kept telling me my cadence was too low.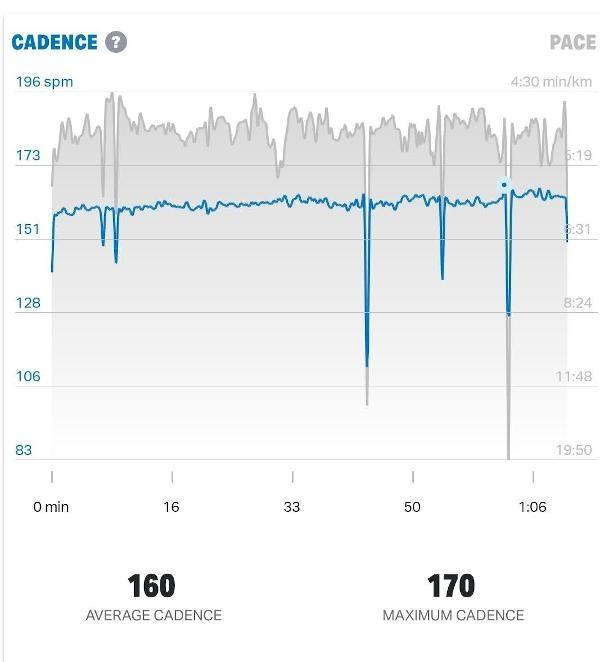 My faster paces runs are in the 170-175 range, and slower ones are between 160-170. However, according to the app, the target cadence for me was between 170-184 spm.
Who knows, maybe I'm wrong, and the app is right. But, for me, a longer stride means better muscle activation and shorter strides are, in my experience, less effective and can lead to poorer form.
To summarise the connected tech, it's great, and it's unlike any other shoe I have. It's really interesting to see how my cadence and heel strike angle change over the course of a run. I haven't used any of it to change my technique yet, but who knows what the future holds.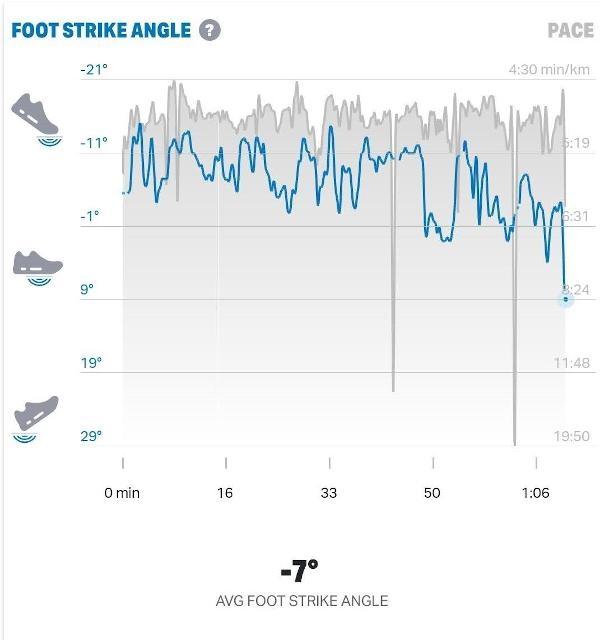 However, the inability to change stride length is annoying. With a Garmin or other compatible GPS watch, I think the experience would be great. However, I don't feel like the shoe/app combination is completely there just yet.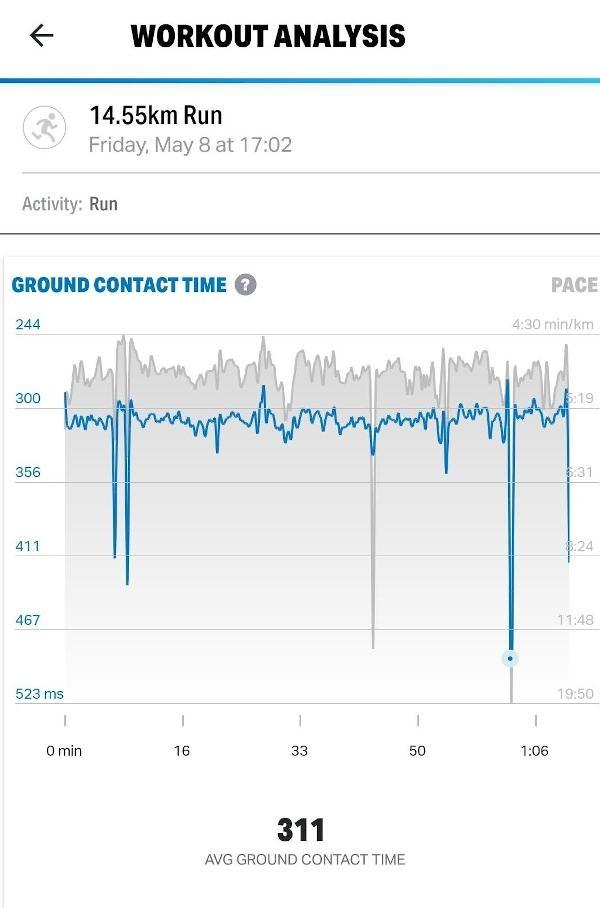 In conclusion
Please don't let my rant about the connected tech detract from what is simply a remarkable shoe from UA. It feels to me like the designers listed all the best features of a great running shoe and made sure they incorporated all of these features without compromising for an affordable price and with the additional smart tech for good measure.
I've told so many people how amazed I am by their performance and overall experience. I may have even talked a few into buying a set of their own, and so far, I've had nothing but positive feedback.
UA has outdone themselves, and they're now in a position where they should be compared with the market leaders.
I feel like the only way to really better the HOVR Sonic 3 is to balance the weight left to right, offer newer colour combinations and continue to develop the app. However, it may also mean I need to upgrade my running watch too.
Stop reading. Go buy a pair and enjoy running in them!