HOVR Phantom is a shoe for the looks, not so much performance. I wouldn't recommend running over 3 miles in this trainer due to the lack of support. Overall, it is too pricey for what it has to offer, especially compared to other shoes in the same price range.
Pros
Good-looking
Soft in-shoe feel
Comfortable for walking
Breathable
Cons
Tricky to put on
Lack of support
Under Armour HOVR Phantom SE review
I really liked the design, but in comparison to my other running branded trainers, I wouldn't swap. I feel like the sensor is dated and has already been done with Nike.
I think if you are looking for a gym trainer or a fashion comfortable shoe, then this would be perfect for you. I didn't run any further than three miles at a time in these shoes as I didn't feel like there were enough support and padding for my feet.
I think if I had run for more than three miles in this shoe, then my feet would have been battered. I feel like Under Armour have been more concerned about how the trainer looks rather than the actual function.
The shoe looks great, but would I buy this shoe as a running shoe? No. To be honest, this is all just way too much effort for a running shoe.
First impressions of the Phantom SE
It was a lovely surprise to open the box to the unusual design of the hologram on the back of the shoe. The appearance of the shoe really did have the 'wow' factor.
Unfortunately, that's as far as my love went for this running shoe (I will explain more later). Don't get me wrong, I didn't HATE this shoe, but it certainly isn't a shoe I would choose to run in.
The Under Armour HOVR Phantom SE are pitched as a lightweight, flexible running shoe. Under Armour have released this version of the shoe after the original HOVR Phantoms.
Except, this time, they have introduced a sports version ('SE' meaning Sports Edition). The ideology of this shoe is to provide an improved fit around the foot for sports performance.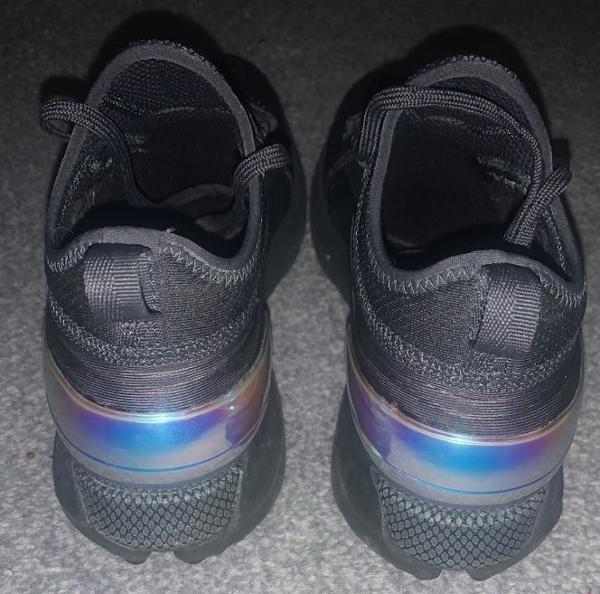 This particular trainer is marketed with the in-shoe technology that links up with the 'Under Armour 'Map my Run' app. This is achieved by a Bluetooth capable pod on the outsole of the trainer.
It lets a smartphone record and track information about your run. A disadvantage of this though is that you need to take your phone running with you. Not everyone likes to do this.
Also, most people are using Strava and Connect nowadays, but I guess this is a feature that Under Armour, which will gain more customers with something different.
Or is it? To me, I feel like Under Armor have 'come late to the party' as Nike did this years ago, and it didn't work out. Also, I don't like to carry my phone with me whilst running as I have a Garmin, which tracks my GPS and plays music.
I am a forefoot runner and not sure whether these trainers worked for me for running for that reason. I believe the magic came from the back of this trainer.
Appearance
Black isn't usually a colour I would choose for a running shoe, and upon first look, I thought it looked more like a fashion trainer than one I would pound the street in.
However, I was delighted when I opened the box as they were attractive and eye-catching. Whilst wearing this shoe at run club, I received lots of compliments about the shoe.
Some fellow runners even asked if they were light-up trainers. So, the reflective detail was great for evening running. It does, however, make the shoe look quite chunky.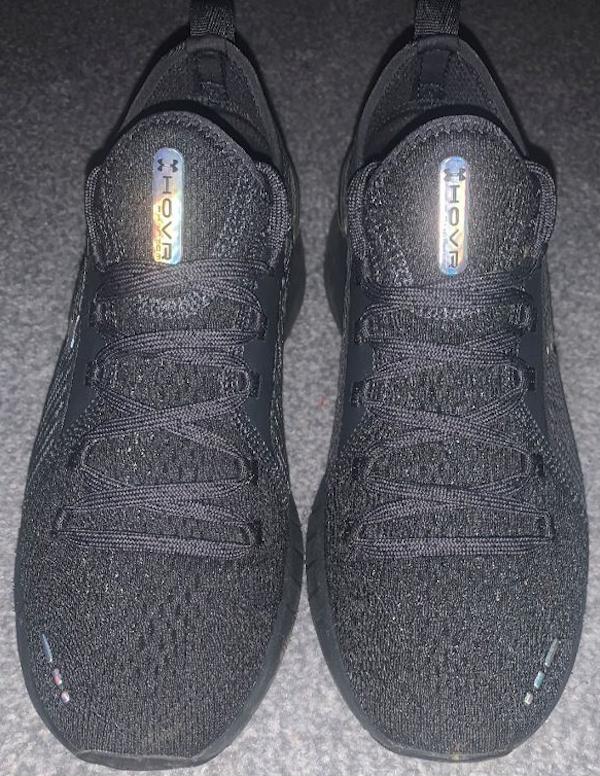 The shoe has a heel drop of 8mm and weighs in at 290 grams. The insole is supple and soft—it feels like a trainer sock. The inside of the shoe features a sock liner, so you don't necessarily need to wear socks whilst wearing this trainer.
Outsole
The outsole is made out of rubber with the heel area made out of carbon rubber. The forefoot is made with blown rubber to provide a springy toe-off.
I found that the arch moulded to my foot. However, I would recommend this shoe for completely flat ground. I did find that my foot felt every stone or uneven piece of road, which was uncomfortable and almost painful.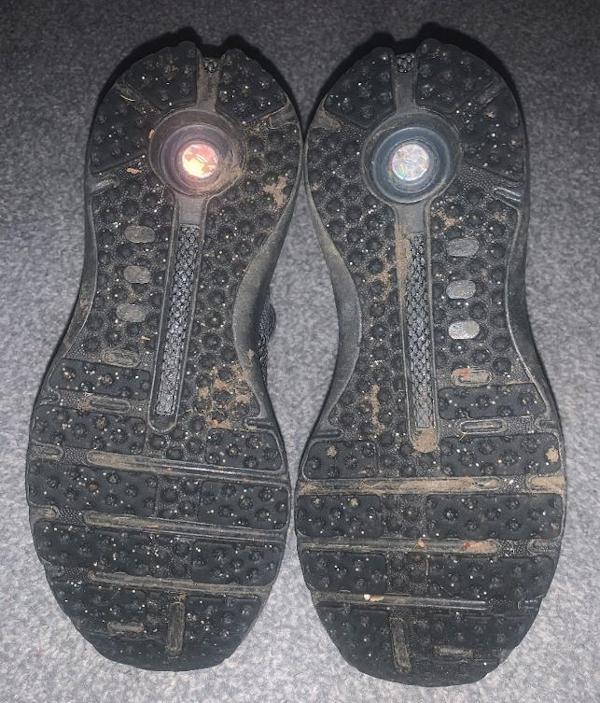 I did find this shoe really slippery, and they were an absolute no go when raining—to the point where I had to change the way I ran to ensure I didn't trip over.
HOVR cushioning
The HOVR technology, found in several models of the American brand, is lightweight foam designed from olefin, which is a synthetic fibre with a texture similar to wax. Also, a compressed mesh (Energy Web) encapsulates this HOVR foam.
It has made the shoe lightweight and flexible on the forefoot. I did feel like there wasn't much energy return on the shoe, despite its claims. I felt like the majority of the padding was in the heel.
Upper
I didn't feel like the material was very sturdy, and therefore my foot moved a lot if I changed direction. I did like the stretchy feel to it but found that after 50 miles, my foot just moved around too much.