The Under Armour HOVR Infinite is a neutral daily trainer perfect for the roads that have got all the makings of a do-it-all shoe. It's bouncy and comfortable, it made our speed training and marathon-distance run very easy! It's heavy on paper, but it's something we could write off because it doesn't really feel like it on the run.
Pros
Versatility
Excellent cushioning
Responsive ride
Durability
Extremely comfortable
Cons
Relatively high ride height
A bit heavy
Under Armour HOVR Infinite review
The Under Armour HOVR Infinite is an extremely comfortable neutral road shoe.
It combines cushioning and responsiveness to deliver a versatility that makes it suitable for everything from tempo runs to long marathon training sessions.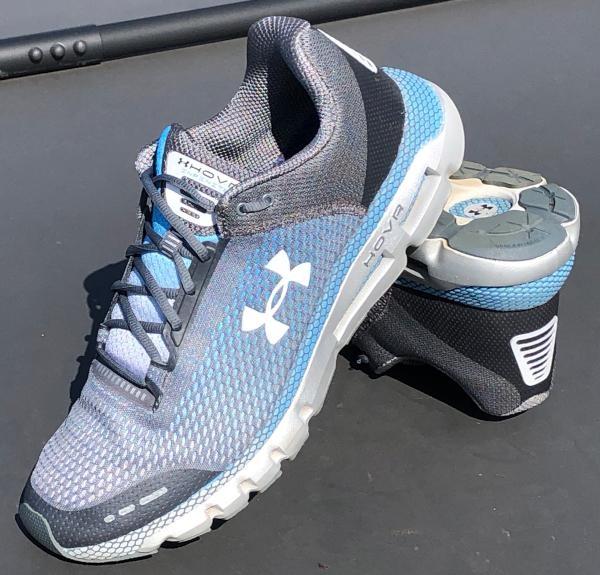 A cushioned, breathable upper and roomy toe box makes this an enjoyable shoe to wear for any session, and I'd have no hesitation in recommending it.
High mileage runners will benefit from the fluid, cushioned ride. This shoe will also suit the majority of runners who are looking for a "one shoe fits all" solution to their running needs.
This is a serious contender within the premium shoe market.
Introduction to the UA HOVR Infinite
I've been aware of Under Armour for a fair few years; initially as a manufacturer of rugby gear, and then fitness kit.
Their tie-in with Anthony Joshua marked a sea change in their brand exposure. But, honestly, their running shoes remained below my radar.
When offered the opportunity to try a pair of HOVR Infinite shoes, I jumped at the chance. I was keen to see how they compared to my go-to "comfortable long-distance shoe", the Brooks Ghost.
I was even more interested when I found that Runners World had labelled the HOVR Infinite as "Highly Recommended" in their list of "Best Running Shoes for Spring 2019".
The HOVR Infinite is a plush, neutral shoe and apparently "…the shoe is called the UA HOVR Infinite because it was created for distance training, and to provide the runner with a consistent underfoot feel through an infinite number of miles."
Throw in a built-in sensor, which would automatically monitor and report running metrics through Bluetooth, and needless to say, I was keen to give it a go.
First Impressions
The UA HOVR Infinite comes in a range of colours including some striking colourways which combine two colours, contrasting with the mesh surrounding the upper and midsole.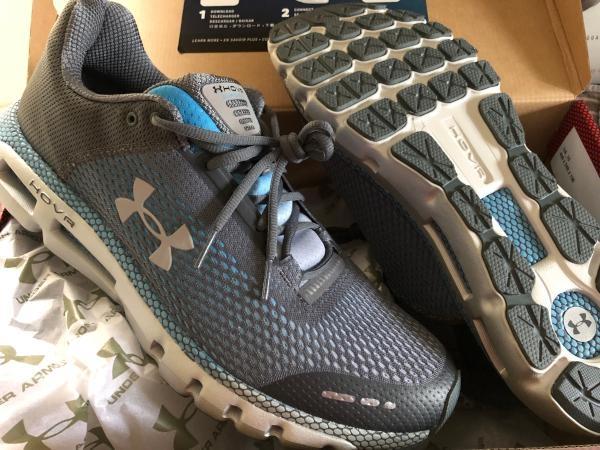 These provide some great-looking designs that can be worn just as well with a pair of jeans as a pair of running shorts.
Whilst my shoes were listed as "grey", I opened the box to find a space-age looking shoe with a silver midsole.
In my opinion, this is a really well-designed, good looking shoe. The underside of the box lid encouraged me to download the app and "connect" my shoes, and so I did just that.
It was surprisingly easy to sync the shoes to my phone. I looked forward to exploring the accuracy of the data from the shoe sensor (more of that later). A few quick pictures and I was good to go.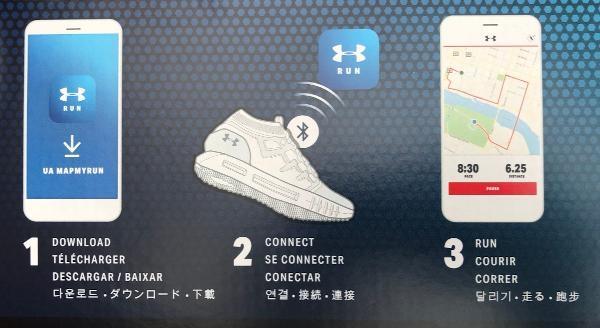 There are not many images in this review of pristine, new running shoes because it wasn't until I'd got around 100 miles on the shoes that I remembered to take some more photos for the review!
Weight
HOVR Infinite is listed at 305g (10.75oz) for a Men's US size 9 shoe. My UK 13 (US14) was obviously heavier and came in at 377g. The women's shoe is listed at 248g (8.75oz) for a size 7.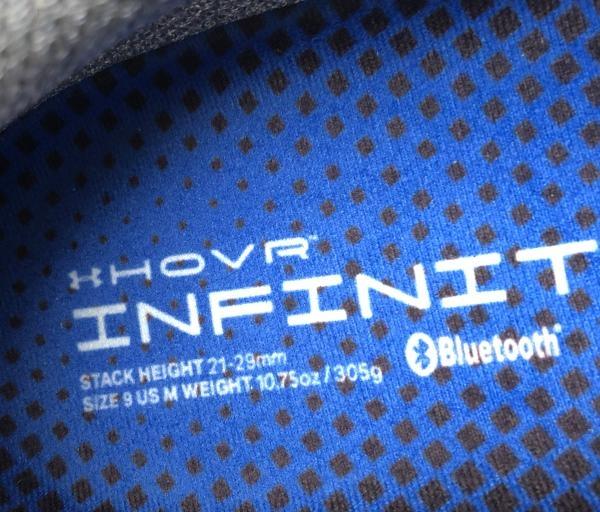 This means that the HOVR Infinite is not a light shoe but is comparable to premium cushioned shoes from other manufacturers.
For example, the Brooks Ghost 11 to which I would compare this shoe is listed at 309g and in which my shoe weighed 369g.
Most importantly, because of the weight distribution, this does not feel like a heavy shoe, even towards the end of a long run.
Fit
The UA HOVR Infinite runs true to size for me. This is the same as I'd wear in Brooks, ASICS and Inov-8 compared to New Balance, Hoka, and Salomon Trail where I'd size up by ½ (UK ONLY).
US readers, please note that despite the variation in sizing across brands, I almost always require a US 14 / EU 49. It's quite possible that these variations are due to conversions from US to UK sizing.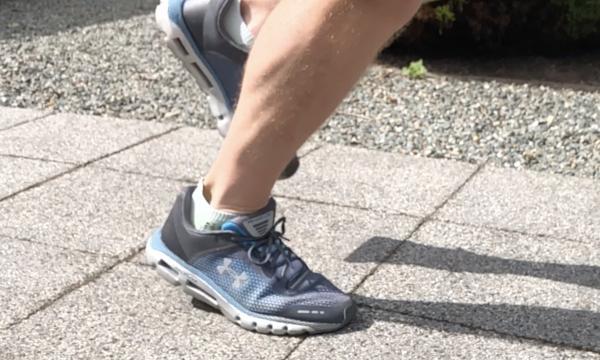 The HOVR Infinite provides a really comfortable, secure fit. My UK 13 left a little room in front of the toes, and plenty of space in the toe box for my toes to move and ensure no recurrence of my occasional Morton's Neuroma.
The cushioned tongue and ankle collar make this a really comfortable shoe to wear and run in.
Construction of the Infinite
As a relatively new entrant to the running shoe market, Under Armour have provided a wealth of information about their shoes, the design, materials used, as well as the manufacturing.
Upper
The construction of the upper is typical of most shoes in the market; the forefoot consists of a double layer of light engineered mesh, whilst the rear section is more rigid.
The forefoot mesh HOVR Infinite is extremely lightweight and breathable with no overlays other than a reflective "UA" logo, and a rubberised toe bumper, which also has reflective elements.
There are at least half a dozen reflective pieces incorporated into the upper of the shoe, which is really encouraging for early morning/late night running in the dark.
This feature is something which is often overlooked by other manufacturers.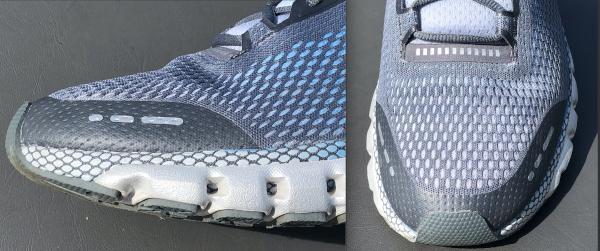 The tongue is exceptionally well-cushioned, stitched in place at the bottom, and extends above the laces. It is lightweight and compresses easily to provide real comfort at the top of the foot.
This will especially help for anyone who chooses to tie laces tightly to compensate for the lack of stability around the midfoot.
Nevertheless, I didn't find this to be a problem, and I'd assume that most runners choosing a neutral shoe will not have any issue here.
I prefer to tie my road shoes fairly loosely and found that the foot remained secure and comfortable. There was no need for a run-in period, nor any "hot spots" arising from running in these shoes.
I'd expect that these shoes could be comfortably worn without socks.
The rear of the shoe is much more structured, with tighter mesh and rubberised overlays around a moulded heel counter, and more cushioning around the heel/ankle collar.

The heel cup is higher at the back than some shoes such as the Ghost 11, but is extremely comfortable, and provides protection for the Achilles without any irritation.
Midsole
The running shoe technology race centres around midsole foam technology; Nike has developed React™ and ZoomX™, Adidas Boost™, ASICS Flytefoam™ and New Balance Fresh Foam™.
Under Armour has developed HOVR™ Foam which is a light and soft foam offering excellent cushioning, but initially providing very little energy return.
Further development led them to wrap the HOVR foam into what they call EnergyWeb™. It maintains the foam's shape so that the energy absorbed by the foam as the foot lands is returned on take-off.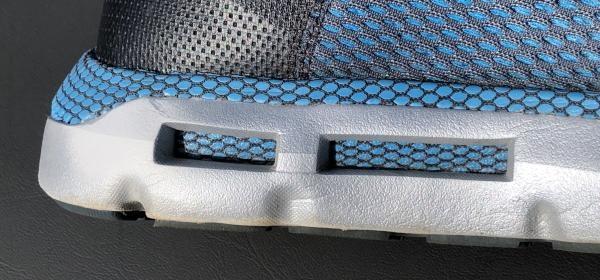 An outer "cage" of foam further cradles the midsole and incorporates "windows" for weight reduction and further cushioning, completing the UA HOVR Infinite's "cage and core" system.
The HOVR foam core extends from heel to forefoot, and according to Under Armour will provide "…the ultimate solution in cushion, energy return, and smooth transition" and "…fully cradle and cushion the foot and provide a livelier underfoot feel, mile after mile."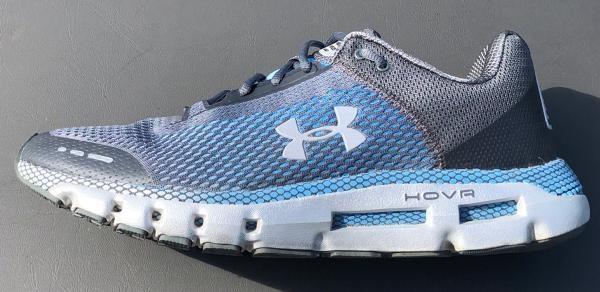 The midsole provides an 8mm drop from a heel height of 29mm, which is comparable to similar cushioned shoes (the Ghost 12 has the same heel stack height but with a 12mm drop)
Outsole
The outsole consists of interlocking "pods" of blown rubber with textured patterning for grip.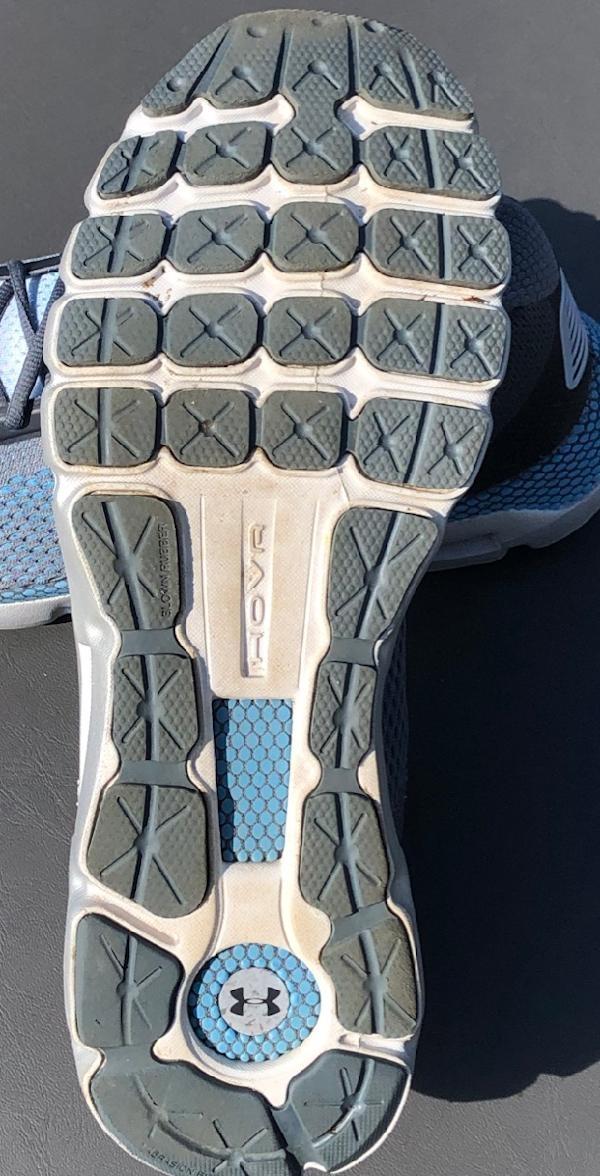 Across the forefoot, these pods run across the foot, separated by grooves running from lateral to medial outsole to allow plenty of forefoot flexion.
Interlocking pods similarly run from mid-foot and around the heel, with the central section exposing the HOVR foam.
This formation presumably allows the foam to expand down on landing, further contributing to the cushioning.
The rubber outsole within the heel crash-pad section is separate and manufactured from high abrasion rubber for additional durability.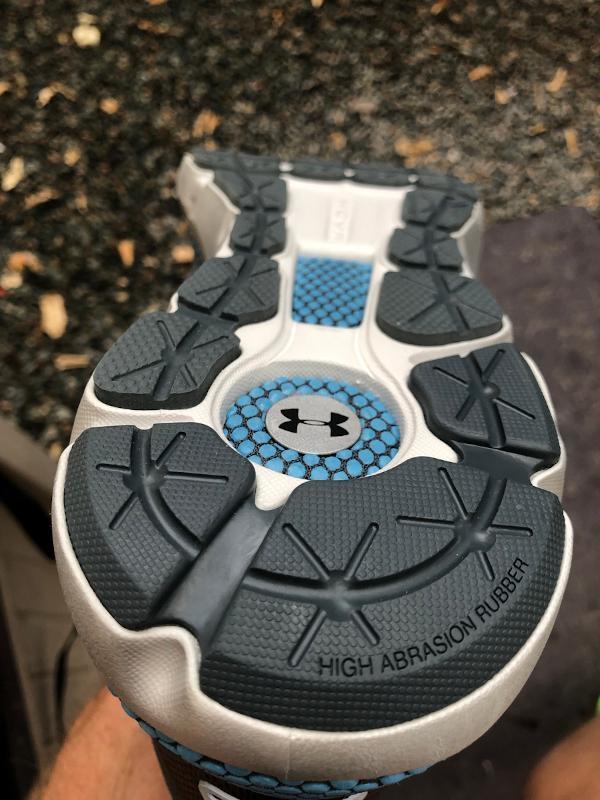 Overall, this is a well-designed outsole, which provides excellent traction on the road and is equally capable on light trail and sand.
Sock-Liner
To be honest, I rarely refer to the sockliner in a review unless there is an issue with it.
In the case of the HOVR Infinite, I was interested to read that the design of the sock liner was influenced by research into the varying biomechanics of men's and women's feet.
They found that "…women's heels are shorter, the arches are more sensitive, and the forefoot area has less volume. This resulted in a gender-specific construction of the UA HOVR Infinite sockliner that raises her ankle up by 2mm, for a better fit in the collar. The men's sockliner is single layer, 6mm. Both sock liners use high-end open-cell foams and are moulded to cradle the foot, serving as another moderating layer from impact forces"
I can't comment on the impact of these gender-specific sockliners but did find mine to be thicker than in many shoes. I'm confident that this contributed positively to the comfort of the shoe.
Durability
Aside from one or two "fresh out of the box" pictures, the majority of those used in this review were taken after running just over 100 miles in these shoes, mostly on roads.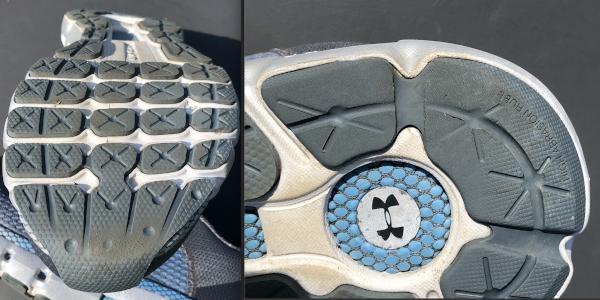 The uppers still look and feel new, with no sign of wear or loss of cushioning in the tongue or around the ankle collar.
As expected with most of my road shoes, there are signs of wear on the outside of the heel and at the front of the outsole. However, this wear is fairly minimal.
I'd fully expect these shoes to last over 500 miles and possibly up to 700, which is the maximum I tend to get out of a pair of shoes.
Performance of the Under Armour HOVR Infinite
Running shoes are highly personal. My evaluations on a shoe's performance are based on my experience and characteristics. I'm 49, about 6'2" and at around 88kg running around 50miles pw.
I can't speak for the front of pack runner but hope my views will be useful for both club runners and newer runners, as well as those like me who may be on the heavier side.
I've been fortunate to run in a variety of shoes, and like most runners have favourites for a particular type of run.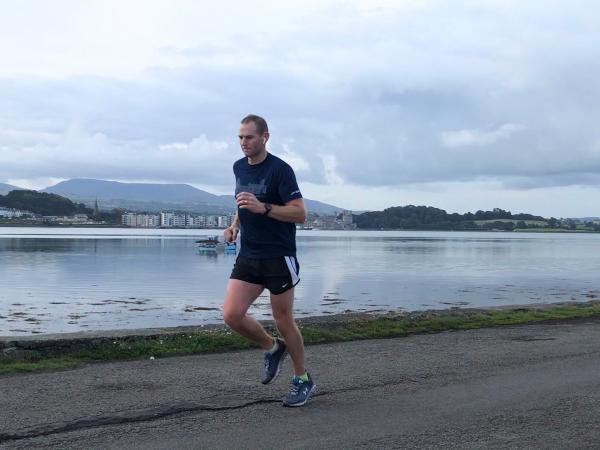 In recent years, the Brooks Ghost has been a firm favourite for easy long runs, recovery runs and whenever my feet needed a bit of TLC.
My last pair of Ghost 11's were running out of steam having provided me with almost 700 miles of running when I had the chance to try out the UA Hovr Infinite.
I had no idea that this seemingly innocuous pair of shoes from a little-known company in the running shoe market would step up so capably to replace my expiring Ghosts.
The HOVR Infinite is an exceptionally comfortable shoe with plenty of padding around the heel/ankle collar, and more than enough space in the toe box.
Added to that, the well-cushioned tongue holds the foot comfortably. It doesn't need the laces to be drawn tightly to ensure that this level of comfort continues through to the end of the longest run.
Coming back from a recent injury, the first few runs in this shoe were fairly tentative runs at a fairly easy pace. which didn't do much to overly tax either me or the shoe.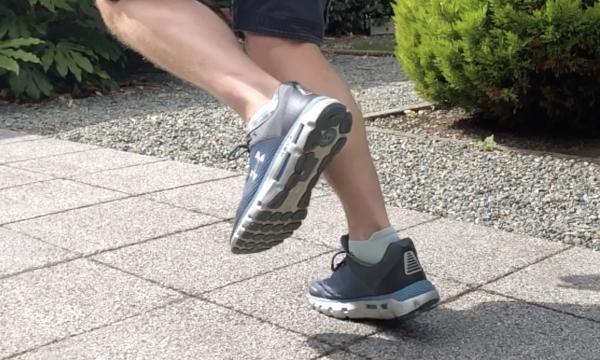 The HOVR Infinite has been just perfect for me as I recovered my running fitness.
The cushioning in the shoe protects the feet and the legs from repeated pounding on the roads during long runs and steady daily runs alike.
As my fitness improved, I was really impressed with the way it performed during hill sprints and faster intervals.
The encasement of the HOVR foam in the EnergyWeb performs exactly as intended to deliver a responsive shoe, which returns energy well at a faster pace.
I'm planning on running Eryri Marathon at the end of October. The UA HOVR Infinite will be my go-to shoe as I begin to build up the mileage in preparation for this race.
At this stage, I am also fairly confident that I will be wearing this shoe when I toe the start line of what is one of the UKs most challenging road marathons.
The outsole delivers sufficient traction. This provides confidence even in tight turns in wet conditions.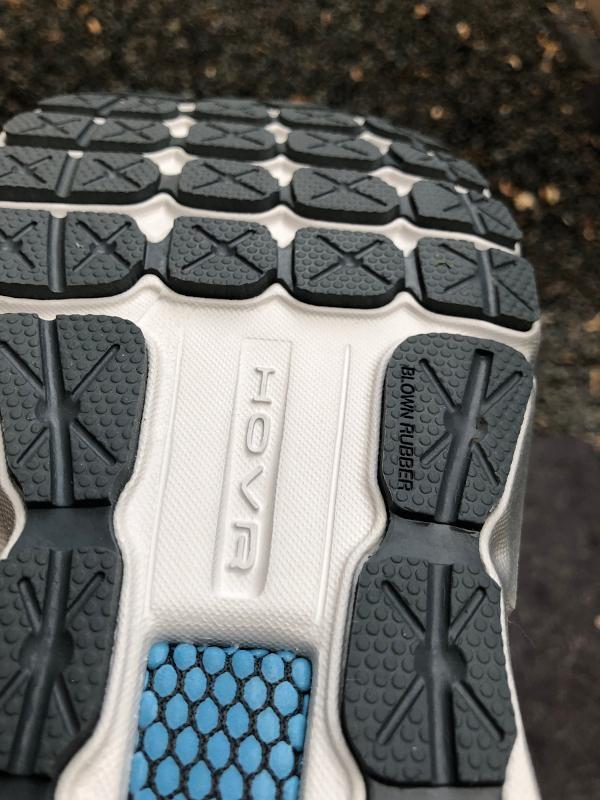 Moreover, its design means that this shoe also adapts well to light trail together with sand and forest paths making it an extremely versatile shoe.
In my opinion, the UA HOVR Infinite is one of those rare all-round shoes that would suit the majority of runners who are looking for a "one shoe fits all" solution to their running needs.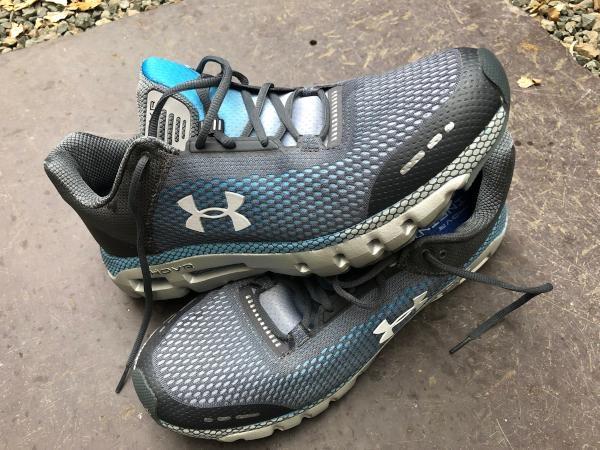 In the last 6 weeks since first putting on this shoe, I have used it for every training run on the road that I have done despite having several others in my current rotation that I could have slipped on.
Built-in Sensor
Most runners will use a GPS watch to measure distance and other metrics during their run, and for them, the built-in sensor may be something of a gimmick.
Regardless, it's handy to know that the shoe will store the data automatically for sync later if you've forgotten your watch.
In a nutshell, here's how it works:
The sensor is built into the right-hand shoe and is synced to your phone using the UA MapMyRun app. Once downloaded, it is a matter of moments to sync the phone and the shoes.
The sensor will automatically record data on each run for review afterwards or can alternatively be used in association with the app to record the run live.
The sensor uses stride and cadence to determine pace rather than GPS.
So, unless your metrics are identical to the "standard" it is recommended that you calibrate the shoes against a known run (the longer the better).
Again, this is a simple process using the app and once completed, the pace and distance data are reasonably accurate.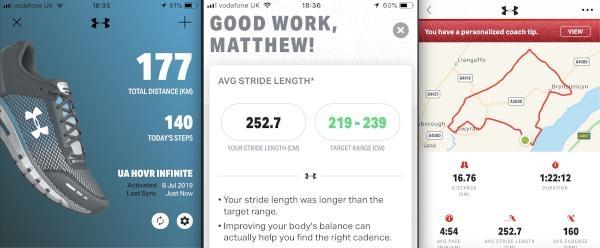 The personalised "coaching tips" that are provided on the back of each run are unfortunately rather generic comments on cadence and stride length.
After reading several "tips" which compared my cadence and stride length to the "recommended" metrics, I soon tired of reading them.
Summary
If I'm being honest, I really didn't expect to like this shoe. Under Armour is a relative newcomer to the running shoe market.
And, with the built-in sensor, I was expecting a bit of a gimmicky shoe with little of the performance I'd want from a "serious" running shoe. I couldn't have been more wrong!
This is a really impressive, versatile shoe from Under Armour. It is extremely comfortable and offers a blend of comfort and responsiveness that is provided by very few shoes in the market.
Springy take-offs follow on from comfortable landings making this shoe an easy choice for me.
I would choose it whether I'm setting off on a mid-week tempo run, or I've just dragged myself out of bed on an Autumnal Sunday morning for a long run in the dark.
The upper is light and breathable with plenty of space in the forefoot to allow sufficient movement.
While I can't imagine that the HOVR Infinite will go on "infinitely", early impressions are that it will prove to be a very durable shoe.
I would have no hesitation in recommending this shoe to a huge range of runners, and especially those looking for a "one size fits all" running shoe.
I have repeatedly made comparisons with the Brooks Ghost, which has deservedly enjoyed an unrivalled position as a go-to cushioned all-rounder for many years.
I truly believe that the Under Armour HOVR Infinite is a worthy challenger to the Ghost's crown.