Verdict from 8 experts and +100 user reviews
6 reasons to buy
Grip: Quite a lot of reviewers hail the sticky traction of the Horizon BPF from Under Armour.
Multi-purpose: A number of runners claim that they are also great for road running and walking.
Support: The running shoe secures a stable ride.
Strength: According to some users, this neutral shoe is made of durable materials.
Wiggle room: There is enough room for natural toe splay, stated several buyers.
Lightness: It is not bulky, shared numerous testers.
2 reasons not to buy
Stiffness: The underfoot feels a little hard, expressed some.
Lockdown: Multiple athletes have experienced some slippage.
Bottom line
Configured for the toughest and roughest trail paths, the Under Armour Horizon BPF secures steady and surefooted strides with its outsole construction. Not only that, but it is also built with some of the most sturdy components to make sure that foot protection is amplified. Despite its technology-loaded construction, the running shoe still maintains minimal weight for optimal energy conservation.
Tip: see the best trail running shoes.
Our reviews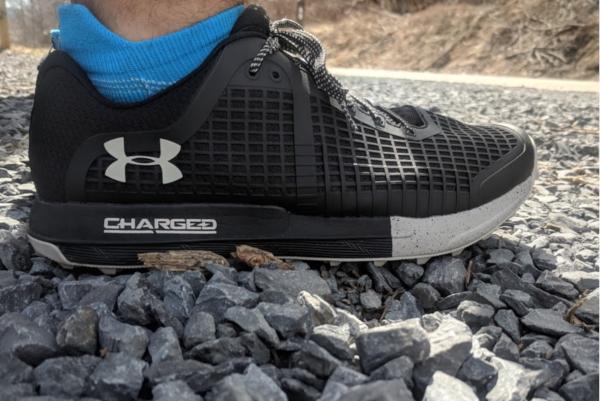 Type: Cushioned Trail Runner | Weight: 9.8oz. | Drop: 7mm | Retail: 130.00
"Pat, you gotta do a trail run!", said my running buddy, Tim. We all need friends and friendships grow even more when we run together; at least that's what I experienced over the past year.
Like most of you who live in cold climates, when it's cold out, you just want to stay inside. So I decided when training for my spring marathon, in the middle of winter, I would need someone that would motivate me.
That's when I reached out to Tim to help me through the cold days. Tim did help me train but, who would have known that while training for my road race, it was bringing me closer to the trail.
See, Tim is an excellent runner and a lot faster than me, but through the years of success, boredom followed, and that leads to the trail. That lead to me hearing about the trail races and in return piqued my interest in starting to branch out a bit and try something new.
So, when a local trail 5K race series arose in the spring, I ditched the road and began the journey.
The trail shoe
So after my decision to hit the trail, I had one problem. I had no trail shoes. So, since I do all my shoe shopping online, I hit up RunRepeat.com and searched for trail shoes and O MY. There are tons!
See, the thing with trail shoes is not only there are many brands and models, but there are specific models made for certain intensity and types of trails. This posed a problem for me because I had no idea of what "type" of trail shoes I needed.
So a great solution arose... Buy a new model shoe of a brand you are familiar with that has one hell of a deal attached to it. That my friends is how I arrived at the Under Armour Horizon BPF.
The UA Horizon BPF is the newest model in the Under Armour trail shoe line up. I happen to have a love for UA. I live very close to where the company's home base is and surrounding me is a bunch of outlet stores that you can get gear for very cheap.
My running wardrobe consists primarily of UA clothes, and I LOVE them. Their shoes however have not really exploded in the running market yet, especially in the trail running scene.
So, I figured I would try them out and help get the word out about this lineup. In short, I am happy I did. Come with me and let's explore this shoe together.
The upper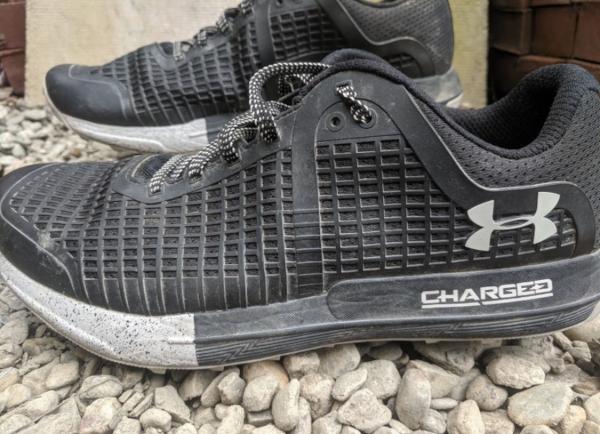 The upper of the shoe is quite odd. It is all mesh material and then is overlaid with a rubber exoskeleton.
Upon first sight of the shoe, I assumed it was very rigid and heavy, but once I was able to put them on, my feet I was surprised by the maneuverability as well as the breathability it had.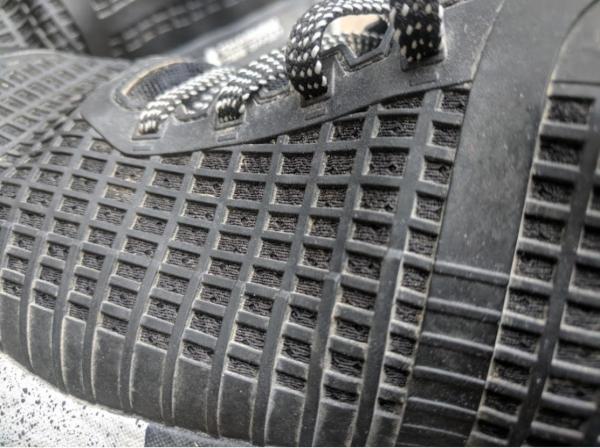 The mesh has great breathability and drainage. It is also quite comfortable. As you can see, the rubber overlay/exoskeleton rests over the whole shoe. The goal is to give you confidence and protection in rough terrain.
For what I needed to do, I didn't find this necessary and would have been fine with just the mesh and some lower rock plates. Would have given you a lighter shoe. But, the rubber didn't really bother me either. For those of you who are into some very hostile terrain, then this feature will be great for you.
Collar, tongue & lacing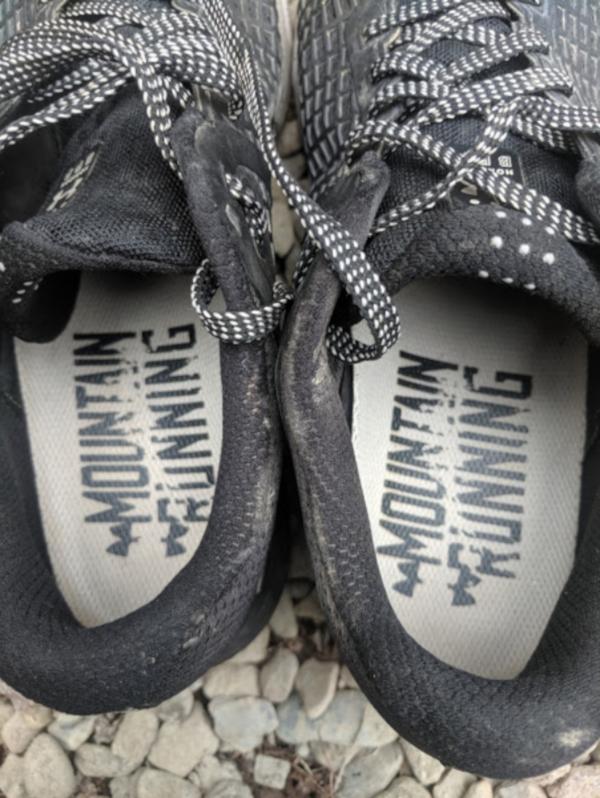 Right here, we got a very traditional collar area. Moderate cushion present with nothing special. I felt good security, and it gave me what I expected.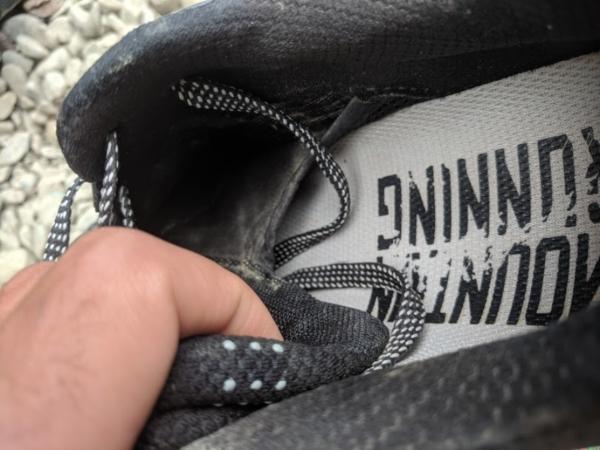 As you can see, the tongue is a connected one. The inside of this shoe is a bootie make up which brings about a secure and comfortable fit.
Most shoes are going this route now so nothing unexpectedly awesome here. Very good and functional, however.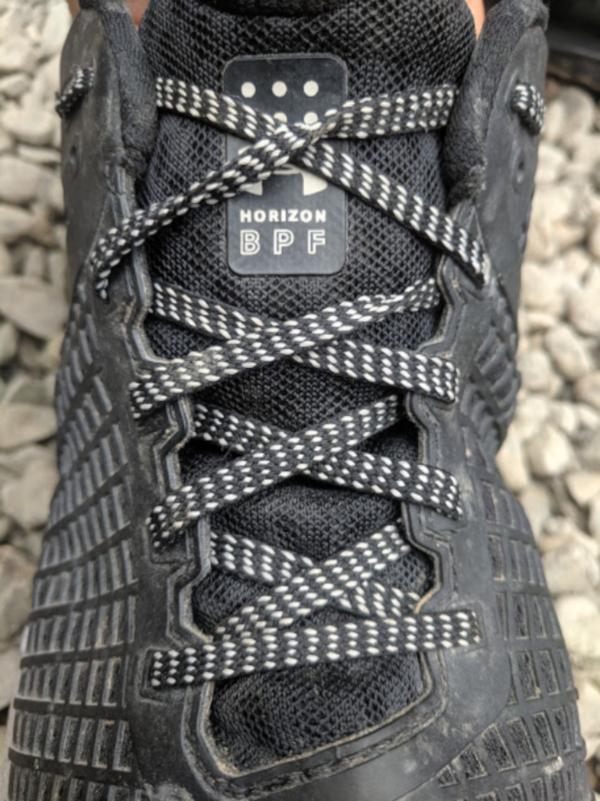 The lacing and tongue are, in my opinion, simple and rugged - just like the trail. I absolutely love this part of the shoe. The lockdown is very secure.
In fact, one of my races was mostly mud, which leads to 90% of the people losing at least one shoe. These stayed on! The lockdown with these allowed me to PR on the trail and gained a top 5 finish.
Heel & toe box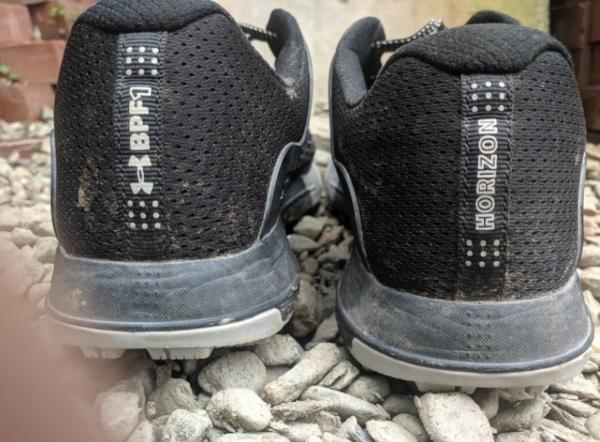 Great heel area that covers a lot of areas which leads to good protection. In addition to awesome help with connection to the shoe. ZERO slip of heel in these. Like most of the shoe, it is pretty solid and simple when it comes to the heel. Everything I would expect.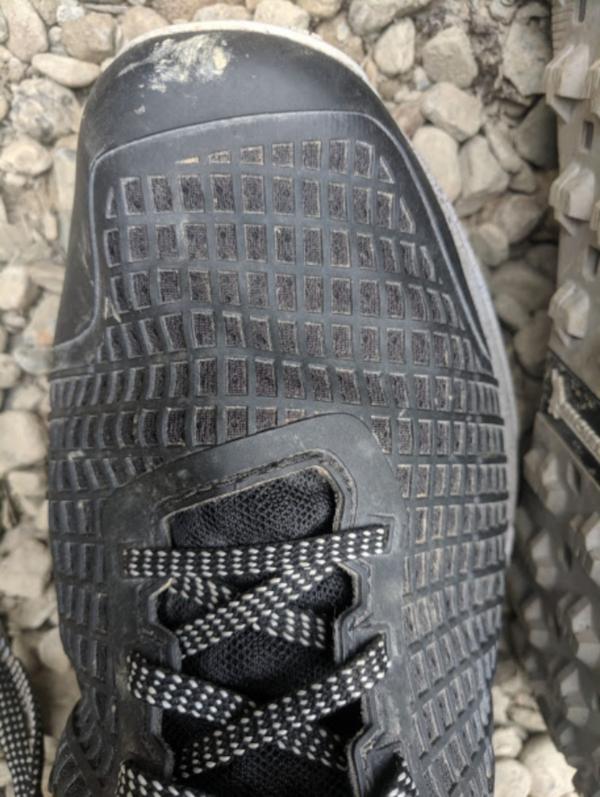 Looks narrow and pointy, I know. I was very surprised here that it isn't actually narrow.
I would say we got moderate spacing in this toe box area and felt very comfortable. The shoe does come to a point, though. Not sure why they did this. I would have preferred a more natural toe box.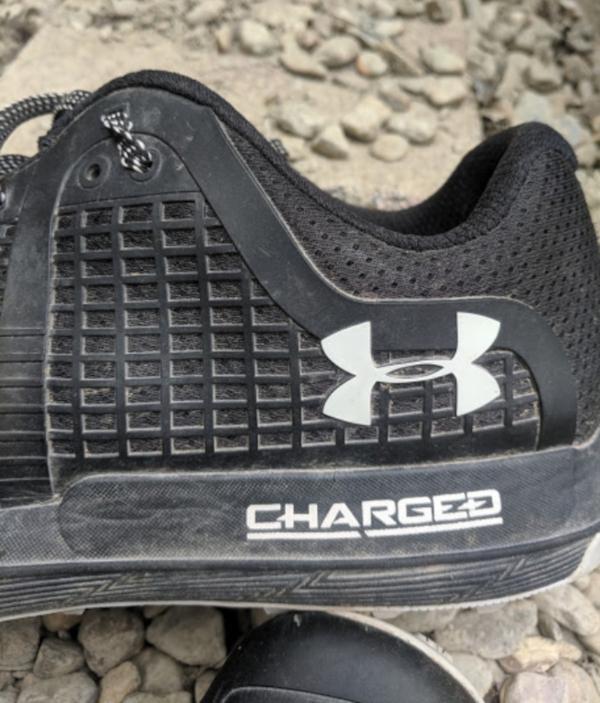 I want you to look closely here at the cut of this shoe. As you can see, the upper gets pretty high and then climbs back down to around your ankle and again climbs back up.
I came to love this feature. The shoes elevated upper lead to increase lockdown as well as protection. This design here really hit the mark and was overlooked by me for a long time. Great and unique shoe feature here.
The midsole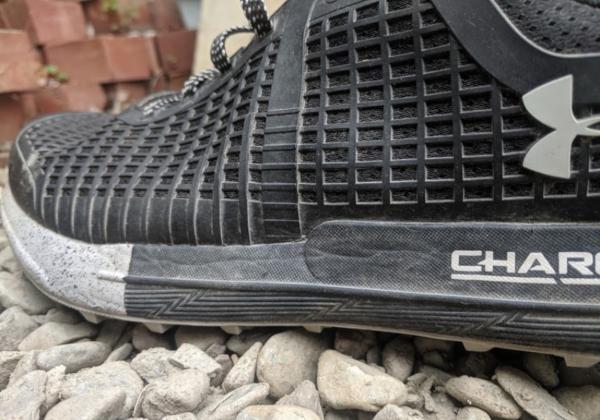 This shoe is made for some more aggressive terrain and is rugged in nature. Everything from the rugged rubber overlayed upper to the spike-like treads makes think of conquering mountains. So, it does not surprise the feel I get from the midsole is more of the same solid, rigid, tough feel.
As you can see, the midsole is made up of two different foams. The black is very firm and responsive. The grey is softer and more cushioned.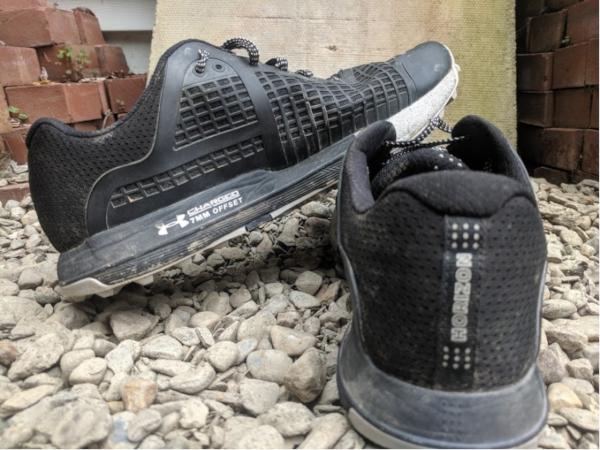 The black foam and grey combine to make a great combination and is put together completely in a 7mm drop.
The overall feel of these shoes is solid. No plush ride here folks. It gives you a great connection to the terrain, however, especially for a shoe that is not minimalist.
The feedback I got from this shoe allowed for better navigation on the trail. I personally love a firmer shoe, so this combination was a big win for me and was exactly what I wanted.
It is a nice addition of having the softer foam in the front. This balanced the shoe out nicely and kept the ride firm but comfortable. UA really won me over here.
As noted in the picture above, UA brought a 7mm drop, which is a sweet spot of not too high/not too low.
Too stiff?
I want to demonstrate the flexibility here. I am pushing down fairly hard on this shoe, and nothing is budging much.
This is a real stiff shoe which leads to more support and security, but also less freedom of natural movement. I personally embraced the solidness of this shoe and enjoyed them, but it may not be for everyone.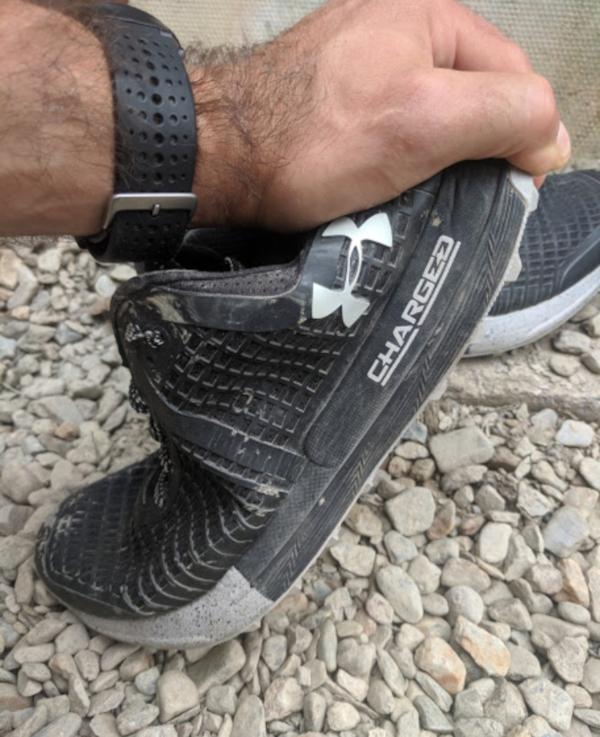 Outsole
The outsole is all firm and very durable rubber made by Michelin, which is a very large tire maker. This was a big selling point for me. I figured, if a company who makes tires is making the bottom of my shoe, it has to be durable and dependable. Well, it is!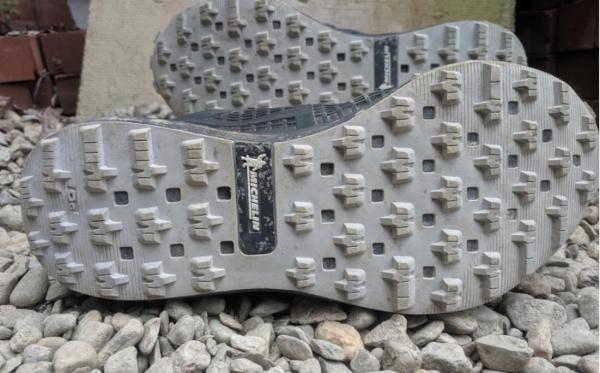 Dependability
So these things held up in many different terrains and were stars! I hiked some mountains, sprinted some grassy orchard hills, ran in sharp trails, and jumped in the mud in these Horizon BPFs. All was good. I continued to have great traction and felt very comfortable and confident in their ability to grip the ground.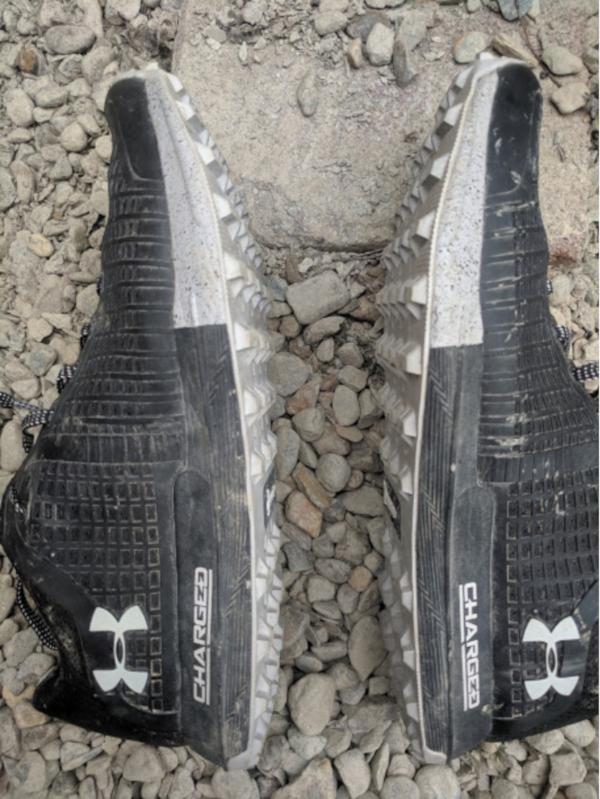 Durability
This view gives you a better picture of what to expect from the treads. They do stick out but are not pointy. Very even and consistent pattern leading to constant connection to the ground. These treads hold up very well, and after about 50miles, I can see no wear.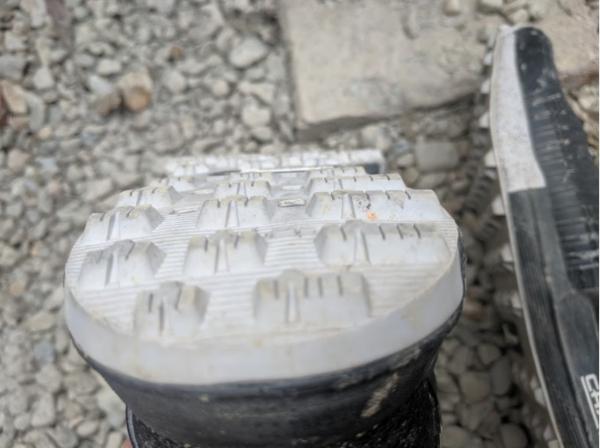 Performance
I journeyed many different places with these, and these are my experiences in each.
Climbed a mountain trail
Was great both on the ascent and descent with these. Navigated mostly rocks which took about 2 hours. I even had my 3-year-old son on my back during it! These shoes held up nicely and no slipping. As you can see from the view, we are pretty high up there.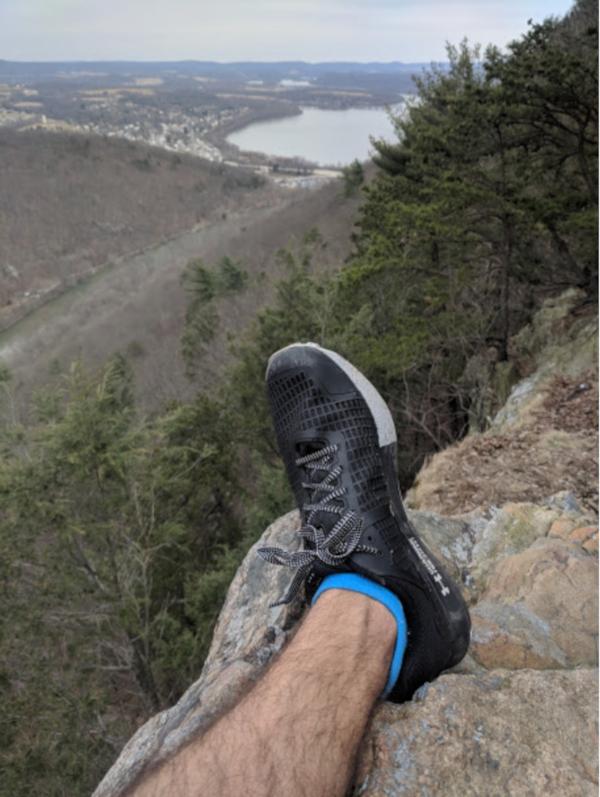 Ran muddy trail
This was my best test and experience in the shoe. As I referenced before, these shoes stayed on. Other people's shoes did not. Enough said here.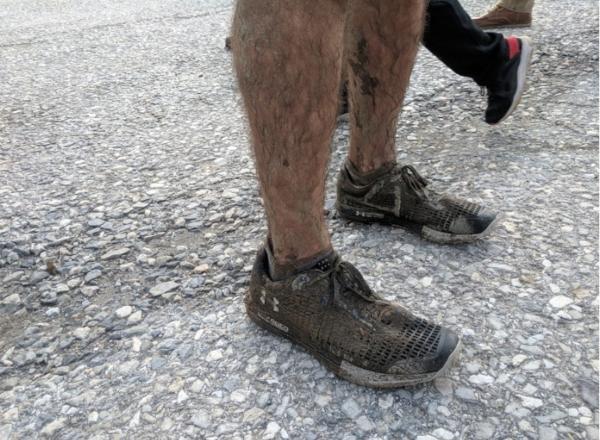 Ran in a fruit orchard
This was a mix of traditional trails, grassy hills, and pavement. I was worried in the wet grassy hills but never slipped and was able to transition nicely onto the pavement. Felt overall comfortable on all terrain and was a great shoe here.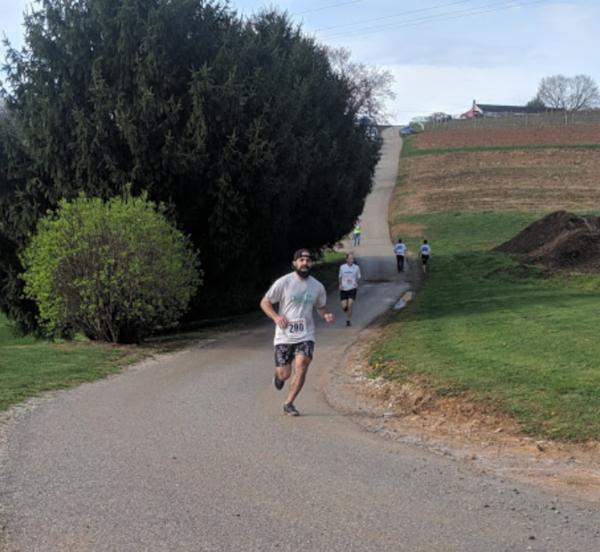 Overall
This shoe was my first trail shoe and have been extremely pleased. It allowed for connection and security on diverse terrain and brought forth the performance I needed to place in the top of all my trail runs I competed this past year.
I look forward to continuing my journey with these shoes, and I hope you will try them for yourselves!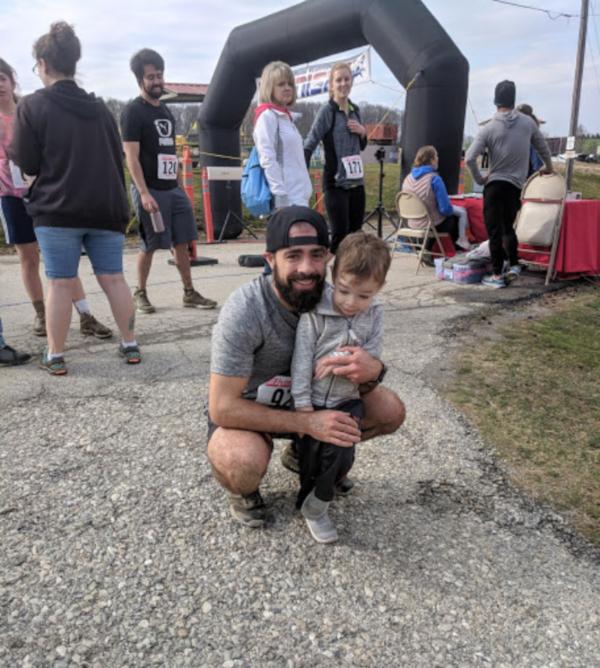 Good to know
The Under Armour Horizon BPF is specifically-designed to be a trail running shoe. It was crafted for runners who have neutral foot motion. It features the Mesh upper that offers better inflow and outflow of air throughout the runs.
The charged foam is utilized in the footwear. It aims to puck the forefoot and heel section to provide a more responsive and comfortable ride.
Optimal cushioning is offered by the EVA midsole. This lightweight material aims to provide a comfortable ride throughout the running session.
Integrated into the footwear is the Michelin Oc Outsole Compound. The primary purpose of this material is to deliver exceptional traction in a wide variety of surfaces.
The Under Armour Horizon BPF's length utilizes the standard shoe measurements. It is sure to provide a snugger and a more comfortable fit because of its upper materials. The available width profiles are B – Medium for the women's version and D – Medium for the men's version.
The Under Armour Horizon BPF utilizes the Michelin OC Outsole Compound. The purpose of this material is to provide excellent grip on a wide range of surfaces. Runners will be able to finish their activities confidently without worrying about possible slippage.
Integrated into the footwear is the Michelin Wild Dig Decent'R outsole lug pattern. It is strategically-designed to shed debris and mud in all types of weather conditions.
The Under Armour Horizon BPF uses the charged foam in the area. Its sole responsibility is to puck the forefoot and heel section to provide additional support and comfort to the foot.
Maximum cushioning is encouraged by the full-length, lightweight EVA midsole. As a result, a hassle-free ride is experienced by the user.
A lightly cushioned textile footbed is used in the making of the footwear. This material is meant to provide excellent breathability and comfort during the running sessions.
The one piece, anatomically molded upper is utilized in the crafting of the footwear. Along with the cast PU support, they work together to provide a maximum amount of protection. This material also offers added durability to the platform.
Additional comfort is encouraged by the quick-drying and lightweight mesh upper. This material is meant to keep the foot cool and dry at all times. This is then essential in creating a healthy foot environment.
The molded foam collar is integrated into the Under Armour Horizon BPF. It prevents any constriction during the running session. As a result, a more comfortable and efficient ride is experienced by the user.
To encourage the proper flow of fresh air, the highly breathable mesh tongue is utilized in the footwear. It aids in the promotion of a cooler, fresher and drier foot chamber.
The Traditional lace-up design is integrated into the Under Armour Horizon BPF. The purpose of which is to deliver a more secure fit.