Our reviews
Over the past couple of years, more of the miles I log each week is done in minimalist shoes. So, I was excited to try out the new Speed Force from Xero.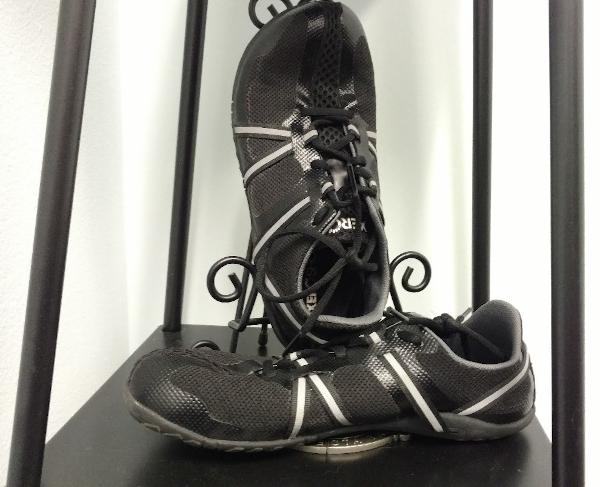 It is the lightest shoe that Xero makes at just 5.8 ounces. There really is not much to the shoe, and there doesn't need to be.
Straight barefoot
I would classify the Speed Force as a "Barefoot Runner" not a "Minimalist Runner" not a "natural shoe" but straight barefoot. It's nothing more than an airy upper connected to a full rubber outsole and the teensiest tiniest bit of spongy foam.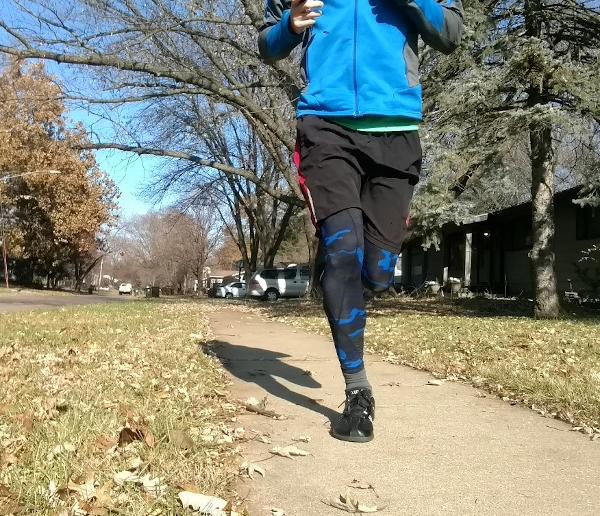 Is it a racing shoe?
The Speed Force is being billed as a racing shoe, and while it is super light, I would not call it a racing shoe. I wouldn't call any barefoot shoe a racing shoe though.
When I think of a racing shoe, I think of something that has some pop to it, some propulsion. In other words, something that is not as malleable as a contortionist in Cirque du solei, like the Speed Force is.
If weight was the only factor for a racing shoe, a Huarache style sandal would be the top choice (and for some people they famously are).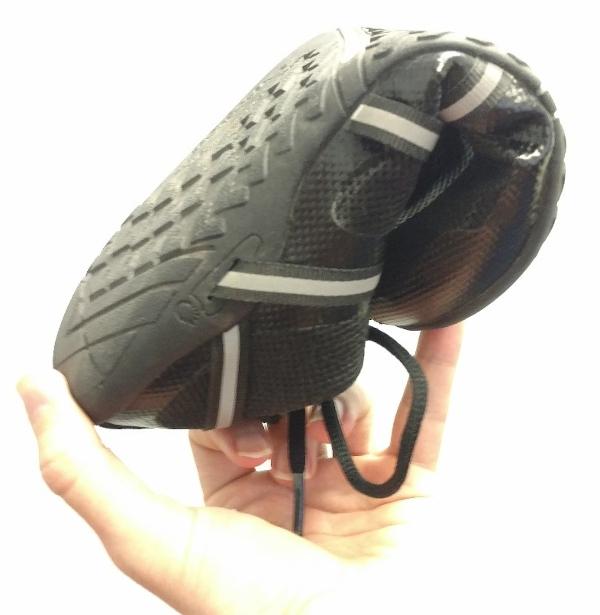 That being said, I love how supple the Speed Force is. You can roll up the shoe with little to no effort by just pushing it with your pinky finger.
I have never felt any torsion on my foot from the Speed Force as it moves seamlessly with every bend of my foot and ankle.
I have had multiple injuries, which were, at least in part, due to shoes not moving with my feet. So, the synchronous movement of the Speed Force with my foot was a welcome feature.
In addition to the flexible sole and upper, the heel cup is just as yielding.
Sandal shoe hybrid
The shoe is basically just a sandal with an upper attached. The reason I say that, beyond the thinness and lightness, is the way the shoe holds itself to your foot, specifically the heel.
Three nylon straps attach the laces of the shoe directly to the outsole—that's right the OUTsole.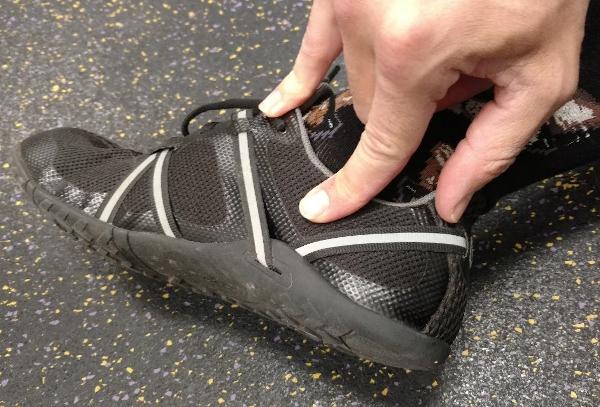 The most important of these nylon straps run from the top laces, down through the outsole. These would then go around the heel, through the outsole on the other side and up to the top laces on the other side.
This placement allows you to use the laces to tighten the strap around your heel and really lock your foot into the shoe without any hard plastic heel cups that restrict your foot movement.
Airy comfort
The upper of this shoe is made of a soft, airy mesh fabric that keeps the shoe light while making it comfortable to wear without socks if you so choose. The same aspect which makes the upper soft also makes it absorb and hold water very readily.
If you step in a puddle, your foot is going to get pretty wet, and stay wet for the rest of your run. I think it's a worthwhile trade-off as most barefoot runners eschew socks as much as they do big chunky midsoles.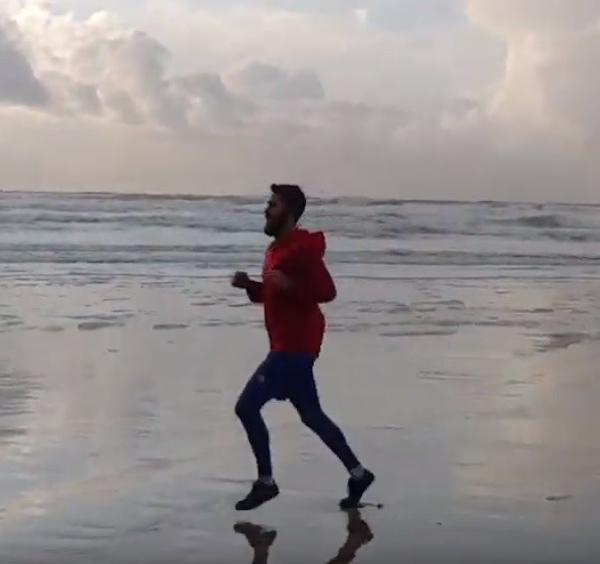 Speaking of midsoles: this shoe really doesn't have one. Well, it does, but you can't really tell that it does. If you remove the 2mm insole, something is separating you from the rubber outsole.
In keeping with the theme of lightweight, Xero has removed a bunch of little squares of the foam from the already thin insole to make it even more weightless.
I prefer to keep the insole in as I've found it does provide a bit more comfort while not diminishing the impressive ground feel these shoes offer.
The outsole is probably my favorite aspect of this shoe. It has a grip for days, seriously. The traction from the "FeelTrue" rubber sole is better than the traction I've gotten from any other shoe I've run in.
I'd say it's stickier than the Vibram outsole on the Merrell trail glove or vapor glove. If you are walking around in the Speed Force, you might make some squeaking sounds on smooth surfaces due to how tacky the rubber is.
The sole has a 5,000-mile warranty on it, which I guess is awesome. But, I doubt the rest of the shoe will last long enough to cash in on that if you can get 5K out them.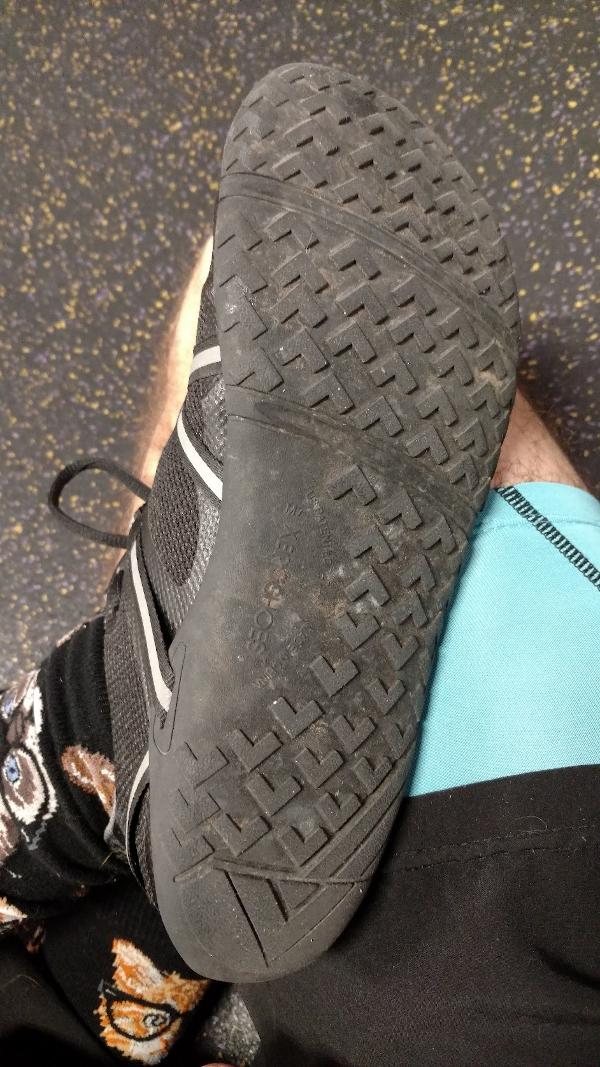 The chevron tread pattern on the outsole gives you the ability to take them on trail runs. I tried these on the trails here in Iowa, and I did not enjoy the amount of ground feel they give.
The trails I run tend to have a lot of roots and a bit of mud. The Speed Force doesn't give any protection from roots or random stones, acorns, sticks etc.
They also do not have enough tread for mud. I will be sticking to my Trail Glove's for my "barefoot" trail runs. That being said, I think they could work if it is just a rails-to-trails or mild hard pack trail without any rocks and roots.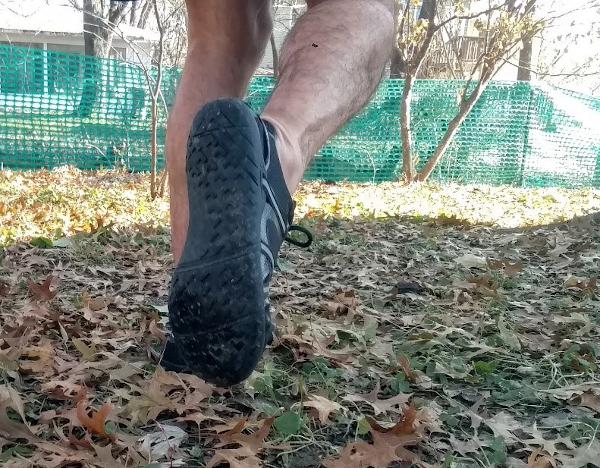 Ugly ugly ugly
If you have ever looked at the shoes Xero offers, you know that they lack in the aesthetics department. You can tell that Xero tried to put some design elements into this shoe to make it look a little jazzed up compared to their usual function over form pattern.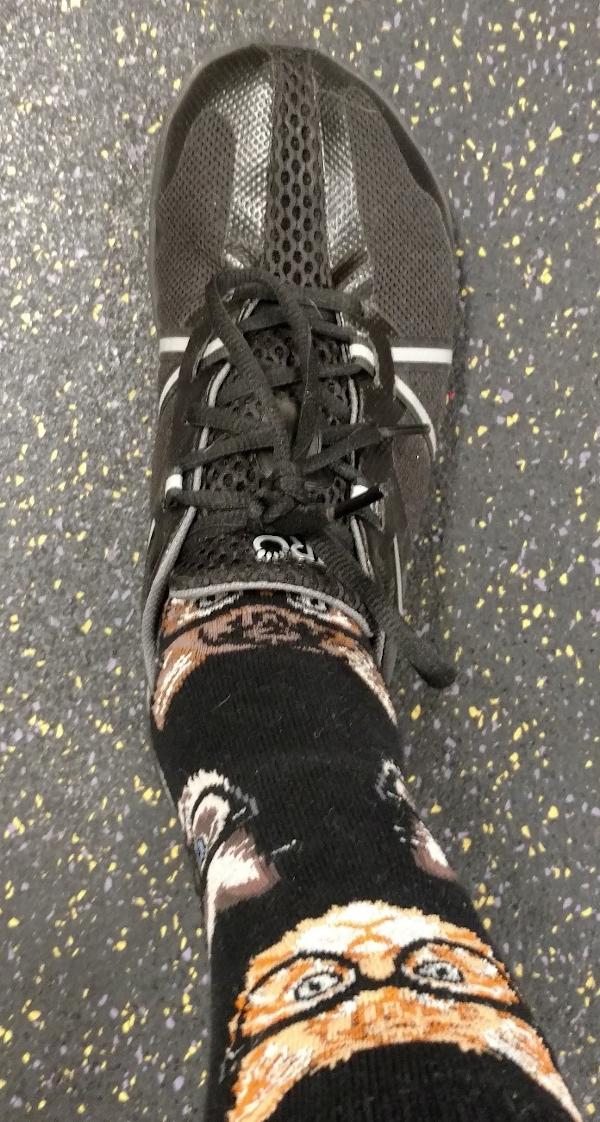 While I do think that the Speed Force is the nicest looking shoe Xero offers, I still think it is rather ugly. It reminds me of a bowling shoe/clown shoe mixed with an orthopedic shoe.
Sizing and price
The Speed Force runs about a half size smaller than my normal running shoe size, so I suggest going up a half size. I found the toe box to be very standard sized, not tight like a typical racing shoe.
Not as wide as an Altra but still with plenty of space for your toes to splay. I had no issue with rubbing on the outside of the pinky toe, which can happen with some racing shoes I've had in the past.
The Speed Force is currently retailing for $100, which seems high for the minimal materials that the shoe is made of.
But, when compared to other offerings like the Merrell Vapor or Trail Glove or the exorbitantly priced shoes from VivoBarefoot, it is actually a really good price.
You can get some $35 cheap barefoot running slippers on Amazon (which I have), but I think the Speed Force is far better quality.
Score
The Speed Force is super comfy, lightweight, excellent traction, ultra-flexible (which is great for barefoot but not so much for racing) but also super ugly and decently priced when compared to other current model minimalist options.
If you want something light with great on-road grip and don't mind looking a bit funky, I say give the Speed Force a try.
A superb racing flat with all the qualities to make you feel fast. Fantastic soles, airy uppers and innovative support really lend to a "bare-ly there" feel. Great for racing, track workouts or any time you want feedback and consistency in use.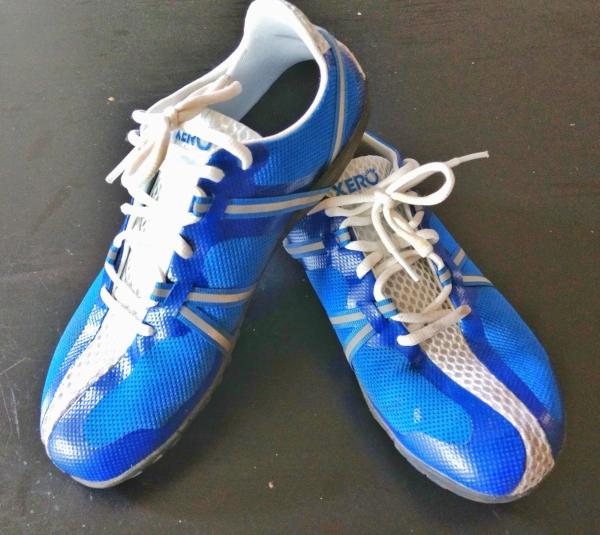 Notable for
Ultralight, breathable upper
Durable and flexible soles
Unique strap system for heel and midfoot
Responsiveness during speed/track workouts
Key Specs
Weight - 5.8 oz for men's size 9
Stack - 4.5mm sole + 2mm insole = 6.5mm underfoot
Drop - 0mm
Terrain - Perfect for track, suitable for roads and trails
Outsole
The Speed Force shoes come equipped with Xero Shoes' proprietary rubber called FeelTrue. Not an engineer, I can only tell you that Xero evolved from making their original sandals with Vibram Cherry rubber.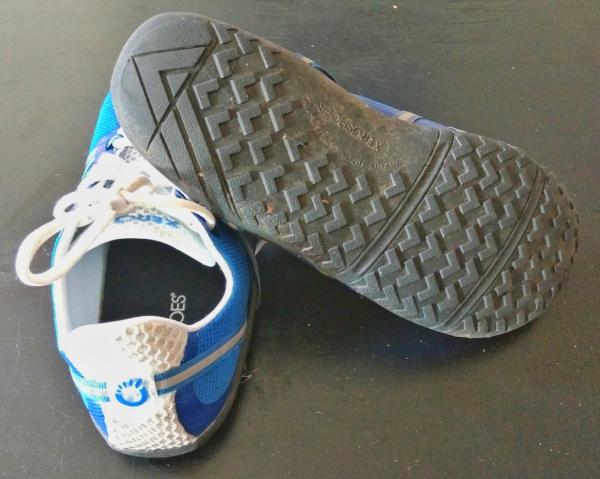 The FeelTrue compound offers slip resistance, comfort and a dual-chevron pattern in a simple, self-cleaning design that serves well for the track, road and light trails recommended for use.
Midsole
The Speed Force sports a removable 2mm insole that adds 0.4oz to the shoe and provides a lot of comfort compared to the sewn in midsole of other minimalist designs. Removing said insole definitely gives you increased proprioception which helps when running repeats on a track surface.
When racing off the track I would recommend adding the insole for increased protection from uneven terrain or debris you might encounter, as minimalist soles can be very unforgiving if you hit a hole, rock or random pointy object. I ended up leaving it in all the time since it was so light and comfortable.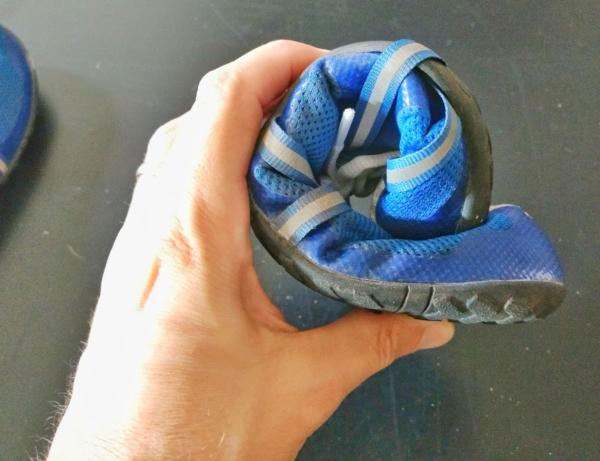 Upper
Xero offers an excellent racing upper on their new model while retaining some of the key features that make Xero shoes great. The mesh upper is comfortable, breathable and has TPU overlays around key stress points to increase the durability of the upper.
The iconic adjustable heel and instep strap system adds flexibility and support and helps your foot to stay stable on the sole during intense activity. As a bonus, they are also reflective for low light running.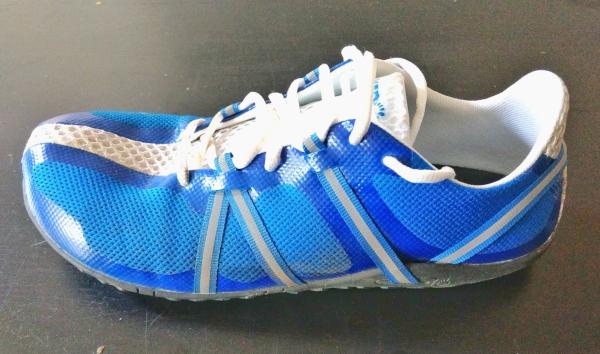 The moisture-wicking liner runs the length of the shoe and keeps your feet feeling fresh mile after mile. Keep kicking rocks to minimum, though, as the mesh and TPU combination is unforgiving.
A perfect shoe for a light on your feet stride, though doing tempo/interval work off a track surface can be challenging.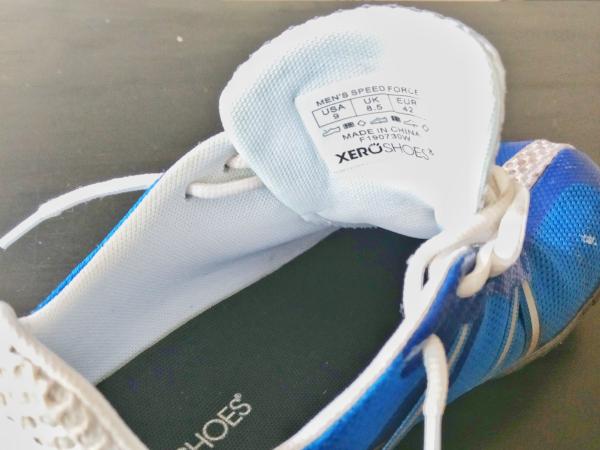 Fit
I'm a regular minimalist shoe runner and these fit great out of the box. The mesh upper is both snug and forgiving at the same time, with enough room for splaying your toes.
No initial hotspots or discomfort were noticeable and the shoes ran very well without any special break-in adjustments.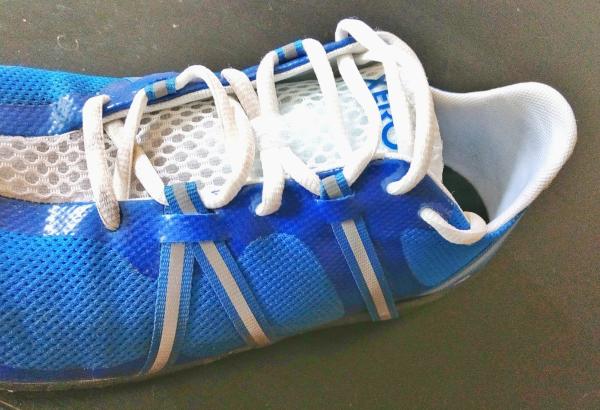 Immediately noticeable was the effect of the huarache inspires heel strap which gave a secure wrap around the heel better than heel counters or TPU overlays.
Most minimalist shoes are hit and miss in this aspect and I am happy to report your heel will be pleased with this solution. Tension in both the heel and midfoot straps can be adjusted by tightening the lacing in the right spots.
Gait
These are as barefoot and minimalist as you can get so, as you might suspect, you're body is doing most of the work. If this is not something you're already used to, read up and be prepared to make a transition to running in these shoes. The rest of this section is devoted to those already running in this style of footwear.
Most of the dynamics that set apart Xero Shoes from other barefoot-style shoes is the Huarache inspired straps I've mentioned above.
Taking these out you're left with a pretty basic sole and mesh upper and understanding how the straps influence the ride allows you to tweak this shoe to your liking. A midfoot strap and a heel strap can be adjusted by lace tension you placed on each of the points where the strap meets the lace.
Without getting too far in the weeds, you can adjust the support of the arches in your feet depending on your speed and personal preference.
The whole idea of the barefoot-style shoes is to get away from fun midsole concoctions from overzealous podiatrists and marketers so if you're developing pain in your foot, you're best bet is to assess elements of your running style and adjust accordingly. The heel strap in this shoe gives a locked down feeling that improves proprioception and reduces the force of impact I felt on the heel.
Durability
My initial reaction to this design made me wary to throw these shoes into extreme conditions outside of track workout or light running due to its lightweight nature. Nonetheless, they've held up superbly on off-road, trail runs and light hiking.
The Xero Prio is decidedly more durable but increases the weight from 30% from 5.8oz to 7.6oz - still pretty light considering other shoes on the market - but offers more protection and support if that's a key feature for you.
The soles still have Xero's 5000-mile warranty on them, so unless you run or hike on gnarly stuff they should hold up well in the uppers.
Uses
Track: While it's no surprise that Xero can make a fantastic racing flat with a Masters Sprinter as CEO, I'm still impressed at the superb performance of this shoe on a track surface. It's responsive, comfortable and breathable while possessing enough of the stiffness that you want for speed. Home run here.
Road: Off the rubber, it's still a very smooth ride that gives you an incredible feel for the ground under your feet. Incredibly lightweight for a little road racing. Probably up to a 10k or half marathon in my estimation.
Trails: Enough cushion and traction for some light trail running and hiking. The shoe is not waterproof but the upper dries very fast. Need to be careful around big rocks and roots at high speeds.
Gym: Full range of motion on all your exercises with nice flat soles. Holds up very well on the treadmill and indoor track. TPU is the only protection on the upper so watch out if you drop weights
Comparisons
Merrell Vapor Glove 4: Much more comfortable and snug fit with the Speed Force comes at the expense of durability when compared to the Cordura Mesh of the Vapor Glove. Both are great shoes and it ultimately depends on whether you like to go fast or prefer durability. If I only had one minimalist racer, it would be the Speed Forces, though.
Vibram V-Alpha: While it's not a racer, the V-Alpha is probably the most similar type in the Vibram lineup to this shoe. If you don't mind the toes, toe socks or going sockless the V-Alpha has slightly better proprioception and the Megagrip sole offers more traction. However, I think the Speed Forces will offer a better durability over the long term.
Pros
Wonderfully lightweight and responsive
Comfortable, breathable mesh upper
Great ground feel for 6.5mm thick with insole
Heel and instep strap system offers unique support and fit
Removable insole great for customizing based on workout
Cons
Could use thicker tpu or rubber to protect toe, instep and outside corner of foot
Love white shoes, hate white shoes
Upper does not seem resistant to abrasions or tear
Funky design might not fit your fashion tastes
Laces feel a bit stiff, could be a little stretchier
Final thoughts
If you're a minimalist runner and have never tried Xero Shoes, this is certainly one to try. A great shoe to have it your rotation for track and speed workouts.
Depending on your preferred surfaces and intensity, this is a fine option for an all-around racing shoe flat. This shoe handled everything I threw at it with ease, though I never went for a full-on long run.
In my experience, minimalist shoes last longer than cushioned trainers and shoe rotation becomes finding what shoes complement the existing choices you have. The Speed Force has an attractive price point and should last for years with proper use.
Go grab a pair and I am sure you won't be disappointed. Happy running!
Notable elements of the Xero Shoes Speed Force
- The Xero Shoes Speed Force is a minimalist running shoe that is designed to be as comfortable as a sock, allowing the user to run faster. The shoe is 100% vegan-friendly and made up only of Nylon, polyester, and rubber.
- The shoe features the FeelTrue sole technology. This type of outsole is specifically designed for barefoot running. It served as the foot's protection for various surfaces and allows the shoe to bend and flex naturally.
- The Xero Shoes Speed Force has a silky and stretchy upper that gives the user a real barefoot feeling. This component is also lightweight and breathable.
Size and fit
The Xero Shoes Speed Force is available in standard sizing measurement for both men and women. With the way the stretchable upper is constructed, a snugger fit is sure to be experienced by the user. Runners are welcome to get a pair with their actual sizing expectations. However, it is advisable to try the shoe first or study user comments to ensure the right fit. The shoe is available in different sizes and colors.
Outsole
In the outsole of the shoe is a durable rubber material called FeelTrue®. This type of outsole is created for barefoot running. It is a high-abrasion material that is strong enough to protect the foot from sharp rocks and hard surfaces. This flexible outsole also allows the foot to bend, flex and move naturally.
The tread pattern in the FeelTrue® rubber outsole also improves the shoe's gripping performance.
Midsole
The Xero Shoes Speed Force uses the XERO-drop sole that helps reduce foot and knee pain. With zero drop platform, the forefoot and heel sections have the same distance from the ground. This material provides better ground contact and helps the runner maintain good balance and agility. Other running shoes that have zero drop midsoles are the Altra Escalante 1.5 and Altra Torin 3.0.
The Xero Shoes Speed Force's midsole offers just-right protection, support, and comfort to the foot. The shoe's wide toe box and non-elevated heel are created to help the user maintain proper posture while walking or running.
The shoe has a removal insole, allowing the user to adjust the amount of cushioning and barefoot feel.
Upper
The upper of Xero Shoes Speed Force is made up of a silky smooth lining that delivers a real barefoot feeling. It is lightweight and breathable, keeping the foot dry and comfortable all day long.
Compare popularity
Interactive
Compare the popularity of another shoe to Xero Shoes Speed Force:
Xero Shoes Speed Force video reviews