Our reviews
An appreciable blend of comfort and functionality delivered in a featherweight package. Love the Trail Glove but want something a little more responsive?
Continue for more insight into a new offer from Xero in Denver!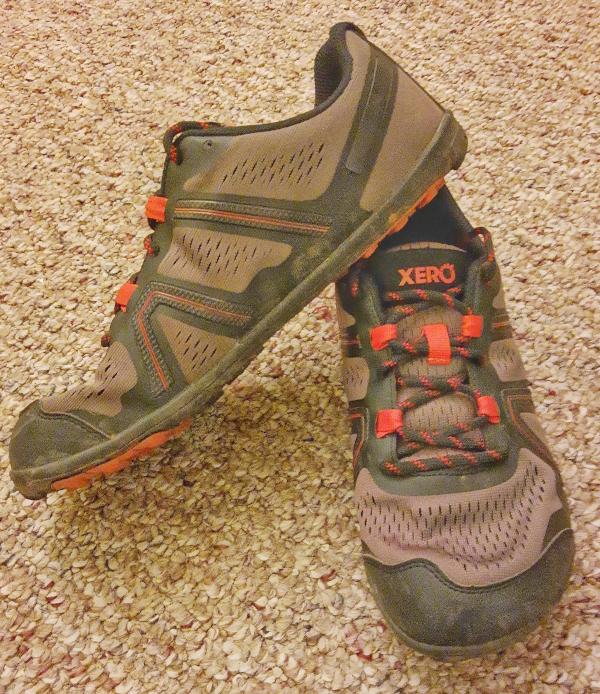 With all the marketing and technology going around the shoe industry, the value of a sturdy and dependable trail shoe can be hard to define. And, then came the Trail Mesa from Xero Shoes.
While it's minimalist tendencies may not suit every runner, the design and execution of this shoe offers hard-wearing traction, sleek cushioning and a dependable upper,
Outsole
The best part of Xero Shoes is the FeelTrue rubber outsoles and the traction they provide. Their proprietary compound and design offer a no-frills and consistent ride.
While the rubber may not be as grippy as Megagrip or downright hard wearing as the TC5+ offered by Vibram, it is an excellent balance between traction and durability.
Simple, elegant and long-lasting design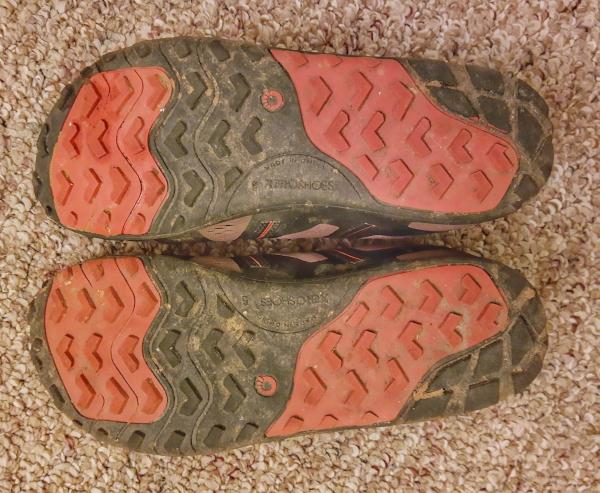 The lugged, dual chevron tread has great spacing and sheds mud easily for the 3.5mm lug height, though it's not going to handle a muddy uphill as swift as an Altra, Topo or Inov-8.
The 5mm outsole offers commendable protection against roots and sharp rocks for a minimalist shoe. While some of the finer feel underfoot is missing, the slight stiffness offers responsiveness beyond other shoes of its class.
Midsole
Xero has "hidden" 3mm TrailFoam™ in a cutout on the top of the outsole, and it does a fantastic job of smoothing out noise from the trail without affecting proprioception.
The additional force absorption comes at the cost of ultimate flexibility of the sole. The reduced stack height from the design results in an unrivalled barefoot feel with a respectable amount of protection.
Removable insole is lightweight and adds comfort but slightly reduces flexibility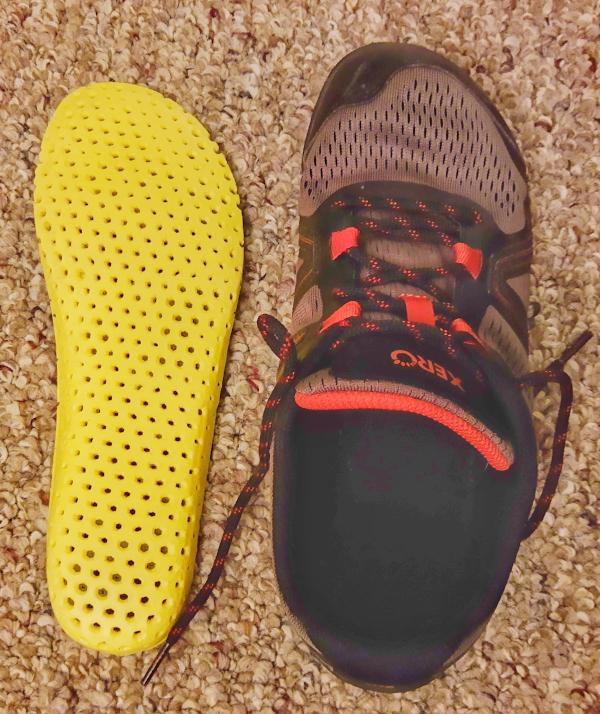 Upper
The Mesa Trail sports a breathable, mesh upper with a wide toe box. The moisture-wicking and cooling lining is made with 37.5 technology, utilized by a number of different outdoor brands.
Active particles from volcanic sand are scientifically whipped up into a lining that does an exceptional job at managing moisture and excess heat. Although it's not a waterproof shoe, it sheds water quickly and dries out very fast.
Great design, though the protection comes at a cost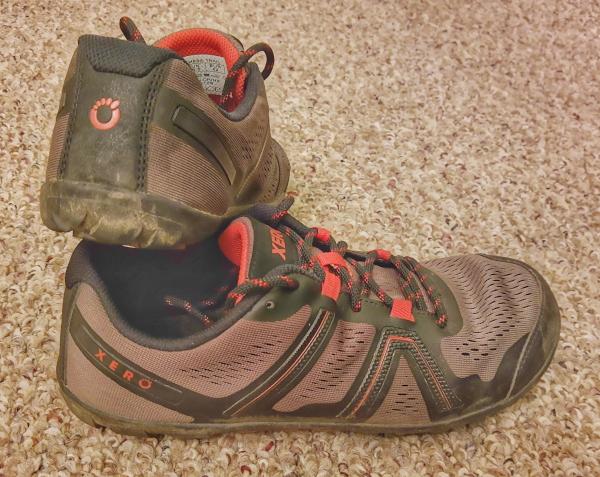 Outside, there are welded protective coverings of the adjustable midfoot and heel straps that are Xero's hallmarks. The added durability was apparent in hard use conditions, preventing the straps from getting snagged on low lying thorns or branches.
However, the covering does limit the travel of the straps, hindering the flexibility offered by design, and lacks a reflective element for low light conditions.
Fit
One of the great things about Xero Shoes is they offer virtually no break-in period for those adapted to minimally cushioned, zero-drop shoes.
The strap design offers a snug yet supportive fit that can be fine-tuned for each run by tightening or loosening the tension in the laces. The forefoot and midfoot have plenty of room to flex without excess space.
With insole, still very flexible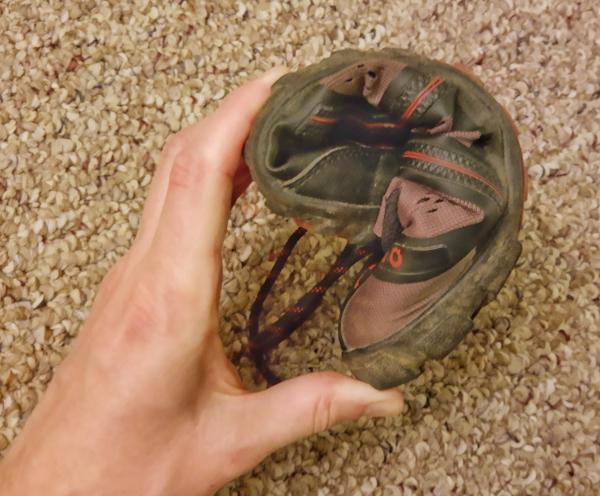 Without insole, ultimate flex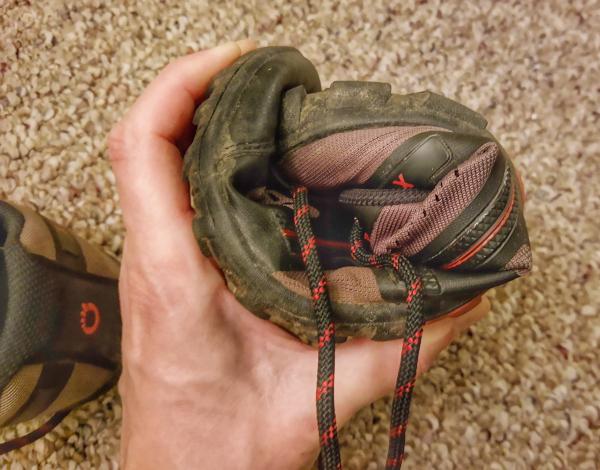 Gait
A streamlined design begs to let your gait flow as nature intended.
Like the rest of the Xero Shoes lineup, it does a bewitching job of being simultaneously barefoot during mid-stance but offering enough of a responsive spring from the rubber to keep the zip in your step during push-off and landing.
The lugs on this shoe are unobtrusive and provide a great balance of grip and ground feel, unlike the more cushioned trail shoes.
The shoe cuts well for quick movement on the trails, with your ankles expected to provide most of the support needed. You will need the ankle strength to stretch this workload out over a longer run.
Increasing mileage slowly and listening to your body are paramount when pushing distance in this shoe, especially if you're new to the zero drop minimalist category.
Uses
After over 50 miles on road, grass, sandy forest and rocky trail, I've yet to find a surface where this shoe doesn't work.
It's perfect for trails, taking off where the Speed Force is limited, and its extra lug height, thicker outsole and additional upper reinforcements are very welcome for off-road running.
The trade-off is a muted response for speed work or road running so stick with Speed Force if you're only hitting light trails (and only want to buy one!).
Comparisons
If you need a more substantial shoe option, there are the TerraFlex from Xero and the Trek Ascent from Vibram.
Planning on a rocky ultra race? Check out the Inov-8 TerraUltra G 260 for some leverage against truly punishing terrain.
However, day to day, the Mesa Trail is hard to beat with an endearing design.
Highs
Sturdy laces
Thicker, more durable sole
Midfoot and heel straps customization
Lightweight, protective toe cap
Breathable upper with plenty of reinforcement
Lows
Feels a little too roomy at times
Thicker lugs make more noise road running
Strap protection design could be catchier
Missing reflective element for low light
Patch for laces on the tongue has a stodgy feel
Final thoughts
If you are new to Xero Shoes and think this is the shoe for you, buy it, and you won't be disappointed. Watch some videos over at Xero's website for more detail on their movement philosophy, and take it easy if you've never run in a minimalist shoe before.
It's very unforgiving for heel striking so be careful even when you're walking or hiking about in this shoe.
Half a point deduction for missing the reflective elements and another half for a slightly muted feel when doing speed work.
Other than that, it's a perfect shoe for a great price point, especially considering how well these shoes should last.
I've read and heard great things about minimalist shoes and their supposed benefits, but have never gotten a chance to try a pair on. As soon as I received this pair of shoes, I was eager to go test it out.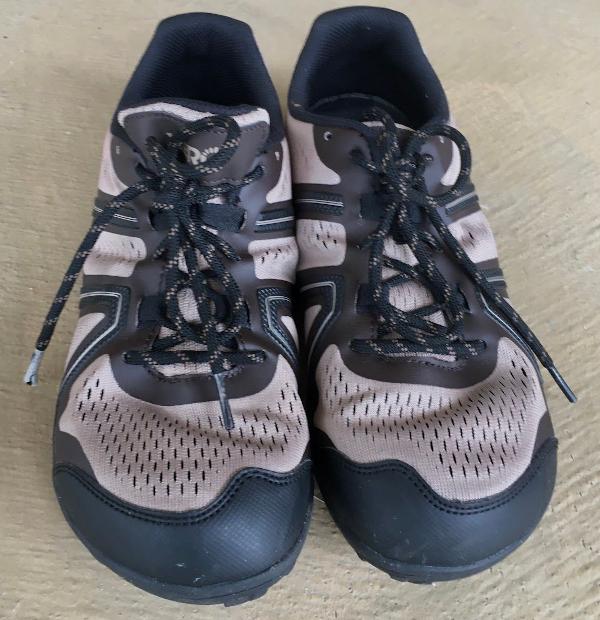 Here are my unbiased opinions on Xero's new trail shoes, the Mesa Trail after 50 miles.
Look and fit
When I first looked at these shoes, they didn't look like running shoes at all. They looked like hiking shoes or covered sandals. As soon as I started wearing them, I got many remarks from friends about how ugly they look.
The shoes fit perfectly on my feet and were easy to slip on and off because of the low heel cup. The toebox left plenty of room for my toes. I found the lacing system to be a little weird—the laces, made of some sort of thick string, got untied easily.
However, I soon found an excellent way to tie them that did the job. They fit well, work well, but some updates on the design and appearance would make it just that much better.
Minimalism
This pair of shoes gave me a great first impression on minimalist shoes, and I loved running with them! The Mesa Trail is a zero drop, zero stack height running, lacking any form of a midsole or foam.
On my first few runs, running in these felt unnatural. In fact, after my first 5-mile tempo run in these, my forefeet were rubbed so rawly that I couldn't walk on my bare feet for the rest of the day.
Things did get better, though. I started noticing my form drastically improving, my cadence increasing, and callouses forming on my forefeet. Running in these shoes proved to be a super fun experience.
Grip/outsole
The minimal outsole worked quite well. After 50 miles of hard trail running, the outsole survived perfectly, with no sign of dents or even scratches.
I was able to run on a variety of surfaces without slipping: dirt trails, streets, hilly roads and even mud. My only complaint would be my experiences running on gravelly, rocky surfaces.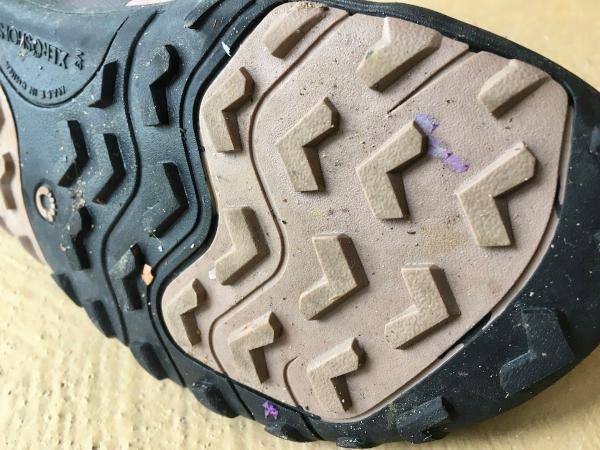 If I'm not careful, there will often be a rock that jabs straight into either my forefoot or heel, causing a sharp but not lasting pain. I'm predicting that these shoes can last, at the very least, 500 miles because of the hardy rubber outsole.
Pricing
The pair is listed on Xeroshoes.com at $120, but I'm not sure it's worth that. I really loved the pair, but there's just not much material on there, and the production cost can't be that much.
Frankly, they just look cheap and will probably look cheap to most other people as well.
Lightweight
Because of the lack of a foam midsole, on faster runs, I felt like I was exerting more energy than I was used to, to maintain a certain pace. But the lightness of the shoes certainly came at an advantage in longer, slower runs.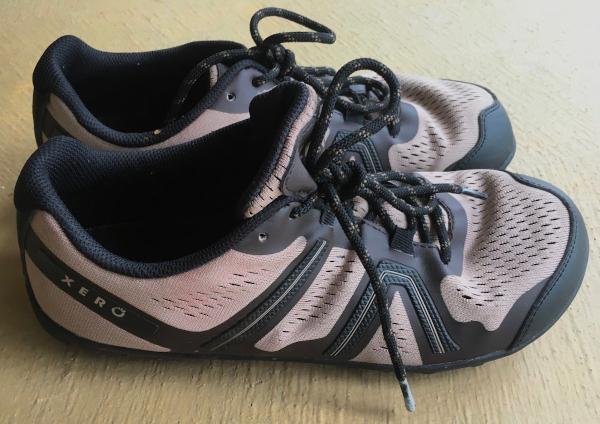 Summary
My first try running in minimalist shoes was definitely an enjoyable experience. After the initial transition, these were always my go-to shoes for longer, trail runs.
They activated my feet muscles so that I truly felt like my feet were in control, for the first time in a while. It had an excellent fit, excellent grip, and are a hardy pair.
The only two things that I feel need to be adjusted are the lace material and the shoe design. The Xero Mesa Trails will definitely not be the last pair of minimal shoes I will try.
The Xero Shoes Mesa Trail is an uncompromising, tough barefoot minimalist shoe with tough materials but maybe a little too unrefined. WARNING THEY WILL EAT YOUR SOCKS!!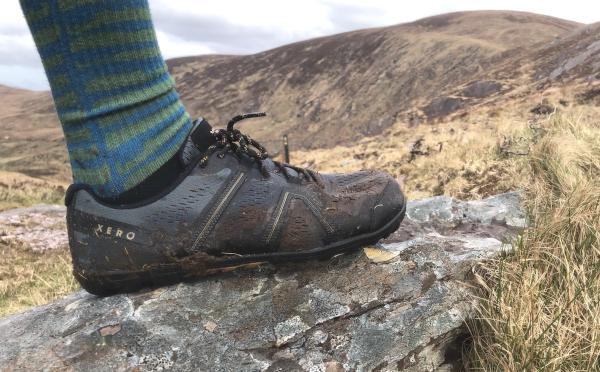 Read the full review for the gory details!
Best for
Pure barefoot fans looking for no more than a foot covering with a tread
Struggles on
Deep muddy terrain, very technical terrain and longer distance efforts…certainly not an ultra-distance shoe for most runners, even those that favour a minimalist barefoot shoe. No comfort expected and certainly not delivered.
Comfort
The Xero Shoes Mesa Trail is not a shoe I would consider in terms of comfort like another shoe. It has minimum cushioning, and that is what it is supposed to do.
However, the stitching, joints, and footbed are all well-constructed and finished, which minimises any snagging or friction issues.
BUT, I found a big issue with the toe box! The toe box is nice and roomy for me as I have a relatively slender foot, which resulted in my foot moving about while in motion.
Try as I might with different tensions and lacing methods, I just could not find any combination that would hold my foot in place. Even when I over-tightened my laces and left visible marks on my feet, I could not lock my foot in one place.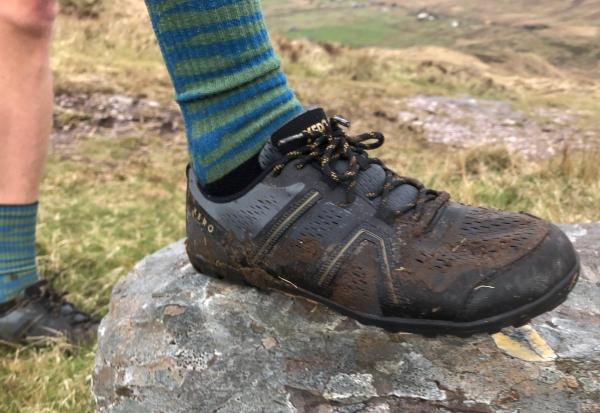 This may not be the end of the world having your foot move around. But, following just my second run, when I removed the shoe, I was very disappointed to see holes on the top of the big toe of BOTH of my injinji toe socks (and as anyone who wears injinji knows, those bad boys cost a pretty penny).
For the sake of being thorough, I trimmed and filed all my toenails the next day, put on an old pair of injinjis that were close to retirement anyway and went for a short 12km run.
After the run, the moment of truth, I removed the shoes and…same result, holes in both big toes on the socks!! I removed all the laces and ran my fingers over the end of the toe box, and it is defiantly not smooth.
So, combined with the movement of the foot for me, these shoes would cost me more in socks after a week than the purchase price of the shoe!
Upper
The upper is a mesh construction with chunky laces (almost like small climbing ropes for mice). It looks good, it feels good…but it just can't seem to lock down your foot securely.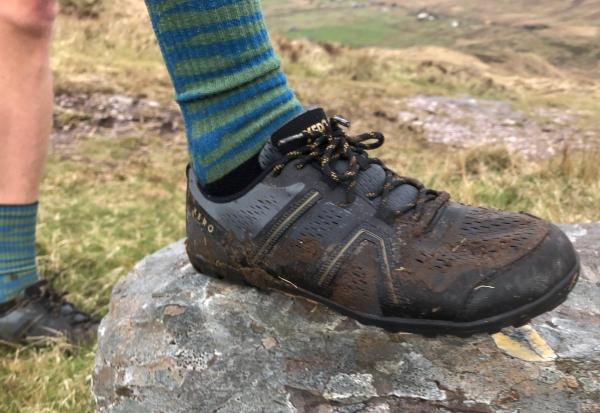 The materials appear to be high quality and durable, and I would imagine that they would stand up to a lot of abuse and many miles (or km).
Insole
The insole in the Xero Shoes Mesa Trail is more substantial than you would find in most shoes, and this is to give the option of a little bit of cushioning.
The makers recommend the option to remove the insole for a less cushioned and more barefoot experience…I did give it a try, but the feel was too harsh for me, and I would certainly need to toughen up my feet considerably to even consider giving it a go again.
Sole
The sole is a zero drop as you would expect and is made from a good flexible rubber compound.
One of the highlights of the Xero Shoes Mesa Trail is that they have kept enough flexibility and feel in the sole without delivering a thin and fragile sole, a tough balance that many rivals fail to provide.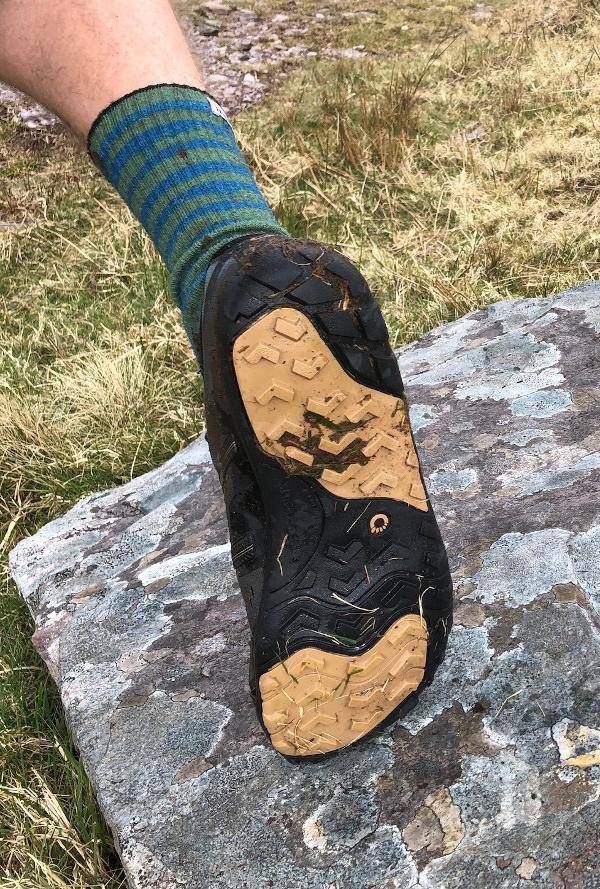 I took this shoe over sharp rocks, deep boggy mud, sand, road, track and snagged the odd fence, and the sole remained almost unmarked after close to 70 miles of abuse.
If you like to feel every pebble and not wear through to the ground within a few short months, you will really enjoy the sole on the Xero Shoes Mesa Trail.
Durability
The Xero Shoes Mesa Trail is, without a doubt a very durable shoe. It consists of strong, hardwearing materials, and the construction, and its finish is outstanding. I could not find one stitch out of place or one poorly finished bond anywhere.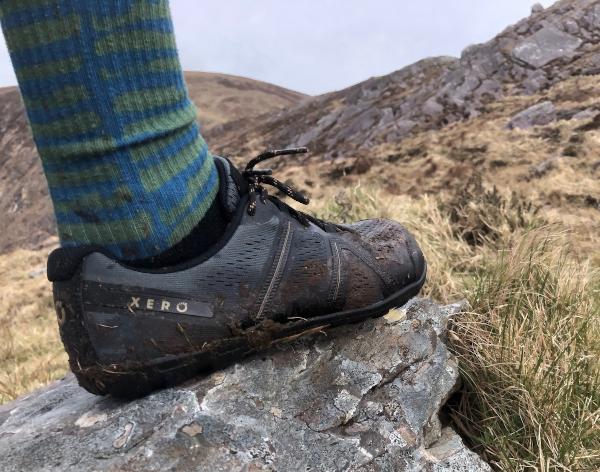 This is so important for a barefoot shoe when the purists (which I can't claim to be, but I know and understand a few) take out the insole and forego the socks (they would be shredded by the shoe anyway as it does not like socks!).
Design/appearance
The look of a shoe is not something I personally give much care and attention to…if a shoe feels good and works well but looks like a wooden clog, I would have no hesitation at all putting it into my favourite shoe rotation.
But, enough of my fashion aversion…the Xero Shoes Mesa Trail is an understated shoe with an earthy colour palate (I imagine it will be mud-covered through the course of its life frequently anyway).
The design is slightly irregular to me with quite a rounded toe. I expect that it helps to deliver the roomy toe box, which is important to many.
Performance
The Xero Shoes Mesa Trail performs very well on a mix of surfaces and handles road quite well for a barefoot trail shoe. With the smaller lugs, it does not deliver fantastic grip on wetter trails particularly when they get technical and/or sloppily muddy.
On my one venture off-trail, they were perfect in deep heather and undergrowth. But, when I hit any soft moss, it resulted in a swift journey to the ground for a closer involuntary inspection of what I just slipped on, hence only one off-trail excursion!
Breathability
The Xero Shoes Mesa Trail is very breathable, and the roomy toe box helps even more to generate some airflow, which prevents any clammy damp feeling.
However, this also results in very cold feet when the temperatures drop, and any cold water gets inside the shoe.
Flexibility
As you would expect from a barefoot shoe, the Xero Shoes Mesa Trail is very flexible and unrestrictive. Of all barefoot shoes I have worn, I can confidently say that the Xero is the most flexible.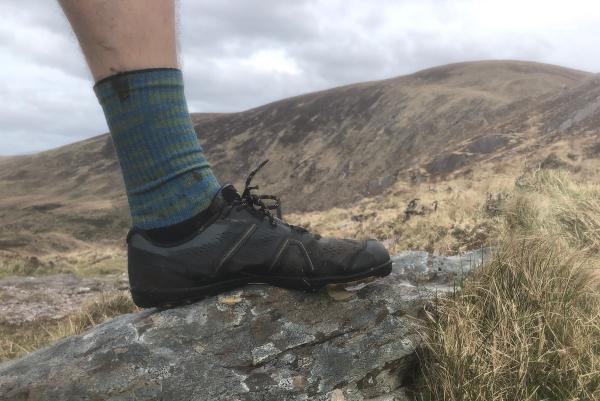 This is particularly true in terms of lateral flexion, which is frequently overlooked or simply not delivered by shoes venturing into the barefoot market.
Cushioning
I think it is unfair to score the Xero Shoes Mesa Trail on it's cushioning, as if you are in the market for a barefoot shoe cushioning is probably bottom of your list.
What it is important to note is that with the insole removed, the Xero Shoes Mesa Trail is as close to having no cushioning as I have experienced.
The purist barefooters will love it, and anyone trying out barefoot shoes…well, not so much!!
Responsiveness
The Xero Shoes Mesa Trail once again is absolutely direct and unbridles your feet, so it is as responsive as you are. No restrictions, no bounce, no softness.
Traction
I touched on this earlier, but to reiterate the point, do not expect the Xero Shoes Mesa Trail to bite into the tough stuff, deep mud, and slick sodden grass.
On groomed, well-managed trails and forest road with a few adventures through the woods, it is perfect and supplies all the grip you need.
Overall
The Xero Shoes Mesa Trail is a true barefoot shoe and delivers a barefoot feel uncompromisingly. If you are a hardcore barefoot advocate this is a great option…provided you like running sockless!
For any curious barefoot experimenters, I would recommend transitioning through a less minimal barefoot shoe before reaching for the Xero Shoes Mesa Trail.
I am not a barefoot purist, and it would be remiss of me to suggest this is not a good shoe. It is a great shoe on the correct foot, which has had a few years conditioned to barefoot running.
Notable Features
Crafted with the Xero-drop platform, the Xero Shoes Mesa Trail is a minimalist running shoe designed to enhance speed and comfort. It incorporates vegan-friendly materials, which means that no animal products are included in the shoe.
This cheap running shoe has a lightweight structure, making the platform comfortable enough for light trails and all-day wear. Its wide toe-box allows the toes to move and function naturally. The designers also integrated the huarache-inspired design that gives a secure and comfortable fit.
To prove that the Xero Shoes Mesa Trail is highly durable, Xero Shoes offers a 24-month manufacturer's warranty and a 5,000-mile sole warranty.
Size and fit
The standard sizing measurements were used during the conception of the Xero Shoes Mesa Trail. Runners can get a pair in their usual sizing preferences, though it should be noted that some users specified that the shoe felt a bit wide for them. It is recommended to test the shoe in-store to ensure a pleasant wearing experience.
The technical components that affect the fit of the shoe include the removable insole, which offers a personalized underfoot comfort. Another element is the Huarache-inspired lacing system that allows for a secure and customized fit.
Outsole
The shoe integrates the Xero-drop design that promotes a good balance and a more natural feel. A 5 mm FeelTrue® rubber outsole is incorporated into the Mesa Trail to deliver sure-footed traction. The rubber outsole is coupled with 3.5 mm lugs that offer the right combination of grip and protection.
The sole construction is designed to give ground-feedback that connects to the brain, guiding the runner on how to move their body optimally. The sole is also flexible enough to let the foot bend and flex naturally for a more comfortable ride.
Midsole
The Xero Shoes Mesa Trail features a non-elevated heel that encourages proper posture. A 2 mm insole is included in the shoe to provide comfort and added underfoot protection. The insole can also be removed for a closer-to-barefoot experience.
Upper
Just like the Nike ZoomX Vaporfly Next%, the upper unit of this lightweight running shoe is made out of breathable mesh fabric. It keeps the foot dry and comfortable for an extended period. The silky-smooth, moisture-wicking "37.5" lining is also used to enhance breathability and keep the foot cool throughout the day.
Providing a more natural fit is the spacious toe box that allows the toes to spread, relax, and function naturally. A moderately padded tongue is also utilized for added comfort and protection.
The Huarache-inspired lacing system is featured in the shoe. It consists of adjustable midfoot straps that give a secure and comfortable fit.
Compare popularity
Interactive
Compare the popularity of another shoe to Xero Shoes Mesa Trail:
Xero Shoes Mesa Trail video reviews