Our reviews
Although I am a fan of minimalist/barefoot/low-stack height running shoes, I was still skeptical about how much I would enjoy the Xero Shoes HFS because I was not a big fan of the Xero Shoes Daylite Hiker. I was worried the shoe would not hold up well or provide enough comfort to wear while running.
However, after 50+ miles of testing, I was pleasantly surprised. In fact, the HFS actually reminded me of Altra shoes, as both are centered on zero-drop stack heights with amply-sized toe boxes.
In the end, the shoe is everything it promises to be—lightweight, minimalist, and spacious.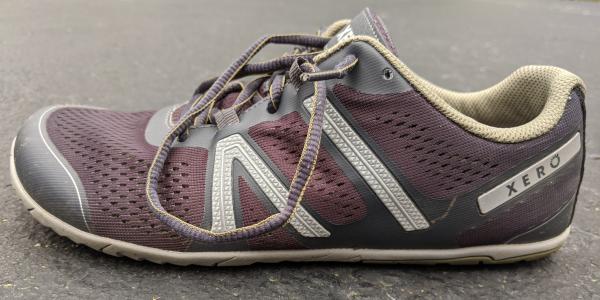 Fit & comfort
I have to laud the HFS for its out-of-the-box comfort and fit. Even though I go up always width for my running shoes, the HFS (which does not come in additional widths) provided an extremely roomy toe box that left plenty of room for my toes toe splay.
On the contrary, while wearing Altra-brand shoes, I still felt that the toe box was not spacious enough. As a whole, the HFS hit the Goldilocks zone—not too loose, not too tight.
Performance-wise, I did not have issues with hotspots causing blisters or loose spots causing slipping and sliding on the inside. The tongue follows a simple cushioned design that sits well against the top of the foot. The shoe is also extremely flexible, and that adds to the superior comfort of the shoe.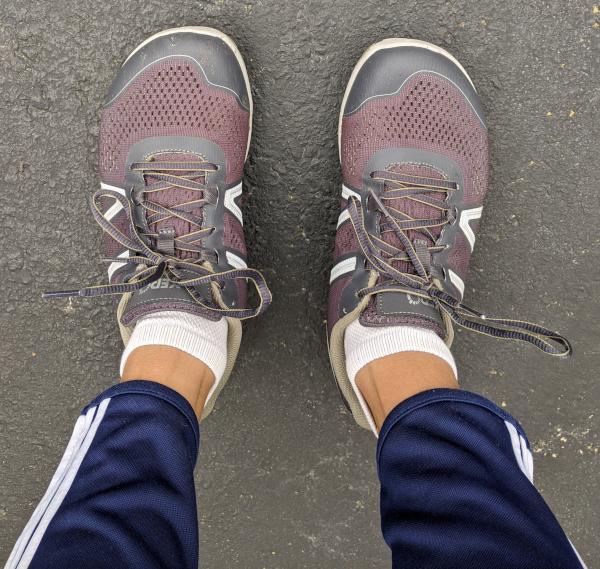 Note: although this is an extremely-minimalist shoe, socks are still required.
Weightlessness
The shoe feels essentially weightless, which is a key charm of minimalist shoes. You will not feel bogged down or clunky because these shoes are stripped down as far as they can get.
Zero drop outsole
The outsole of the HFS deserves discussion and attention. It is as thin can be, with thickness (or thinness, in this case) comparable to Vibram FiveFingers.
Because of this, runners wearing the HFS should be trained in barefoot running in order to make the best use of these shoes.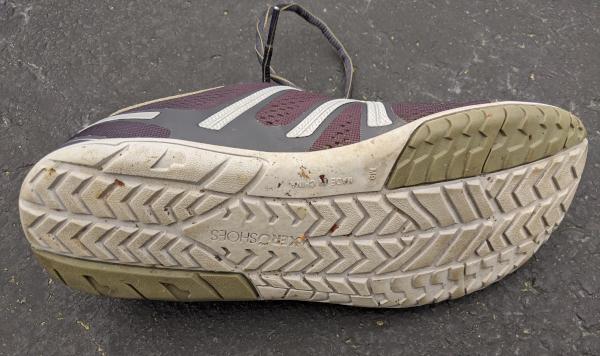 The "danger" of the HFS is that it doesn't really give off the appearance of a barefoot shoe as ostentatiously as FiveFinger shoes do, yet it should be approached with the same level of awareness.
Unlike with Altra-brand shoes, the HFS zero-drop outsole has an essentially non-existent stack height.
Many runners may not find the HFS ideal for longer runs on the road pavement, because aches may begin to kick in. All that said, for those who are prepared and who like to do speedier workouts, the zero-drop and low stack height makes the HFS a good shoe for sprinting.
Additionally, the outsole provides great traction, so the shoe works well even on roads puddled from rain. Moreover, the outsole is also surprisingly durable. Even after 50+ miles, the paper-thin outsole showed no notable signs of frilling or wear and tear—which I have observed in other less-minimalist shoes after the same distance.
Based on my observations, I believe this is because the HFS outsole is actually comprised of very dense and hard rubber, even though it is very thin.
Upper/mesh
The HFS upper is made from perforated and breathable material. I have experienced many running shoes that have made my feet feel like they were suffocating during longer runs but the HFS has not been of this camp.
The mesh is light and soft and enables to HFS to serve as a comfortable, active-wear shoe.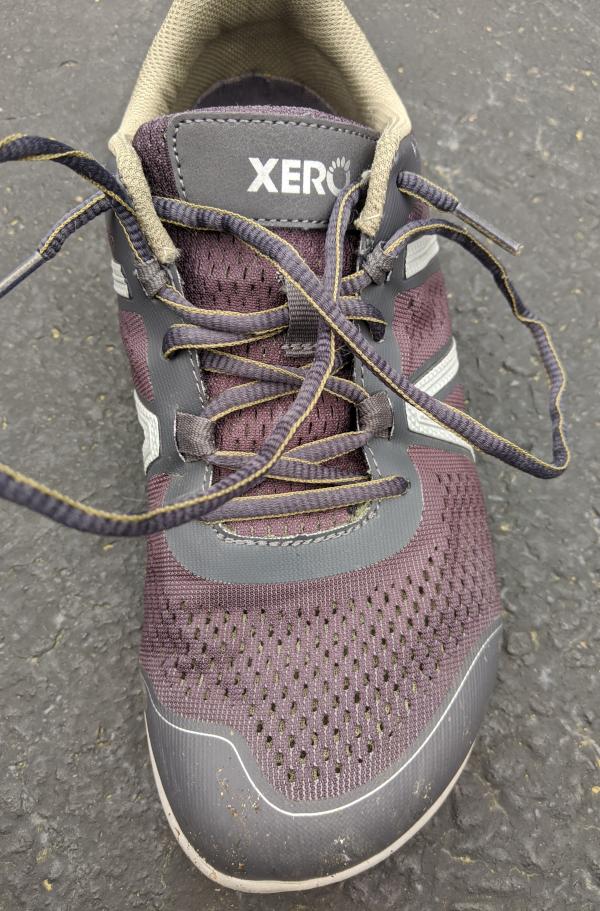 Other functionality
Another area where the HFS wins is its generous use of reflective material. Strips of reflective plastic line both sides of the shoe and contribute to increased safety. As a runner who tends to go out at all hours of the day to get in a run, knowing my shoes are reflective brings me great peace of mind.
One reason I was not a big fan of the Xero Shoes Daylite Hiker was that the laces were of low quality. The HFS laces are not anywhere near this, but relative to the rest of the shoe, the laces could definitely get a boost.
This is because the laces are made from very simple, hard, cloth laces. This results in two issues. First, when the HFS's comfort is diminished (though not eliminated) when the laces hug tight against the top of the feet. Secondly, the laces untie relatively easily—so they always require double-knotting.
To finish with a positive, the shoes work really well for walking as well and look good enough for casual wear.
Conclusion
The HFS was a much better shoe than I expected it to be. It is durable, comfortable, flexible, and lightweight. It provides the sensation of barefoot running just as Vibram FiveFinger shoe models, so barefoot runners will appreciate the HFS. That said, those not accustomed to barefoot running should also be cautious when starting out with the HFS.
The HFS is great for speed work and training, but I would also caution against taking it for very long runs on the pavement. The outsole provides good traction and is actually extremely durable despite the trend for minimalist shoes to break down more quickly.
The laces could be improved by utilizing softer and higher quality material, but overall the HFS is a very comfortable shoe that also works well for casual wear and walking on top of running.
Those who like the zero-drop, wide toe-box nature of Altra shoes, but who want to explore more minimalist options will likely appreciate the Xero Shoes HFS.
In the midst of a global event such as the one we are living through right now, sometimes one of the best things to have is the gift of fun with fitness.
Even though there are certainly some interesting challenges, it helps to keep something constant in a world full of inconsistency. While a new model to the Xero Shoes line, the HFS was also nothing if not a consistent training partner in the absence of any others.
Sporting a host of new features and a bold design, here's how the HFS fared as a strength trainer, a mid-distance runner, and a trail trekker.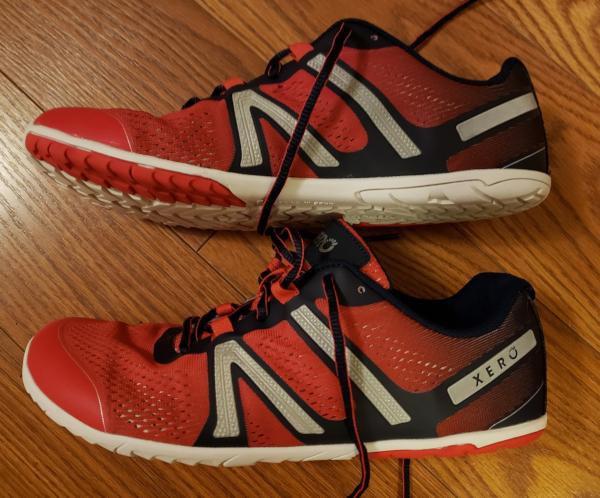 Upper & fit
One of the first things that have plagued Xero Shoes in the closed-toe department has been issues with sizing. Since they are still a smaller company with limited model availability in brick and mortar stores, it is imperative to be able to discern a consistently comfortable fit.
According to the Xero website, these issues had been resolved in recent models to make them more comparable to traditional running shoe sizes. In this spirit, I ordered a size 11 to correspond to my default.
While the width of the shoe is certainly improved from previous models such as the Prio, the toe box still seems mildly short, leading to discomfort and some light callusing on the second toe, but certainly not enough to compromise the nail beds on either foot.
If ordering from an online retailer, it may be wise to take a full size up from that which one measures to ensure a solid fit, especially for those that prefer to wear midweight or woolen socks.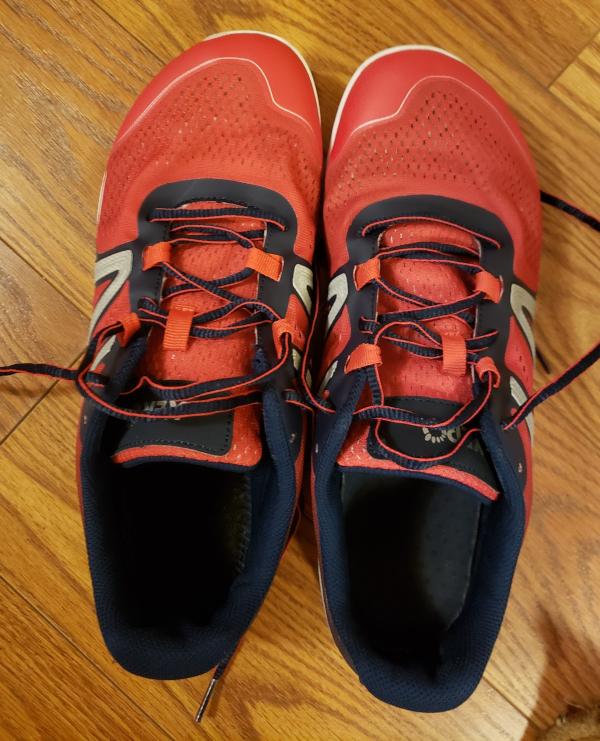 These issues aside, the HFS features some wonderful new innovations in terms of the upper. With a dual-layered engineered mesh system, these trainers are just as comfortable to the barefoot as they are with my customary Injinjis.
More importantly, the moisture management on a shoe as low profile as the HFS is superb. In addition to the upper materials, the huarache-style midfoot and heel straps feature a TPU covering with hi-visibility stripping for safety when training in twilight hours.
It also functions well to protect the system from fraying as I experienced in the Prio while running on trails and in the light to moderate brush when out for a wayward round of disc golf.
These straps are a staple in Xero models and do a fantastic job of providing a customized heel and midfoot fit while avoiding restriction of said midfoot and heel movement.
This ability to approximate shoe sole to foot on a flexible platform lends itself well to those seeking to improve their stride and biomechanics through better feel and feedback from the running surface.
The HFS also does away with the heavy stitching and stiff toe cap of models such as the TerraFlex in favor of a more supple and light printed overlay. While still a tight fit upfront, this feature does seem to raise the height of the toe box and allow for more freedom of movement.
Sizing aside, some serious advancements in tech and comfort are evident in this new kid on the block.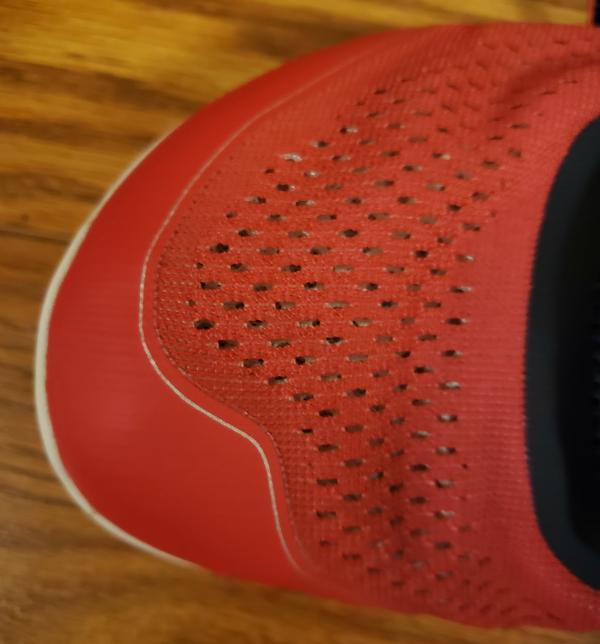 Insole cushioning system
In a shoe as minimal as the HFS, unlike with most standard trainers, the insole has a great deal of importance during the first few days and weeks of wear, especially for those who have had limited experience with a shoe that has less than 6mm of the combined midsole and outsole thickness (a standard running shoe may have 3-5x that amount).
Even though the insole has just 2mm of cushion, it can help take the edge off of errors in one's stride over harder surfaces like tarmac or hard concrete.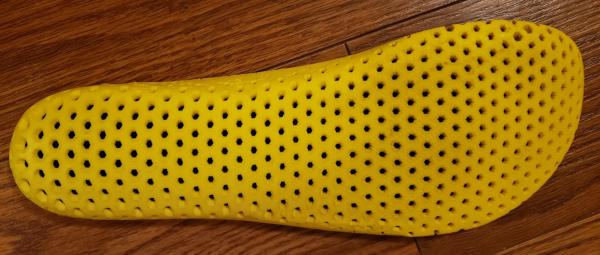 In previous Xero models, even from shoe to shoe, the insole varied from a more traditional EVA to a more spongy memory foam feeling option. In the HFS, the insole foam not only is more firm but features drainage ports along the bottom.

When performing workouts in a hot back basement room or running through water and snow-packed trails in efforts of maintaining appropriate social distancing, this feature proved exceedingly useful.
As mentioned earlier, the HFS is much like other offerings from Xero with little midsole to speak of. It does sport a mesh Strobel allowing one to remove the insole altogether for a closer to the ground feel or for improved balance when performing plyometric training.
However, after more than a mile or two on pavement, it feels like a bit too little underfoot, even for someone who has trained next to barefoot for several years.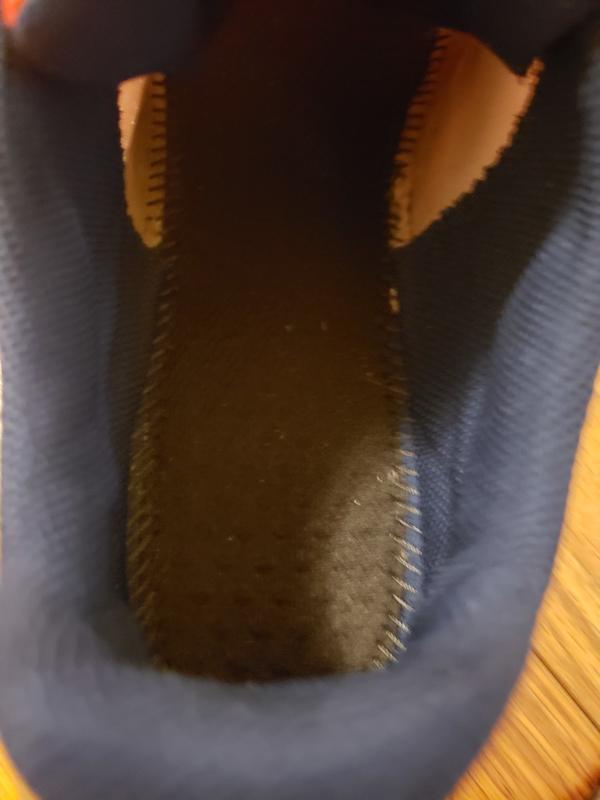 One drawback to this lack of material underfoot is also something that could have long term effects on durability.
As XeroShoes are meant to be worn barefoot (and unlike offerings from Vibram and Keen are not meant for machine washing), it would behoove the folks at Xero Shoes to consider adding some sort of anti-microbial feature to the insole or strobel board.
Otherwise, the bacteria that builds over time can have a deleterious effect on the seal between the upper and the sole. While the shoe has a standard 5000-mile warranty on the sole, it doesn't mean much if the shoe breaks down from the inside out.
In sum, from a comfort and adjustability standpoint, the HFS gets quality marks but smells a bit like a teen spirit.
Outsole & durability
More than most trainers I have reviewed, the HFS tackled a wide variety of fitness activities as my ability to interact with the great outdoors waned in the past few weeks.
While most of the early time spent in the shoe featured up to 8 miles at a time over trails, local jogging track, and the roads, after the first 50 miles most of the action it saw was at the local disc golf course and performing in home programs such as P90X3 and T20.
Sporting a new outsole pattern designed to mimic that of a tire tread, I was skeptical at its lateral stability. However, after several rounds off of concrete tee pads and over very damp and uneven ground, I was able to pivot, turn, and throw with confidence and limited slippage on uphill and downhill shots.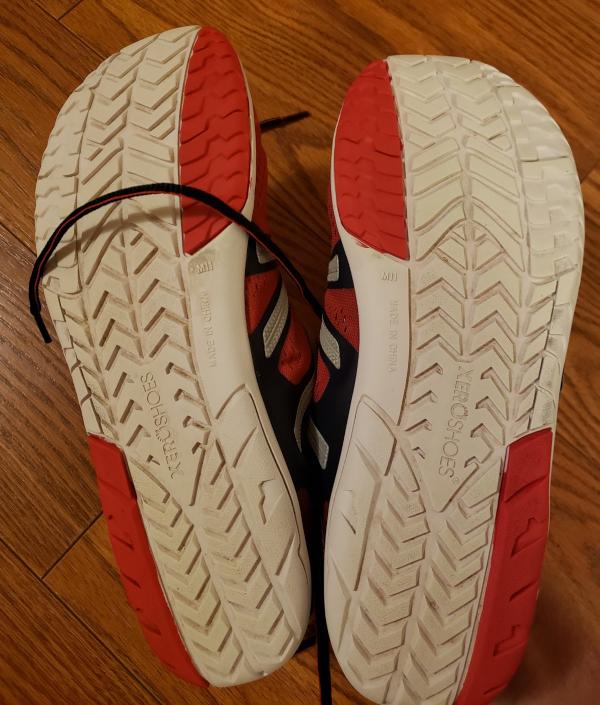 Even over gym flooring and then the laminate in my home, the HFS outsole gripped the ground enough to remain confident in performing stair drills and hopping while remaining pliable and smooth enough to safely transition between movements without any catching or tripping over the dreaded, "turf monster."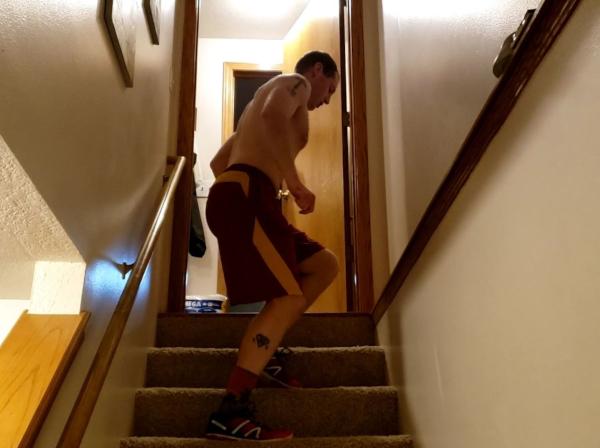 In terms of durability, the only major complaint may be that the shoe's bright colorway has led to some mild discoloration at the midfoot. Despite working through over two dozen morning training sessions, more than 15 trips to the course, as well as a full week trial in the PT office prior to going on leave, these shoes have shown little sign of initial wear and tear.
Nonetheless, as mentioned previously, with little antimicrobial integration, the longevity of the shoe may come into question outside the customary 6-12 month range.
Style
While Xero Shoes is no stranger to designing advancements, the HFS has everything you could want: either vanguard or versatile. While there is a grey and slate option for the working weekend warrior, the HFS also sports two alternate colorways with some serious flash and dash.
The reflective logo on the heel cup is a neat touch, and the first time the distinctive O and toes logo appears in an embossed style.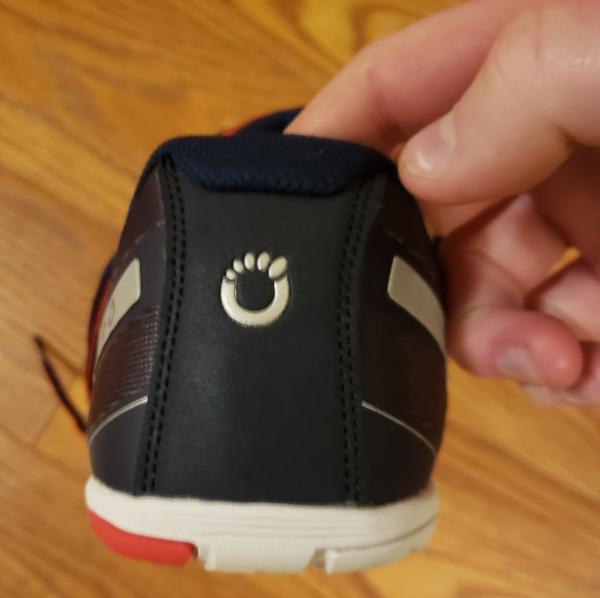 In addition, with the TPU overlaying the lacing system as opposed to being exposed, the shoe has a much more streamlined look than its older cousins.
Overall, this model has all the looks of a go-fast traditional running shoe, even with the flat sole required for near-barefoot running/training experiences.
In addition to sound looks, the shoes boast a vegan-friendly construction to keep a sound mind at ease as well.
Pros
Improved insole density and ventilation compared to previous Xero offerings
Vegan-friendly materials and a strong, but relaxed overall feel for ease of body and mind
At 6.2 oz, it is lighter than previous Xero trainers by far
Traction over multiple surfaces was superb with tire tread sole
Cons
No antimicrobial feature is disappointing or a shoe designed to be worn barefoot
At MSRP $110 the price is a little steep in-class
Inconsistent sizing still vexing
Overall take
You never get a second chance at a first impression. The HFS is full of fun design cues, a sporty outsole, and a great level of versatility. While sizing is still a significant barrier to widespread fandom, Xero Shoes continues to produce a fun ride you can feel.
DISCLOSURE: For the purpose of review, I'd like to thank Xero Shoes for providing me with a pair of HFS shoes. No additional compensation was provided, and the review process objective over the course of a normal life cycle of my daily training shoes.
In addition, as noted in a previous review of minimal footwear, I have spent the past 4 years transitioning to intermittent use of minimal footwear with very low stack heights.
If you have a history of stress fractures, peroneal and/or posterior tibialis discomfort (as well as other foot pathology), it is wise to consult with your coach, physiotherapist and/or a trained shoe fitting professional prior to extended usage of this class of footwear.
While it has documented benefits, it is best done gradually and with care to running technique and proper, a gradual increase in mileage.
Updates
This road running shoe, the Xero Shoes HFS, is strategically built for those who have neutral foot mechanisms. It utilizes a new breathable and lightweight mesh upper. The primary purpose of this is to provide a comfortable and snug fit.
Along with the mesh upper is the silky moisture-wicking lining. The lining is made of 37.5 material that keeps the foot cool and dry throughout the running session.
Used in making the shoe is the new tire tread-inspired sole. The goal of this material is to deliver better ground contact during the activity.
Size and fit
With the utilization of the mesh upper, a snugger and comfortable fit is experienced by the user. The mesh upper works well with the removable insole that ensures a customized and individualized fit.
Outsole
When compared to the Asics GT 2000 7, which uses the Asics High Abrasion Rubber, the 5.5mm FeelTrue® rubber sole is integrated into the Xero Shoes HFS. This component of the shoe aims to provide the perfect blend of ground feedback and protection during the running session. This is essential in signaling the brain to move the body ideally and optimally.
Midsole
The "XERO-drop" design is utilized in crafting the shoe. This design is described as a non-elevated heel that encourages proper posture. This feature of the shoe is also made low to the ground to provide agility and balance. The Xero Shoes HFS is built to let the foot bend, flex, and move in a more natural motion. In comparison to the Brooks Pureflow 7, it uses the rounded heel design that mimics the shape of the foot.
Used in the running shoe is the 2mm removable insole. The primary purpose of this is to provide the user with a close-to-barefoot running experience.
Upper
Utilized in the running shoe is the Huarache-inspired design. This is described as an adjustable midfoot strap and instep that are not just visually-appealing and eye-catching but also very functional. The Huarache-inspired design is meant to provide a more comfortable and snugger fit.
Utilized in the upper area is the wide toe box. Zero Shoes added this feature to let the toes function and spread naturally during the running activity.
Compare popularity
Interactive
Compare the popularity of another shoe to Xero Shoes HFS:
Xero Shoes HFS video reviews