Our reviews
There's nothing quite like the feeling of flying naked and free down the steep, craggy slopes of Rocky Mountain Trails.
I wouldn't know, but I'm sure it's a thrilling experience. Although fully clothed, I've got a taste of the freedom and exhilaration through a new FiveFingers favorite: the Vibram V-Train.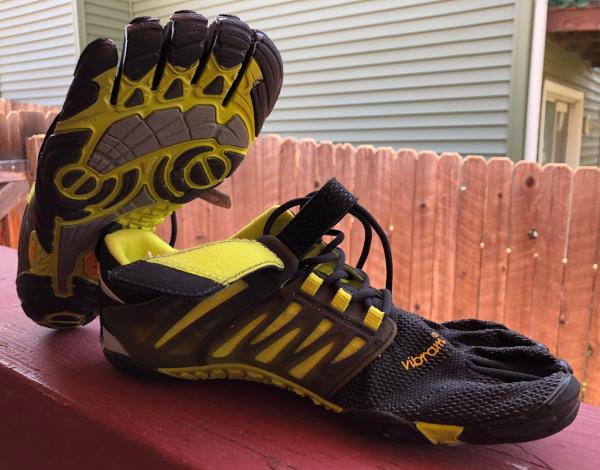 Before I proceed with my tantalizing review of the Vibram V-Train, here's a little background on my running and experience with minimalist shoes. I've been competitively ultrarunning for over three years now, breezing through dozens of shoes in the neverending chase of more miles and more peaks.
After some minor chronic injuries, I reevaluated my form and decided to start over from the very beginning with minimalist shoes. Well, I actually tried the whole barefoot thing first, but it turns out bare feet in below-freezing temperatures in Utah wasn't my jam. No, not at all.
So, over a year ago, I got the opportunity to test a pair of Vivobarefoot Primus Trail FG (you can read my full review here—*SPOILER: I love(d) them!). I made minimalist running a part of my training each week by doing 1-2 minimalist runs and by wearing the shoes as my normal leisure shoe—and I still do.
After that, I received the opportunity to test the Vibram FiveFingers V-Trail 2.0 earlier this year. This was my first experience with toe shoes, and I was not a fan (review here). Minor flaws in the shoe led to a sub-par experience.
With all that in mind, I didn't necessarily have high expectations for the Vibram V-Train. But, boy, was I pleasantly surprised!
Got you covered?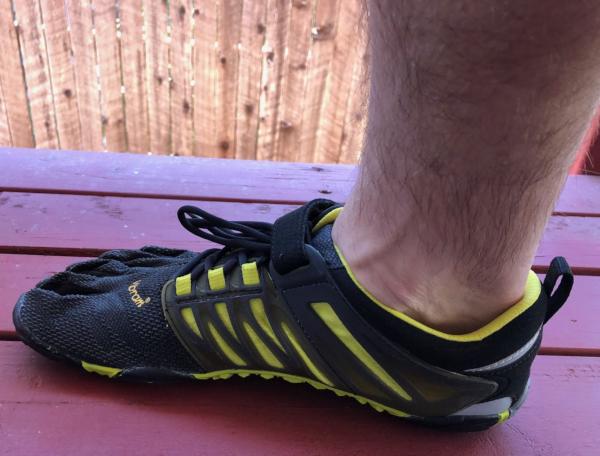 Straight out of the box and onto my foot, I knew I was going to like this shoe. It came on and off smoothly with far less hassle than the V-Trail 2.0.
It has a nice, comfortable lacing system with velcro lockdown to make putting the shoe on easy while keeping the fit snug and firm.
I much prefer this lacing system to the quick-lace system of the V-Trail 2.0 because it makes putting the shoe on much more simple. No breaking velcro tips or any nonsense like that.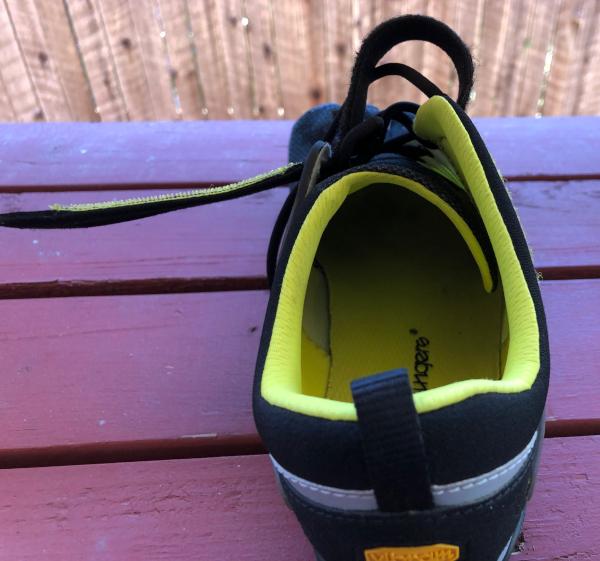 I took the shoes on for a spin on a 4-mile flat crush rock path in Longmont, CO, and they performed fantastically.
Great comfort, smooth ride, wonderful protection—no complaints. It really was like running barefoot, and I completely forgot about wearing and testing the shoes at first. I was just enjoying the ride.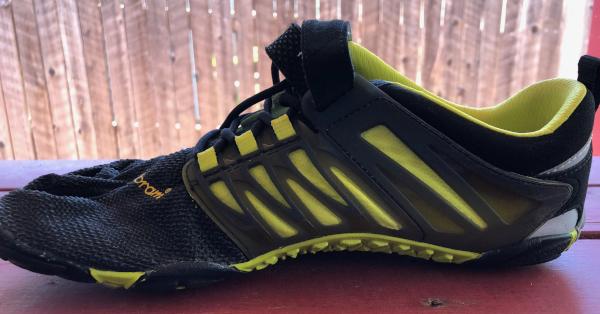 Initially, as it to be expected with a different style of shoe, it caused some minor abrasions on the inside of my foot where the overlays seemed to be pressing in tightly towards the bottom of the big toe.
After wearing them for 15+ miles, I broke the shoe in enough that there was zero irritation, and although I can still feel the overlay at times, it hasn't caused any issues.
Pros
Tough outsole without feeling cumbersome or rigid
Breathable mesh for dry(er) feet
Smooth ride with just the right amount of minimalist cushion
Easy to get on—easy to get off
Incredibly lightweight. Just like they're supposed to be
Cons
With long toes like my own, it's hard to get the perfect fit for both the shoe and the toe pockets
Adjustment period that comes with minimalist running and minimalist shoes
Initial abrasions caused by overlays
Not a whole lot of grip for more gnarly terrain
Collects rocks in the shallow grooves of the outsole
First impressions
It has to be mentioned that these shoes aren't primarily a trail running shoe or even a running shoe at all—Vibram markets them as a CrossFit gym shoe. But that doesn't mean they don't excel in the running world, too!
I've tried these bad boys on dirt paths, rocky trails, pavement, and on the treadmill, and they've held up great under all circumstances. It's not great for more technical trails that require a bit more sticky, deep lugs, but they at least get the job done.
It seems petty, but one of my favorite things about this shoe is the versatility it offers in my workout routine. I lift 3-4 times a week at my local gym and at the gym at work, and thanks to the V-Train, I don't need to pack around two pairs of shoes.
I'm able to crank out some deadlifts in the free weight area, then seamlessly pop over to the treadmill or straight out the door for a 3-mile run—no problem!
It performs great in all circumstances, though I think I'm going to try to save some of the natural (and expected) wear-and-tear to the outsole that comes with running and preserve these shoes as my weightlifting shoe.
They offer me uncompromisable grip when performing squats and deadlifts. Plus, now I don't have to take off my socks and shoes when performing these exercises. Win-win for me and the whole rest of the gym who get to avoid my stinky feet.
Outsole
The Vibram V-Train has a unique outsole design that reminds me of some kind of mutated dinosaur. You have smooth cylindrical contours around the big and small toe supports, and this provides some additional stability, especially for myself as an adapted forefoot runner.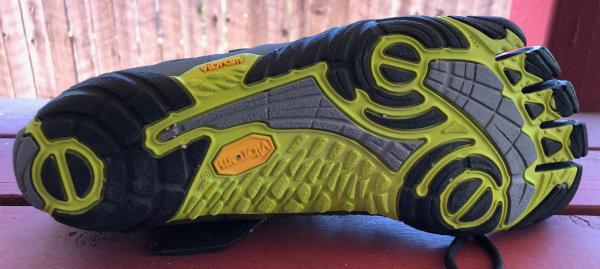 Down near the arch, you'll find some minor lugs that look like they're designed for more mild trail running, yet since I naturally supinate, you'll notice there's not a whole lot of wear on these lugs.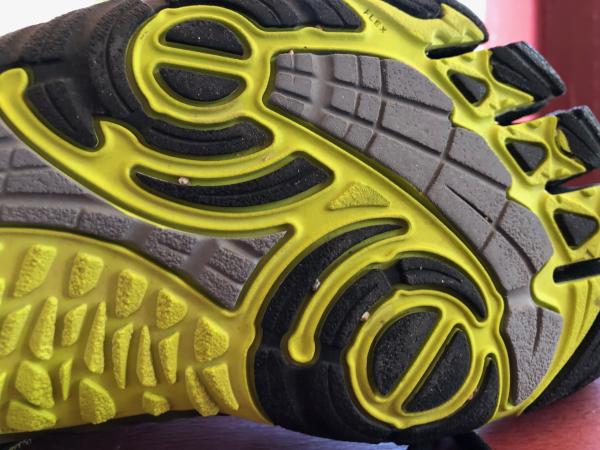 The shallow grooves in the outsole do, unfortunately, collect rocks. This is the outsole of the shoe after I had already done some minor rock picking to get the jagged stones out. These can poke out viciously, scratching wood and lament. It's definitely not something your gym manager will appreciate either.
Upper & lacing system
The overlapping layers of the upper make it easy to pull the shoe apart as you slide your foot in. I'm not a huge fan of quick-lacing systems, so I was happy to see the old-school laces on this shoe. With a quick loop and a tight pull, your foot fits snugly in the heel cup, although it's hard to find the perfect fit for your toes.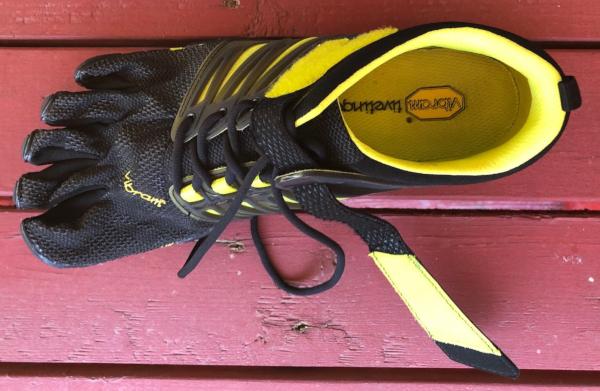 I find my toes only reach about ¾ of the way through the toe pockets, leaving my pinky toe feeling like it's on the verge of falling out half the time. This can be obnoxious, but no amount of trying to jam my foot down the shoe's throat has seemed to solve the problem.
The inside sleeve for the toes isn't perfect, either. The material inside seems to have strange stitching locations that make you a little more aware of the shoe.
It's not necessarily annoying or irritating, but it does feel like there's a bit of tissue paper stuck between your shoes which detracts from the overall barefoot running experience. Not a dealbreaker, but just something to be aware of.
Quality
Overall, the build and materials of the shoe feel high-quality. I could see myself cranking out at least 200 miles in these shoes, but the accumulation of rocks in the outsole has me leaning towards making this my go-to gym shoe instead.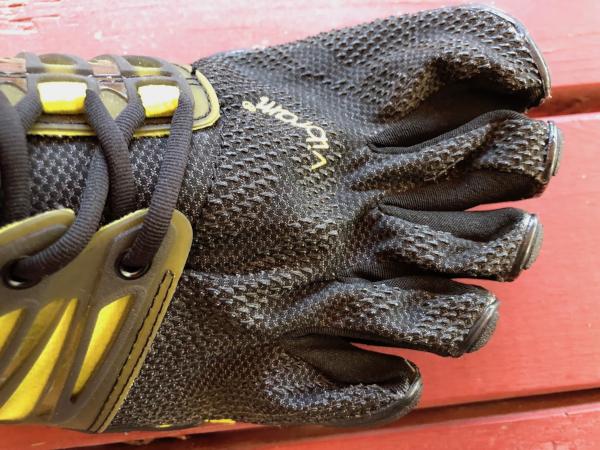 The laces feel strong and thick, the way I like them on my running shoes, and the velcro strap to secure the laces feels durable. The hard overlays on the top of the shoe are sturdy, but they might be a little too much for this minimalist shoe.
Conclusion
I'm a huge fan of this shoe. Ever since receiving it, it's been my go-to for the gym and for my weekly minimalist runs.
I haven't taken them on anything longer than a 5-mile run (I use a bit more cushioned shoes for that), but I believe they could protect the foot for most high-intensity track workouts and short runs.
I feel a burst of energy when wearing these shoes and feel like my form is fluid and powerful. Because they force you to run on your midfoot to the forefoot, you get a nice natural spring in each step and improved running posture.
You won't feel yourself crashing to the ground like you might with a more cushioned maxi shoe, and that's a pleasant shift for my up-tempo runs.
So, should you give the Vibram V-Train a try? If you're interested in dipping your toes (get it?) into minimalist running, I'd highly recommend giving this shoe a try. Its versatile design will allow you to experiment on practically any terrain.
Plus, you can use this shoe for all your gym workouts. If you want a shoe that allows you to hike, run, lift, scramble, or just walk, you won't find a more adaptable shoe than the Vibram V-Train.
At first glance, the V-Train looks like just a minimalist shoe you would expect from Vibram with unmistakable toe pockets, a low stack sole and a weight of only six ounces.
However, this iteration of the Vibram concept has a lot in store if you are looking for a new challenge in your CrossFit or gym routine. More plastic and padding throughout the shoe adds a lot of structure into lateral movements and stability when lifting weights.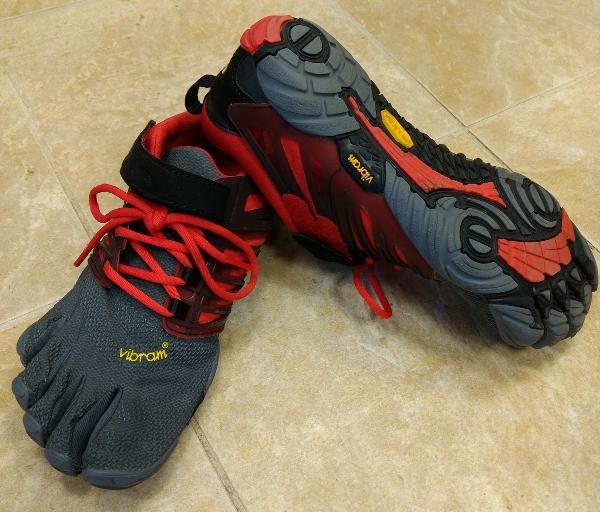 Pros
More substantial minimalist shoe
Support around the ankle is very comfortable
Heavy duty and durable upper resulting to a wider range of gym activities possible
Very solid sole construction
XS Trek provides grip and durability
Cons
Stitching on top of toes suspect (picture at the end)
Only suitable for short to medium distance running
Velcro and lacing system needs tweaking
Longer foot adaptation period required
Reduced ground feel and flexibility compared to other Vibram models
Outsole
The V-Train offers 4mm of XS Trek rubber in movement specific designs for different parts of the foot. The most noticeable are three circles at the rear and forefoot that offer more support for side to side motion. The other main feature is rope climbing lugs under the arch of your foot, which protect your investment from the ravages a rope can wreck on regular rubber or foam.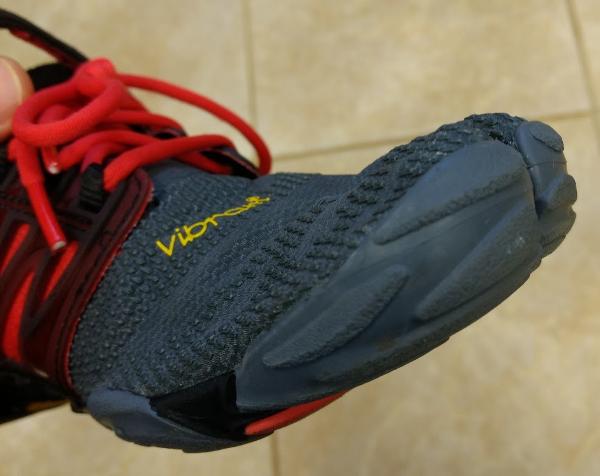 Compared to other shoes in the Vibram lineup, you are offered a lot more durability and protection from forces you will most likely only encounter when in the gym.
The grip is excellent for weightlifting and other functional movements. Proprioception is enhanced due to the thin and flexible nature of the design, though the additional design elements detract from a full barefoot feel.
Midsole
2mm EVA footbed is a courtesy from Vibram so you are not standing on the outsole like in a pair of traditional huaraches. This is all you get in this minimalist shoe. Remarkably simple and very effective.
NZYM antimicrobial liner: Tried researching what this is and learned more about antimicrobial technology in textiles than expected. In theory, they will reduce odors and increase durability, which is important if you are going to wear shoes without socks and run thousands of miles in them.
In practice, the shoes were a bit warm and the insides got a bit stinky for me. Leaving sneaker balls in them and judicious use of natural antibacterial deodorizers seem to keep it from becoming a problem. So I can say good but could be better.
Upper
Here is where the shoe departs from your standard Vibram fare. Most of the front upper near the toes is synthetic. As you transition towards the midfoot, you will find a thick but flexible plastic on top and a thicker sockliner underneath. The burrito tongue inside is secured by a combination system that includes laces and a velcro strap.
The laces and eyelet reinforcement are excellent quality. When combined with the velcro they became bothersome for me. You could take them out if you want to only use the strap, but you are left with parts of the eyelets sticking out. You can also drop the laces down so they don't interfere with the velcro.
There is also a fair bit of padding around the collar and although there is no plastic around the heel, the shoe cups the heel nicely. The breathability is dampened due to the plastic elements and additional cushioning. My feet typically run a bit hot so I found them to be a bit sweaty without any socks.
Uses
For gym workouts, light jogging, warm-ups, plyometrics, calisthenics, etc. Great support and functional movement are the strong points of this shoe. Definitely sturdy enough for LesMills workouts or CrossFit classes.
You get a lot of support for weightlifting from the sole design. The second, third and fourth toe pockets have extra support when you bend your foot for lunges. The tradeoff is the soles do not seem to have great responsiveness for running because of all the stability elements.
As you would expect for a CrossFit design, these shoes are not efficient for running more than half a mile but offered more support when crashing around in the gym. I found them fine for a mile or two, but there are other Vibram trainers like the V-Alpha or road shoes like the V-Run with much better transitions for mileage.
If you are looking for a bit more cushion you could check out Reebok CrossFit Nano 8, but your adding 4mm of drop and nearly 4oz of weight. Somewhat unexpected for a minimalist shoe, I found the extra material for support caused a number of hotspots and pain points when I tested this shoe.
Hotspot #1 was right on the top corner of my big toe knuckle and was from the tip of the hard plastic digging into my foot as it flexed for push-off. Not sure if this was just bad form on my part or too much plastic on Vibram's part, but it prevented me running for longer distances until my foot was accustomed.
Hotspot #2 was at the top of my foot. I suspect that the added rubber underneath combined with the laces, plastic, velcro strap, and tongue was just too much material at that point. I ended up dropping the laces down an eyelet and leaving the velcro strap nominally closed.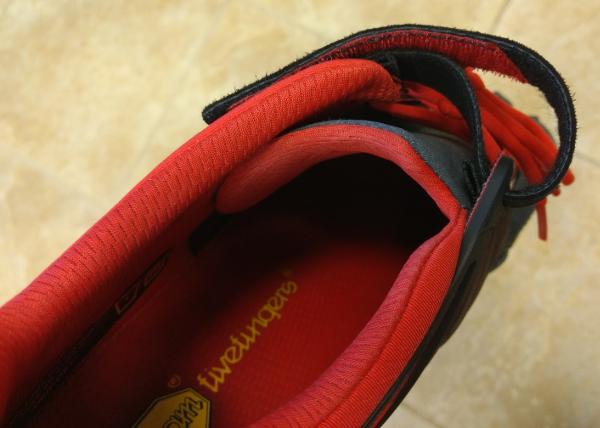 While I see the value in all this extra technology, it feels like overkill. The plastic could have been thinner and still provided support and the velcro strap needs a lower profile.
The sole feels stable for weighted exercises but then interferes with my running gait. Definitely a keep but there is room for improvement to make this a more versatile shoe.
Rating
The shoe solidly delivers for structured gym workouts. The abundance of plastics and coverage of the foot protects well but can cause hotspots. Definitely worth buying for a serious gym and CrossFit enthusiast.
A big factor in a lower score was the stitching coming undone on the top of the shoe. While it did not seem to affect performance and I did a lot more distance running than was probably intended for this shoe, I was a little dismayed when I found this small hole. I'll most likely repair it and keep using the shoe but I felt it too important not to mention in a review.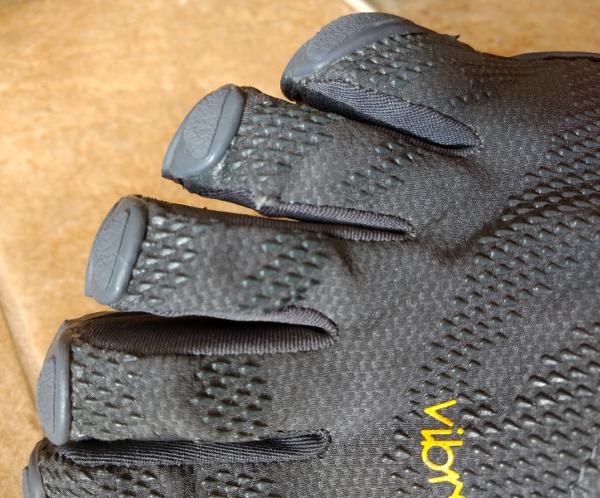 Comparisons with other Vibram models
V-Train vs V-Alpha
As both are trainers, the main difference is the durability and grip. V-Train is XS Trek rubber and has extra features to resist the demands of CrossFit workouts, at the expense of slightly less grip and flexibility. The V-Alpha features Megagrip rubber and offers extensive proprioception and is geared mainly towards outdoor activities.
V-Train vs V-Run
I have both these models and like them for different reasons. V-Run is a much more flexible and responsive shoe for running and light gym workouts and offers a combination of Vibram runners to deliver grip on a wider range of surfaces. The V-Train excels in weighted exercises, offering more protection than most Vibram models with only a slight increase in stiffness in the sole and parts of the upper.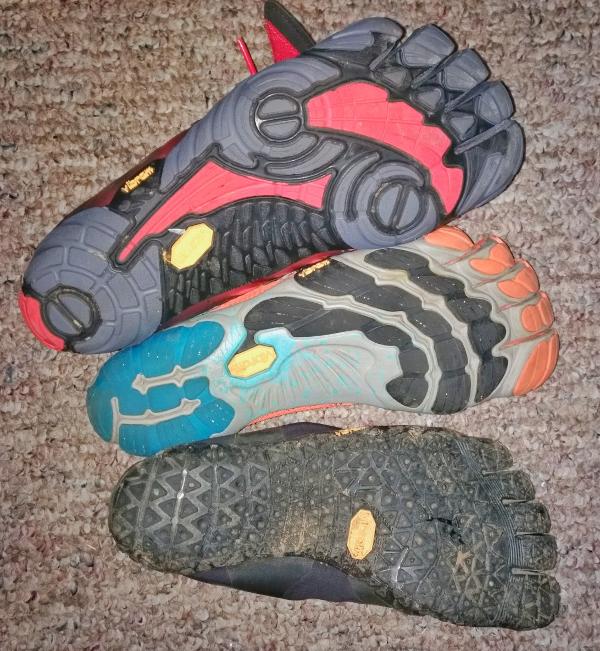 Final thoughts
A fantastic trainer for the gym. Smooth dynamics for a wide range of weight-bearing activities makes this an excellent choice for CrossFit. The aggressive sole and upper provides a lot of protection but it took me a while to learn how to work the shoe properly.
Gym features make this a sub-optimal shoe for long runs. While traction from XS Trek is superb, I found my heel sliding around when on a muddy trail and debris would find their way into the shoe because I had it laced up loosely to keep it comfortable. So, yes, you could use it for a run. But if you have better tools why bother?
Bring separate shoes in the beginning if you expect to be doing a lot of running before or after your class or workout while you get used to the idiosyncrasies of this model. For those who prefer a picture, below is a side-by-side comparison of the V-Train, the V-Run and the V-Alpha so you can get an idea of how the soles compare.
If you are interested in a versatile barefoot alternative to traditional training shoes, the V-Train is the shoe for you.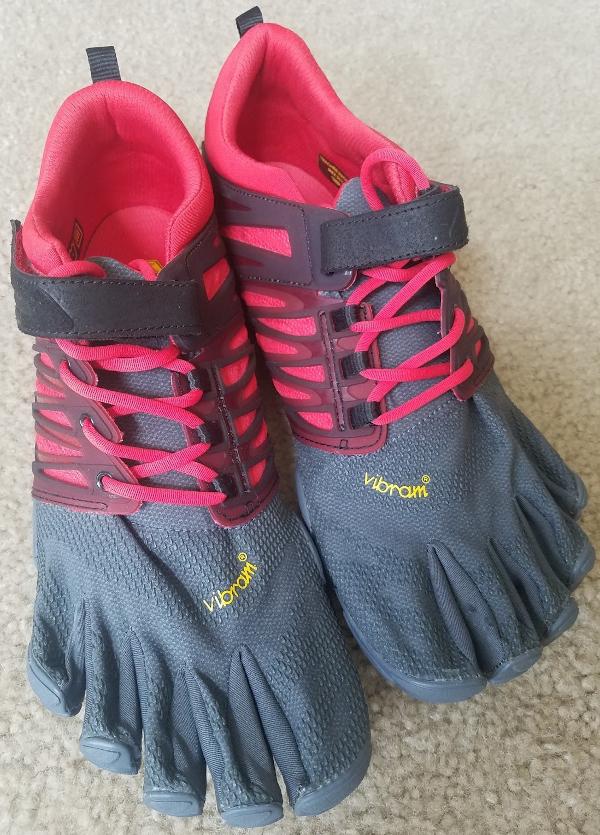 I've had a few pairs of barefoot shoes ranging from Vibram Fivefingers to Merrell Bare Access. The barefoot concept is one that I generally abide by and subscribe to.
The Vibram V-Train is a good, but not a great trainer that provides the right amount of shoe for barefoot training and any powerlifting.
Upper
First and foremost, the V-Train runs a little bit large. My first pair of Vibrams was the Komodosport, and I own a 46 (sizing is European), but the V-Train in a 46 was borderline sloppy.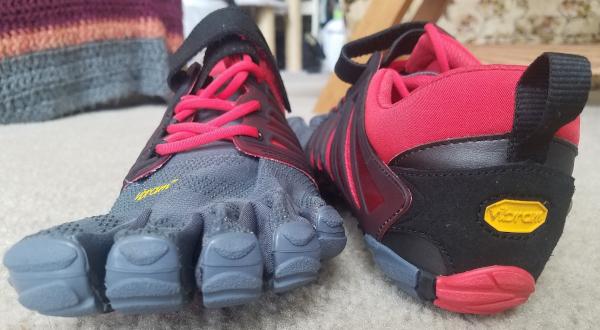 Through selling Vibrams at a sports retailer, I learned that Vibrams should fit snug but not uncomfortably tight. You want them to hug your feet and toes, allowing for stretching over time.
The saving grace of the V-Train is the adjustability of the laces paired with the more typical velcro strap across the upper foot, which provide a snug upper fit.
The downside of the snug-fitting upper portion of the shoe is the looser fitting lower portion around the toe box. If the wearer has a narrow foot, this shoe would not necessarily be the greatest idea.
The upper is made of polyester and spandex with TPU panels. The tongue is half-attached, which can lead to some uncomfortable moments when the detached half slips down beneath the sides of your feet.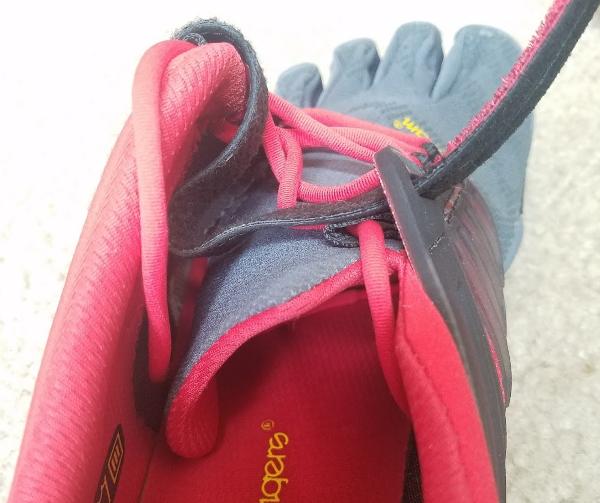 Midsole
The V-Train is a barefoot shoe, so there is no midsole.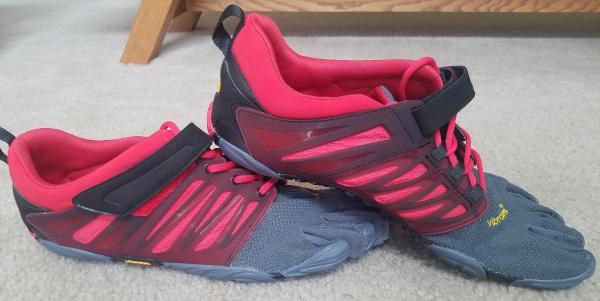 The only cushioning provided in the shoe is a 2mm EVA footbed that includes an NZYM anti-microbial poly fabric sock liner to thwart bad smells from use without socks (because it's barefoot).
Outsole
The best and worst part of the V-Train is the outsole. The best part is the fact that it provides a solid, versatile base for multiple terrains and functions.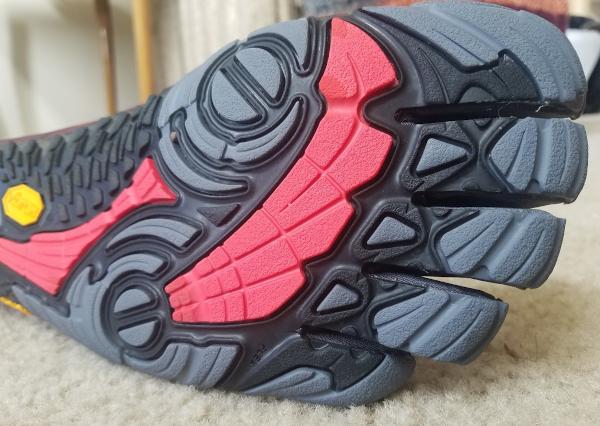 There are deep grooves for improved traction on any terrain, a circular lug pattern for traction on lateral movements, and even lugs in the arches to provide superior traction for rope climbing activities.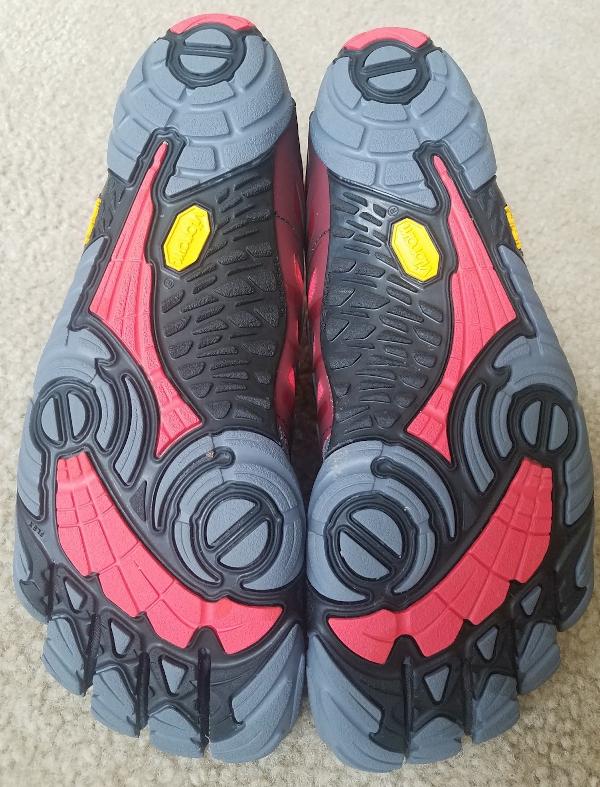 Now, the ugly. The outsole is the biggest detractor to the overall wearability of the shoe. Out of the box and even after a month of use, it remains extremely rigid.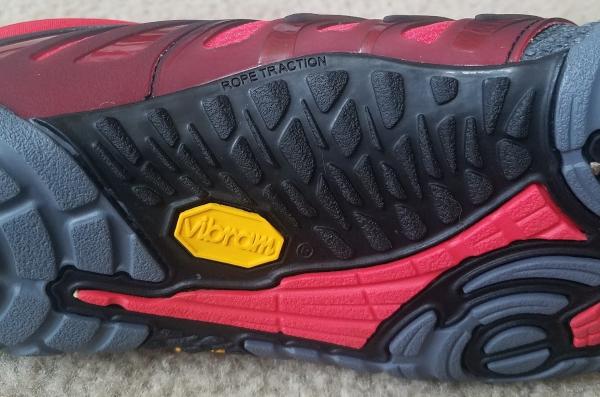 The "flex" groove provided is a poor attempt to remedy some of that lack of flexibility. Pair that with the fact that the shoe runs large and the shoe's fit gets sloppy underfoot.
Feet slipping inside the shoe and toes popping out of their toe pockets is a sure-fire way to get blisters aplenty.
Appearance
The overall look of the shoe is "OK" at best. The color scheme is excellent, with the bright red blasting through the blacks and grey that tone down the shoe's flavor.
Much like the outsole, all of the good is countered by all of the bad. In this instance, the bad is the almost cheap, plastic-looking support structure around the upper.
There are dull parts mixed with glossy parts. Unfortunately, it does nothing to improve the look of the shoe.
Stats
Weight (men's 43) – 6.4 ounces
Style – Barefoot/Neutral
Upper – Polyester + Spandex, TPU Panels
Midsole – N/A (It's a barefoot shoe)
Outsole – 3-color rubber
Pros
Lightweight
Well-structured
Durable outsole
Wide toe box
Cons
Tacky look
Sizes run large
Extra upper material leads to a sloppy looking/feeling fit
Conclusion
This shoe checks a lot of boxes. Unfortunately, a good portion of the boxes is negatively skewed.
Barefoot, check. Versatile trainer, check. Sizes run large, (reluctantly) check. Sloppy fit, (also reluctantly) check. For the V-Train, the positive aspects narrowly outweigh the negative.
Normally, I would recommend that anybody looking to purchase any shoes from the Vibram Fivefingers line to go try them on in a store before purchasing.
But, I would recommend even more strongly that anybody looking to purchase the V-Train go and get properly fit before pulling the trigger.
Profile of the Vibram FiveFingers V-Train
The Vibram FiveFingers V-Train is a minimalist training shoe, designed to provide a balance of barefoot experience and protective cushioning for a variety of activities. The polyester and spandex materials in the upper offer a snug yet breathable support. The NZYM Anti-Microbial Poly Fabric Sockliner keeps the inside odor- and microbe-free.
The shoe sports an XS TREK compound for its outsole. This extremely thin 4-mm rubber is durable enough to protect the foot throughout the training session. It also offers traction on both the gym floor and the rope.
Size and fit
Unlike the majority of workout shoes on the market, the V-Train features five separate pockets for each toe to deliver the ultimate freedom of movement. When putting on the trainer, one should first slide into the toe pockets and then slip on the heel section.
Outsole
The V-Train employs a 4 mm rubber outsole that features the brand's proprietary XS TREK compound. It aims to provide traction on unpredictable terrain. The material has also been engineered to deliver steadiness and comfort. It is also flexible and promotes natural foot flexion.
For enhanced traction, the outsole has different features like the circular lug pattern in the forefoot and heel sections that supports multi-directional movements. It also has Rope Traction Lugs on the medial side of the midfoot to aid users during rope climbs.
Midsole
The V-Train uses a minimalist 2 mm EVA footbed for its midsole. This component is flexible and provides impact protection to the bottom of the foot. It is lined with the NZYM Antimicrobial Poly Fabric Sockliner that prevents the buildup of odor-causing microorganisms.
Upper
The Vibram FiveFingers V-Train utilizes polyester and spandex materials in the upper. The form-fitting fabric has enough stretch to accommodate most foot shapes, and it is snug but not restrictive, to allow mobility.
At the midfoot is a cage-like structure made from TPU and synthetic overlays. It integrates with the lacing system and delivers a snug fit when the laces are tightened. At the top is a single hook-and-loop strap that allows users to tune-in the fit and keep the foot firmly in place.
Two layers of synthetic material form an external heel counter at the back of the shoe. This structure cups the heel to keep it steady and prevent slippage.
Compare popularity
Interactive
Compare the popularity of another shoe to Vibram FiveFingers V-Train:
Vibram FiveFingers V-Train video reviews