Its impressive outdoor performance, day-to-day wear comfort, and lightweight nature are some of the characteristics that wearers loved about the Vibram FiveFingers V-Aqua. On the contrary, those unfamiliar with Vibram that caught the wrong size were displeased with the purchase. Despite the grievances, it earned a spot among highly recommended outdoor and indoor footgear.
Pros
Relieves foot problems
Perfect sizing
Outstanding outsole grip
Dries quickly
Lightweight
Awesome ground feel
Cons
Durability issues
Lacks traction
Who should buy the Vibram FiveFingers V-Aqua
This FiveFingers V-Aqua is an amphibious pair that's wearable for both land and water adventures. But a caveat to those new to Vibram, this model runs small. That said, getting a size up is advisable. This minimalist trainer is a solid choice if:
You prefer footwear that helps relieve foot problems as you have been enduring discomfort for quite a while now.

You are looking for a shoe that offers a sense of assurance through its outsole grip as you use it on various surface conditions like wet rocks, surfboards, docks, boats, pool tiles, etc.

Your fitness lifestyle requires you to pack and move fast, and you need a pair that has quick-dry properties.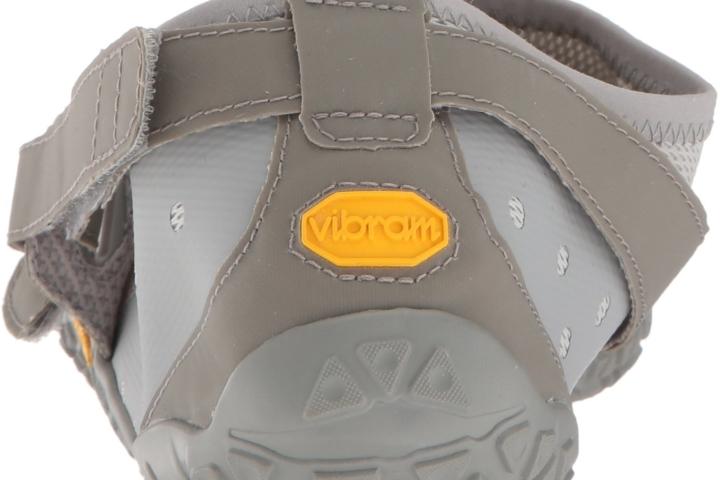 Innovative multisurface outsole grip
The Vibram FiveFingers V-Aqua is equipped with a 3.8-mm Megagrip sole technology. This innovative rubber compound is flexible which aids the foot in gripping uneven and wet surfaces.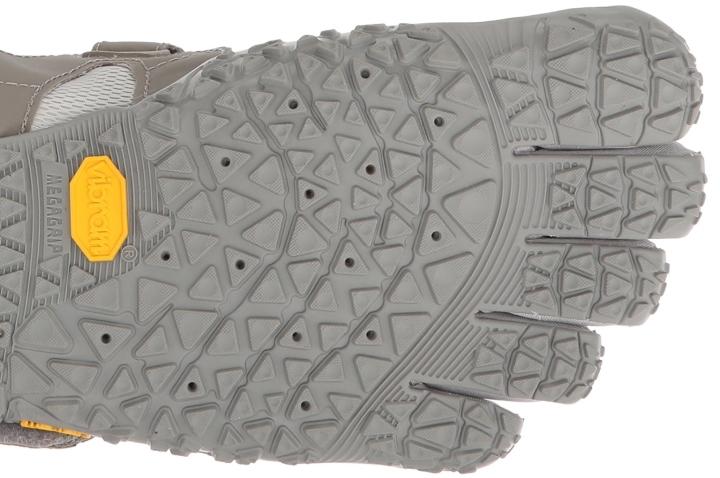 It is fitted with triangular lugs that provide superior traction and steadiness. The outsole also has multiple drainage ports that facilitate water seeping out and keep the inside aerated.
Protective underfoot cushioning
Found inside the shoe is a 2-mm EVA insole. It cushions the underfoot and serves as another layer of protection against uneven and rough surfaces.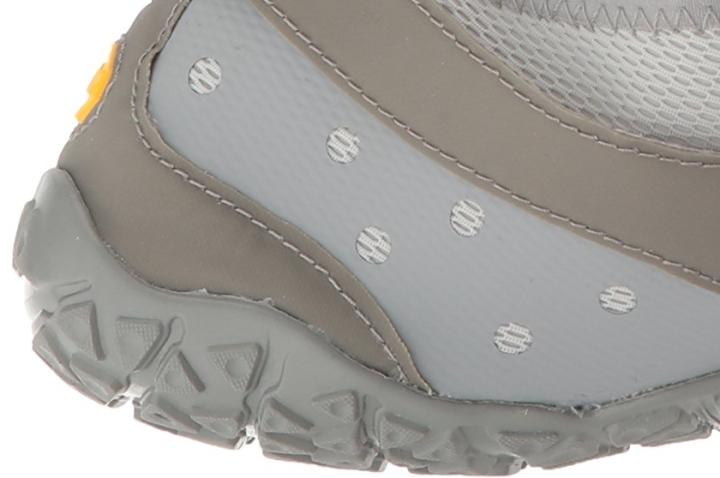 It has been treated with silicon, preventing the foot from sliding during wet conditions. The footbed has perforations that assist in water drainage.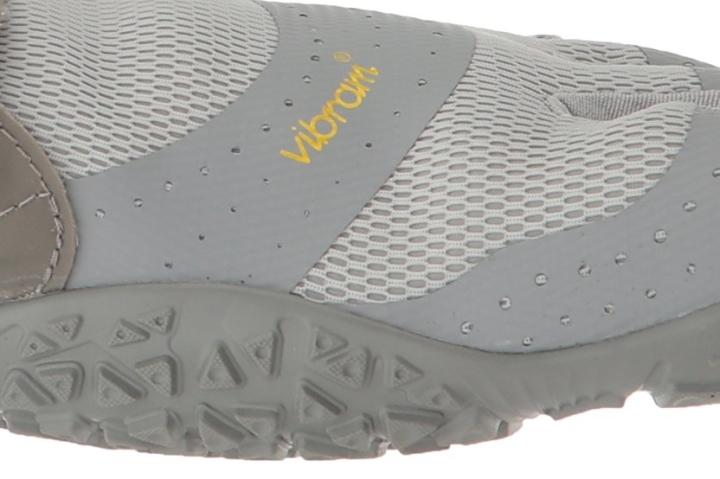 Quick-dry upper
A textile fabric makes up the upper of the Vibram FiveFingers V-Aqua. This material is stretchy and delivers a sock-like fit. It is also breathable and quick-drying.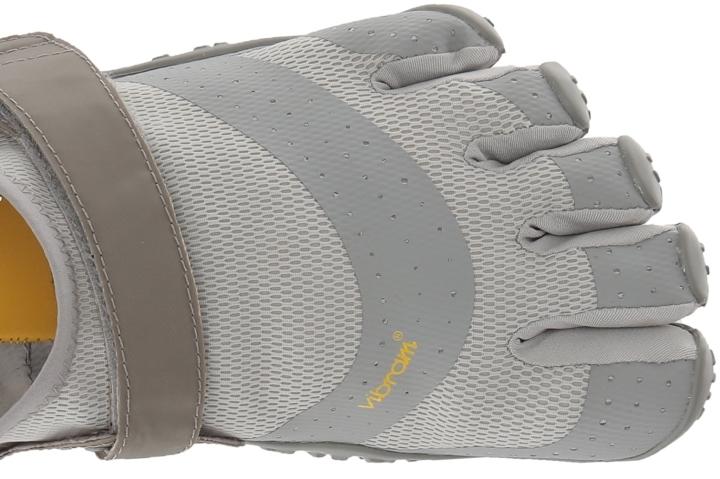 Abrasion-resistant overlays
Synthetic overlays reinforce the toe pockets and some areas of the midfoot, protecting the underlying material against abrasion.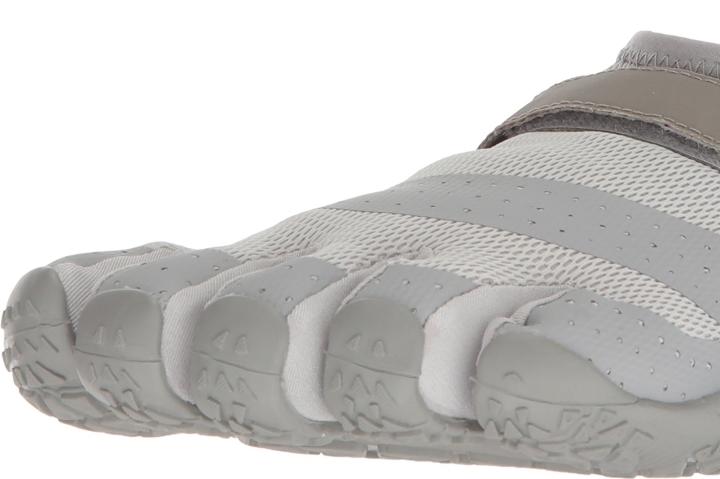 The Vibram FiveFingers V-Aqua's

adjustable strap

The trainer features a slip-on construction, but straps allow wearers to adjust the fit. One of the straps is found at the midfoot which delivers a locked-down fit, while the other is around the heel, helping to secure the rearfoot and keep it steady.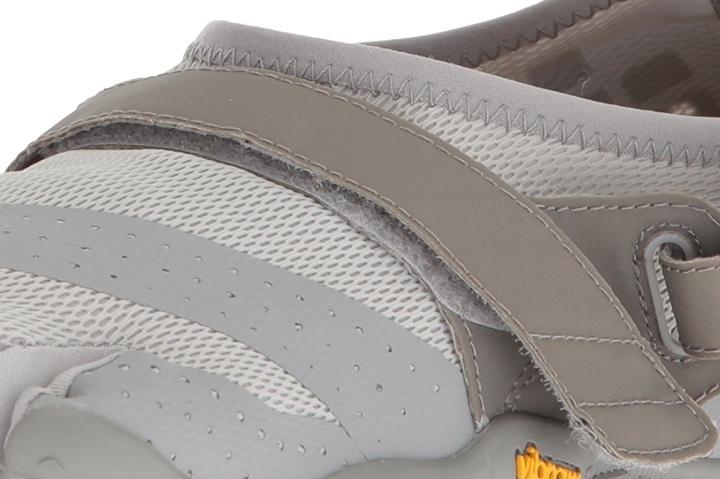 There is also a fabric loop at the back of the collar that makes it quicker to pull the shoe up.