The TriBase Reign 3 from Under Armour keeps up the excellent reputation of its predecessors, making it into our selection of the best Crossfit shoes out there. It is a versatile gym shoe that keeps your feet grounded for any gym exercise. It successfully combines stability and responsiveness, while also feeling like a sock on your foot.
Pros
Excellent stability
Comfortable in-shoe feel
Responsive cushioning
Impressive traction
Light
Secure bootie design
Flexible for fast-paced exercises
Aesthetically pleasing
Cons
Not for walking
Not for wide feet
Who should buy the Under Armour TriBase Reign 3
The TriBase Reign 3 is among the top-tier cross-trainers that are geared toward functional fitness. You are very likely to be satisfied with this purchase if:
your exercise routine involves lifting, plyometrics, agility training, and short runs up to 2 miles
you do lots of deadlifts (it is one of the most flat-feeling trainers)
you are after a premium-level gym shoe
you've been using Nike Metcons or Reebok Nanos and want to try a different shoe of the same caliber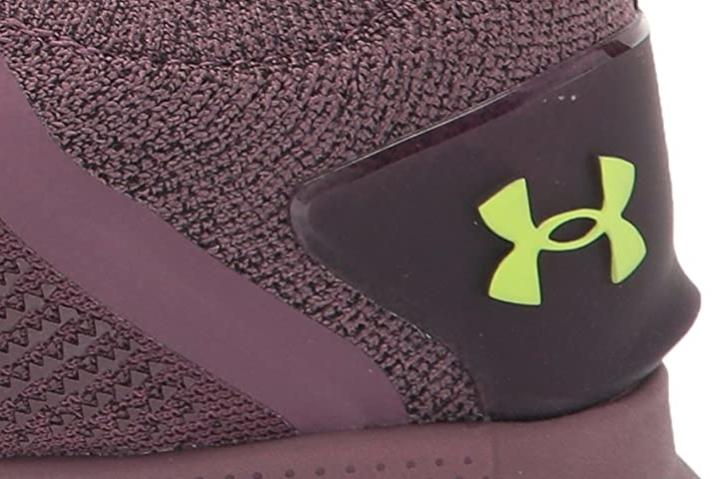 Who should NOT buy the trainer
If you have wide feet, then the Reebok Nano X3 would be a better option. It will also work for those who are not a fan of the snug bootie design of the TriBase Reign 3. The Nano features a more conventional upper construction with a separate tongue.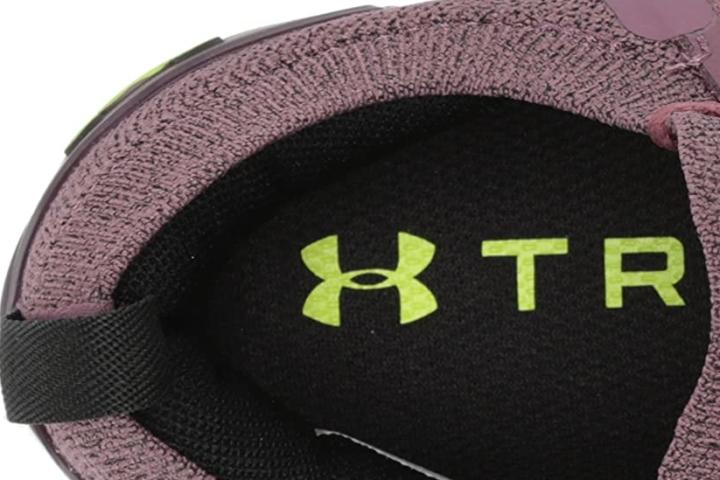 UA TriBase Reign 3 vs. Reign 2: a minor step up from its well-loved predecessor
If you are thinking about whether to upgrade or not, we don't think it's really worth it. And if you are new to the series, you might as well consider the TriBase Reign 2 as it is offered at a discounted price now. The changes introduced in the third iteration are quite subtle:
A bit lighter knit mesh material which moves away from the bulky overlays
Improved heel cup design for better ankle stability
An added ridge at the back provides grip during headstand pushups.
Apart from these, everything else stayed the same - from the responsive midsole to the UA TriBase's excellent stability and ground contact to the overall impressive performance during workouts.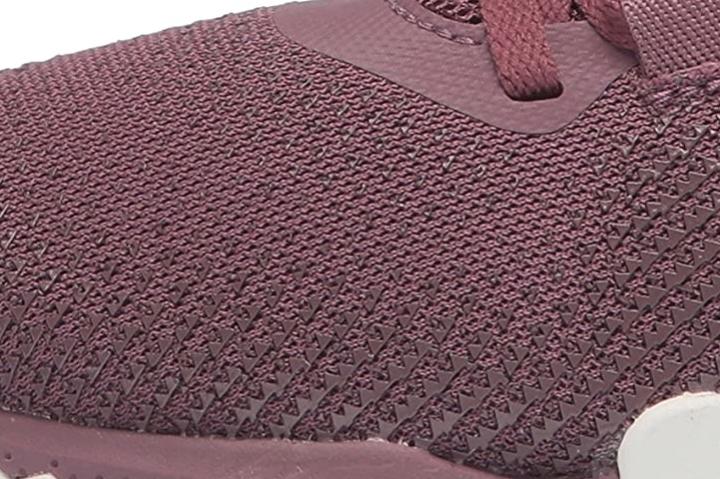 The TriBase was built with lots of lifting in mind
Many reviewers have become huge fans of the shoe's solid TriBase foundation. They claim to feel very surefooted and grounded in it. This high level of stability is attributed to several features:
TriBase outsole design. The firmest part of the outsole forms a triangle which creates three points of contact with the ground. In a way, it allows feet to be planted like a tripod.
Nearly flat sole. Inside the shoe, the difference between the heel and the forefoot is only 2 mm. This makes the foot sit rather flat on top of the sole and receive better ground feedback.
Secure heel counter. The TPU counter wraps around the ankle, doing a great job to support and stabilize the rearfoot.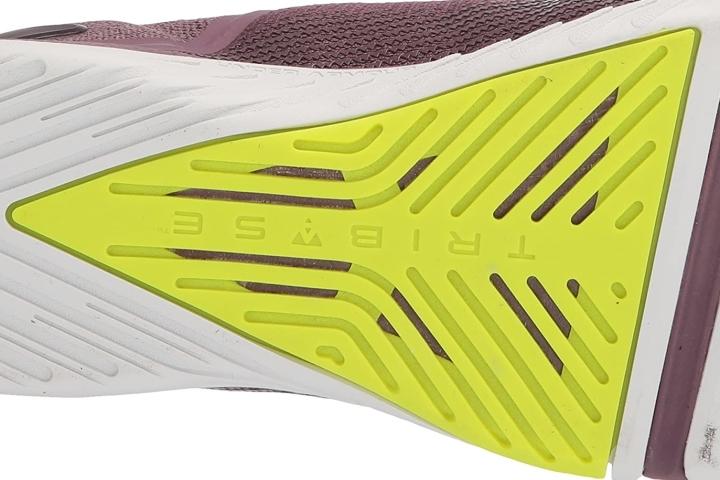 All of this allows wearers to lift heavy while feeling confident. Some of them mention lifting well up to 315 lbs in the TriBase Reign 3.
The trainer has also been especially loved for giving "terrific support" for deadlifts as well as "excellent lateral stability."
It's a feel-good kind of shoe
Nearly every tester has accentuated the cozy sensation they experienced when putting on the TriBase Reign 3. This is all due to the soft, elastic compression of the upper that gives a sock-like sensation. They describe it as "close-fitting" but not to an extent where your toes would feel cramped.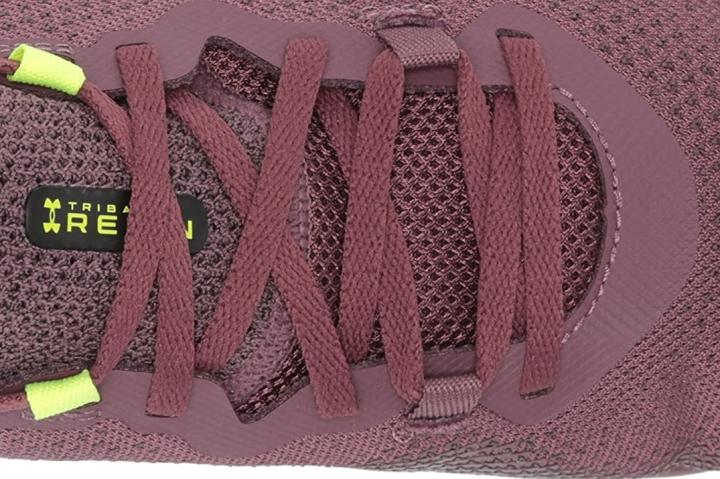 Another welcome feature is the added cushioning around the ankle. It's a sort of "pillow" that helps with a few things: hold the ankle in place, minimize chafing and blistering, and prevent heel slippage. Based on the users' feedback, they haven't had any of these issues.
Just enough cushioning to aid your jumps
The Micro G cushioning used on the TriBase Reign strikes a fine balance between responsiveness and stability. The athletes have noted its "nice reactivity" for box jumps, jumping rope, and other plyometric movements.
They also find it good enough for short runs (up to 2 miles), calling it "perfectly adequate for that distance" and saying that it "doesn't feel hard on the feet."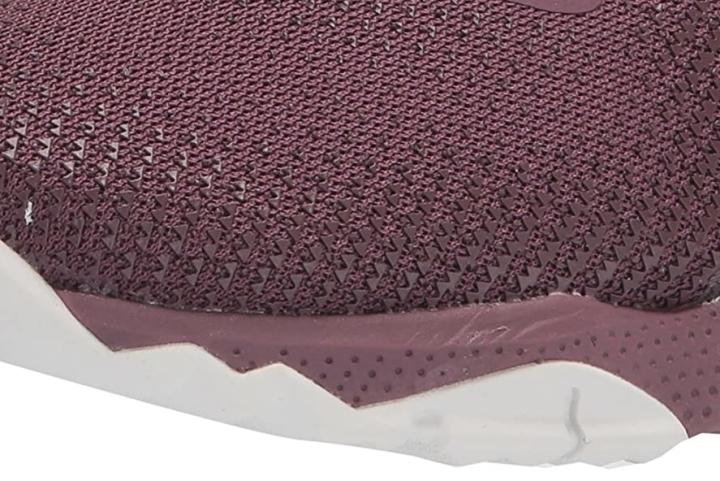 However, keep in mind that the trainer is still more on the side of stability and firmness rather than cushioning. So, you will need a proper running shoe that can cover some longer mileage. For that same reason, it is not the type of gym shoe you would want to wear for walking.
Impressive traction of the rubber
Reviewers applaud the trainer's excellent grip, especially in fast-paced moves. This is thanks to its full rubber sole and strategic rubber design in the forefoot area.
Some testers also find the raised sidewalls super grippy rope climbs.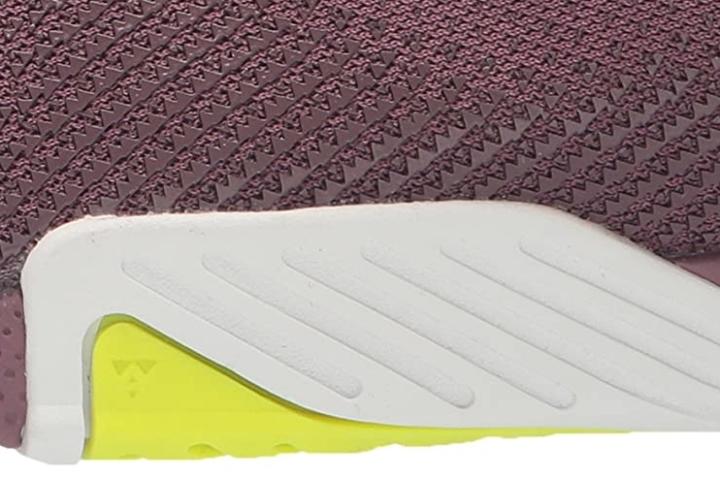 The UA TriBase Reign 3 is not bulky at all
With its 10.6 oz (300 grams) per shoe, the Reign 3 is at the average of all cross-training shoes on the market. You wouldn't really call it a lightweight training shoe, as those tend to weigh 200-250 grams, but it doesn't feel heavy either.
The reviewers have happily used it for agility training.
Flexible for fast-paced exercises
Thanks to a very noticeable "break" in the forefoot, exactly where your foot would bend, the shoe is plenty flexible for fast-paced plyometric moves. It is also very much appreciated for double-unders, burpees, planks, and any other exercise where you need to flex your foot or spring from the toes.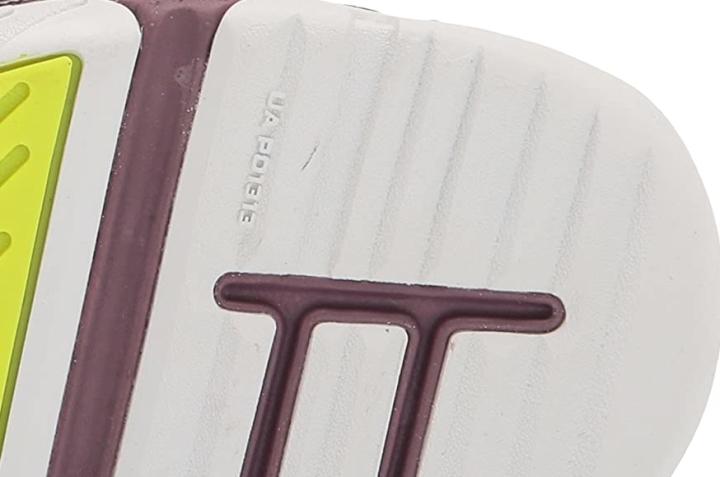 Athletically good-looking
Despite the rather austere and reserved colorways, the TriBase Reign 3 still has an appealing athletic vibe to it. A lot of reviewers have commented on being hooked on its looks before testing its performance.