Under Armour TriBase Reign 3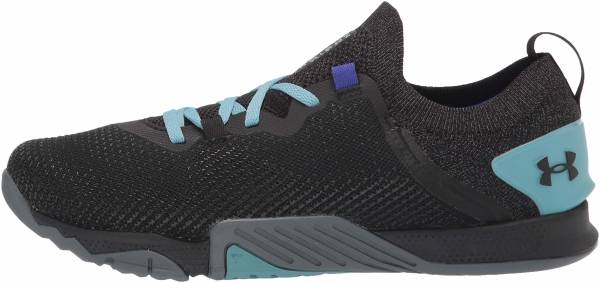 The TriBase Reign 3 from Under Armour might be a deal sealer if you're after a versatile, modern workout shoe. Ticking off every essential element for all-around trainers, this UA shoe
---
Verdict from 5 experts and 100+ user reviews
8 reasons to buy
Comfortable: The UA TriBase Reign 3 delivers tons of comfort.
Stable: The shoe's low-to-the-ground construction and heel cup design work together in providing excellent stability for both lifting and lateral movements.
Traction: Fitness enthusiasts applaud its excellent grip, especially in fast-paced moves. This is thanks to its full rubber sole and strategic rubber design in the forefoot area.
Lightweight: A video reviewer thinks that the shoe's relative lightness is one of its "best features."
Performance: Athletes are impressed with the pair's effectiveness in both cardio- and strength-based workouts.
Bootie design: An individual appreciates its bootie construction as it eliminates the need to tie the laces once the right fit is found.
Aesthetic: The TriBase Reign 3 is deemed to be a good-looking training shoe.
Forefoot flex: Thanks to a "break" in the forefoot tread pattern, the shoe is plenty flexible for fast-paced plyometric moves.
1 reason not to buy
Lace length: A reviewer claims that the laces are "ridiculously long."
Bottom line
The TriBase Reign 3 from
Under Armour
might be a deal sealer if you're after a versatile, modern workout shoe. Ticking off every essential element for all-around trainers, this UA shoe
Best price from 31 shops
We earn affiliate commissions at no extra cost to you when you buy through us.
98% say it's true to size.






We earn affiliate commissions at no extra cost to you when you buy through us.
Under Armour TriBase Reign 3: A minor step up from its well-loved predecessor
Like the rest of its lineage, this model is a CrossFit shoe revered for its performance and good looks. It lives up to its older siblings' good reputation and features several revisions.
The UA TriBase Reign 3 builds on the TriBase Reign 2's reported weakness by changing the upper and heel cup design to promote better fit, comfort, and lighter weight.
Head below for a more comprehensive comparison between the two shoes.
Who is it for? This trainer could satisfy fitness enthusiasts who look for the following attributes:
A more comfortable rendition of the UA TriBase Reign 2
Bootie upper design that's supportive and breathable
Excellent stability and ground contact for weightlifting
Versatile CrossFit shoe that adequately performs in most workouts
Under Armour TriBase Reign 3 vs. TriBase Reign 2
Below are the significant differences between the two UA trainers:
New upper design. The Reign 3 now employs engineered mesh upper and bootie design. This construction can accommodate wider feet and eliminates excess seam that could cause chafing compared to the Reign 2's regular mesh upper.
Improved heel cup design. The shape of the Reign 3's heel counter is revised for improved stability, and an added ridge provides grip during headstand pushups on the wall.
Apart from these, everything else stayed the same - from the responsive midsole to the UA TriBase's excellent stability and ground contact to the overall impressive performance during workouts.
Rankings
How Under Armour TriBase Reign 3 ranks compared to all other shoes
Popularity
The current trend of Under Armour TriBase Reign 3.