Verdict from 4 experts and +100 user reviews
8 reasons to buy
A lot of runners appreciated the Under Armour HOVR Sonic 3's overall quality.
This running shoe is comfortable to wear, based on reviews.
Several users mentioned that this shoe is highly durable.
One commenter noted that it is suitable for both hot and cold conditions.
The shoe offers just the right amount of support, some buyers claimed.
The shoe's performance tracking feature was praised by a lot of satisfied wearers.
A few purchasers appreciated this shoe's lightweight structure.
This running partner is flexible, according to some reviewers.
4 reasons not to buy
Some runners felt that the Under Armour HOVR Sonic 3 is a bit tight.
One user noted that the sweat stains are visible on the upper.
It is a bit expensive compared to other running shoes, according to a buyer.
A couple of testers experience tracking issues with the MapMyRun app.
Bottom line
The Under Armour HOVR Sonic 3 is packed with advanced technologies helping the user become a better runner. It is designed to provide a light and well-protected ride, making the platform perfect for long-distance runs. This
neutral running shoe
is suitable for runners who are looking for cushioning, flexibility, and versatility.
Tip: see the best running shoes.
Our reviews
Let's start with a bit of honesty. As runners, we're all a bit of a brand snob. We don't normally look to diversify from the beaten track unless we've had a recommendation that blows our minds.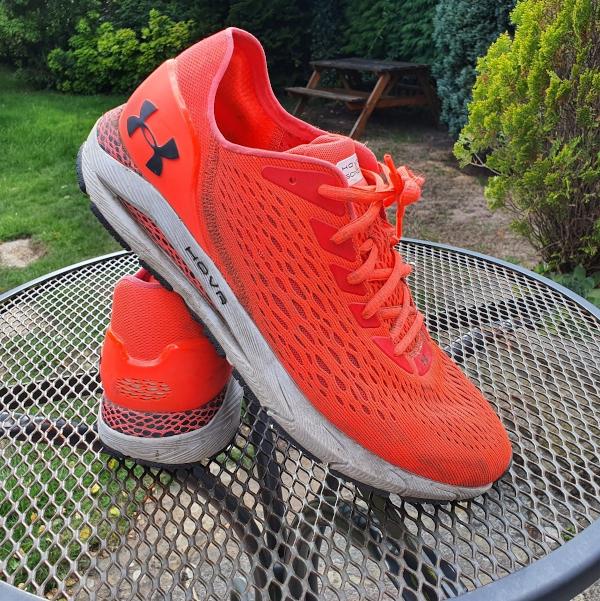 Lots of people recommend Hoka for their padding. Lots of people recommend Nike for their range. On, Asics, Brooks and Saucony are not an unfamiliar sight at a race either. I've been aware for a while that Under Armour started making trainers – but at no point did I consider them a competitor.
This review has enabled me to not only experience the shoe but also tell all my friends about it. Maybe I've been living under a rock, but I can say that this is the first UA story I've heard.
I can honestly say I was not expecting this to be such a good shoe. So many design features that exist in a premium running shoe and yet, these can now be bought online in the £60-70 price bracket.
But this is the best bit; in addition to it being a great trainer, the connected tech is, as far as I can tell, market-leading. Yes, foot pods exist, and you usually have to pay circa £20 for this tech alone. To have this inside the shoe by design is even better.
Overall, I wouldn't hesitate to recommend this shoe or buy another when the soles wear out.
Sole
The sole is split into two components. First are the durable rubber overmould and the main foam section. The main foam is UA's HOVR technology.
This is a lightweight, durable foam, and it really is as good as the rest. It enables the shoe to be lightweight, springy underfoot, well-cushioned, and so far, durable.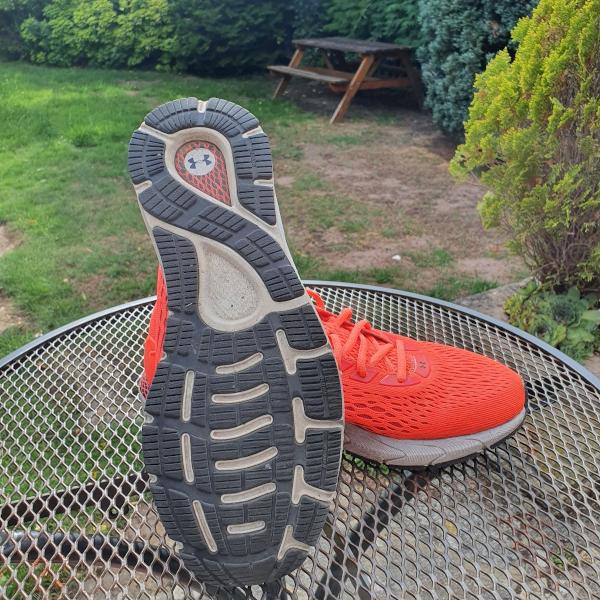 There's no additional technology used, but my experience of the soul has been positive. They're a delight to run in, and you feel like your energy is reacted well, keeping you pushing.
In addition to the foam layer is the grippy, sticky overmoulded rubber. This black compound stops you slipping on low friction surfaces, and I never suffered as a result.
Traction was good on the roads, canal paths, and off-road both in wet and dry. For good measure, they also threw in a cool UA logo.
Heel
So, this for me, is one of the best heel designs I've come across. Firstly, moulded in support systems is something I've only really seen on On shoes so far—I know it exists elsewhere, but I would call it rare as a feature.
I have found these both comfortable and offer excellent heel retention. I've not suffered any rubbing of any kind or any heel lift, which is a massive plus point in my mind. I believe the heel on the right shoe is also where the foot pod is located—more on this later.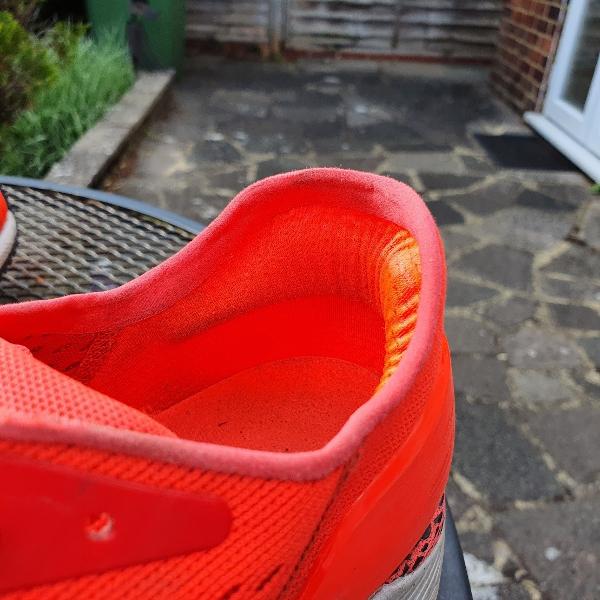 In addition to the insert, the whole of the heel system has a very stiff plastic piece surrounding it. It starts around the start of the heel and wraps around the back of the shoe. It's the first time I've seen the use of hard plastic rather than simply reinforcing the area with extra padding.
I think it enables UA to have a thinner, more breathable fabric across the rest of the shoe as a result. Overall, I'm really pleased with this design. It's very supportive, and once your foot is in, it feels very secure.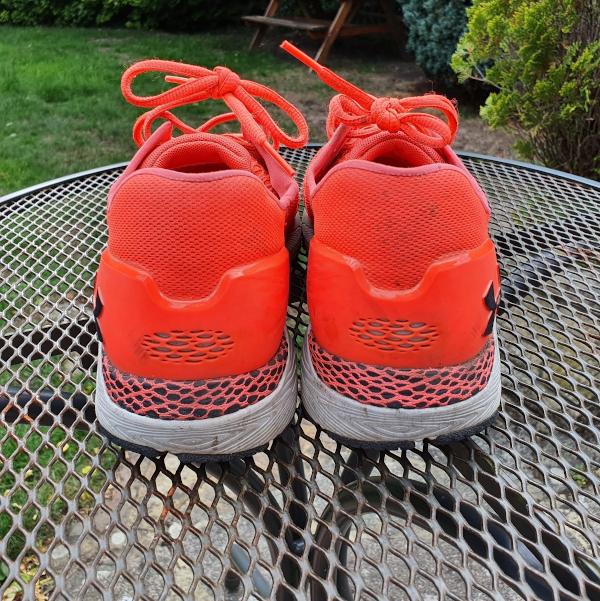 Also, what is great to see here is the reflective material built into the rear of both shoes. This is useful for late-night running during those winter months as, sometimes, it's the difference between being seen and not.
UA has also added a funky pattern as part of the design and added a UA logo onto the outside of each shoe.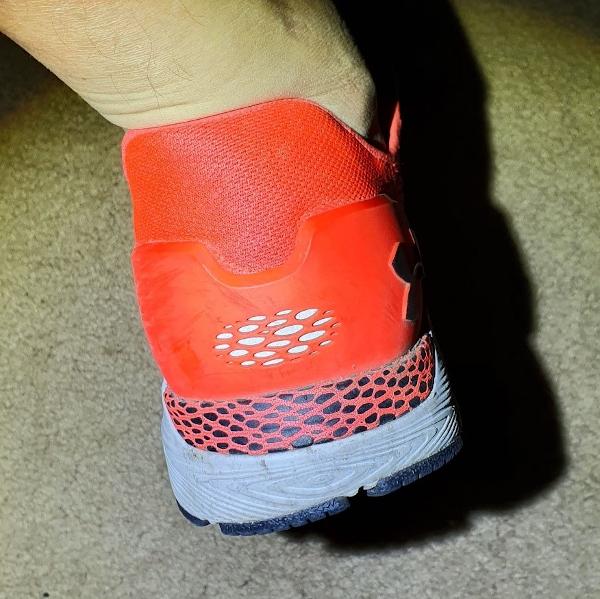 Upper/mid shoe
As mentioned earlier, the use of hard plastic to support the heel means the rest of the shoe can have quite a thin and breathable fabric. They're very cool to run in, and I suffered no over-heating.
In addition, the number of holes also mean that if your foot gets wet, the fabric drys quickly. There's a big stitch line up the side of the shoe, but I've literally only just noticed that now looking at the photos.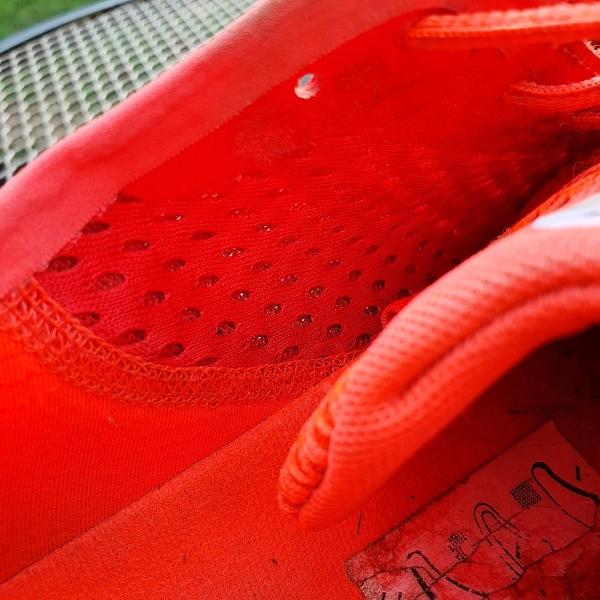 As the meshing runs to the front of the shoe, where the toe box support normally is, the breathable design is reduced slightly to help stiffen up. The over moulded toe from the sole goes a good job of adding support too.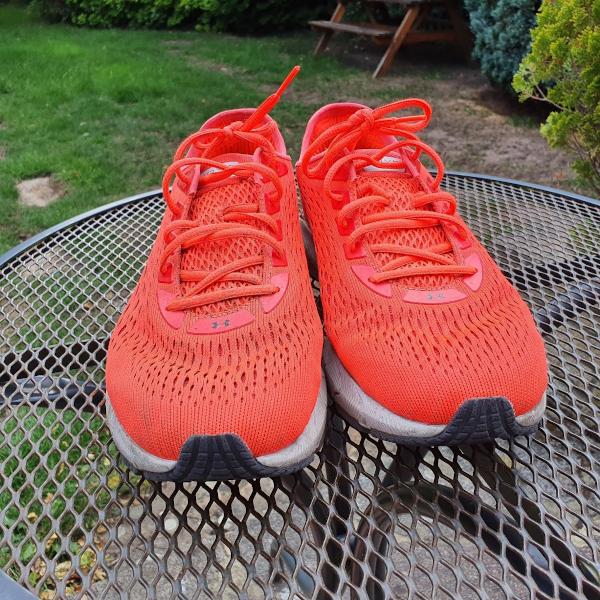 Tongue and laces
Now, this is another example of a great design feature. One way to prevent any foot slip and to prevent any tongue movement is to connect the tongue to the base with a stretchy fabric. This helps your foot feel planted, and I love to see in a shoe.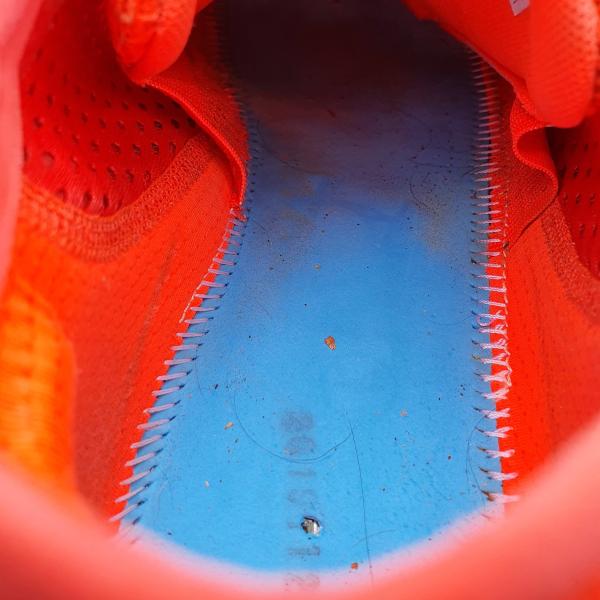 In addition to the excellent tongue design, we also have the standard loop for laces. The tongue shares the breathability design as the main mesh but is softer to the touch, which just makes sure that the preloaded tongue is comfortable on the top of your foot.
Each of the eyelets is reinforced to prevent any additional wear, and overall, the system works great. It's supportive, comfortable without being overbearing. We also have included a UA logo at the foot of the lacing system, and at the top, you can see the Sonic reference.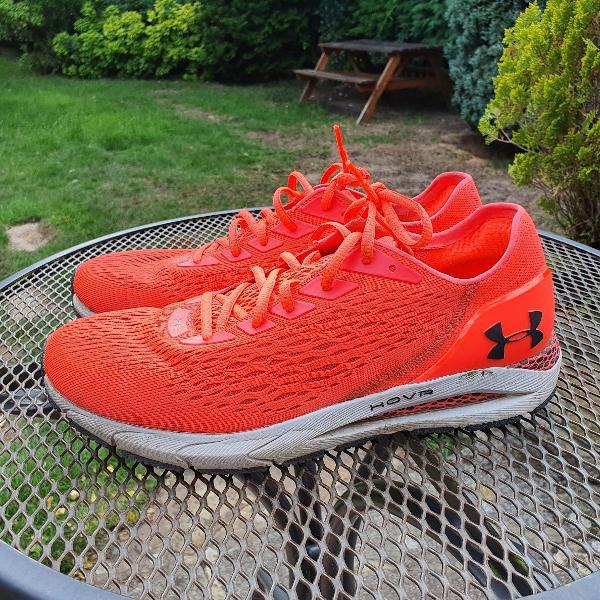 Laces are a good length and are also soft to the touch. I'm one of those runners who doesn't like to tie, and re-tie laces and this stretchy/soft tongue lace combination works great for me.
Insole
Not to be under-appreciated, a removable insole enables you to fit your own if you desire, but it is also a simple insole as the rest of the shoe is doing the rest of the work. No qualms here.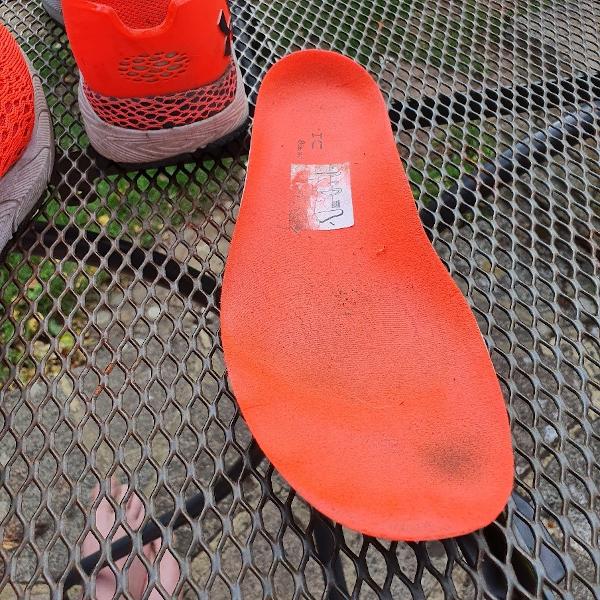 Weight
As mentioned earlier, with the additional foot pod, I expected these shoes to come out quite heavy. I was pleasantly surprised—these are borderline tempo shoe, and with the level of cushioning you get I found they feel lighter than they actually are.
The only negative I see here is that there is a minor 14 g difference left to right. It is certainly something that I didn't notice on my runs, but if someone is sensitive to a right/left balance, they may detect this.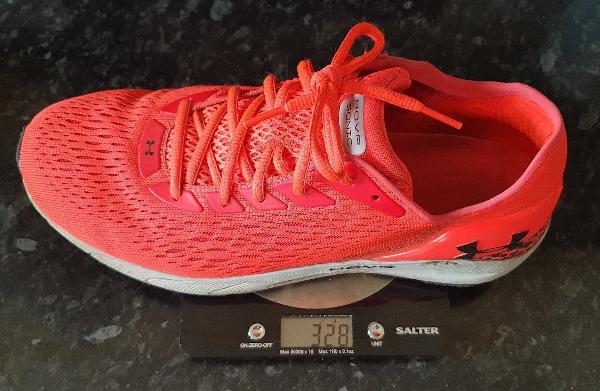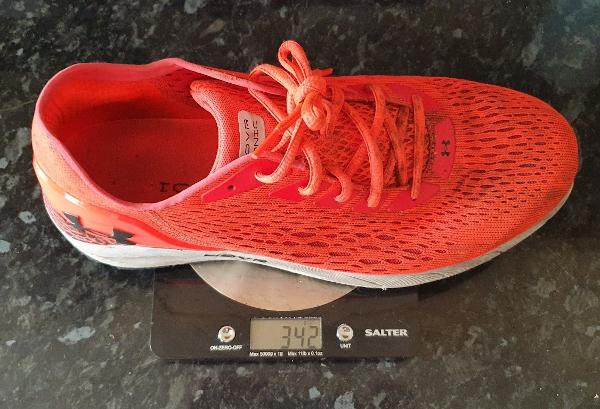 Either way, I feel the weight is competitive and, for me, is a great weight for long runs too. In my opinion, they're light enough for tempo work whilst being cushioned enough to go marathon distance. The SONIC's are a great all-around shoe.
Sizing
I'm a 10.5 in almost all shoes. I run this size in Asics, Nike, Hoka, On and more so these are true to size and are correct for me.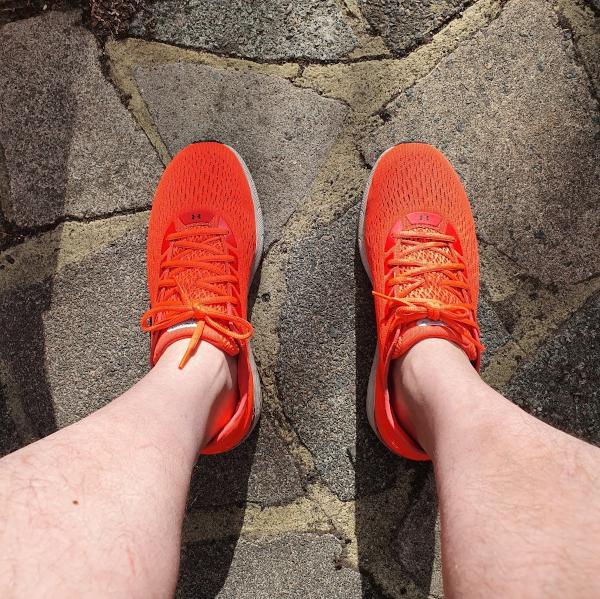 Design
In my very personal opinion, this is the only place the shoe is lacking. I got a pair of 'Red' shoes. The colour is a very bright red/pink colour, which is emphasised by the hard-plastic heel and this colour is combined with a white sole along with black rubber and other UA black accents.
I do like the pattern on the heel, and the way it runs through the sole on the sides of the shoe is cool. I'm also pleased to see the UA rectangular cut out on the side is now gone—the new design flows much better.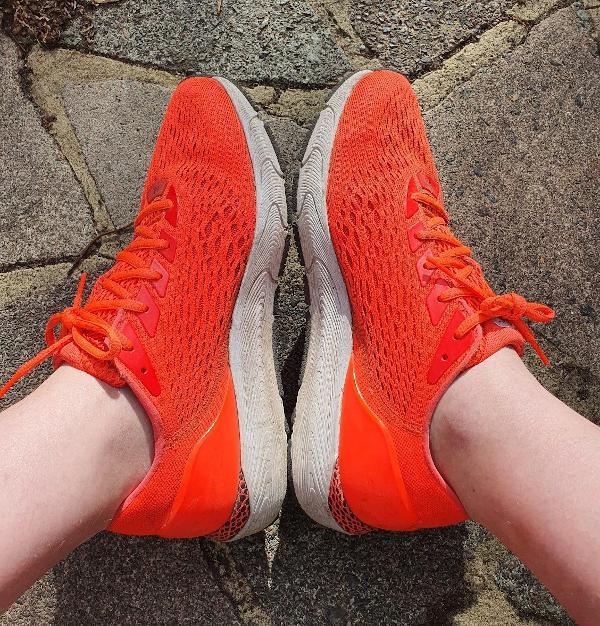 However, overall, I'm underwhelmed with the available colour choices, colour combinations, and the use of black on trainers nowadays seems a little outdated. The black and blue pairs of Sonic 3's are more pleasant on the eye, but the rest is a bit dull.
Maybe the Sonic 4 will overcome this hurdle to make the shoe really stand out. This is obviously less important but can make a difference in the market nowadays.
Connected tech
Obviously, no review of this shoe is complete without an insight into the foot pod's purpose and what functionality a user can expect to get from this smart shoe. I found a few actual reviews online, so here is my experience.
Firstly, my Fenix 3 HR could not recognise the foot pod—annoying. As the pod is Bluetooth, only most watches cannot connect to the shoe directly. Only the latest Garmin devices are capable of connecting to Bluetooth sensors.
However, you can connect with your phone. You need to download the 'Map My Run' app from the app store and then pace around in the shoe to wake up the sensor.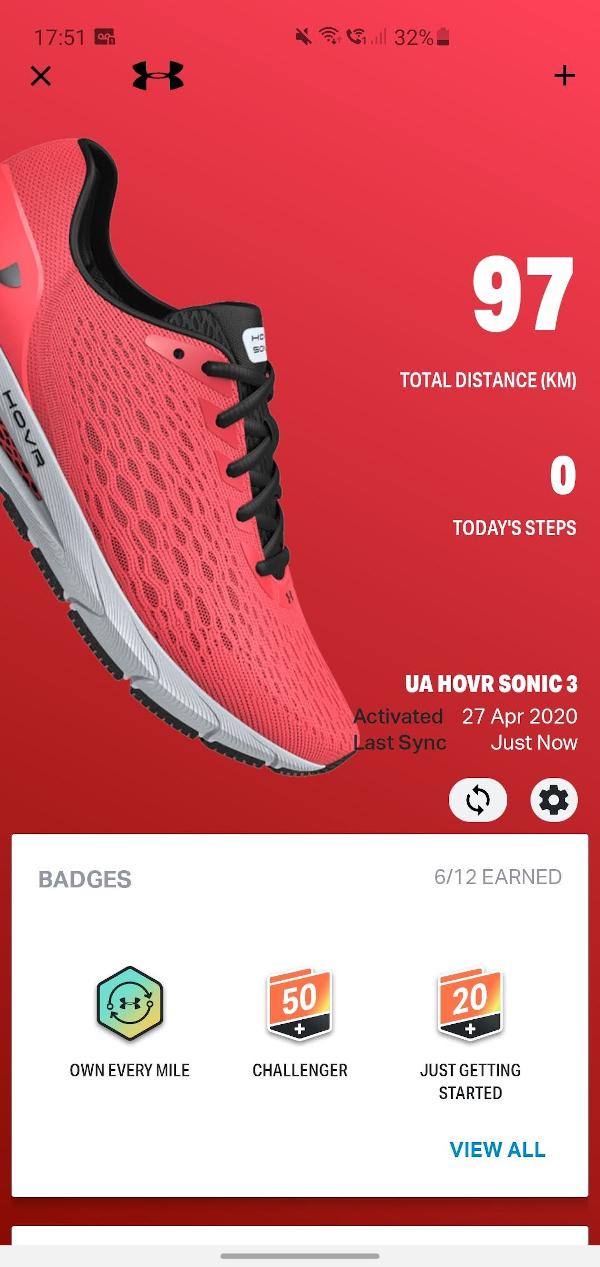 Once the shoe was linked, you create an account, and then off you go. Running with the app also enables updates mid-run, and you also get coaching feedback. The best bit I found was that the shoe was able to track a run without your phone.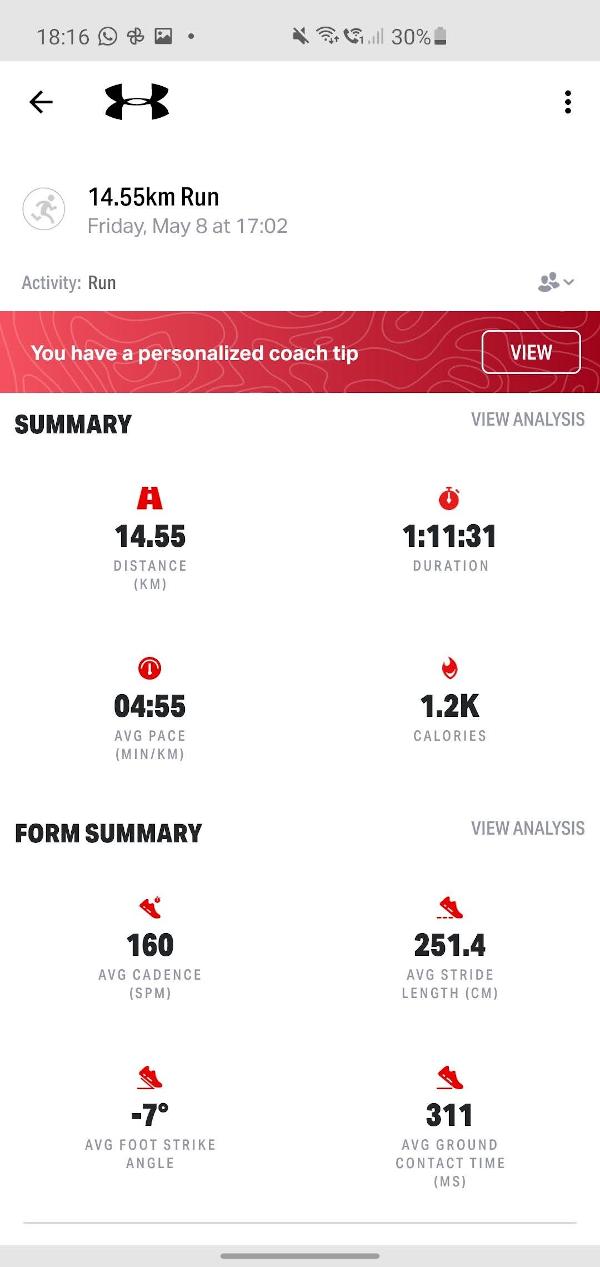 You don't get the GPS information as you would expect, but the shoes still log distance, pace and all the advanced data you'd expect with a foot pod. This was unexpected – I assumed you needed a device connected at all times.
I was impressed with the data collected and its repeatability. I did find that splits were slightly different to my Garmin using actual GPS data. I went for a 1:10 run and, according to the Garmin I covered 13km with an average pace of 5:25min/km.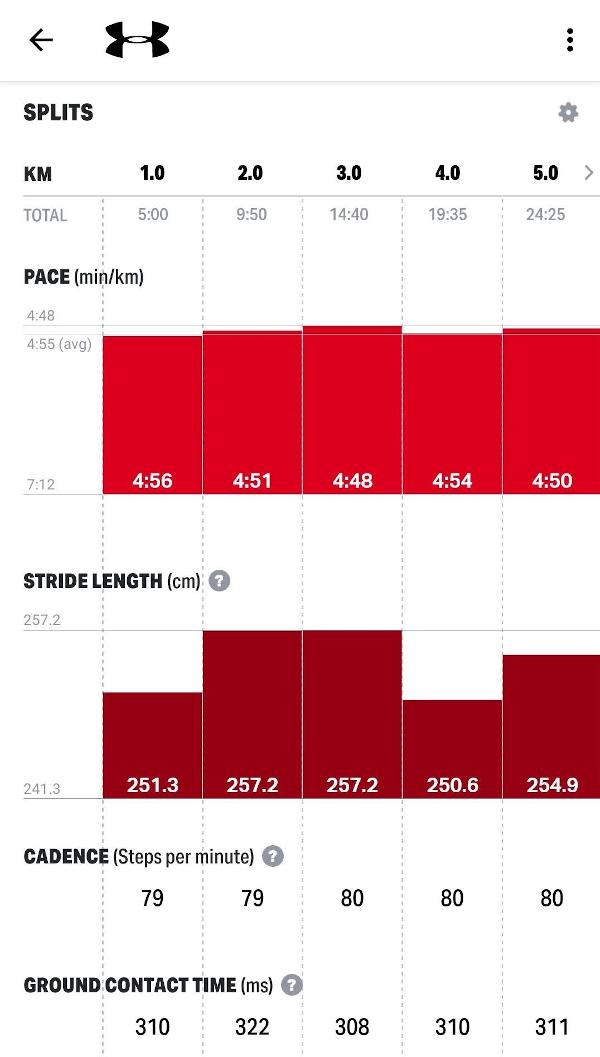 The HOVR shoes for the same run gave me a 14.55km distance with a 4:55min/km average pace. This is quite a significant difference. When I ran with my phone and GPS active, the accuracy was definitely better, but the Sonic's seemed to consistently over-predict pace and distance.
If you used these shoes with a compatible watch, which had stride length linked, I imagine the result would be accurate data and a much better experience. Unfortunately, I still cannot find anywhere in the app to input stride length. I believe this would also make the shoes independently more accurate.
In the same run, Garmin predicted my average stride length as 1.14m, which is OK for a Z2 run. In the UA app, it predicts my average stride length was 251.4cm, which just seems way off.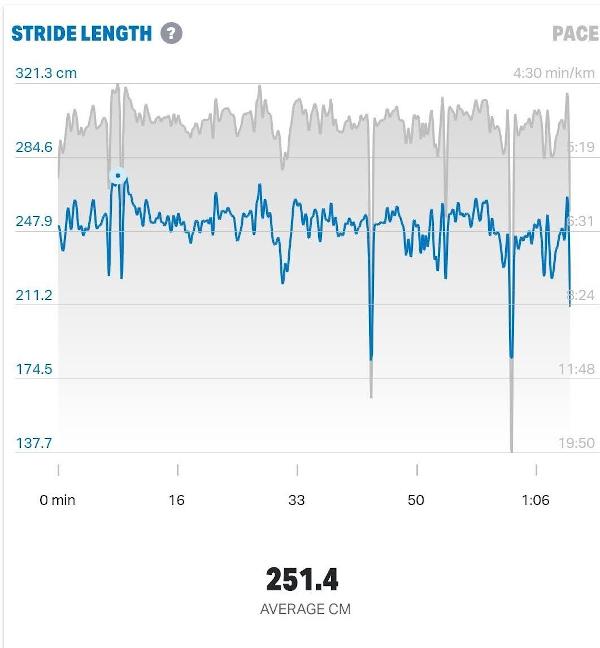 My only other gripe with the app links to the coach. I have had gait analysis and coaches compliment my running form and cadence. OK, I'm not perfect, but during runs with the phone, the coach kept telling me my cadence was too low.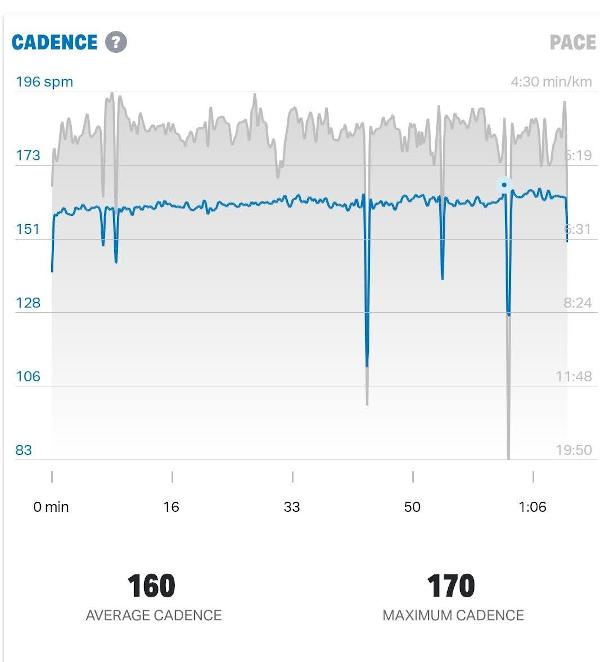 My faster paces runs are in the 170-175 range, and slower ones are between 160-170. However, according to the app, the target cadence for me was between 170-184 spm.
Who knows, maybe I'm wrong, and the app is right. But, for me, a longer stride means better muscle activation and shorter strides are, in my experience, less effective and can lead to poorer form.
To summarise the connected tech, it's great, and it's unlike any other shoe I have. It's really interesting to see how my cadence and heel strike angle change over the course of a run. I haven't used any of it to change my technique yet, but who knows what the future holds.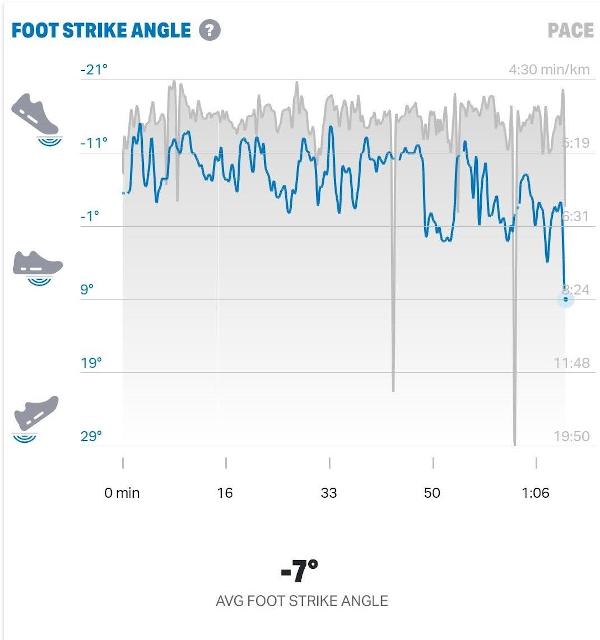 However, the inability to change stride length is annoying. With a Garmin or other compatible GPS watch, I think the experience would be great. However, I don't feel like the shoe/app combination is completely there just yet.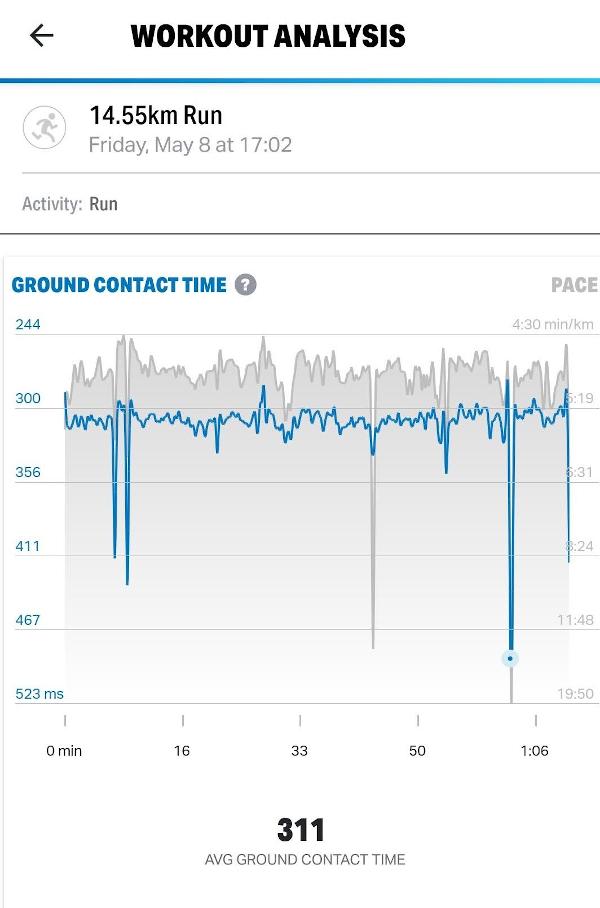 Conclusion
Please don't let my rant about the connected tech detract from what is simply a remarkable shoe from UA. It feels to me like the designers listed all the best features of a great running shoe and made sure they incorporated all of these features without compromising for an affordable price and with the additional smart tech for good measure.
I've told so many people how amazed I am by their performance and overall experience. I may have even talked a few into buying a set of their own, and so far, I've had nothing but positive feedback.
UA has outdone themselves, and they're now in a position where they should be compared with the market leaders.
I feel like the only way to really better the HOVR Sonic 3 is to balance the weight left to right, offer newer colour combinations and continue to develop the app. However, it may also mean I need to upgrade my running watch too.
Stop reading. Go buy a pair and enjoy running in them!
Under Armour isn't the first name that springs to mind when thinking of the big players in the running market. They have been on the scene for several years but haven't made the breakthrough in the way that other relative newcomers have.
Their mission to 'make all athletes better through passion, design, and the relentless pursuit of innovation' sounds good to me. I have a number of pieces of their apparel and have been impressed by the performance of each, so I was happy to try out the new HOVR Sonic 3 running shoe.
High visibility head turner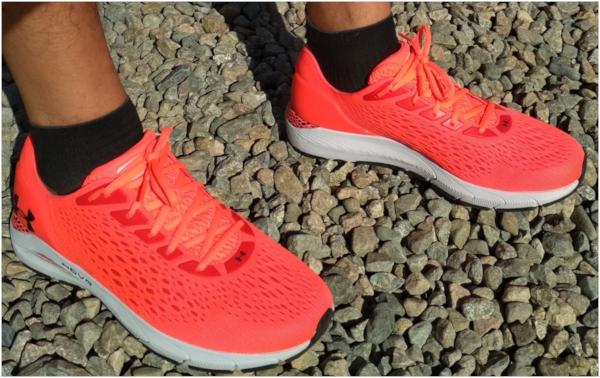 It is pitched as an all-rounder aimed at the distance runner who wants some flexibility. I am not an avid road runner, but I put in the miles with a mix of focused sessions and longer runs to supplement my off road activities.
The HOVR Sonic 3 features a Bluetooth chip that collects running metrics which are used to provide real-time coaching tips to help improve form and performance. It is an innovative approach and one which really sets Under Armour apart in the market.
Out of the box
My 'Red' is more like a luminous orange - its a knockout, very bright, and very distinctive! I have had comments about the colour from just about everyone I have met.
Personally, I like some colour in my shoes, and I live in the countryside, so some of my road routes don't have pavement.
Anything that assists in helping me to be seen and makes me safer on the road is a good thing! The reflective details on the heel and tongue are effective and help with this.
The upper feels soft, comfortable, and is well vented, which should make this a great shoe for warmer conditions. The only overlays on the forefoot are around the lace eyelets and at the end of the lace channel.
These will definitely enhance durability and assist with fit, adding a little structure without impacting on breathability.
A prominent feature of the HOVR Sonic 3 is the rigid TPU heel counter. The addition of hard plastic overlays on road running shoes isn't so common, with most manufacturers stripping down exterior features in pursuit of weight saving.
TPU Heel counter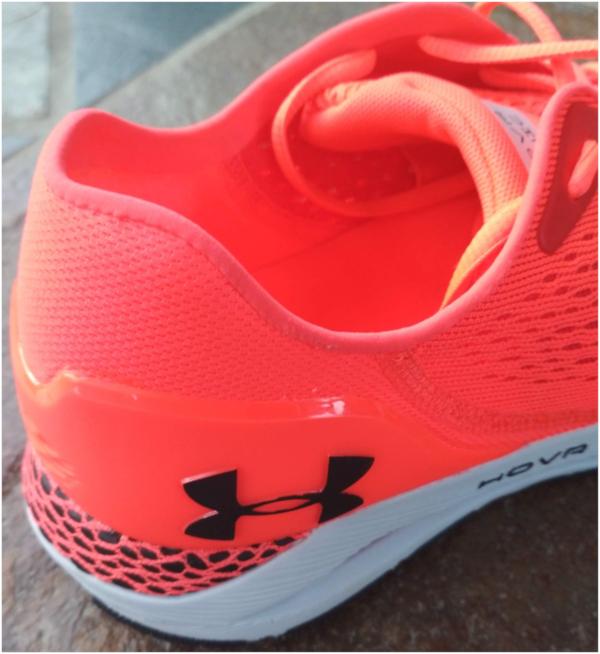 Generally speaking, the build of these shoes is geared towards flexible comfort, but this is a very deliberate structured feature to provide extra support.
You can be very confident that it won't break down. It is integrated well into the design of the shoe and allows for a thinner, more sock-like fit at the heel notch.
Outsole
The outsole features blown rubber under the forefoot and high-abrasion rubber under the heel to help absorb ground contact. I like the idea of two compounds of rubber on the sole as I tend to wear the heel down over the lifespan of a shoe.
There is a large cutaway under the heel, exposing a chunk of the web-wrapped HOVR foam. The foam feels soft but supportive and promises lots of energy return.
This exposed section compliments similar elements on the side of the midsole and heel counter providing a nice design detail and helping the visual flow of the shoe.
Dual compound outsole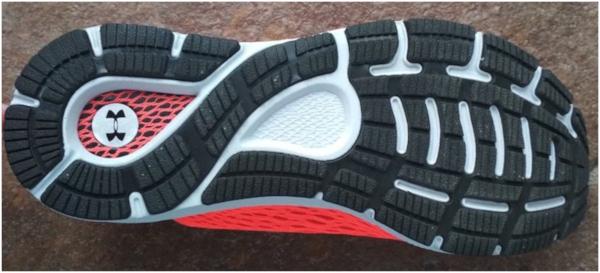 Fit & comfort
The fit of the HOVR Sonic 3 was a real highlight for me. They have a 'Microthread' upper, which is soft, flexible, breathable, and comfortable. Inside, the seamless construction offers no opportunity for hotspots or irritation.
The tongue is attached to the footbed of the shoe with stretchable support wings. This helps to keep the foot snug but with enough flexibility and breathability to allow for swelling on longer runs.
In the absence of any major structure on the upper (apart from the aforementioned details around the eyelets), the wings are a clever source of compression and support.
The toe box has ample room without being oversized or baggy. I found the fit to be a nice centre point between my previous two pairs of road shoes - the Nike Pegasus 35 and the Reebok Forever Floatride Energy.
My normal UK 10 was perfect in length and width. It is a neat looking shoe, and I found it easy to adjust the lacing and get a comfortable but secure fit.
Great fit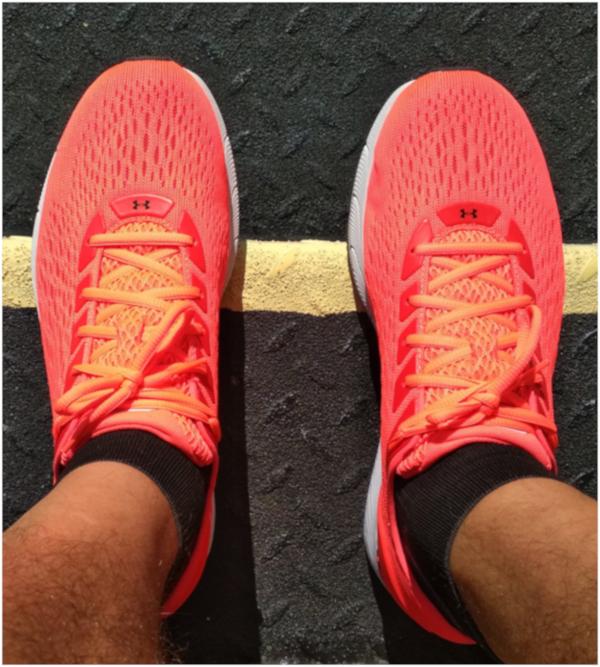 At the back, there is a horseshoe-shaped collar inside the heel counter. I have never had a shoe with this feature, and visually, it is a bit of a turn off.
I worried that such a prominent ridge would be uncomfortable, but it isn't at all. I am definitely aware of its presence when putting the shoe on and for the first few seconds of wearing it, but it feels surprisingly normal and really keeps my heel locked in.
It should work well for someone who experiences heel lift.
On the run
Under Armour pitches the HOVR Sonic 3 as an all-rounder offering' flexibility, cushioning, and versatility. They tick all those boxes to some extent.
My initial feeling was that they were a little firm underfoot. Not uncomfortable but by no means the soft but responsive feel that I expected and which prevails on many of its one-piece foam dominated competition.
Great, if that is what you like. Compared to my previous two pairs of road shoes, the HOVR Sonic 3 definitely feels the firmest.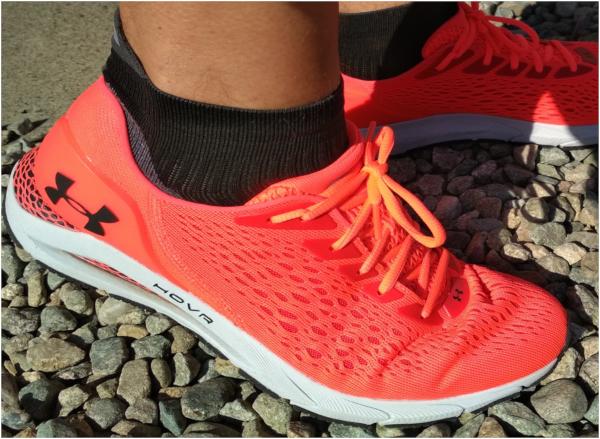 The stack and drop are quite standard at 25mm/15mm (10mm drop), but I did feel a little more elevated than in other shoes due to the firmer feel of the midsole. There isn't an abundance of feel underfoot, which is hardly surprising given that it is quite a substantial shoe.
Over the course of my first 50+ miles in these shoes, I have carried out a range of workouts to make a fair assessment of them.
On longer, slower days, I would prefer a softer feel with some more cushion below my feet. After a 20 km effort, I was experiencing a little discomfort in my knees, which isn't normal for me.
On long, muggy days, breathability, and comfort were excellent. It's clear that Under Armour has put a lot of thought into the design of the vents in the upper. They are extensive and very effective.
I found the sweet spot of the HOVR Sonic 3 is brisk running. Tempo efforts and pacy running offered a really enjoyable experience - sharp, responsive, and stable.
Although the midsole is thick and relatively firm, it never felt clunky or heavy and provided a nice combination of support and response. When my form was good, and I was traveling at speed, I really felt like I was effortlessly gliding along.
This is what UA promises, and the HOVR Sonic 3 delivered.
Tech
Under Armour is pushing the technical side of their shoes, and the HOVR Sonic 3 comes with a built-in Bluetooth connection.
This gathers information on time, distance, and pace as well as various performance metrics such as cadence, foot strike angle, and ground contact time. This is collated and displayed by connecting the shoe to the UA MapMyRun app, which is very straightforward to set up.
When you purchase Under Armour's smart shoes, you get the premium version of the app, giving access to lots of useful plans and analysis.
This is some nice added value. The app also offers integration with various third parties, including Garmin Connect, which I use.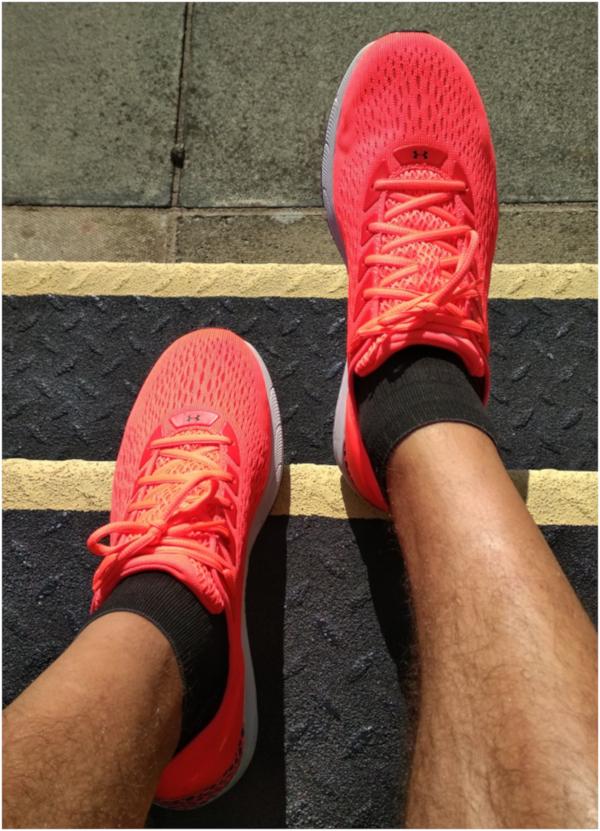 All sounds good, yeah? Well, maybe.
On my first run, I ran my Garmin 735XT alongside my phone running UA MapMyRun, and it was a pain, constantly sending commands to my watch, lighting it up, and running down the battery.
The phone itself was fine, and the real-time coaching delivered by voice commands could be useful for lots of runners. Every few minutes, I would get a cadence related prompt, which I tried my best to take on board.
Data from the shoes was initially inaccurate. I found it to be around 5% short on distance and, on average, around 30 seconds per mile slow over 10km compared to the figures from my watch.
I contacted UA MapMyRun support, who responded very promptly and advised me to recalibrate the shoe, which was easily done using a slider in the app. I was impressed by the accuracy of the figures after this.
Cadence tips were taken on board and implemented and certainly made a difference to my running, with a related impact on my foot strike angle.
Although not an obsessive technician, I am happy to listen to advice and work on improving my running form. This is a really tangible benefit of the connected shoes and will work for a lot of people.
Finish line
The HOVR Sonic 3 definitely has its moments and will retain a place in my rotation, but I just don't feel that it fulfills all its promises.
There is a lot to like. The technology and fit are real highlights, but I would prefer a snappier feel to the midsole. I can't help feeling that with a little less weight and a little more foam, it could be the true all-rounder I was expecting it to be.
The tech will be useful for the runner who wants to work on their form, and some of the metrics produced are interesting and very helpful. I'd recommend the shoe to someone who doesn't feel the need to invest in wrist-based tech.
The form tips could prove very useful to them. It may also appeal to folks who want to run free and not be a slave to their watch but who still like to have a record of their activities.
This is a good shoe at an excellent price point with the bonus of coaching from UA MapMyRun. It'll work for a lot of runners, but I can't help being left with the feeling that the discerning runner with a specific idea of what they want from a shoe might want something more.
With the increasingly popular 'coach in a shoe' feature, UA HOVR foam and compression-like microthread upper, is this a shoe that can do it all?
A shoe that survives into its 3rd iteration is obviously a winner, but just how good is it? I have put these shoes to the test to find out!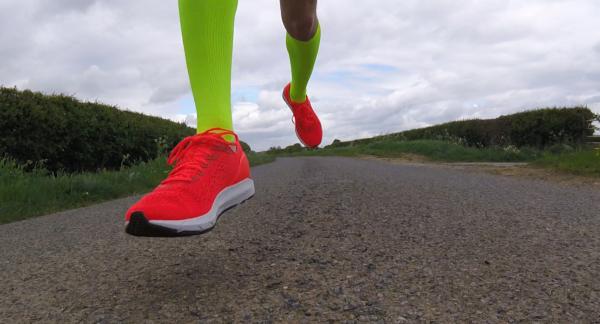 Size and weight
As I found when reviewing the UA HOVR Infinites, they run true to size. I am usually a UK 9.5-10 and found that the UK 9.5s were perfect. One important thing to note is that UA has opted for 'stretchable support wings' to attach the tongue to the footbed.
This hugs the foot and is great for support; however, it does make the shoes feel narrower than they are.
My pair of UK 9.5s weighed in at 320g per shoe. This is definitely not the lightest shoe I've run in but, similar to the HOVR Infinites, the weight is well distributed, and they feel lighter than they are.
Visuals
Whatever anybody tells you, how a shoe looks will have a direct impact on how it feels when you are running in it. Under Armour has done an amazing job on the aesthetics of this shoe.
The colour popped right out of the box when I opened it and the smooth lines on the shoe were the first thing I noticed. The micro thread upper looks breathable yet durable whilst the firmer heel counter blends seamlessly into the upper.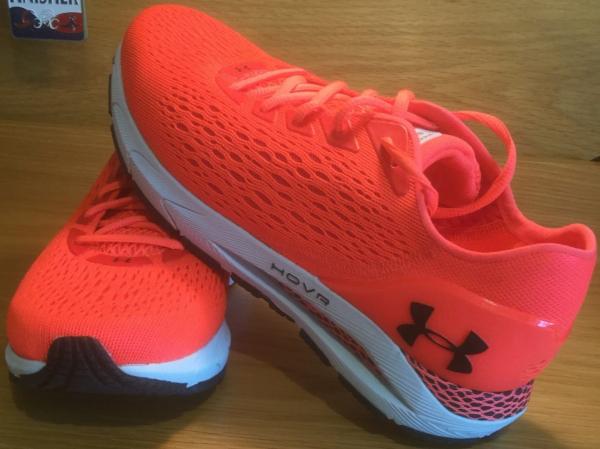 The black outsole with the white midsole is a nice contrast to the zany upper and UA have incorporated a nice wave-type pattern on the slit in the midsole and round the back of the heel.
On my first run in these shoes I was complimented 3 times by total strangers on how they looked – a definite testament to their eye-catching design!
Stack and drop
The Sonic 3s have a stack height of 25mm at the heel and 15mm at the toe (an offset of 10mm).
This is a standard offset for a supportive shoe and means that you have a nice thick layer of HOVR foam between you and the road.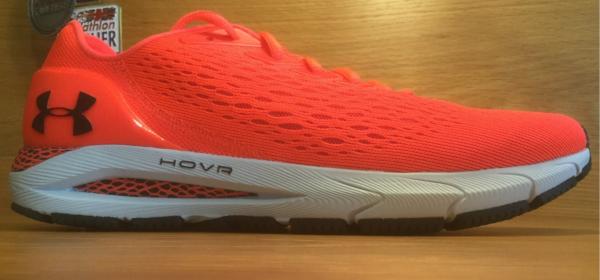 Upper
The microthread upper is breathable and lightweight. It is slightly stretchy which allows it to cup your foot and keep the shoe secure.
Under Armour describe it as 'compression-like' which I totally agree with – your foot feels snug in the shoe and is anchored in place with the help of the upper.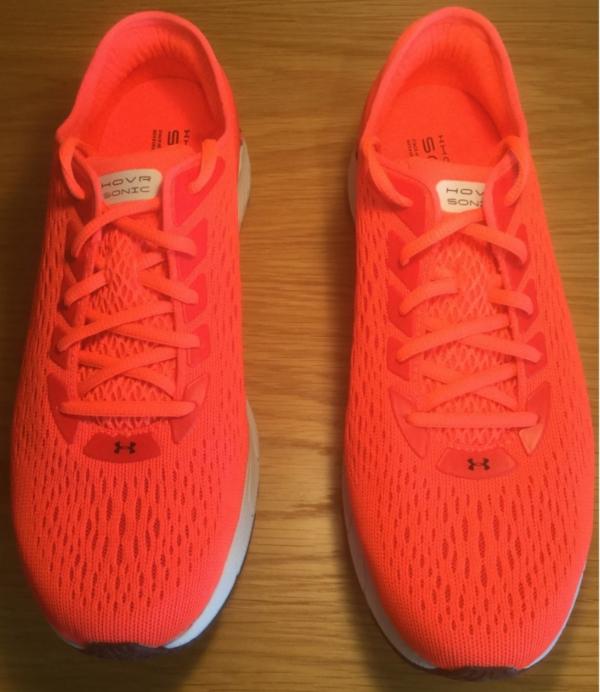 A nice feature of the upper is the small UA logo added onto the bottom of the lacing detail and the slightly different colour of the lace holes plastic. I can see that this will prolong the life of the laces by allowing smoother plastic holes for the laces to slide through but also adds a nice addition to the one-tone upper.
Insole
The insole is on par with other insoles that you would expect to find in a supportive shoe – comfortable and durable. UA has added a nice touch here by including the name, weight, and drop of the shoe on the insole.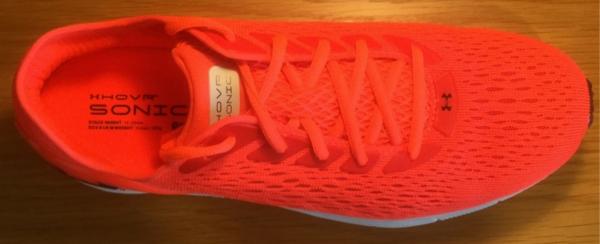 Midsole
The midsole consists of a nice thick piece of Under Armour's HOVR foam. I first experienced this when testing the HOVR Infinites and although the shoe was cushioned, it was firmer than I expected.
I am not sure whether UA has changed the way they produce this, but this shoe feels softer and springier than the Infinites. Straight from the box the shoes have a little pop through the stride and feel nice and soft, but not too soft that you feel you are sinking into them.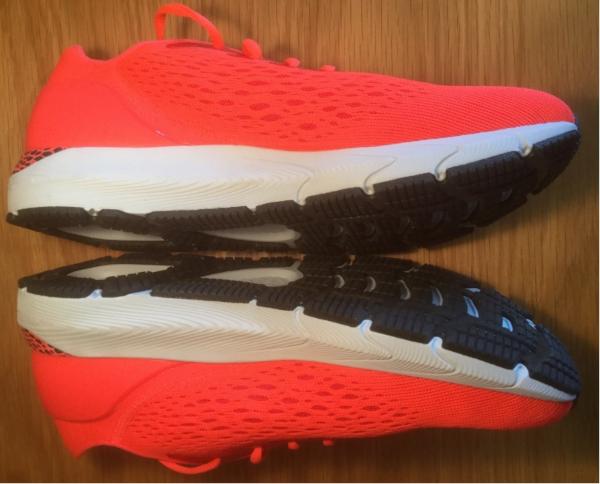 The sides of the midsole feel firm which I have always experienced as meaning that they will stand up to scratches and scuffs more.
The HOVR foam isn't the lightest when looking at the weight of the shoe, but it certainly feels good and from my previous use of it I know that it lasts well (having run over 500km in the Infinites and not feeling any major decrease in performance from the foam).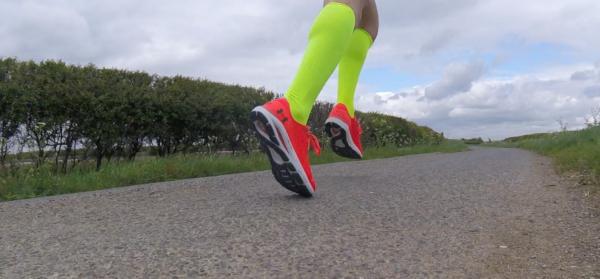 Outsole
I say this about very few road shoes but one of my favourite features in this shoe is the outsole. It consists of blown rubber under the forefoot and high abrasion rubber under the heel.
The result is a shoe that grips whatever you are running on (wet grass, road, dirt tracks). Undoubtedly, this has added a few grams onto the shoe, but it certainly performs.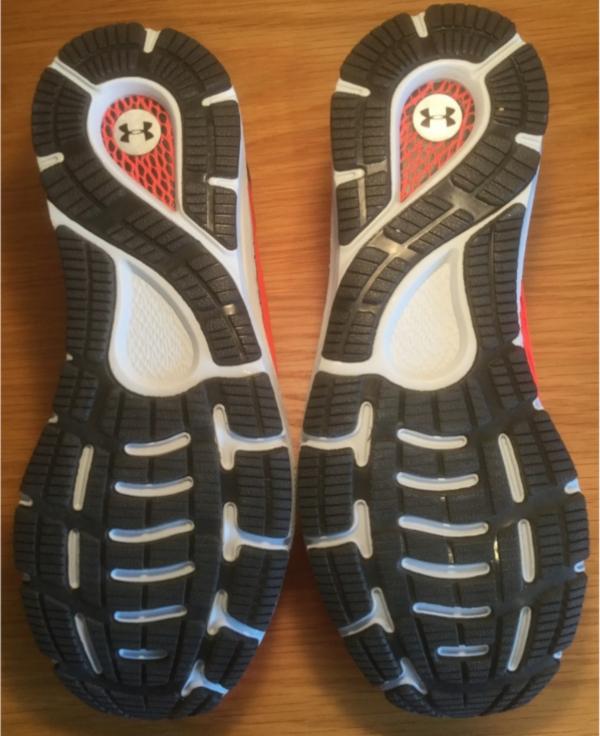 After over 80km there are few signs of wear to the outsole and it is as grippy as the first run out of the box. I tend to pronate more on my left foot and often see the outsole wearing down quicker in that place; however, this is not an issue in these shoes.
One very small criticism is that small stones can get caught in the grooves – but you can only tell this once you are home and are actually looking at the outsole.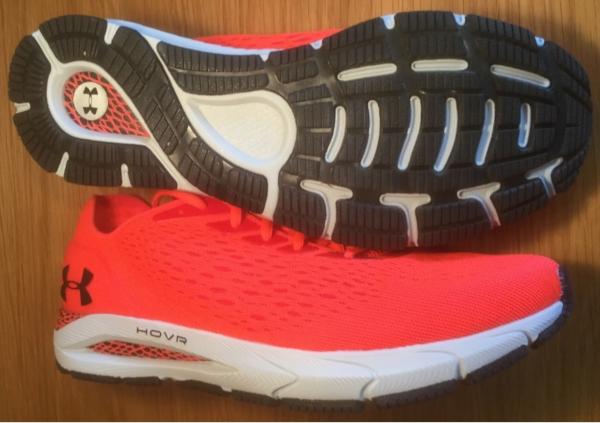 Tongue
The tongue is in these shoes takes a little bit of getting used to. It is attached to the footbed by two elasticated support wings.
At first it felt like I hadn't put my foot into the shoe properly as I could feel the two support wings on my foot; however, after a couple of runs in them it felt completely natural and is nothing to put you off the shoe.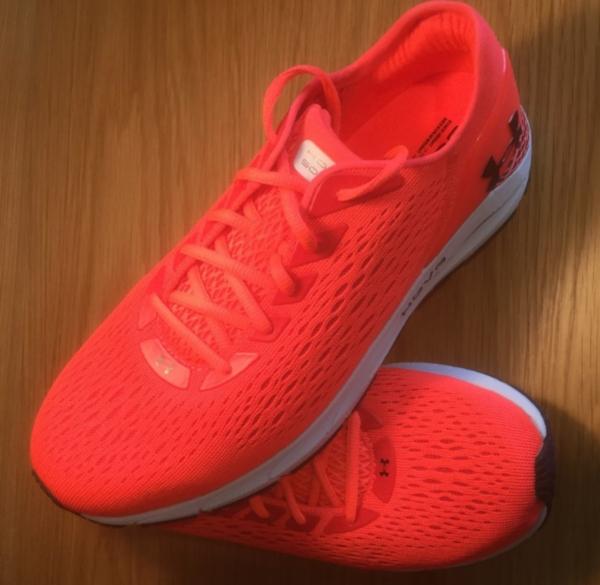 The tongue itself is lightweight which helps with the breathability of the shoe. It is not the plushest tongue I have tried and when I first laced up the shoe, I had to loosen the laces slightly as they were biting through the tongue.
It does have some level of padding to help and I personally wouldn't want it to be any thicker but for those who are wanting a very cushioned shoe all over, they may be left wanting more.
The reflective HOVR SONIC logo at the top of the tongue is excellent for those running in darker conditions and is visible even with the laces tied.
Heel
Like the tongue, the heel is slightly different from any that I have tried before. Instead of the usual thick padding all the way down the heel, Under Armour has opted for a short, padded strip towards the top of the heel (as can be seen in the photo).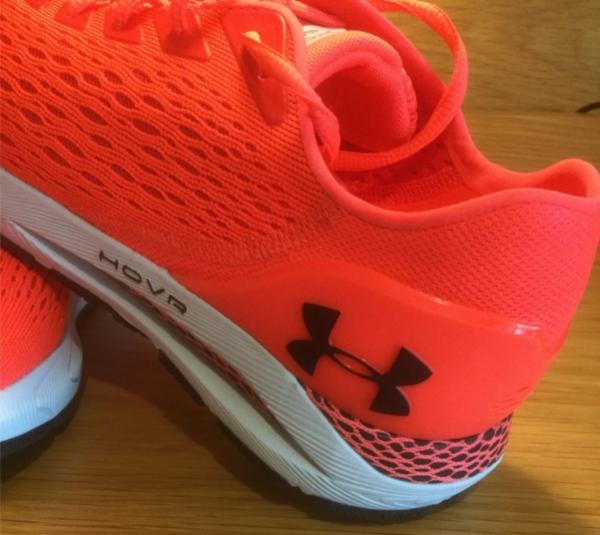 I initially thought that this was a recipe for disaster but, like the rest of the shoe, I was very impressed by it. Your heel feels well cushioned and secure without the need for the heavier full heel cushioning.
The heel has excellent rigidity provided by the external heel counter which allows greater support for your feet. It also looks good with the big UA logo and the reflective detailing at the back of the heel.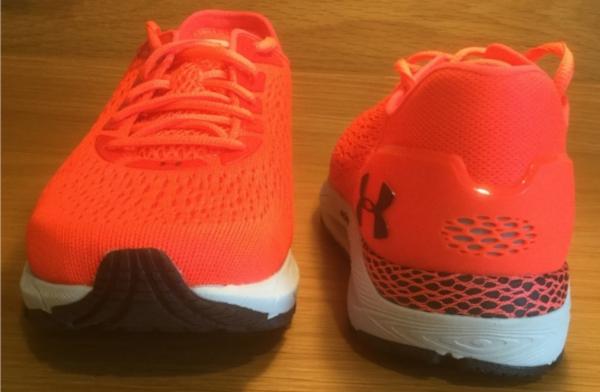 Mapmyrun connection
A big selling point of many of the UA shoes is their connectivity and smart training features.
Having been lucky enough to test the HOVR Infinites before, I have experienced this and use it regularly on steady runs to ensure that my cadence is in the correct zone.
It is also brilliant if you do not have a GPS watch as the shoes will record your route and upload it via Bluetooth to MapMyRun (UA's own app). Connecting the shoes initially is incredibly easy and after that it is a case of turning on your device's Bluetooth and wiggling your foot – it is really that simple!
If you haven't tried using the smart features of UA shoes before then I highly recommend it. By having smart shoes, you also get a free permanent upgrade to the premium version of MapMyRun meaning that you get training plans, full insights such as Heart Rate analysis, foot strike angle, and other excellent training features.
Durability
As I have alluded to above, this shoe is certainly durable. After 50 miles on a mixture of roads, trails, and grass the only sign that it isn't brand new is that the upper is slightly dirty!
The outsole has worn fantastically with only a slight abrasion to the rubber occurring where I supinate.
The upper shows no stretching or snags and the midsole still feels springy and supportive over all terrain. For shoes that aren't as durable normally around the 50-60 mile (80-100k) mark is where you feel a drop off in the performance of a shoe but this is certainly not an issue here.
Comfort & fit
Apart from the initial few minutes getting used to the internal support wings, this shoe has been incredibly comfortable.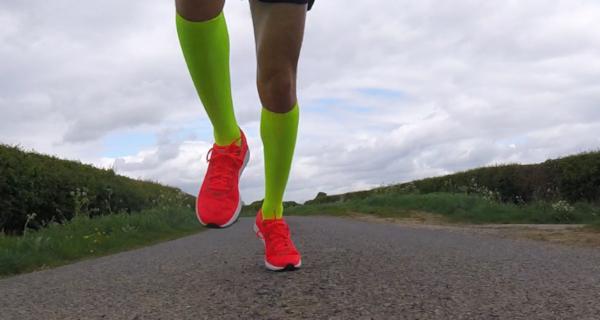 It took 1 run to break in and even on long runs it hasn't caused me any discomfort or blisters. The midsole excels at dampening the terrain so on gravel or stony bridleways you don't feel the sharpness of the stones.
Size-wise UA is true to size. Compared to my other shoes in rotation (Brooks, New Balance, and Asics currently) the Sonic 3s are slap bang in the middle of them. Width is not an issue either and the lacing is accommodative of narrow feet as well without any pinch points occurring.
Performance
So, the bit you have all been waiting for. How do these shoes perform?
On the first few easy runs I did in these shoes I thought they would be an everyday mileage shoe. They had a good return of energy but on the easy runs I wasn't feeling anything magical from them.
Don't get me wrong my legs felt fresh afterward and my turnover was good throughout the runs (as confirmed by the MapMyRun data after the run) but I couldn't imagine running fast in them at that point.
Well how wrong can I be! I took them out on a road interval session which was 9 miles in total. The intervals were at 4:50-5:00 minutes per mile pace (3:00-3:06/km) and the shoe performed outstandingly. Normally I opt for a road flat for this kind of speed but the Sonic 3s performed just as well as my racing flats would have done over these intervals.
I would even go as far as saying they performed better as my legs were not as beaten up at the end of the run as they may have been in a less cushioned shoe. The HOVR foam provided great energy return through each stride and the shoe's weight (which I thought would be an issue) was unnoticeable.
I also took them on a 16-mile long trail run at sub 6:20/mile (4min/km) average pace and found the same thing – the weight was almost unnoticeable and the shoes just loved going faster.
Great work Under Armour!
What I like
Where do I start? I loved that the shoes weren't confined to one area of running – I was able to throw in some trails and grass halfway through a run if I fancied it rather than sticking purely to roads.
I liked finishing runs in these shoes not feeling beaten up, and I definitely like the look of these shoes on my feet (perhaps not 4% physical performance but probably 4% mental!).
The more I have run in the shoes, the more things I like about them. I'm not saying that they're perfect but of the numerous shoes I've trained in, these have to be pushing towards my top 2 pairs. If I had to pick one favourite feature it would be the versatility of the shoes. Trails or roads, slow or fast, and uphill or downhill; these shoes just love to run.
What's more they have felt natural on all my runs – something that is a rare find across all pairs of shoes. I probably wouldn't take them into a mountain race, but I would for most other runs!
What I didn't like
Yes, I have said that this is one of my favourite pairs of shoes, but yes, they aren't perfect. The shoes are on the heavy side and, although they perform as well as a far lighter shoe when the speed picks up, they are still over 300g.
This isn't an issue if you aren't looking for a racing shoe, although there are similar style shoes that weigh around 60g per shoe less than these. It isn't a dealbreaker, it's just something to consider.
Overall
Believe it or not, I am a big fan of these shoes! They are reasonably priced, perform excellently, and can be thrown into any nearly any situation and excel.
The smart connection is a win for new and seasoned runners alike, whilst the midsole will help you HOVR through your training and races.
If you are looking for an everyday mileage shoe, a more supportive performance shoe, or one that can do both, then this is the shoe for you!
Good to know
The Under Armour HOVR Sonic 3 is a road running shoe that works best for neutral runners or individuals who supinate. It offers a perfect balance of cushioning and flexibility for a comfortable and efficient ride.
In the upper of this lightweight running shoe is MicroThread technology, which provides a compression-like fit for breathable comfort and support. The top is designed with lesser overlays in the forefoot to help prevent irritation. An updated heel counter is also used for additional support. The heel counter keeps the foot locked in place while walking or running.
A redesigned outsole is integrated into the shoe for better traction on various surfaces. The outsole allows for smoother transitions and provides reliable protection against abrasive elements.

The Under Armour HOVR Sonic 3 uses the standard sizing measurement for both men and women versions. Runners can assume a good fit in their regular sizing, though it should be noted that some reviewers highlighted that the shoe is a bit tight. It is recommended to try the shoe in-store or utilize the general feedback of consumers about sizing before making a purchase decision for a pleasant wearing experience.
The technical factors that directly affect the fit of the shoe include the shoelaces that offer a secure and customized fit. Other elements that influence the comfort around the shoe are the removable OrthoLite sockliner and tongue. The sockliner offers tailored cushioning and added underfoot protection, while the unique tongue construction helps ensure a snugger in-shoe feel.
Providing protection against sharp rocks and uneven surfaces is the blown rubber outsole. This lightweight material is highly durable and abrasion-resistant. It helps absorb ground contact and provides a firm grip on both wet and dry surfaces.
The UA HOVR™ technology is featured in the shoe for zero-gravity feel. This technology offers excellent energy return and eliminates impact in every stride.
The compression mesh Energy Web is featured in the midsole of the Under Armour HOVR Sonic 3. This technology contains and molds the UA HOVR™ foam, providing a high level of comfort. The UA HOVR™ foam gives back the energy that the runner exerts in every step, giving a plush feel and responsive running experience.
This Under Armour running shoe also integrates a small chip in the midsole that connects directly with the MapMyRun app. This technology helps the runners analyze the running metrics to help them improve their performance. It allows the runner to track everything from running pace to stride length.
For a personalized cushioning, the removable antimicrobial OrthoLite® insole is included in the Under Armour HOVR Sonic 3. This material molds to the natural shape of the foot for customized cushioning. Apart from providing comfort, the insole also offers added underfoot protection.
Other popular running shoes that feature the OrthoLite® sockliner are the Asics Gel Contend 5 and Brooks Transcend 6.
The Under Armour HOVR Sonic 3 features MicroThread technology, which is a fast-drying upper material. This component is responsible for creating a cool and moisture-wicking microclimate inside the shoe. It provides a compression-like fit and keeps the foot dry for an extended period.
A breathable textile lining is infused in the upper to provide long-lasting comfort free from irritation. The soft padding also protects the foot from irritation.
For a secure ride, a molded external TPU heel counter is incorporated into the Under Armour HOVR Sonic 3. The heel counter locks the foot in place to prevent it from sliding up and down while walking or running. This material is also added to help provide structure to the shoe. A cushioned heel collar is also used for added comfort and support.
The unique tongue construction helps maintain a snug in-shoe feel. The tongue is adhered to the footbed by stretchable support wings. It also safeguards the top of the foot from rubbing and getting pinched by the shoelaces. The tongue also helps prevent the entry of small rocks and debris inside the shoe.
The traditional lacing system is featured in the shoe to ensure a secure and snug fit every time. The shoelaces allow the runner to easily adjust the tightness and looseness around the shoe.
How HOVR Sonic 3 compares
Corescore: 57-60
4 shoes (0.48% of shoes)
Corescore: 61-63
7 shoes (0.83% of shoes)
Corescore: 64-67
13 shoes (2% of shoes)
Corescore: 68-70
10 shoes (1% of shoes)
Corescore: 71-74
49 shoes (6% of shoes)
Corescore: 75-78
108 shoes (13% of shoes)
Corescore: 79-81
171 shoes (20% of shoes)
Corescore: 82-85
235 shoes (28% of shoes)
Corescore: 86-88
143 shoes (17% of shoes)
Corescore: 89-92
101 shoes (12% of shoes)
Corescore: 93-93
1 shoes (0.12% of shoes)
Price: £40 - £60
66 shoes (8% of shoes)
Price: £70 - £90
187 shoes (22% of shoes)
Price: £90 - £110
153 shoes (18% of shoes)
Price: £110 - £140
225 shoes (27% of shoes)
Price: £140 - £160
110 shoes (13% of shoes)
Price: £160 - £180
53 shoes (6% of shoes)
Price: £180 - £210
32 shoes (4% of shoes)
Price: £210 - £230
5 shoes (0.59% of shoes)
Price: £230 - £260
8 shoes (0.95% of shoes)
Price: £260 - £280
3 shoes (0.36% of shoes)
Weight: 100g - 133g
6 shoes (0.85% of shoes)
Weight: 134g - 166g
13 shoes (2% of shoes)
Weight: 167g - 200g
37 shoes (5% of shoes)
Weight: 201g - 234g
104 shoes (15% of shoes)
Weight: 235g - 268g
173 shoes (25% of shoes)
Weight: 269g - 301g
186 shoes (26% of shoes)
Weight: 302g - 335g
122 shoes (17% of shoes)
Weight: 336g - 369g
48 shoes (7% of shoes)
Weight: 370g - 402g
11 shoes (2% of shoes)
Weight: 403g - 436g
2 shoes (0.28% of shoes)
Weight: 437g - 437g
1 shoes (0.14% of shoes)