Verdict from 27 experts and +100 user reviews
6 reasons to buy
The responsiveness of the Under Armour HOVR Machina's midsole unit is welcomed by those who like energized steps.
'Comfortable' is a term that people have used to describe the underfoot experience.
Breathability is a trait of the upper unit that has been noticed by many consumers.
The Bluetooth chip that is part of the silhouette's design is welcomed by those who like to track their progress when using this neutral running shoe.
According to most purchasers, the traction given by the external pad is reliable and confidence-giving.
The platform is able to support the arch nicely, based on a handful of reviews.
2 reasons not to buy
Some runners have noted that the inner sleeve has caused some blistering on the skin of the foot.
A too-snug in-shoe wrap is observed by a few testers; it is apparently hard for the foot to relax in the interior compartment.
Bottom line
The overall feedback towards the Under Armour HOVR Machina has been positive. People are mostly happy because this product is efficient at doling out efficient performance. The underfoot platform is highlighted because it is apparently comfortable and versatile. Conversely, a tight and irritating wrap has been noted by some.
Fans of performance shoes that are efficient on the roads can have fun with the HOVR Machina.
Tip: see the best running shoes.
Our reviews
Having no prior experience with Under Armour running shoes, I was not sure what to expect. However, I have been fond of the UA brand concerning football equipment and recall their shoe line to be very well built.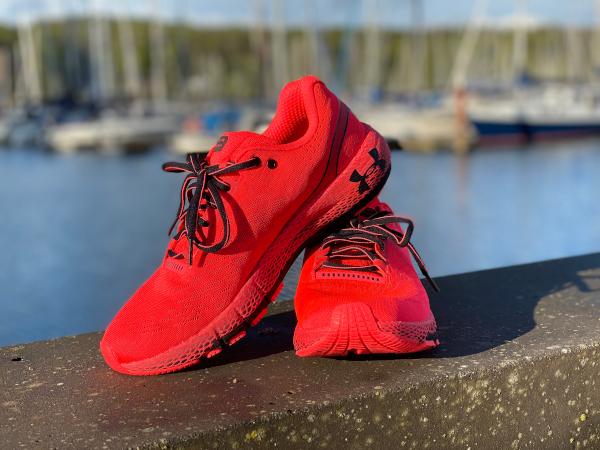 Enough said. I cannot wait to share my findings with you guys.
The facts
The Under Armour HOVR Machina is a neutral road running shoe.
A carbon-filled Pebax propulsion plate
Flexible HOVR foam that effectively reverts to its original shape
Mesh plush upper for comfort
8mm drop from heel to toe, 33mm heel to 25mm forefoot
The weight is 10.4 oz/294g (men's size 9) or 8.7 oz/246g (women's size 8)
Comes in six different colors from neutral to sparkly
A Bluetooth connected stride-sensor
Carbon Pebax Propulsion plate
UA installed a carbon-filled propulsion plate, which isn't something new to running shoes. This has been around for ages as a way to increase energy returns and give more powerful push-offs.
But not all shoes are created equal, and there is a fine line between effort and comfort.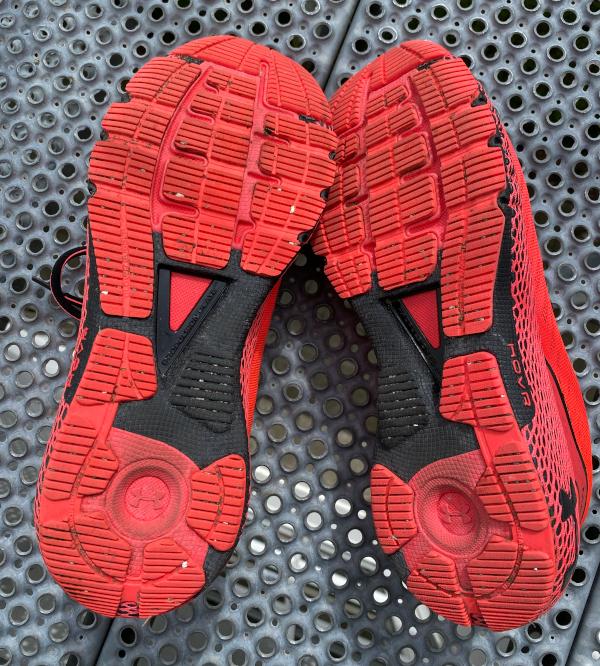 The good news is that the UA HOVR Machina does a great job, where you feel the responsiveness during your runs without interfering with your natural mechanics.
This is especially true when you're running fast on your mid- and forefoot—and this shoe will make you want to run fast!
The foam
To match the carbon, UA went with a significant level of foam in the shoes. I believe that this might be one of the most cushioned UA shoes out there, but it does not feel like that, which is a good thing.
All the foam does provide a lot of protection, a lot of stability, and durability to a shoe, which feels very comfortable to wear for more extended periods. The shoe got an excellent trade-off between the firm and the flexible.
The mesh upper
This is a shoe with a super comfortable mesh upper. You feel the comfort from the very first time you put the shoes on. It is soft and cushy and will stay like that during your run.
I typically won't mention the laces, but in this case, I feel like I have to. They are particularly soft and thick; I do not doubt that they will stay put throughout the service.
The look
With six available colors, I like to lean towards the more noticeable kind: beta 601.
Though it seems like solid red, it is more of a reddish/orange, very cool! I cannot count the number of compliments these bad boys gave me the past four weeks.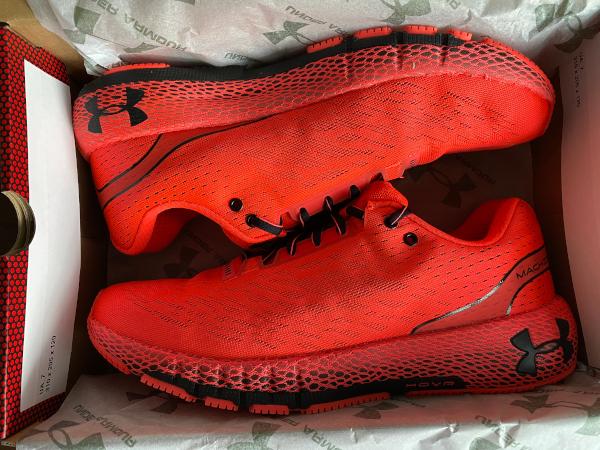 However, there is an excellent range of colors available from neutral to eye-catching.
The Bluetooth
This was something entirely new for me, a shoe that comes with a built-in stride sensor. I recall how Nike introduced Nike+ many years ago, but this is something else!
I downloaded the UA MapMyRun-app and easily went through the settings. There was no issue connecting to the shoes, so you get that premium-feeling.
The shoes will allow you to collect some advanced running metrics:
Foot strike angel
Ground contact time
Stride Length
Cadence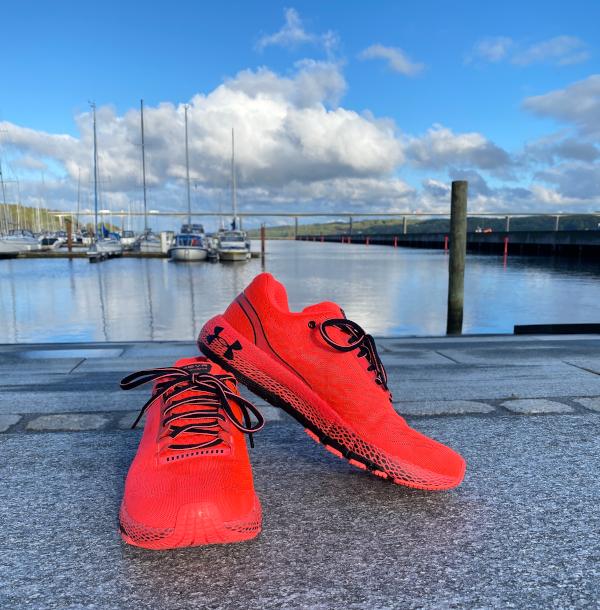 These are all analyzed, and "live coaching" will guide you to improve on those parameters during your run.
Though this is a significant upgrade from my previous experience, I must admit that the technology is still work-in-progress. Not that the live-coaching isn't good, it just isn't great.
You will get pointers during runs about cadence with tips on how to improve etc. "take shorter, but faster steps." It is worth noticing that you don't need to carry your phone along.
The shoes will store the information and synchronize it with the phone upon return. I also realized that the shoe syncs with most major brands of smartwatches after doing research online if you are used to running with such a device.
However, it will work the best if you use it as intended with the phone and MapMyRun-app.
The negative
If you run on the road, you are fine. Actually, you are more than adequate—you are all good!
But during runs on small stones or dirt, I found that the shoes are effectively picking up small rocks on the bottom. This may result in some noise, and I end up spending quite some time cleaning the bottom side.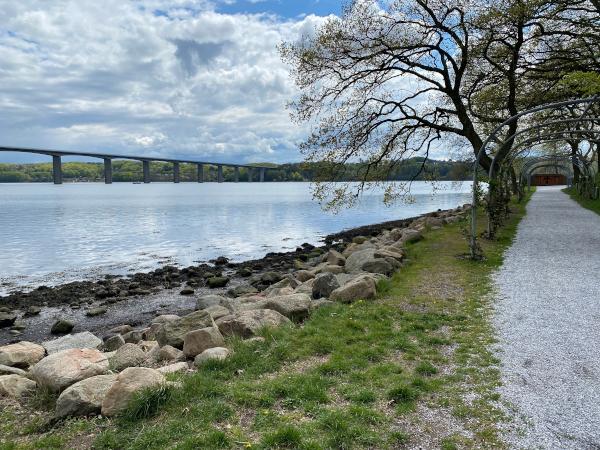 The verdict
Honestly, this is a near-perfect shoe, but it is not perfect. It gives you a ton of energy return and translates every step into a feeling of wanting to run faster or go longer. The look and feel of the shoe are the most crucial selling points.
I am 6'2"/188 cm and 215 lbs/97 kg. I am also used to shorter runs from football, CrossFit and similar. So, to put on running shoes, and start going for 5-10 km every other day is a huge change.
But my size in mind, I think that this shoe is perfect. I really absorb a lot of the shocks, which allows me to avoid paints in the back and knees.
Whereas the shoe is specialized for road runners, it falls short outside. I would trust the shoes with my life, if I took them for a run a rainy day on the road, but never outside the road.
The technology is exciting and considering that all data is already collected, I think that spending more time with the app could make it my new, best companion.
I'm a tall, medium build, midfoot striker (more info on this in a bit!) and I train mostly in barefoot/minimal shoes. But I'll try anything once!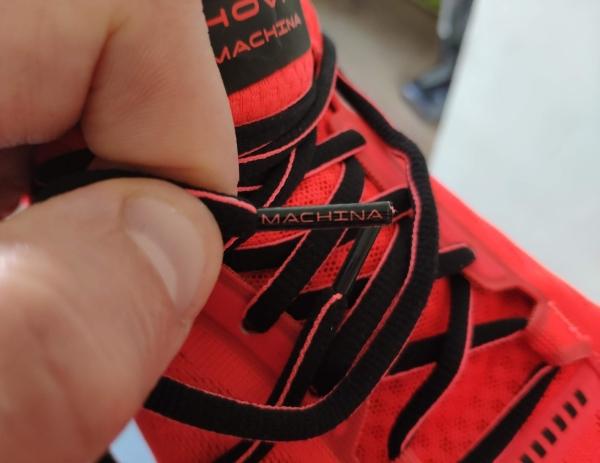 This review is another 'try anything once' shoe review. I wouldn't usually go for a, what I would call 'standard' type of running shoe but having previously tested and reviewed the HOVR Phantom I couldn't resist the opportunity to try out another Under Armour shoe. If nothing else, for the tech!
The Machina has some further additions to it compared to the Phantom (although it's not a direct relative to the Phantom), so I was interested in finding out what those 'enhancements' might be like.
Let's find out.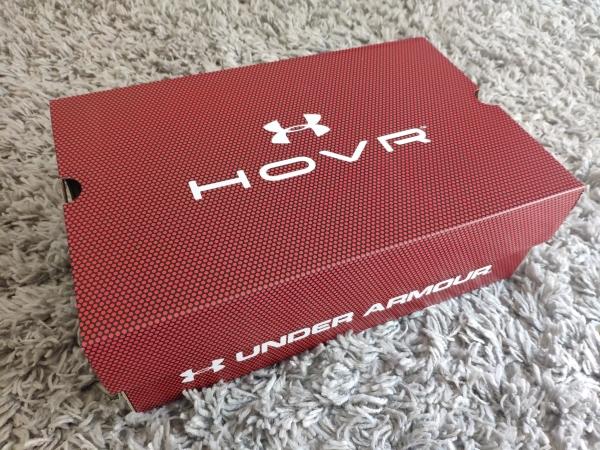 Tech specs
Neutral: For runners who need a balance of flexibility & cushioning
UA HOVR™ technology provides "zero-gravity feel" to maintain energy return that helps eliminate impact
Compression mesh Energy Web contains & moulds UA HOVR™ foam to give back the energy you put in
Engineered mesh upper is extremely lightweight & breathable for ultimate speed
External heel counter for added stability & a locked-in feel
Sprint spike-inspired Pebax® speed plate for increased return & more powerful push-offs
Solid rubber outsole covers high-impact zones for greater durability with less weight
Carbon rubber pods under the heel deliver greater traction & durability at high-impact strike zones
Reflective details
Offset: 8 mm
Weight: 295 g (365 g weighed weight of my pair (UK 11, EU 46))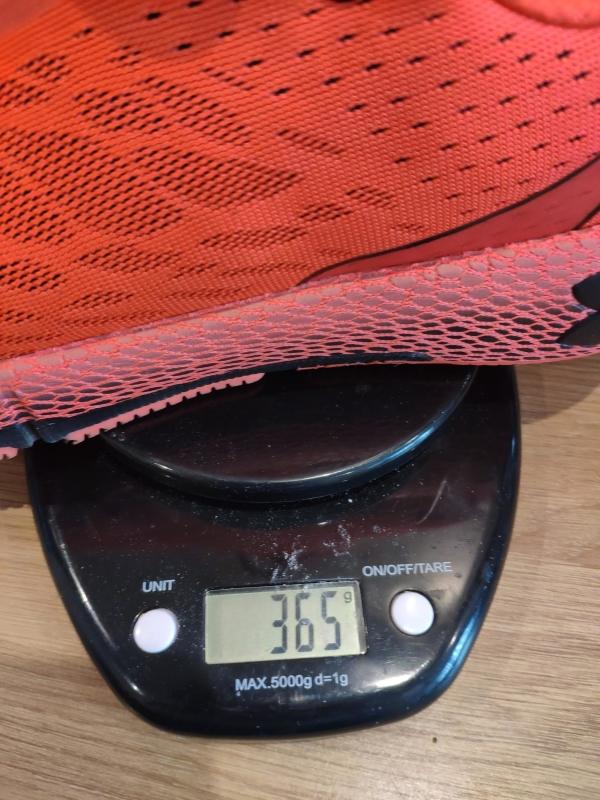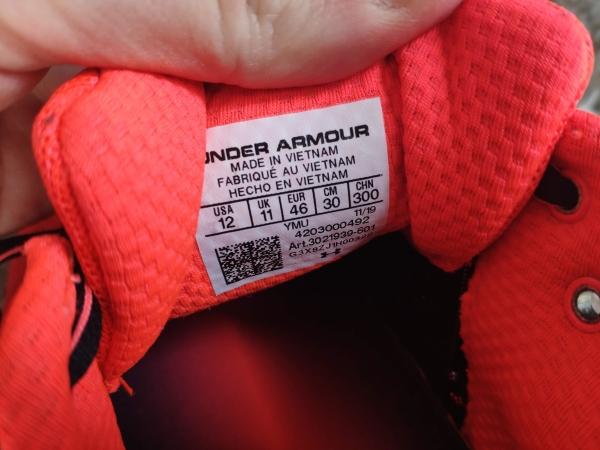 Interestingly, one thing they don't mention in their tech specs bullet points on their website is the UA Connect chip that's built into the shoes.
It's said in a round-about way in the blurb, but I'd have thought that would be one of the main selling points of the shoe for them to shout about at every conceivable chance.
What's in the box
Nothing but the brightest pair of luminous orange running shoes you have ever seen!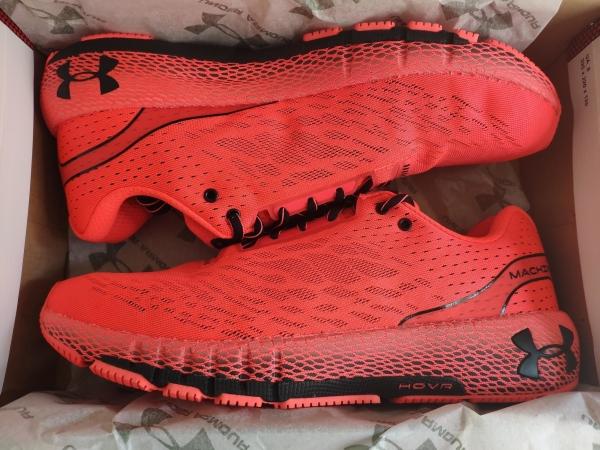 Design overview
The HOVR Machina is a very maximal standard type of running shoe. As you can see quite clearly, it has a very thick sole although the heel to toe drop is not huge the midsole is still quite extensive. The upper is a multilayer synthetic fabric, and it is not overly flexible.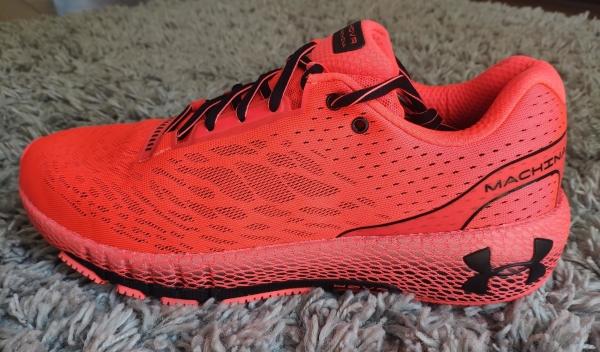 It has some overlays, but they are quite minimal, which I like. I also enjoy the pattern on the midsole, and the Under Armour logo pops out too.
From a fashion point of view, I think these trainers are probably quite trendy although I'm not really the best judge of what is trendy. And certainly, in the colour that they are, I would not be wearing them day-to-day.
Obviously, these trainers are not the lightest, but they do bring a little something special with the technology, but I will talk more about that later on.
Upper
As I mentioned above, the upper is synthetic. It does not have a lot of give, unfortunately, and although I quite like the style, I would much rather have something softer and more flexible.
I think it's unfortunate when the upper on the HOVR Phantom was so good, and I thought this shoe was going to be so much better.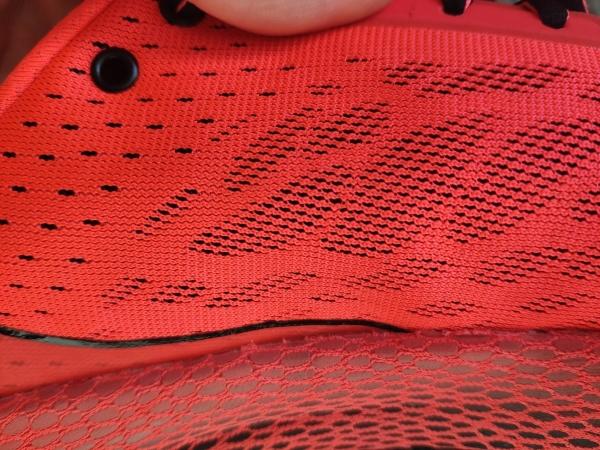 The fabric breathes reasonably well, but again it's just not as good as a knit fabric upper.
I suppose I can't mark the shoe down for keeping stuff out though. Maybe that's what UA we're going for with the Machina, but it feels like a bit of a long shot.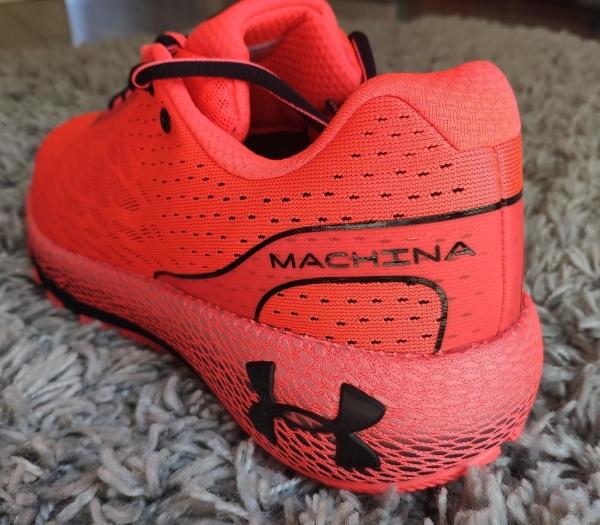 Laces
Anyone that has read any of my other reviews will know that the one thing I really pick up on with a pair of running trainers is laces. I think that laces are one of the more critical parts of a running shoe, and so many companies treat it as an afterthought, which I don't think is the right way to do things.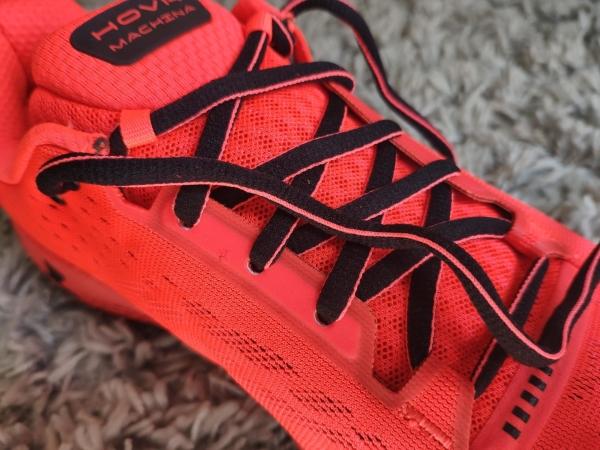 Under Armour seem to have found a reasonable lace for the Machina. It isn't too skinny, and it isn't too slippy. So, you can get them nice and tight without causing any pain, and they don't come undone. Great!
I can't be sure if they put as much thought into the laces as I'm assuming they might have, but I cannot complain about the ones that it comes with.
Heel counter
Once again, I have to compare these to the Phantom. And, once again, the Phantom is the better shoe because it does things a bit differently and has the heel counter on the outside. Thus, the heel itself feels very soft and very comfortable.
Unfortunately, the heel counter in these shoes is on the inside of the heel, and although they are quite comfortable to wear, they are just nowhere near as good as the Phantom are in this area.
Collar
The collar is very padded, and although I am not really a fan of padded collars, it is comfortable, and it does secure my foot nicely. I do think that this shoe could get away with a more minimal collar, but then I pretty much say that about every shoe I test.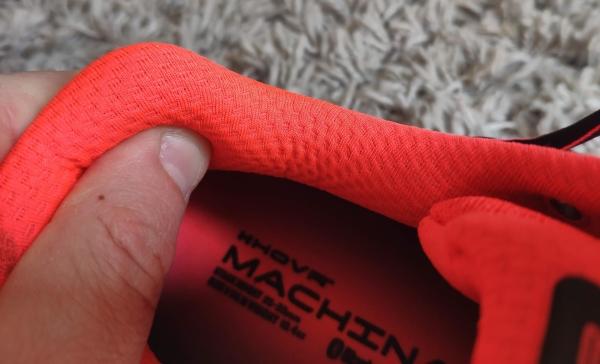 Tongue
What's to say really, it's soft not overly padded, and with the extra internal webs, it keeps crap out, so it pretty much does what it's supposed to do, and I like it.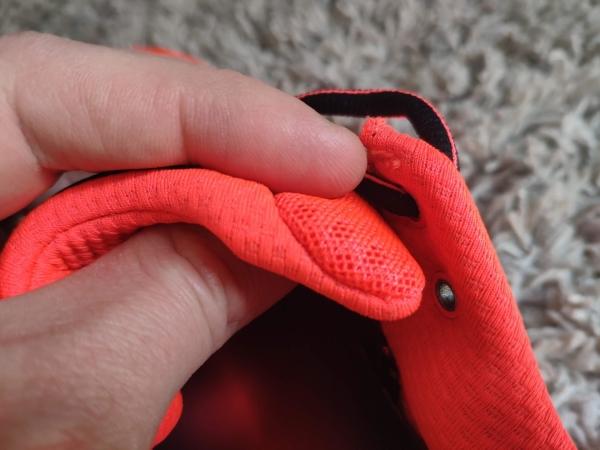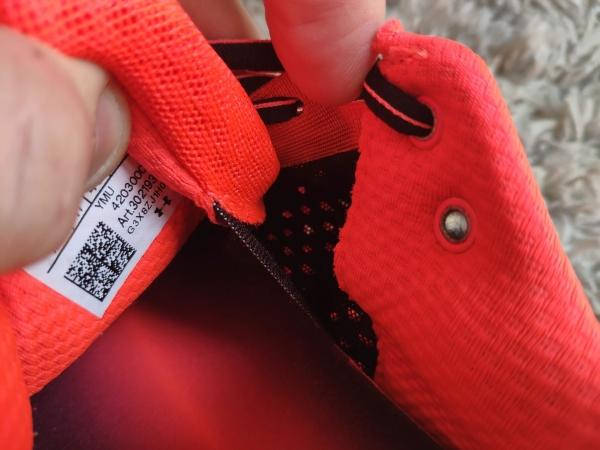 Safety
I think, in the future, I might remove the safety segment from my reviews because I'm convinced that shoes can't really offer you much for safety and the best thing for it really is good running form and obviously to make sure that you watch where you're going.
If your running shoes don't have flashy lights or reflective strips or armour plating, then you pretty much know that you need to get other equipment to protect you from whatever it is that you're going to be running into.
Just a little mini-rant to keep you amused and stop you from getting bored reading this review.
Moving on.
Sole
The sole on the Machina is pretty thick, as I've mentioned previously, which is something that would usually put me off. Unfortunately, I still remain unconvinced that a thicker sole is a good thing.
Yes, you get lots of cushioning and support, but I just can't see how so much is ever going to be necessary. Maybe it's needed for the UA Connect tech that's built into the shoe? I'm guessing not though.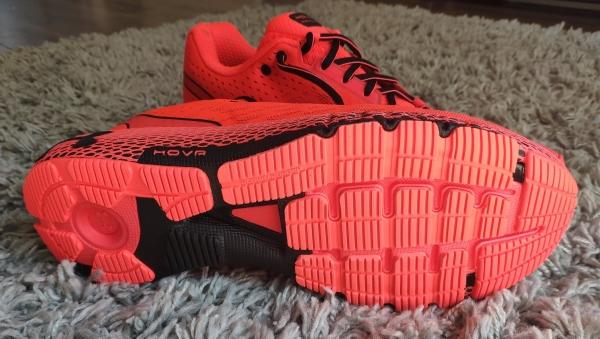 Now, in terms of performance, I don't actually mind the sole on the Machina too much despite my above comments. It felt responsive and quite rugged beneath my feet which I have to say is quite a reassuring feeling, and despite the weight of these orange beasts, I didn't notice it so much whilst running.
I think that could be something to do with the propulsion plate running through the sole of the shoe that might not be necessary though it's definitely different and I'm sure that's why these felt reasonably snappy despite their weight and bulkiness. I think Under Armour really got that right.
I'm not really sure if I would want to run much further than maybe 10 miles in the shoes. I felt that they were quite uncomfortable after a little while, and they made the underside of my feet ache quite a bit.
I am aware that because I am more used to wearing minimal running shoes and minimal shoes in general, my feet don't really like to be contained so much anymore.
So, somebody that is more used to wearing standard style running shoes may find that these are perfectly comfortable. But obviously, I can only go based on my own opinion and experience.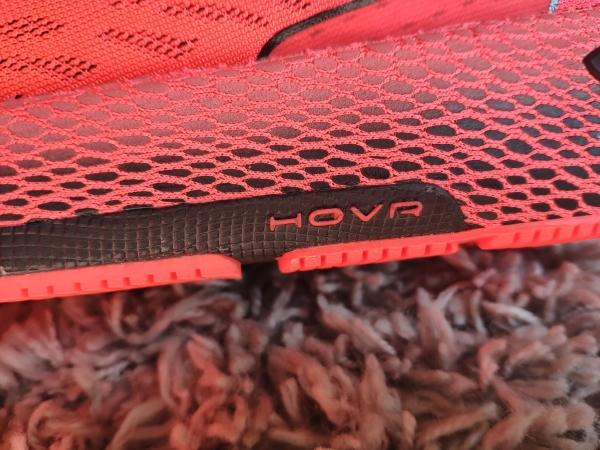 Support
These shoes have a lot of support, but I'm not convinced it is necessarily a good thing as I mentioned above.
I may sound a bit like a broken record especially that anyone that's ever read any of my other reviews, but I really do think that less is more when it comes to support.
They really are very few running shoes that I have tested that aren't minimal that I think work well in the way of support and unfortunately, the Machina is not one of those shoes.
Flexibility
Again, this is another area where the shoe fails as you can see from the photo, it really is not flexible, and in the one area that it could have made up for it in (the upper) it fails again.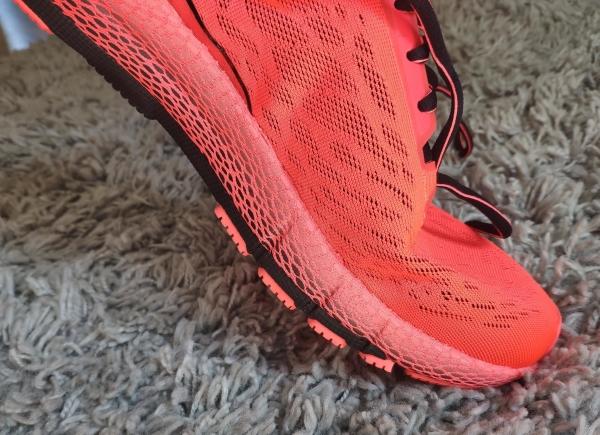 I actually tried to put quite a lot of force on to the shoe to see how far I could bend it, and it really did not give me much at all.
Now, this isn't to say that you have to have a flexible shoe for it to be a good one. When I tested the Asics Nimbus 21, I was surprised at how good that was despite how thick and inflexible it is. So, it is possible.
I know that these shoes were going to be less flexible because of the propulsion plate. But I think they really need to give more.
Tread
The tread on me Machina is nothing special, but I like it. It is super grippy and feels secure on the road. It might not look it, but it's actually rugged enough for a bit of off-road running, and that is probably helped by the thick sole to be honest.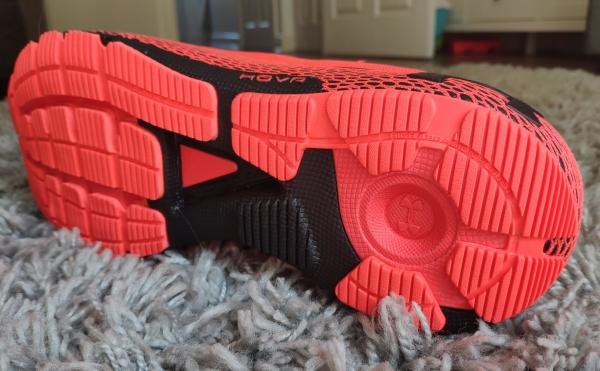 Grip
As I mentioned above, these road shoes gripped well we haven't had too much rain, so it's been reasonably difficult to test how well it would grip in different conditions. But on the odd damp day that we've had, they performed admirably.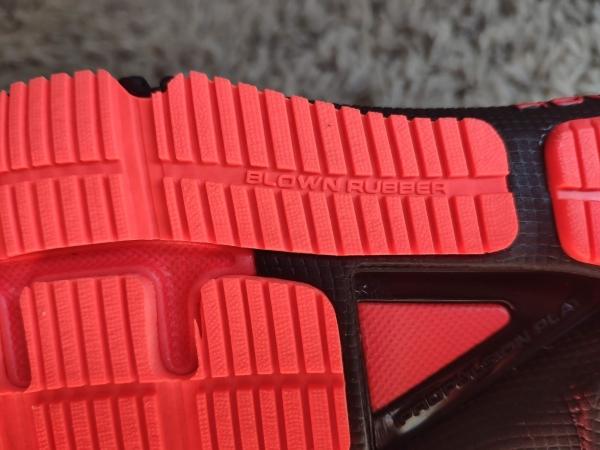 Fit & comfort
Something that I'm starting to realise the further I get into this review is that I actually thought I quite liked these shoes. However, as I'm breaking it down into each section, I'm realising that I was fairly disappointed by them overall, and I'm sure you can already tell this section is no different.
The Machina do fit true to size. In general, I suppose they are comfortable shoes. But as I have mentioned already, during runs, my feet begin to hurt, which is something that obviously is not desirable.
Toe box
The toe box is far too small for my feet here. To be honest, I think the toe box will be too small for most people's feet.
I actually got a friend of mine to try the shoes on. He's not a runner and is more used to standard trainers that he wears day today. But lengthwise, his feet are the same size as mine.
He found these shoes to be really uncomfortable because the toe box was too small for him, which I was genuinely quite surprised about.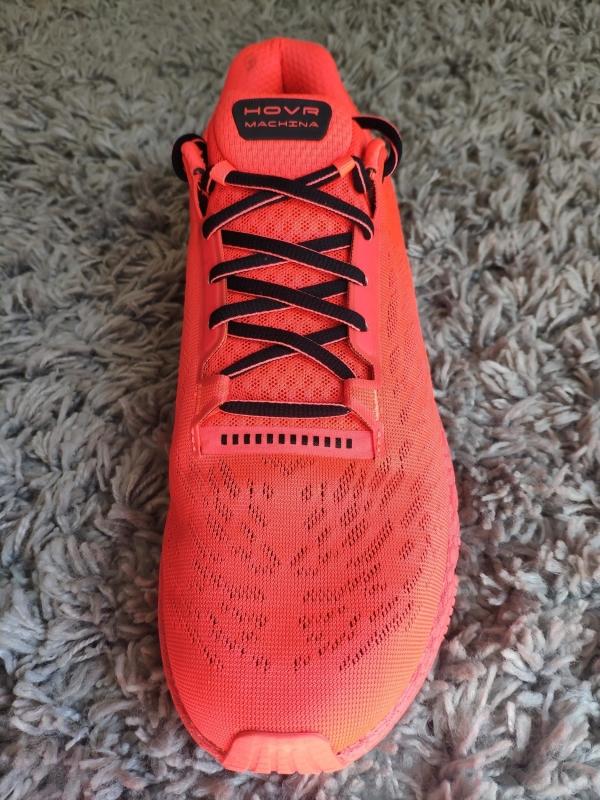 I will just never understand why any company that is producing running shoes would make a pair of running shoes with an inadequate toe box. At least give the upper the ability to stretch more so the people's toes can splay.
It is literally impossible for that to happen in the Machina, so it loses a lot of brownie points from me here.
Heel
I suppose out of everything, and although there is a heel counter that I really do not like, the heel is the most comfortable part of the shoe. It looks my foot in well, and I feel very secure during runs.
I just don't have anything bad to say about the heel on this shoe.
Performance
I think these shoes are designed for longer runs rather than speed runs, and that's even though they have the propulsion plate in the sole. They are simply not light enough for me to take them seriously as a speed shoe.
They did perform quite well on longer runs. Because of the propulsion plate, they felt snappier than a lot of other distance running shoes I've tested in the past.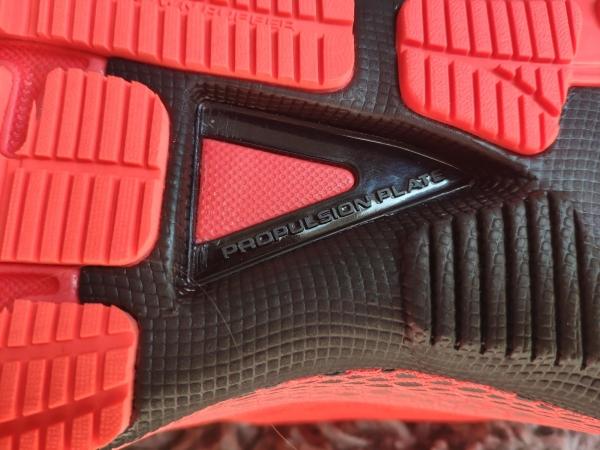 They have a decent amount of bounce, a reasonable amount of cushioning, but they feel firm enough and responsive enough to perform well on mid to long-distance runs.
On-road
Clearly, these are meant for the road as they perform well on it. I say that as though all running shoes that I meant for the road perform well on it, which obviously isn't true, I feel as though I should give these some credit.
If the Machina had a bigger toe box and a slightly more forgiving midsole, I think I could have run all day long in them.
Off-road
As I mentioned earlier on, these do actually perform reasonably well off-road having said that it was dry, and I was on fairly well-groomed trails. I certainly wouldn't recommend this shoe for anything too adventurous.
For speed
Just don't even try. If you're looking for a shoe that's fast and has a propulsion plate in the sole, buy some running spikes.
For distance
If you have really pointy feet and like a narrow toe box and if you're used to running in heavily padded shoes, then these shoes will be perfect for you and you can probably run almost any distance in them.
I'm trying to be kind.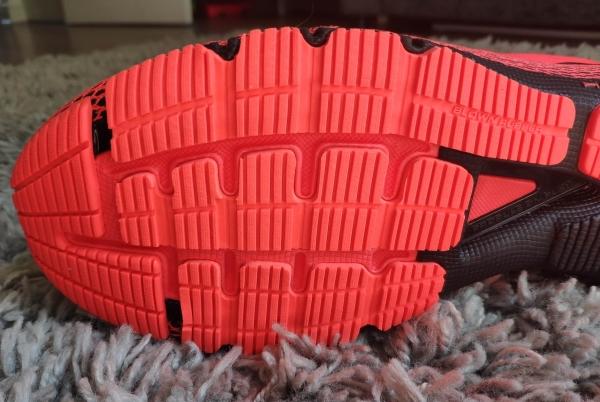 Technology
I've added this special section in for these shoes because I felt as though it was necessary. I didn't like a lot of what the Machina had to offer, but the technology is amazing!
Now, as I previously mentioned, I have tested the HOVR Phantom, and those also came with UA Connect technology. But the software was new then and the technology was in its infancy, I suppose you could say.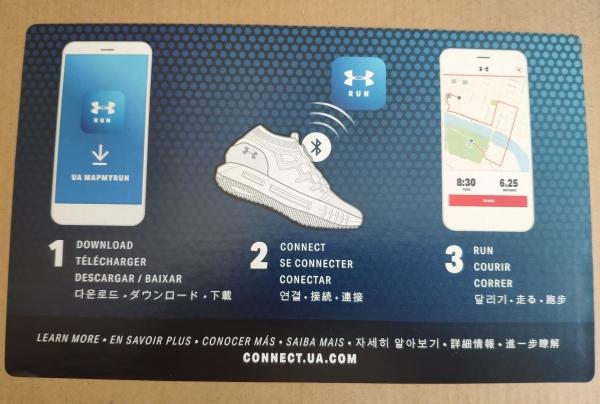 Under Armour have really moved things on and despite the flaws, I love what this gives in the way of feedback—to the point where I would even consider buying another pair of them. Yes, it's really that good!
Before running in these shoes, I used to think that I was a forefoot runner, but I was surprised to see that I actually land midfoot consistently. So, straight away, these shoes told me something about my running form that I was unaware of.
On top of that, I stumbled upon something else that I think is fantastic. I left my phone at home one day on a run, and about halfway around I realised and kicked myself because I thought the shoes would only track my run if I had my phone with me.
But, when I got home, I turned my phone on and went to the Mapmyrun app. I was amazed to see that the shoes had collected all of the run data, stored it, and then uploaded it when I connected to my phone.
What was even more impressive was that the data almost perfectly matched the data from my TomTom running watch. The only thing that was missing was the GPS route.
You get everything in terms of run data with these shoes. They tell you how far you've run, what your cadence was, what your stride length was, what your footstrike angle was, and then a bunch of tips based on all of that data.
The data is even broken down so you can see when your stride length shortened when your speed increased and when your footstrike angle changed. So, you can analyse in detail where things went wrong, where and why you slowed down or sped up, and you can try and use that to your advantage on the next run.
And, if you do want to take your phone with you, you can use the MapMyRun app to give you constant feedback about your running. Although this generally is just a little nudge when your cadence drops too low.
I didn't look into the app too much, so I'm not sure if you can tailor the experience more to yourself and to suit your needs. But to be honest, I was so pleased with the amount of information I got at the end of each run I wasn't bothered about what information I could get during it.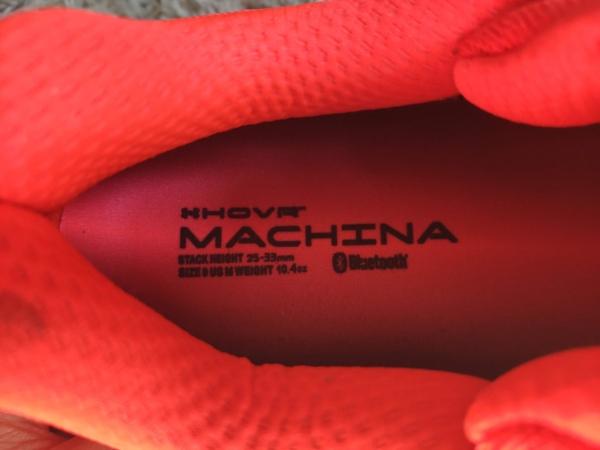 The good
The propulsion plate is a nice idea although I think it's maybe slightly wasted on these shoes. I still love it.
The grip is fantastic. Honestly, you would struggle to find a pair of shoes that can grip the better than these do.
The technology: I've pretty much said it already, but it's worth buying these shoes despite their high price tag just for the technology.
The bad
Inflexible, literally in every way. From the upper to the sole, these shoes just do not give anything.
An extremely tight toe box that is going to be uncomfortable for most people.
Unforgiving midsole that unfortunately made my feet ache far too much.
Dear Under Armour
I really admire what you've tried to do with these shoes, but I think that you've missed the mark in a few areas. I genuinely believe that with a softer midsole that's probably a bit thinner and a much wider toe box these shoes would have been unstoppable.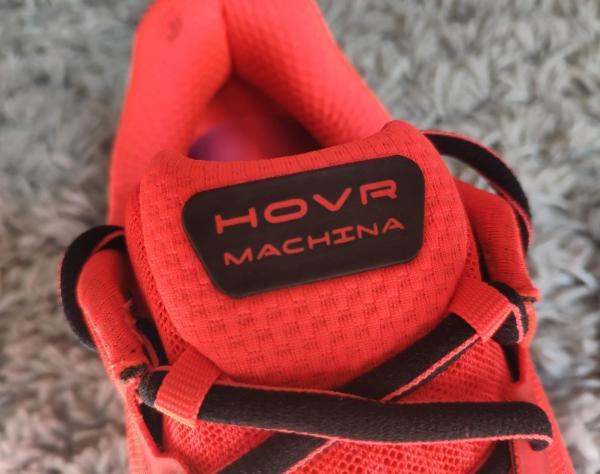 Bottom line
I cannot tell you how much I enjoyed using the Machina just for the technology element. If I could get a pair of minimal Under Armour shoes with Connect technology built into them, I would never wear another pair of running shoes ever again!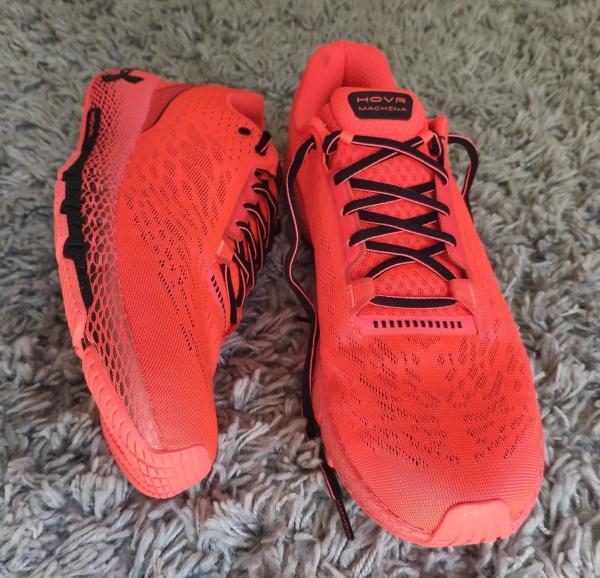 Good to know
The Under Armour HOVR Machina is a running shoe that is optimized for daily running sessions. The design of this product strikes a similar chord to many modern offerings, with a sporty yet uncluttered look that accentuates a form-fitting purpose. The facade is made of a cloth-like mesh, and it has scantily used printed overlays to reinforce it.
People's feet can enjoy the innovative flair of the UA HOVR™ technology. This full-length cushioning system is made of a lightweight foam that is encased in a structure-preserving lattice. A propulsive layer called Pebax® helps the foot when it comes to getting energized for the toe-off. A rubber exterior saves the base of the platform from the abrasive nature of the ground.
Motion sensors in the platform connect to Under Armour's MapMyRun® app, giving the runners the ability to track their progress while wearing the HOVR Machina.
The standard sizing schemes were used when the Under Armour HOVR Machina was conceptualized and realized. Runners can get a pair with their usual choices of size as their basis. But testing the shoe or studying user reviews that cover the aspect of size can make or break the overall satisfaction of the wearing experience.
When it comes to the sideways fit, the elements that help in the delivery of a secure and wobble-free wrap include the stretchy yet taut silhouette design, as well as the semi-curved shape of the platform. The curved outline of the human foot is the basis of the overall construction of this product.
The rear part of the Under Armour HOVR Machina's outsole unit is made of a high abrasion rubber compound. The purpose of this material is to resist the debilitating effects of wear-and-tear, especially since the weight of the body is mostly concentrated near the heel part.
Blown rubber is used for the front part of the external pad. This responsive version of carbon rubber offers traction and protection against abrasion, but it also delivers a bit of oomph to the underfoot experience since it has a spongy nature that mimics the springiness of midsole foams.
Flex grooves near the forefoot section are meant to provide the foot with the capacity to bend naturally when preparing for the takeoff phase of the gait cycle. These channels in the platform benefit the step since speed and gait prowess are elements that are also determined by the toe-off.
The UA HOVR™ is a midsole technology that involves a lightweight and responsive foam. The job of this full-length piece is to carry the foot throughout the running session, delivering impact protection and bounciness that benefits the quality of the step.
Energy Web is the name of the net-like material that wraps the HOVR™ foam. The job of this feature is to maintain the structure and strength of the midsole foam, preventing it from losing its form, even after many running sessions.
A fabric-topped foam insole is placed right above the lasting board of this Under Armour running shoe. The aim of this add-on is to provide a soft and comfortable surface for the underfoot. It can be replaced with a new one or removed completely if the wearer wants to do so.
The upper unit of the Under Armour HOVR Machina is made of engineered mesh. This textile has a texture that is similar to woven cloth. It has a seamless construction that permits it to maintain an irritation-free wrap. Also, it has breathing holes that accommodate environmental air into the foot-chamber. Some long-running series from other brands like the Saucony Ride also have engineered mesh.
The eyestays and the heel of the upper unit are layered with printed overlays. These elements are designed to bolster the durability of these sections. They also help in providing a secure fit by helping the rest of the upper as it hugs the foot in place.
A traditional lacing system graces the bridge of this product's facade. Flat shoelaces snake through print-reinforced eyelets, covering a majority of the midfoot. Adjusting the tightness or looseness of the fit can be effortless because of this preference-following system.
How HOVR Machina compares
Corescore: 57-60
4 shoes (0.47% of shoes)
Corescore: 61-63
7 shoes (0.83% of shoes)
Corescore: 64-67
12 shoes (1% of shoes)
Corescore: 68-70
11 shoes (1% of shoes)
Corescore: 71-74
49 shoes (6% of shoes)
Corescore: 75-78
111 shoes (13% of shoes)
Corescore: 79-81
168 shoes (20% of shoes)
Corescore: 82-85
233 shoes (28% of shoes)
Corescore: 86-88
145 shoes (17% of shoes)
Corescore: 89-92
103 shoes (12% of shoes)
Corescore: 93-93
1 shoes (0.12% of shoes)
Price: £40 - £60
66 shoes (8% of shoes)
Price: £70 - £90
187 shoes (22% of shoes)
Price: £90 - £110
153 shoes (18% of shoes)
Price: £110 - £140
225 shoes (27% of shoes)
Price: £140 - £160
112 shoes (13% of shoes)
Price: £160 - £180
53 shoes (6% of shoes)
Price: £180 - £210
32 shoes (4% of shoes)
Price: £210 - £230
5 shoes (0.59% of shoes)
Price: £230 - £250
8 shoes (0.95% of shoes)
Price: £260 - £280
3 shoes (0.36% of shoes)
Weight: 100g - 133g
6 shoes (0.85% of shoes)
Weight: 134g - 166g
13 shoes (2% of shoes)
Weight: 167g - 200g
37 shoes (5% of shoes)
Weight: 201g - 234g
104 shoes (15% of shoes)
Weight: 235g - 268g
175 shoes (25% of shoes)
Weight: 269g - 301g
186 shoes (26% of shoes)
Weight: 302g - 335g
121 shoes (17% of shoes)
Weight: 336g - 369g
48 shoes (7% of shoes)
Weight: 370g - 402g
11 shoes (2% of shoes)
Weight: 403g - 436g
2 shoes (0.28% of shoes)
Weight: 437g - 437g
1 shoes (0.14% of shoes)