Verdict from 9.9 hours of research from the internet
6 reasons to buy
Out of a small number of the Topo Athletic Trailventure reviews, the majority consider it a very comfortable hiking boot.
A couple of users give it high marks for being incredibly supportive.
This lightweight trail boot delivers an excellent grip in all sorts of terrain, according to an in-depth review.
Several people love the roomy toe box that keeps their toes relaxed and moving freely.
The agile, well-cushioned midsole makes it great for hiking, fastpacking, and trail running, notes another reviewer.
It's a very durable boot, according to another verified buyer.
1 reasons not to buy
The stiff upper makes sharp creases in the boot as you stride through, according to a few wearers.
Bottom line
A cross between a rugged hiker and a lightweight trail runner - the Topo Athletic Trailventure hiking boots have gotten the approval of avid hikers and outdoorsy folks who want something comfortable, well-cushioned, and most of all - durable.
It gets five-star reviews for its lightweight construction, supportive midsole and upper, and grippy Vibram outsole. Plus, it's a wide hiking boot which is a huge advantage for those with extra-wide feet or those who simply want a roomy fit to wiggle and move their toes.
Tip: see the best hiking boots.
Our reviews
I recently tested the Topo Athletic Trailventure hiking boots over a month on the glorious trail systems of the mountains that rise above the Shenandoah Valley of Virginia. I don't think a better testing ground could be had than the rocky technical terrain and endless climbs and descents these trails afford.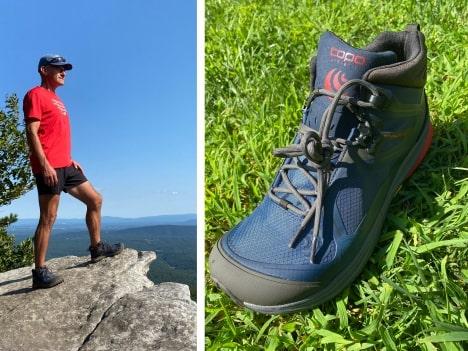 The Topo boots felt more like high-top running shoes yet provided the ankle support and comfort of much heavier trekking boots.
From the Appalachian Trail to the Massanutten and Tuscarora trails, I hiked and fast-packed over many varying terrain types in comfort. The bottom line is these boots are the most comfortable hiking boots I've ever had; more comfortable than some of the high-end German boots I've used in the Alps.
Comfort
From the top view looking down, it's easy to spot the shape of the boot and see that it follows the shape of a typical human foot. It's snug around the midfoot but opens to a roomy toe box that has plenty of width to prevent the toes being squeezed together, particularly on the steep descents which tend to push the toes into the front of the boot.
The heel fits snugly and is cupped without the tendency of blistering by being too narrow. It's the perfect balance of snug and roomy. The same principle is found in the toe box which despite being super roomy still feels like the feet aren't loosely moving around inside which could cause blistering.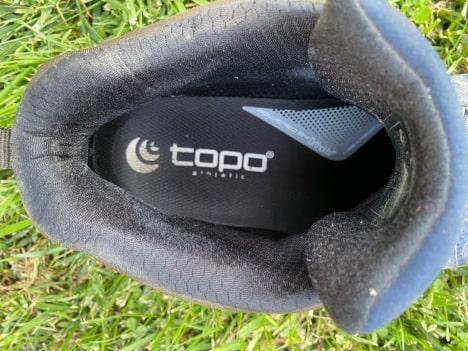 The ankle padding and padded tongue provide a super snug level of support that you can modulate by adjusting the lace tension. For easy trails, it's nice to have more freedom and maybe extra cooling, yet on really rocky, root-filled uneven trails, it's possible to tighten the lacing and ratchet up the ankle support.
Vibram! What a great shock-absorbing material. The soles of these boots with their Vibram material provide a firm yet cushioned feel. It all adds up and if you are doing 10, 20, or more miles in these, all the shocks add up, so reducing it means a lot at the end of a long hike. It keeps you fresher for the next hike.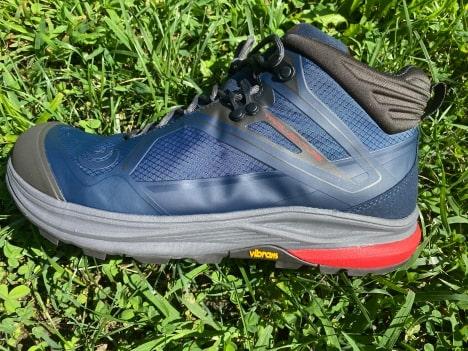 Protection
As a trail ultra runner, I know that one of the most painful things is stubbing toes against rocks or roots. The rubber toe cap protector takes care of that inevitability. I did the usual toe stubbing on my hikes and found it was like wearing safety boots. Still not fun, but not painful at all.
Technical trails often feature slanted rocks and a variety of features that can rub against the side of the feet. These boots have a high rubber bumper that surrounds the whole foot, followed by touch-to-rip material higher than the sole protection. I found that after 40 miles of testing this type of abrasion not only didn't affect my feet, but the boots were not damaged or worn on the sides at all.
Hiking/running on some of the pointy, jagged rocks of the Appalachian, Massanutten, and Tuscarora trails in Virginia, I was quite happy to have the protection of the rock plate underfoot. I never felt these jagged trails putting undue pressure on any points underfoot.
Durability
After 40 miles of intense trails that contained a lot of rock scrambling, there was only minimal wear of the treads. The rubber compound seems to be the right balance of softness for grip and firmness for durability. No degradation of the rubber was noted.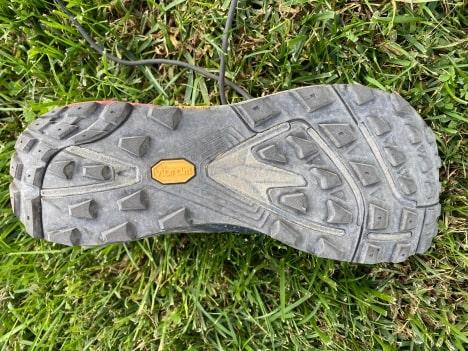 The uppers and sides of the boots became more shaped to my feet and wrinkled at the bending points. However, there was zero separation, tearing, delaminating, etc of the materials. Also, there was no degradation in the padding surrounding the ankles. The insoles stayed in place and didn't curl or otherwise move around inside the boot.
Lacing system
The lacing system couldn't be simpler because it remains laced up, except for the top two lacing eyes. It's quick and easy to simply wrap the laces around these and tie up.
If I had to critique the lacing, I would say that the round lace material has a tendency to untie from time to time. My recommendation that would make this boot perfect would be a toggle lacing system. Those never come untied and are even simpler to tighten or loosen than regular laces.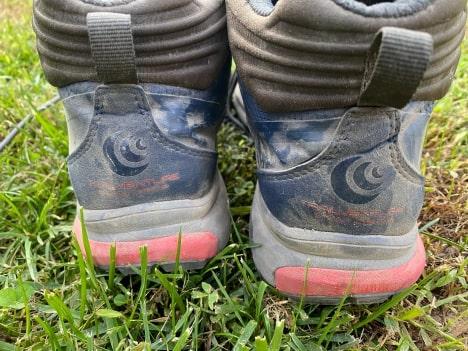 Fast-packing
Let me just say that the 13-ounce weight of these boots was unexpected as they are much lighter! Compared to trail running shoes I have that weigh about 11 ounces, you get a lot more protection and comfort at the cost of only 2 ounces.
Of course, this meant that I needed to try them for a trail run. For my run test, I chose a route that features a vertical climb/descent of 2047 feet (624 metres) over its 6.84 miles (11 kilometres). It is an out and back to a prominence called Big Schloss near Mill Mountain on the border between Virginia and West Virginia. It is a true ankle-busting run with most of the trail having either loose rock or embedded jagged rock and roots. There really are no flat or easy spots on this trail so the test would be good.
The end result was that I found these boots to run as well as trail running shoes, except a lot more ankle support. I could run through these rock gardens and the occasional misstep that placed my foot on an awkwardly angled rock didn't result in a massive bodyweight shift to avoid twisting my ankle. Instead, I felt like with the support I could land with my foot horizontal and there was no twisting action. Epic ankle support for super technical trails is what I got.
Overall my lower leg tendons and muscles were fresher. I would not run in these for less technical trails or in a race, but they totally changed my perspective. I would fast pack in these all day.
Pros
Lightweight
Great traction on many types of terrain
True to size fit
Good protection from rock plate and rubber toe bumper
Great comfort
Comfort and massive toe room
Excellent fit
Durable
Price is good value
Cons
Could use a toggle lacing option rather than laces.
Summary
The Topo Trailventure boot is versatile because it can help beginning hikers through to seasoned ultra runners stay comfortable and safe on the trails. The price point represents good value compared to other hiking boots and the light weight and comfortable fit make it an excellent choice for long hikes on difficult terrain.
While 40 miles of tough hiking is an excellent test, I look forward to hundreds of more miles in these excellent boots. The durability so far is exceeding expectations and the comfort is awesome.
Topo is one of my favorite brands of shoes in the "natural running" camp. Topo makes light shoes with minimal drops (normally between 3 and 5 mm) that are blazingly fast on the road and on trails. When I first heard about the Topo Trailventure I was instantly stoked! Could Topo create a hiking boot that performs as well on a hike as their running shoes perform on a trail? Stay tuned to find out!
Upper:
The upper is extremely well-constructed. There aren't very many stitched seams, but the ones that are present showed no signs of damage even after testing. The classic Topo overlays protect your shoes from damage while the large toe box that Topo is well-known for allows your toes to spread naturally as you hike.