The Topo Specter is a great performance shoe that shines when picking up the pace, and it's extremely versatile. Quite uncommon for a road running shoe, it can handle almost any speed and any distance: easy, fast, short, long, and even recovery runs. It's lively, super-light, durable, and has Topo's distinctive roomy toe box for added comfort.
Pros
Super

comfortable

Do-it-all shoe
Extremely light
Energetic and fun ride
Fast and stable
Broad toe box
Breathable
Secure midfoot feel
Durable outsole
Cons
Lacks traction on

wet

Needs some breaking-in
Who should buy Topo Athletic
Specter
Get it if you have normal to wide feet and you like to have room in the toe box. It's perfect if you are after a light, responsive shoe that is extremely versatile and can be worn on everyday runs, or on your next marathon. It can be a good choice for beginners, but it's better suited to experienced runners.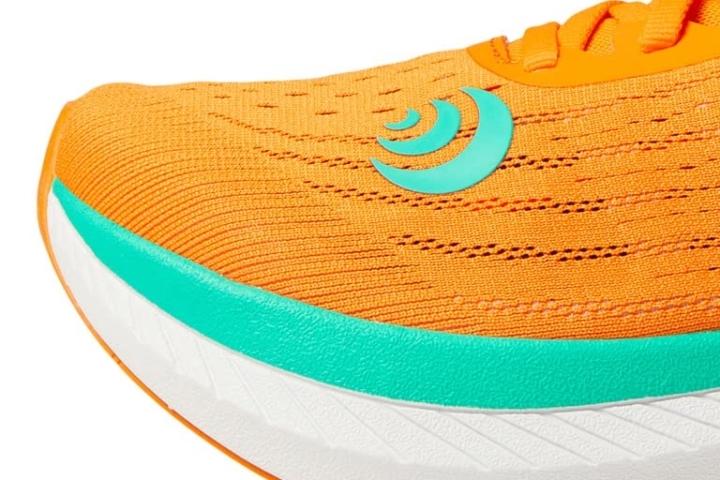 Who should not
buy

it

Not ideal if you: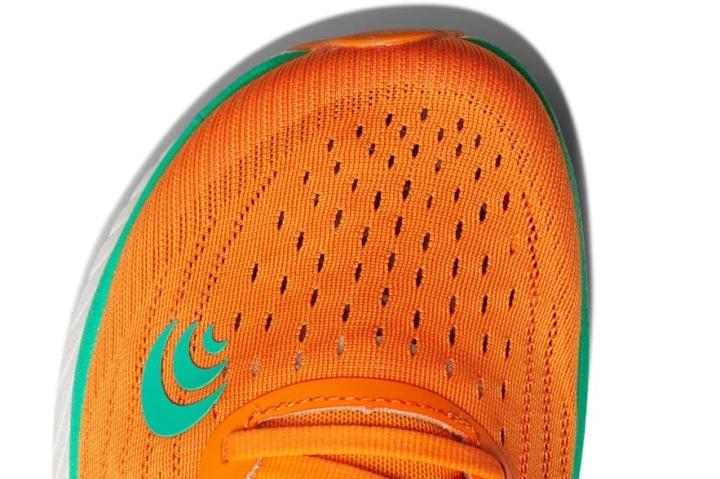 Comfortable and breathable upper
This shoe has only a light padding, but according to an experienced runner who tested it, the upper is so comfortable that "you could easily run sockless." It's also breathable and can be worn on hot days.
As a tester perfectly put it, "it's a pretty great upper."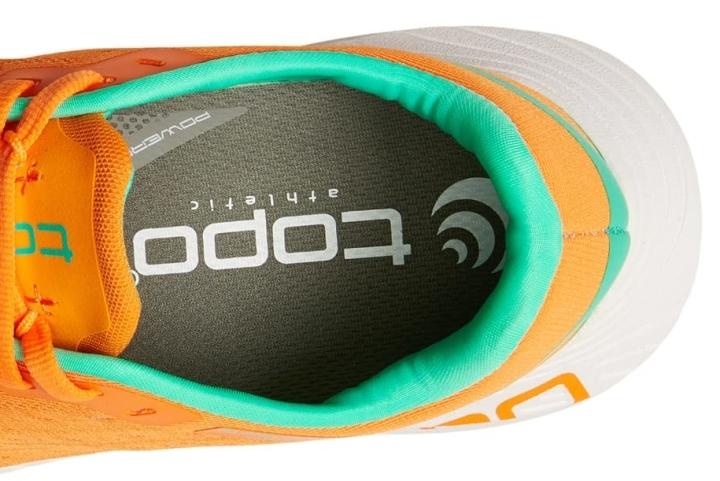 Nearly perfect fit in the Topo Specter
Topo shoes are usually roomy at the forefoot (a runner with wide feet said this to be "a relief") and snug in the midfoot and rearfoot. And that's the case for the Specter too.
The heel counter is extremely flexible but very efficient. As a reviewer put it, he was "amazed by how well the heel fits and holds the feet." This was confirmed by another expert as he said there's "phenomenal heel grip," and "I found the fit of the Specter to be outstanding."
Only one runner encountered some heel slippage with this shoe.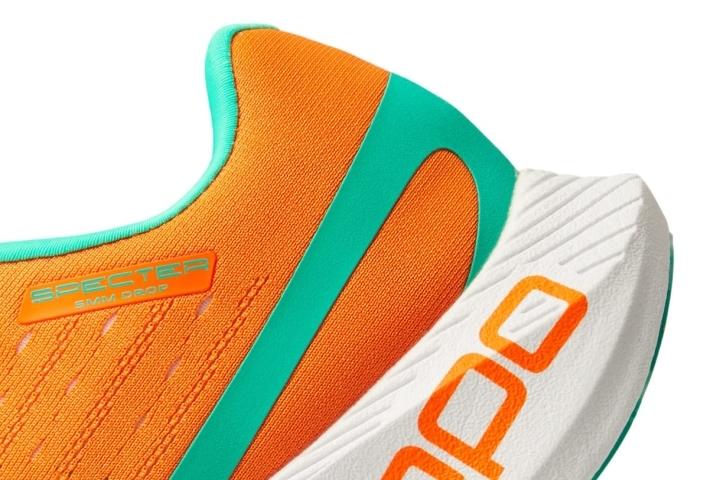 Energetic, fun ride
The ride is where most reviewers agree on because it hits a sweet spot between softness, firmness, and stability. As they put it:
"a wonderful, lively, well cushioned and vibration dampened ride"
"the ride is all smiles for me"
"a joy to run in"
"really fun, I had to slow myself down."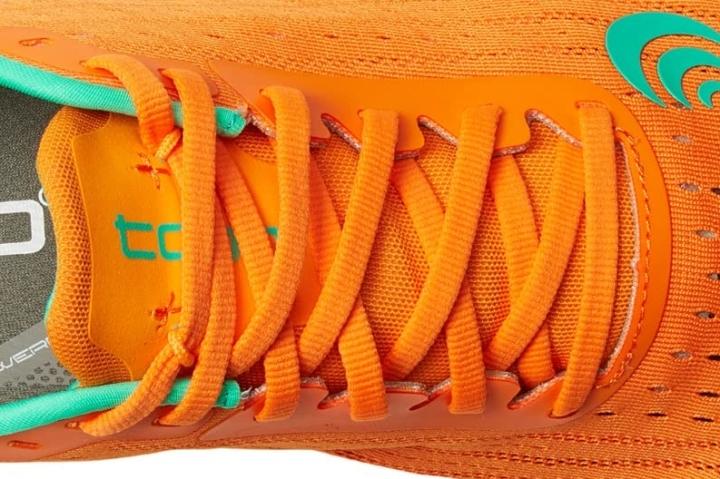 Specter is very versatile
This is a performance shoe that shines on tempo runs (to quote an expert, it "feels like it wants to move quick"). However, as an experienced runner said, this is "the do-it-all natural running companion you've been waiting for!" and that's really what this shoe can do: a little bit of everything.
Not ideal for very fast sessions though, as a tester found out while doing repeats: it "simply has too much room for my foot to move around."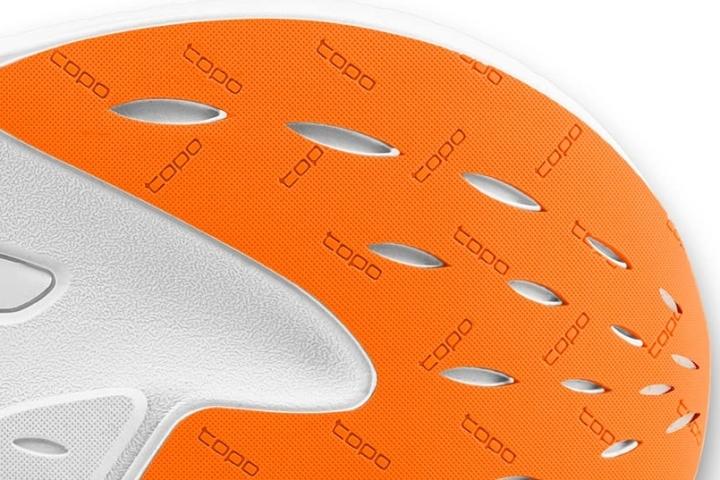 Not the best on wet
The outsole is really good when running on dry surfaces. A runner remembers the shoe "absolutely refusing to loosen its grip." Where it comes short is on wet surfaces, especially on pavement and concrete, as a tester said, "I found myself slipping and struggling to find traction."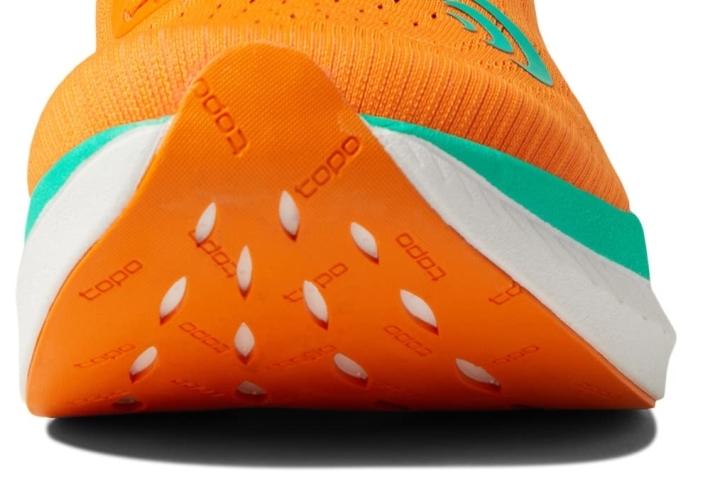 Topo Athletic Specter is feather-like
"The shoes possess a surprisingly lightweight feel," said an experienced runner after a run.
The Specter, being 8.2oz (232g), is light indeed and this becomes clear if we compare it to the average weight of a road running shoe, 9.9oz (282g).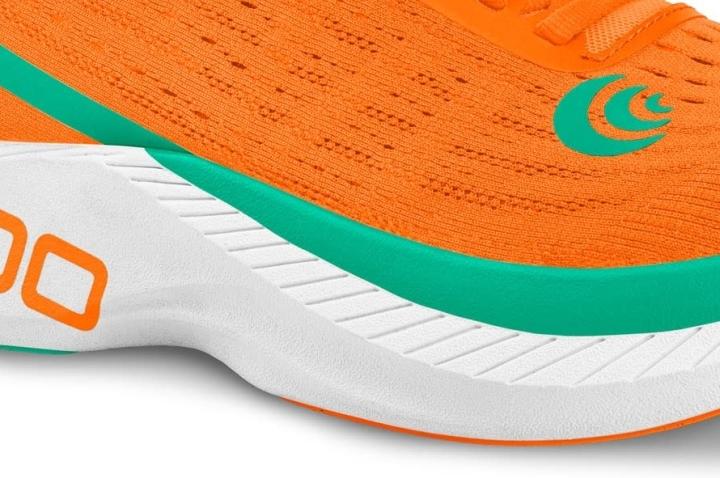 No wear after 100 miles
After 100 miles at various paces, a tester said he was "absolutely amazed by how well they've endured" and went on: "If you're looking for a durable platform, look no farther!" This was confirmed by another runner, who said this shoe has "one of the toughest outsole materials I've encountered."
Ready after a few miles
Two testers noticed that this shoe requires a breaking-in period. This meant a few short runs for one of them, while for the other it took around 20 miles. After that, the shoe began to really shine and perform at its best.