Our reviews
I'm a fitness enthusiast and active parent in my mid-40s. I am a runner (both road and trail) as well as a hiker, walker, and weight-lifter.
My running category is neutral. I received the Topo Phantom as part of the RunRepeat testing program. Up until I received the shoes, I had never used the Topo brand.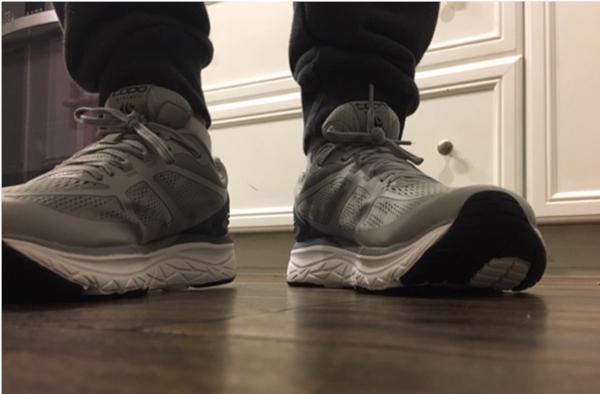 I received the shoes on June 3, 2019, and since then have run or walked in them 3-5 times a week for distances of about 3-5 miles per session for a total of roughly 50 miles at the time of writing this review.
I typically run every other day to give my body a chance to recover and walk on the alternate days. I live in an area with mixed terrain, so I have used the Topo Phantom for running on both road surfaces and rocky trails. I have also used them for running on a gym treadmill.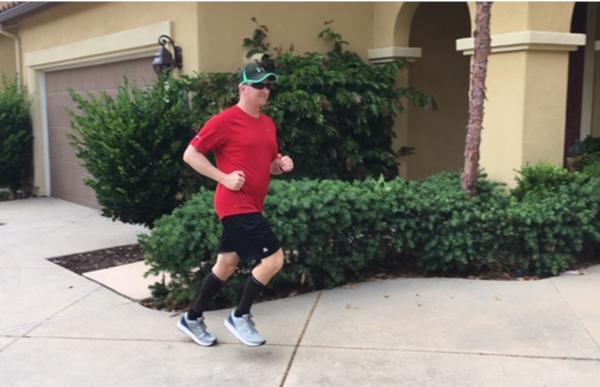 Here is one of my favorite trails for running, with my favorite running buddy! He is really fast.
Overall, my impression of the Topo Phantom was solidly positive. Although the fit and feel of the shoes took a short amount of time to adjust to, I found that the more natural running experience and extra cushioning which the shoes provided did work well for me.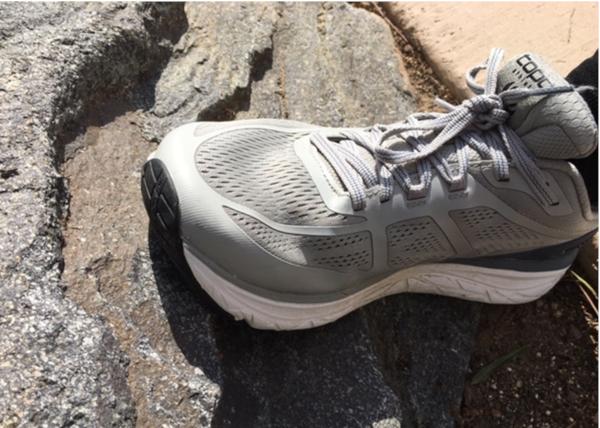 Product Features
Minimal heel-to-toe drop
The Topo Phantom is an ultra-cushioned running shoe with a 5-millimeter heel-to-toe drop. The shoes are designed to promote a "natural" running gait by minimizing the decline from heel to toe.
Traditional running shoes typically have a slant from heel to toe of about 10-12 millimeters, which is designed to propel the runner forwards. These shoes reduce the slant in hopes of providing a closer-to-barefoot feel.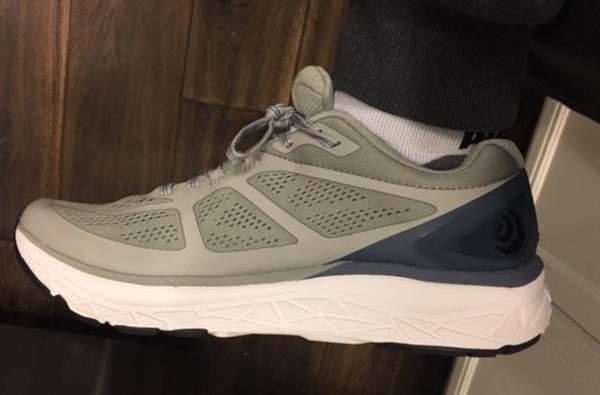 However, the Topos are still a very cushioned shoe. The upper sits upon a whopping 30 millimeters of cushion at the heel, about 25 millimeters at the toebox.
Here are the Topos compared with the type of shoe I typically use (this is the Brooks Launch). You can see how much higher the heel sits in proportion to the toe area in the Brooks shoe when compared with the Topos.

Wide toe box
The Topo Phantom is also designed with an extra wide toe box to facilitate toe splay during the run, in order to stabilize the foot. This again is a means to provide less restriction to the foot's natural running motion.
The midfoot, in contrast, is very snug to provide solid support. Below, you can see how much wider the toebox on the Topo model is when compared with the more traditional Brooks Launch.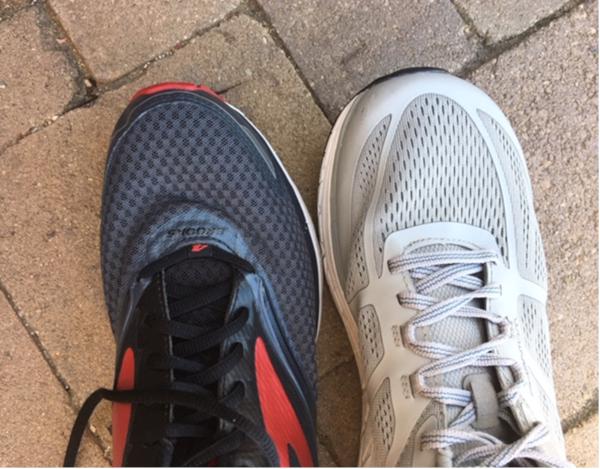 These shoes look very much like other "natural" runners including models from the Hoka One-One brand and some from Altra.
I will admit that when I first saw Hoka shoes years ago, I imagined them to be another fitness trend not unlike the ill-fated Skechers Shape-Ups from the earlier 2000s. However, I have come to appreciate the design as I have spoken with other runners who really have found them to provide a great running experience.
One more design point to note, these shoes have minimal branding designs on them. I tend to find a lot of running shoes (Nikes, for example) to be a bit "over-branded" and have always preferred the more subtle designs that advertise a bit less.
I appreciate that Topo seems to have put more energy into designing a good shoe than on visual gimmicks or loud logos. This makes the shoes more appealing to me.
Fit
My feet are pretty average in width, so I typically wear a size 9.5D in running and cross-training shoes. I found the Topo Phantom to fit me perfectly in a 9.5D.
The forefoot design of this shoe is wide, as described above, to facilitate natural toe splay. This worked very well for me since the toe area is where my feet are widest. I find some types of running shoes to be too constricting around the toe area, but not these.
The midfoot of the Topo Phantom is designed to provide a snug fit. This, combined with a very rigid heel cup, locks the heel in place to prevent unwanted foot motion in the shoe.
My initial impression was that the midfoot area was overly tight for my thicker feet. I couldn't wear the shoes with my usual Superfeet inserts for that reason. But once I tried a thinner ¾-size arch support and gave the shoes time to stretch out a bit over several runs, I found that the midfoot fit was actually just right for me.
Upper
The upper of this shoe is made from a perforated, highly breathable, and stretchy synthetic material that is very lightweight. The toe area is surrounded by a slightly harder material that can protect from light debris on the road.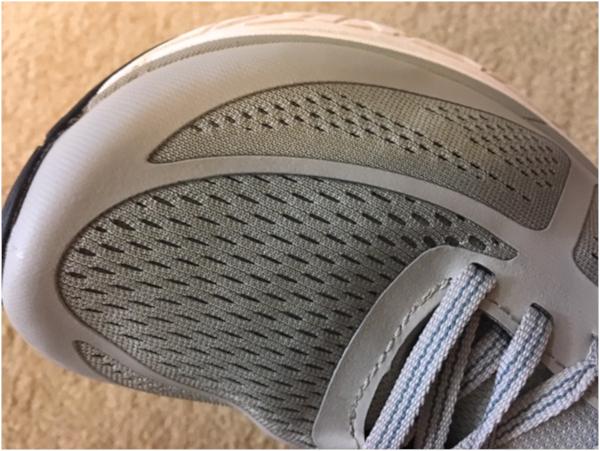 There are some fairly minimal overlays to provide some midfoot support. The uppers seemed a little thin to me when I first saw them, giving me concerns about durability.
So far, though, the shoes have held up to a lot of use in varied terrain without any issue. The softness of the uppers also prevented any chafing or "hot spots" from occurring.
Heel
The heel cup design really stands out as one of the best features on the Topo Phantom. The heel area of the shoe is made from a very rigid plastic that wraps around the rearfoot to hold it in place.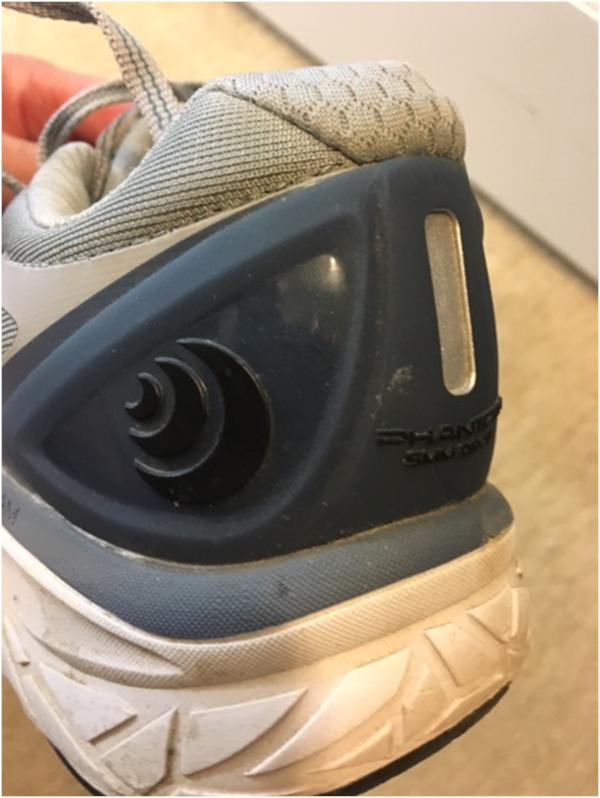 This is combined with a pillowy and very comfortable padded collar area that cradles the Achilles. I found that this design really enhanced my stability when running.
My feet felt secure and locked in place, preventing any kind of blistering even after running in excess of five miles.
Midsole
The Topo Phantom is an ultra-cushioned shoe, so the midsole on this model is no joke. Topo's 30 millimeters of cushioning system, called Zipfoam, protect the heel from the force of pounding against the road.
The shoe drops down to 25 millimeters of the Zipfoam at the toe. According to Topo's website, Zipfoam is designed to compress less than other foams on comparable models.
Theoretically this means greater rebound and durability. The inside lasting on the midsole is curved to resemble the foot's natural shape.
The level of cushioning on this shoe initially felt strange to me. It seemed odd at first to feel less connected with the surface of the road. However, I came to find that the extra cushioning really did help me avoid some of the injuries I have experienced from running.
The joints in my feet and legs felt less irritated than usual, even after some longer runs. As a middle-aged runner, having more cushioning seemed to be exactly what I needed to keep going.
I also did find that the Zipfoam did not compress all that much even after a lot of running. I think it's a great cushioning system and it does appear to be quite durable.
I will say that I still prefer the higher heel-to-toe drop of more traditional running shoes due to being a heavy heel striker. However, the level of cushioning in these shoes made the lower drop workable for me, whereas I would never run in a truly minimalistic (i.e., minimal cushioning) model.
Insole
The Topo Phantom comes with a contoured, spongy Ortholitestock insole that is easily removable. The insole is very soft and responsive.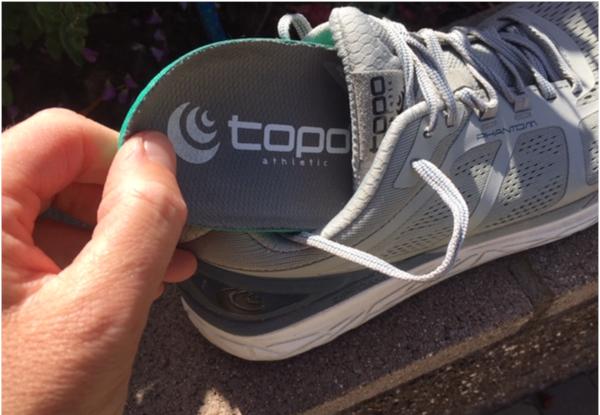 Given the unusual shape of the shoe, I wasn't able to use my usual Superfeet inserts in place of the stock ones. Instead, I decided to insert a product called the Samurai Ninja underneath the stock Ortholite insoles.
The Samurai brand is a manufacturer of over-the-counter arch supports designed to be used in a wide variety of shoes. The Ninja is a ¾ insert made from a hard, durable plastic that does an excellent job providing foot support without changing the fit of the shoe.
With the Ninja in my shoes, my chronic plantar fasciitis was basically eliminated, and I was able to run comfortably. Here is what the Samurai Ninja inserts look like. For those experiencing flat feet or collapsed arches, I highly recommend them.

Outsole
The Topo Phantom has a wide base, with some hard rubber in key areas for durability. There is a lot of exposed midsole area too.
Although the shoe is not at all lugged, it performed reasonably well on a number of trails which run through my neighborhood. I do wish that the Topo Phantom had a bit more traction, but since it's not a trail shoe, this isn't a necessary feature.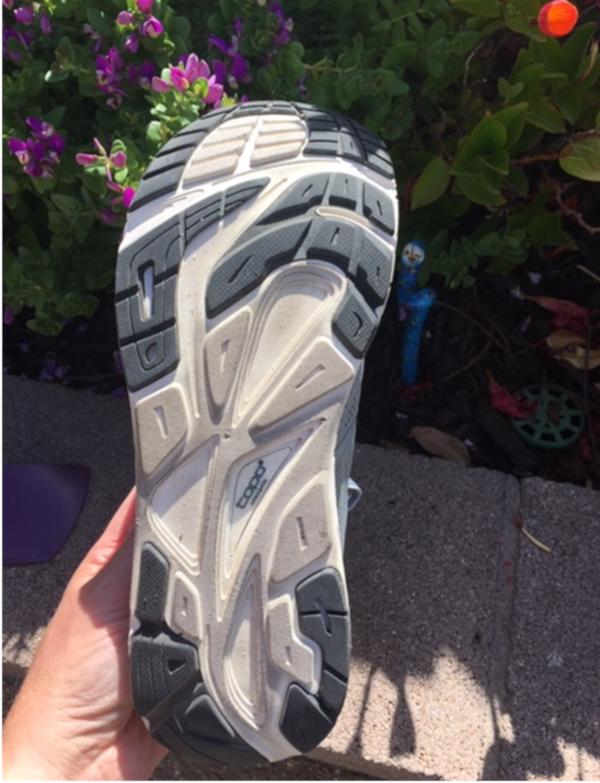 Pros
The Topo Phantom is designed with some excellent features that worked well for me:
A truly superb cushioning system which really helped this middle-aged runner feel comfortable and injury-free even after embarking on a long run over mixed terrain;
A wide toe box that allowed for natural toe splay, great for my wider-toed feet;
A solid midfoot lockdown with a rigid heel cup that prevented unwanted foot motion in the shoe;
A breathable and durable upper;
A responsive insole that was also removable to accommodate other types of inserts;
A wide and stable base.
Cons
The Topo Phantom does have a few drawbacks, which are worth considering before you spend your hard-earned money on them:
The shoes maximal cushioning combined with a "natural" design did work for me because I happen to have a neutral gait and benefit from more room in the toe box due to the shape of my feet. But runners with a need for greater structural support underfoot may want to test these out before committing to them since this type of running takes a bit of adjustment. I will say that I do prefer a more traditional running shoe with an 8-10 millimeter drop because I am a heavy heel striker but did find that I could make the 5-millimeter drop work for me.
The outsole could use a bit more traction, even for a road shoe.
Last but not least, these shoes are fairly expensive. It's worth your money if these improve your running experience (in my case, they did), but for those on the fence, I advise you to find a store with a good return policy before buying them. This design is certainly not going to work for everyone. I will say that I have been able to run just fine in much less expensive shoes such as the Brooks Launch and ASICS Excite, and would probably not have considered a shoe with thicker cushioning without having been provided this pair to test.
The bottom line
I was overall very impressed with the design and features of the Topo Phantom. The extra cushioning that these shoes provided ended up helping me run farther than usual and with less injury.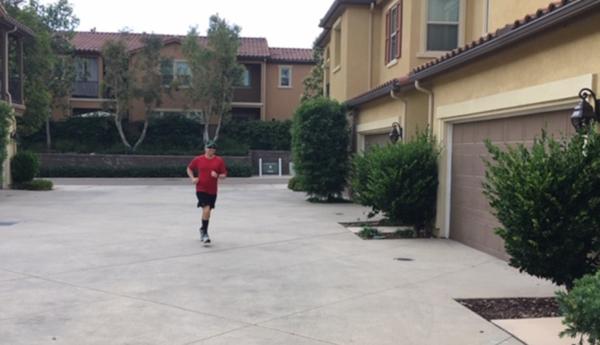 I really appreciated the wide toe box and was able to tolerate the relatively low heel-to-toe drop. While the "natural" running concept may be a bit of a gimmick, I did find that it felt pretty good on both long and short runs.
The shoes were snug and provided just the right amount of support I needed with a rigid heel cup and snug midfoot lockdown. The Phantoms also seemed quite durable after many miles of running on roads and some trails, showing less wear than I had expected. However, the design of the Topo Phantom may not appeal to everyone.
It is an expensive shoe as well. If you are interested in a maximally-cushioned but minimally-inspired running shoe, I do highly recommend giving these a try or at least trying on a pair. I would say that they are definitely worth the money if this style of running works for you.
There have been many profound maximalists running shoes such as the Hoka One One Clifton shoes, or the New Balance Fresh Foam shoes. Topo Athletic recently released their most cushioned road running shoe to date - the Phantom.
It features Topo's signature wide toe box. It also features Topo's new midsole, Zipfoam, which provides lightweight cushioning that provides more spring so you can extend your mileage with less impact on your joints.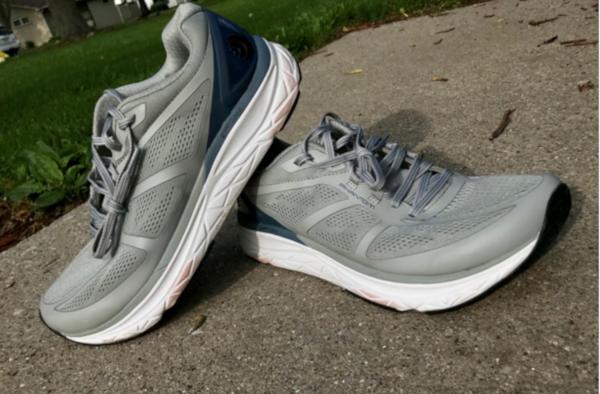 First impressions & looks
In terms of looks, this shoe has a very simplistic design. It also has very nice and simple colorways to it. It does look very clunky and looks like it has a lot to it (which it should), being a maximalists shoe.
It also is a very wide shoe. My feet being, exceptionally narrow, took a lot of adjusting of the laces to this shoe. It did look very pleasing in terms of comfort due to the very stacked midsole.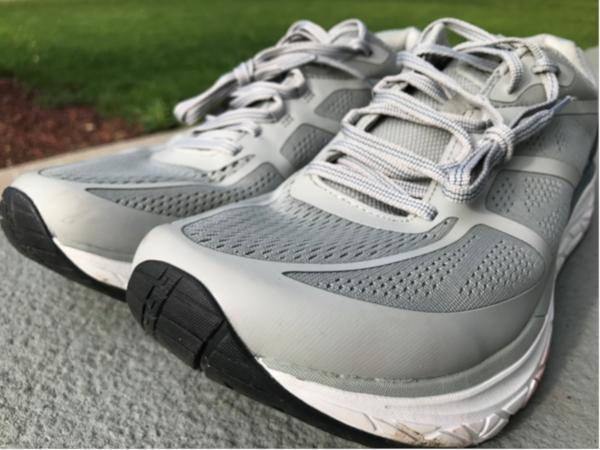 Upper
In terms of upper, it has a very nice, smooth, light engineered mesh. It is very breathable and definitely doesn't give added weight to the shoe. The shoe also has a very good TPU heel counter, which is made to keep the runner's foot secure, and it does that very well.
The shoe also has a printed upper pattern that provides a secure midfoot lockdown for a better fit. The toe box provides an extra-wide shape to make a more natural toe movement.
Outsole
In terms of the outsole, there isn't much to say. It is a rubber outsole that runs the length of the shoe for increased durability and traction. I believe this shoe could last very long, at least 400 miles due to the very stacked midsole.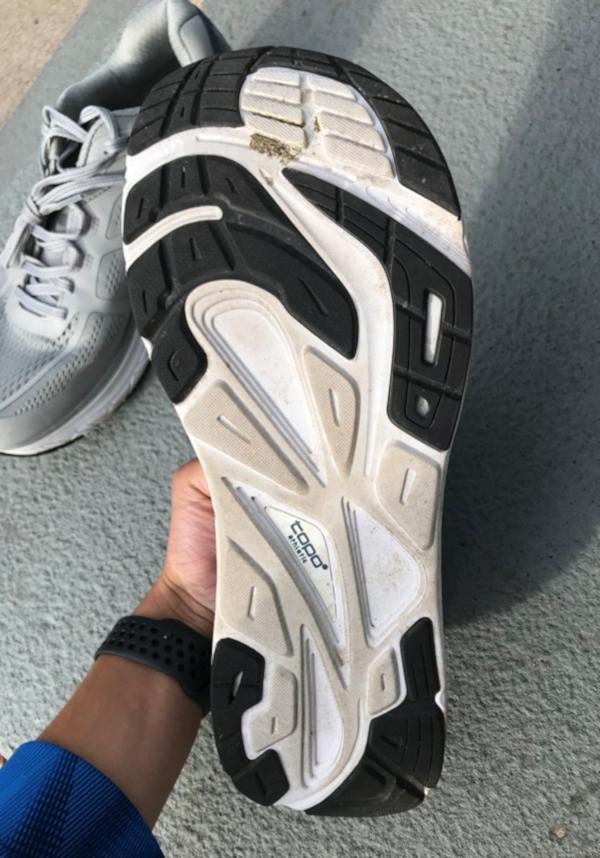 Midsole
The midsole features a full-length Zipfoam Midsole which gives lightweight cushioning with more spring than traditional EVA. It is very cushioned, as expected. It definitely feels great underfoot for slower runs.
Comfort
Anyone could probably use this shoe for any easy, normal run to long run. One thing with this shoe in terms of comfort is that it is very hard to go fast in these shoes.
I can run a sub-5 mile, and I found it very hard to push even 6'45" in these on a normal run which I could do with ease in many other shoes. I do believe that is because of how heavy the shoe is due to it being a maximalist shoe.
That being said, I do have considerably large feet for my body wearing a size 10.5 with the shoes weighing 11.3 oz only weighing roughly 135 lbs at 5'11. I do believe this shoe is great for a recovery run or a run where the goal is not to go fast.
I would definitely use this shoe for my recovery days after a hard workout, but would never use it for any sort of tempo run or speed workout.
Price
In terms of the price, I do feel these shoes are overpriced, but for a shoe that will last a very long time, $130 is ideal if you do plan to use this to its fullest. If you only plan to use this shoe to 300 miles or less, I do not believe you should spend $130 on it.
If you do mainly longer, slow to normal paced runs than these will do, but if you do faster shorter runs, then these are probably not for you.
Personally, if you're like me and do a mix of both fast and slow runs, there are probably more versatile options for better prices.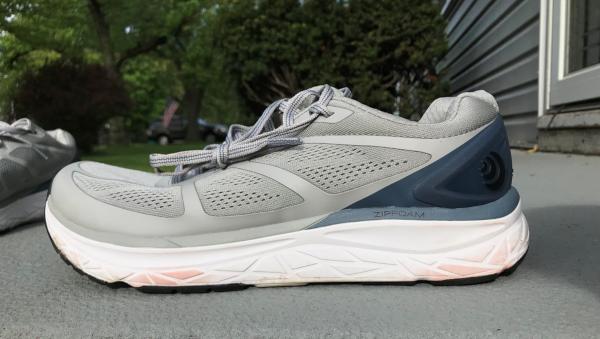 What I like about this shoe
There are a couple of things I do like about this shoe. One thing is that it is a good recovery shoe and definitely has enough cushioning to go miles on end.
I also like the simplistic design if the shoe as it does look nice without any flashy designs. I do also feel like these shoes could last at least 400 miles, which is very nice.
Why you should buy this shoe
You should buy this shoe if you want a nice and promising recovery or easy run. You should also buy it if you're training for a race anywhere from a 5k up and would be perfect for a marathon trainer.
Overall, it is a road running shoe and very benefiting to the runner.
The Topo Phantom is a shoe that could work as the end-all-be-all neutral shoe for runners like myself. There's a natural toe-box, very minimal drop, and decent cushioning.
The question is, does it live up to the hype the specs make it out to be? Let's check em out.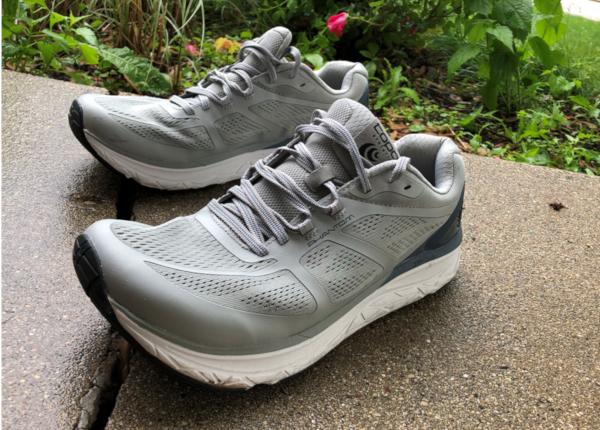 Style
Aesthetically, the Phantom isn't a bad looking shoe. The open mesh upper is stabilized by synthetic overlays, with die-cut panels that give the shoe a sleek look.
The midsole has a cool broken glass style pattern, which gives it a level of separation from other shoes in its category. The external TPU heel counter is a nice touch, giving a techy look and an opportunity to give the shoe a color and material pop.
Unfortunately, the toe-spring combined with the wide forefoot and thick midsole gives the shoe a bulky overall appearance, especially on the microchip grey colorway.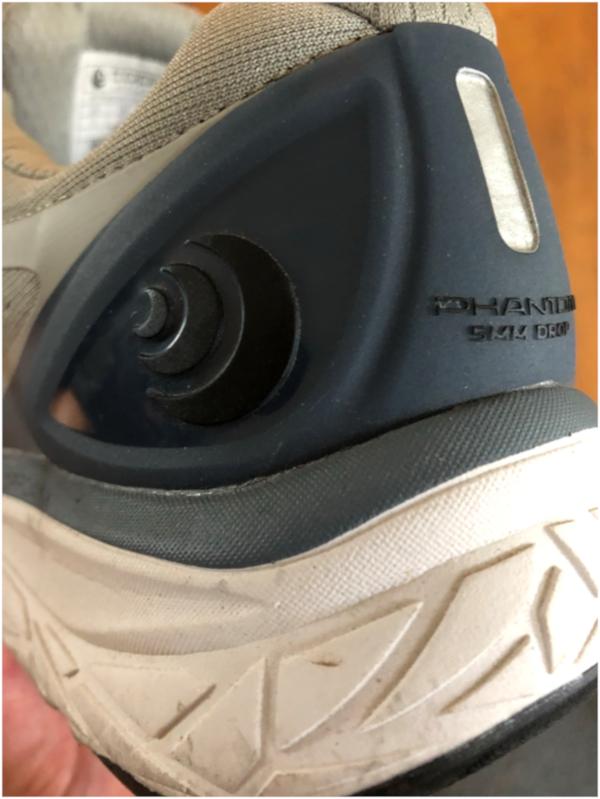 The upper of the shoe is fairly straight forward in terms of materials. The varying open mesh leaves key areas more open for breathability, and the heat fused overlay lend support where it's needed.
The lacing system of the Phantom is a hybrid, having oval eyelets on the bottom two and top three, and two nylon gillie eyelets on the mid-foot for a snug fit. The tongue is more of the same, with two different meshes with padding at the top. There is no gusset on the tongue, but it may not even be necessary.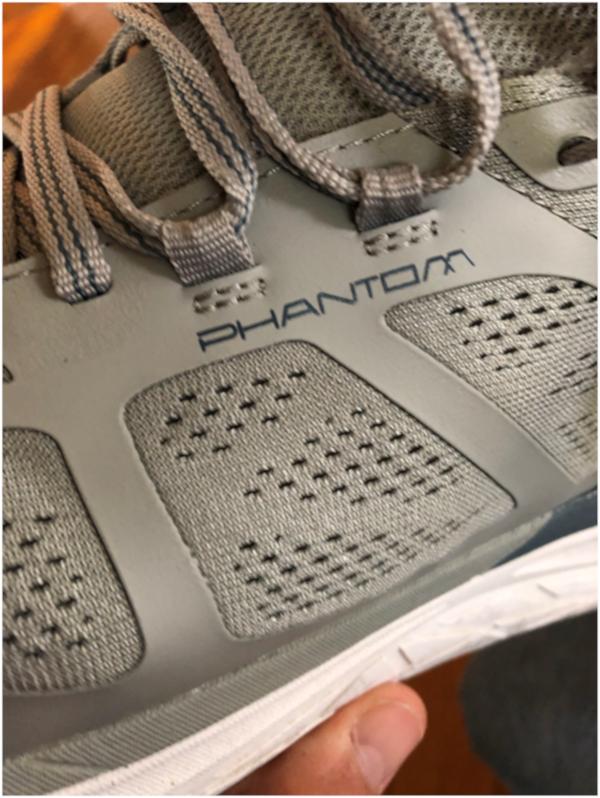 Keeping things stable on the back of the shoe is an external heel counter, with some extra padding at the collar, and an Achilles notch. The rest of the collar is padded as well, right up to where the tongue wraps across the foot when fastened.
Toe splay is no issue in the Topo Phantom, as it's engineered in a way that allows the foot to spread at the toes in a natural manner. With proper sizing, the combination of a snug heel fit with a roomier forefoot can be the key.
The midsole of the Phantom is thick and smushy. The drop on the sole is 5mm, which is usually a good thing for mid-foot strikers.
The durometer (the measurement of how soft or firm the midsole is), increases in number the firmer the compound. These are definitely on the lower end of the spectrum. Topo's name for this particular EVA is called Zipfoam.
Regarding the outsole, the Phantom is relatively unconventional, but it makes sense. The high-wear areas in the heel-strike and toe-off zones have pods of rubber, while the rest of the outsole is essentially molded out from the midsole.
The general flow of the traction pattern follows the standard "S" pattern, with arbitrary insets and lugs peppered throughout.
Performance
When I first put the shoe on, the Topo Phantom felt fairly comfortable. I could feel how soft the midsole was, and I noticed how roomy the toe-box felt.
Once I laced them up, however, it took quite a bit of adjusting and tightening to get the proper fit. The concept of using gillie eyelets on the mid-foot is good, but could be slightly more effective if they were stitched just a few millimeters lower in the upper, allowing for a greater range of adjustability.
Once I got out the door and started the run, I could definitely feel the shoe rocking my foot forward. While there was nice toe-splay in the forefoot, the heel fit was a little bit iffy for me.
It took quite a while for me to run in the shoe confidently without worrying about heel slippage. This was even more amplified while ascending big hills, which are unavoidable where I run.
Descending hills wasn't as much of an issue, because my toes had enough room. As the insole broke in, the forefoot did start to get a little bit sloppy. All of this could very well be a sizing issue on my part, as I am between sizes in certain brands, and this was my first Topo encounter.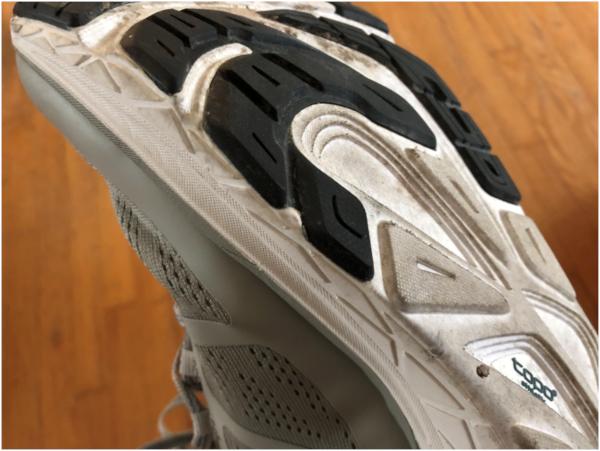 The traction of the Phantom was adequate, even in slightly damp conditions. Through construction zones, the thick midsole glided over broken asphalt and rocks and transitioned well to the regular sidewalk.
A gravel trail wouldn't be a big issue in these shoes, but stability could potentially be an issue on more technical terrain, as is with most road trainers. Speaking of stability, the expectations for a low 5mm offset threw me off a bit.
Expecting better cornering, the overall height of the midsole allowed for more potential for ankle roll. The thick and soft midsole was comfortable out of the box but could stand to be firmer. I started to notice my plantar fascia getting stressed on longer runs, and the last shape of the shoe doesn't allow for any support inserts.
Overall
Overall, the Topo Phantom is a shoe that, for me, could have a lot of potential in its sequels. The formula of low-drop and natural toe-box is definitely one that a lot of people could get on-board with, and the external heel counter is a nice touch.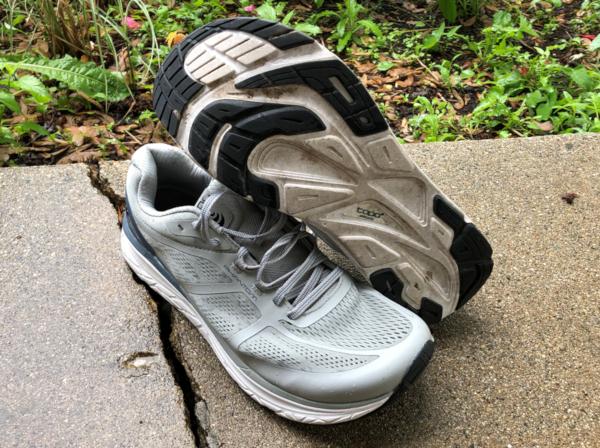 Though I felt bogged down a lot of the time, this shoe could very well hit the sweet spot for a lot of runners. As much as I wanted the Phantom to perform well for me, I can only rate it as average. I'm interested in seeing what the company has to offer in the future.
When you think of maximalist shoes, you think of something with a lot of cushion, perhaps a bit clunky, and something you will not be able to run fast, but uses for slow runs or recovery days.
Having owned a pair of Altra's Paradigm and Skechers Max Road Ultra, I thought I knew what I was getting into, but Topo's first max cushioned road running shoe has been a pleasant surprise for me.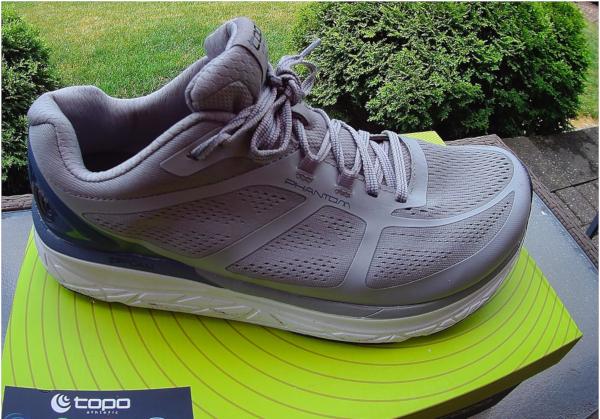 Specs
Weight

10.2 oz/289g (men's 9)

8.6 oz/244g (women's 7)

Stack Height

30mm (heel)

25mm (forefoot)

Heel to toe differential
5mm
Support
Neutral
Upper
Breathable engineered mesh
Insole
OrthoLite Antimicrobial (5mm)
Build quality
Upper
The Phantom offers an engineered mesh upper that I found to be quite breathable and appreciated it while running on hot summer days. My foot never got too hot and the only complaint I have is with the thickly padded tongue. This provides comfort but limits air-flow to that part of the upper.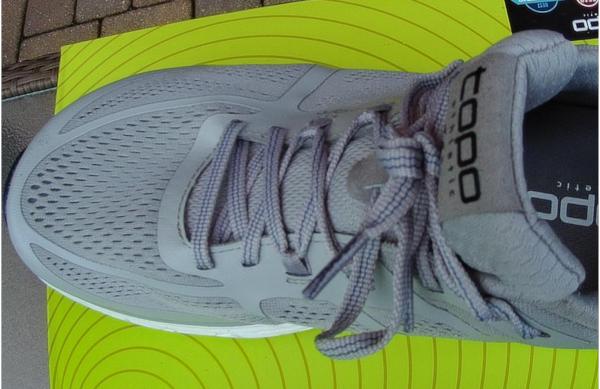 The mesh material is not extremely stretchy but conforms to your foot for a comfortable fit. Also of note, the shoelaces are plenty long enough to allow for lace lockdown.
I'm not sure this will be necessary, but the laces are long enough (perhaps too long) to accommodate. The laces are flat and textured so they will not come untied during a run.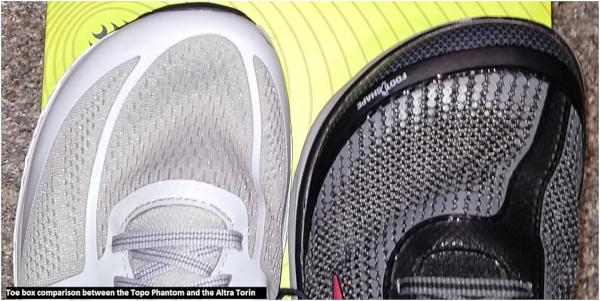 Similar to Altra, Topo is known for its foot-shaped toe box. Having owned Altra's in the past, I assumed the Phantom would have a similar "duck shoe" like look about them. However, Topo streamlines the toe box which gives it a better look but at the sacrifice of toe splay on the lateral side of your foot.
This caused some minor issues for me because my pinkie toe would slightly rub up on the side of the shoe. This dissipated after a brief break-in period, but since I do not have wide feet, it may be a bigger issue for others and may require you to 1⁄2 size up.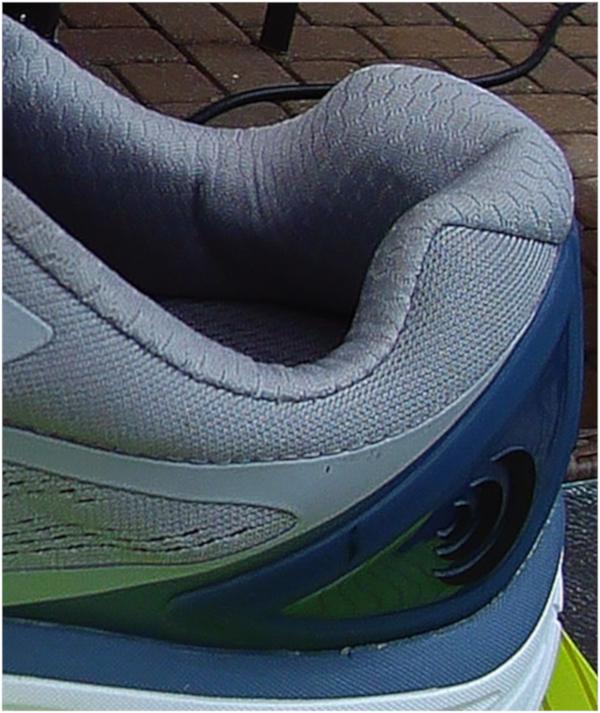 The padded heel collar with an accentuated Achilles notch in combination with the TPU heel counter really keeps your heel comfortably locked in place. I did not experience any slippage or rubbing in the heel area while running fast and cutting tight corners.
My only complaint is that the heel counter seems to be a bit overdone, and I'm wondering if a less pronounced heel counter could reduce weight without impacting functionality.
Midsole
I'm loving the Zip Foam! I have run in Boost, React, and Everun and I'm finding this to be right up there with them in terms of cushioning and responsiveness.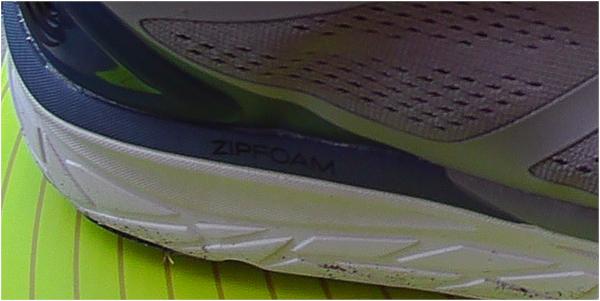 The character of the midsole allows for a variety of running distances and paces. I've taken the Phantom on runs as long as 14 miles and never felt as if the shoe was bottoming out.
Even though this is a maximalist type shoe, I was able to push the pace and do up-tempo runs in them. The Phantom comes with a 5mm OrthoLite antimicrobial foam footbed for added comfort and odor prevention.
Outsole
The outsole is designed with a wider heel for more stability which helps compensate for the 30mm stack height in the heel. Carbon rubber is only placed in high wear areas to reduce weight.
Functionally, it has worked well and has provided good traction, even on wet surfaces. Very little wear as shown on the outsole after 60 plus miles of running and you should be able to get 400 plus miles in them in my opinion.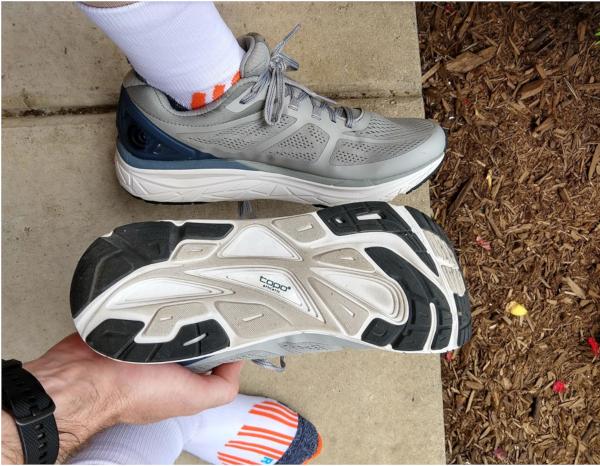 Design
Currently, the Phantom only comes in two colors for men and women; Grey/Blue and Navy/Orange for men and Aqua/Cobalt and Cobalt/Seafoam for women.
The look of the shoe is not fancy by any means and is very conservative in color and design. If you are someone who likes flashy shoes, you will be disappointed by the Phantom.
It could pass for a pair of shoes that your grandfather would wear to do mall walking. I think they would be wonderful for that based on the fit and cushioning provided but this review is for running.
In general, foot-shaped shoes do not look good, but the Phantom has a sleeker design to their toe shape than Altra, and I have no problem using it for some casual wear.
Comfort & fit
These run true to size. For the most part, you have plenty of toe room; my size 12 fit perfect for me.
As mentioned earlier, there should be no need to size up unless you have a wider foot because the lateral side is a bit narrow and may cause some pressure. Topo doesn't offer a wider size.
You get excellent lockdown in the shoe, so you should not experience excessive rubbing or hotspots.
The padded heel collar and tongue hug your foot, and you can tighten the laces down without feeling excessive pressure on the top of your foot. The OrthoLite insole provides extra comfort underfoot as well as stability.
The ride
I have taken these primarily on mid to long-distance runs and have only had one bad experience while running in a downpour of rain. The shoes got soaked, and the water did not drain out very well. As a result, it became a heavy and squishy ride (it literally made a squishing sound) throughout my run.
Aside from that, this shoe has been a pleasure to run in; it's responsive, bouncy, and seems to encourage a faster pace. The stiffness of the midsole provides a snappy toe-off that helps spring you forward when picking up the pace.
The tread has worked well on-road and basic trails, and I have experienced no slippage on tight corners and wet pavement. You get very little ground feel due to the stack height, but the plushness of the shoe prevents your foot from getting beat up over the long miles.
Although not a stability shoe and despite its stack height, this is a stable ride due to its wide platform. No ankle rolling to worry about here.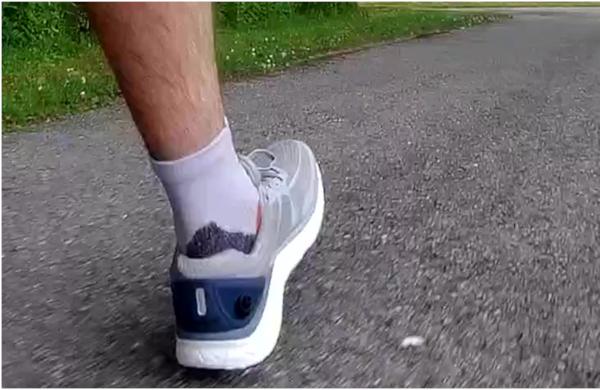 Price
At the time of this review, the Phantom is going for $130.
Comparable brands like the Hoka Bondi and Altra Paradigm are priced at $150, so this is a great price point for a shoe that is every bit as good in my opinion. It has limited color options compared to the other shoes, but the build quality is on par.
Suggested improvements
While running in this shoe, there were times when I wished for a Hoka-like meta-rocker. I seemed to run flat-footed later in my long runs in this shoe, and I believe a meta-rocker would be beneficial.
Adding drainage holes is needed based on my experience in the rain, and this would help reduce weight on the shoe, always a good thing. Provide a thinner tongue to add more breathability and reduce weight.
Lastly, more toe room on the lateral side of the toe box; just a little more, nothing too drastic. Change the heel counter to something simpler and lighter.
Conclusion
I'm loving this shoe! This is my first pair of Topo's, and I'm very impressed.
The Zip Foam is fantastic, and I hope to see more iterations of it in other shoes they offer. At the time of this review, I have three ½ marathons, and one full marathon on my calendar and the Phantom will be in my training rotation as I prepare for these races.
If you are looking for a high-cushioned neutral daily trainer that offers some stability and plenty of versatility, you can't go wrong with the Phantom.
Notable elements of the Topo Athletic Phantom
- The Phantom is the newest most cushioned road running shoe from Topo Athletic. The shoe features a 5mm heel-to-toe drop for a more natural and comfortable running experience.
- It also features the brand's innovative midsole foam, the Zipfoam™. This midsole technology is created to provide more bounce and responsiveness than the regular EVA foam.
- Lastly, the upper is made from a light engineered mesh. It is meant to deliver a breathable coverage to the foot without compromising comfort. The breathable upper material offers a skin-like fit and feel.
Size and fit
The Phantom running shoe is designed following the ideal Topo Fit system. The shoe has a very light, smooth upper coverage that hugs the foot comfortably. It also has a roomy toe-box for the toes to spread more naturally while running.
The Topo Athletic Phantom runs true to size and since it has medium fit in the heel and forefoot sections, the shoe should comfortably accommodate medium-footed runners. The available width options for the male and female runners is medium.
Outsole
Design for road running, the outsole of the Topo Athletic Phantom mostly consists of exposed Zipfoam™ technology. It is, however, made durable by the rubber placements added strategically in the heel and forefoot area. These rubber placements also offer a good level of traction on a wide variety of paved surfaces.
Midsole
A full-length Zipfoam™ technology made up the midsole of the Phantom road running shoe. The Zipfoam™ provides the foot a reasonable amount of cushioning needed for both long and short-distance runs. This midsole foam is also formulated to deliver more bounce and responsiveness as compared to the traditional EVA material.
Upper
The upper of the shoe is made of lightweight and breathable materials. The engineered mesh provides the foot proper ventilation and the overlays enhance the shoe's overall fit and durability.
The shoe also features an anatomical toe box. It is designed to allow the toes to spread naturally, giving users a more comfortable running experience
Lastly, the shoe makes use of a TPU Heel Counter. It provides the foot a more stable and secure heel lock-down which is necessary to prevent heel slippage while running.
Compare popularity
Interactive
Compare the popularity of another shoe to Topo Athletic Phantom:
Topo Athletic Phantom video reviews