Verdict from 9 experts and 49 user reviews
4 reasons to buy
A good number of buyers commented that the shoe fitted well on them.
According to some runners, the North Face Ultra Cardiac II was comfortable.
A handful of customers noted that the shoe was stylish.
Several wearers were impressed with the North Face Ultra Cardiac II's stretchable and smooth laces.
2 reasons not to buy
One of the testers said that his foot kept sliding when going downhill.
It was not durable, based on some reviews.
Bottom line
The North Face Ultra Cardiac II was admired enough by a significant number of purchasers who have tried it. A lot of them appreciated the comfort and style the shoe provided. Aside from its fantastic design, runners gave recognition to the shoe's excellent structure and construction. Although some of the runners have problems with its durability, others still recommend the shoe because of its performance. Overall, the North Face Ultra Cardiac II has made a lot of runners satisfied and happy because of its perfect fit and comfort.
Tip: see the best trail running shoes.
Our reviews
According to Running Warehouse, the Ultra Cardiac II from The North Face is, "A great pick for less technical trail adventures… (this model) delivers an all new design with versatile cushioning and traction."
Do we agree? See the verdict below.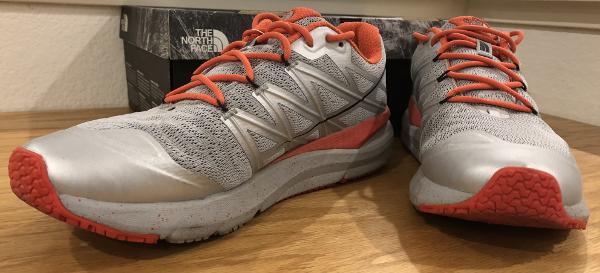 The shoe
The Ultra Cardiac II weighs 11.2 ounces, which is a touch heavier than the original Cardiac (11 ounces). It's categorized as a neutral trail shoe with a 6mm drop.
It offers a perfect true-to-size fit, which is – yes, also sock-like. The shoe is snugly comfortable while offering enough room so that one can enjoy the padding offered by mid-weight socks, such as balega Enduro socks.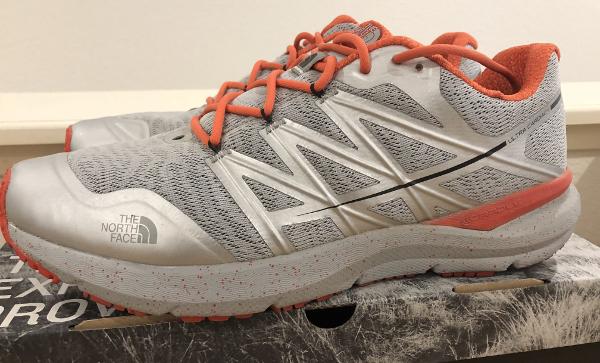 The shoe is extremely attractive in appearance – stylish but not garish – in the Grey/Ibis and Fiery Red/TNF Black colorways.
(The Grey/Ibis shoes look great when matched up with The North Face Men's Flight Better Than Naked shorts in similar colors!) The silver shield toe guard is a nice looking touch which is also functional.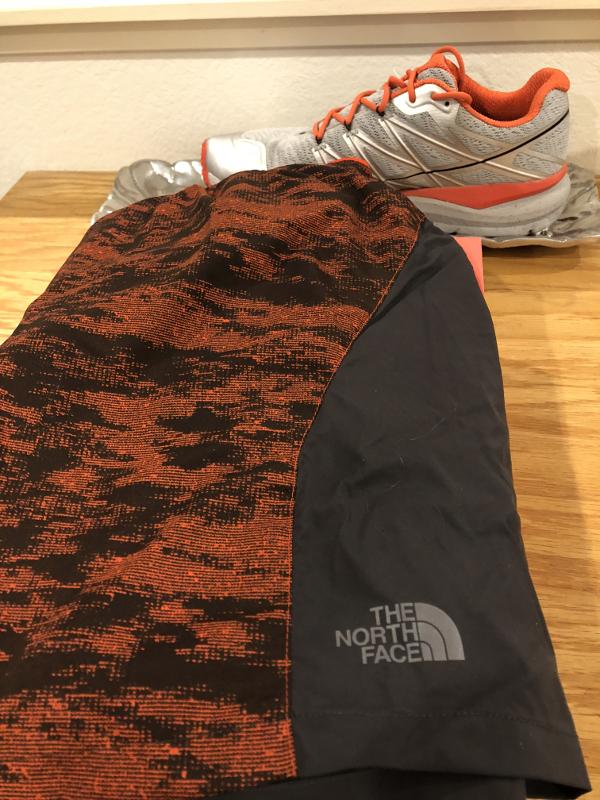 As with most running shoes, these days, the supplied Ortholite Ultra Series insole is somewhat thicker than needed for its intended purpose. So I replaced it with a Superfeet black insole. These fit perfectly, without any need for trimming, which is another indication that the Ultra Cardiac II fits as it should.
The very rounded laces appear, at first glance, to signify trouble. Usually, round laces are slippery. In this case, the laces offer some elasticity. In practice, once tied, they stay tied. Whew.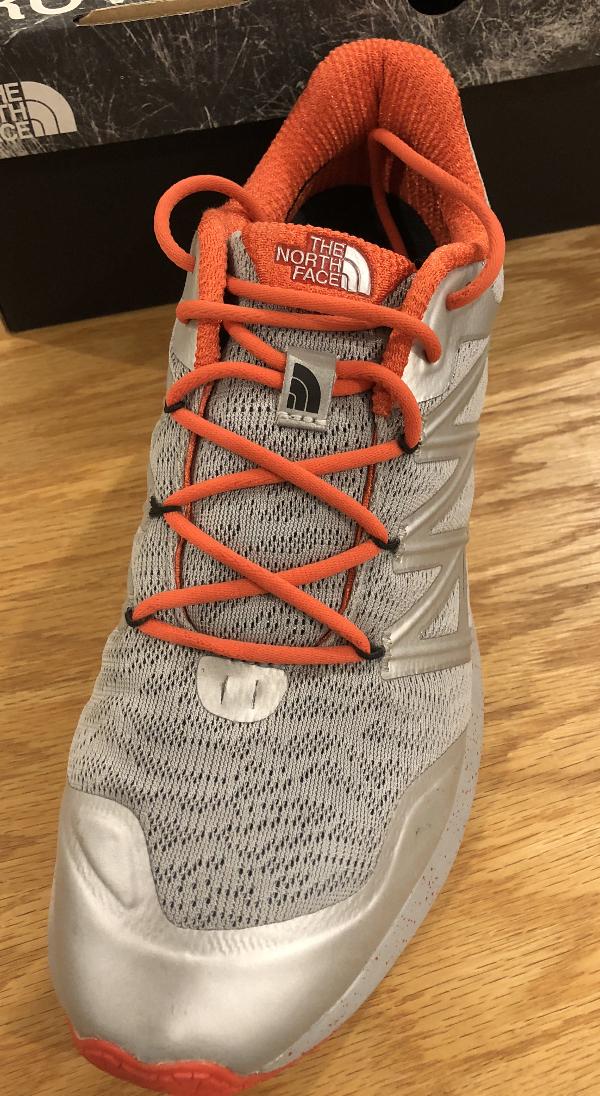 Although labeled as a neutral shoe, the Ultra Cardiac II offers some stability due to what The North Face calls CRADLE heel stability technology.
This is a very firm piece of rubber which wraps around the rear of the shoe and assists in keeping one's feet moving straight ahead. It works well and is similar to the heel brace found on the Brooks Asteria, a mild stability racing flat.
Some will like the well-padded heel counter, as I did, while others will wish for less foam around their ankles. There's no rock plate in the Ultra Cardiac II, but the highly protective sole comes from Vibram.
A hybrid performer
It's immediately clear with the Ultra Cardiac II that this is a hybrid shoe. It feels fine to walk in and also to run in on city streets and sidewalks leading to more natural surfaces.
The sole of the matter
As mentioned earlier, the Ultra Cardiac II comes with a Vibram sole. While Vibram soles are highly protective of sore and potentially injured feet they seem to be quite firm and inflexible.
I've often wished that a Vibram-soled shoe came with flex grooves up front. Well, guess what? The Ultra Cardiac II's Vibram sole comes with two full flex grooves and a third partial flex groove in the forefoot. Yes!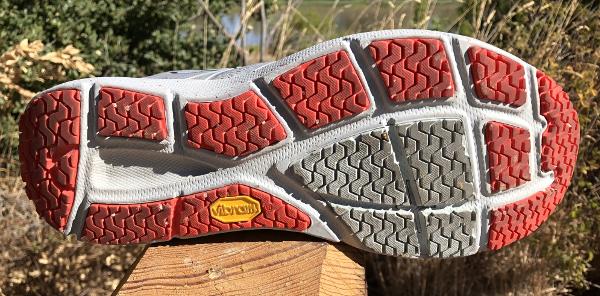 So there's an admirable amount of flexibility upfront, which means that those with inflexible feet won't have toes going to sleep or cramping. (A tip: If you want to increase the forefoot flexibility even further, don't use the far forward centered eyelet.)
According to The North Face, they've added some extra foam under the toes; thus, the forefoot remains well protected despite the flex grooves. I often have metatarsal impact issues. In this shoe, I experienced none at all.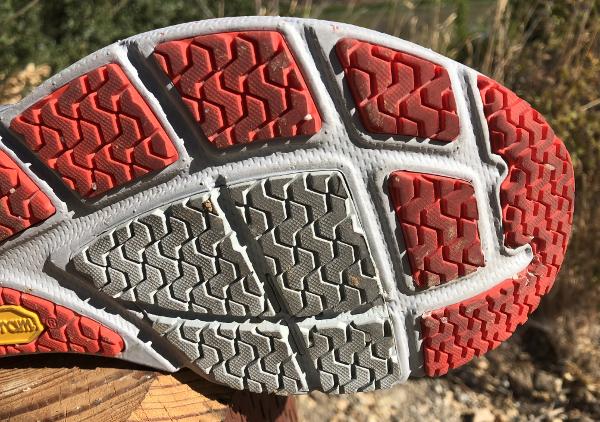 On the road and on the trail
The Ultra Cardiac II initially feels firm, but like other shoes from The North Face it feels kinder and gentler and softer as the miles add up.
On concrete, the shoe performs as expected – the landings are flat without punishment. On asphalt, there's a noticeable amount of bounce-back; perhaps not in the category of Adidas BOOST shoes, but more than expected in a hybrid shoe.
The shoe feels most at home on hard-packed dirt trails, dirt and gravel covered trails, fire roads, and newly mown grass roads.
Despite the sole's flat looking appearance – flatness alleviated by pods which make it look like a cousin to The North Face Flight RKT fast trail shoe – the shoe offers fine purchase (grip) when running up and down hills.
I never experienced any slipping or unwarranted sideways movement while in motion on less technical – but sometimes challenging, surfaces.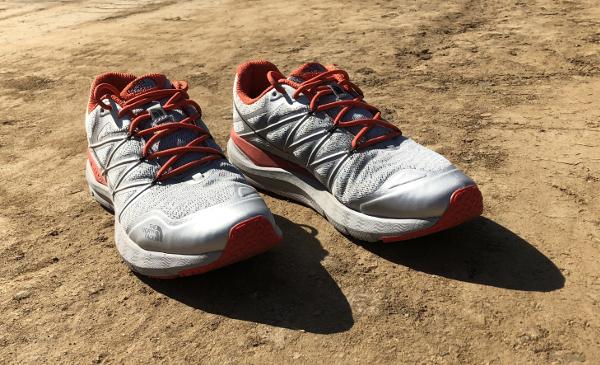 In my neighborhood, luckily, a newly paved dirt road has been created. This is the type of surface on which one feels he or she could run at least 25 miles in the Ultra Cardiac II!
There's no discomfort when the Ultra Cardiac II is used for runs on hard rock trails. No rock plate? One would never suspect that's the case. Thanks, Vibram. And, thanks, The North Face for the amount of cushioning underfoot, even if it results in a slight weight increase. It's worth it.
Too heavy?
While the Ultra Cardiac II is not going to be confused with a trail racing shoe or racing flat, it never feels heavy on one's feet. In fact, it feels lighter in action than most standard trainers. I guess I'd say that the shoe feels lighter than its actual weight.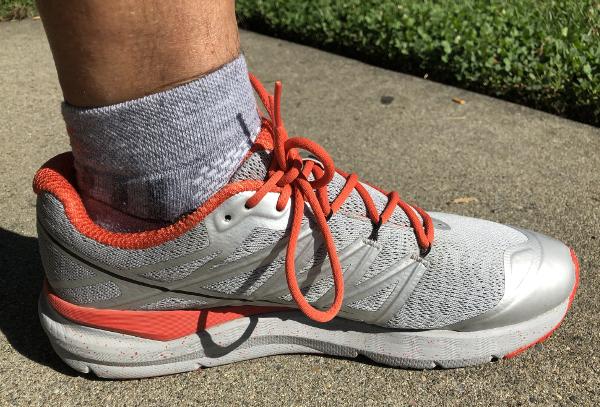 The Plantar Fasciitis Issue
I was fortunate enough to receive these shoes just as a brutal case of Plantar Fasciitis (PF) was about to – and did strike. The Ultra Cardiac II was one of two pairs of running shoes that I found did not aggravate my painful symptoms.
And these shoes – the other one being the Mizuno Wave Sky 2 - have helped to nurse me through the war against PF. (It helps, of course, that I used an upgraded insole intended to prevent and alleviate the irritations of PF.)
The name?
I'm not sure what the word Cardiac has to do with this shoe. Perhaps The North Face wants runners to think about their heart health as they pile on country and town miles in the Ultra Cardiac II. Well, there are worse names for running and trail shoes. Far worse.
The verdict
For $110.00, The North Face Ultra Cardiac II is a very good buy. The shoe is well designed, well manufactured, and protective. With a good amount of rubber in the midsole and a Vibram sole, it 's demonstrably an extremely durable shoe. (I doubt one would see much wear on this shoe before the 400+ mile mark.)
Yes, the Ultra Cardiac II shines on less technical trails, where it can add some fun and confidence to a daily run. And the shoe will not make you groan if you have to run over sidewalks and city streets to get to the nearest trails.
All in all, this is a try and/or buy – not a why? or bye! - shoe. Good work, The North Face!
Buy The North Face Ultra Cardiac II if: You miss the cushion and comfort that were in running shoes throughout the 90's. Also, if you want a good all-around shoe that performs on the road as well as the trail.
Avoid The North Face Ultra Cardiac II if: If you are looking for a fast road shoe that allows for fast foot turnover and stability in quick turning.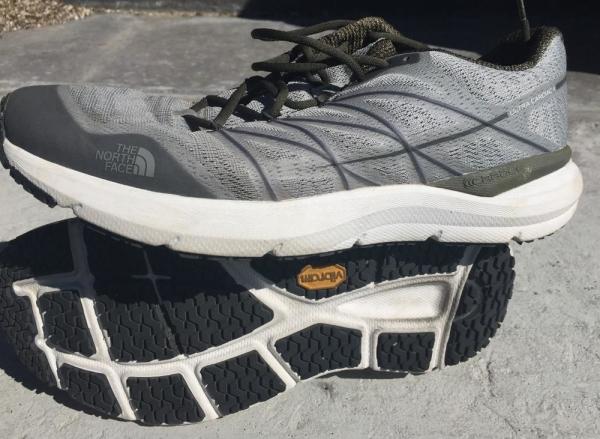 Specs
Weight - 311g / 11.2oz (US men's 9)
Category - neutral
Drop - 6mm
Fit - true to size
Upper - mesh upper with TPU overlays
Midsole - single-density, compressed EVA foam
Outsole - Vibram® Megagrip (a non-lugged version of Megagrip yet semi-sticky and durable)
Initial Impression
The model that I received to review were green and gray with the more modern knit look to them. The midsole offers a good depth of EVA foam that promises many well-cushioned miles to come.
The outsole while missing big knobby lugs that most trail shoes have, I was pleased to see siping. (Please view some of my previous reviews where I'm begging for siping in the outsole).
I'm pleased overall with the look of the shoe as it reminds me of some of the shoes I wore 20+ years ago. I know that you might be thinking why should you give these a shot if they are old technology but bear with the review as I walk through the finer points.
Upon putting the shoes on, I thought the shoe was a bit heavy for road running but lighter than many trail shoes. I took them immediately out for a run on some wet asphalt for a quick 9 miles.
The shoes were like an old friend. They're very comfortable like we had known each other from years back. The traction was amazing on asphalt and provides confidence that I wouldn't have to worry about falling.
Functionality
These shoes offer a consistent ride with a single density piece of EVA foam used for the midsole. The Ultra Cardiac II has a predictable and consistent ride. I did worry the midsole will flatten out prematurely as most pure EVA foam midsoles do but after 123 miles, the midsoles are holding up very well.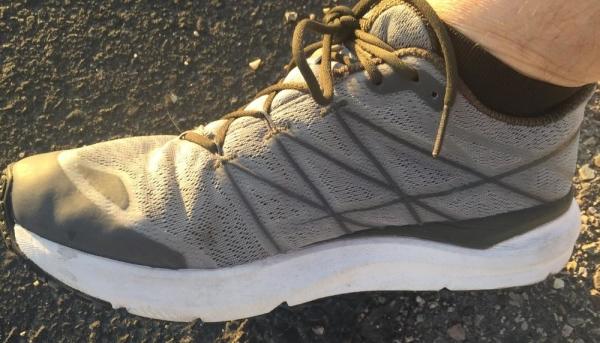 The Ultra Cardiac II has a fit that is more forgiving. The heel hold is solid offering confidence in all conditions. The North Face included their own unique lacing system and I found the fit to be spot on as well.
The lacing system uses stretchy type laces that I thought wouldn't hold my foot and that they would slip. Fortunately, I have yet to have an issue with them and they seem to allow my feet to swell and not cut the circulation off on long runs.
While the shoe has little to offer in control, I felt that these shoes gave me every bit of support that I needed. If you are a heavy pronator or supinator you may not want to try this shoe.
What could have been better
If this shoe is going to be a trail shoe, a better toe guard would be appreciated. This shoe offers very little to no toe protection.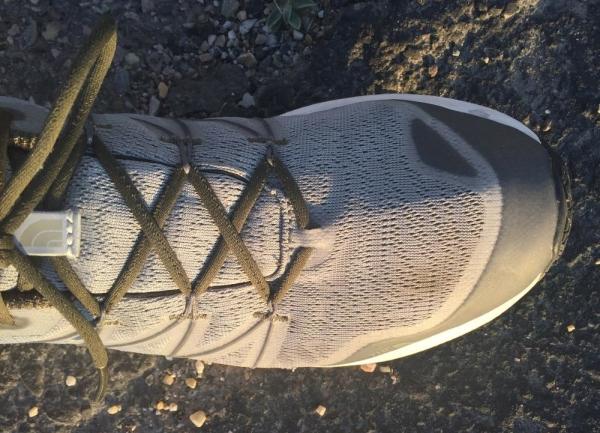 The amount of midsole should come down to allow for more control in quick turns and a faster feel.
Cut some weight, the uppers are thick and while comfortable they provide more than enough for a running shoe.
Pro
An overall great shoe that performs well on the road and on the trail.
Con
You have to explain to your running buddies that you're not a yuppie but The North Face running shoes actually perform. If you are running in thick sticky mud, these shoes will slip through it without any bite to anchor you down.
Should you buy this shoe?
If you are looking for a road to trail shoe and miss shoes from days before the whole barefoot running came along these shoes will fit the bill.
Conclusion
My initial thoughts when I found out that I was going to be testing The North Face shoes weren't positive. I could only picture the city folks who come to my hometown to site see and hike with their pretty nonfunctional gear. My friends, I have been proven wrong and I'm glad to take back these thoughts. The North Face is making great shoes and while there is still some room for improvement, I am happy to be riding some of their shoes right now.
The North Face Ultra Cardiac II put a smile on my face and provided this old body with the cushioning that it needs. I wish it was a little faster and not as heavy but in the end, it performs.
See my other review of the North Face One Trail here.
Out of the box, The North Face Ultra Cardiac II looked too nice to take out on the trails and the tread did not seem to be rugged enough for dirt, mud, rocks, and twigs.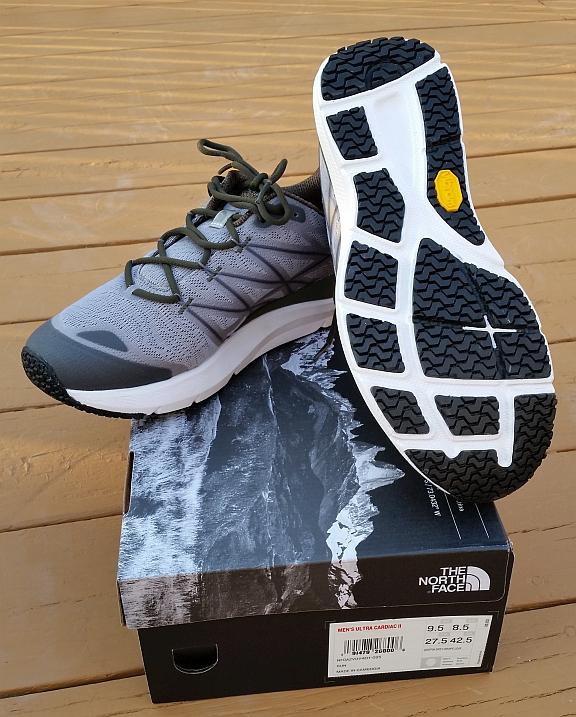 I actually wore this shoe as my daily casual shoe for more than a month before hitting the road or trail with them. It seems more like a nice decoration for your house than a comfortable home for your feet on a long run. I am glad that first impressions are not always accurate.
The foundation
The S-patterned Vibram® Megagrip outsole, though not aggressive, provides amazing traction on the roads and trails.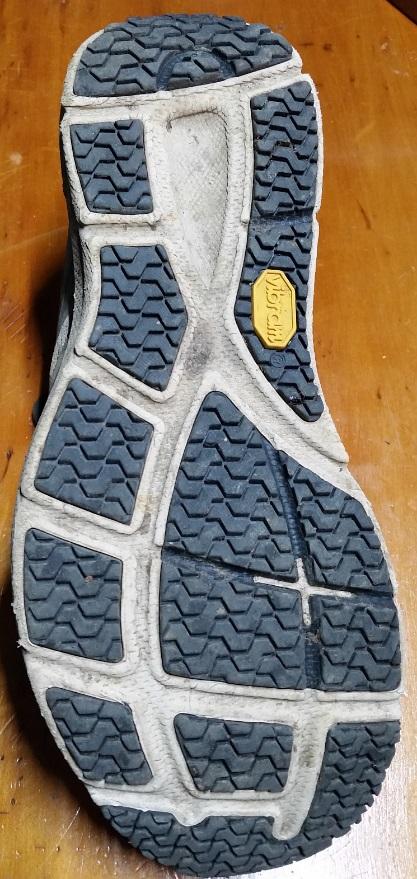 At this point, I have 275 miles of primarily trail running with little sign of tread wear. Single-density, compression-molded EVA surrounds the Vibram pads and fills the mid-sole. With the addition of energy-return foam embedded in forefoot the cushion, comfort and protection are enhanced.
The envelope
Breathable jacquard mesh provides your foot with a glove-like feel, a cool ride and more comfort than the average runner deserves.
The mesh upper is stabilized with quarter geo cable fused together with thermoplastic polyurethane (TPU). The loop of each cable holds the lace and is doubly reinforced with stitching. It gives a nice design as well.
Upfront is a small toe bumper that could be more substantial, but the molded TPU toe cap is enough to protect the mesh upper and your toes while running through brush and other rough terrains. The TPU extension for the great toe is an added bonus.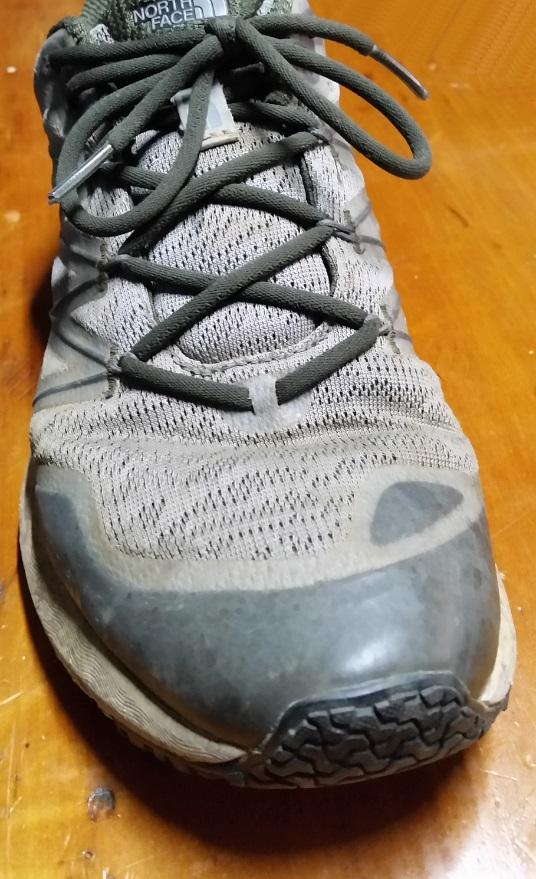 Beneath the round accent-colored laces sits the classic North Face gusseted tongue providing unsurpassed comfort on a long trail run. It keeps out debris and protects you from blisters caused by sand, grit, and twigs.
The padded FlashDry™ collar lining provides added protection against debris and sits low enough to not rub on my medial malleolus (ankle bone).

The interior
The sole of my foot rides somewhat higher than I like, yet the trademarked Cradle heel stabilizer gives a down-in-the-shoe fit.
The sock liner is a breathable open-cell OrthoLite® footbed. This liner wicks moisture away from your foot for a drier environment and less odiferous socks. The forefoot ceiling is vaulted just enough to clear my upturned great toes.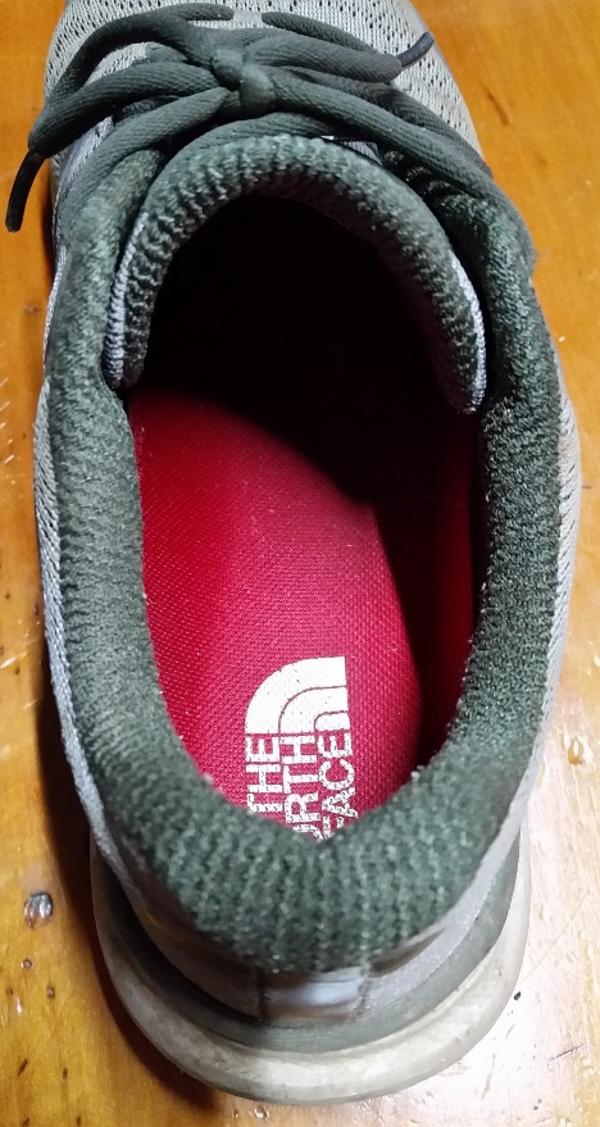 And the 6mm offset provides the perfect tilt for my foot and others needing a similar offset.
At 11 ounces (311 grams) it is a bit heavy for a shoe billed as a lightweight trainer, but I found it to be just right as it seems like the weight is distributed very well.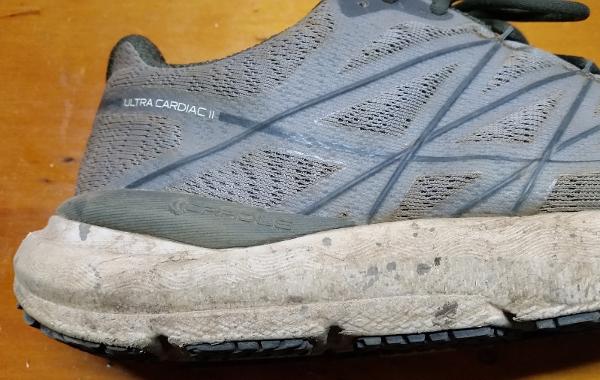 Final thoughts
The sticker price of $110.00 is a great value for this piece of property, especially when it is often surrounded by beautiful scenery.
The fit and feel is glove-like and gives protection without excess weight. The overall look of this shoe in grey with the camo green accents doesn't last long on the muddy trails, but the surprising grip in rocks and mud of the durable Vibram® outsole makes this shoe a contender for home of the year.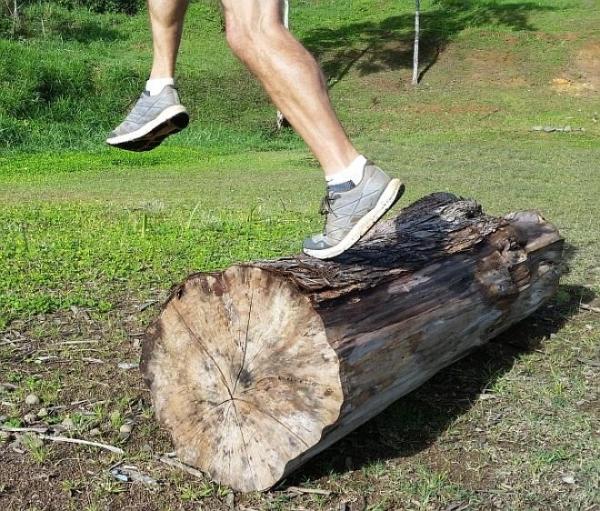 Advertised weight: 9.9 oz (size not specified)
Measured weight: 11.5 oz (men's 9.5)
Drop: 6 mm
Tagline: "Smooth, cushioned ride and a breathable, stylish upper are the signatures of the lightweight The North Face Ultra Cardiac II trail runner."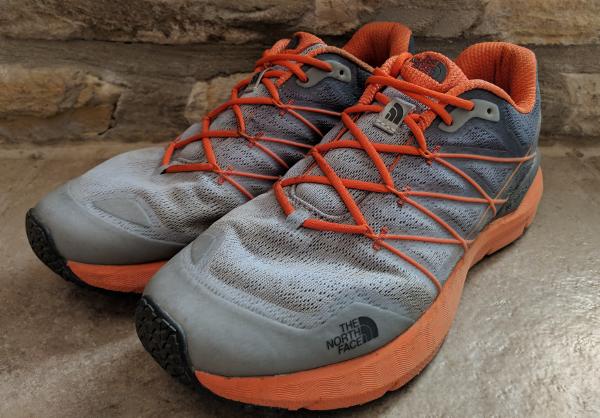 Fit
Sizing is accurate. The fit feels very standard, which is a good thing. There's a little extra wiggle room in the forefoot without feeling like a clown shoe. Everywhere else, the shoe feels snug enough, but not tight.
Design
The overall look is a little plain, but I'll take that over a shoe that looks like a disco floor barfed on it. I'd like a color more eye-catching than grey, but I'll take any one color over too many.
The outsole has no white on it, thank goodness. I like the generous amount of reflective material on the rear, but it would've been nice to see just a little more on at least one more part of the shoe.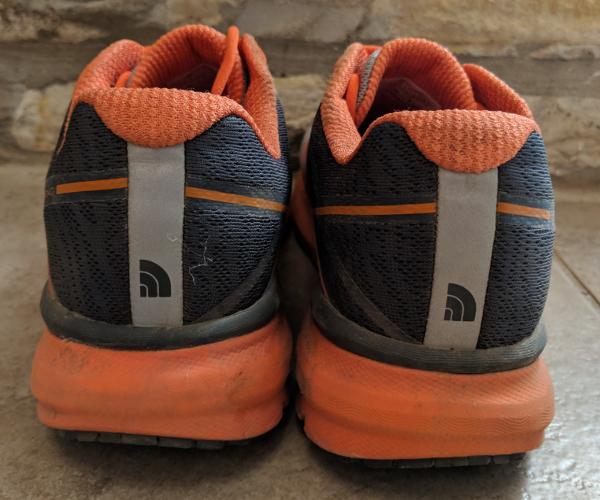 Upper
Contributing to the good fit, the upper is made of a flexible material, inlaid with cable-like supports running from sole to laces. This gives you a lot of control over the fit of the upper just by fiddling with the laces.
The upper is also unusually soft and breathable, especially for a trail shoe. While this makes for comfortable running, it might not be the most durable thing if you're planning to do hard-core trail running.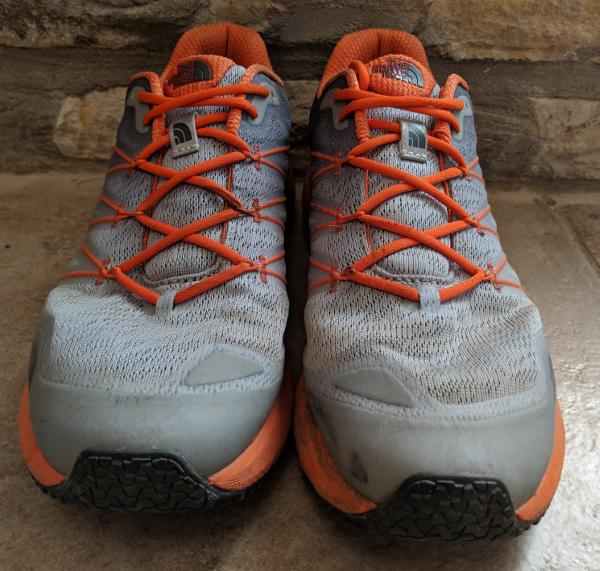 Tread
The first thing you notice about the tread is the presence of Vibram rubber, used generously throughout the outsole. I haven't logged enough miles to give a final verdict on durability, but there are virtually no signs of wear even after several runs.
I have little doubt the outsole will easily last the lifespan of the shoe, probably outlasting every other component.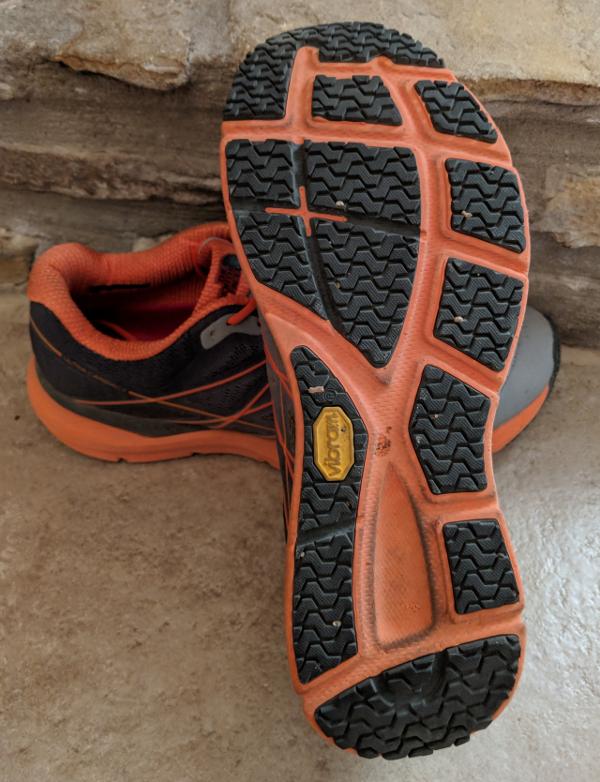 Unfortunately, that comes at a price - weight.
The Cardiac II comes in 1.6 oz heavier than advertised, twice as large as any discrepancy I've previously seen. Outsole rubber is one of the heaviest materials used on a shoe, and Vibram rubber is heavier than average. Using this material is probably the largest factor in the shoe coming in much heavier than expected.
The tread pattern is somewhat unique. While the Ultra Cardiac II is touted as a trail runner, the tread pattern more closely resembles a road shoe. It certainly has no trouble on trails, but I've found it to be equally suitable for both road and trail, without being perfectly suited for either.
Cushion
Like everyone else, The North Face claims its cushioning is better than the industry standard. As is the recent trend, they also claim it promotes energy return.
To be fair, these are not only among the softest shoes I've run in, but they also don't feel like running in sand. Initial impact is greatly reduced, but there's still a spring in the step, like jumping on a bed.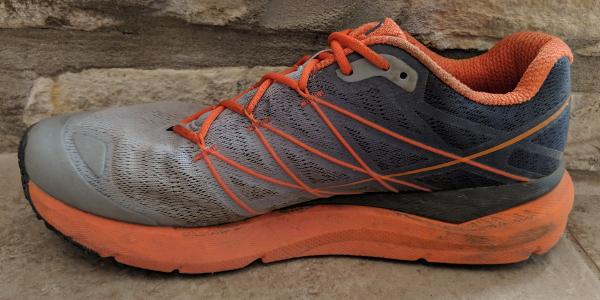 Ride
There's nothing particularly unique about the ride of the Ultra Cardiac II, which is a good thing. The heel-toe transition feels natural, and the shoe feels neither stiff nor particularly flexible.
Due to the tread pattern, it feels equally at home on both trail and road. This is perfect if, like me, your typical run involves plenty of both. If you're looking for a dedicated trail runner that'll handle the most rugged terrain, keep looking.
Overall
The Ultra Cardiac II is an excellent high-mileage trainer for running both roads and trails. If I were to go on vacation for a week and could only bring one pair of shoes, this would be it. The strange part is it's a good shoe for what seem like unintended reasons.
The North Face is pushing this as a lightweight trail shoe, but the reality is it's a hybrid shoe, and it's a lot heavier than advertised. If a comfortable hybrid shoe is what you want, great! If you're looking for a lightweight trail-specific shoe, you might be disappointed.
I'd give these shoes a higher overall score, but under-reporting weight by 1.6 oz is unforgivable. I'd previously never seen an error greater than 0.7, and this is more than twice as much. An error of 0.4 oz is already bad.
lightweight trail runner with the versatility to handle both road and trail surfaces.
In many ways, The North Face nailed it with a shoe that performs well on many surfaces and distances. However, The North Face has missed the target.
As you continue to read, you will come across 3 sections: Why?, Why Not?, and Conclusion. My review will focus on the reasons the shoe could work for you (Why?), what may not work for you (Why Not?), and some final thoughts (Conclusion).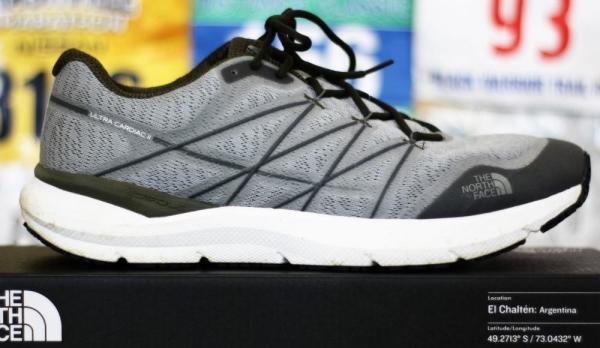 Why?
1. The Upper
I love almost everything about this upper. (except for the colors). The North Face has constructed a durable, breathable, and comfortable upper. Accomplishing all 3 of those at the same time is quite a feat.
Upper durability
I have put 75 miles on this shoes over the past couple of months and I cannot find a stitch out of place. No rips, no snags, no overstretched fabric.
The series of crisscrossing overlays provide strength without sacrificing breathability or comfort. Also, the toebox overlay seems to provide plenty in the way of protection and durability.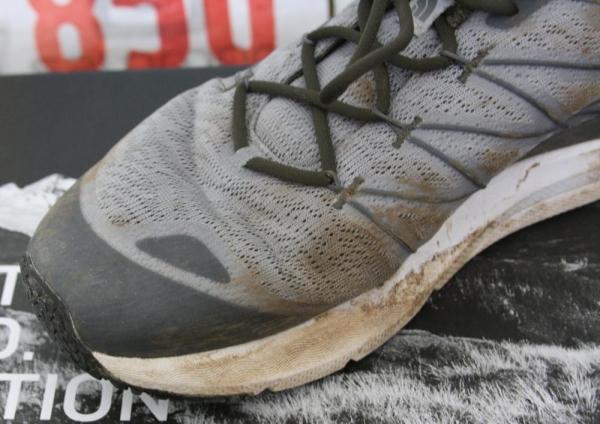 Upper Breathability
I never felt as if the shoes were too hot or got uncomfortably sweaty feet with this shoe.
It is not the airiest upper, as seen in some road shoes or racing flats but it is breathable, unlike many other trail shoes, for example, the popular Brooks Cascadia.
Upper Comfort
My feet never felt restricted or lost in the upper, it just worked.
The padded ankle collar was an added bonus. At first glance, I was skeptical, but as the miles ticked it became one of my favorite features.
2. Outsole
This was the most pleasant surprise of the Ultra Cardiac II. At first glance, the outsole which lacks aggressive lugs appears capable of handling no more than a dirt road.
Whoa, was I wrong! This sole griped almost every surface. Dry rocks, check. Dirty, check. Wet pavement, check. Wet rocks and roots, check again.
The only surface it proved subpar was thick muddy sections of trail. In these sections, it lacked grip, and the mud tended to stick to the sole for a mile or two.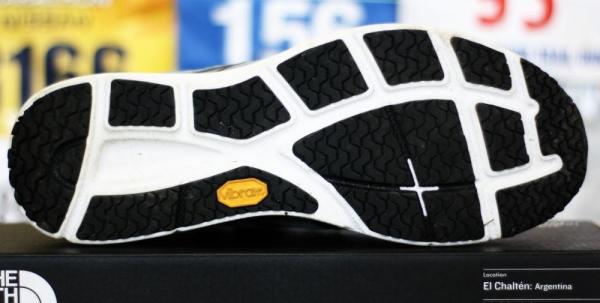 3. The Fit
The North Face has built a shoe that is true to size. I am a true 11.5 and this shoe fit as if it was custom sized.
The midfoot and toe box both have medium volume. In addition, my heel was locked down with the padded ankle collar.
Why Not?
1. Performance
The performance of the Ultra Cardiac II is a huge disappointment. Especially after, taking into account a great fit, a solid upper, and a grippy outsole. There is no other word to describe it than BAD.
At a slower pace, the shoe feels difficult to turnover as if it was a highly cushioned trainer, however, the cushioning just isn't there for me. At quicker a tempo there is no snap or responsiveness.
Running in these shoes feels like someone took a great upper and glued some cardboard to the bottom. The EVA foam just feels dead.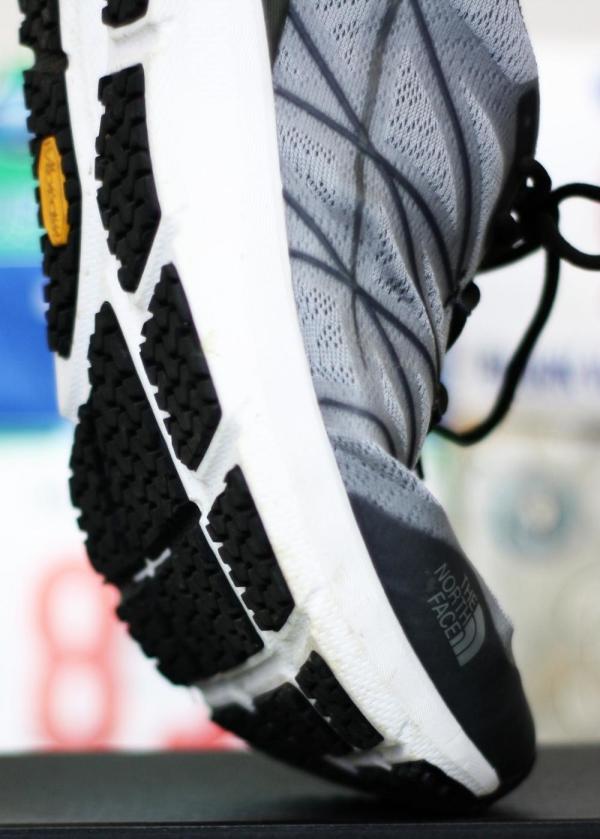 2. Weight
The North Face as marketed this shoe as a lightweight trail shoe.
However the shoe doesn't feel lightweight, it does ride like many lightweight trail shoes. And at 367g or 12.9oz there is room to shave some weight to make this truly a lightweight trail runner.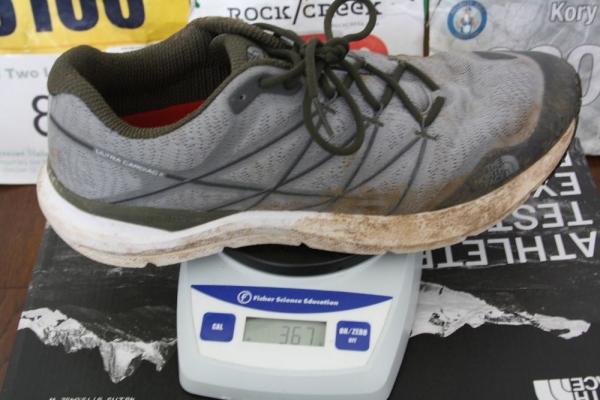 3. Colorway
The grey and olive green combination just don't do it for me.
They have too much of a hiking boot look for my taste. However, there is a red and grey option that looks much more like a traditional running shoe.
4. Laces
To be frank, the laces stayed tied and were functional. I am just not a fan of round laces.
The laces have a microfiber soft feel. I could see durability issues in the future as this fabric wears.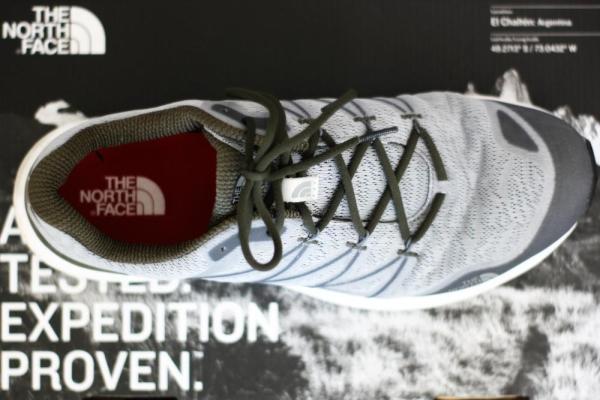 Conclusion
The North Face Ultra Cardiac II has really frustrated me. I really wanted to love it.
The fit is great. The upper was on point. The outsole outperformed expectations. However, the performance and ride were so bad, I had to force myself to put some miles on these to give them a fair review.
The North Face has a great start here. With some changes to midsole foam and maybe the addition of a plastic shank to provide a snappy response, a 3rd version of the Ultra Cardiac could be a winner. It's just not quite up to par at this point.
I`ve never tested a North Face shoe before. I received this shoe under the RunRepeat testing program and after a couple of trials, I would like to highlight its ups and downs.
Design
I usually go for darker colors but this time, I received the grey/orange one and actually liked it. I found it to be very sleek, with colored midsole which is a plus for me.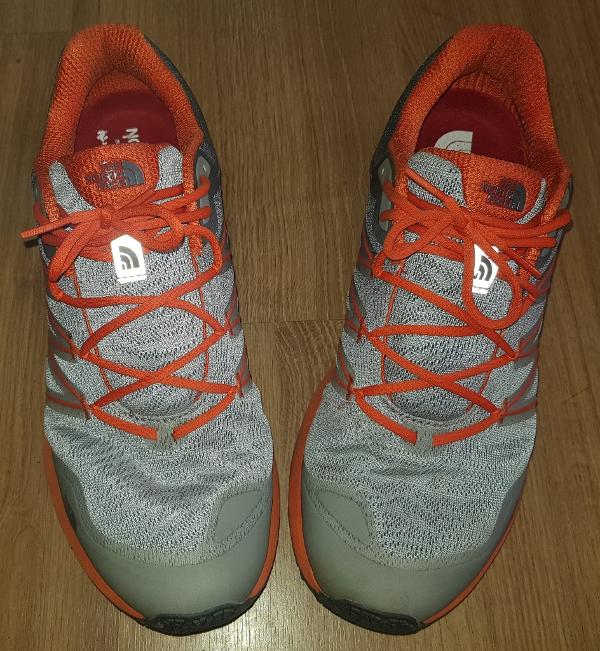 Upper & Comfort
The upper part is well built, with premium fabric, sleek details, and durable toe box.
Another plus here is the sole which goes all the way to the upper, supposedly to improve grip as well as durability of the toebox.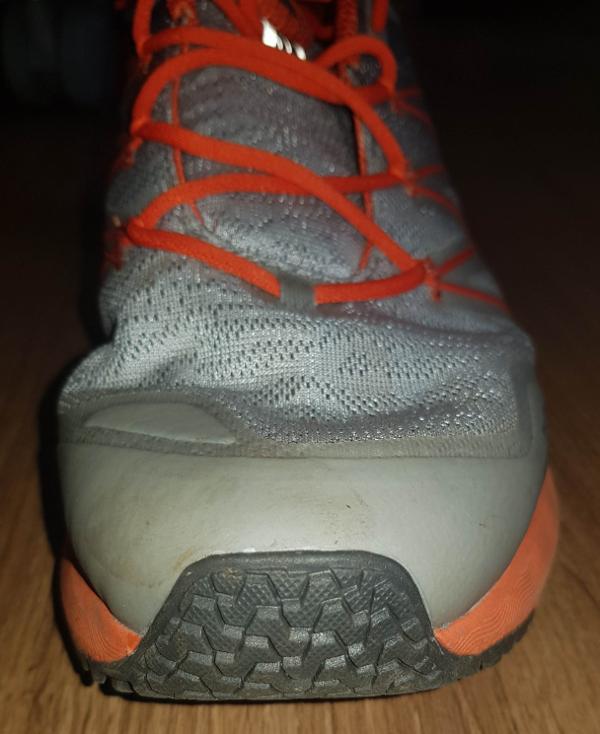 But from the inside, I have to highlight some disappointments.
In terms of shoe size, it fits very well as a standard size, however, as I have a high arc, the inside strip bothered me a lot, hurting my feet. My experience with the insole was not good at all. I can feel its edges. This was a major disappointment.
Weight
If you are a heavy and a long distance runner like me, shoe weight is very important for you. And I found it is just in the low quartile of my shoe weight (US size 11) which is good news.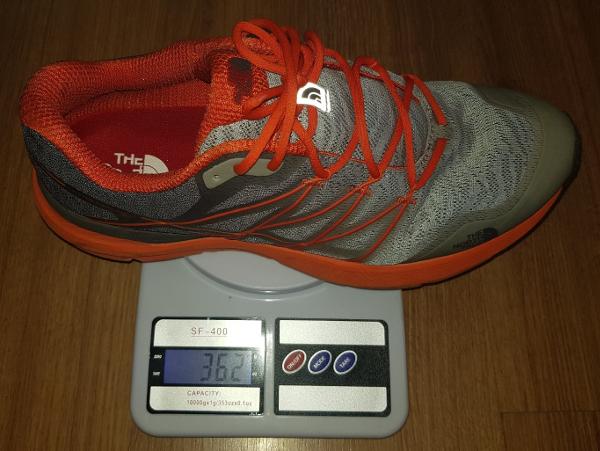 Each pair (US size 11) weights 362 grams while my Asics more than 400 while my Nikes 340. I would say it's a good weight balance since North Face uses more material both in the upper and also sole.
Performance (cushioning, stability, sole)
Ultra Cardiac II is known to be The Northface classic running shoe, and after a couple trials with it, I would not recommend it to be used on asphalt or road. Its a hard shoe because of its cushioning and can consequently hurt your joints and muscles. I would say it could be a good option for trekking, that's it.
Stability wise its average good, nothing special.
But what's a plus is the sole with its amazing "Megagrip" technology. You can be sure to be safe in different terrains and wet surfaces.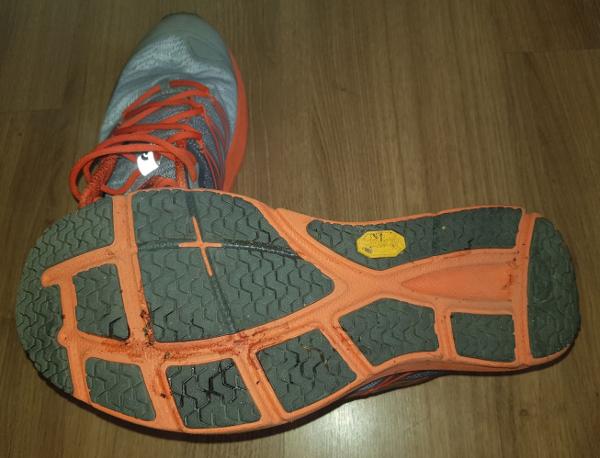 And last but not the least, the back part contains a solid reflective light mark, which is essential for night and forest exercises.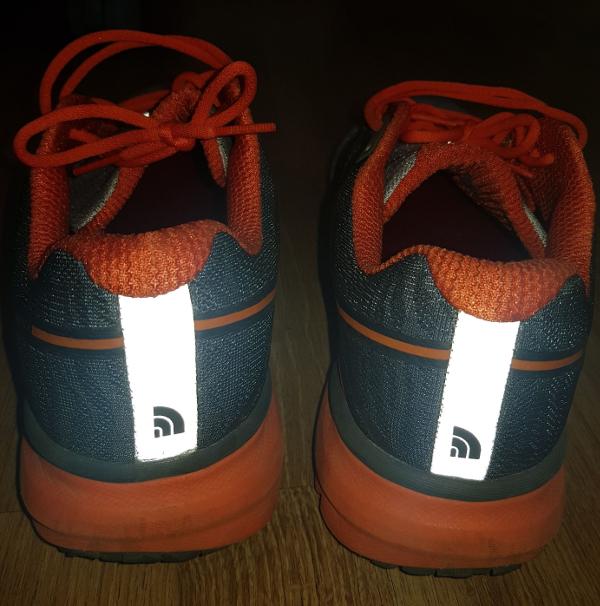 The day after
A very important part of shoe performance for me is the impact of exercise on the day after.
And with Ultra Cardiac II, I experienced joints and muscles sore due to its hardness. There's also the sore on the side of the foot due to the insole. Not a good experience.
Conclusion
North Face Ultra Cardiac II is supposed to be a classic cross training shoe with premium materials and manufacturing quality.
It is the second of its line and brings the Megagrip and Vibram technology with good stability and grip for different surfaces. It's not the lightest of its category and I believe the internal construction and cushion must be improved.
I would only recommend this shoe if you are lightweight with a low arch. Otherwise, I would not go for it.
Good to know
The Jacquard mesh upper is integrated into the North Face Ultra Cardiac II. It aims to provide added breathability during the running activities.
Featured in the midsole area is the high energy return foam. The purpose of this material is to deliver a more consistent, responsive cushioning system. It is also centered on providing additional comfort to the foot.
The updated heel cradle is used in the shoe to deliver proper foot placement. This technology is essential in securing the foot.
Utilized in the upper area is the Quarter geo cable construction. The goal of this material is to provide a more improved fit.
Added protection is offered by the Molded TPU Toe Cap. It shields the platform from hazardous materials including hard rocks and roots when running on the trails.
The North Face Ultra Cardiac II follows the standard running shoe length when it comes to sizing. This shoe is strategically designed for runners who have neutral pronation. Because of its semi-curved shape, it can follow the natural shape of the foot. The available widths are B –Medium for the women's version and D – Medium for the men's version.
The Vibram Megagrip outsole is integrated into the North Face Ultra Cardiac II. It features a sticky lugged design which aims to provide increased traction. This kind of outsole also offers stability, support, and responsiveness to various types of running activities. This material has been used in the outsole of other North Face running shoes and other durable running footwear from other brands.
Utilized in the midsole is the single-density CMEVA. This durable material is described as an industry standard foam that is focused on providing a smooth cushioning system.
In the forefoot area lies the High energy return foam. This component of the shoe offers a more consistent and responsive heel-to-toe transition.
Proper heel positioning is encouraged by the Heel Cradle technology. North Face added this feature to support and keep the foot in a secure and stable manner.
The OrthoLite footbed is used to provide comfort that is long-lasting. It also offers the right amount of underfoot support.
The Jacquard mesh is utilized in the North Face Ultra Cardiac II. Paired with seamless support, it also provides lightweight breathability. The fabric allows the moisture to be adequately and effectively transmitted through the mesh material.
With the use of the Quarter Geo Cable construction, it aids in the creation of a snugger and more secure midfoot fit.
Featured in the upper area is the Gusseted Tongue. This material is essential in keeping the debris out of the shoe.
The FlashDry collar is integrated into the North Face Ultra Cardiac II. This quick-drying material helps to increase comfort during the running session. This collar is significant in reducing the possibilities of foot irritations.
With the use of the Cushioned Collar Lining, a more comfortable upper fit is encouraged.
The North Face Ultra Cardiac II uses the Molded TPU Toe Cap. This material adds protection to the foot from the dangerous rocks and roots that can be found on a wide variety of trails.
Rankings
How The North Face Ultra Cardiac II ranks compared to all other shoes
Popularity
The current trend of The North Face Ultra Cardiac II.