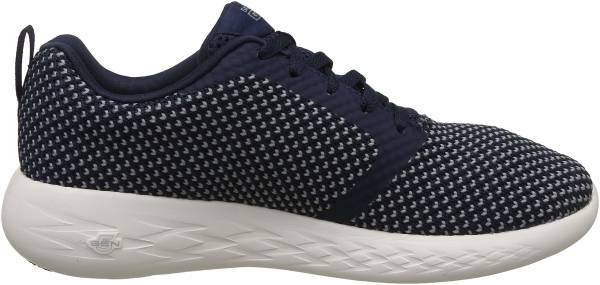 The Skechers GOrun 600 was considered a success. Most runners welcomed its comfortable construction, its stylish looks, and its versatile functionality. There were apparently some issues with this neutral shoe support and upper construction, but those complaints weren't many. People still lauded this road companion's efficacy.
---
Verdict from 1 expert and 100+ user reviews
6 reasons to buy
The design of the Skechers GOrun 600 was deemed stylish by most consumers.
A lot of purchasers used this model for casual walks and traveling; they noted that it functioned well.
The underfoot cushioning system was agreeable and responsive, stated several runners.
Some people noticed that the materials were durable and of high quality.
A reviewer commented that this shoe didn't need a break-in period; it was comfortable right out of the box.
Several users praised the lightness of the shoe.
2 reasons not to buy
A tester reported that the upper separated from the sole unit after only a few weeks.
The shoe does not offer the expected amount of foot support, according to some wearers.
Bottom line
The Skechers GOrun 600 was considered a success. Most runners welcomed its comfortable construction, its stylish looks, and its versatile functionality. There were apparently some issues with this neutral shoe support and upper construction, but those complaints weren't many. People still lauded this road companion's efficacy.
Best price from 30 shops
We earn affiliate commissions at no extra cost to you when you buy through us.
86% say it's true to size.

Our reviews
This shoe was truly a gem that I discovered at the beach! I was exploring the outlet stores at Myrtle Beach in South Carolina when I tried this shoe on. I was immediately impressed by how it felt... and then I saw the price!
The GOrun 600 was the shoe that opened my door wide open to Skechers. I also realized that I did not have to spend $80-$90 for a comfortable shoe.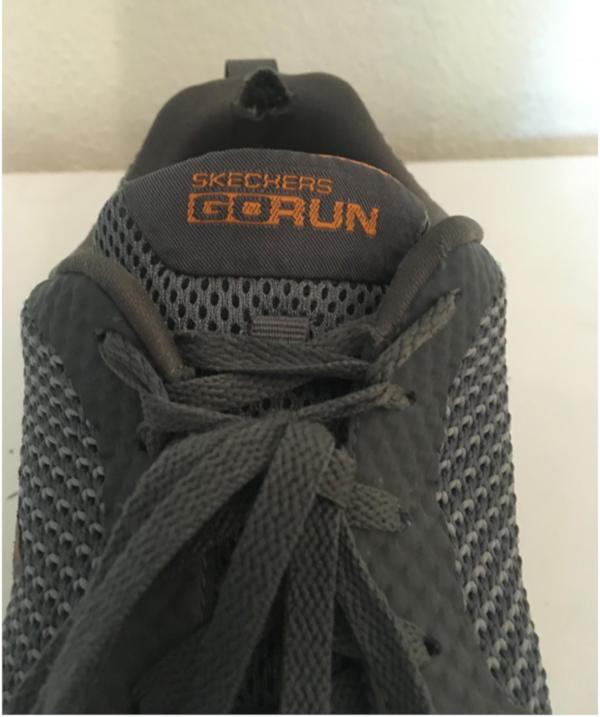 Pros
Price
This shoe has many pro's. For one is the price! You can easily find this shoe for around $50 or less, which is worth every penny.
Pull tab
Another big plus is the pull tab! I don't always use the pull tab on other running shoes, but it works great on this shoe.
I use it often since it allows you to easily slide the shoe on and off. It is so nice to save time and not lace up every time I leave the house.
Comfort
Most importantly, this shoe is very comfortable. I have used these shoes for jogging, but I have also spent the entire day wearing this shoe, and they fared very well.
This contrasts with several other running shoes that I have owned, which work great for running, but are painful and cause plantar fascia issues when I use them for long periods of standing around.
The GogaMat shoe liner is not removable, but it dries quickly, so that has not been a problem.
Upper
The upper is soft but quite durable. There is only one small tear in one of the heels (see below).
The upper in the GOrun 600 is breathable but also does a great job of keeping out the rain here in the Pacific Northwest.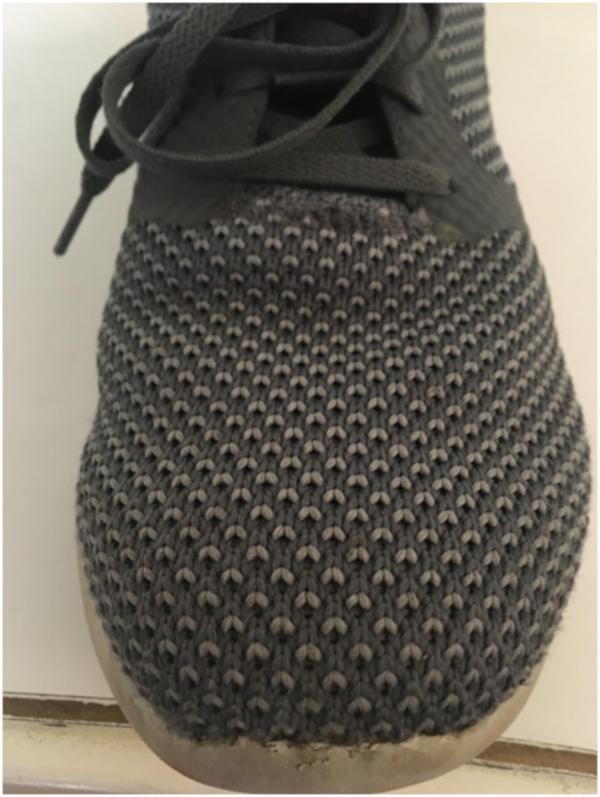 The GOrun 600 has a little higher stack height than I prefer but is more stable due to the flat bottom.
Outsole
The smooth bottom of the outsole makes it very easy to clean off with a magic eraser.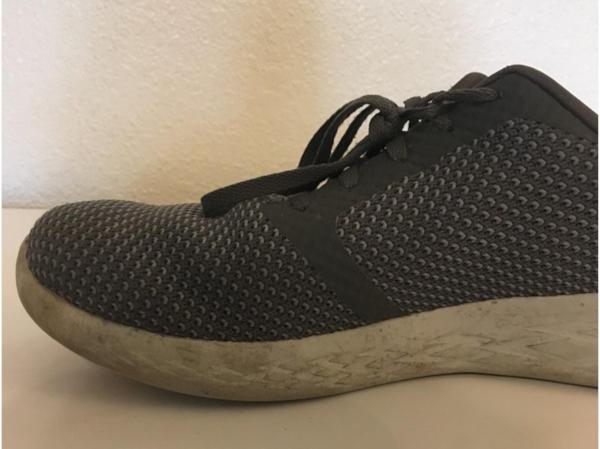 Cons
Unfortunately, with an all-knit upper, this shoe has very little lateral stability and little or no midfoot lockdown.
That is not a problem if you are walking, but it becomes more of an issue when jogging or running at higher speeds. It was not designed to be a shoe that you would use on the track, so that makes sense.
This shoe could function as a daily trainer if you are running at slower speeds (9 minutes mile or slower).
I really enjoyed my first few runs in the GOrun 600. I think at slower speeds, it works great. But eventually, my calf muscle began asking me to return to my reliable Saucony Kinvara, which offers a much more stable ride.
As you can see in the photo, the GOrun 600 has almost outsole rubber, except in the heel. The bottom is smooth and flat with no tread at all.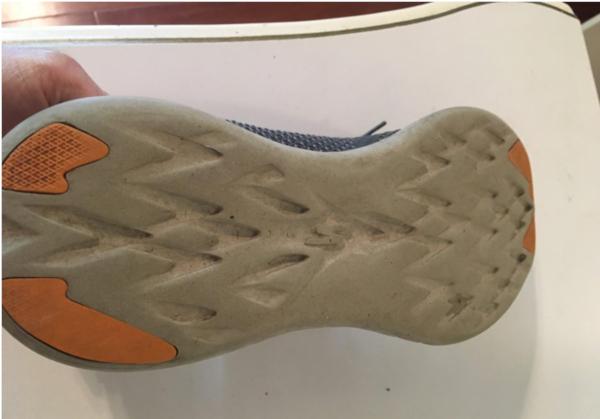 This is not a major problem when running on the road, even when it was wet. The foam and minimal rubber on the outsole held up very well, but I do not feel that I could ever take it on a trail since I would likely slip all over the place.
One of the downsides of using the pull tab and not lacing every time (okay, I'm a little lazy!) is that the heel has started to tear a little and wear down (it is totally my fault, not Skechers).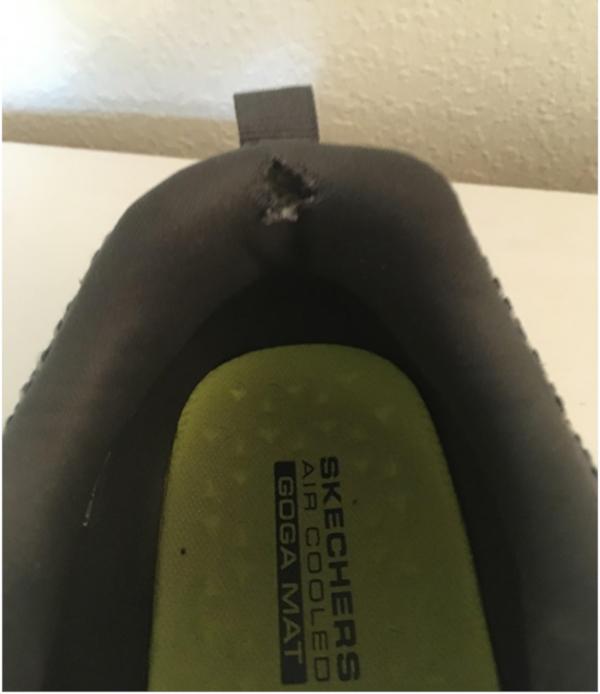 Conclusion
Like the Nike Free RN 2018, the GOrun Ride 7 is a fantastic walking shoe. It is a good shoe for easy jogs but is not designed for speed work.
Overall, it is a terrific value.
Updates to Skechers GOrun 600
The Skechers GOrun 600 is a road running shoe that's designed for those who have neutral pronation. It features a smooth and slight design that caters to minimalist runners and casual shoe enthusiasts. A breathable mesh material offers a lightweight yet well-ventilated experience. Minimal synthetic overlays help in giving a secure fit.
A parametric midsole construction offers an underfoot experience that's adjusted to the needs of the foot, especially when it comes to comfort, cushioning and impact attenuation. A light foam provides a lightweight yet springy ride. Rubber units are placed in the forefoot and heel of the outsole, giving protection against wear and tear.
Size and fit
The Skechers GOrun 600 has a standard running shoe length. It accommodates the natural preferences of wearers when it comes to size. The available width for the men's version is D – Medium. For the women's version, it's B – Medium. Its parametric sole construction mimics the natural dimensions of the underfoot.
Outsole
The outsole of the Skechers GOrun 600 has been designed to deliver traction and proprioception. It has a flat surface, but there are wavelike grooves and patterns. These shallow trenches encourage natural foot flexibility and surface grip.
Rubber units are strategically placed in the forefoot and heel sections. The purpose of these add-ons is to protect the foam midsole from wear and tear. They also add more traction for the runner.
Midsole
5GEN® is a full-length foam unit that aims to provide a comfortable and springy underfoot experience. It's also designed to be light and durable. This midsole technology is also used in some Skechers running shoes.
A parametric construction is employed in the sole unit of the Skechers GOrun 600. Its purpose is to bring a platform that encourages the natural kinematics of the wearer. This design heightens flexibility, support and surface stability.
The Goga Run® is an insole that offers additional underfoot cushioning and support to the foot-pad. Moreover, it absorbs the impact that's generated by the foot-strike.
Upper
Breathable mesh makes up the majority of the upper unit. It has a layered construction that heightens durability. Its ventilation pores allow air to seamlessly enter the foot-chamber, thus giving a cool and dry in-shoe feel.
3D printed synthetic overlays are patterned on the sides and instep portions of the mesh. They help in hugging the foot and keeping it in place.
The traditional lacing system allows the runner to adjust the fit to follow their preferences.
The padded collar and tongue unit hold the foot and prevent it from exiting the shoe unintentionally.
Rankings
How Skechers GOrun 600 ranks compared to all other shoes
Popularity
The current trend of Skechers GOrun 600.