Skechers GOrun MaxRoad 4+ Hyper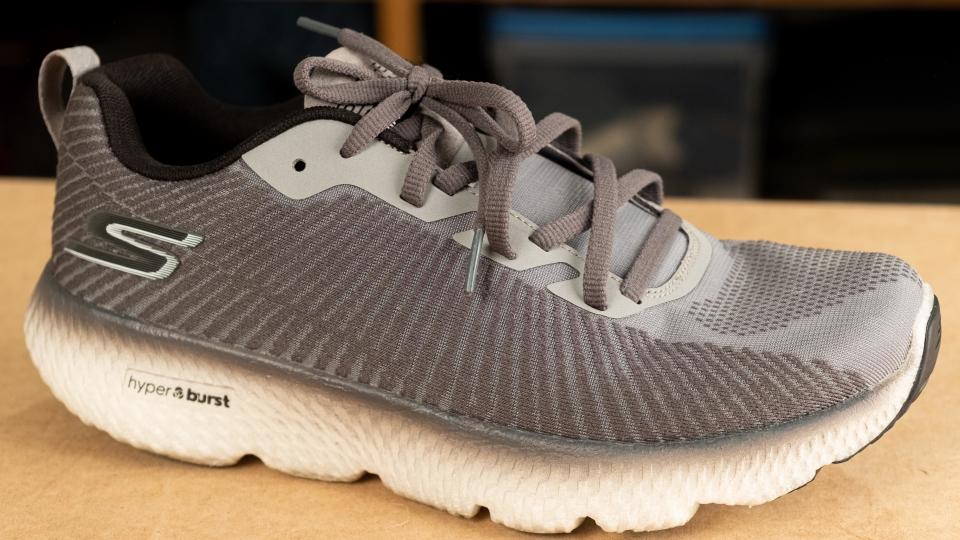 Designed for high-mileage runs, the Skechers GOrun MaxRoad 4+ Hyper creates a responsive, smooth ride. Loaded with the brand's newest Hyper Burst midsole, you can experience comfort miles after miles. Contrary to most maximalist models in the market, the GOrun MaxRoad 4+ Hyper maintains featherlight construction for maximum energy conservation.
---
Verdict from 10 experts and 12 user reviews
6 reasons to buy
Bounce: Several runners hail the responsive cushioning of the Skechers GOrun MaxRoad 4+ Hyper.
Speed: Quite a few athletes claim that the running shoe enhances forward motion.
Weight: According to multiple testers, the shoe's upper and midsole employ minimal bulk.
Comfort: Multiple users praise the soft and plush cushioning system of the platform.
Traction: A lot of experts appreciate the grip of the shoe, stating it sticks well even on slick surfaces.
Flexibility: Various reviewers claim that the flex grooves amplify foot bend.
2 reasons not to buy
Breathability: A number of commenters have expressed that the shoe does not have enough in-shoe ventilation.
Support: The upper does not have a snug fit and some wearers experienced a lack of lateral stability.
Bottom line
Designed for high-mileage runs, the Skechers GOrun MaxRoad 4+ Hyper creates a responsive, smooth ride. Loaded with the brand's newest Hyper Burst midsole, you can experience comfort miles after miles. Contrary to most
maximalist models
in the market, the GOrun MaxRoad 4+ Hyper maintains featherlight construction for maximum energy conservation.
Best price from 30 shops
We earn affiliate commissions at no extra cost to you when you buy through us.
73% say it's true to size.

Our reviews
Skechers GORun Maxroad 4+ Hyper—big cushioned, big name, road trainer in a lightweight package! If you want to know more about my thoughts on this road runner, keep on reading.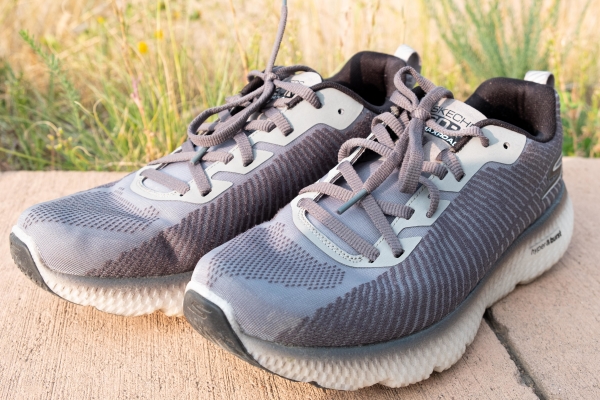 Updates
The upper has been entirely revamped.
The midsole and outsole are the same.
Despite its longer name, it's an ounce lighter.
Upper
Totally reconfigured, the mono mesh upper, compared to the precursor's knit upper, has a better wrap and lockdown. Not to mention, it is much lighter.
Although it's intended to be more breathable than the previous version, it still runs hot. I really think that the use of polyester here is a wrong move.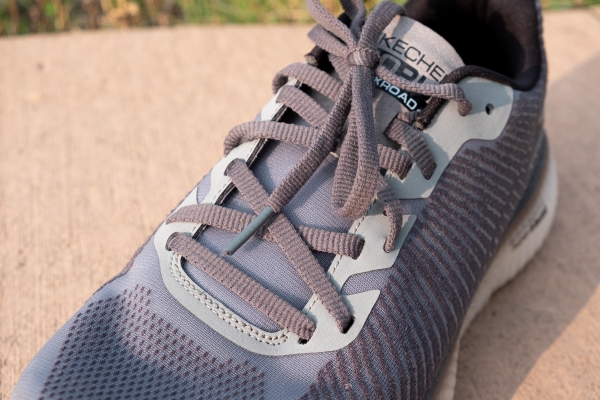 Tongue
The tongue of this Skechers model is lightly padded and soft. Again, it's not breathable because of the polyester material incorporated.
Lacing system
The lacing system is simple. So much so that there are not enough lace eyelets and they only go over the foot three times. I think this construction is intended to keep the weight down.
Heel counter
I like the heel counter of the Maxroad because it locked my heel in place, and it's not so stiff. It's lightly padded and there's a heel-loop, which I really really like!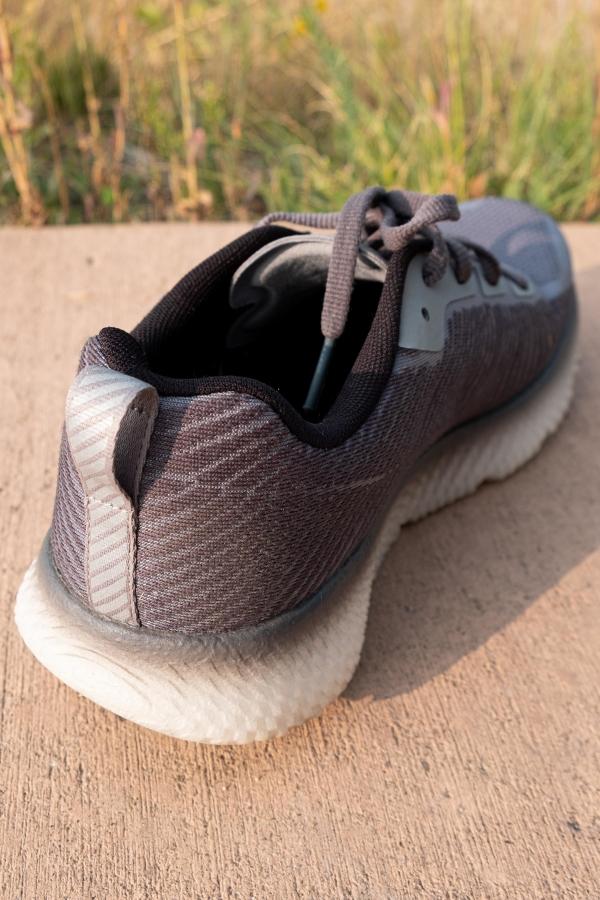 Fit
If you have a wide foot but want a maximalist shoe and Hoka doesn't fit you well, this is a worthwhile option to check out. It also has a removable insole if you need a touch more volume in the shoe.
Looks
I'm not totally blown away by the looks and it doesn't scream speed either. It kinda looks like the old NB 990.
Midsole
Again, this is where the Maxroad shines. Running on the road may suck at times, and Skechers fixed this with the Hyper Burst midsole.
It is just extremely lightweight, bouncy, and responsive. It's just amazing, and people should know more about this. Well done, Skechers!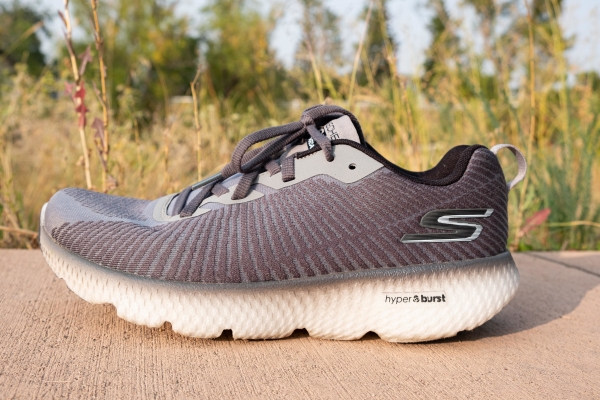 The Hyper Burst can feel a lot like the Adidas Boost but in a more responsive and durable way. The flex grooves and the M-Strike midfoot rocker, meanwhile, allowed for smooth transitions.
Comfort
I can't highlight this more—the Hyper Burst is extremely bouncy and soft, it's super comfortable on-foot!
Outsole
I was quite skeptical about the Goodyear Soy-based rubber of this shoe but it's an insane outsole! It may look weird, but it grips really well (both on dry and wet surfaces), and I'm digging it so far.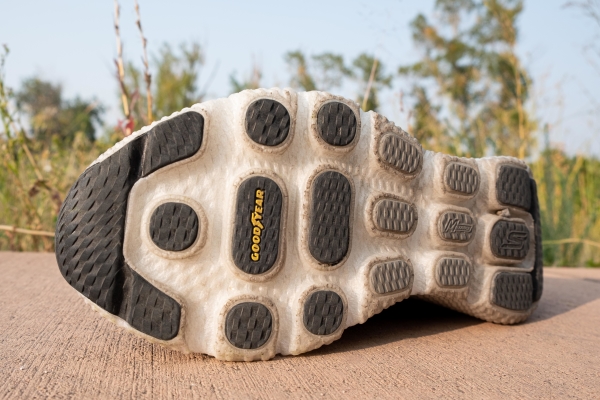 Durability
This shoe should go the distance, I see no concern about durability.
Performance
So where can you use this lightweight runner? It's great for long runs, or when your legs need a bit of a break. There's plenty of soft, cushiony ride.
Conclusion
Hyper Burst is a game-changer for Skechers, and it's the real deal. Change your mindset of what Skechers was 10 years ago and give them a shot, there is good value in this shoe and amazing comfort. If you want a max cushioned shoe and the other brands don't work check this shoe out!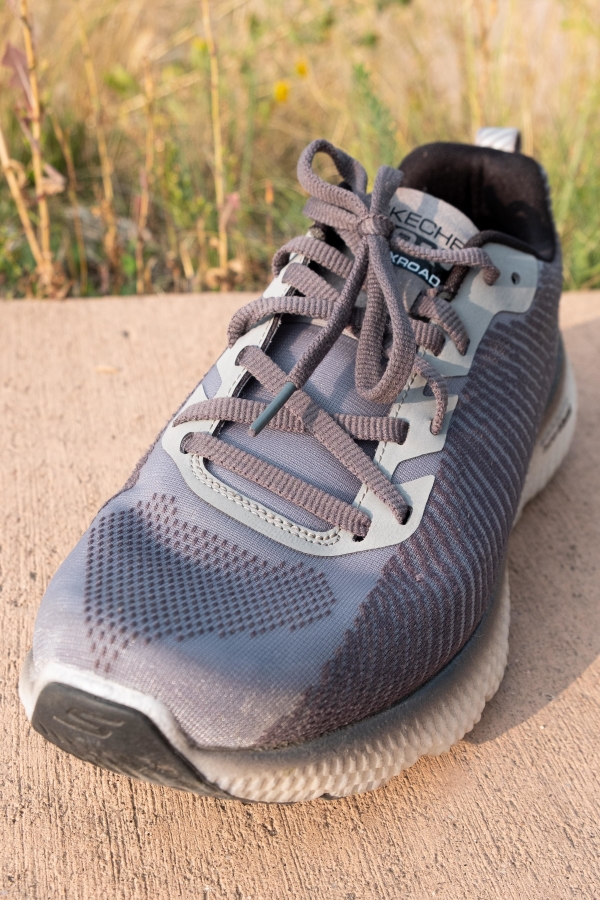 "Skechers!? Do they make running shoes? No way they would be good!", is what most people would say if you told them that you run in Skechers. If I'm honest I thought that too. By my oh my, was I proven wrong!
Welcome to new ground, my friends. Skechers is in the running game and the shoes are legitimate! I fell in love from the first run.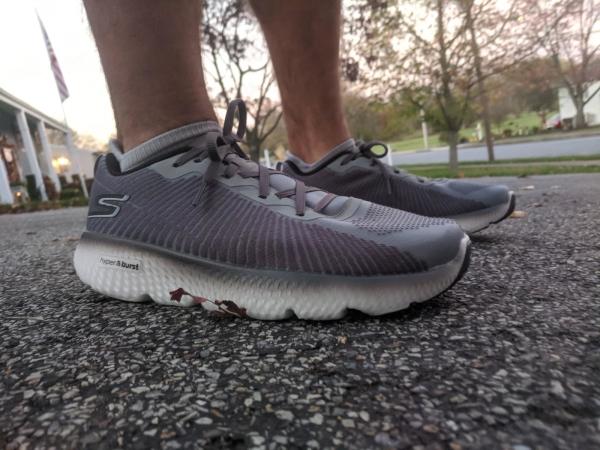 The max cushion combined with the light-weight design leads to a very unique feel, which I couldn't get enough of. Let's check these out a little closer.
The upper
From the MaxRoad 4 to the 4+, this is where you'll see the difference. Many reviews spoke on Skechers knitted upper in the 4s, just didn't provide desired support so the brand heard the cries and upgraded the shoe to match the fantastic midsole!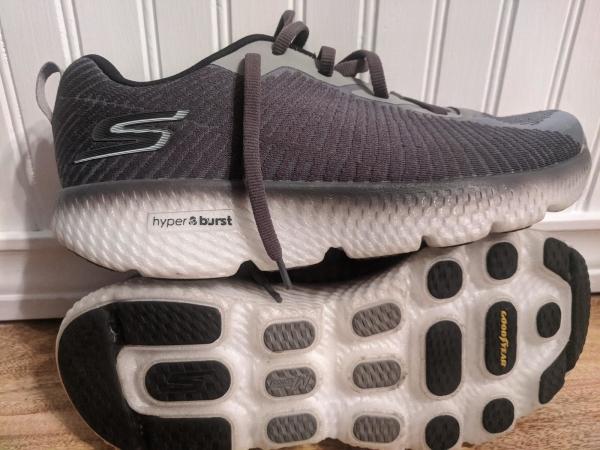 The upper combination of the mono mesh and polyester is not only lightweight and durable but provides support and breathability. I found myself experiencing a solid lockdown with no slipping of heel or wiggling, even when running on uneven roads.
The MaxRoad 4+ Hyper's upper is a great all-around part of the shoe. They kept it simple here and brought forth a very pleasant and functional experience for me. I have zero complaints.
Lacing system
Skechers brings forth an effective system here. In short, I was able to get shoe snug and still maintain comfort. I also did not experience any loosening or discomfort into runs with the lacing.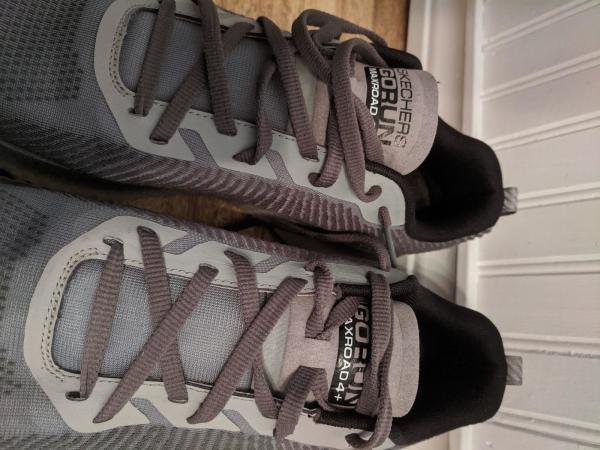 The laces are in line with the trend of being stretchy in design, the lacing system is traditional in set up and the tongue comes forth with a modern performance focused make-up. I am a fan and I am one who tends to be very picky with lacing. You won't be disappointed.
Midfoot support
The midfoot support is perfect for those who are neutral runners and don't need much support. The upper is not given any extra structure focused for this but the sum of the overall materials used leads to an effective level of support.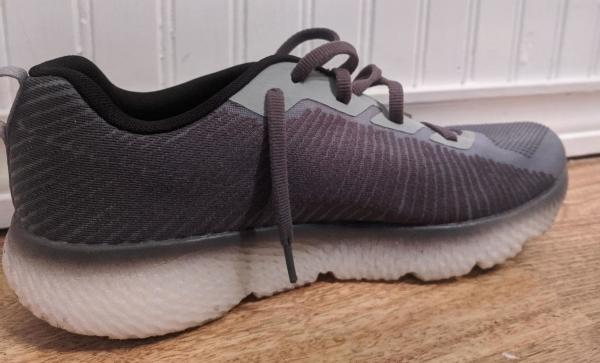 I over pronate slightly and felt nice and neutral during my runs. I believe most folks will have zero issues here.
Toebox
The toe box is "standard" and overall sufficient. For most of us runners, we won't mind the space for our toes to be free.
Others, who have wider feet or just like a wide toe box will be disappointed. I usually run in wider toe boxes but still was 100% OK with this area of the shoe. I had no issue with any of my runs due to the toe box.
Collar and heel
Nice cushion and overall support is felt in the heel. I was able to perform all my runs with comfort and with zero heel slipping. This is the theme of the upper.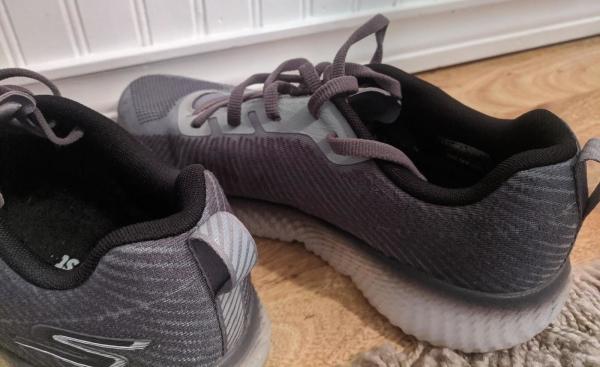 An overall solid build with no area that falls behind. Great execution Skechers!
Midsole
One word. Wow! I was honestly blown away with the Hyperburst midsole. Let's start with the feel of the Hyperburst. It's an extremely lightweight foam that brings forth a wild amount of cushion and energy return.
I felt equally comfortable with long casual runs and high-speed tempo work. The balance of weight and cushioning is literally unbelievable. You gotta try them!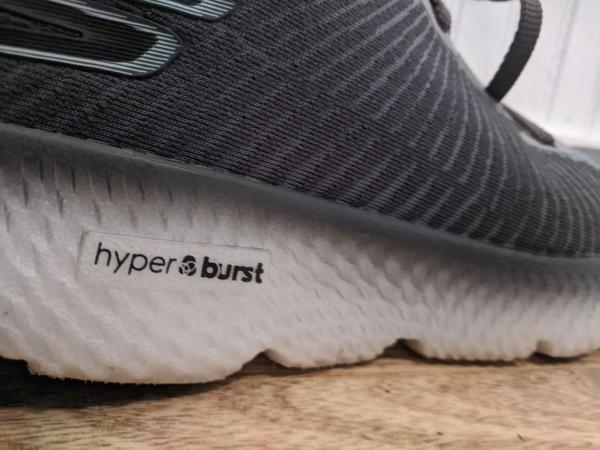 The other amazing thing about the midsole is flexibility. I really enjoy a flexible shoe and I'm not used to having a cushioned shoe that allows for natural mobility. The MaxRoad 4+ Hyper is able to achieve it.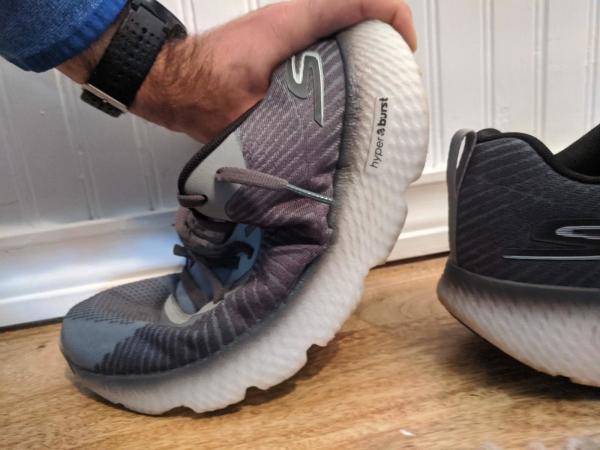 Lastly, the midsole includes a rocker rear foot feature, which promotes midfoot strike. This is awkward at first but after a couple of runs, I learned to enjoy it.
It helped me achieve a more natural gait cycle and even aided me with speed. Now, this isn't for everyone but I think most will be fine with it after a couple of runs.
Outsole
Skechers, yet again is pushing the limits with innovation with this shoe. The outsole is fragmented to the likes of a Nike Free shoe. I've found it beneficial and loved it. Skechers was able to achieve a handful of things with the outsole design.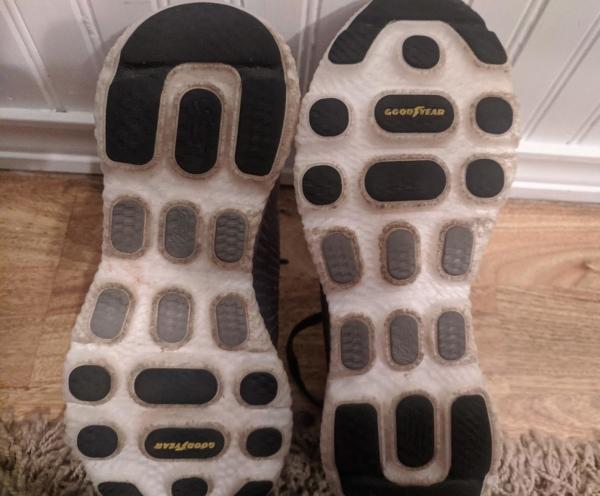 Cut down on the weight of the overall shoe.
Maximize mobility.
Provide intentional energy return throughout gait cycle
Aide in feel and road connection which is usually lost when wearing cushioned shoes.
Love it. You will too. Have I convinced you yet? Buy these!
The only issue with the outsole is wear. I have about 70 miles on these and the tread is already pretty worn. I see the midsole lasting past the outsole which will significantly reduce the life of the shoe.
If you like...
The only shoe I can compare this to is the Brooks Hyperion Elite 2 which retails for 250.00!!
The midsole feels very similar in the energy return feel and cushion combination. They also both have a rear foot rocker design that help initiate the midfoot strike.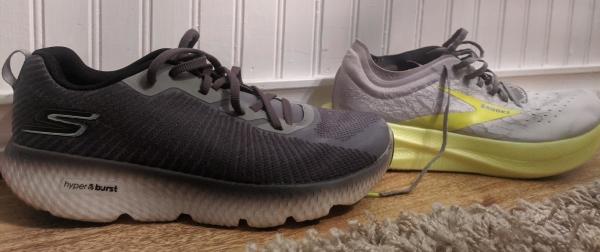 The weight is remarkably similar, with just a 0.4 oz difference (Brooks lighter). This is amazing for a daily trainer.
The big obvious difference is the carbon plate feature in Hyperion Elite 2.
For race purposes, the Brooks gets the edge but if I had a choice of what to wear for a daily run, Skechers wins!
To even compare a 250.00 elite racing shoe to the MaxRoad 4+ Hyper may seem ridiculous but they are surprisingly similar. If you have the Hyperion Elite 2 in your lineup for racing, these shoes will make a great daily companion to them!
Overall
The Skechers MaxRoad 4+ Hyper is a near-perfect example of innovation and progression in a shoe. They have upgraded from previous models and not only brought this shoe to stand out from their lineup. They made a shoe to stand out in the running shoe market as a whole. I was amazed by the combination of cushion and speed in a daily trainer designed shoe.
I not only recommend this shoe, but I also challenge you to buy it. Try something new. Skechers has handed me my favorite shoe of the year... The MaxRoad 4+ Hyper!!!
I have a confession. The GOrun MaxRoad 4+ Hyper is my introduction to Skechers' line of running shoes.
With these shoes, I was excited to change my perception and see Skechers in a new light as a serious running shoe.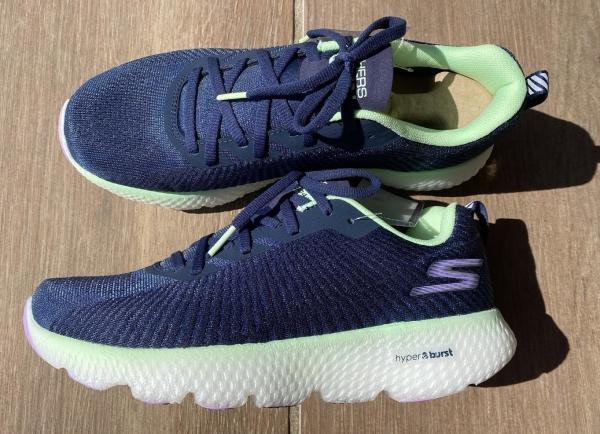 I've heard good things about previous models of this shoe, with the biggest issue from fans of the MaxRoad 4 - the upper's material and fit.
I was curious to see if Skechers addressed these issues from consumers and if the MaxRoad line lives up to the hype of being a great daily trainer. It turns out Skechers listens to their fans, and you can indeed believe the hype.
First impressions
When I initially laid eyes on the shoe, I thought, "wow, that's a lot of midsole!" As soon as I lifted the shoe out of the box, I thought, "WOW, that's a light shoe for all that midsole!"
The shoe is indeed lightweight at 6.1 oz for women and 7.9 oz for men (per their website). It's a significant feature for such a highly cushioned shoe.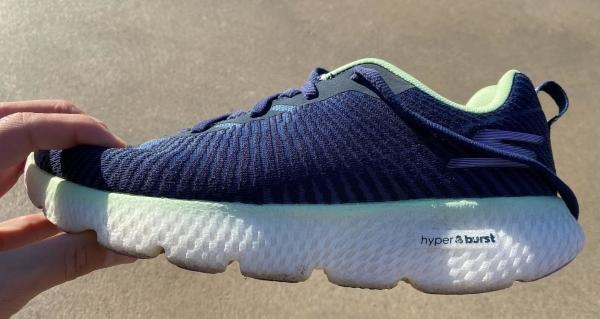 The GOrun MaxRoad 4+ I received is a slick navy with lavender and mint accents.
An interesting color combination, but it works nicely on the shoe as the style is minimalist with a very subtle pattern on the upper.
Surprisingly, it appears this is the only colorway Skechers currently offers on their website, but it's a far more appealing option than the gray colorway available in the men's version (sorry, dudes).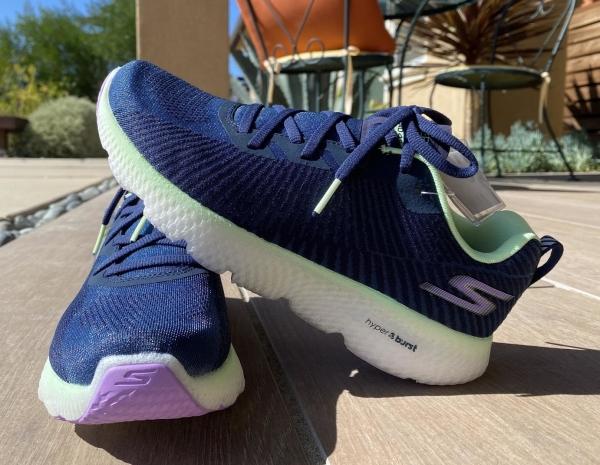 Putting the shoes on my feet for the first time, I was immediately impressed. The shoe was noticeably lightweight, and the interior of the shoe felt appropriately roomy yet fitted.
I also quickly noticed the camber of the sole. When standing flat-footed, you can feel the rocker-style design of the midfoot strike technology built to support an efficient stride.
The midsole felt cushioned, but not very soft like other highly cushioned shoes (i.e., New Balance FreshFoam 1080 or Saucony Ghosts).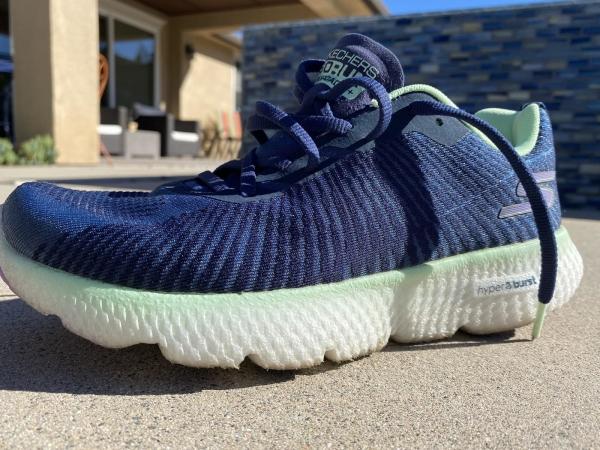 Fit & comfort
The GOrun Maxroad 4+ runs true to size, with an appropriately ample toe box. Though I don't have wide feet by definition, my foot does well in a roomier toe box.
In this shoe, my foot felt unrestricted yet supported without any sliding around amidst strides.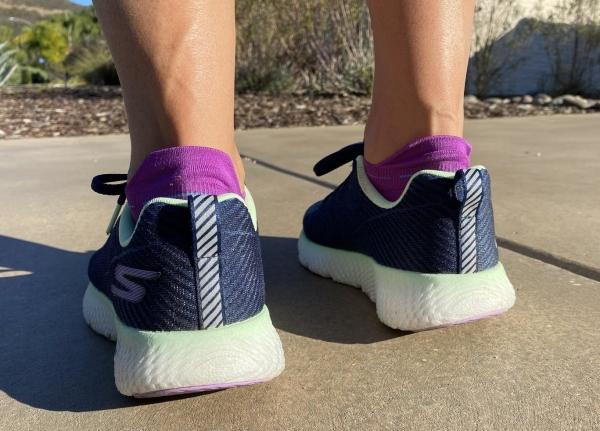 The ankle collar supports the Achilles nicely with moderate padding. I experienced no movement in the heel as it locks subtly into place with a sufficient heel counter.
My entire foot felt secure and comfortable in the shoe, reinforced with the flat-laying lacing system complimented by a minimally padded tongue.
The MaxRoad 4+ does not come in wide sizes, but the lacing and tongue allow for a little extra room to be gained by loosening the lockdown.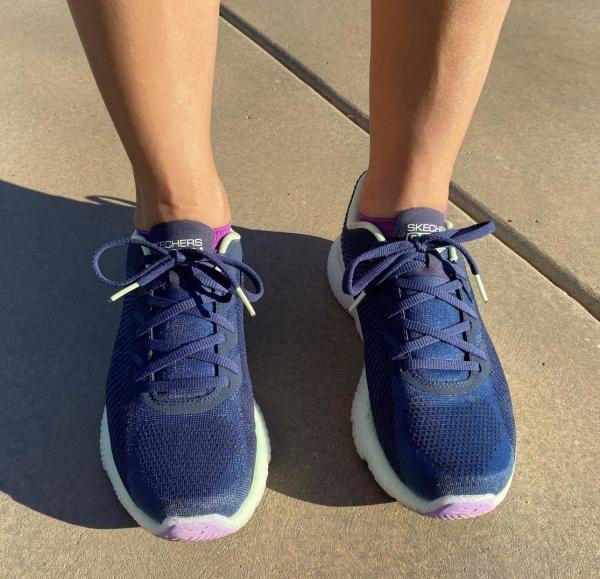 Insole
Skechers attempts to allow for a more customizable fit by offering a removable insole with a finished sock liner beneath.
I ran my first 30 miles with the insole in-place and found that the shoes, while comfortable, did not support my feet very well. I felt fatigued in my feet faster, despite the padding from the midsole.
When I removed the insole and tried the shoe on without it, the toe box obviously became more spacious, but the shoe just felt firmer with this thin layer of cushion removed.
I decided not to run any miles without the insole. Instead, I added my own third party insole, which immediately changed the shoe for me.
The addition added a small amount of heft to the weight, but the positive payoff was worth it for me. I needed this added component of midfoot support to really reap the benefits of this shoe.
Upper
On the previous version of the Maxroad (the Maxroad 4), many folks complained about the instability of the upper, lack of breathability, and the tendency to create hot spots.
The previous upper was a single cohesive piece of compression knit, which included the tongue, making it difficult to lock down the foot for a secure fit.
The Maxroad 4+ solves many of these issues. The new upper is made from mono mesh and polyester, allowing much more breathability.
From the photo below, you can see that a fair amount of light comes through, showing that air can circulate, helping to avoid overheating. I found the upper to be lightweight and breathable enough on hot days.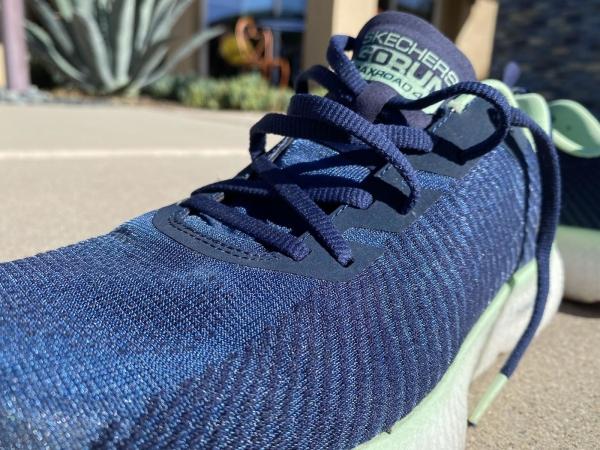 The new tongue is not gusseted but lies flat and creates a tight and comfortable seal on the top of the foot. The mono mesh feels durable, but it still does not offer the stability runners might want from such a raised shoe.
On fast turns or banked roads, I felt myself slowing my stride due to the upper's lack of support. It's not a glaring gap, but I feel the midfoot could offer additional structure.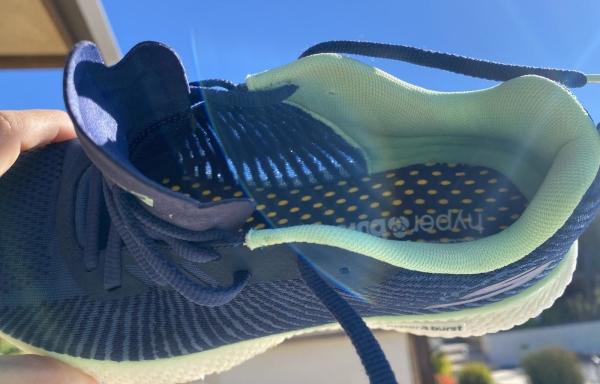 There is a pull tab at the back of the shoe, which I find worth mentioning mostly due to the heel's reflective pattern. This is a bonus safety feature as sunset runs start earlier on these fall days.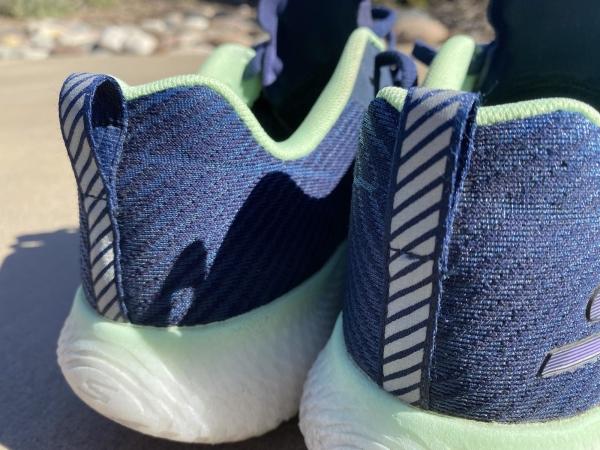 Midsole & cushioning
The midsole is where the GOrun MaxRoad 4+ really shines. Skechers uses its proprietary Hyper Burst cushioning throughout the length of the shoe.
This technology makes the shoe responsive with excellent shock absorption.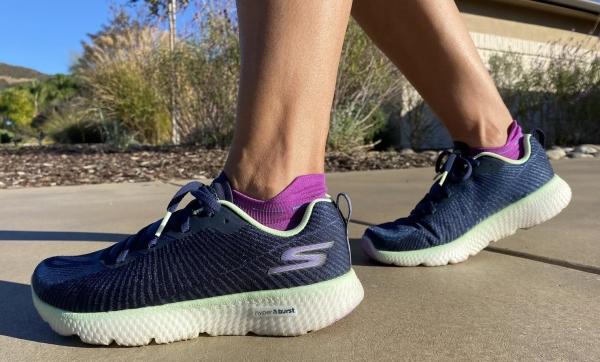 While the shoe is marketed as "ultra-cushioned," I found less softness to the shoe, but with a comfortable yet firmer midsole.
This isn't to say it wasn't cushioned; it just came in a different form - perhaps comparable to the Brooks Revel 3 or 4 and their BioMoGo DNA cushioning blend.
When taking steps in the shoe, there is less "sink-in" and more "bounce-back" which is a welcome dynamic when you are looking for a responsive ride.
Skechers creates this midsole foam using what they call a "Super Critical process"… that "creates an extremely lightweight and resilient material for long-wearing durability…"
Whatever this process is, it seems to translate to the longevity of the midsole. At the 50-mile mark, the midsole isn't showing any evidence of compression or tiring.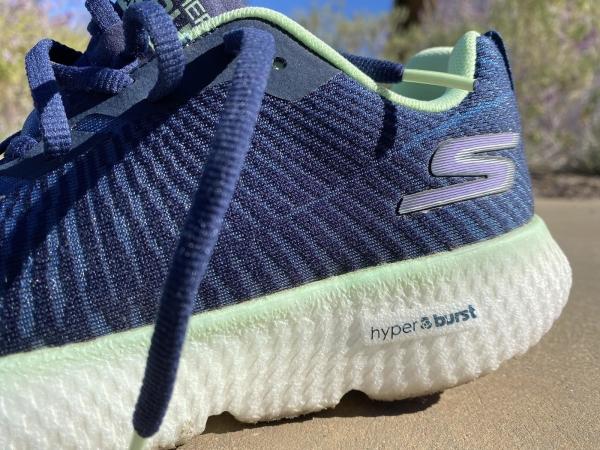 Two critical components for me are the 6mm drop on the shoe and the midfoot strike technology, both providing for a fluid stride, no matter how your foot strikes.
The high stack with moderate drop makes it much easier for my midfoot to strike naturally, and the slight rocker design facilitates the motion into a smooth toe off.
The midsole is a winner; it's surprisingly lightweight for how much cushioning it offers, and it feels, quite literally, springy.
Outsole
The MaxRoad 4+ uses GoodYear rubber on the outsole. Rather than large surface areas of rubber, there are about 14 smaller rubber contact points across the middle of the foot and a bit more coverage at the heel and toe.
The rubber on the outsole is very grippy, almost sticky, and I've taken note of the traction many times on my run in both wet and dry conditions.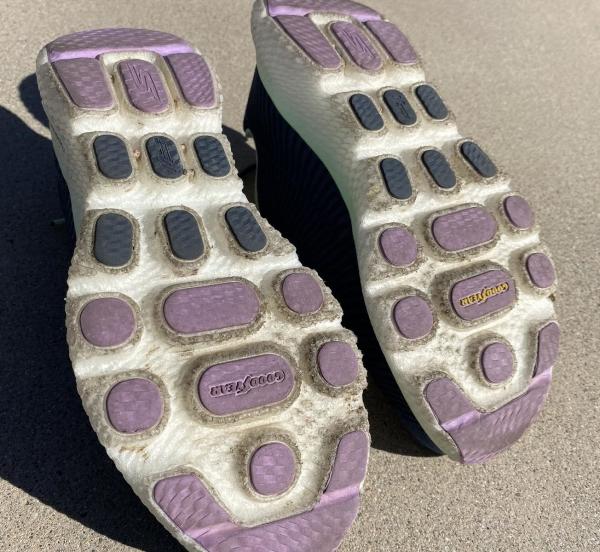 The rubber pattern has been pretty quick to wear at points that get most ground contact, but the traction has not been compromised.
The places where the foam contacts the road are also seeing some breakdown, but I still have high expectations that the outsole will endure for a good 300-400 miles.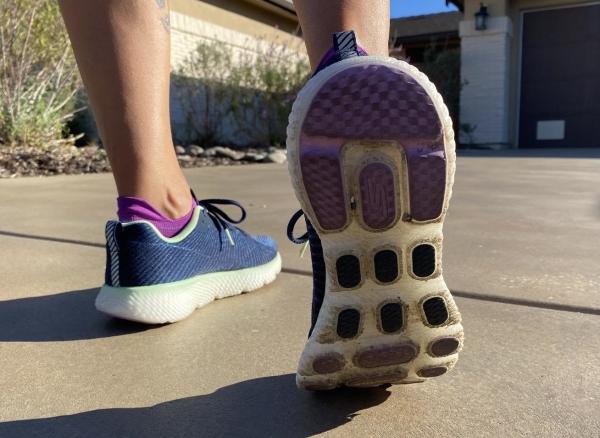 The grooves in the foam and segmented sole allows for a very fluid transition from heel to toe. However, they also provide an excellent catching mechanism for tiny rocks, some of which force more pullovers than I prefer.
I'll permit it, though, because these rubber pillars' layout is a big contributing factor in that bouncy feedback.
Performance
50 miles in, and I'm really enjoying these shoes. Partly solving the lack of structure from the upper with my third party insoles was a game-changer for my MaxRoad 4+ enjoyment.
I've worn these on several consecutive days, and the shoe is ready to go with hardly any rest at all. The shoe doesn't have a ton of frills with a very traditional lacing system, upper and insole.
The bells & whistles are reserved for the midsole, and it delivers. The weight and responsiveness are the trainer's selling points, and I find myself gravitating towards this shoe frequently when I head out for a jaunt.
Cost & value
I was admittedly a bit surprised to see the $140 price tag on these shoes.
Had I not been given the opportunity to test the MaxRoad 4+, I might have viewed the price as a hurdle to trying out a brand I preconceived notions about, especially since it's at the same price point as some of my tried and true lines of trainers.
However, now that I have had that opportunity, I can appreciate the cost to value. I truly enjoyed the midsole technology, and the outsole seems to be built to last.
I personally liked the style of the shoe, but a couple of additional colorway options might help make the price tag more palatable.
Summary
The design of the trainer, though not flawless, is thoughtful and effective. Skechers has created a fantastic midsole technology that makes road running more fun and less straining on the joints.
Plus, they've proven that they're listening to their audience and accepting feedback, as evidenced by the redesign of the upper from the previous MaxRoad 4.
Based on my mileage in these shoes, I think the upper still needs some tweak regarding support and ventilation.
Though the overall shoe fit was comfortable, the lack of support in the arch or lateral side of the shoe caused foot fatigue in my initial runs. Replacing the insole made the shoe much more comfortable for me.
I know I'm a bit late to the party, but I am stoked to be a new believer in Skechers running shoes. I'll be scoping out some other Skecher models with the Hyper Burst cushioning and looking forward to seeing the next model of the MaxRoad line.
Skechers GOrun MaxRoad 4+ Hyper: Cruising with loads of comfort and less bulk
Part of the stacked neutral running shoes from Skechers, the GORun MaxRoad 4+ Hyper, infused with the brand's standout Hyper Burst technology, does not skimp on responsiveness and plushness. Outside, it may appear chunky but it does not translate to more mass, allowing users to spend less energy running.
The functions
The Skechers GORun MaxRoad 4+ Hyper is a great choice if you are a neutral racer who:
Tackles long distances
Participates in road running competitions
Is a midfoot or forefoot striker
Why not buy the GORun Maxroad 4+ Hyper
It's not highly breathable.
Laces are too short.
GOrun MaxRoad 4+ Hyper vs. Saucony Ride 13
Yes, the MaxRoad 4+ Hyper from Skechers may seem more like a direct competition of the Hoka running shoes, but a closer comparison would be the Ride 13 from Saucony. Given their similarities, let's take a quick look at the two model's noteworthy differences:
The Skechers GORun MaxRoad 4+ Hyper has a more breathable and supportive upper than the Ride 13.
The insole of the Ride 13 is quite unstable and it tends to slip.
When it comes to softness, the MaxRoad 4+ Hyper still thrives better than Saucony Ride 13's PWWRN midsole, which is stiffer.
Rankings
How Skechers GOrun MaxRoad 4+ Hyper ranks compared to all other shoes
Popularity
The current trend of Skechers GOrun MaxRoad 4+ Hyper.