Who should buy the Skechers GOwalk 5 - Brave
The Skechers GOwalk 5 - Brave might suit you well if:
You are looking for a well-cushioned shoe to alleviate discomfort in your lower extremities.
A walking shoe that allows ample ventilation to keep your feet cool and fresh is what you are after.
You prefer a shoe that would last long is what you prefer.
You are after a walking companion that takes less time to wear.
Who should not buy the Skechers GOwalk 5 - Brave
Take the GOwalk 5 - Brave off your wish list if a shoe that has a snug rearfoot section is what you prefer. Some buyers have noted that the heel of this Skechers pair feels loose and results in heel slippage. Also, folks who like wearing shoes sockless may have to look elsewhere. According to one owner, the sizing tag inside the shoe causes blistering when worn without a sock. That said, they might want to have a look at other Skechers GOwalk models instead.
The comfiness of Skechers GOwalk 5 - Brave
The Skechers GOwalk 5 - Brave is described by almost all of the owners as very comfortable. Also, the shoe does not require any break-in period for wearers to enjoy its comfort. People just need to unbox, go and take pleasure wearing the shoe. Also, a reviewer said that the shoe is so soft enough that it does not rub against her bunions.
Shield against impact
Equipped with light and responsive ULTRA GO™ cushioning, High-rebound COMFORT PILLAR TECHNOLOGY™, and Skechers Air Cooled Goga Mat, the shock-attenuation feature on this walking shoe has been commended by a bunch of people with knee problems. Moreover, a wearer who suffers from plantar fasciitis said that the Skechers GOwalk 5 - Brave "did not disappoint."
Easy and breathable
Many wearers have marked this model as light and breathable, thanks to its soft woven crochet-textured knit mesh fabric upper. They appreciate that its lightness allows them to wear the GOwalk 5 - Brave without worrying about getting their feet stressed and fatigued while providing a healthy foot environment to their feet because of its ample air circulation.
Strong enough to last
A significant number of users are impressed with this trainer's long-lasting ability.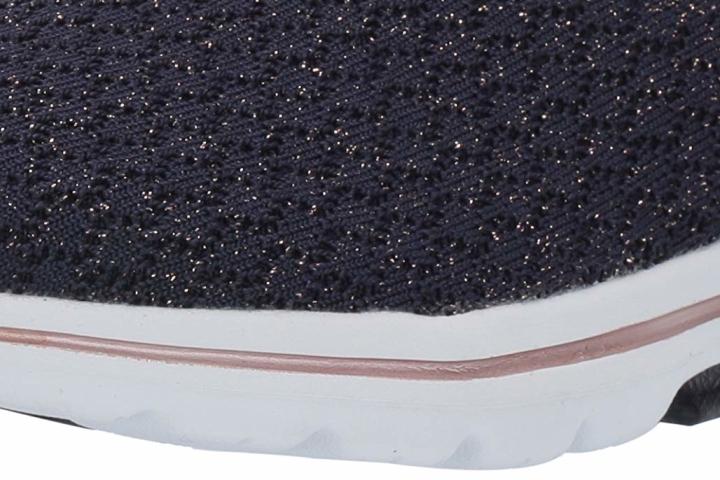 Fashion-forward look
A lot of shoppers said the glittery specs on the shoe make this footwear look cute.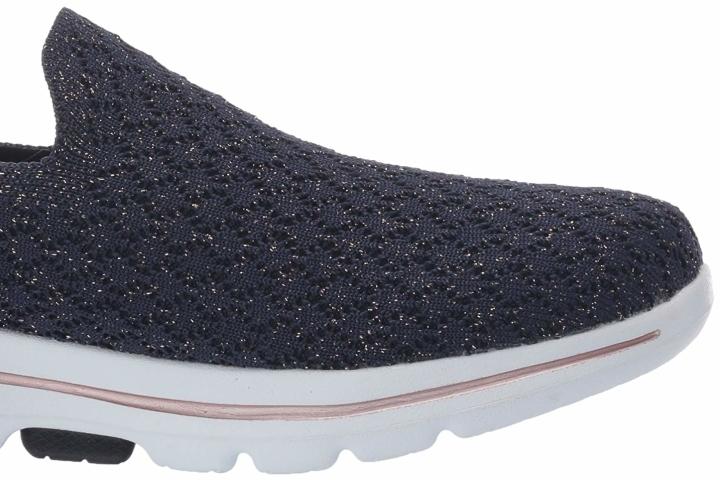 Easy and quick access
The Skechers GOwalk 5 - Brave flaunts an easy-to-wear design that those with impaired mobility and folks with a fast-paced lifestyle would find handy. Many appreciate that it takes them less time and effort to put the shoe on.
Compare popularity
Interactive
No popularity data available for this shoe at the moment.