Who should buy the Skechers Arch Fit - Rainbow View
This walking shoe from Skechers is sure to grab your attention if you are after the following:
a slip-on shoe that saves you the hassle of bending over and dealing with laces
supportive footwear for flat feet, plantar fasciitis, neuroma, etc.
a well-cushioned shoe for long periods of standing and walking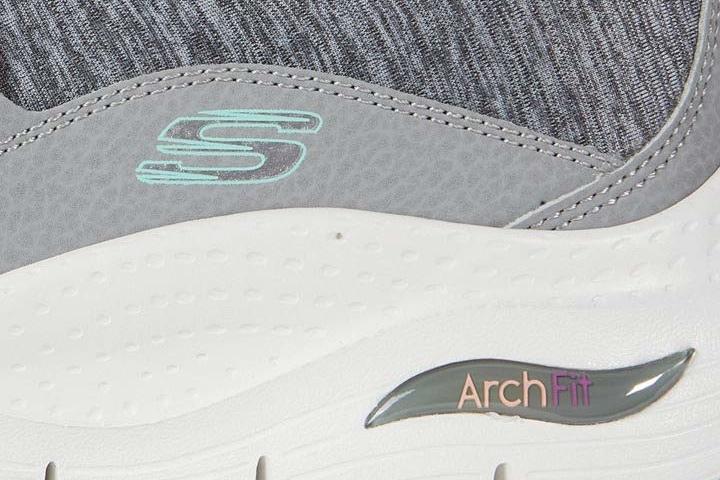 Who should not buy the shoe
The downside of slip-on shoes is the absence of fit regulation. Some people may find it more suitable to get a sock-like knit upper, like that on the Arch Fit - Keep It Up or the Arch Fit Refine - Don't Go. They help to create a more secure wrap around the foot.
Alternatively, you can always go for an Arch Fit Skechers shoe with a traditional lacing closure.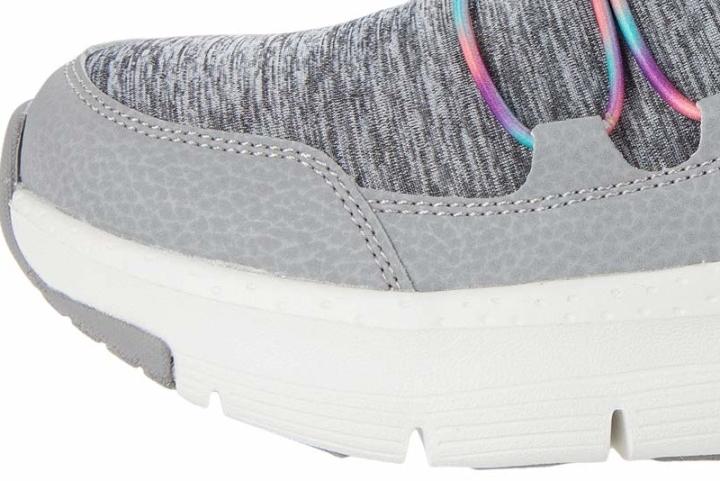 Top-notch support of the Arch Fit - Rainbow View
This Skechers shoe has gathered a great deal of positive feedback for its Arch Fit sole. "Your feet will thank you" and "it will save your feet," say some of the reviewers.
Plenty of comments are also coming from people with flat feet, arthritis, plantar fasciitis, and other conditions associated with pain in the feet and legs.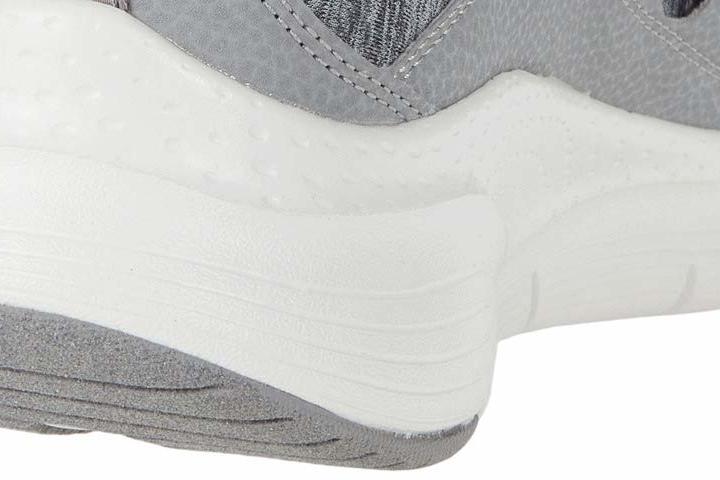 For some, this has become the first pair of shoes in which they could walk without any pain or discomfort. Others claim that they don't need orthotics when wearing the Rainbow View. A woman with high arches says that "these definitely fit the bill" for her sore feet. "Calves and feet are not hurting like they were," reports another lady.
The shoe was also well-loved by the senior wearers. An 88-year-old woman feels very stable in the shoe.
Comfy out of the box
Based on the users' feedback, no break-in period is needed in this Skechers walking shoe. "Soft and pliable, extremely comfortable," in the words of a wearer. Several wearers also noticed that the shoe "molds to the foot" and feels better "" each outing.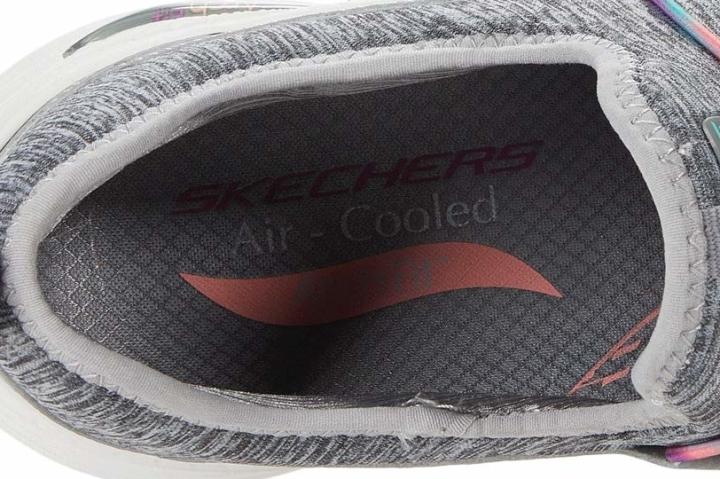 Easy to slide off, not so easy to slide on
The Arch Fit - Rainbow View provided an easy on-and-off for some ladies. They found it convenient to quickly put on and take off at the airport.
But for some wearers, the putting on bit was not so easy as the heel tends to fold over. As one wearer puts it, "it takes some work to get the foot in without curling some aspect of the upper." They ended up using a shoehorn.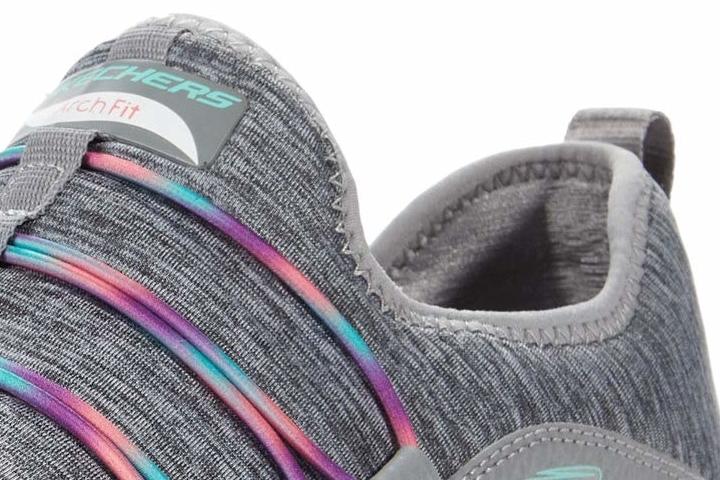 Narrow for some, loose for others - a common issue for slip-ons
Women with wider feet and high insteps reported rubbing, pinching, and other unpleasant sensations caused by the upper. The shoe didn't seem to have enough room or give for them.
On the other hand, a number of wearers complained about the fit being too loose, especially in the back. This resulted is frequent heel slippage and foot sliding. "A bit looser than my other Skechers," wrote one reviewer. Another echoed: "sloppy on my feet."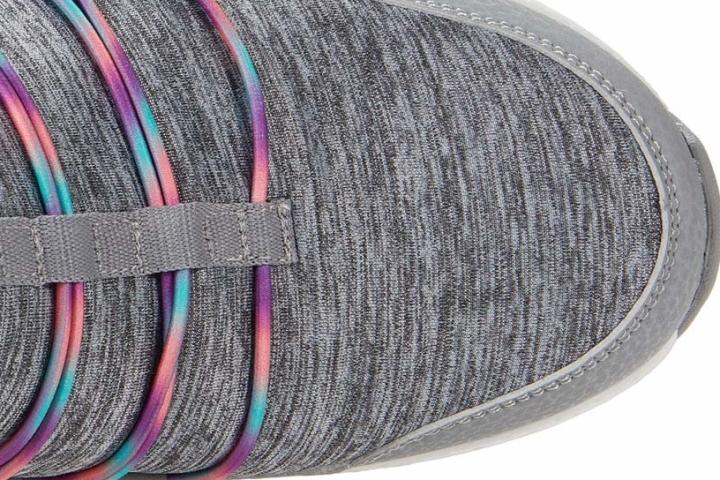 Rainbow View is not a shoe for hot summer
Unfortunately, the synthetic material chosen for the upper "will not let your foot 'breathe'," as some reviewers say. So, expect your feet to get toasty is you plan to wear the shoe too long in the heat. This is a better option for cooler days.
Luckily, we have a catalog of breathable walking shoes for you to choose from.
Feels a bit heavier than other Skechers
The thicker sole with added arch support surely makes this Arch Fit shoe heavier than the uber-light Skechers GOwalks that some people have gotten used to.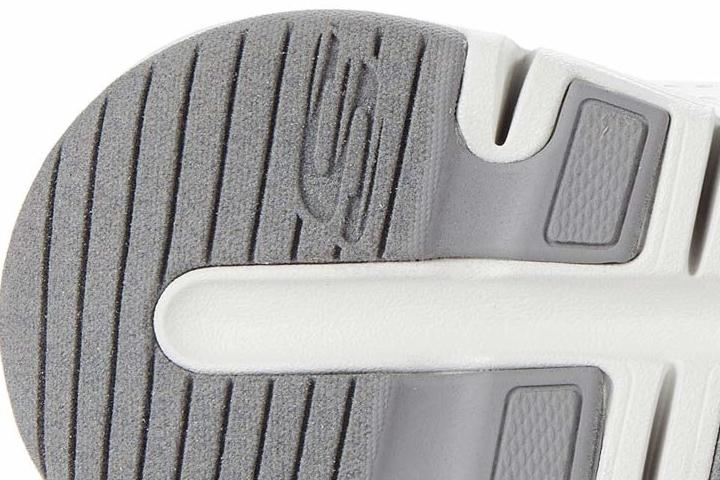 Compare popularity
Interactive
Compare the popularity of another shoe to Skechers Arch Fit - Rainbow View: