Our reviews
Having previously reviewed Palani and Kinabalu RC, as well as having run in Supertrac 2.0 and Supertrac Ultra RC, and by and large, being impressed by them all, I was excited to try out Scott's latest addition to the Race Concept range.
Scott's Race Concept is akin to Salomon's S/Lab and represents the best of the best, designed with input from elite athletes for premium performance and I suspect best suited for those who find themselves in the sharp end of races.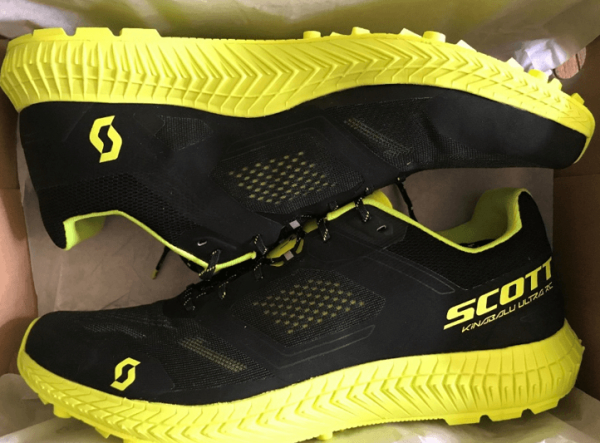 While Kinabalu Ultra RC is intended for trail distance, the range already includes Supertrac RC for mountain speed, Supertrac Ultra RC for mountain ultra, Kinabalu RC for trail speed, and Palani RC for road speed.
Kinabalu Ultra RC thereby nicely rounds out the Race Concept range and comes in the distinctive black and yellow livery in keeping with the line's strong identity.
Key Comparisons vs other Race Concept shoes
8mm drop – same as Supertrac Ultra vs. 3mm for Kinabalu and 5mm for Supertrac
Kinetic foam – same as Kinabalu vs. AeroFoam+ for Supertrac and Supertrac Ultra
eRIDE – same as all others
Hybrid traction – same as Kinabalu vs. All-terrain for Supertrac Ultra and Radial for Supertrac
Breathable mesh vs. weatherproof upper for Supertrac and Supertrac Ultra
Rock plate vs. none in Supertrac and Supertrac Ultra
As mentioned, the shoe is intended for going long on trails; more specifically, man-made paths, and non-technical dirt tracks.
As such, the aggressive grip and traction that the Supertrac shoes are renowned for are not necessary here. Instead, Scott has opted for something called "hybrid traction" which combines chevron lugs for traction along with cones for stability.
At 4mm, they are not as deep as those of the Supertrac, which are designed for more technical terrain and mud. The outsole material, however, retains the sticky ultra traction rubber that is so effective against all surfaces.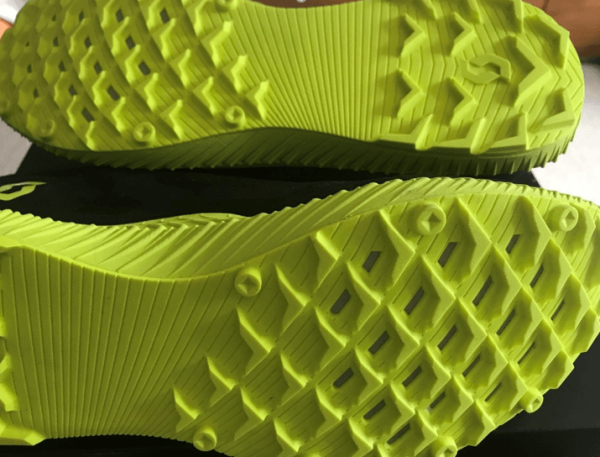 The outsole for Kinabalu Ultra RC appears pretty much identical to that recently released Kinabalu RC 2.0. However, the comparison of Kinabalu Ultra RC's outsole against Supertrac 2.0 illustrates the difference in lug pattern and depth.
The other key difference between the Kinabalu Ultra RC and Supertrac range is the presence of a rock plate in Kinabalu Ultra RC which can be seen in the photo.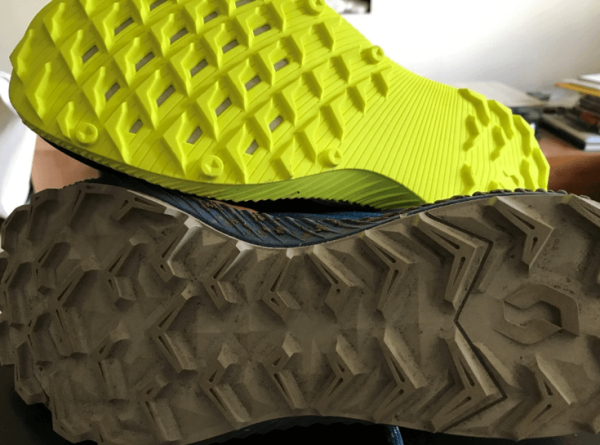 The shoe is light, weighing in at 313 g for UK10 versus 359 g for the Supertrac 2.0. As might be expected for shoes intended for summer trails, the upper consists of a breathable outer mesh layer along with a thin inner membrane and the use of any overlays is sparse.
Aside from the outsole, this is the other key difference with both Supertrac RC and Supertrac Ultra RC, which both have weatherproof uppers.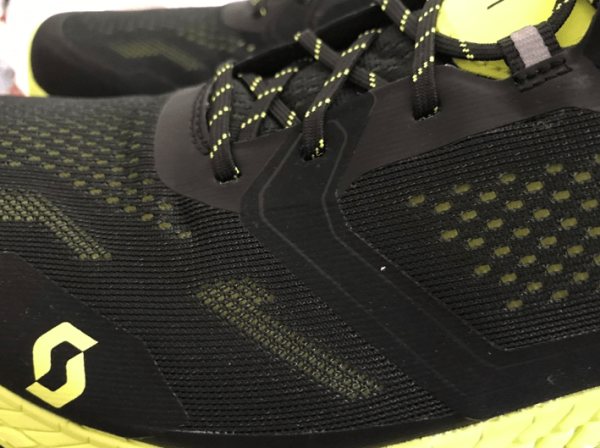 The tongue, similar to that in the Kinabalu RC, is thin and, disappointingly for a trail shoe, where there is always the potential for loose debris to find their way into the shoe, ungusseted. However, the lack of gusseting in the tongue is offset somewhat by its extra width.
It should be noted that plush, the shoes are not. In keeping with the Race Concept philosophy, the design is lean, mean, and spartan, devoid of any superfluous features and weight.
This is also true in the lacing, which is consistent with the other shoes in the Race Concept range – lean and functional.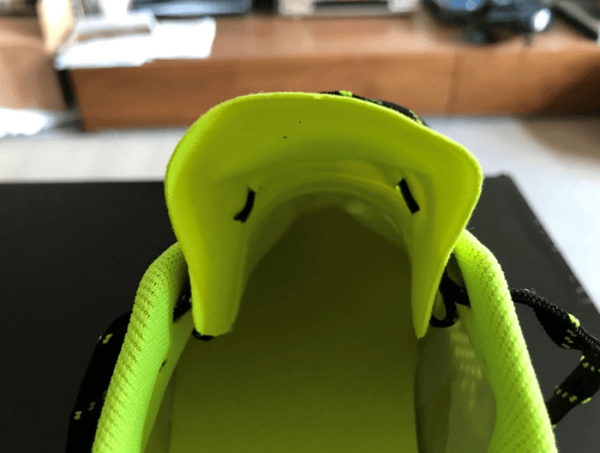 As for the sizing and fit, my UK10 is pretty much spot on. The fit is not as snug as Supertrac Ultra RC, which I also had in UK10 and found uncomfortable after over 20 or so miles due to the taper in the forefoot.
The shoe actually feels quite roomy at the front but fortunately locks down well in the heel. Although I did not need to use it, a heel-lock eyelet is present. The comfort and "barely there" sensation of the fit is reminiscent of Inov-8 TerraUltra G 260 and most shoes from Altra.
The UK10 for Scott translates to US11 and EUR45, so will effectively mean sizing up by ½ for most people, which I'd recommend since I had the Kinabalu RC in UK9.5 and found it just a tiny bit short.
Although not a "soft" or plush shoe by any means, the shoe is reasonably flexible and better padded than, say, Kinabalu RC or Palani.
During the Run
Given the reassuring sizing and fit, I felt confident enough to take the shoes out for a 20-miler straight out of the box in the Thames-Down Link, which is a green corridor to the south of London linking the National Trails of Thames Path and North Downs Way.
The route is a varied mix of tarmac and hardpack trail, with some rocky and pebbly sections thrown in for good measure, so an ideal testing ground.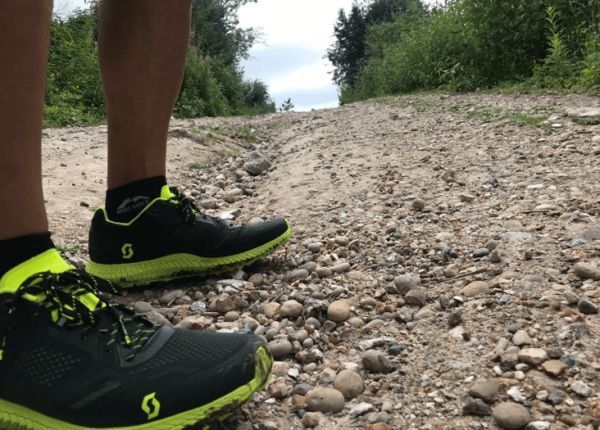 Key midsole technologies to the Kinabalu Ultra RC at play are the eRIDE rocker design and the Kinetic foam.
The eRIDE is consistent throughout Scott's range and one of the brand's hallmarks, while the Kinetic foam – as opposed to the AeroFoam+ used in the Supertrac models – promises 14% more energy return compared to traditional EVA.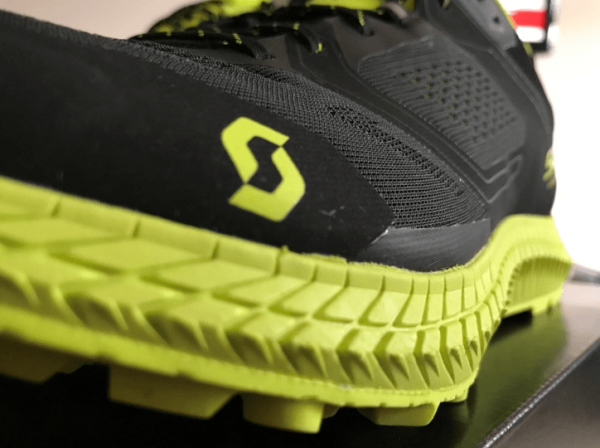 I'm glad the difference in foam material and characteristic was pointed out. Visually, the midsole of Kinabalu Ultra RC looks identical to that of Supertrac 2.0, both having the same stack heights of 21mm at forefoot and 29mm at heel for an 8mm drop.
On the subject of comparison, Kinabalu RC 2.0 comes in at 18.5mm forefoot and 21.5mm heel for a 3mm drop, so clearly designed for going faster over shorter distances.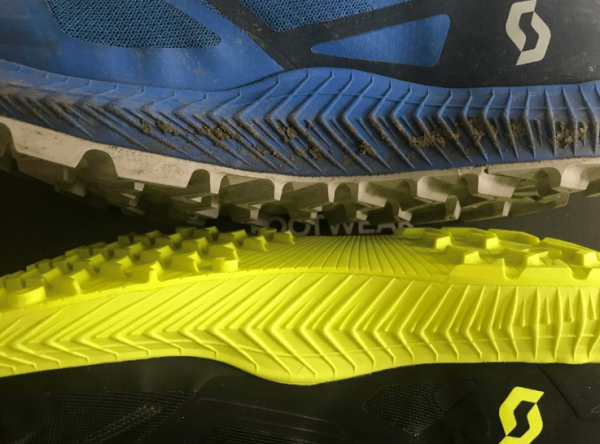 There are moments as a runner and running shoe geek when a run involuntarily works itself into a smile.
Typically, this is brought on by the perfect combination and balance between cushioning and feel (and I should add, the athlete's level of fitness as another variable). My initial run in the Kinabalu Ultra RC was one such moment and I was beaming from the offset.
The engineers at Scott appear to have achieved an impossible feat; obtaining a ride with both cushioning and feel. The shoes offer plenty of protective cushioning on the tarmac while at the same time are very responsive once off-road, particularly on dry dirt tracks.
The soft nature of the ultra traction rubber used in the outsole adds to the sensory experience, as does the bare lug-less section of the outsole towards the midfoot. Simply put, these are a joy to run in, particularly at speed.
The eRIDE, while not as pronounced as in other shoes by Scott, is nonetheless there and contributes to the smooth handling on tarmac.
The upper feels barely-there and breathes well; never too hot. Despite this, I found the inner membrane of the upper to be very good at keeping out dust and dirt, which can be an issue on dry summer trails.
The comfort of the upper and the just-right combination of cushioning and responsiveness means I would have no issues having these on my feet for many, many hours, which is critical in ultra races which sometimes can take over 30 hours to complete.
After the Run
I have now done over 80 miles in my Kinabalu Ultra RC over half a dozen runs including the maiden 20-miler.
Given how comfortable they were out of the box, I wouldn't have expected much difference once "broken-in" and I was right, except that the shoe is now even more comfortable and better fitting!
It's just a shame that all my ultra races for the summer have been canceled and postponed since the shoes no doubt would have been ideal for the 50 and 100-milers and I would have no hesitation in using them.
Indeed, they are ideal for the kind of terrain that the south of England offers in the summer on likes of Thames Path, South Downs Way, and North Downs Way.
Here's the thing – true to its Race Concept heritage, the shoe is optimized for those who are able to move quickly over challenging distances, even if the terrain itself might be forgiving.
As someone who finds himself steadily but surely migrating towards the back of the field in a race, I have to be honest and say that the shoes are almost "too good" for me.
It's like admitting that a Ferrari is unsuited to the roads near me where the top speed is 50mph. Or to draw an analogy from a different sport, that my golf handicap is too high to get the most out of the blade irons, sexy as they may be.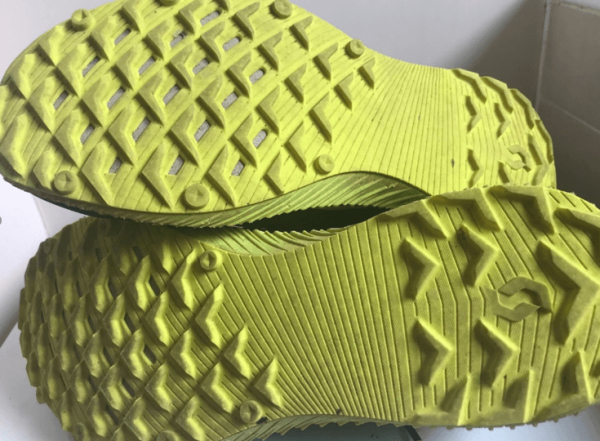 Make no mistake – despite the "ultra" in the name, these are still "RC" designed for speed, and best suited for those at the sharp end of races. This does not, however, mean there is no room for the slower amongst us – the shoes are still a joy to run in.
The only caveat being that I would probably be using these for, say, a 50-miler which still requires me to move at a fairly quick clip vs. a 100-miler which would involve a higher proportion of walking.
But for those who can get around a non-technical 100-miler in under 20 or so hours, I would imagine the shoes to be a match made in heaven.
There is a lot to like about the shoe. My only dislike (and this is a minor one in an otherwise perfect shoe) is that the compound of the outsole, being ultra traction rubber, does seem to wear down a little faster than that in other similar trail shoes.
My follow-up question to Scott, possibly for the next edition, would be to reconsider whether ultra traction rubber for such a shoe is necessary in the first place since the intended use is on dry man-made tracks.
Other than that, though – I do congratulate Scott on an exciting and perfect addition to the Race Concept line. You have me beaming, Scott!
Key Likes
The ride – great balance between cushioning and feel
Breathable and light upper
Hybrid traction – it works!
Minimal and comfortable yet protective
Key Dislikes
Relatively quick wear of outsole
Summary
Scott Kinabalu Ultra RC, designed for trail distance, nicely rounds out Scott's elite Race Concept range while remaining faithful to the line's stripped-down, no-nonsense traits.
This well-designed and executed shoe is a joy to run in, particularly for moving fast on dry non-technical man-made trails and hard packs. Make no mistake though – as a Race Concept shoe, it is best matched to those entering ultras to compete, rather than looking to just complete.
But for those training runs when I'm feeling strong and ready to push the pace, or for racing a 50-miler on dry undulating terrain, these are my new go-to.
The Kinabalu range of shoes is historically lighter with less traction than the Supertrac lineup. If you like a shoe that is both flexible and cushioned with no compromise on performance, then the Kinabalu Ultra RC from Scott is undeniably for you.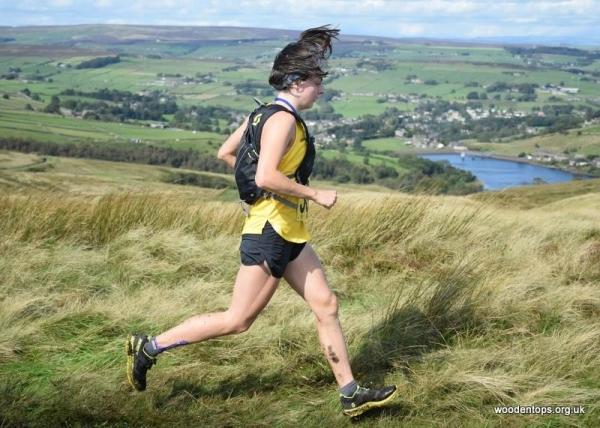 It is suitable for runners with neutral pronation or those who do not need any arch support.
With the word 'ultra' in its name, I was quite worried that it may be a bulky shoe. I have tried the Scott Supertrac 2.0 and found it to be quite inflexible and unresponsive.
These aren't issues when running a flat ultra, but not can be when out on the mountains and you need all the help you can get.
I can say, hand on heart, that this shoe has exceeded my expectations on every level. Read on to get into the nitty-gritty of why this shoe should be on the top of your trail running shopping list.
In-depth review
Upper
I have made a decision to unbox and go with this shoe rather than checking on the specs to give a true, unbiased review.
Firstly, the Ultra Mesh upper has a lightweight, breathable, dual-layer construction. As a female, I have noticed a very pleasing, female-specific fit as I have narrow feet.
The laser-cut tongue is lightly padded and fits nicely under the upper without the need for gussets. I have had no problems with it slipping sideways at any point, and no hotspots on the top of my foot either.
The laces do up nicely, but there aren't any features such as a lace pocket to prevent dirt infiltration and loosening of laces when running through undergrowth.
Complementing the laces is the upper cage, locking the foot down nicely, giving confidence on technical terrain and steep descents.
The running shoe provides good breathability on hot days, and even with the form-fitting upper, I haven't had any blisters whatsoever.
On the one hand, the heel cup has moderate stiffness and its height is barely noticed; it's neither too high nor too low. The cushioning around the heel is a perfect mix of comfort and lightweight minimalism.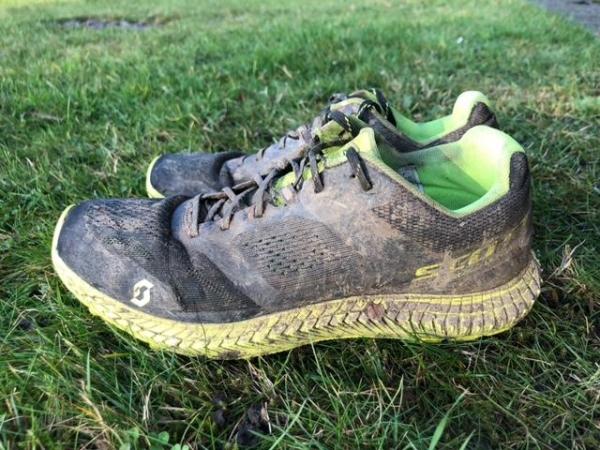 The overall look of the upper with the contrasting yellow and black looks great. I enjoyed the coordination of the inner, laces, and tongue, making the shoe look race-ready!
There is a great toe bumper on the end that has protected me from all but one stone over the 100 miles I have covered.
Midsole
Contrary to the other Kinabalus, the midsole of the Ultra RC has a lower stack height. This decrease in cushioning is a good decision, in my opinion.
It makes the shoe more flexible, allowing better proprioception without compromising underfoot protection with the added rockplate and the new Kinetic foam which really increases energy return.
The midsole stands up to a variety of terrain and distance. The shoe has given me enough flexibility for fast runs and enough cushioning and protection for long runs with a load of rocky ascent and descent in Snowdonia National Park.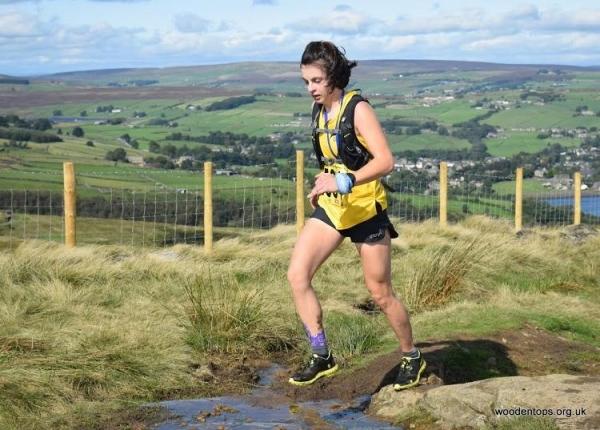 An Eride rocker compromises the midsole, which is used on most Scott shoes. It decreases ankle flexion and promotes a forefoot push-off by guiding the foot from heel to forefoot with its rocker form.
I didn't look at the drop of the shoe until I finished the majority of my testing, and I would have suspected it to be around 6 mm.
So, for runners who are used to a higher drop, there's no need to be worried by the numbers as this is a somewhat minimal differential. It's barely noticeable and I had no Achilles nor calf niggles throughout the duration of my testing.
Outsole
The outsole has a mix of sticky, flexible chevron and conical lugs for straight-line traction and efficient cornering on man-made trails. They are 4mm deep, which is not good on any level of mud.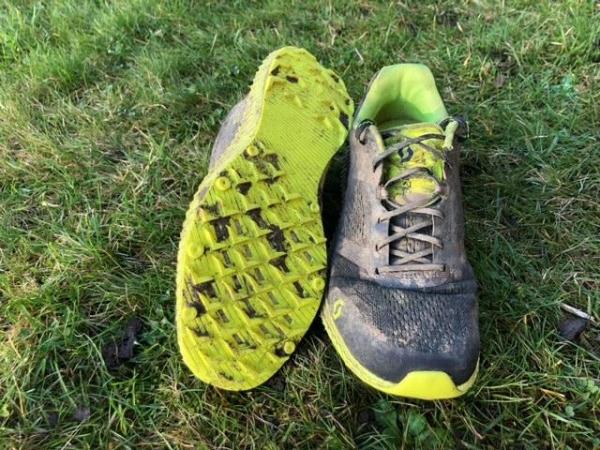 But because Scott designed this shoe for man-made trails, the shoe still serves its purpose with the bonus of good traction off-trail in most conditions, including peaty, boggy ground. Nevertheless, the traction is lost on muddy slopes when climbing and descending.
Durability
In terms of durability, this shoe looks like it's going to last long. I've already logged over 560 miles in my Scott Supertrac 2.0s and I trust that the quality of the Kinabalus is going to withstand the same mileage if not more.
Fit
The shoe's fit is definitely on the narrow side, but since the tongue area is quite flexible, it can accommodate wide midfoot. However, this shoe is unlikely suitable for people with wide forefoot and bunions.
Coming in at 230 grams for women and 270 grams for men, this is only 20 grams heavier than Inov-8's most aggressive fell shoe and this is very noticeable when running a grueling 15-mile mountain run.
Value
In terms of pricing, I think this shoe is definitely worth the £140 price tag as it will last a very long. As such a great hybrid shoe, you're getting a shoe that can be worn day in and out in basically all conditions you throw at it!
Conclusion
In conclusion, I am amazed by this shoe. It was definitely love at first sight!
The build quality, flexibility, protection, and durability of this shoe have been second to none. At a race I attended, a guy wearing the Supertrac RC said that he likes the yellow and black as it makes us look like we know what we're doing and I agree they are very flashy!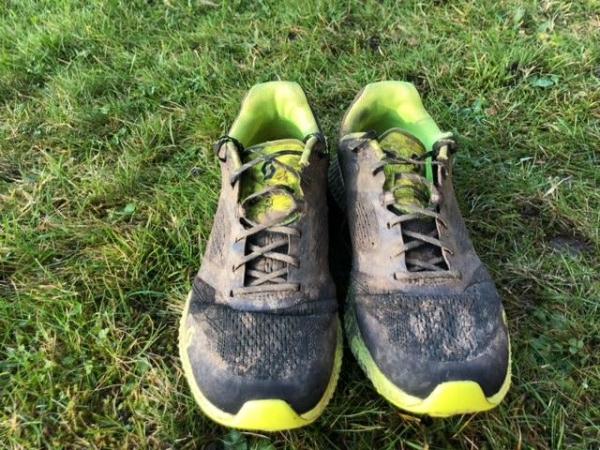 The only minor downside is the traction. I personally would like a 6-mm lug depth. This shoe does exactly what is said on the tin and goes above and beyond, making it the best shoe I've ever worn!
These are incredibly smart running shoes that support your dynamic running session greatly. Their design is well thought out, limiting the impact of running on your body, regardless of the surface—coast path, trail, or tarmac.
With the insole and midsole adapting to your feet, I can say that these are very comfortable shoes. They're worthy to wear in all seasons and for all outdoor activities, as well.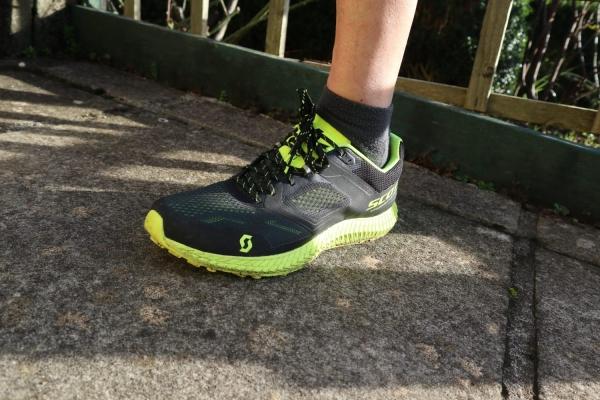 The cost of these is above average, but the quality, adaptability, and performance are the rewards of such a price.
Design
I have the Bright Yellow and Deep Black colorway, which is a very smart look and is perfect when running in the dark.
The fabric may be light but it's extremely scratch-resistant. The shoes also have a no-sew design, so you will not end up having any irritation from any rubbing, no matter the type of socks you wear.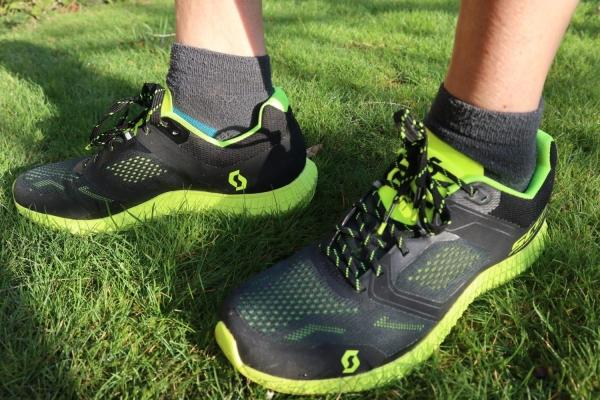 The lacing system is not too thick nor too thin, allowing you to tighten up the shoes. Most importantly, they stay in place.
Meanwhile, the tongue is designed for comfort whether you're racing or just casually running.
The most relevant aspect for me is the insole which adapts to your chosen terrain. It's flexible but firm in fixed terrains while having a soft cushioning effect on tarmac. Combined with the midsole, it creates impact absorption, protecting both ankles and knees.
On the run
I'm size 5, but I'm always considering a size 6 for my shoes. This is general guidance though, as it depends mainly on the type of socks I wear.
Running in these have been very comfortable. At first, you might feel that they are too firm, but after a few miles, you will realize that comfort comes from the adaptability of the sole to different terrains,
Living nearby Dartmoor, I used to run three times a week. I do like going on trails rather than tarmac paths for my training.
The Kinabalu Ultra RCs have a great grip in wet conditions and mud soil. So much so that they have a similar feeling to my walking shoes. Even on slippery paths, the grip is reassuring, and there's no need to slow down or change the path to avoid the risk of falling.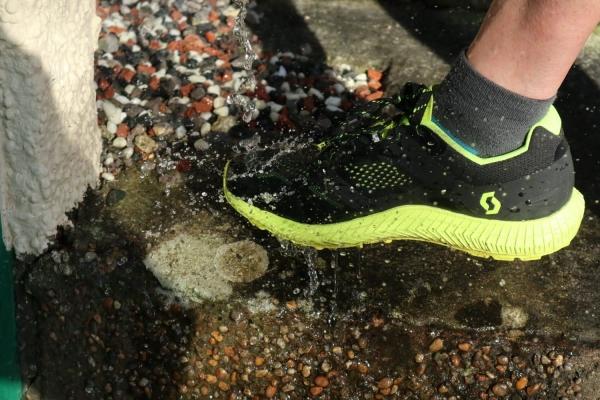 The ankles are well supported and I have never experienced shocks in my legs or back pain following my training.
The shoes are water-repellent, as well, so, you might see the benefit of these during rainy days. I've also run in them in a quite hot summer, so I can assure that they are breathable and after the usual 5-10 miles per session, my feet didn't sweat like what happened in my previous running shoes.
With regards to durability and performance, I can say that after an average of 30+ miles in mixed terrains, they still look new. No scratches and no part of the shoes are peeling off.
They're also very easy to clean, and they do not require much maintenance.
Thumb up
Nice design
High comfort after many hours of intense hiking
Good grip and stability
Slightly waterproof
Extremely light running shoes
Thumb down
Maybe the cost if you want to stay within a budget.
Conclusion
I cannot recommend these running shoes enough. After 30+ miles, they are still in good shape and performing very well.
In considering my long hours of training, the shoes' lightweight is an important aspect I always consider for my purchases.
No relevant negative points to be mentioned, only a bit more expensive than the standard basic running shoes. Acceptable and not expensive if you think about performance and durability.
Scott Kinabalu Ultra RC: Who is it for?
Designed to deliver protection from abrasive ground elements, grip on packed surfaces, and a lockdown fit, the Scott Kinabalu Ultra RC is ideal for:
outdoor runners who tackle rugged and steep terrains
off-road athletes who want heightened pace on man-made trail paths
trail racers participating in long-distance events like trail ultramarathons (anything past 26.2 miles)
The Kinabalu Ultra RC's standout features
Here are some of the features of the Kinabalu Ultra RC that set it apart from other trail running models:
Hybrid Traction outsole. This technical component allows the running shoe to have a multi-directional grip, meaning it stops your foot from slipping sideways and backward for stable and surefooted strides. It is also designed to amplify the forward motion of the user for swift running performance.
Kinetic foam. Combining lightness and responsiveness, the Kinetic foam technology from the brand encourages energy conservation while moving at a high speed.
Popularity
The current trend of Scott Kinabalu Ultra RC.