Scarpa Instinct VS review
The Scarpa Instinct VS is absolutely superb when it comes to technical surfaces and overhung climbing in the gym or on real rock! Small ripples, tiny dimples, and pockets become bomber footholds in this shoe. And your feet somehow stay relatively comfortable considering the performance you get from them.
Who should buy it
This climbing shoe is for climbers who:
are more experienced and excel at difficult boulders and single-pitch climbs
need superior edging and grip on small holds, as well as heel and toe hooking confidence
Who should NOT buy it
The shoe is not suitable for you if:
you need an entry-level climbing shoe (in this case, the Force V is a good option)
you are into competition-style bouldering and multi-pitch adventures (the Instinct SR is good for competition and the Origin is good for multi-pitch climbs)
you are looking for a shoe for smearing and crack climbing (for regular-sized cracks, especially indoors, the Scarpa Helix might come in handy)
Nice, secure fit
The upper of the shoe is surprisingly elastic, so it allows for a little bit of give and some added comfort while still holding your foot securely. I was going for as snug a fit as I could get without things getting too uncomfortable. The heel is one of the best I've worn, it cups the foot nicely without really leaving any pockets.
The Scarpa Instinct VS is surprisingly comfortable
The comfort of this shoe is what really amazes me when you consider the performance. I've climbed in 'performance' shoes, like the Scarpa Vapor S before, and the price I paid for being able to stand on tiny ledges was immense discomfort -- those shoes came off immediately after finishing any route or problem.
The Instinct VS is definitely not an "all day" shoe, but it somehow manages to still be comfortable to the point where I didn't need to immediately remove the shoe after finishing a route or walk.
Long-lasting durability
So far, the Scarpa Instinct VS has barely shown any signs of wear after a few indoor bouldering sessions and a long weekend of sport climbing. The shoe also encourages good footwork since they allow for so much precision and power out of the big toe, so I imagine these shoes will last a little longer than expected.
Scarpa shoes also typically can be resoled multiple times throughout their lifetime, so I expect to get at least a handful of climbing seasons out of this shoe.
Superior edging ability on both plastic and rock
The edging is incredible, especially on small features for both plastic and rock. Tiny ripples in the rock become excellent footholds in these shoes, and surprisingly not exceedingly painful to stand on - thanks to the stiffer rubber on the front of the shoe.
Great for heel and toe hooking
Thanks to a well-shaped heel pocket and extra rubber over the toes, the Scarpa Instinct VS does a superb job at both heel and toe hooking. The heel rubber could be a little thicker, as heel hooking can be a tad painful if the feature is sharp, but otherwise, it's great!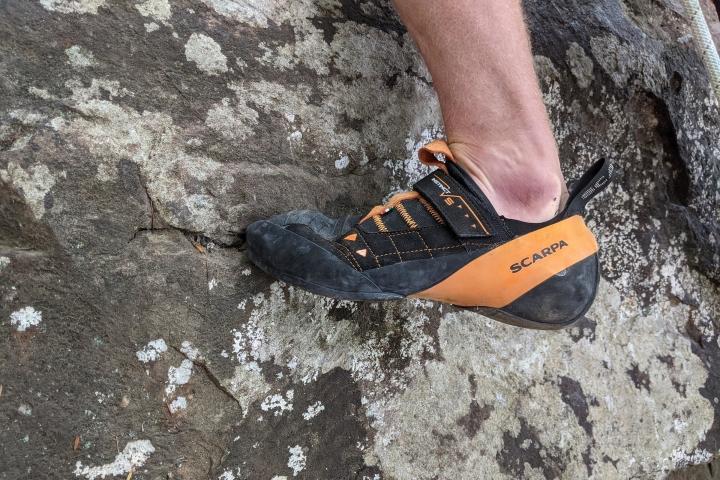 Not great for smearing
While the shoe does not excel at smearing, they are passable and you can get away with it so long as you have decent hand-holds. Especially on outside sport routes, I found that so long as I was careful where I put my feet, I could find a useful foothold on nearly any section of wall, even if I needed to smear my foot to make the next move.
Too painful for crack climbing
Given the slightly thinner rubber at only 3.5mm, plus the more aggressive fit of the shoe, the Instinct VS is very painful for crack climbing -- would recommend trying to find tiny edges rather than twist your foot into a crack while wearing the shoe.
The Scarpa Instinct VS is great for gym or crag
Most of the testing I did was while at the New River Gorge in West Virginia, but I did take the shoe to our local gym a few times and was very happy! The shoe is great at the gym or crag, though, they do not excel in the sloppy, competition-style bouldering routes that are becoming more common in gyms these days.
Not breathable
The uppers are not especially breathable, and my sweaty feet pretty quickly soaked while climbing outside. However, given you're only really wearing them for one pitch or so at most, this isn't that big of an issue.
The Scarpa Instinct VS is pricey
With a retail price of $185, the shoe is a little pricey (climbing shoes have an average price of $141). It has about the same price as the La Sportiva Miura VS or La Sportiva Solution, which are aggressive shoes.
Conclusion
If you've been climbing for a bit, and are looking for a performance climbing shoe for sport climbing and bouldering at both the gym and crag, then I would highly recommend the Scarpa Instinct VS! They will compliment your progression in climbing as you explore routes and problems with smaller features and more overhangs.
Compare popularity
Interactive
Compare the popularity of another shoe to Scarpa Instinct VS:
Scarpa Instinct VS video reviews